This pesto pasta salad with burrata can be made with homemade or store-bought pesto. We are obsessed with the creamy burrata topping and it's ready in under 30 minutes.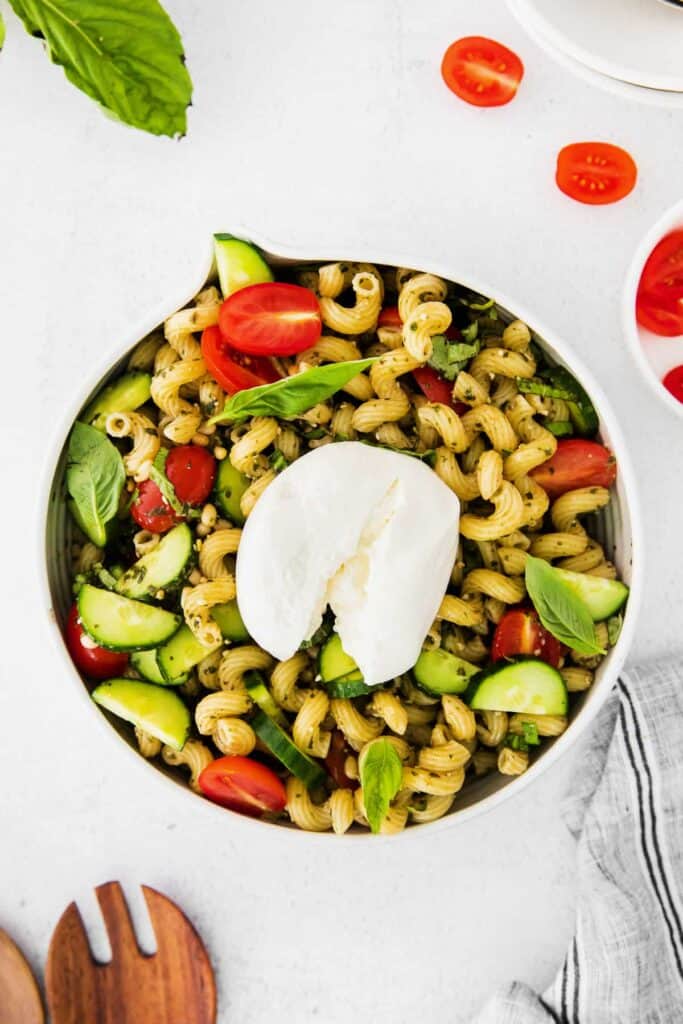 Cheesy pasta salads are the absolute best. We are obsessed with this pesto pasta with burrata because the combination of pesto and burrata makes everything better. It is one of our favorite recipes to serve a crowd!
What is Burrata Cheese?
Burrata cheese is a type of Italian cheese that originated in the Apulia region. It is made from mozzarella and cream (yum!). Burrata has a soft, creamy interior filled with stracciatella, a mixture of cream and stringy curd. The exterior is a more solid mozzarella shell. It is heaven in a cheese ball.
Really love burrata? check out our famous warm burrata with roasted tomatoes.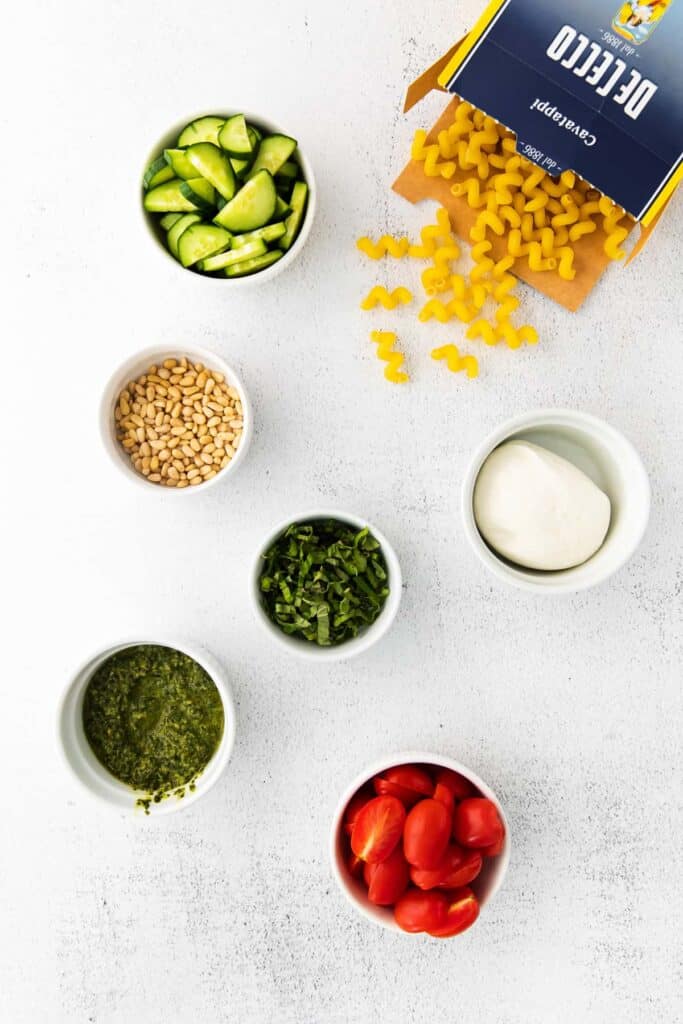 What You Need for Pesto Pasta Salad with Burrata
A fun pasta: cavatapi is our top choice for this pata salad because it has perfect little crevases that hold the pesto so there is flavor in each bite. If you don't have cavatapi, try a pasta type with nooks and crannies.
Pesto: keep prep for this recipe easy and use storebought pesto or you can make homemade pesto (which only adds 5 more minutes of prep time). Both are delicious!
Burrata: burrata is made with a case of solid cheese with soft creamy cheese inside. It is absolutely delicious. You can find burrata in the specialty cheese section of most grocery stores next to the mozzarella.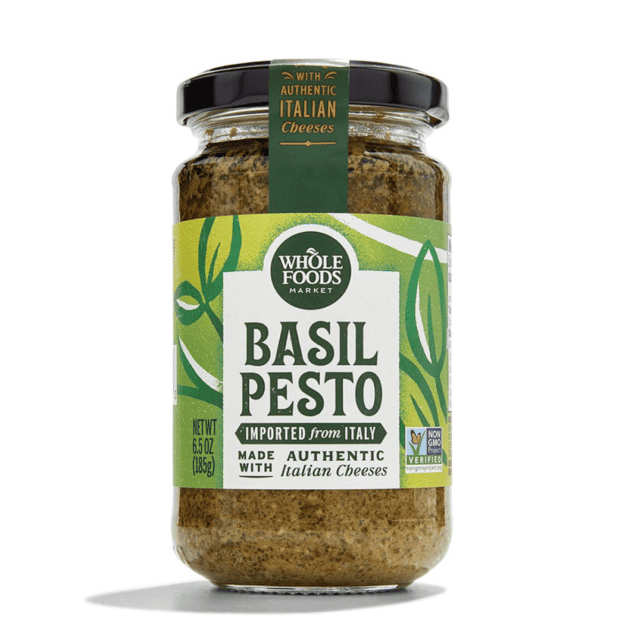 Store-Bought
Pesto
When you are in a pinch use store-bought pesto instead of making it yourself!
Buy It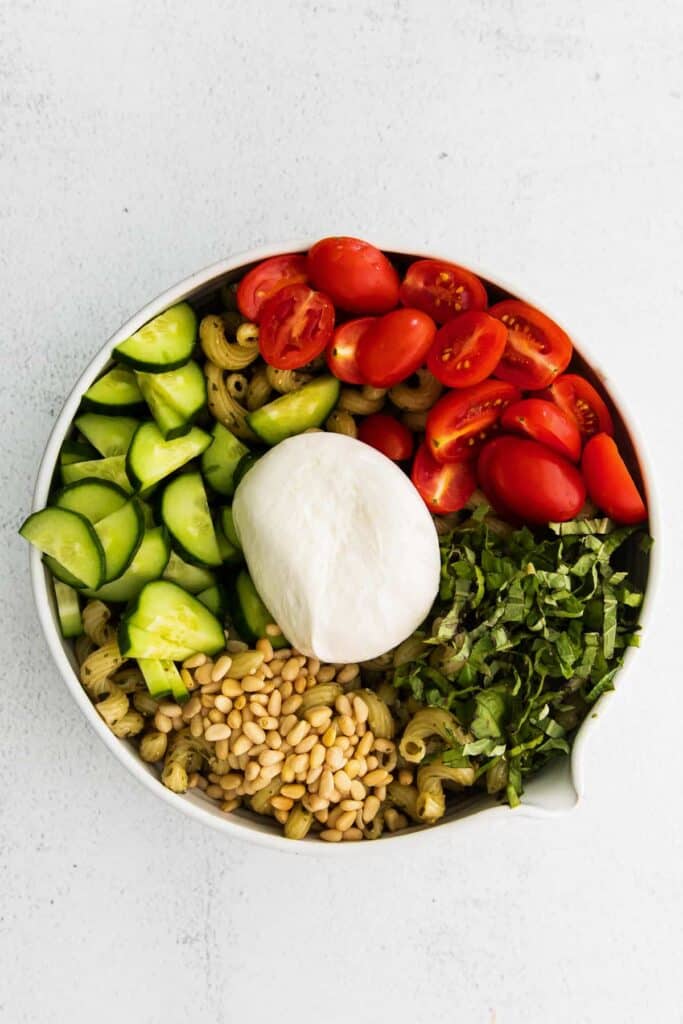 Variations + Swaps
Burrata—> mini mozzarella balls
English cucumbers —> regular cucumbers sliced into half moons
Pine nuts—> sunflower seeds or chopped pecans
want to make your own pesto?
Making your own pesto is quite easy! Follow along with this Easy Homemade Pesto or this Vegan Pesto on our sister site, Fit Foodie Finds.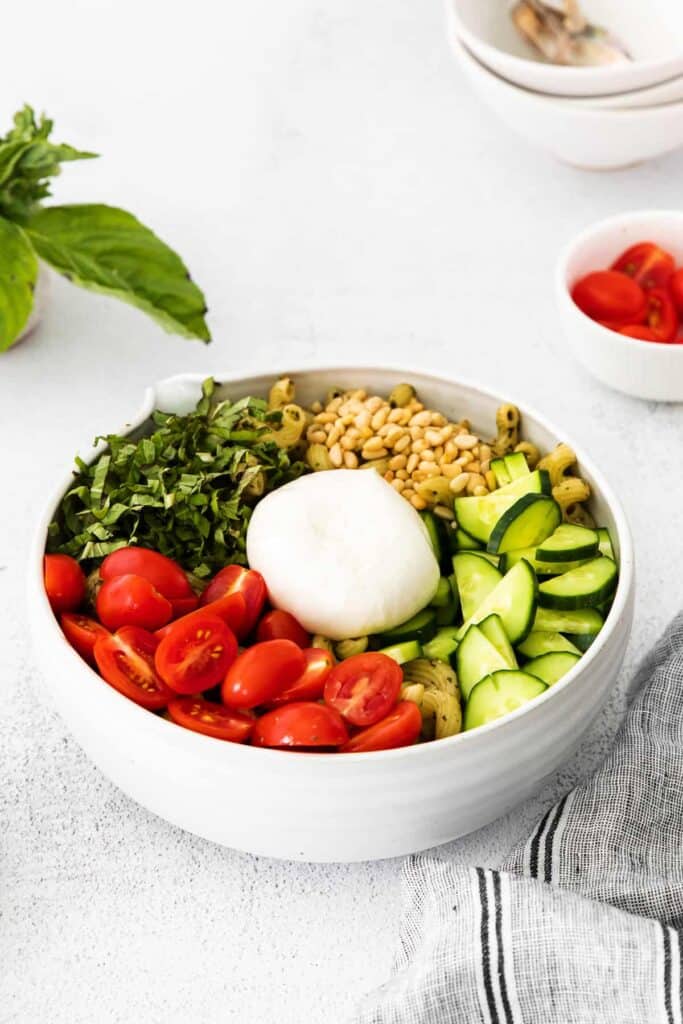 FAQ
Can I make pesto pasta salad in advance?

ExamYes, pesto pasta salad can be made in advance. Prepare the salad as instructed, cover it tightly, and store it in the refrigerator. It's recommended to add any delicate ingredients, such as fresh herbs or burrata cheese, just before serving to maintain their freshness
Can I add additional vegetables or proteins to the salad?

Absolutely! Pesto pasta salad is versatile, and you can customize it to your liking. Feel free to add vegetables like bell peppers, cucumbers, or red onions, as well as proteins like grilled chicken, shrimp, or diced salami.
What does burrata cheese taste like?

Burrata cheese has a rich, creamy, and buttery flavor. The outer mozzarella shell is mild and milky, while the interior is lusciously creamy, with a slightly tangy taste. It is often described as delicate and indulgent.
Storage Suggestions
Refrigeration: Pesto pasta salad can be stored in an airtight container in the refrigerator. Ensure that the container is tightly sealed to prevent air exposure, which can cause the pasta to dry out. It is best to consume the salad within 3-4 days for optimal freshness.
Refreshing the Salad: If the pasta salad appears a bit dry after refrigeration, you can revive it by adding a small amount of olive oil or additional pesto sauce. Toss the salad well to coat the pasta evenly.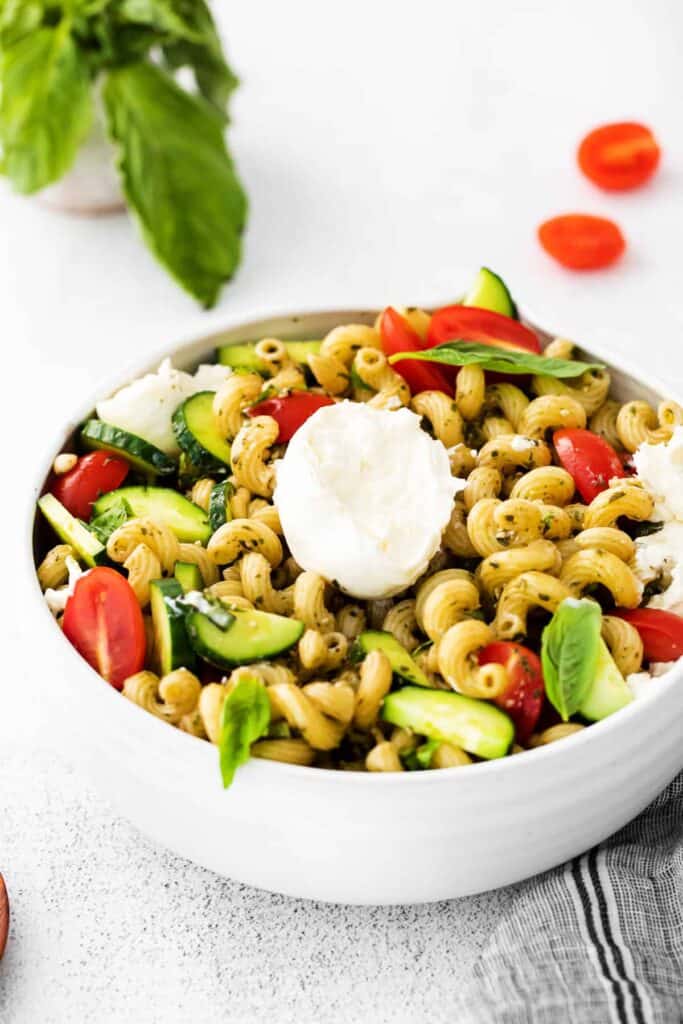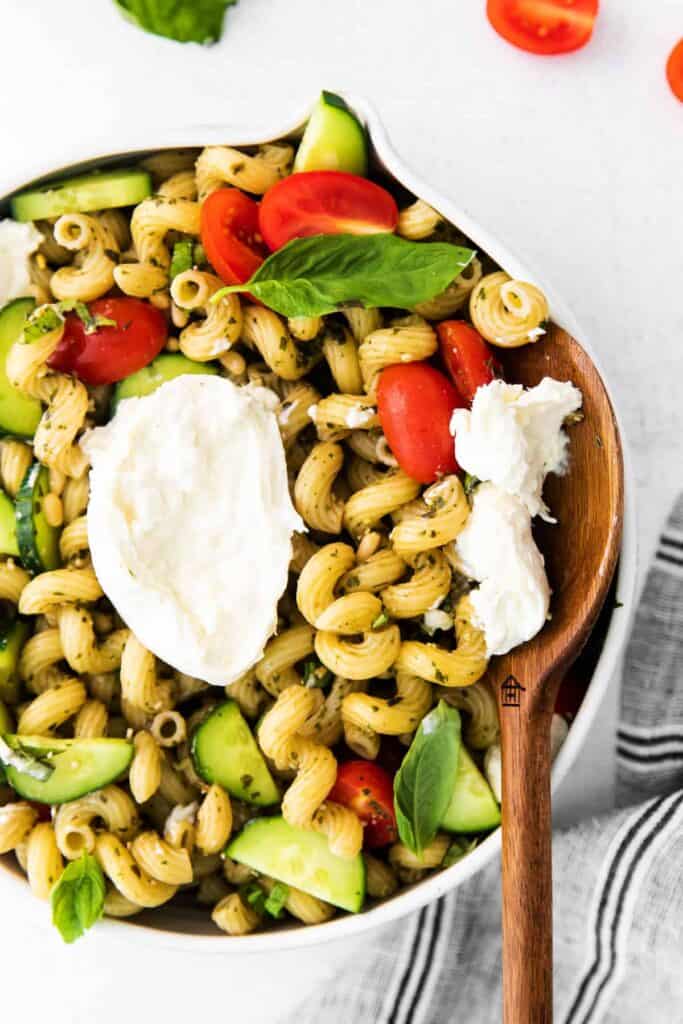 Serving Suggestions
Serve this pesto pasta salad alongside your favorite protein or other easy salads at a bbq.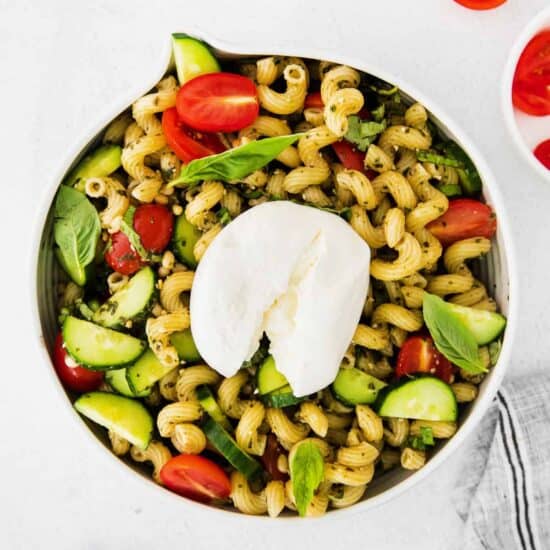 Pesto Pasta Salad with Burrata
This Pesto Pasta Salad with Burrata comes packed with the super fresh flavors of tomato, cucumber and basil. And, of course, is tossed with delicious pesto and topped with creamy burrata. Enjoy!
Ingredients
1

lb.

pasta*

½

cup

pesto

½

cup

cherry tomatoes

halved

½

cup

sliced cucumber

¼

cup

toasted pine nuts

1

ball burrata

¼

cup

fresh basil

julienned
Instructions
Cook your pasta in salted boiling water according to the box directions. Before you drain the pasta, reserve ½ cup of cooking liquid for later. 

In a large bowl, whisk together the pesto and ¼ cup of the reserved cooking liquid from the pasta. 

Add the cooked pasta, cherry tomatoes, cucumber, and pine nuts and toss to combine. 

Break up the burrata into bite-size pieces and add it to the pasta salad. 

Sprinkle over the basil and season with salt and pepper, to taste. 

Enjoy chilled or at room temperature. Store any leftovers in an airtight container in the fridge for up to three days. 
Tips & Notes
We used cavatappi pasta, but feel free to use any shape you'd like.

 
Nutrition facts
Calories:
428
kcal
Carbohydrates:
63
g
Protein:
15
g
Fat:
12
g
Fiber:
4
g
Sugar:
3
g