This caprese salad is made with fresh mozzarella, fresh basil, and delicious juicy tomatoes! You can't go wrong with a simple balsamic and olive oil drizzle. Serve this caprese salad with any meal or for a delicious simple lunch.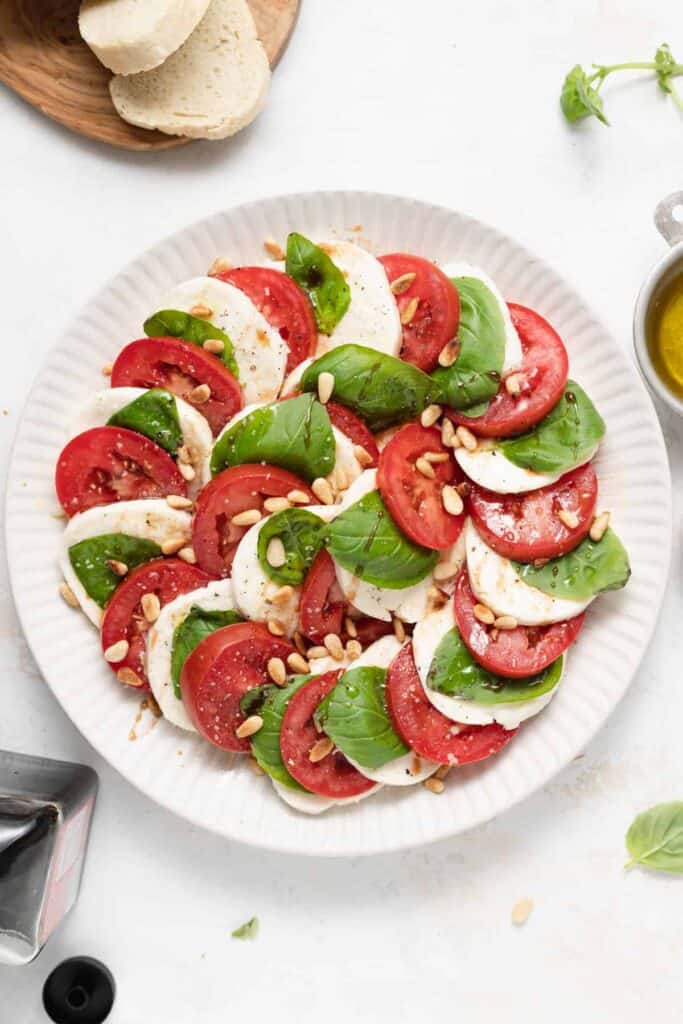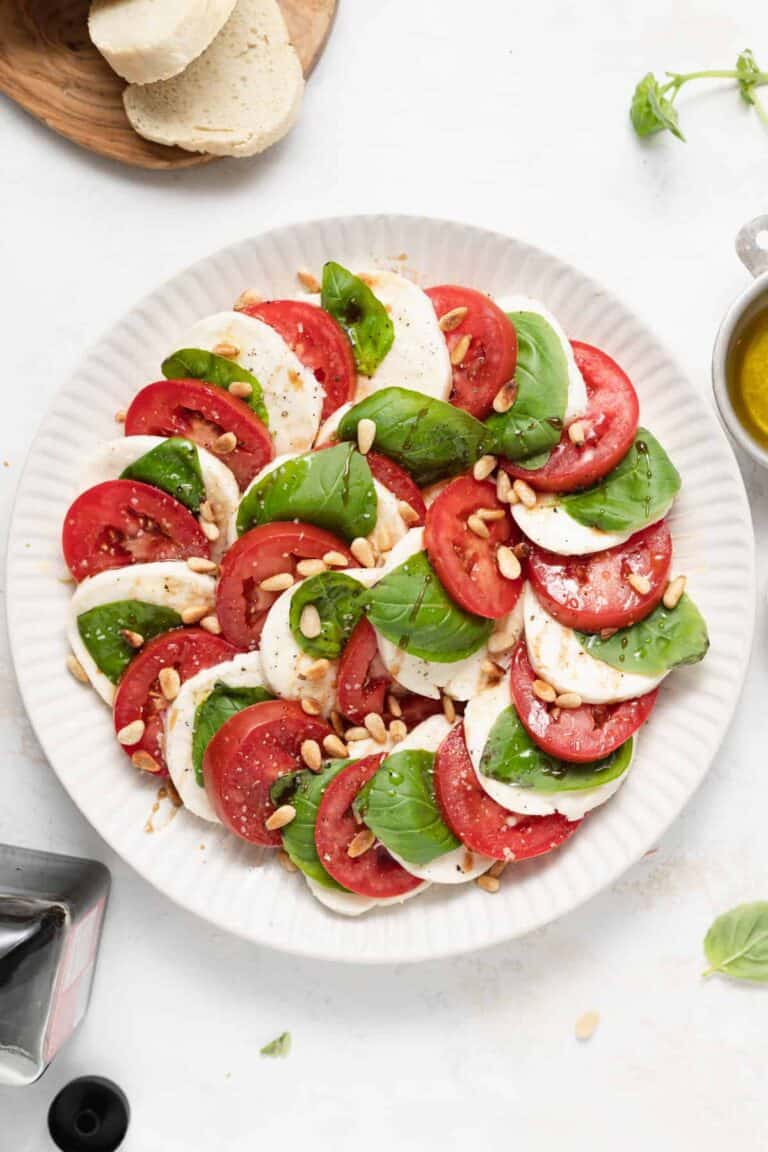 The BEST Caprese Salad
Is there anything better than a fresh caprese salad with a glass of bubbly in the summer? No. We love caprese all year round, but it is especially good when tomatoes are in season and basil is growing in your own back yard.
A classic caprese salad is made with fresh mozzarella, fresh slices of tomatoes, and fresh basil. It is usually drizzled with olive oil and balsamic vinegar or a balsamic glaze.
We made a classic caprese salad, but added some toasted pine nuts for a delicious crunch!
Why do we love caprese salad so much?
Caprese salad makes a great and easy lunch or side dish for any dinner.
You can prepare caprese salad ahead of time and then drizzle the dressing over the salad right before you serve it.
It feels like a fancy salad, but is so easy to make!
Caprese Salad Ingredients
Fresh mozzarella- you can find fresh mozzarella in any grocery store! We suggest buying fresh mozzarella in a log. Sometimes you can even find it in pre-sliced logs, too! Feel free to make your own mozzarella, too!
Tomato- we used fresh roma tomatoes for this caprese salad, but feel free to use whatever fresh tomatoes you can get your hands on.
Fresh Basil- there is only one rule when it comes to fresh basil and caprese salads. Use big chunks of basil and do not cut it up into small pieces!
Toasted pine nuts- these toasted pine nuts are an optional addition to this caprese salad, but we highly recommend adding them to your salad. They add a great salty crunch.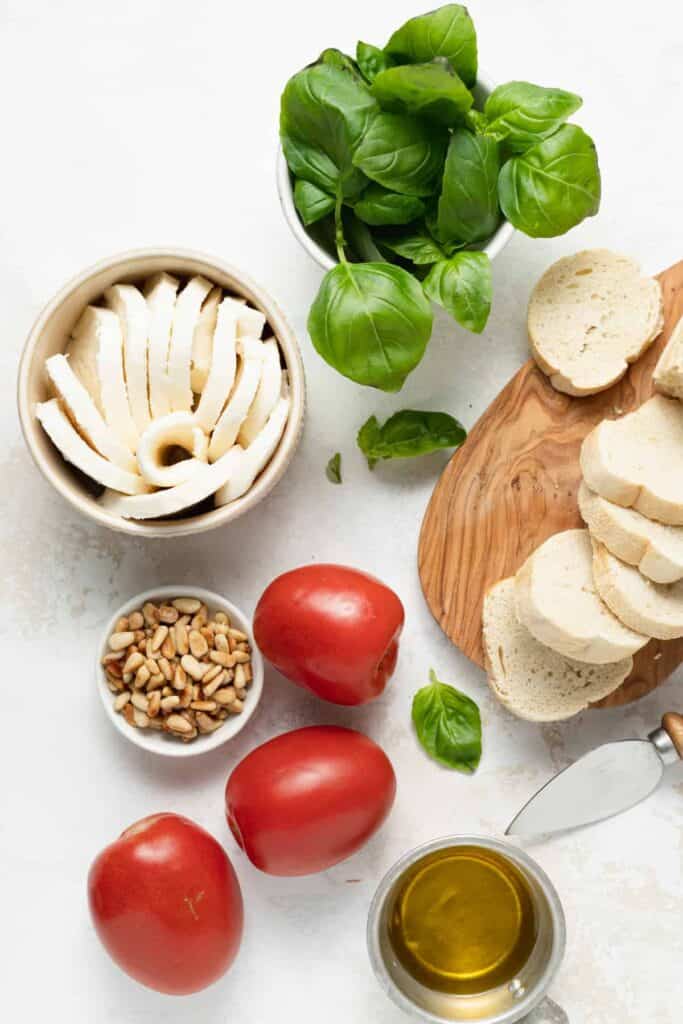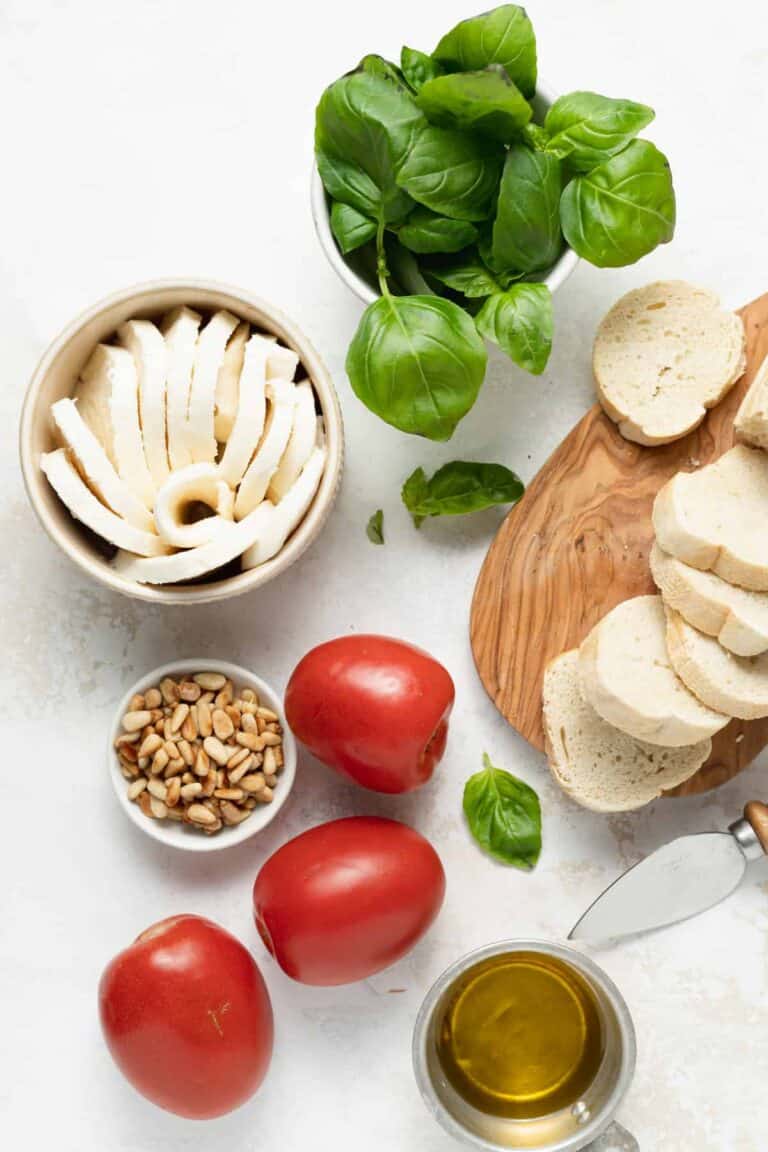 How to Make Caprese Salad
Begin by preparing the pine nuts (an optional ingredient). Heat a small skillet pan over medium heat. Add the pine nuts.
Toast the pine nuts until they begin to brown and immediately remove them from the heat (about 4-5 minutes). Set aside.
Slice the mozzarella and tomato into thin slices.
Tear the fresh basil into large pieces.
On a large plate, layer the mozzarella, tomato, and a piece of basil, alternating ingredients until the mozzarella, tomato, and basil are gone.
Drizzle the mozzarella, basil, and tomato with olive oil and balsamic vinegar. Sprinkle with salt and pepper.
Sprinkle the pine nuts over the salad and serve.
What to Serve with Caprese Salad
You can serve this caprese salad on it's own for a simple appetizer, a lunch, or dinner with any of the delicious main meals below.
Crispy Parmesan Chicken Nuggets- Talk about a delicious crispy chicken nugget recipe. These Parmesan Chicken Nuggets are dipped in egg and then rolled in a flavorful breadcrumb + parmesan mixture and then pan-fried (or baked!) to perfection.
Easy Pull Apart Bread- This Pizza Pull Apart Bread is a family dinner favorite. It's a semi-homemade dinner ready in 40 minutes
Juicy Grilled Chicken– This grilled chicken recipe comes out so juicy and tender on the inside and has gorgeous, charred grill marks on the outside.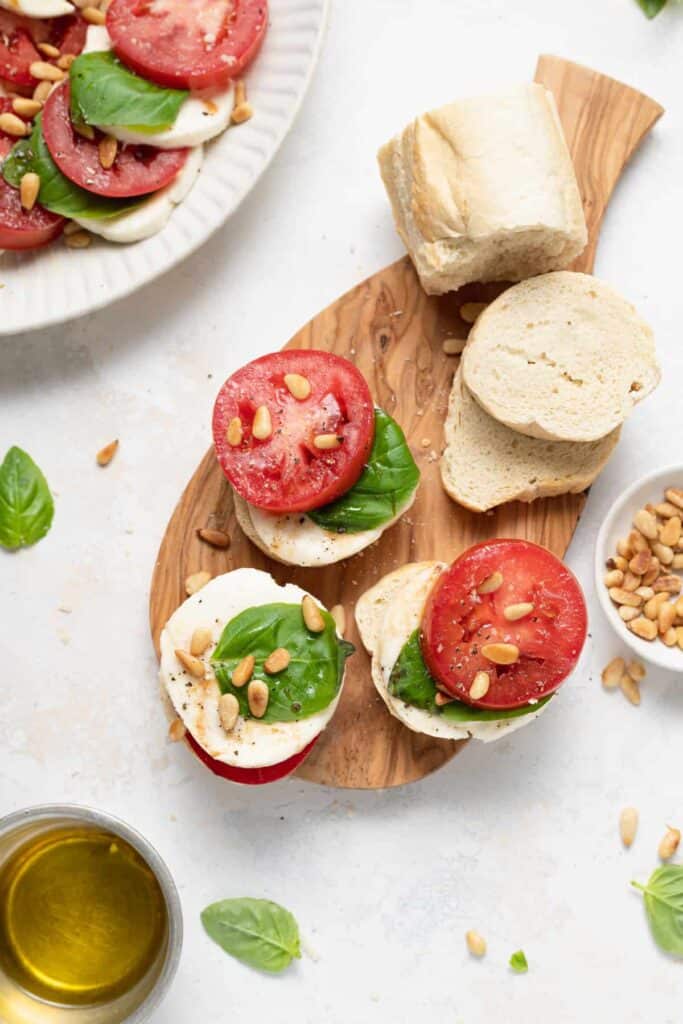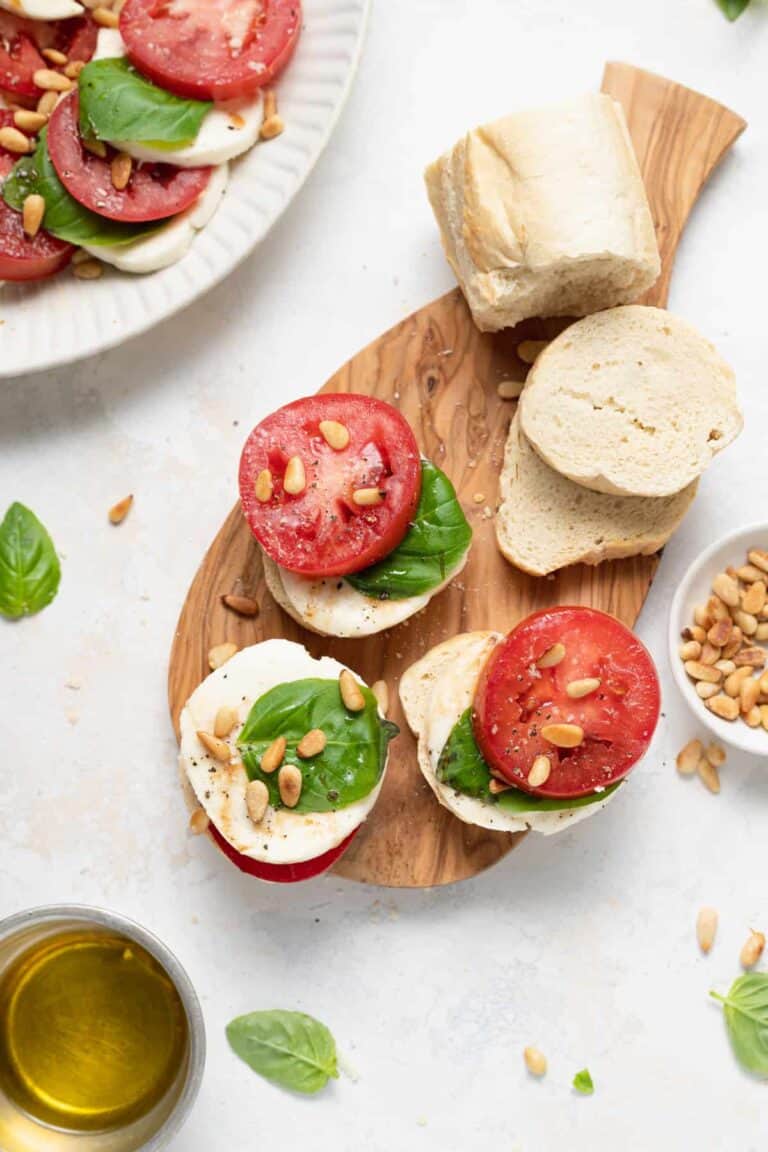 Caprese Salad 101
Can I use cherry tomatoes in caprese salad?
Yes, cherry tomatoes would work in this salad, too! We recommend using 2-3 cups of sliced cherry tomatoes instead of Roma tomatoes. Just be sure to thinly slice them before sprinkling them over layered mozzarella and basil.
Can I use mozzarella balls or pearls in caprese salad?
Yes, you can substitute mozzarella balls or pearls for sliced mozzarella. We recommend layering the tomatoes and basil and then sprinkling the mozzarella over the layered tomatoes and basil.
What can I add to capresse salad?
Though a caprese salad is perfect just the way it is, below are some fun additions to a caprese salad.
sliced kalamata olives
red pepper flakes for heat
thinly sliced red onion
sauteed mushrooms
How do I store caprese salad?
We recommend storing caprese salad in an air tight container for up to 3 days.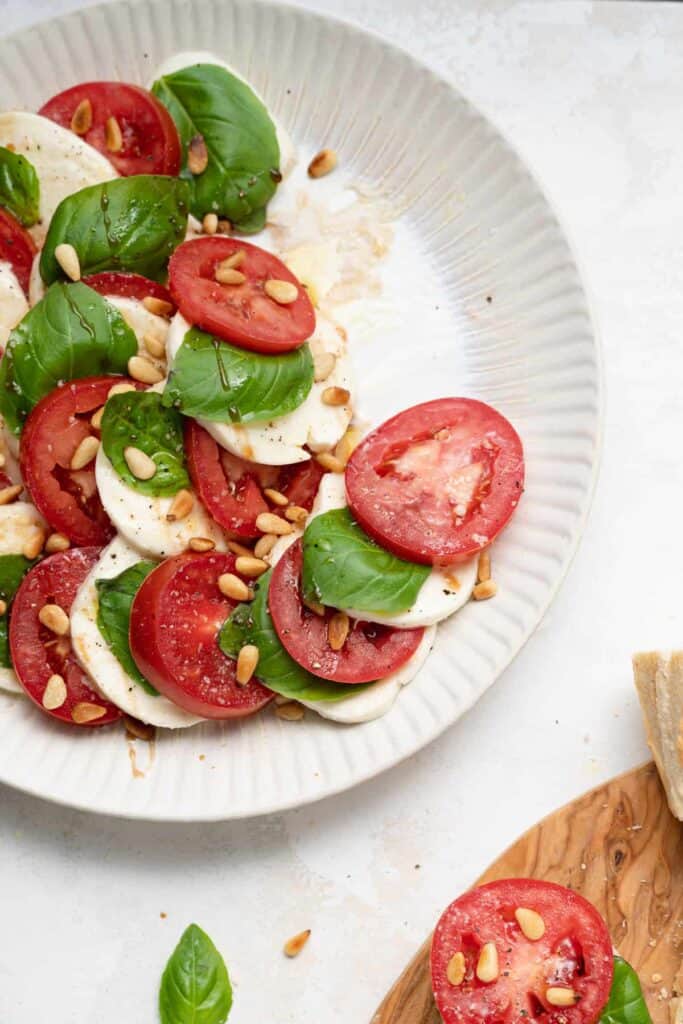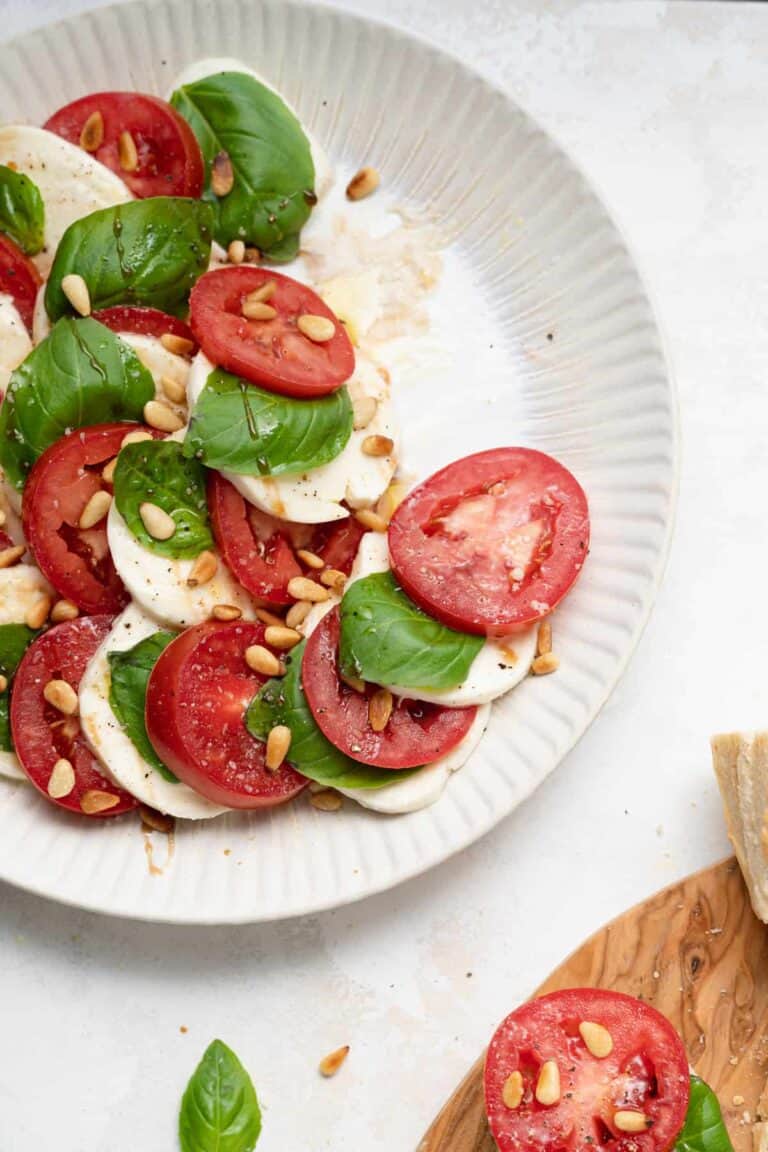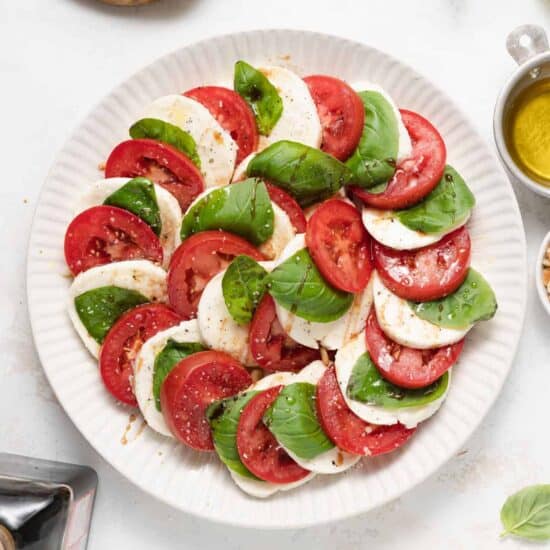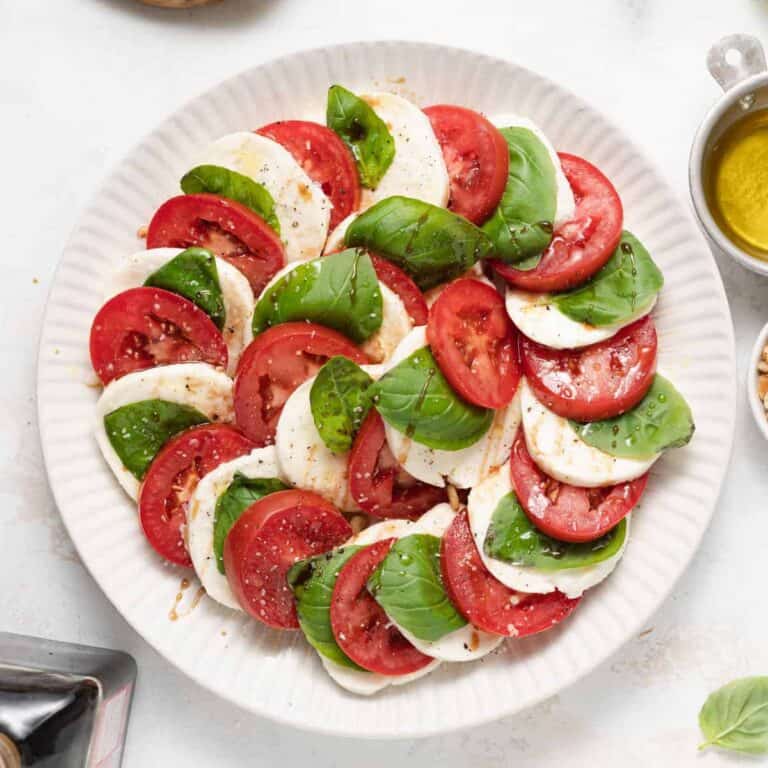 Caprese Salad
This caprese salad recipe is a classic recipe with an optional twist of toasted pine nuts! This salad is a perfect side dish for dinner or a delicious lunch for any day of the week.
Ingredients
4

large roma tomatoes

sliced

16

oz.

Mozzarella cheese log

sliced into rounds

18-20

medium/large fresh basil leaves

2.5

teaspoons

balsamic vinegar

3

teaspoons

olive oil

⅛

teaspoon

salt

⅛

teaspoon

freshly ground pepper

Optional: 2-4 tablespoons toasted pine nuts
Instructions
Begin by plating the caprese salad. Layer the tomatoes, mozzarella, and basil leaves on a plate or platter alternating between the three ingredients. 

Once all of the ingredients are layered, drizzle the balsamic vinegar and olive oil over the ingredients. 

Season the caprese salad with salt and pepper. 

Finally, sprinkle toasted pine nuts over the whole salad. 

Serve alone or with a warm baguette and enjoy!
Nutrition facts
Calories:
378
kcal
Carbohydrates:
9
g
Protein:
23
g
Fat:
28
g
Fiber:
2
g
Sugar:
3
g