Caprese salad is made with fresh mozzarella, fresh basil, and delicious juicy tomatoes. We add a little crunch to our Caprese salad by topping it with toasted pine nuts, yum!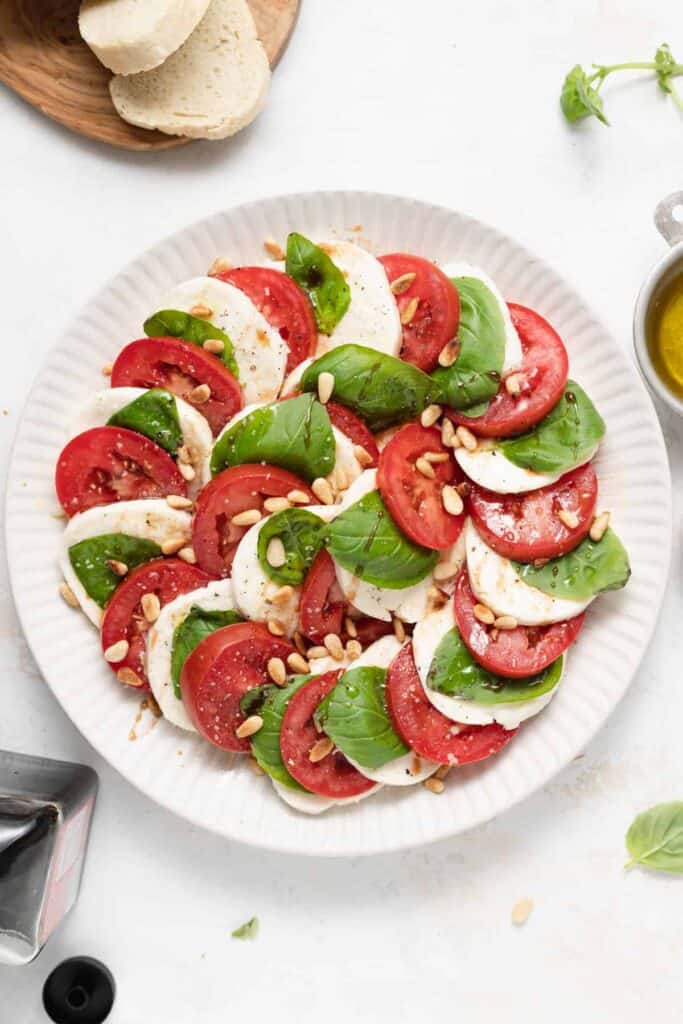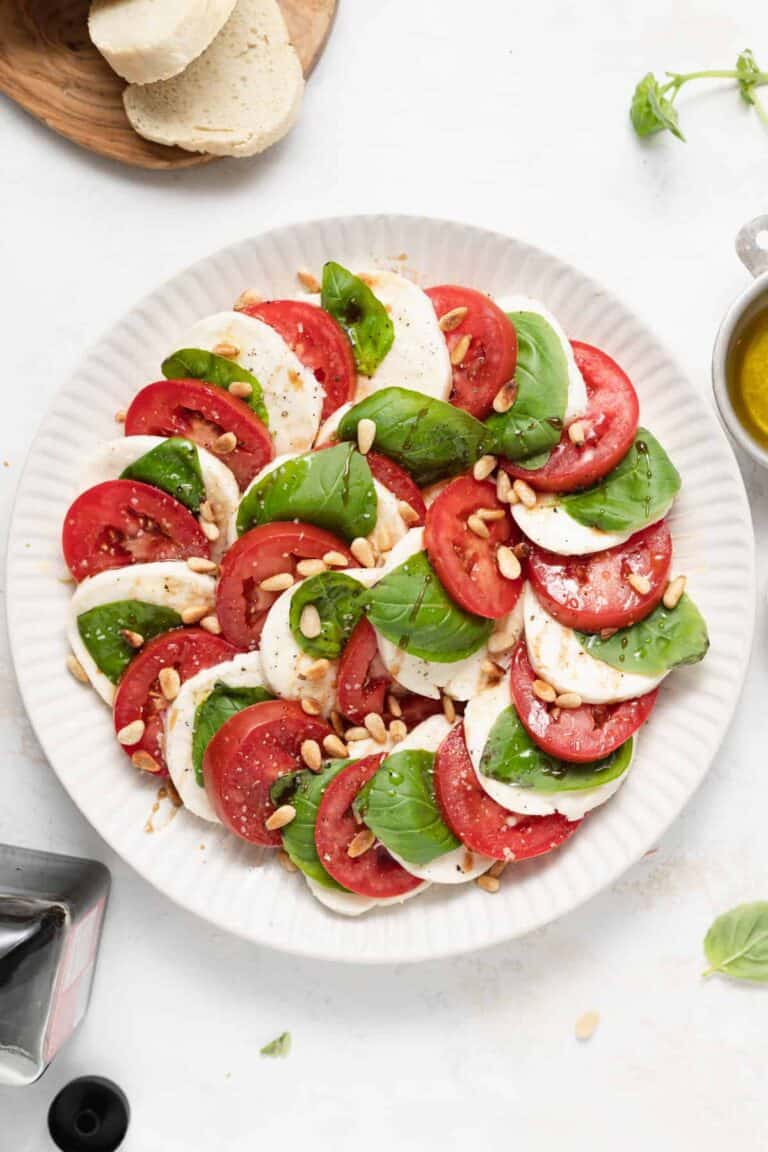 Every person on our team has been to Italy and is obsessed with Italian cuisine. One thing we all love is the Caprese salad. The Cheese Knee's caprese salad is a simple, classic caprese, with an added crunch of toasted pine nuts.
We highly suggest serving this caprese salad with focaccia or with another cheesy side dish or appetizer.
What is in Caprese Salad?
Fresh mozzarella- you can find fresh mozzarella in any grocery store. We suggest buying fresh mozzarella in a log. Sometimes you can even find it in pre-sliced logs, too! Feel free to make your own mozzarella, too.
Tomato- we used fresh roma tomatoes for this caprese salad, but feel free to use whatever fresh tomatoes you can get your hands on.
Fresh Basil- there is only one rule when it comes to fresh basil and caprese salads. Use big chunks of basil and do not cut it up into small pieces!
Toasted pine nuts- these toasted pine nuts are an optional addition to this caprese salad, but we highly recommend adding them to your salad. They add a great salty crunch.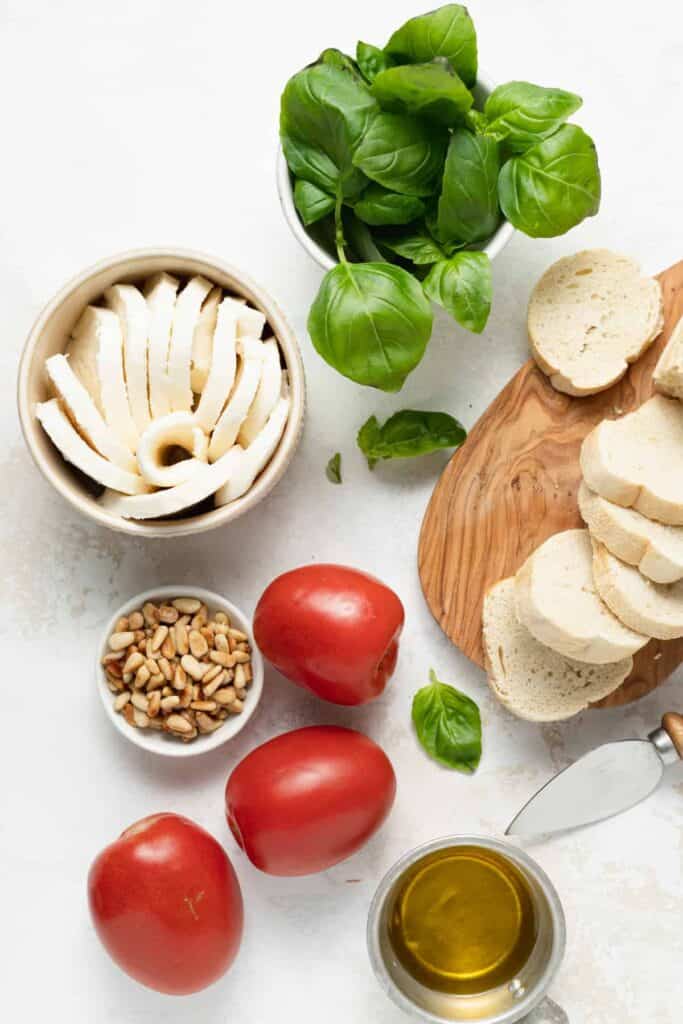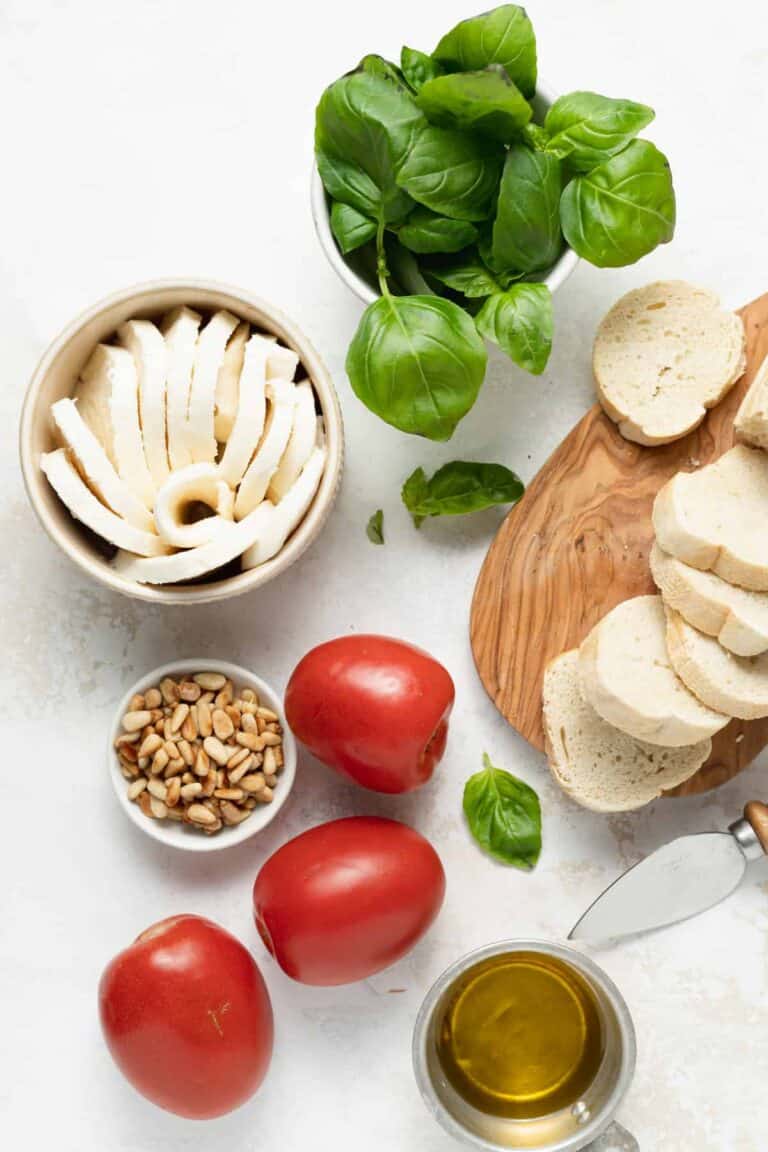 Why do we love caprese salad so much?
Caprese salad makes a great and easy lunch or side dish for any dinner.
You can prepare caprese salad ahead of time and then drizzle the dressing over the salad right before you serve it.
It feels like a fancy salad, but is so easy to make!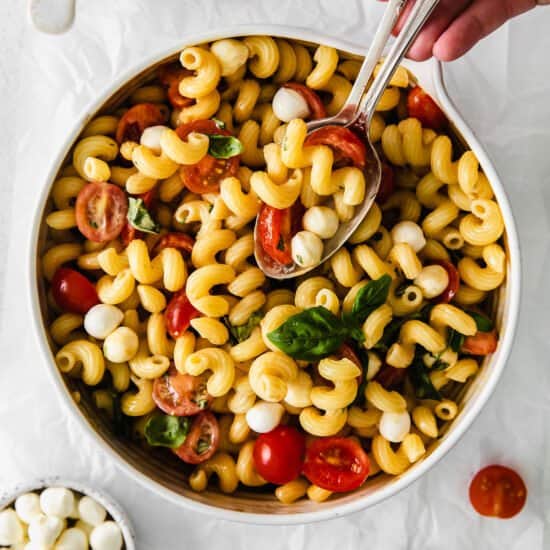 Delicious
Caprese Pasta Salad
Make It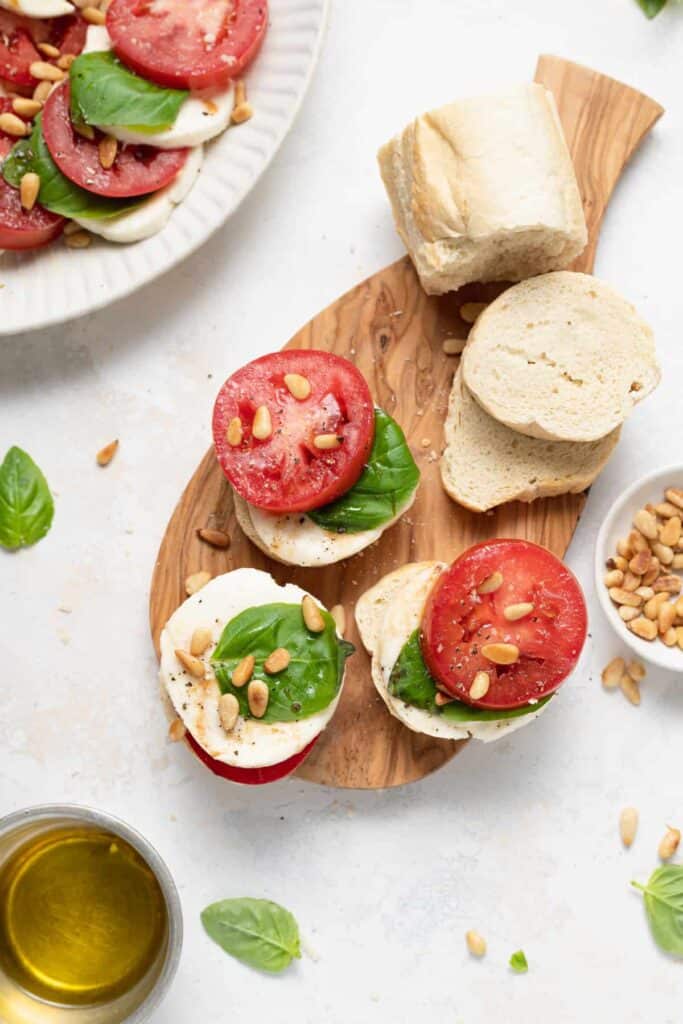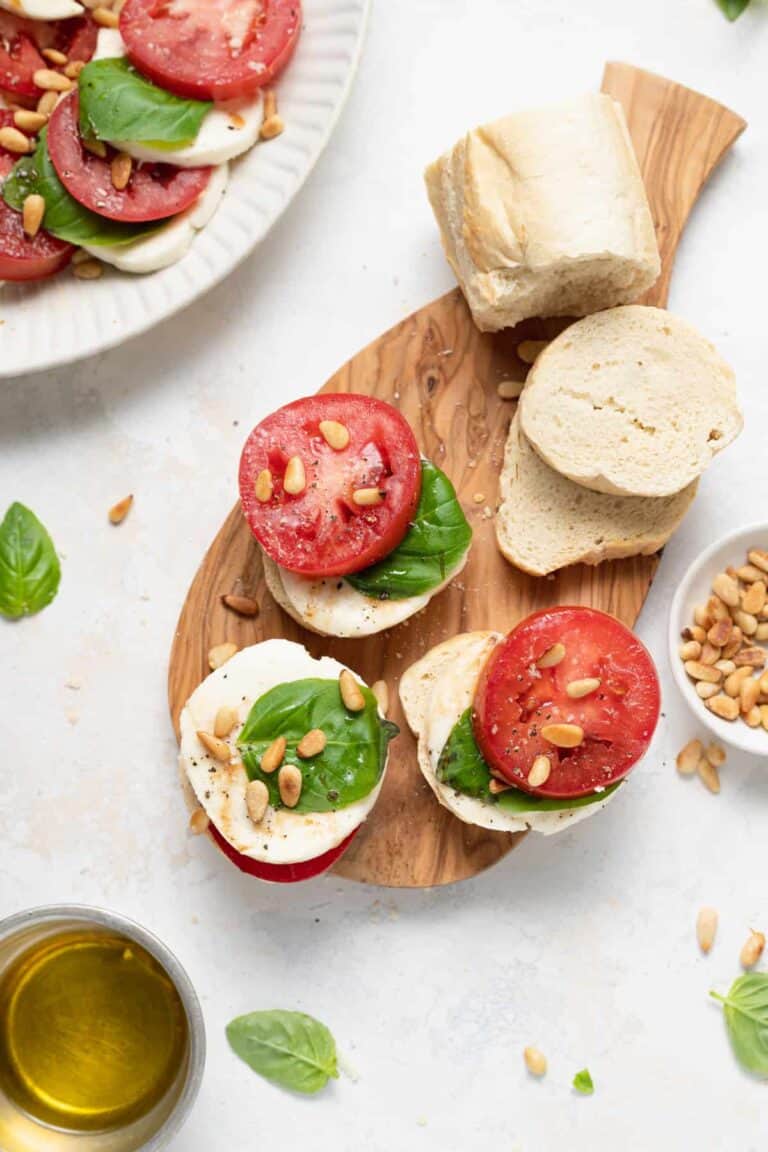 FAQ
Can I use cherry tomatoes in caprese salad?

Yes, cherry tomatoes would work in this salad, too! We recommend using 2-3 cups of sliced cherry tomatoes instead of Roma tomatoes. Just be sure to thinly slice them before sprinkling them over layered mozzarella and basil.
Can I use mozzarella balls or pearls in caprese salad?

Yes, you can substitute mozzarella balls or pearls for sliced mozzarella. We recommend layering the tomatoes and basil and then sprinkling the mozzarella over the layered tomatoes and basil.
What can I add to caprese salad?

You can add kalamata olive, red pepper flakes, thinly sliced red onion, or even sauteed mushrooms to change up this caprese salad.

Recipes with Mozzarella
Love mozzarella? Here are some of our most recent and delicious mozzarella recipes!
More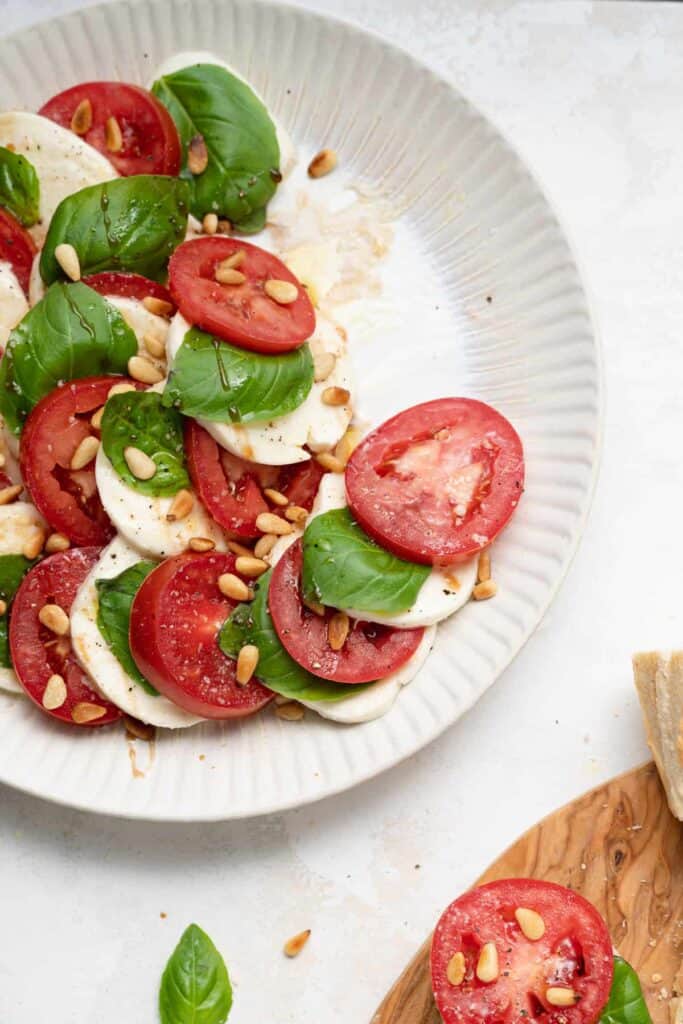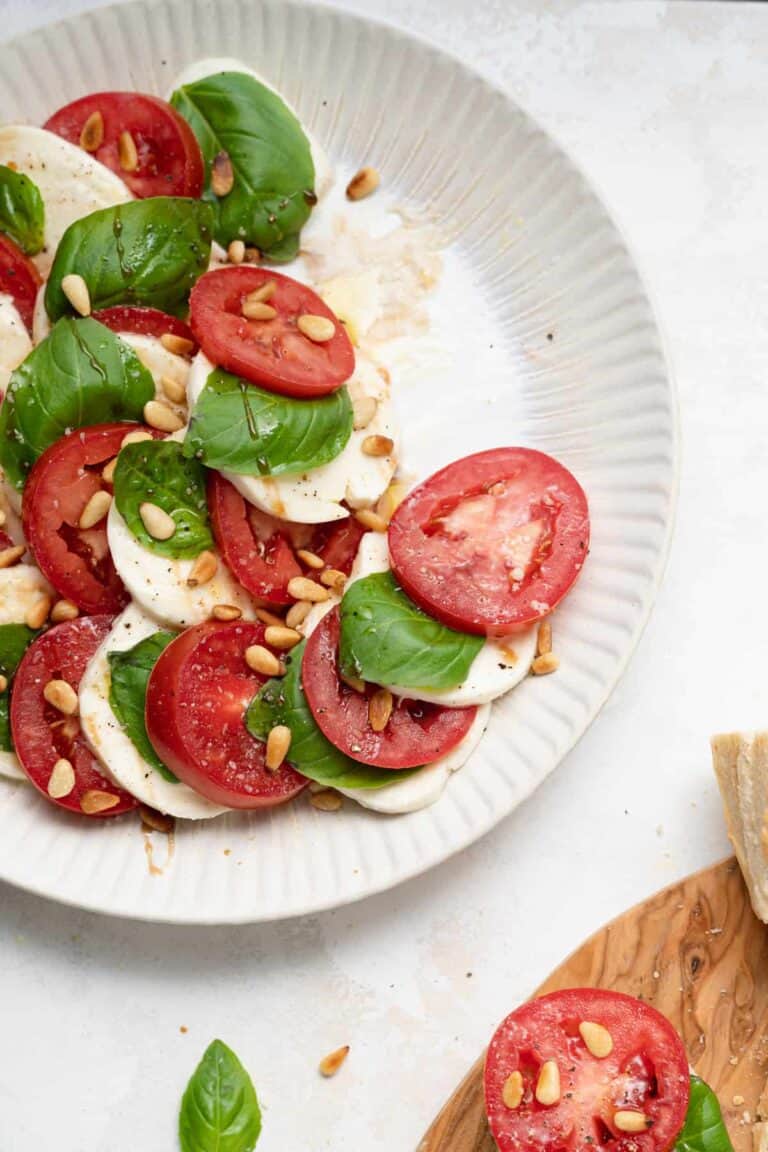 What to Serve with Caprese Salad
You can serve this caprese salad on it's own for a simple appetizer, a lunch, or dinner with any of the delicious main meals below.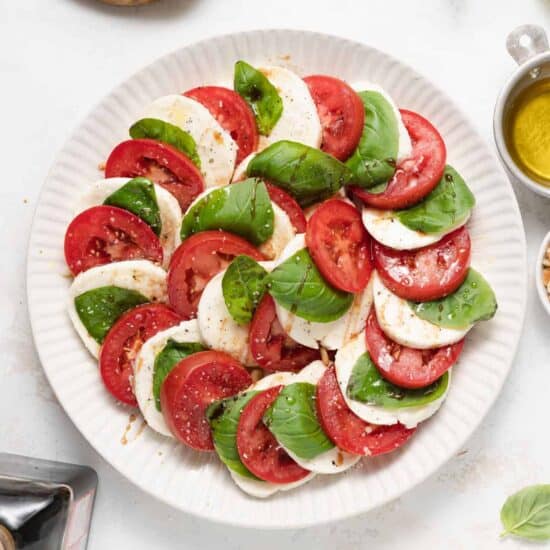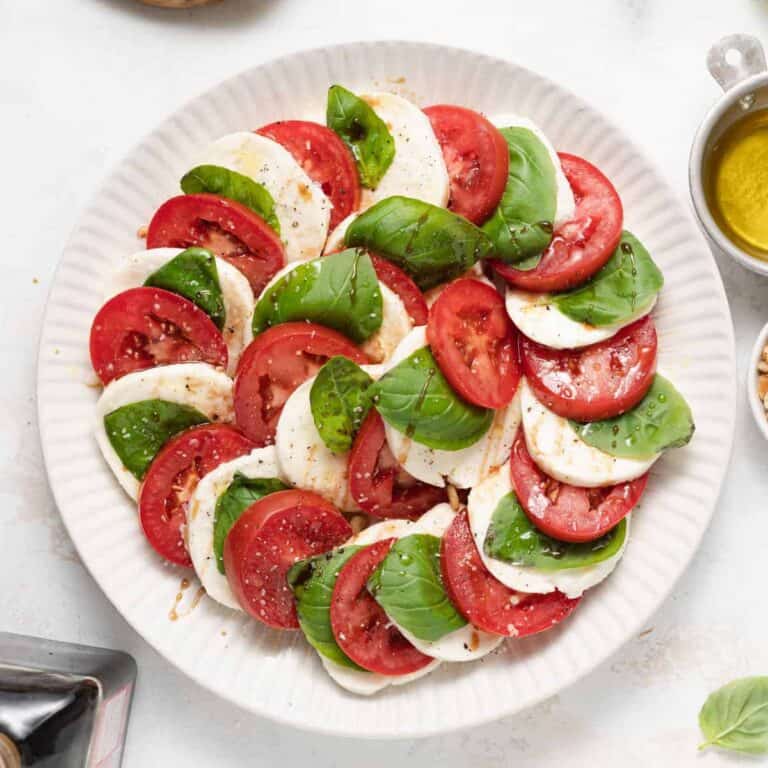 Caprese Salad
This caprese salad recipe is a classic recipe with an optional twist of toasted pine nuts! This salad is a perfect side dish for dinner or a delicious lunch for any day of the week.
Ingredients
4

large roma tomatoes

sliced

16

oz.

Mozzarella cheese log

sliced into rounds

18-20

medium/large fresh basil leaves

2.5

teaspoons

balsamic vinegar

3

teaspoons

olive oil

⅛

teaspoon

salt

⅛

teaspoon

freshly ground pepper

Optional: 2-4 tablespoons toasted pine nuts
Instructions
Begin by plating the caprese salad. Layer the tomatoes, mozzarella, and basil leaves on a plate or platter alternating between the three ingredients. 

Once all of the ingredients are layered, drizzle the balsamic vinegar and olive oil over the ingredients. 

Season the caprese salad with salt and pepper. 

Finally, sprinkle toasted pine nuts over the whole salad. 

Serve alone or with a warm baguette and enjoy!
Nutrition facts
Calories:
378
kcal
Carbohydrates:
9
g
Protein:
23
g
Fat:
28
g
Fiber:
2
g
Sugar:
3
g