A gorgeous Greek Orzo Salad with feta cheese is truly the perfect lunch year-round. This salad is ready in 30 minutes and people are obsessed with the amounts of vegetables and the creamy feta topping!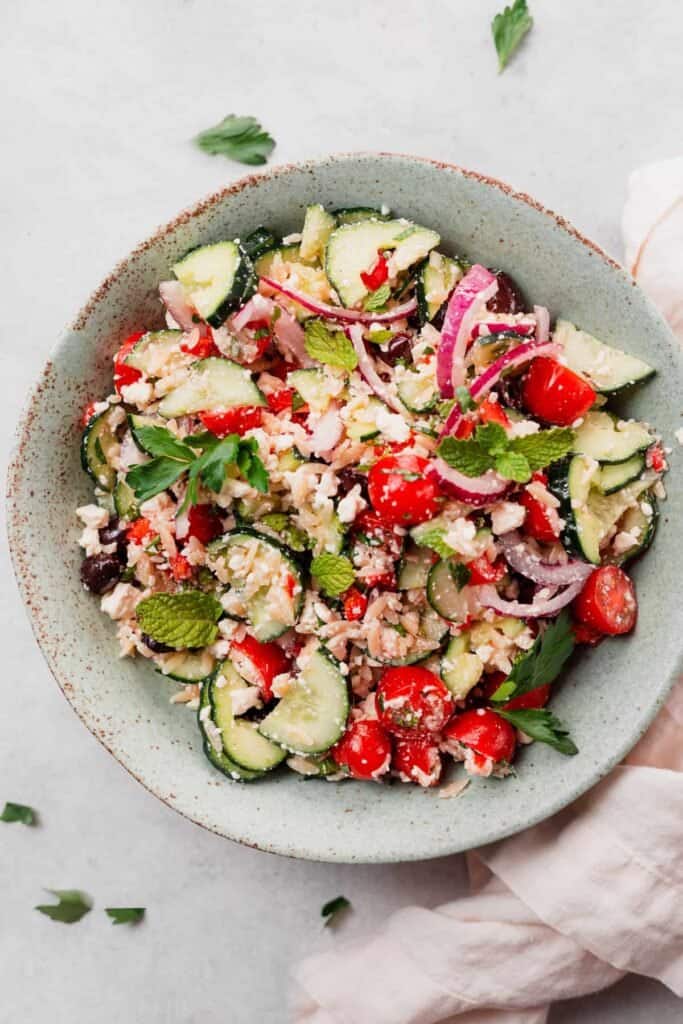 Orzo. Please tell us you love Orzo pasta! It's one of our favorite noodles and we're excited to bring you this Greek orzo salad today because it's truly a Cheese Knees favorite.
If you are looking for more delicious fresh salads to serve alongside this orzo salad, add this cucumber tomato feta salad or this lemon orzo salad with goat cheese, yum!
What You Need for Greek Orzo Salad
Mixing bowl: this salad is best if you let it rest in the refrigerator for a while. Grab a mixing bowl (preferably with a lid). Mix up your salad and let it rest.
Orzo pasta: we love orzo because it is fun to eat and goes perfectly in a pasta salad type dish.
Feta cheese: orzo and feta cheese are the stars of the dish. If you can find fresh feta, do yourself a favor and buy it. Otherwise, any feta will do!
Kalamata olives: classic Greek salad has kalamata olives and you just can't skip them for this orzo salad, either. Getting a salty olive in every bite makes the world go round.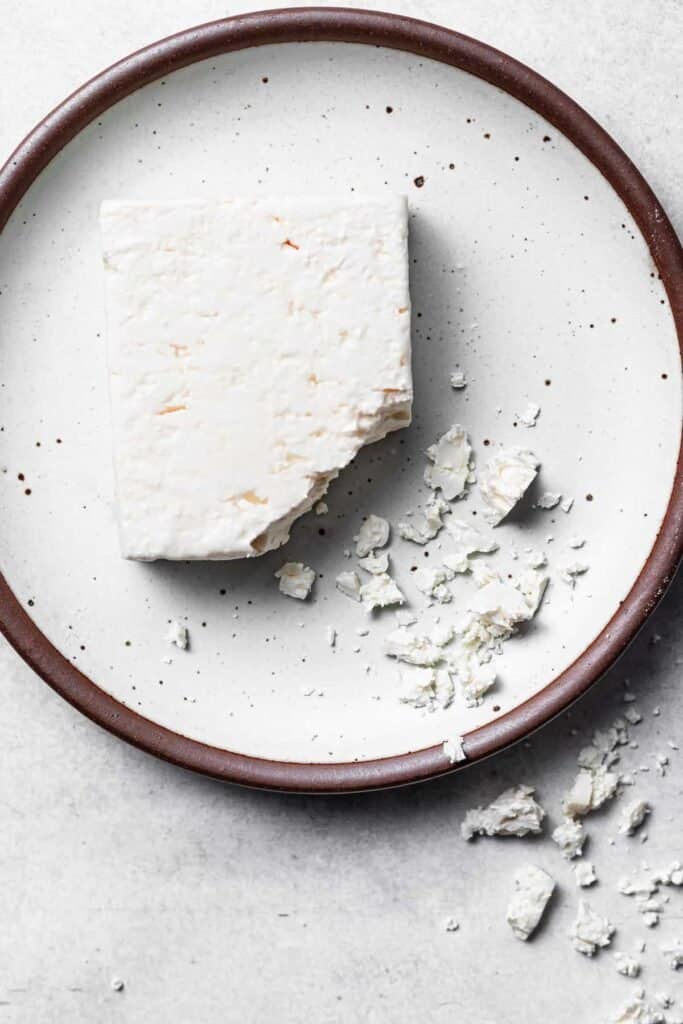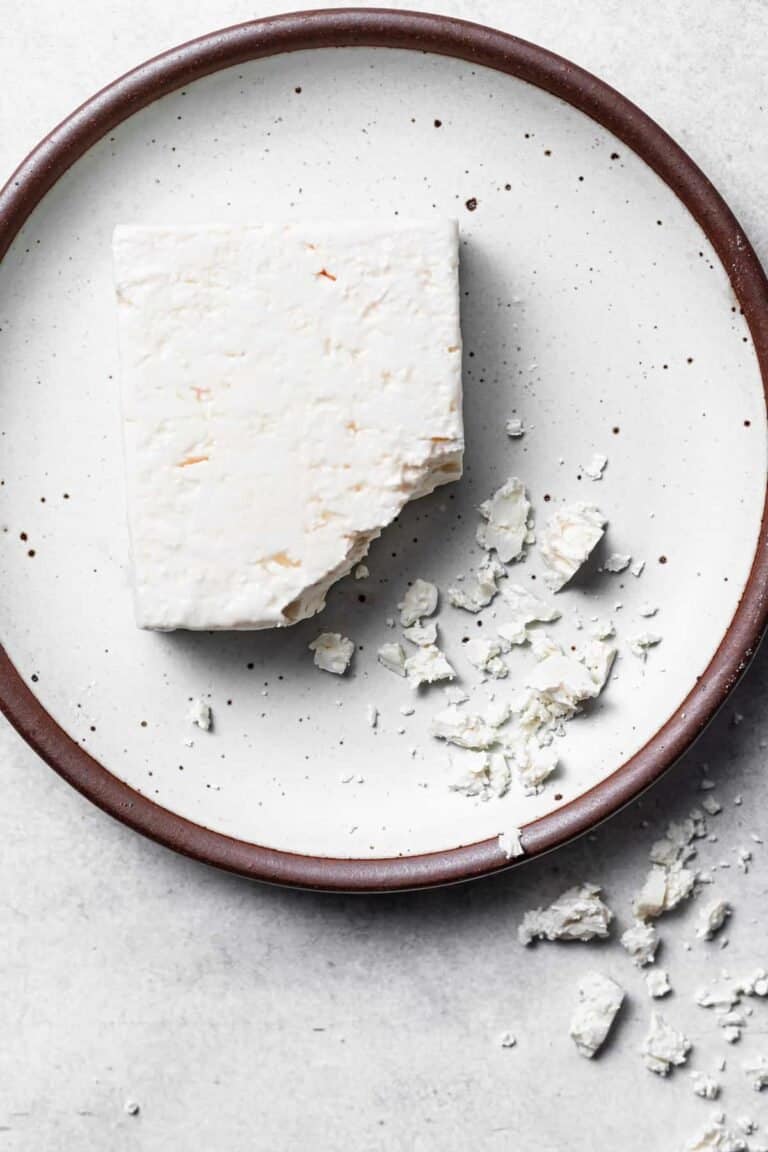 Variations + Substitutions
If you can't find orzo pasta, find another small pasta!
You can swap what vegetables you use based on your personal preference. The key is that you chop them into bite-sized pieces.
If red onion is too strong for you, try substituting chopped chives or chopped green onion.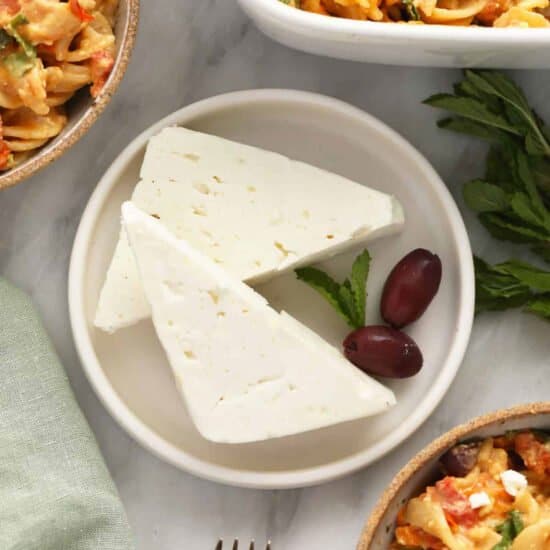 Try it!
What is Feta Cheese?
Looking to learn more about the salty, soft feta cheese? In this post, we'll teach you all about feta cheese and share some delicious feta cheese recipes to go with it!
Learn More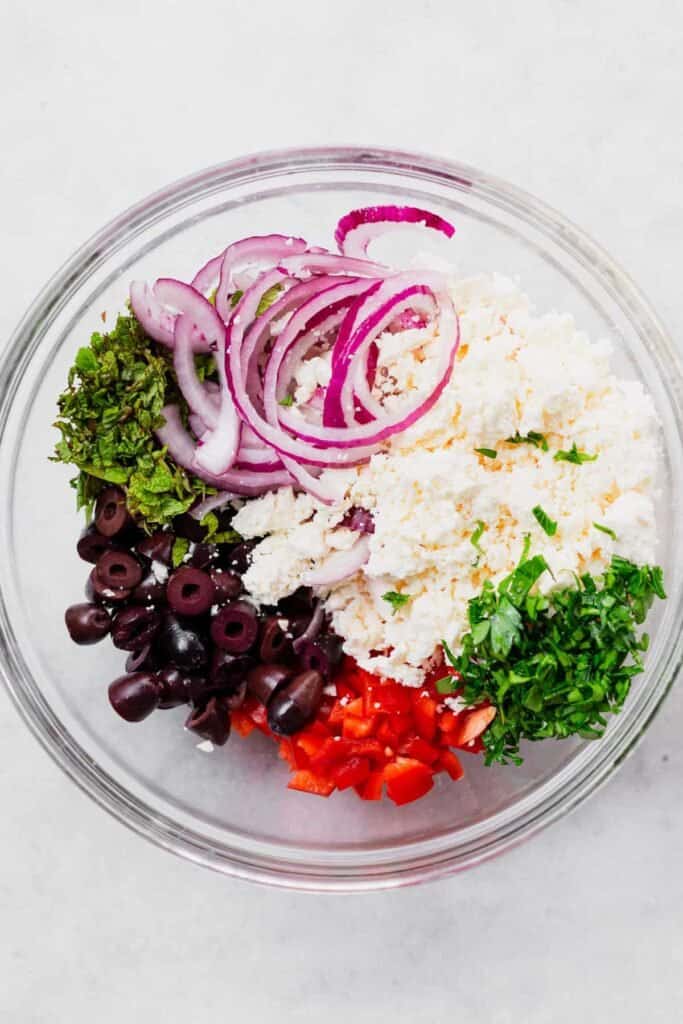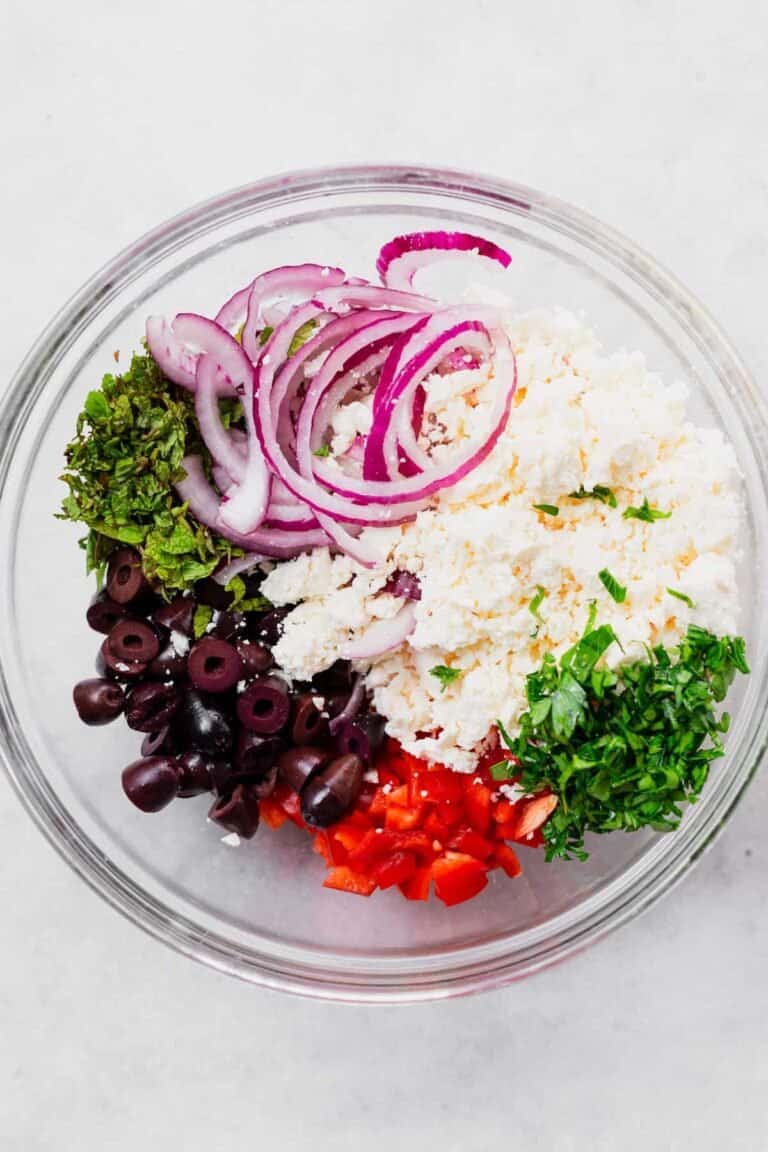 How to Make Orzo
Did you know that orzo is actually a pasta?! Here's a quick tutorial for how to make orzo on the stovetop:
Bring a large pot of salted water to a boil over high heat.
Once boiling, add orzo and cook for about 7-10 minutes or until al dente.
Strain water from the orzo and rinse with cold water set orzo aside.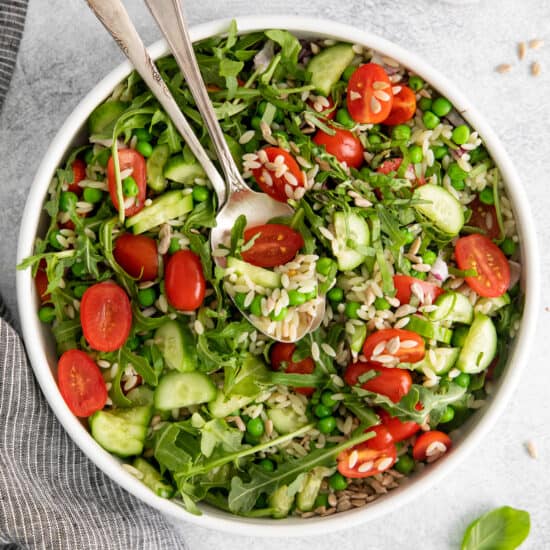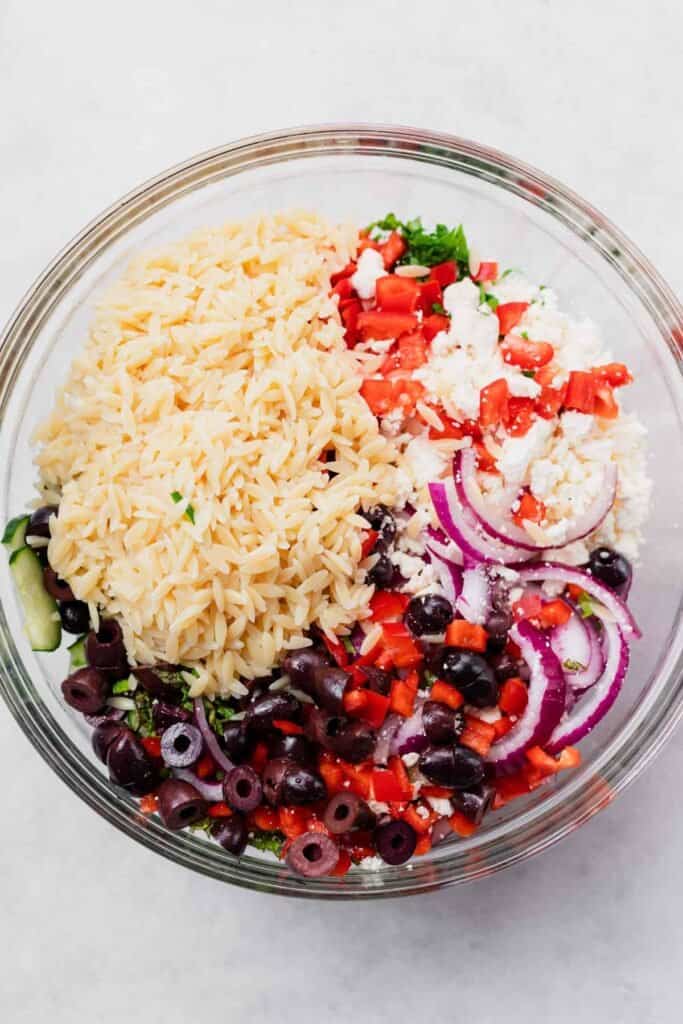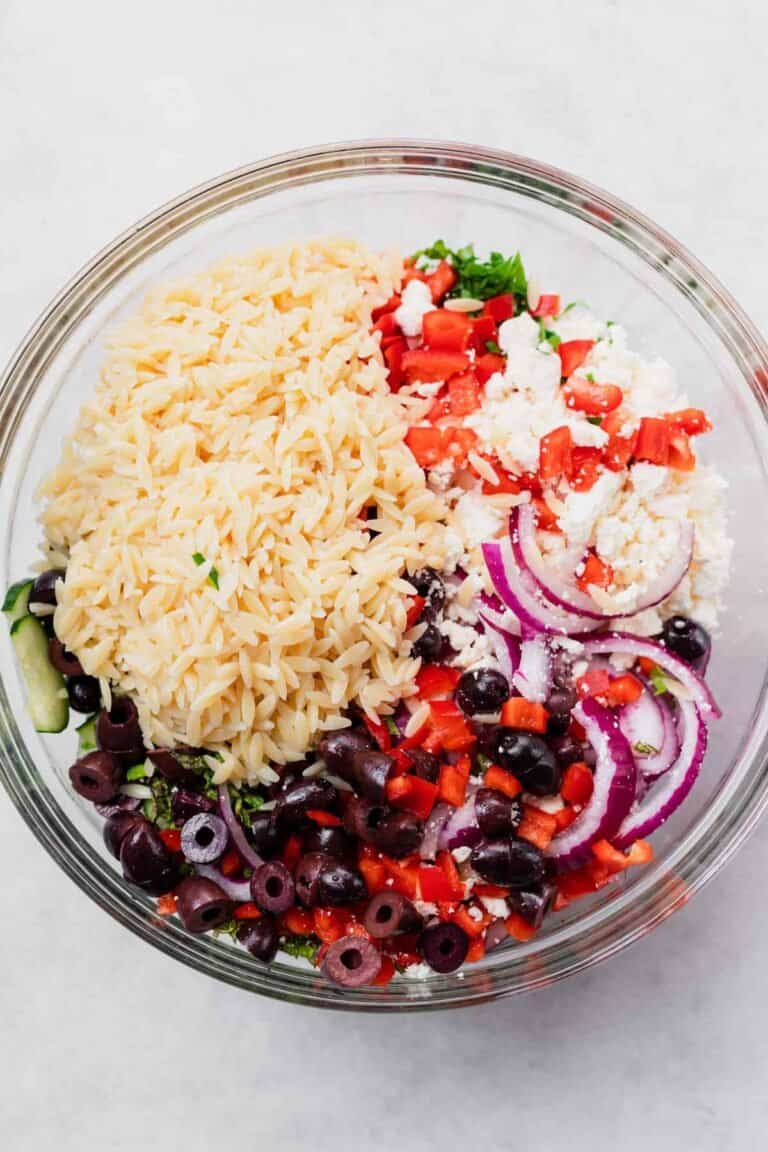 FAQ
Can I make the Greek Orzo Feta Salad ahead of time?

Yes, you can make it ahead of time. The flavors will meld together and even improve after a few hours. However, if you're making it a day ahead, it's best to add the fresh herbs and final seasoning just before serving to maintain their fresh flavor and color.
Can I substitute another type of pasta for orzo?

Yes, you can substitute orzo with other types of small pasta like farfalle, fusilli, or penne. The important thing is to choose a pasta that can hold up well in a salad and can easily be eaten with a fork.
Can I add protein to this salad?

Absolutely! Grilled chicken, shrimp, or even chickpeas are excellent protein additions to this salad.
I don't have Kalamata olives. Can I use a different kind?

Yes, if you can't find Kalamata olives, you can substitute them with black olives or green olives. Keep in mind that each type of olive has a distinct flavor, so the salad will taste slightly different.
Storage
Before storing the salad, ensure it is completely cooled. Storing warm food can lead to condensation, which may spoil the salad faster.
Use an airtight container to store your Greek Orzo Salad. This keeps out moisture and other contaminants and also prevents the salad from absorbing other flavors in the fridge.
Immediately store your salad in the refrigerator. The cool temperature slows the growth of bacteria and keeps the salad fresh. The orzo salad can be stored in the refrigerator for 3-4 days.
When eating the orzo leftovers, If the salad appears a bit dry after storage, you can refresh it with a squeeze of lemon juice or a drizzle of olive oil before serving.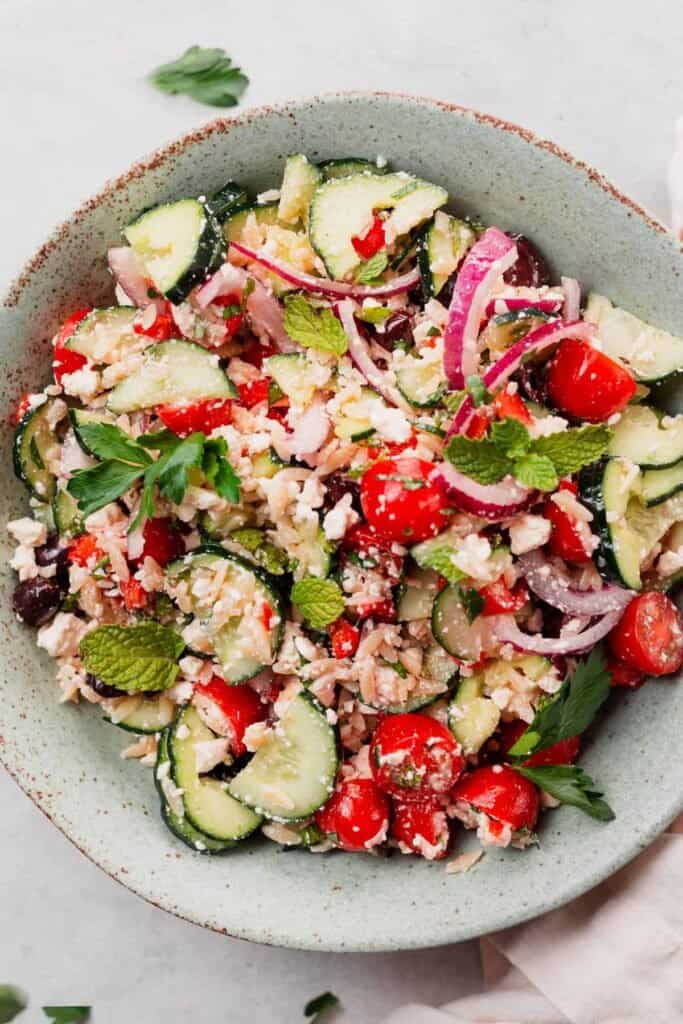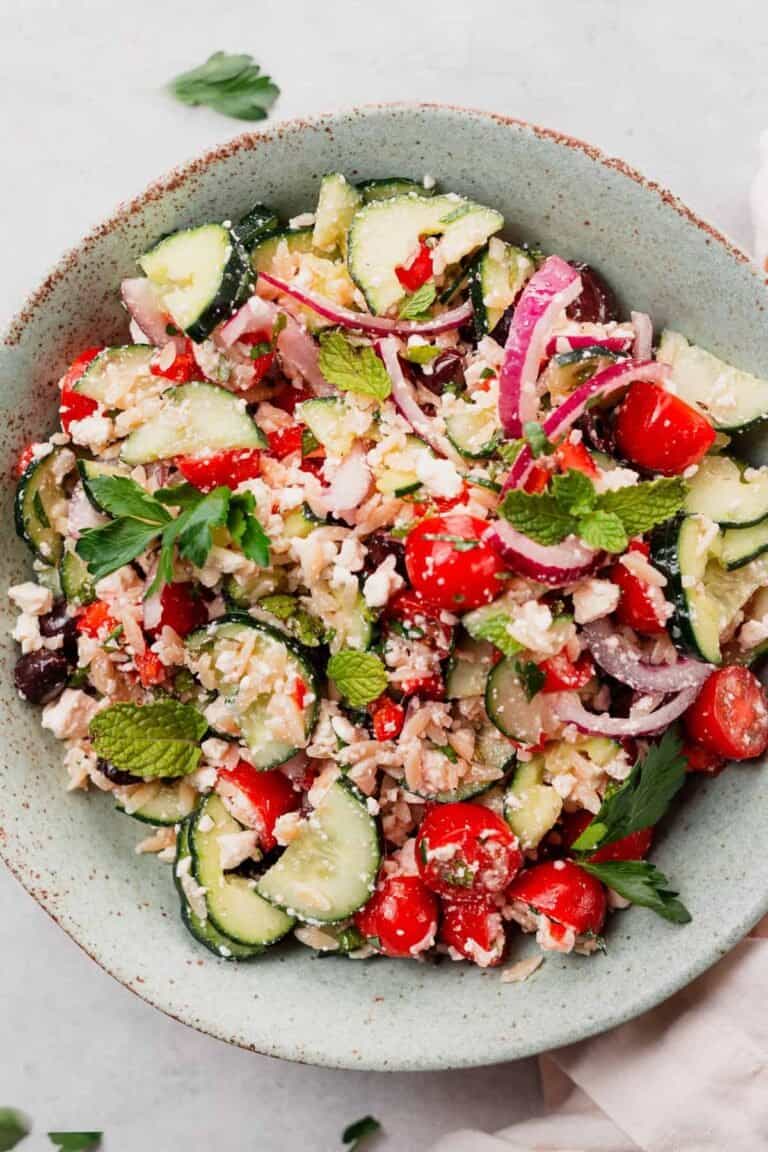 What to Serve with Greek Orzo Salad
Wondering what to make alongside your Greek orzo salad? Here are some ideas for you!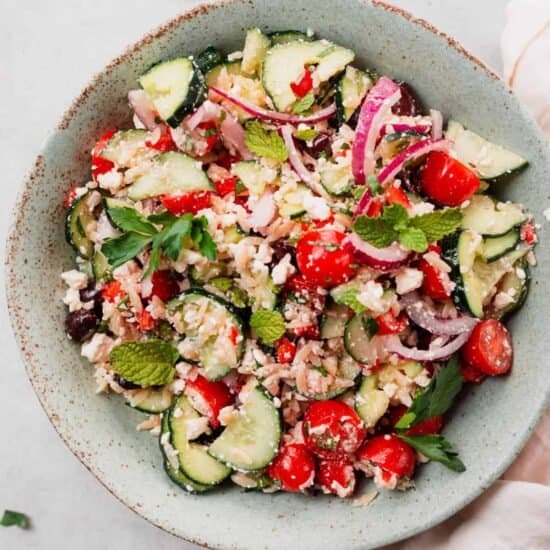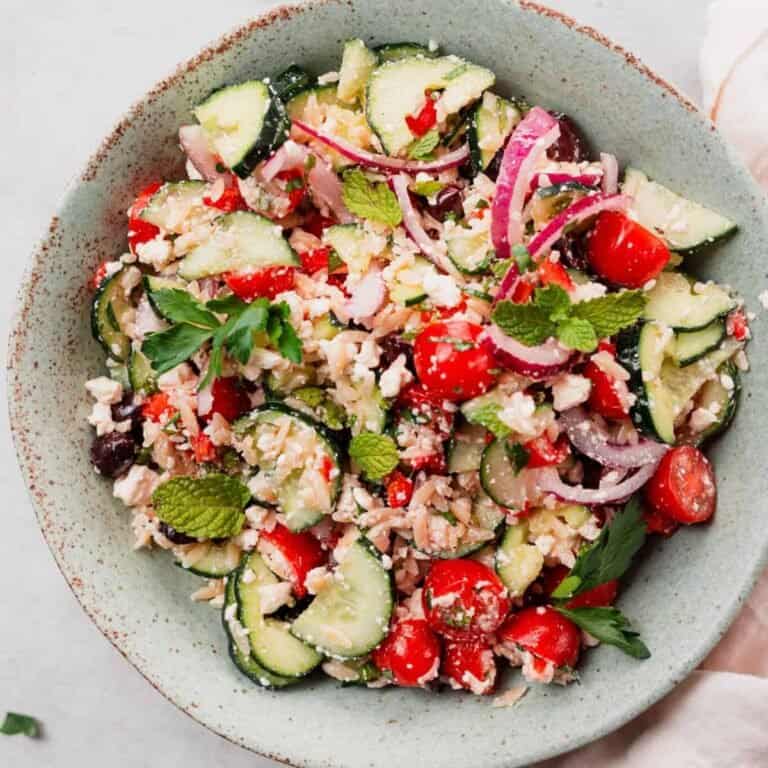 Greek Orzo Salad with Feta
Make this fresh and delicious Greek Orzo Salad with feta cheese for an easy lunch idea! Serve it next to a chicken breast or salmon filet for a complete meal.
Ingredients
Greek Orzo Salad
1

cup

orzo

uncooked

3

cups

English cucumbers

thinly sliced into half-moons (normal cucumber works too!)

1

pint

cherry tomatoes

halved

1/8

teaspoon

salt

1/2

red onion

finely sliced

1

large red pepper

diced

1

cup

kalamata olives

pitted and halved

8

oz.

block feta cheese

crumbled

1/3

cup

chopped fresh mint

lightly packed

¼

cup

chopped parsley
Dressing
¼

cup

olive oil

2

tablespoons

lemon juice

1

tablespoon

apple cider vinegar

⅛

teaspoon

salt

⅛

teaspoon

pepper
Instructions
Begin by placing cucumbers and cherry tomatoes in a bowl and sprinkling them with salt. Mix well and let them sit for at least 15 minutes to draw out excess liquid. Set aside.

Next, bring a pot of salted water to a boil and cook the orzo until it is al dente. 

Strain the orzo, rinse with cold water, and set aside. 

While the cucumbers and tomatoes are soaking, add the red onion, red pepper, olives, feta, fresh mint, and fresh parsley in a large bowl. Set aside. 

Pour the cucumbers and tomatoes into a sieve and discard the excess liquid. 

Add the cucumbers, tomatoes, and orzo to the bowl with the rest of the salad ingredients and gently mix all of the ingredients together.

Finally, add the olive oil, apple cider vinegar, lemon juice, salt and pepper to a small bowl and whisk them together. 

Pour the dressing over the orzo salad and mix until all of the ingredients are covered in dressing. Serve immediately.
Nutrition facts
Calories:
400
kcal
Carbohydrates:
29
g
Protein:
10
g
Fat:
25
g
Fiber:
2
g
Sugar:
3
g