This is not only the best mac and cheese recipe on the internet, but the cheesiest! Our Classic Mac and Cheese is made with a roux-based sauce and 3 whole cups of shredded cheddar cheese.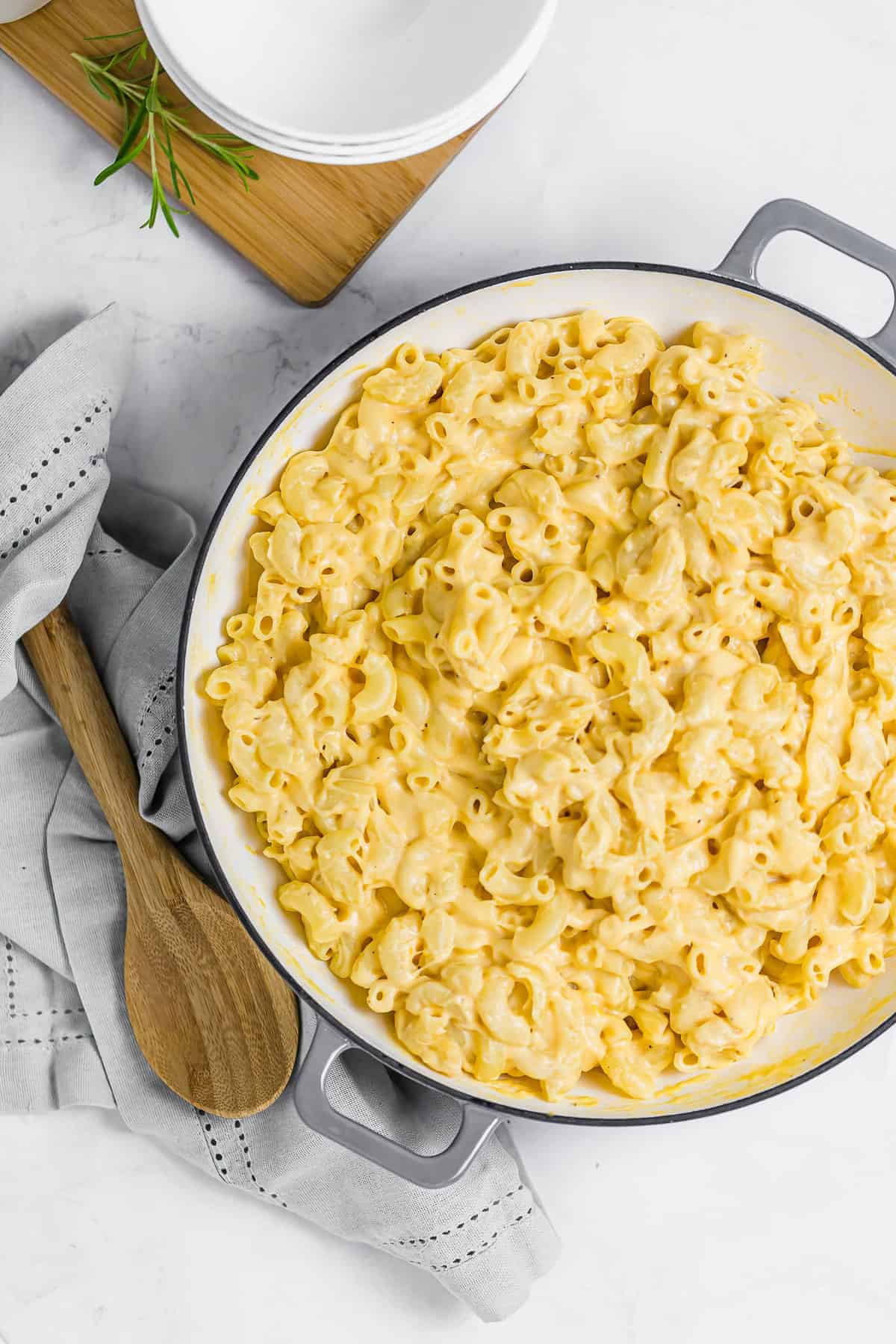 This is our most popular Mac and Cheese recipe on Cheese Knees! It's been rated 5 stars countless times and we hope you love it! Our secret ingredient is a little splash of vinegar-based hot sauce. Just trust us.
While some people think classic mac and cheese is made in the oven, ours is made on the stovetop.
What is in mac and cheese?
Macaroni noodles – any pasta works, but we love elbows.
Butter – use the real stuff.
All-purpose flour – this is used for the roux.
2% milk – we don't suggest milk less than 2% fat.
Shredded sharp cheddar cheese – always always always grate your cheese fresh, if possible!
Hot sauce (we used Franks) – our secret ingredient to really bring out all of the flavors.
Featured Comment
"We made this recipe for Thanksgiving and I already can't wait to eat the leftovers! Congrats on the new website as well – I've followed FFF for years and am also a huge fan of cheese so I can't wait to try more of these recipes. Thanks and Happy Holidays!" – Jessica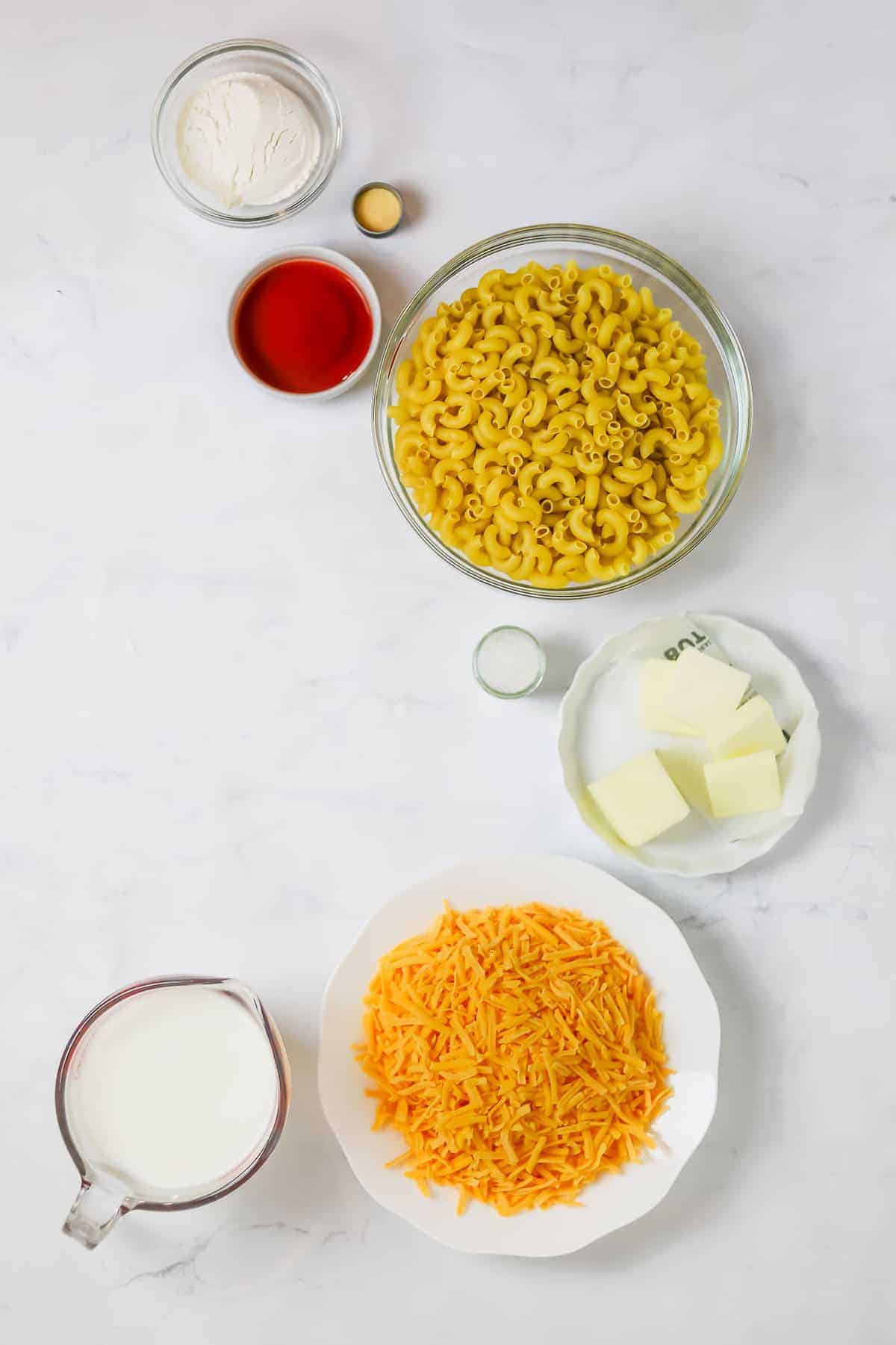 Variations + Substitutions
Since this is the BEST mac and cheese recipe on the internet, it obviously uses a classic cheese – sharp cheddar cheese.
If you want to sub a different shredded cheese, we recommend using 2 cups of cheddar and subbing the last cup for something else. Some great options are gruyere, mozzarella, Swiss, gouda, or Colby jack.
We love Franks Hot Sauce, but feel free to use whatever your fave is, whether that's Sriracha, Cholula or another go-to you have on hand in your fridge.
pro tip
If you like things a little spicier, go ahead and up this to 3 tablespoons. If you're more of a mild lover, start with 1/2 tablespoon, and taste test from there.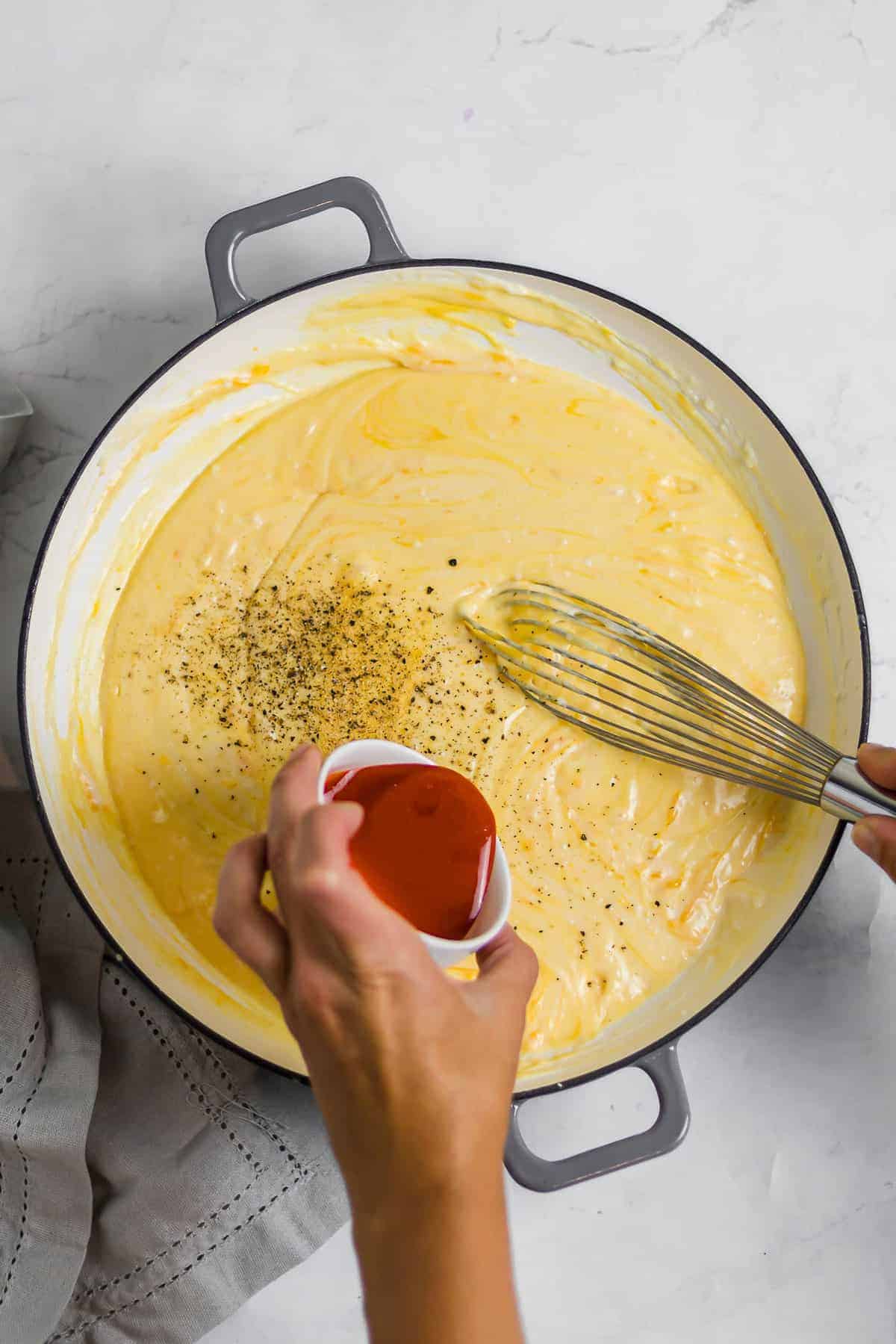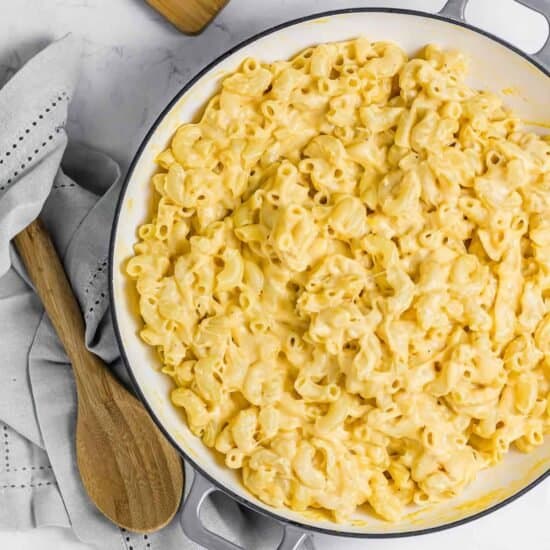 Creamy
Mac and Cheese Sauce
No matter if you're making stovetop mac and cheese or baked mac and cheese, this is the best mac and cheese sauce on the internet!
Get Recipe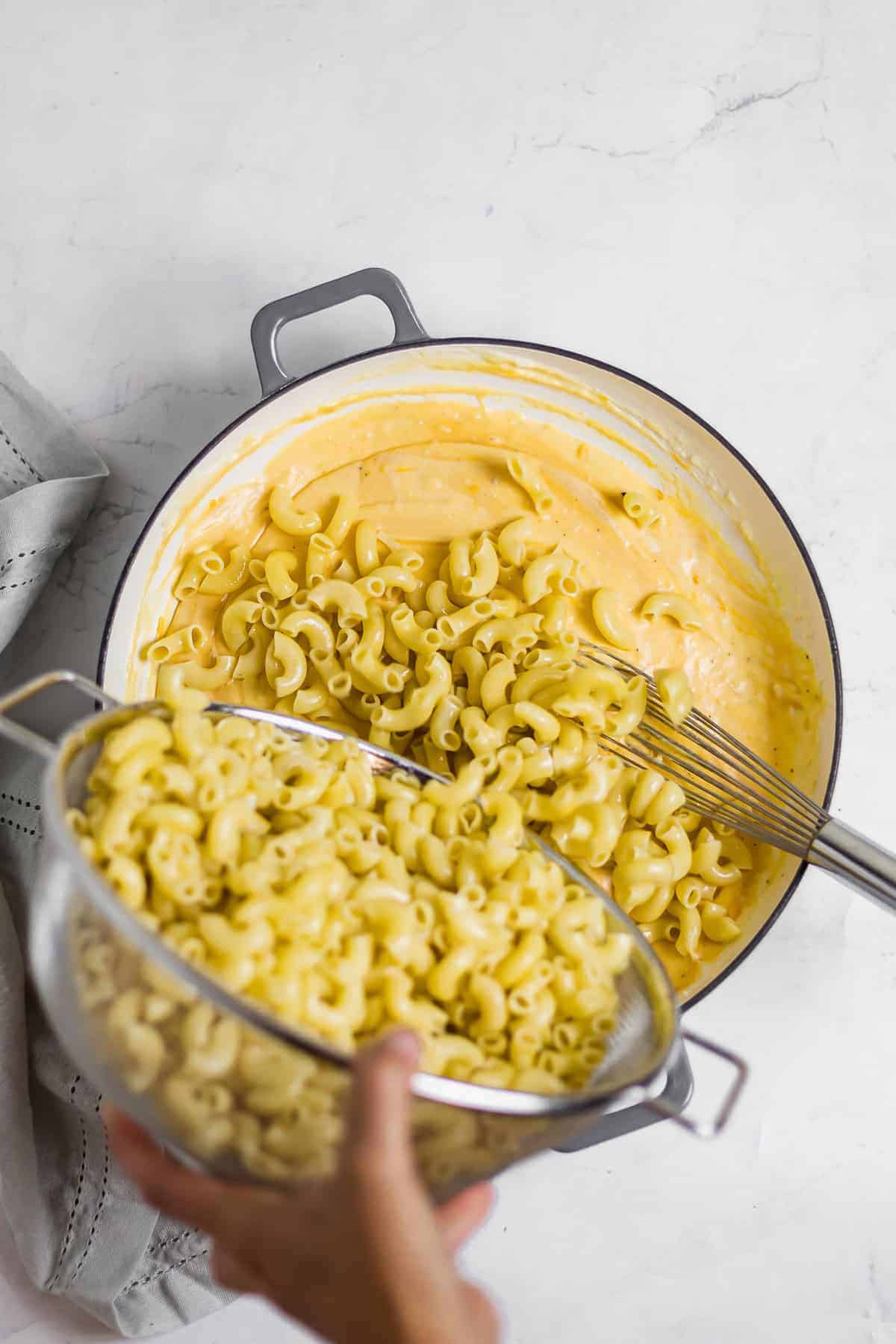 How to Store Mac and Cheese
Before you store the mac and cheese, allow it to cool down to room temperature, but don't leave it out for more than two hours to prevent bacterial growth.
Once cooled, transfer the mac and cheese into an airtight container or multiple containers for meal prep.
Place the airtight container(s) in the refrigerator. Properly stored, cooked macaroni and cheese will last for 3 to 5 days in the refrigerator.
How to Reheat Mac and Cheese
The key to reheating mac and cheese is to add a little moisture (milk works great!) since the noodles continue to absorb moisture even after it's originally cooked, and to reheat low and slow to avoid the cheese breaking down and changing texture.
Stovetop Directions
Add mac and cheese into a medium pot. Then, add in a splash of milk.
Reheat over low/medium heat for about 5 minutes, stirring every so often. Continue to add more milk, as meeded.
Oven Directions
If you have time to reheat your mac and cheese in the oven, that is a great method! Simply add a little milk (start with a tablespoon, and go up from there depending on how much mac you're reheating!), and stir thoroughly before covering an oven-safe dish and placing in the oven at 350°F.
You'll need 10-20 minutes of reheating time, depending on how much mac you're reheating.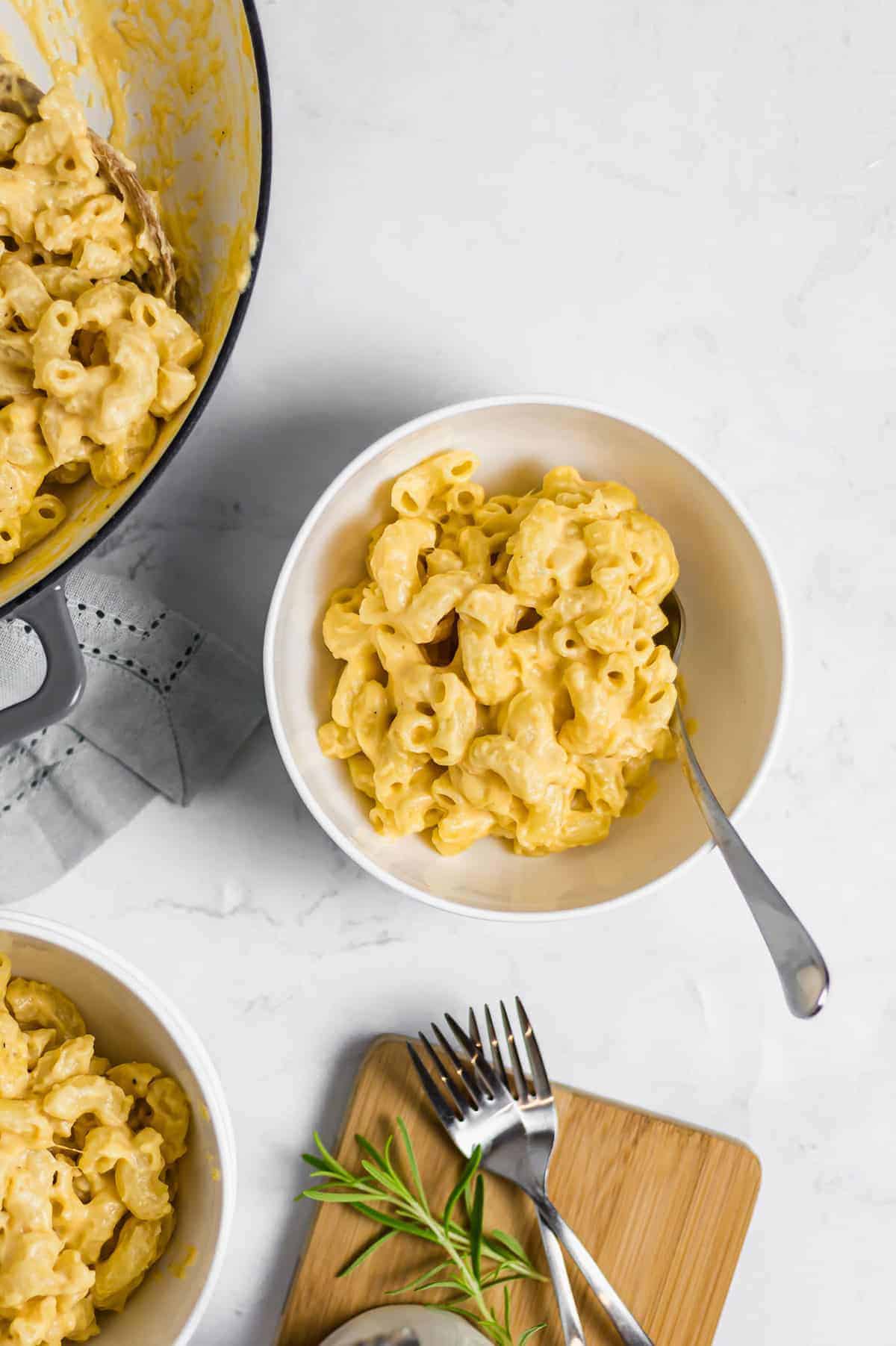 Serving Suggestions
You can serve this mac and cheese as a main dish or a side dish. Below are some of the dishes we would serve alongside this creamy meal.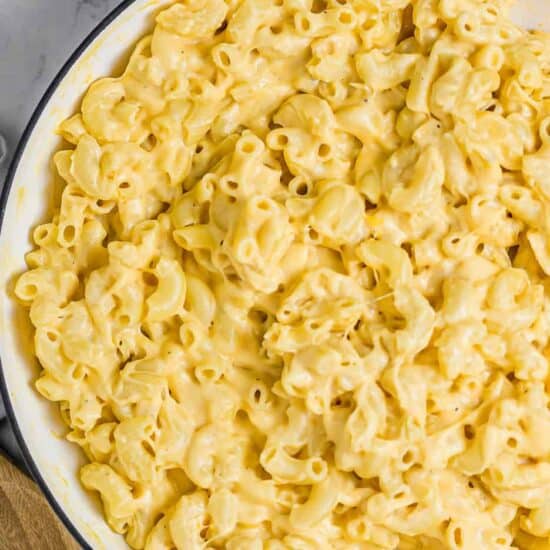 Best Mac and Cheese Recipe
This is truly the best mac and cheese recipe on the internet! It's made with a homemade cheese sauce, macaroni noodles, and a little hot sauce as our secret ingredient!
Ingredients
1

lb.

macaroni noodles

1

teaspoon

sea salt

4

tablespoons

butter

1/3

cup

all-purpose flour

3

cups

2 % milk

3

cups

shredded cheddar cheese

1/2

teaspoon

salt

1/4

teaspoon

granulated garlic

or garlic powder

1-2

tablespoons

buffalo hot sauce

we used Franks
Instructions
Bring a large pot of water to a boil and add the uncooked macaroni noodles and salt to the water and stir.

Let pasta cook until al dente. Strain noodles and set aside.

Next, prepare a roux by heating a large pot or dutch oven over medium/high heat. Add butter. When the butter is melted add flour and whisk until the butter and flour form a crumble.

Slowly add milk to the pot, whisking constantly. Continue to whisk the roux over medium/high heat for about 4-6 minutes or until the roux thickens.

When the roux is thick, remove from heat and add the cheddar cheese. Whisk until the cheese has melted.

Add granulated garlic, hot sauce, and salt and pepper to the cheese sauce. Mix well.

Finally, add the cooked macaroni noodles to the cheese sauce and mix until the noodles are covered in cheese sauce.

Enjoy immediately.
Nutrition facts
Calories:
474
kcal
Carbohydrates:
67
g
Protein:
12
g
Fat:
17
g
Fiber:
1
g
Sugar:
7
g