Cottage cheese queso is superior to all other queso on the internet because it's super high-protein and made with 4 total ingredients all in the microwave!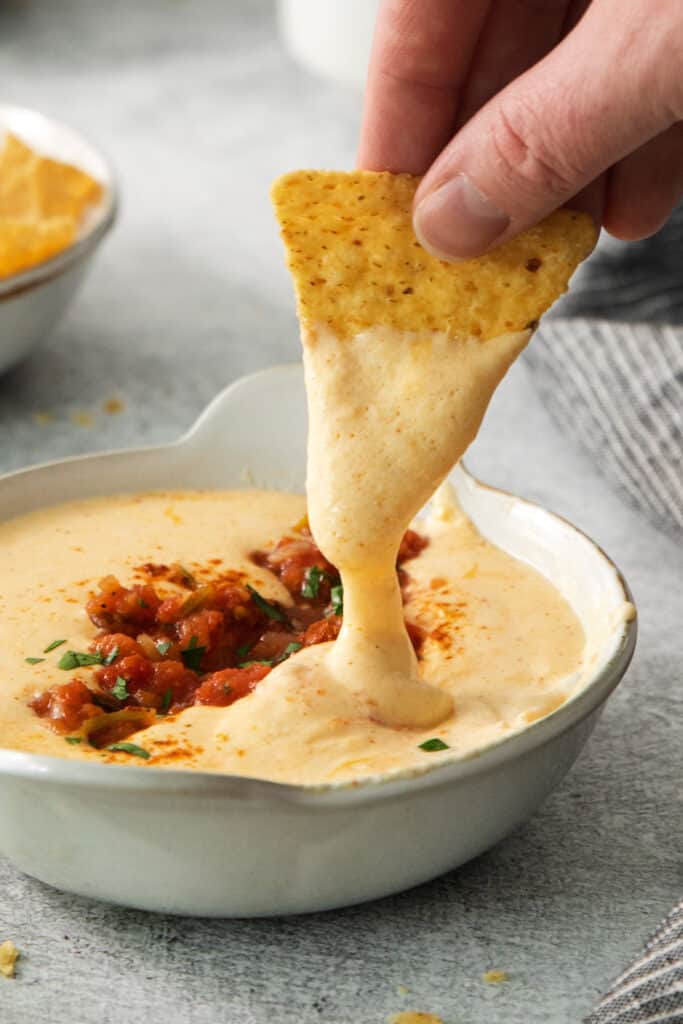 Hello, cheese lovers! Today, we're going to introduce you to a delightful twist on a classic favorite. We're talking about our "Cottage Cheese Queso." Yes, you heard it right! We're using cottage cheese to create a creamy, delicious queso dip that's made right in your microwave.
Why Cottage Cheese Queso?
Cottage cheese is a versatile ingredient that often gets overlooked. It's packed with protein, calcium, and essential nutrients, making it a healthier alternative to many other types of cheese.
But don't worry, we're not sacrificing flavor here. When blended, cottage cheese takes on a smooth, creamy texture that's perfect for our queso.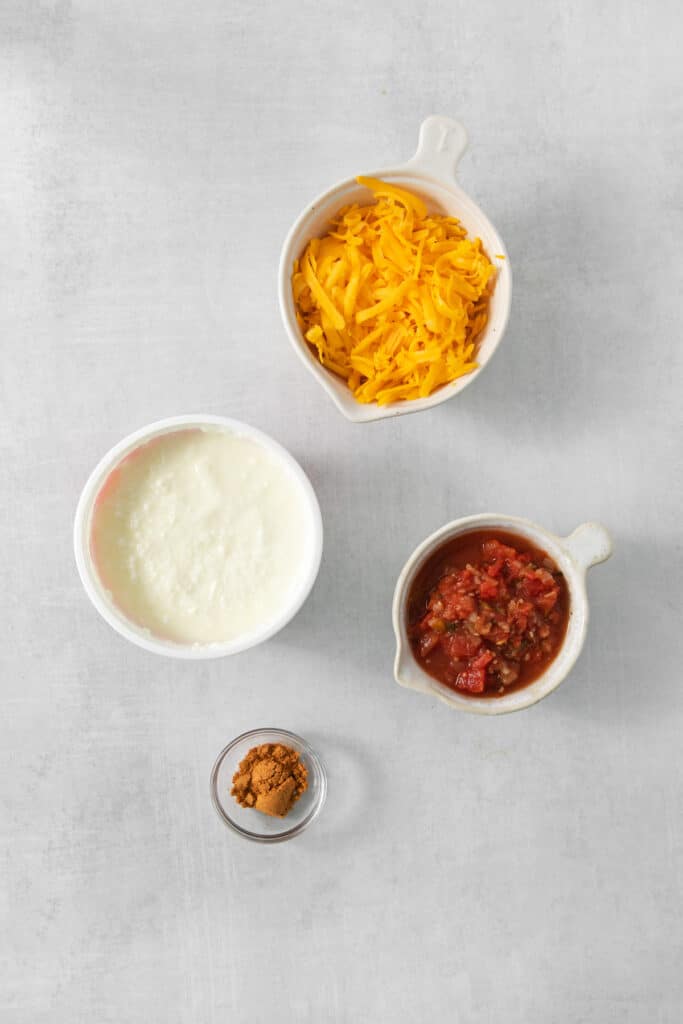 Ingredients You'll Need
To make this delightful cottage cheese queso, you'll need the following ingredients:
Full-fat cottage cheese: we always recommend full-fat cottage cheese because of its flavor and consistency.
Shredded cheddar cheese: freshly shredded cheese has no additives and will melt better than store-bought shredded. Feel free to use either orange or white.
Taco seasoning: homemade or store-bought taco seasoning works.
Pico de gallo: we tested this recipe with salsa and canned tomatoes and fresh pico de gallo gave it the best texture.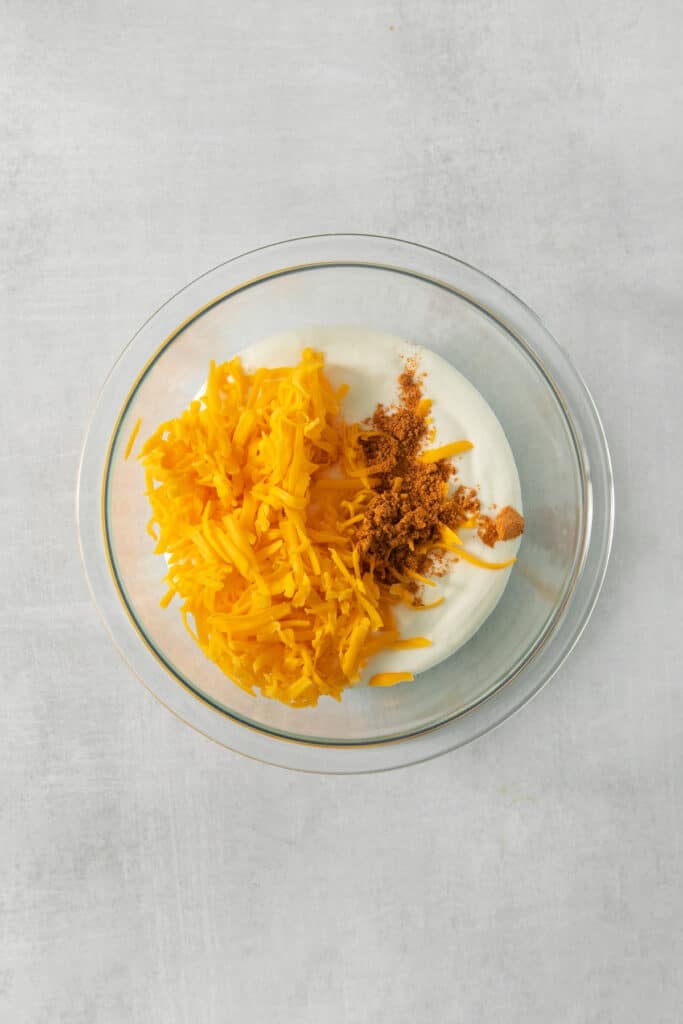 Why the Microwave?
Don't get us wrong, while you can absolutely cook this low and slow on the stovetop like our homemade queso, the microwave is just easier.
Tip: make sure to use a microwave-safe bowl (speaking from experience).
Variations
Make it single-serve: If you're craving some cottage cheese queso but don't want to make a big batch, we've got you covered. Just blend the whole container of cottage cheese, then scoop out ½ cup of it. Add ¼ teaspoon of taco seasoning and 1 oz. of shredded cheese, and you've got a single serving of delicious cottage cheese queso!
Use a different shredded cheese: instead of shredded cheddar, try Monterrey jack or pepper jack
Add some heat: mix in some canned green chiles or jalapeños to make it spicy.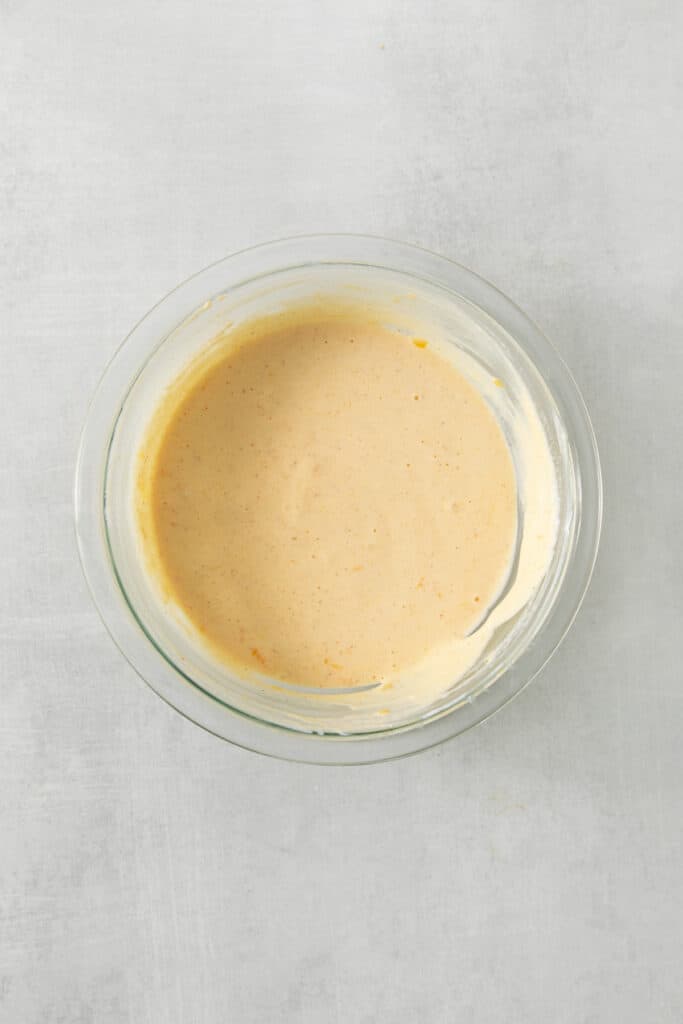 Storage
This queso dip is definitely best eaten fresh out of the microwave. If you do have leftovers, transfer it into an airtight container for up to 3 days.
To reheat: slowly reheat the queso on high in the microwave in 30-second increments, mixing often.
Serving Suggestions
We loved eating this cottage cheese dip with tortilla chips, but pita chips or crackers would be yummy too. Try using this as a topping on chicken quesadillas, huevos rancheros, or beef taquitos.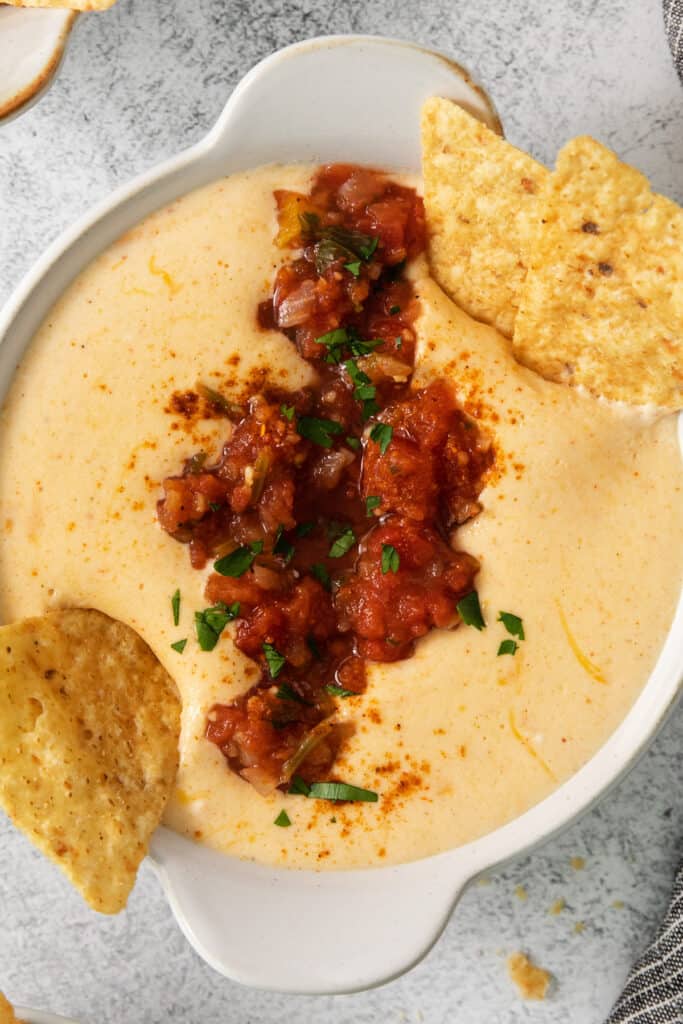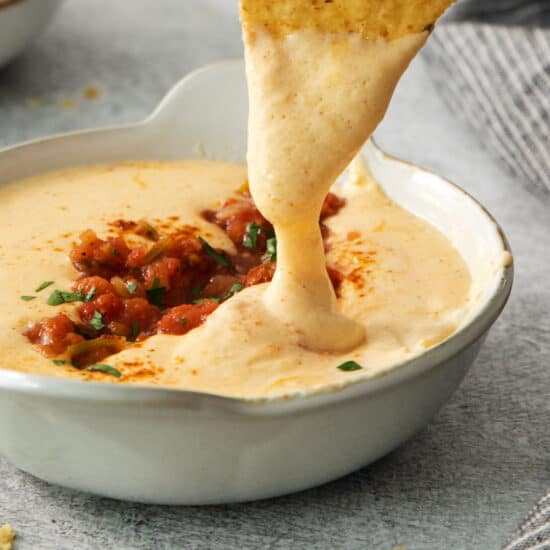 Cottage Cheese Queso
Cottage cheese queso is a unique take on queso uses blended cottage cheese for a creamy, protein-packed alternative that's both delicious and nutritious. Ready in just 7 minutes, it's the perfect quick and easy dip for your next gathering or a solo snack.
Ingredients
16

oz.

full-fat cottage cheese

4

oz.

shredded cheddar cheese

~1 cup

1

teaspoon

taco seasoning

½

cup

pico de gallo
Instructions
Add the cottage cheese to a blender or food processor and blend on high until smooth.

Transfer the cottage cheese to a microwave-safe bowl and add the shredded cheddar cheese and taco seasoning. Microwave for 1 minute, stir, microwave in 30 second incriments until smooth and creamy.

Top with pico de gallo and serve with tortilla chips.
Tips & Notes
Monterey jack or pepper jack could be used in place of the cheddar cheese.
Want to make a single serving, blend the whole container of cottage cheese. Scoop ½ cup of cottage cheese, ¼ teaspoon taco seasoning, and 1 oz. of shredded cheese.
It is better to microwave in smaller chunks of time rather than longer to prevent the cheese from seizing up.
Making sure to stir in between microwaving.
We tested this recipe by microwaving the dip right in the cottage cheese container and it worked just swell. 
Nutrition facts
Calories:
160
kcal
Carbohydrates:
6
g
Protein:
13
g
Fat:
10
g
Fiber:
0
g
Sugar:
4
g