Make a big beet goat cheese salad for an easy and veggie-packed meal! This salad is made with pears, goat cheese, walnuts, spinach, and a delicious salad dressing.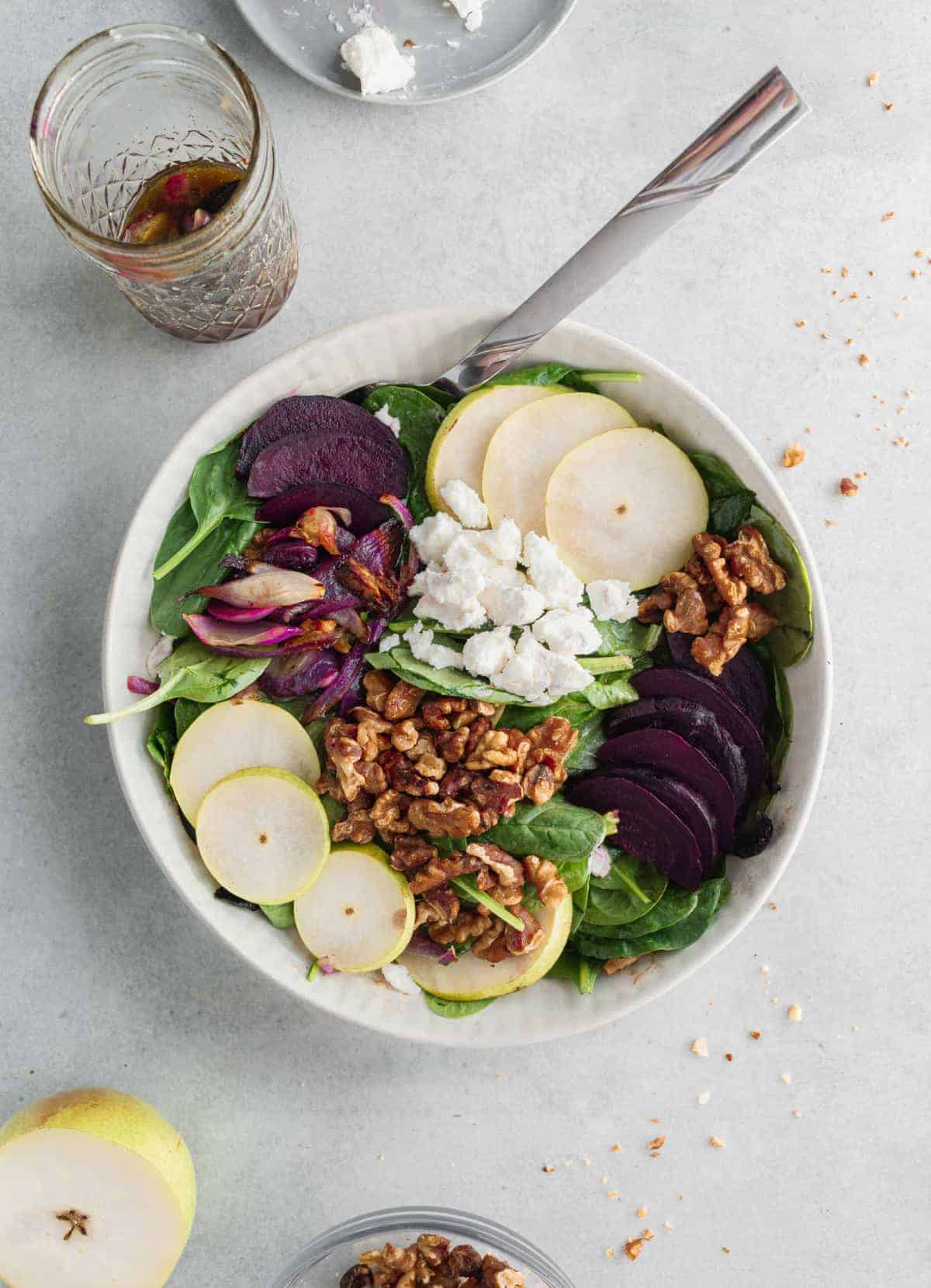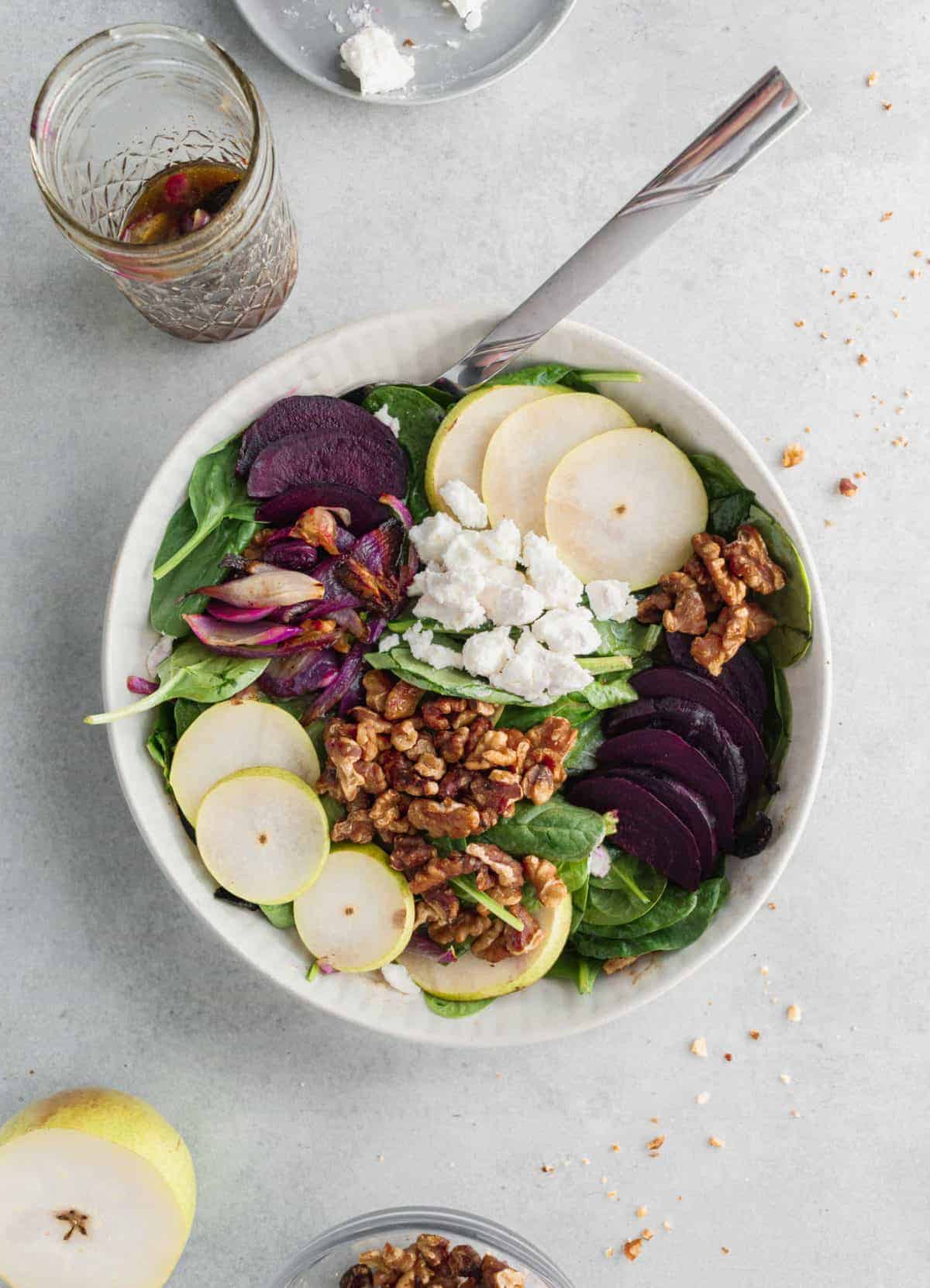 Why Beet Goat Cheese Salad?
A perfect salad is a balance between vegetables, fruit, textures, and is bound together by a delicious dressing. This beet goat cheese salad is the perfect combination of all those things.
Beet goat cheese salads are a favorite salad all over the world! It's the salad you make when you're trying to impress your mother-in-law at dinner or if you are out to eat and want a hearty salad. You just can't go wrong.
Everyone puts their own twist on their beet goat cheese salad recipes and so did we!
Ingredients You Need
We took a classic beet goat cheese salad and mixed things up with a delicious dressing and fruit! Let's break down our ingredients.
Goat Cheese- Goat cheese (or often called chévre it's french name) is one of the main ingredients of this salad. There are so many different options for goat cheese at the grocery store. You can by crumbly goat cheese, creamy goat cheese, tangy goat cheese, or a sweeter goat cheese.
We went with a tangy and creamy,. plain goat cheese for this recipe. Feel free to get creative and use an herb goat cheese or even a honey chev!
Beets- Mmm mm BEETS. This salad is for beet lovers of all kinds! Beets are known for having a sweet yet earthy flavor that you either love or hate. We love beets. The beets in this beet salad are roasted with onions and garlic to create the most perfect and sliceable beets.
Spinach- The base of this salad is spinach. It is a great neutral green that takes on the flavor it's dressed with!
Pears – Sliced pears are a sweet addition to this salad. Pears are also a complimentary fruit to beets and goat cheese!
Candied Walnuts- We make our own quick and easy candied walnuts for this salad. they add the perfect amount of crunch that every salad needs.
Onions- When the beets are being roasted, we added garlic and onions to the pan so they turned the onions into a caramelized and delicious addition to the salad.
Dressing- The dressing that binds this salad together is a combination of the roasted onions, garlic, olive oil, mustard, salt, and maple syrup!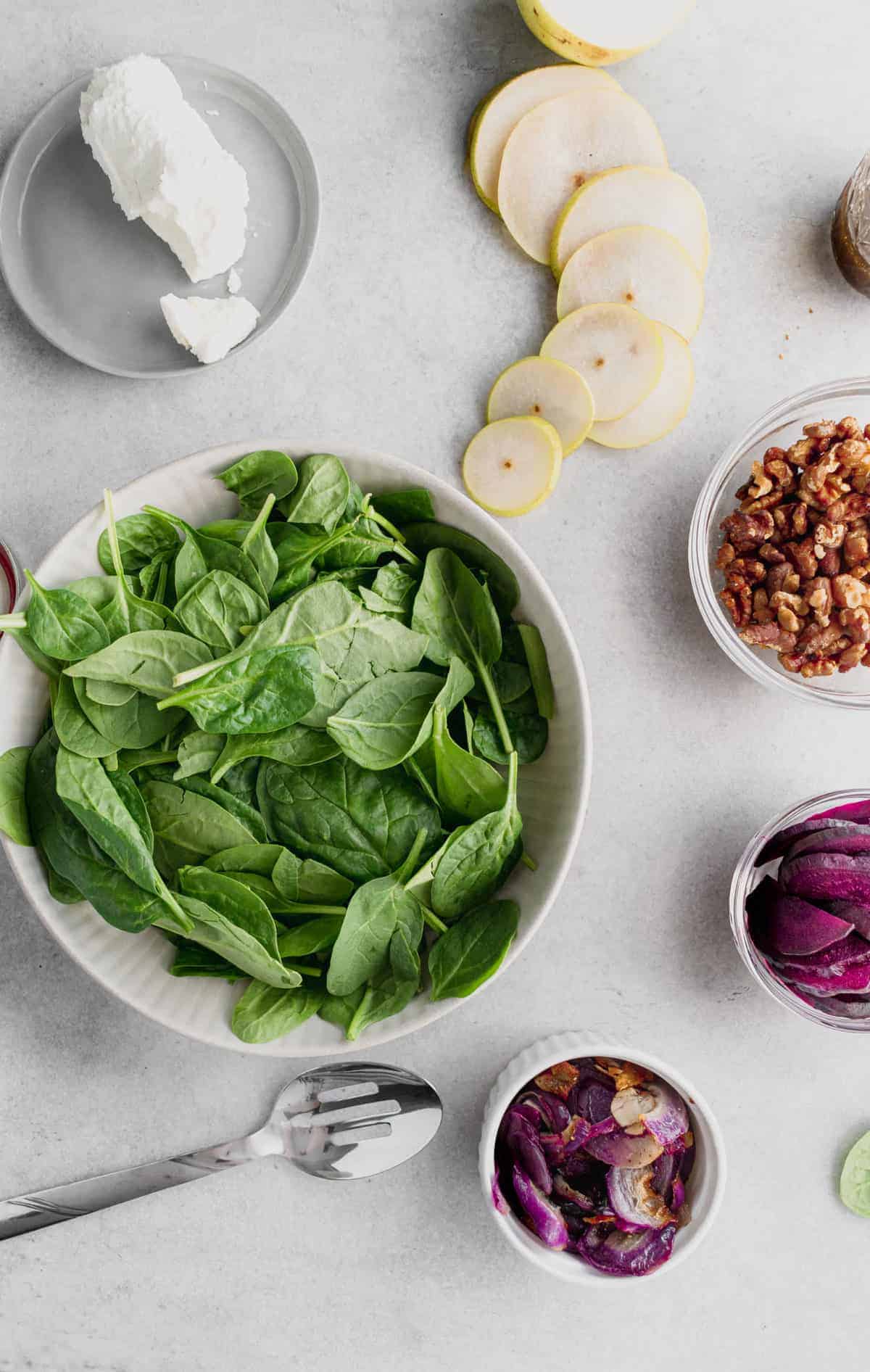 How do I prepare beets for a beet goat cheese salad?
There are many different ways that you can prepare beets. We did roast beets for this salad, but if you don't have time time or like your beets prepared a certain way, go for it! Below are a few different ways you can prepare beets!
No matter how you cook your beets, you know they are done when they are fork tender!
Roasted
To roast beets you want to trim and rinse off the beets and then drizzle them with salt and pepper. From there either wrap them individually in tin foil or place them in a baking dish and cover the dish with tin foil.
Roast them at 400ºF for 30-40 minutes. Remove the beets from the oven and let them sit for 5 minutes before carefully peeling off the beet skin. It should come off fairly easy!
Boiled
For boiled beets trim and rinse the beet and them place them in a large pot of salted water. Bring the beets to a boil over high heat. Turn the beets to a low simmer and let them simmer for 20-4o minutes.
Remove them from the water and pour them in a colander and rinse them with cold water and carefully remove the skin from the beets.
Instant Pot
To cook your beets in an Instant Pot, trim and rinse the beets. Then place them in the Instant Pot with 1/2 cup of water.
Cook them on high pressure for 12-14 minutes (depending on the size of the beets). Quick release the pressure but be sure to put a towel over the vent because it may spit out pink water!
When the beets are done, carefully remove the skin!
Here's a tip–> Don't have time to cook beets? They sell already cooked beets in the grocery store! Check out these cooked beets from Whole Foods!
How to Make Quick Candied Walnuts
These candied walnuts are so easy to make! Toss the walnuts with maple and sea salt. Spread them out on a baking sheet and bake them for 8 minutes at 400ºF. Remove them from the oven and let them cool. AND THATS IT.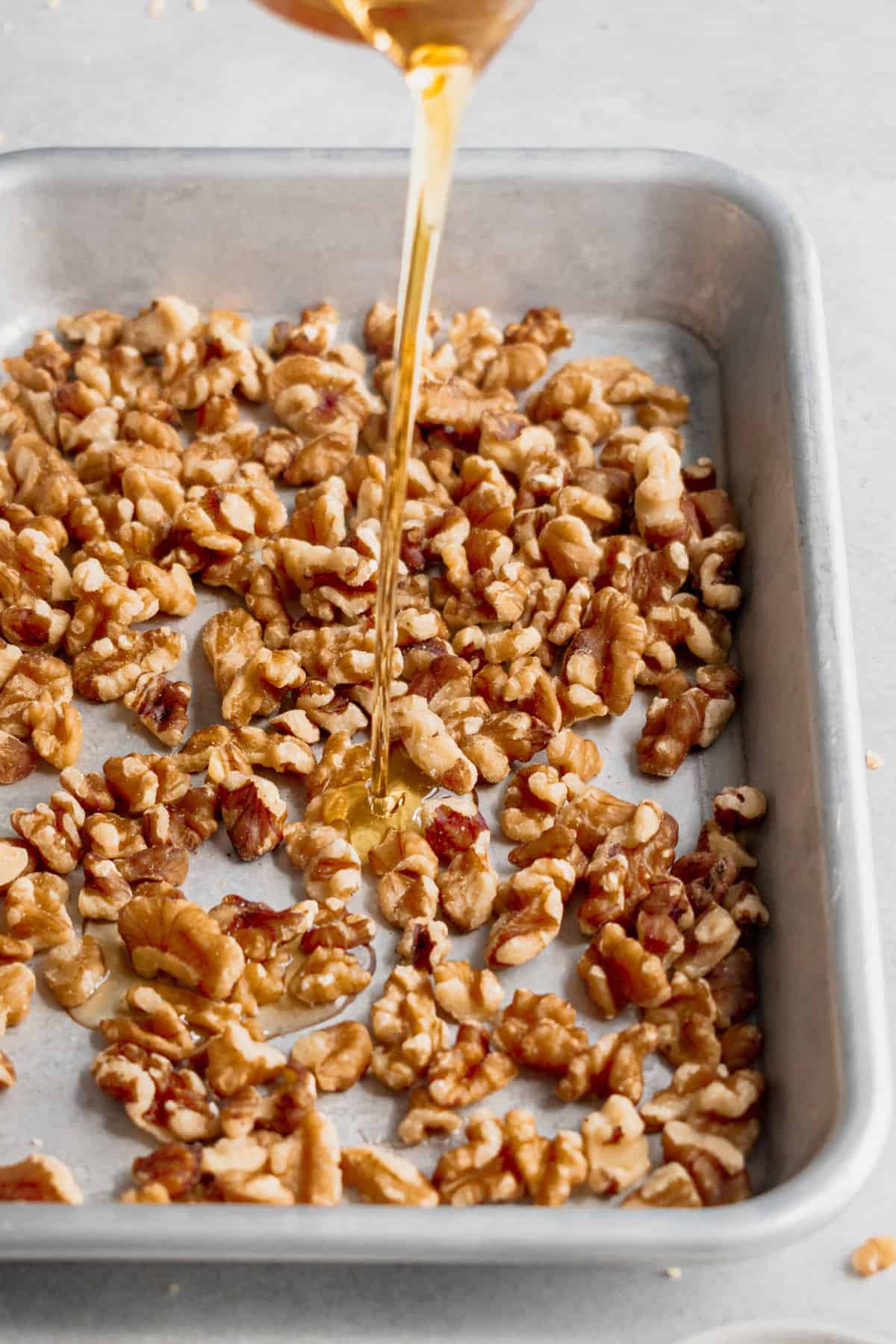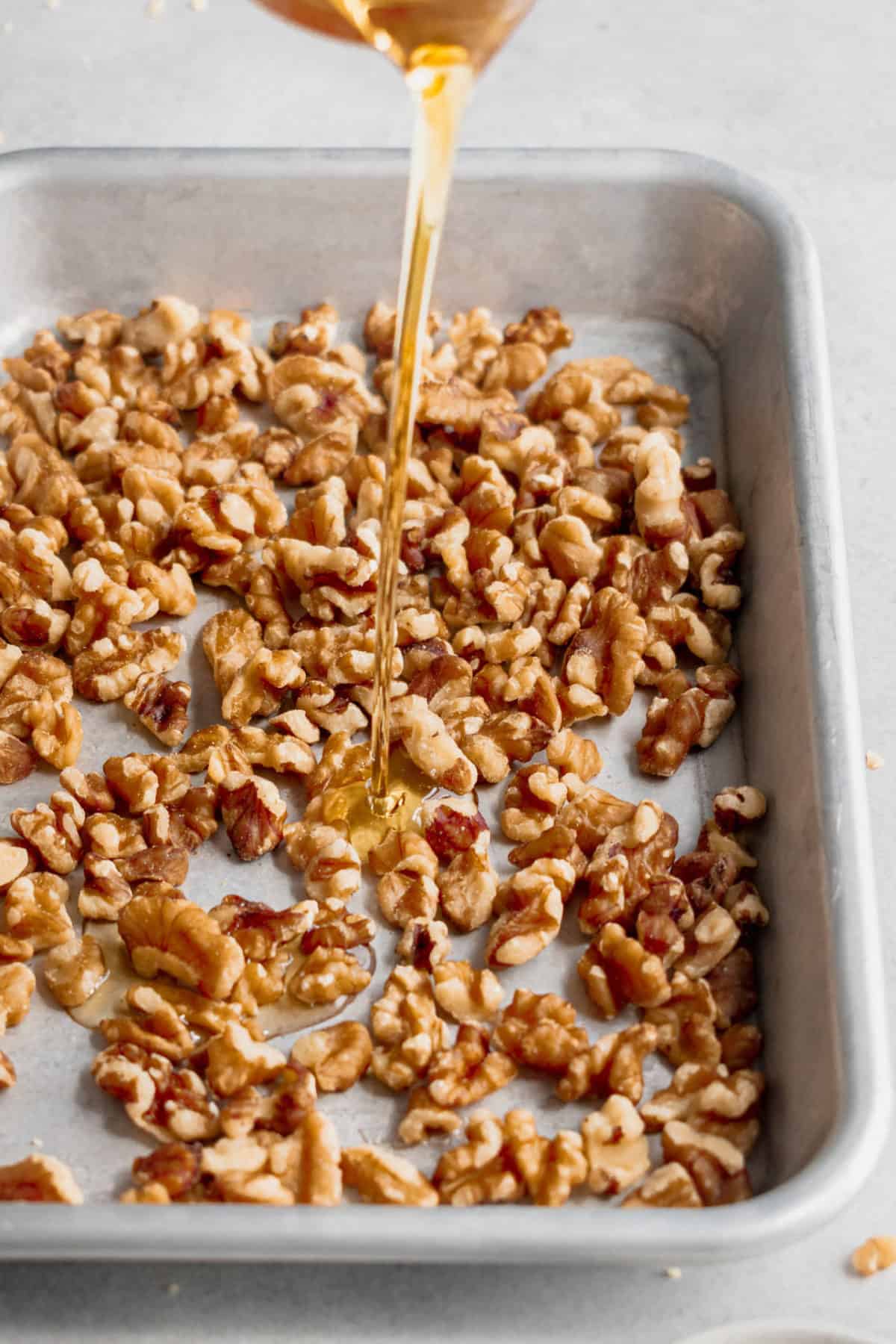 Tips + Tricks
It's ok to make substitutions.
If you don't have everything you need for this salad at home, it's ok to make substitutions! Below are our recommendations for substitutions!
Spinach—> Spring greens
Walnuts–> Pecans
Pears–> Plums
How to meal prep this salad
If you are meal prepping this salad for the week, store the beets, goat cheese, and pears in one container. Then keep the greens, nuts, and dressing all in separate containers as well and then combine the ingredients when you are ready to eat!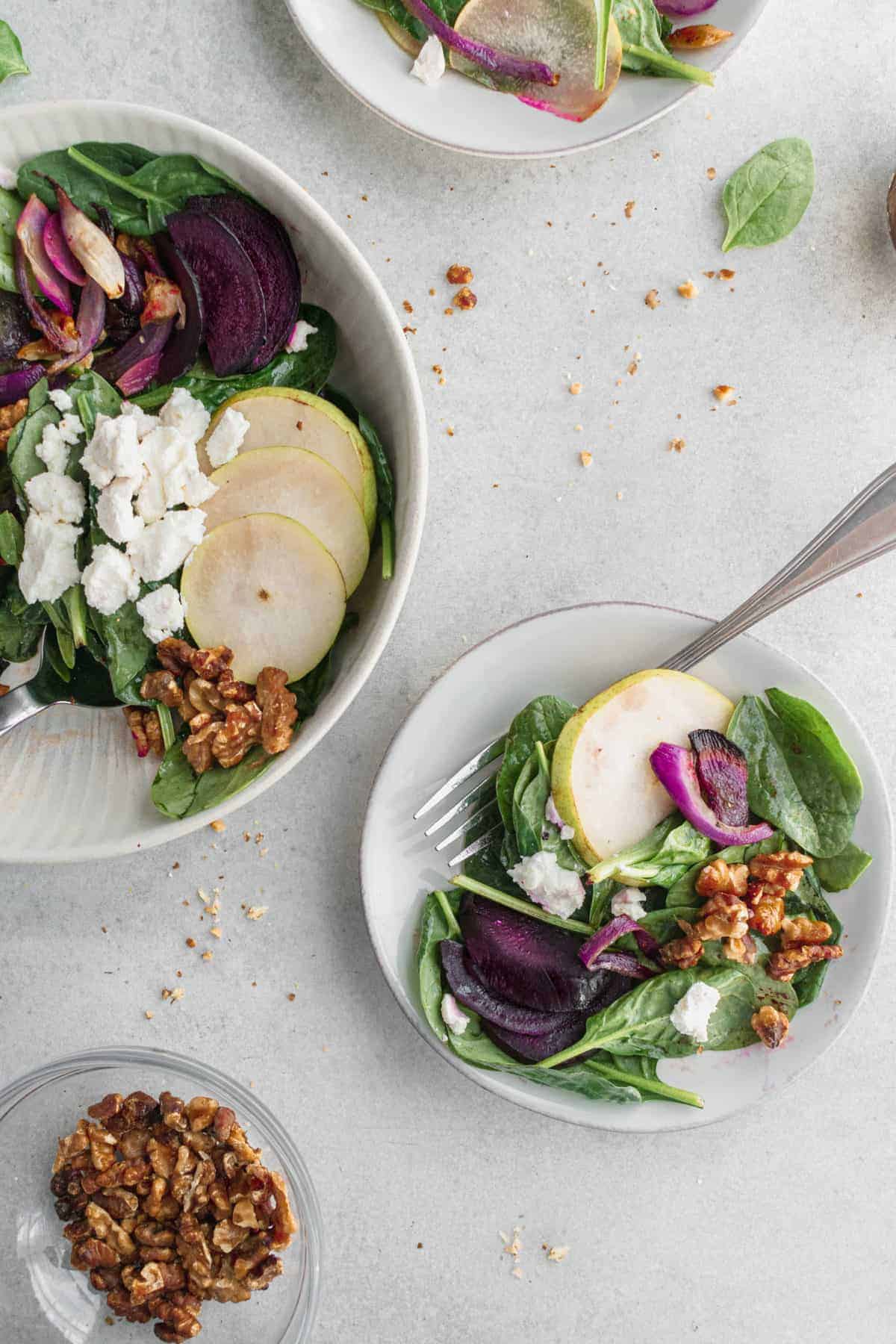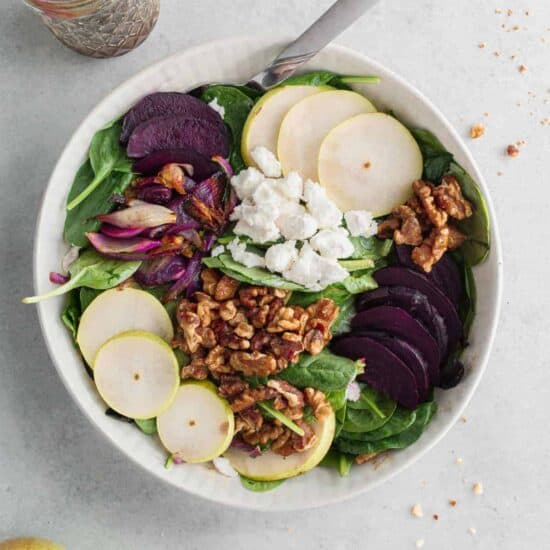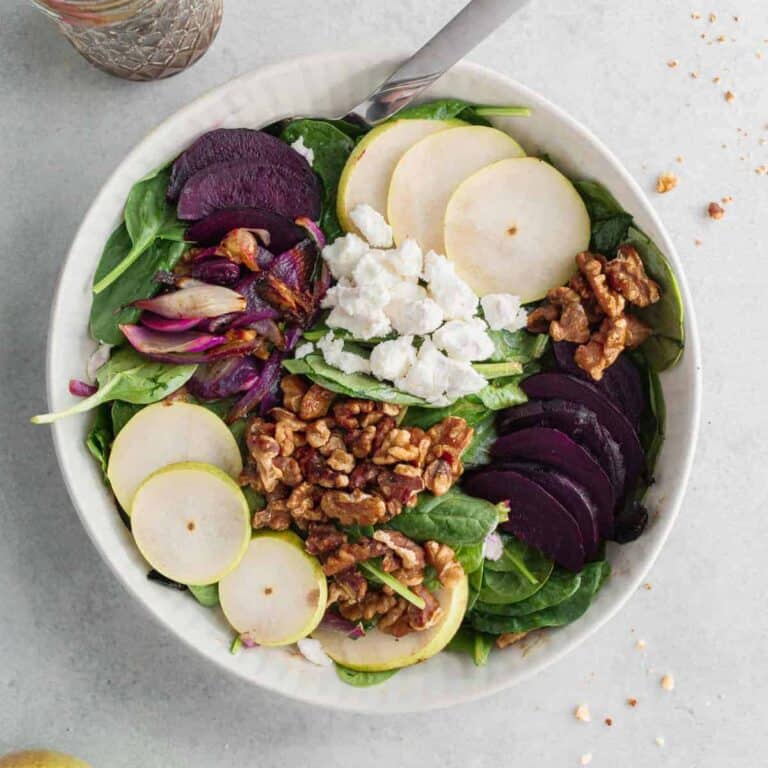 Beet Goat Cheese Salad
This beet goat cheese salad is has delicious layers of flavor! It's layered with veggies, fruit, and topped with a savory dressing that brings this salad to the next level!
Ingredients
Walnuts
1

cup

whole walnuts

1

tablespoon

maple syrup

1/8

teaspoon

salt
Beets
4

medium purple beets

rinsed and both ends cut off

1

medium purple onion

sliced

4

cloves

garlic

smashed

2

tablespoons

olive oil

1/8

teaspoon

salt

1/8

teaspoon

pepper
Dressing
1/4

cup

olive oil

2

tablespoons

balsamic vinegar

1

tablespoon

maple syrup

1

teaspoon

dijon mustard

1/8

teaspoon

salt

Onion and garlic from the roasted beats
Salad
10

oz.

fresh spinach

4

oz.

goat cheese

1

pear

thinly sliced
Instructions
First, prepare the walnuts for this recipe. Preheat the oven to 400ºF and spray a baking sheet with nonstick cooking spray.

Then, lay walnuts down on the baking sheet and drizzle with maple syrup and season with a pinch of salt. Bake at 400ºF for 8 minutes.

Remove the walnuts from the oven and immediately pour them into a glass bowl. Set aside to cool.

Increase the temperature of the oven to 425ºF and spray a 9x9 baking dish with non-stick cooking spray.

Place the beets into the baking dish with one of the ends flat side down. Scatter the onions and garlic cloves around the beets and drizzle with olive oil and salt and pepper.

Cover the baking dish with a cover or aluminum foil and bake for 30-40 minutes or until beets are fork tender.

While the beets are baking, prepare the dressing. Place olive oil, balsamic vinegar, maple syrup, dijon mustard, and salt into a jar and shake until all ingredients are combined.

Remove the beets from the oven and carefully remove the skins of the beets using a paper towel. The skins should remove easily if beets are cooked.

Then, add roasted onions and garlic to the dressing and shake the dressing jar one last time until all the ingredients are combined.

Finally, before assembling the salad, chop the candied walnuts into pieces and chop the beets into half moons.

Assemble the salad by adding the spinach, pears, beets, and walnuts to a mixing bowl. Drizzle the dressing (as well as the onions and garlic in the dressing) over the salad ingredients and toss until all the ingredients are coated in dressing.

Finally, crumble the goat cheese over the top of the salad and serve.
Nutrition facts
Calories:
379
kcal
Carbohydrates:
21
g
Protein:
8
g
Fat:
31
g
Fiber:
5
g
Sugar:
12
g