This rigatoni pie (AKA Honeycomb Pasta) is such a fun way to eat pasta. Layer your rigatoni noodles just like a honeycomb and bake them with marinara sauce and cheese!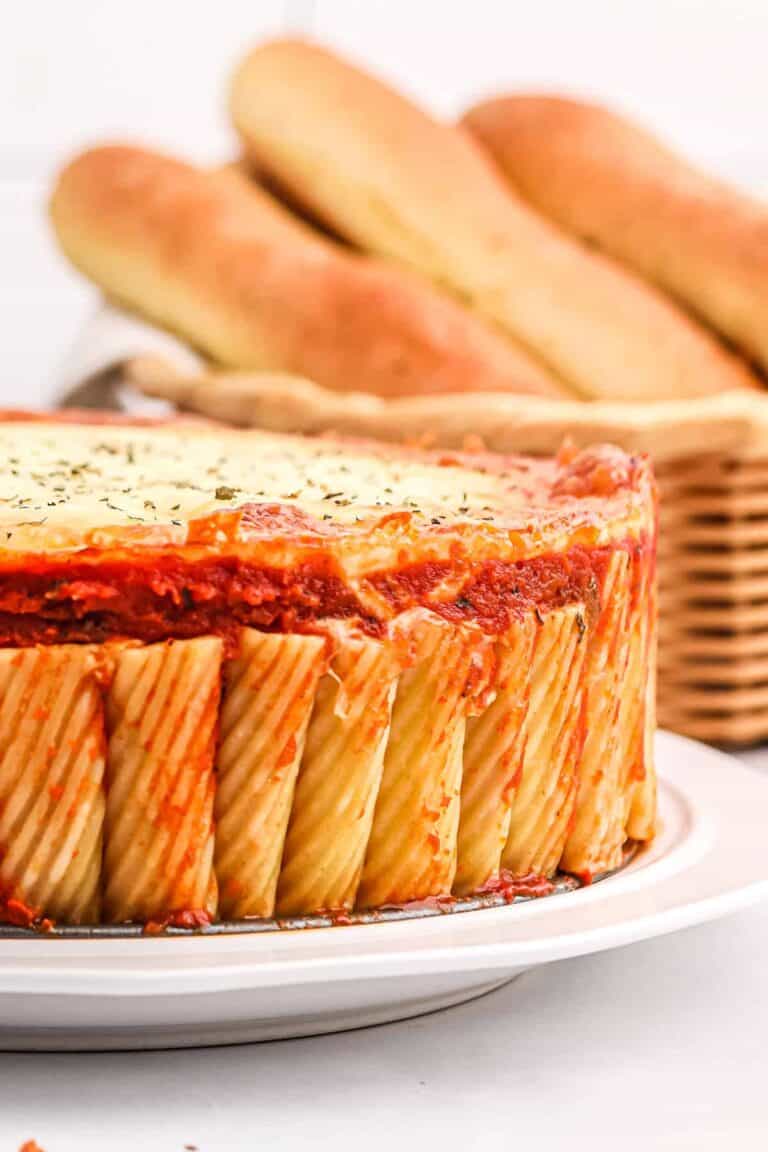 Seriously how fun is this rigatoni pie?! We are a big pasta family over at Cheese Knees and we're always looking for ways to have fun with it. This rigatoni pie AKA honeycomb pasta accomplishes that!
What is Rigatoni Pie (Honeycomb Pasta?)
Honeycomb pasta is made from rigatoni pasta and looks like an actual honeycomb. Stand the rigatoni pasta on their ends, top them with cheese, and top them with sauce and you have a fun dinner idea to make with the kiddos.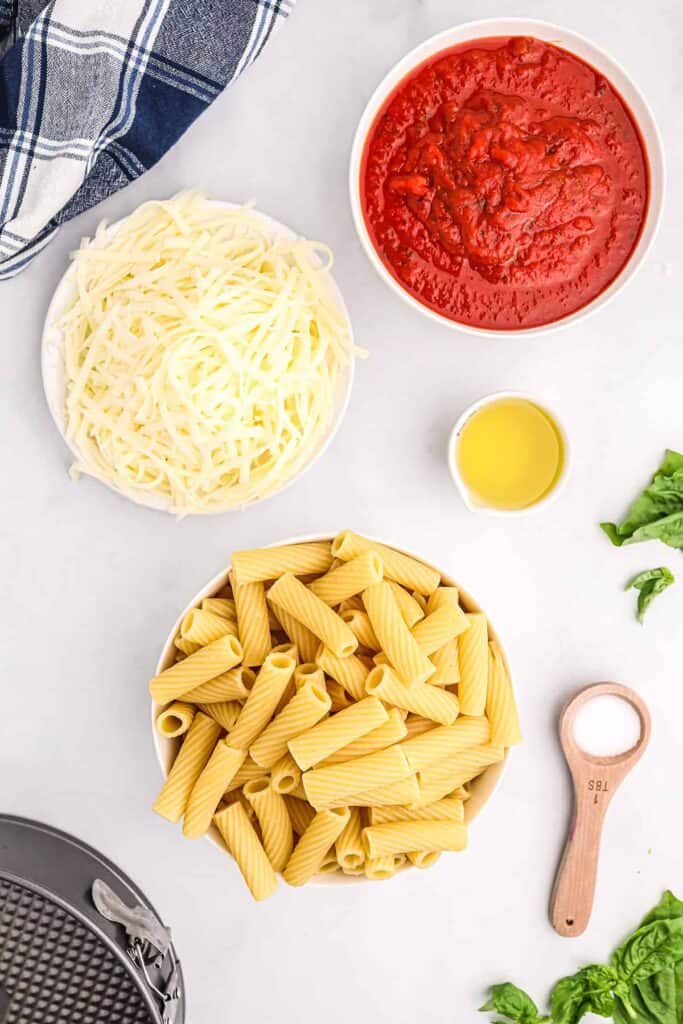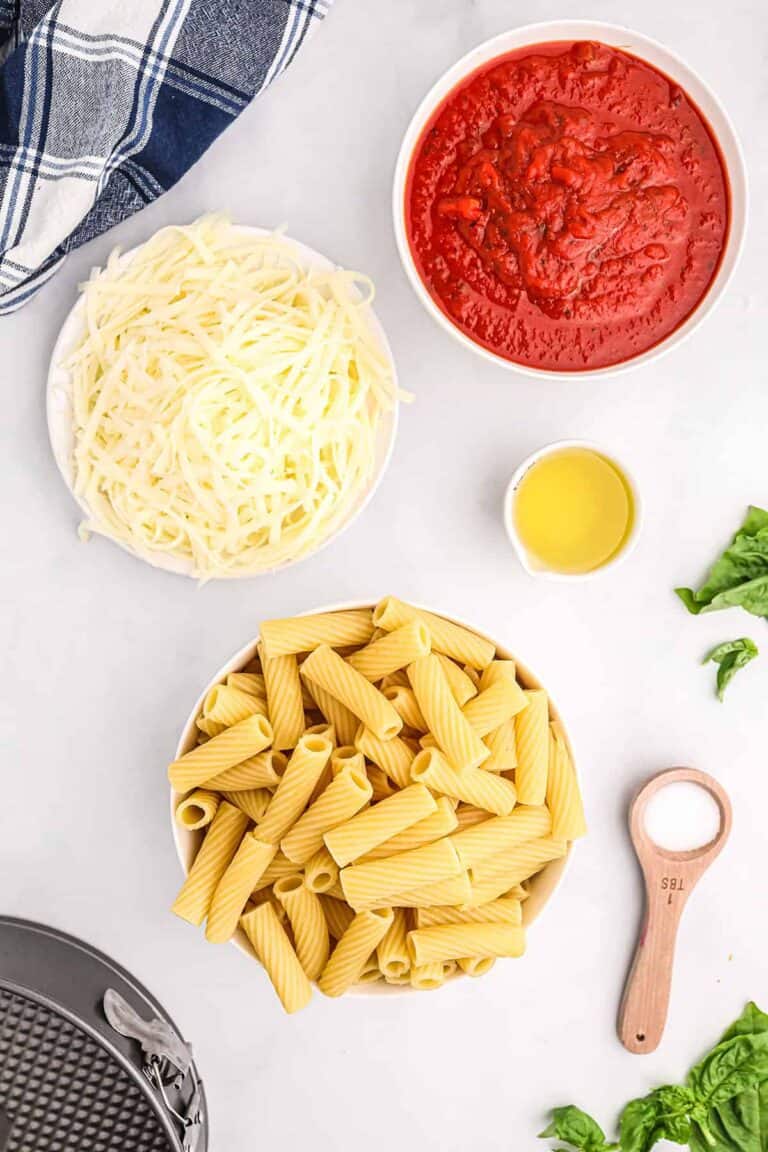 Main Ingredients for Rigatoni Pie
Rigatoni Pasta: rigatoni is the star of the show for this honeycomb pasta. It's a tube-shaped pasta that can easily stand upright making it the perfect shape for honeycomb pasta.
Marinara Sauce: you need a jar of marinara sauce. Any kind works!
Mozzarella Cheese: you need not 1, not 2, but 4 cups of shredded mozzarella cheese! Sorry not sorry.
all about the sauce
A lot of the flavor of this rigatoni pie comes from the sauce you choose to use. Feel free to use any store-bought marinara sauce or even make a homemade meat sauce if you're looking to get more protein.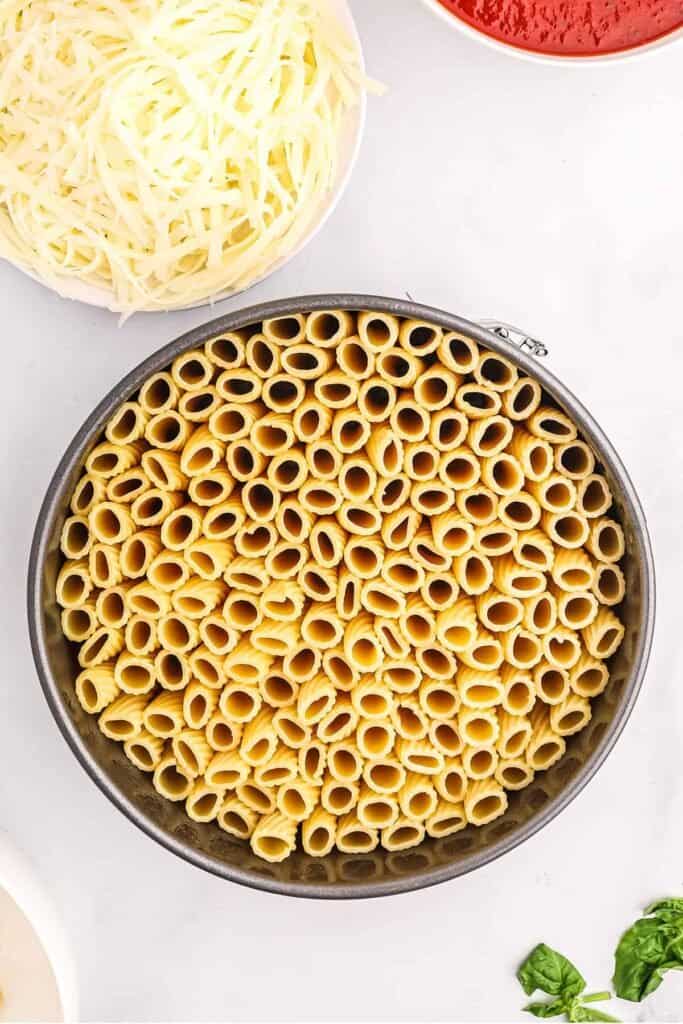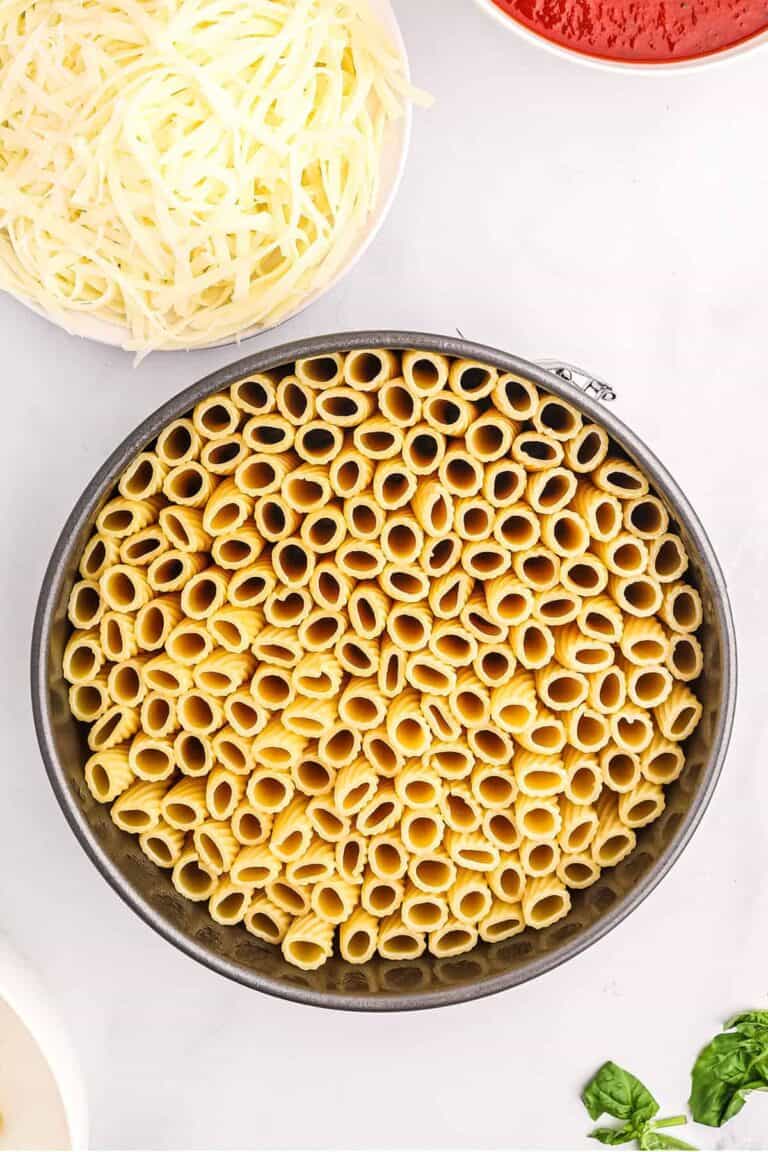 How to Make Honeycomb Pasta (Step by Step)
Cook Pasta: Bring a large pot of salted water to a boil. Then, add rigatoni pasta. Boil for about 8 minutes or until the pasta is al dente. Drain pasta and then toss it in olive oil.
Assemble: Coat the bottom and sides of your springform pan with olive oil. Then, line the pan with rigatoni, by standing it upright so that it looks like a honeycomb. Sprinkle on some mozzarella cheese and then pour on marinara sauce and sprinkle on remaining cheese.
Bake: Bake your rigatoni pie at 350ºF for about 20-30 minutes or until the cheese is melty.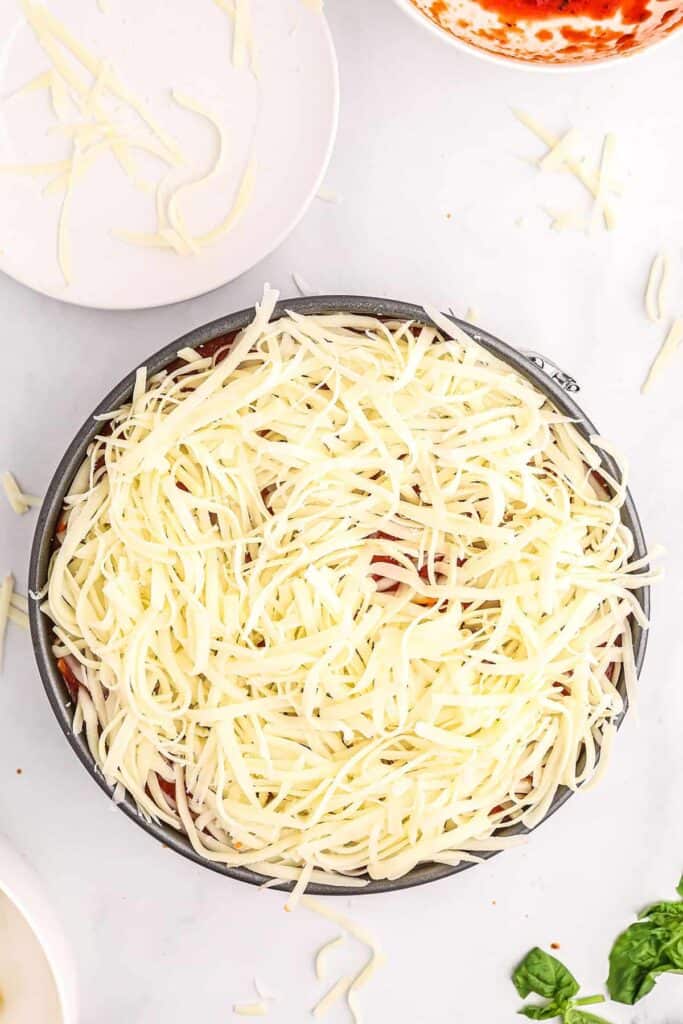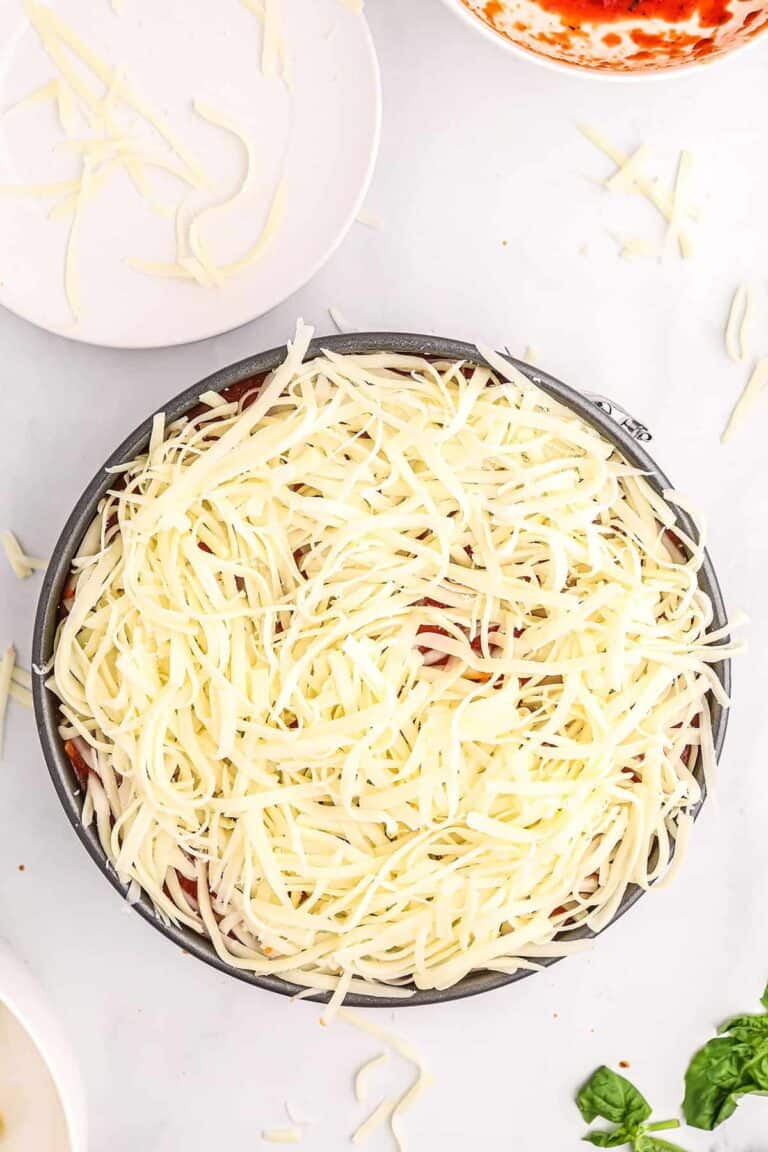 Serving Suggestions
Complete your Italian dinner with a salad and some bread! Here are some favorites below:
Beet and Goat Cheese Salad: Make a big beet goat cheese salad for an easy and veggie-packed meal! This salad is made with pears, goat cheese, walnuts, spinach, and a delicious salad dressing.
Stuffed Mushrooms: These Cream Cheese Stuffed Mushrooms are the perfect savory appetizer! Whip up this bite-sized goodness in 5 easy steps, and ENJOY.
Parmesan Cheese Crisps: The easiest parmesan cheese crisps you'll ever make. These parmesan crisps are made with 1 main ingredient and are the best low-carb snack ever!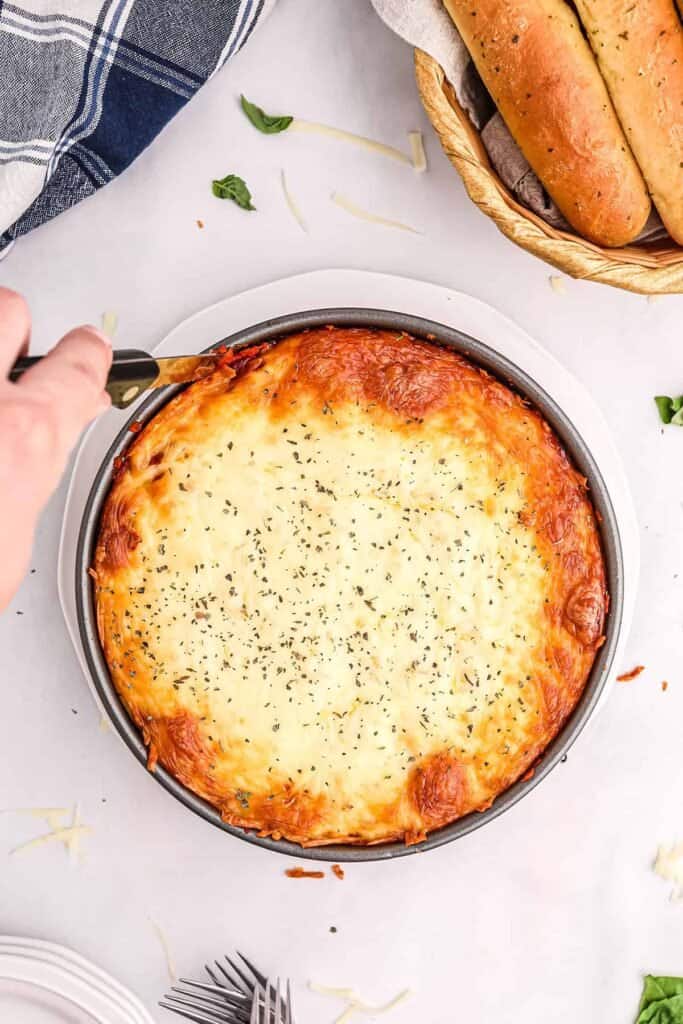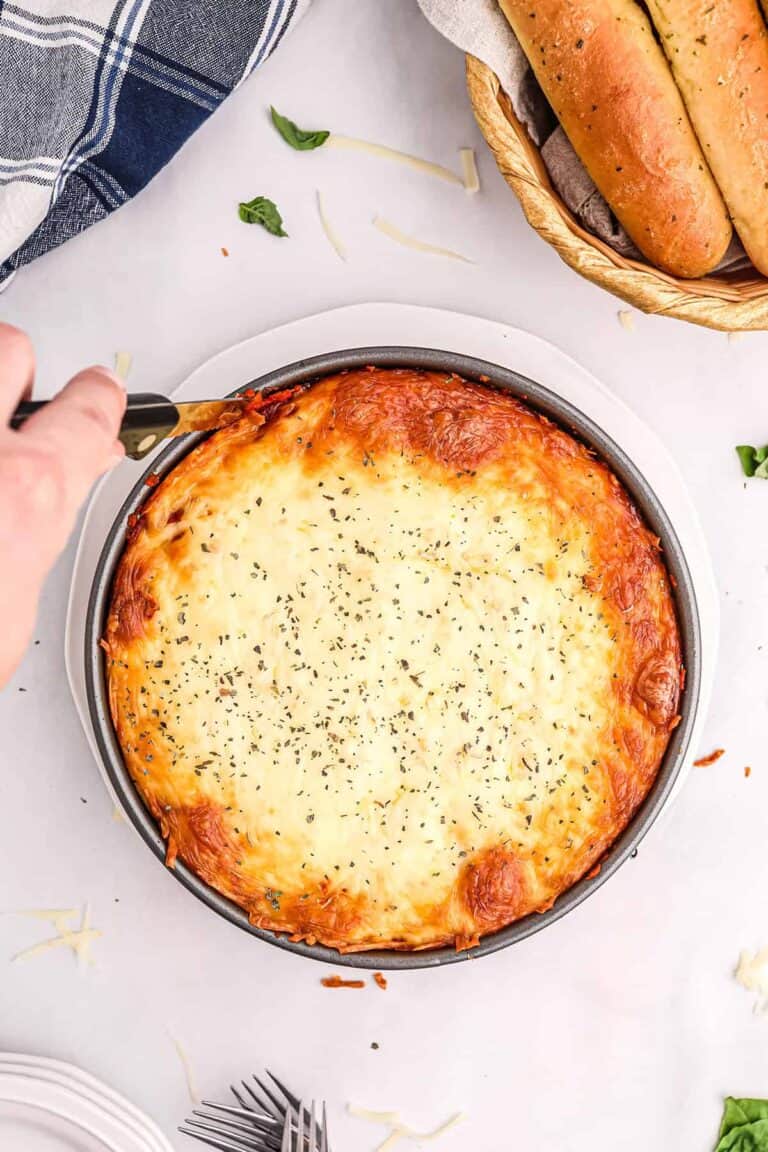 Storage
Let pasta cool completely. Then, transfer it into an airtoght container and store in the fridge for up to 3-5 days.
To reheat: the easiest way to reheat honeycomb pasta is in the microwave. We suggest microwaving for around 90 seconds.
Can you freeze rigatoni pie?
Unfortunately we do not suggest freezing this recipe. Noodles don't do great in the freezer because they end up super mushy.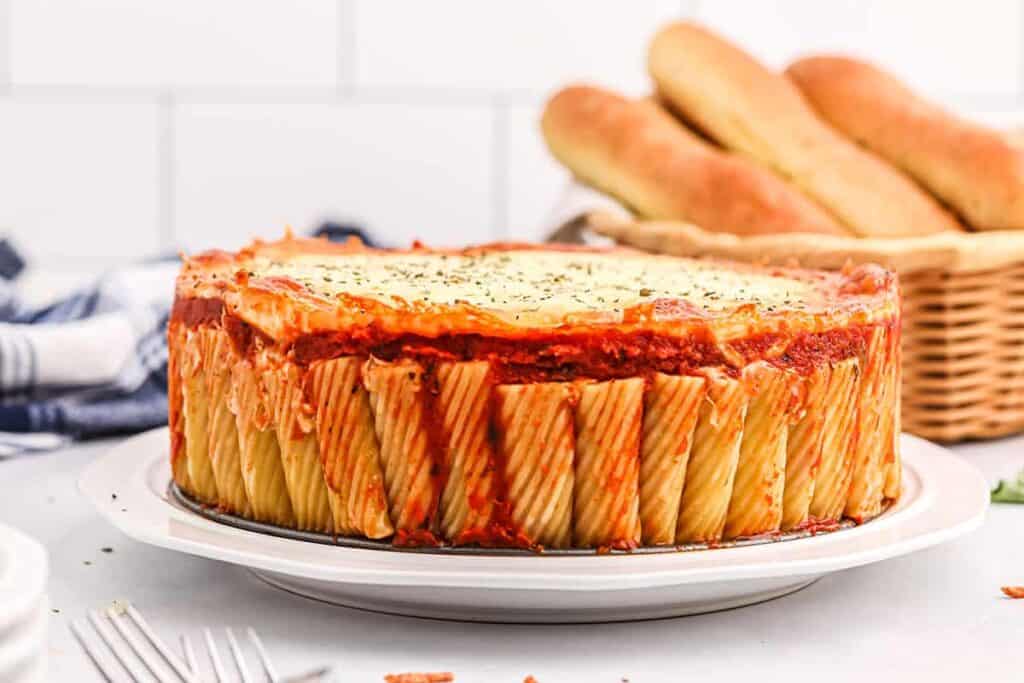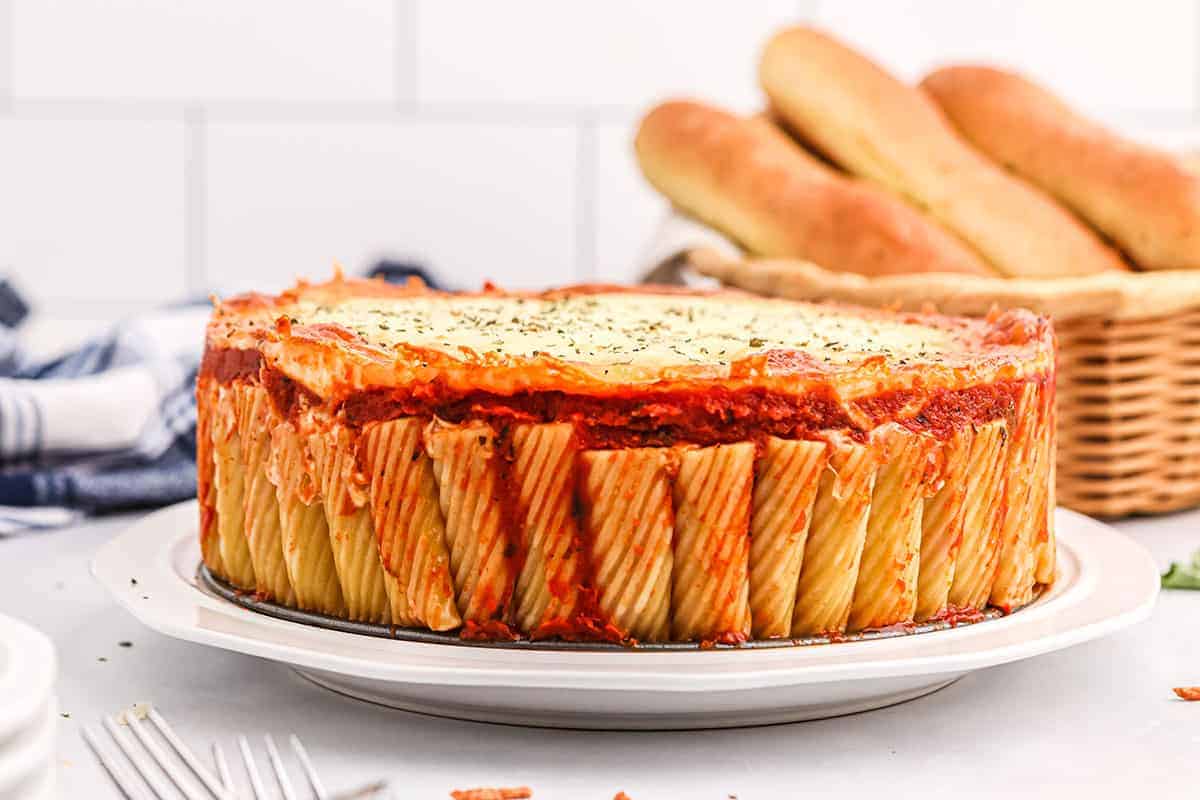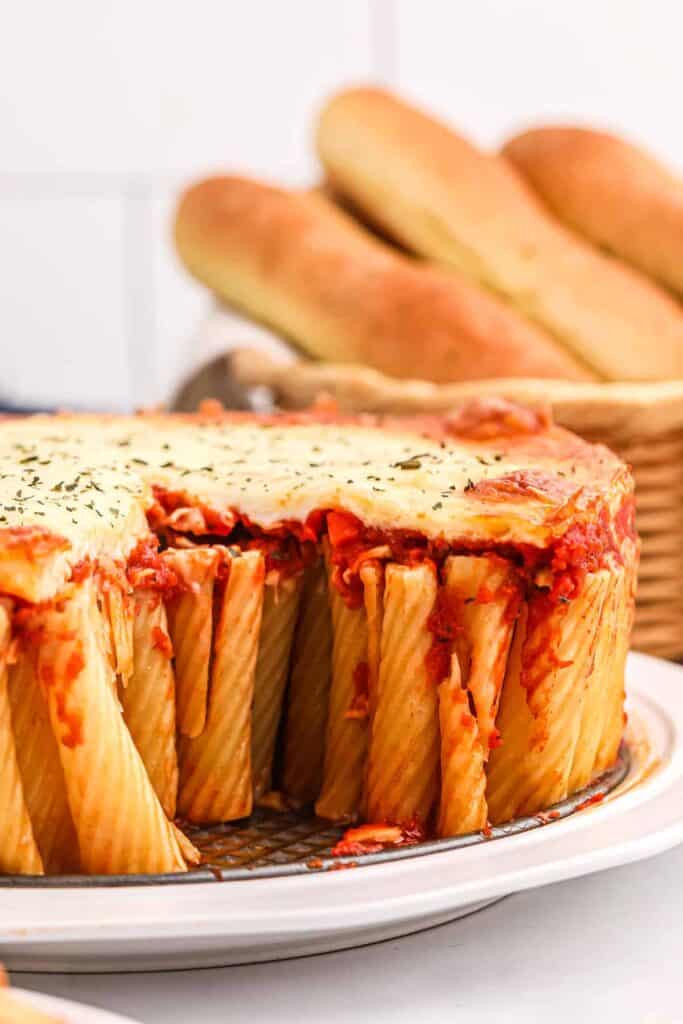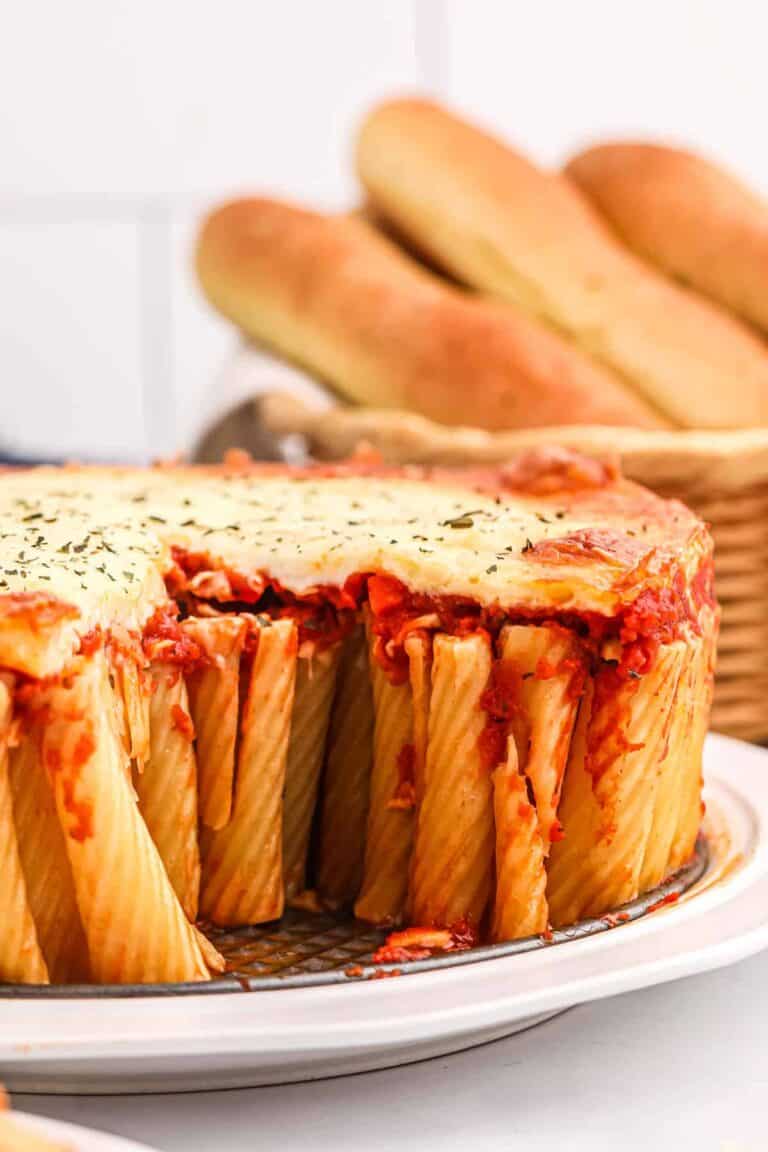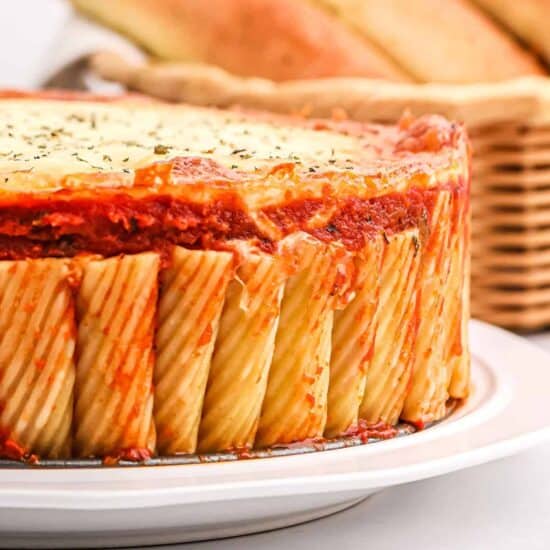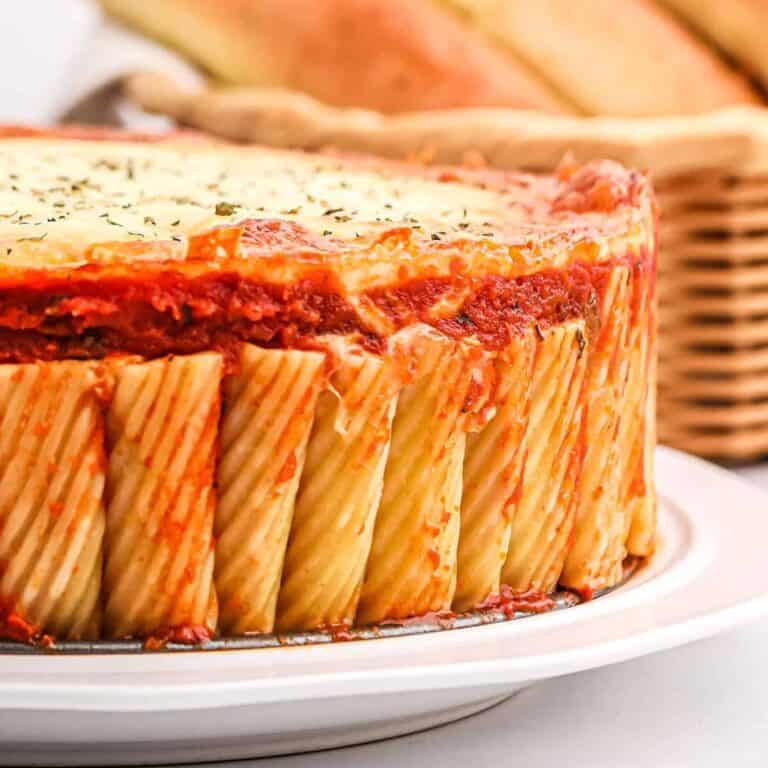 Rigatoni Pie (Honeycomb Pasta)
This rigatoni pie (AKA Honeycomb Pasta) is such a fun way to eat pasta. Layer your rigatoni noodles just like a honeycomb and bake them with marinara sauce and cheese!
Ingredients
4-6

quarts

of water

2

teaspoons

salt

1

lb.

rigatoni pasta

2

tablespoons

olive oil

24

oz.

jar of marinara sauce

4

cups

shredded mozzarella cheese

basil

for garnish
Instructions
Preheat oven to 350ºF and bring a large pot of water to a boil.

Add 2 teaspoons of salt to the water and then add rigatoni. Boil pasta for about 8 minutes, or until the pasta is al dente.

Drain the pasta and then place the pasta back in the pot. Drizzle on 1.5 tablespoons of olive oil and toss to coat.

Use the last tablespoon of olive oil to coat the bottom and sides of the 10-inch springform pan.

Now, assemble your rigatoni pie. Line the entire springform pan with rigatoni, making sure that the pasta is snug.

Sprinkle about a third of the shredded mozzarella cheese over the rigatoni. Then, pour the pasta sauce over the cheese and top with the remaining shredded mozzarella cheese.

Carefully transfer the springform pan to a baking sheet and then bake at 350ºF for 20-30 minutes, or until the cheese on top is golden and bubbly. 

Remove from the oven and allow to cool for about 10 minutes.

Run a knife along the edge of the pan to loosen any cheese and pasta that may be sticking. Carefully remove the ring and garnish with basil, if desired.
Nutrition facts
Calories:
589
kcal
Carbohydrates:
73
g
Protein:
30
g
Fat:
23
g
Fiber:
6
g
Sugar:
12
g