This cheesy Texas toast is garlicy, cheesy, and a perfect addition to your favorite pasta dishes. You can eat it right away or freeze it for later.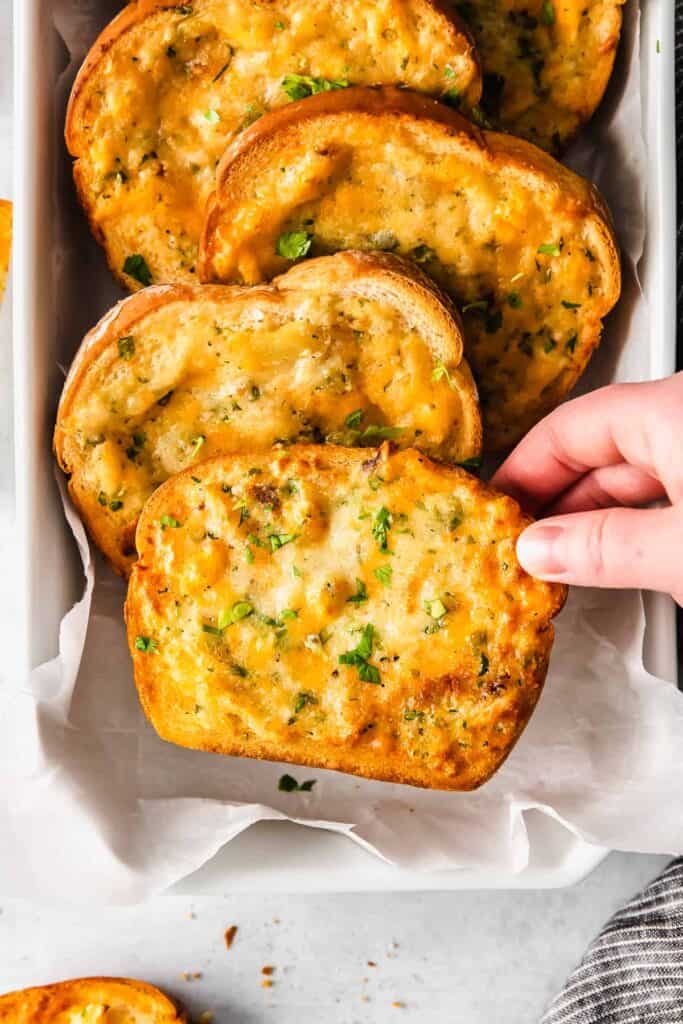 Amazing Cheesy Texas Toast
Say hello to the cheesiest and most delicious homemade Texas toast recipe. Do you ever buy a loaf of pre-made Texas toast in an aluminum sleeve? Us, too. It's delicious!
Today we are sharing our version of crunchy Texas toast that has quite a bit more garlic than the pre-packaged version and we are very happy about it.
Why you'll love it!
Garlic + Cheesy Deliciousness. This Texas toast is made with 3 heads of garlic and 3 different cheeses. It is the ultimate Texas toast recipe.
Perfect with Pasta. We highly suggest serving this Texas toast in your favorite pasta dish. Try this Easy Mushroom Pasta or Baked Ravioli.
You can freeze it for later. We love that you can make a double batch of this Texas toast and freeze one batch for later.
FAQ
What is Texas Toast?
Texas toast in generally a thicker piece of white bread that wiped with butter, spices, and sometimes cheese and then baked until golden brown.
What makes Texas toast different?
Texas toast is different than other toast or bread because of the style bread that is used.
What do I serve with Texas toast?
You can serve Texas toast with anything your heart desires. We suggest serving it with pasta or salad. You can also serve it as an appetizer with marinara sauce.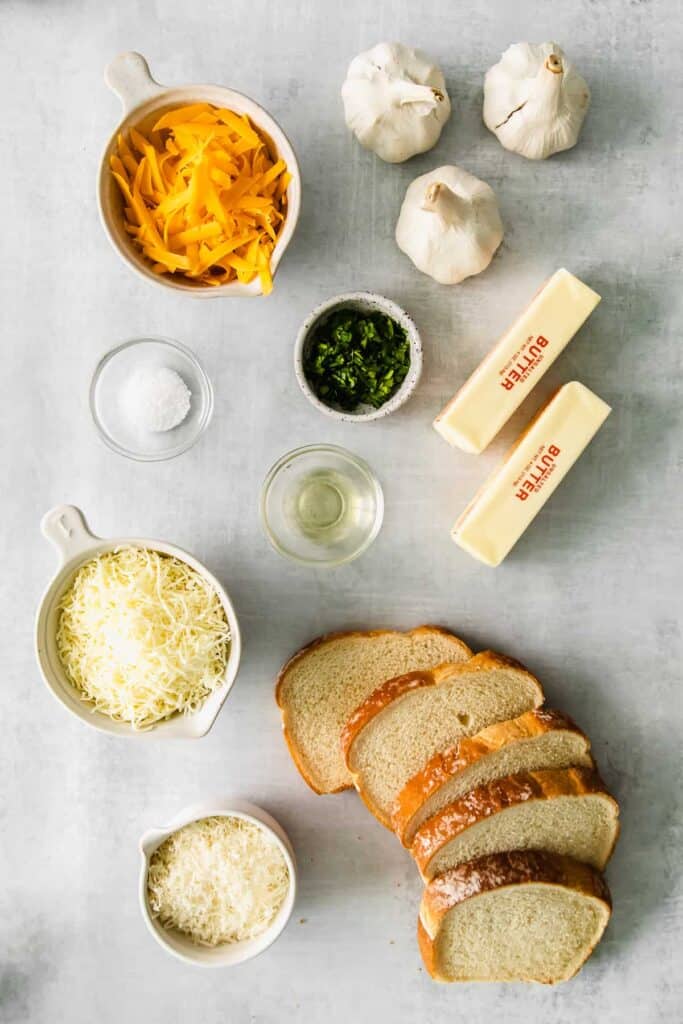 Featured Ingredients
Texas Toast– You can usually find Texas toast bread in the bread isle of your grocery store. It is double the thickness of regular sandwich bread, we used this brand.
If you are having a hard time finding Texas toast bread than you can use an Italian loaf of bread cut into thick slices.
Garlic– The key to this Texas toast is roasting three heads of garlic so it is soft and caramelized. Buy three heads of garlic and get ready to roast.
Butter– the base of the concoction is BUTTER. Obviously, don't skip it.
All the Cheese- the cheese mixture for this Texas toast is mozzarella, cheddar, and parmesan. It is the perfect melty and salty combination of cheese.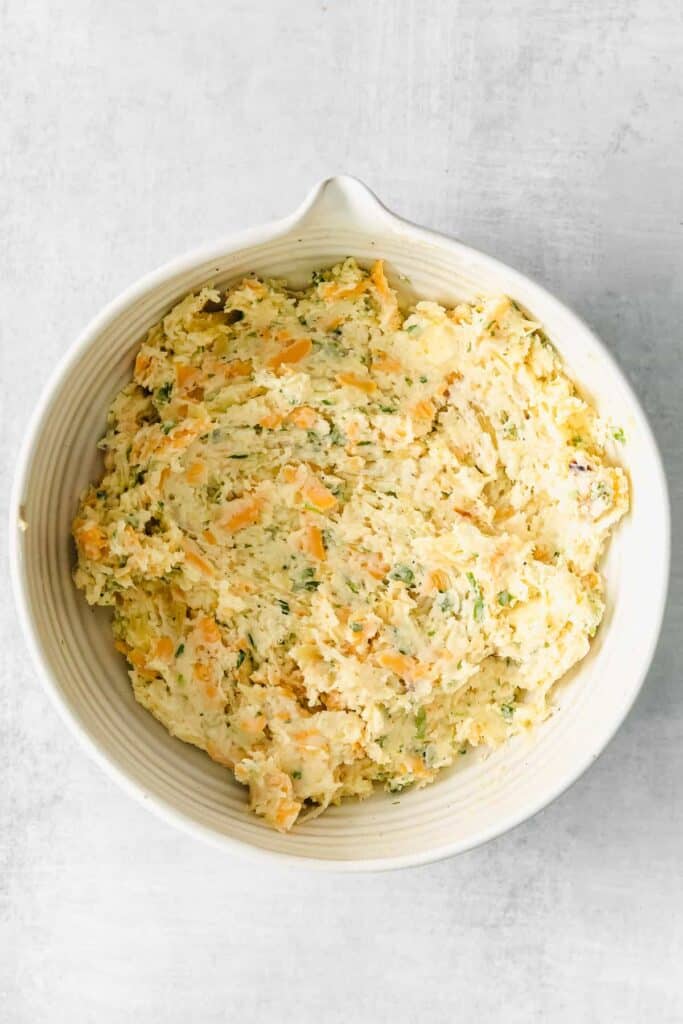 How to Make Cheesy Texas Toast
Roast the garlic
The first thing you have to do for this Texas toast recipe is roast the garlic. It is a fun way to soften garlic and caramelize it. We use it for this recipe but it adds delicious garlic-y flavor to so many dishes.
To roast the garlic, preheat the oven to 375ºF and then cut the tip end of the garlic head off, leaving the root to keep all the garlic cloves intact.
Place the garlic into a casserole dish and drizzle the garlic with olive oil and salt. Place the bulbs, open side down and roast the garlic for 20 minutes.
Mix the topping
Place the softened butter, mozzarella, cheddar, parmesan, salt, pepper, and parsley into a large bowl and mix until combined. Squeeze the cooked garlic cloves into the bowl and mash the garlic into the butter and cheese.
Mix the ingredients together until combined.
Spread
Spray 1-2 baking sheets (depending on the size of your baking sheets) with non-stick cooking spray or line them with parchment paper. Lay the pieces of Texas bread on the baking sheet.
Spread 1/4 cup of the butter mixture on each piece of bread.
Bake
Bake the bread in the oven at 375ºF fir 7-10 minutes until melty and golden brown.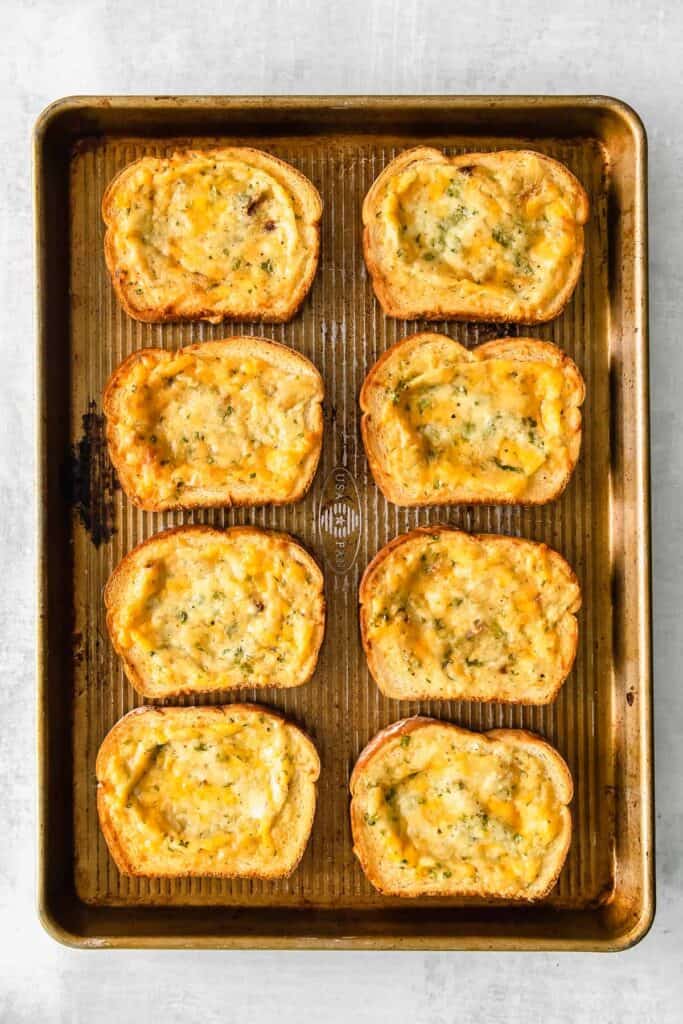 Recipes to Serve with Texas Toast
Here are some delicious recipes you can serve with this Cheesy Texas Toast.
Storage
Let the cheesy Texas toast cool completely before storing it in an airtight container in the refrigerator for up to 5 days.
Reheating Instructions: Preheat the oven to broil and place the Texas toast on a baking sheet and broil the toast for 2-3 minutes on each side.
How to Freeze Texas Toast
If you would like to freeze your Texas toast for later, follow the instructions and let the Texas toast cool completely and then place a piece of parchment paper in between each piece of toast and place them in a freezer safe bag.
Freeze the Texas toast for up to 3 months.
To reheat the Texas toast, preheat the oven to 350ºF and place the frozen Texas toast on the baking sheet and bake the toast for 10-12 minutes.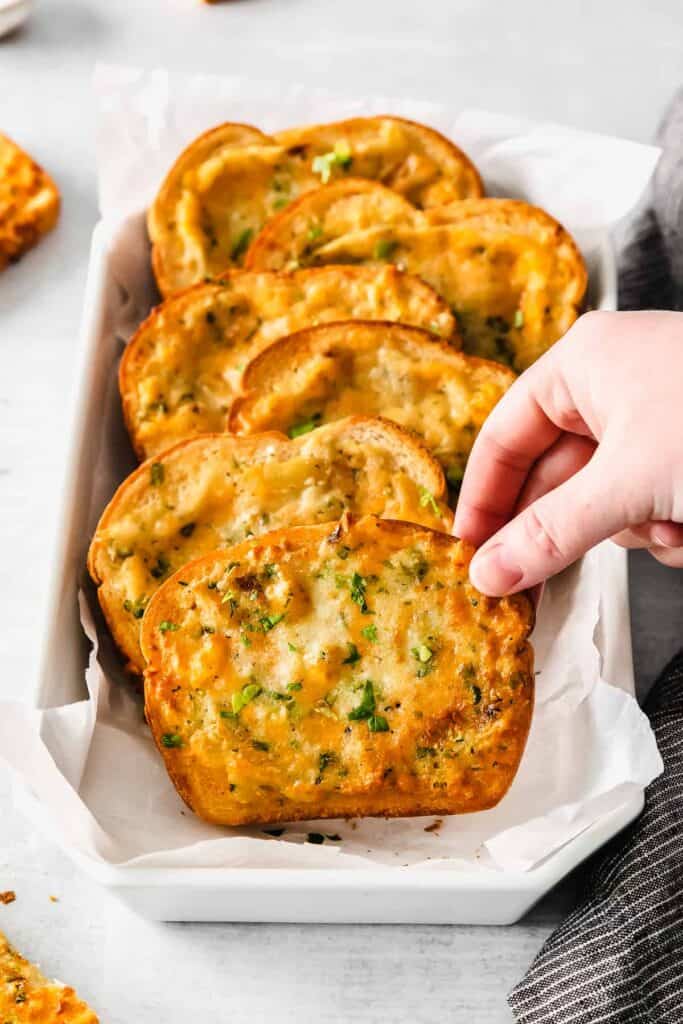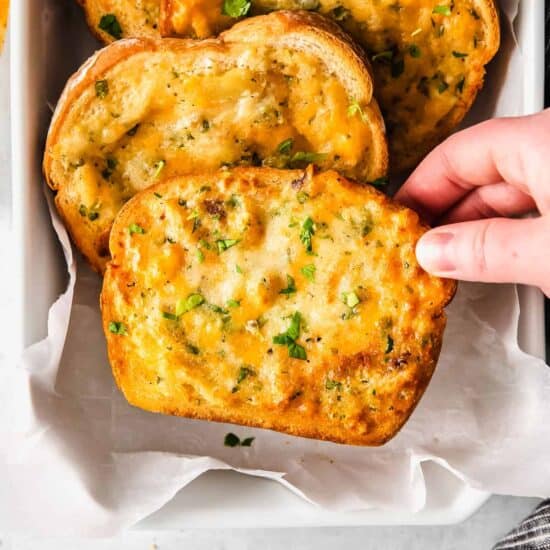 Cheesy Texas Toast
Make homemade cheesy Texas toast for a delicious side dish to spaghetti and meatballs or any of your favorite pasta dishes.
Ingredients
3

heads of garlic

1.5

teaspoons

olive oil

2

cups

softened butter

~2 sticks

4-

oz.

shredded mozzarella cheese

~1 cup

4-

oz.

shredded cheddar cheese

~1 cup

4-

oz.

shredded parmesan cheese

~1 cup

1

teaspoon

salt

1

teaspoon

pepper

¼

cup

freshly minced parsley

10

slices

texas toast
Instructions
First, roast the garlic. Preheat the oven to 375ºF. Then, prep garlic bulbs by using a sharp knife to slice off the pointy end. This will expose the garlic cloves.

Place the bulbs of garlic in the baking dish, so that the flat side faces up. Drizzle with olive oil (about 1/2 teaspoon per head). Roast at 375ºF for 20 minutes.

Then, remove the garlic from the oven and flip each bulb of garlic over so that the flat side faces down. Roast for another 20 minutes. Remove from the oven and let cool for 10 minutes before removing from the pan.

Once cool enough to handle with your bare hands, squeeze each bulb of garlic so that each of the cloves pop out of the casing.

Up the temperature on your oven to 400ºF and transfer the roasted garlic into a medium bowl. Then add the softened butter and mix together until combined.

Next add in the mozzarella, cheddar, parmesan, salt, pepper, and parsley and mixture and mix to combine.

Spray another baking sheet with nonstick cooking spray and line it with the Texas toast. You may need to use 2 baking sheets.

Use a knife or spatula to spread about ¼ cup of the cheesy butter mixture onto each slice of bread.

Bake the bread for 7-10 minutes or until golden brown.

Let sit for 3-4 minutes and enjoy!
Tips & Notes
We used this brand of Texas Toast.
When baking the bread from frozen, you will need to cook the bread for 10-12 minutes.
You can substitute ½ cup of cooked minced garlic for the whole roasted.
Air fryer directions: Air fry at 370ºF for 5 minutes.
Nutrition facts
Calories:
356
kcal
Carbohydrates:
24
g
Protein:
10
g
Fat:
25
g
Fiber:
0
g
Sugar:
0
g