What is better than ooey-gooey grilled cheese made with perfectly melted cheese, an Italian loaf, and all the butter? NOTHING! Learn how to make the best grilled cheese in just 10 minutes.
Grilled cheese is a one of a kind food and not much tops the simplicity of this cheesy delight. I grew up in Wisconsin and grilled cheese was a staple in our house.
I'm not sure if grilled cheese was a staple because of where we lived or because we (my siblings and I) could easily butter up 2 pieces of bread and fry them with a few pieces of cheese in the middle without our parents' help!
The Best Grilled Cheese
What is grilled cheese? Grilled cheese refers to 2 pieces of bread with melted cheese in the middle usually fried on the stovetop in butter or oil or grilled on the grill. Grilled cheese is popular among children because it's savory, cheesy, and delicious.
Our classic grilled cheese recipe is all of the above. It's made with your favorite cheddar cheese, 2 thick-cut slices of Italian bread, and butter. Keep reading to learn how to make it!
What You Need
bread – any kind of bread works for grilled cheese, but we prefer an Italian loaf.
salted butter – butter is used for frying and flavor. Don't skimp!
cheddar cheese – use your favorite sliced cheddar or even Kraft singles!
olive oil – this is strictly for the frying part.
Types of bread to use
Don't have an Italian loaf? Any kind of bread works. Here are some ideas:
Italian bread
white bread
whole grain bread
keto bread
Types of cheese to use
The most popular kind of cheese to use for grilled cheese is sliced American cheese (hello Kraft Singles!) or cheddar cheese. Our favorite cheese for this is Tillamook's medium-cut orange cheddar. It's not too sharp and it's thick and creamy.
If you're a grilled cheese concessioner, the cheese is where it's at, so get creative and make it your own! We prefer our cheese pre-sliced because it's super simple, but you can always slice or shred block cheese, too. Here are more cheese options to try:
white cheddar
muenster
pepper jack
Colby jack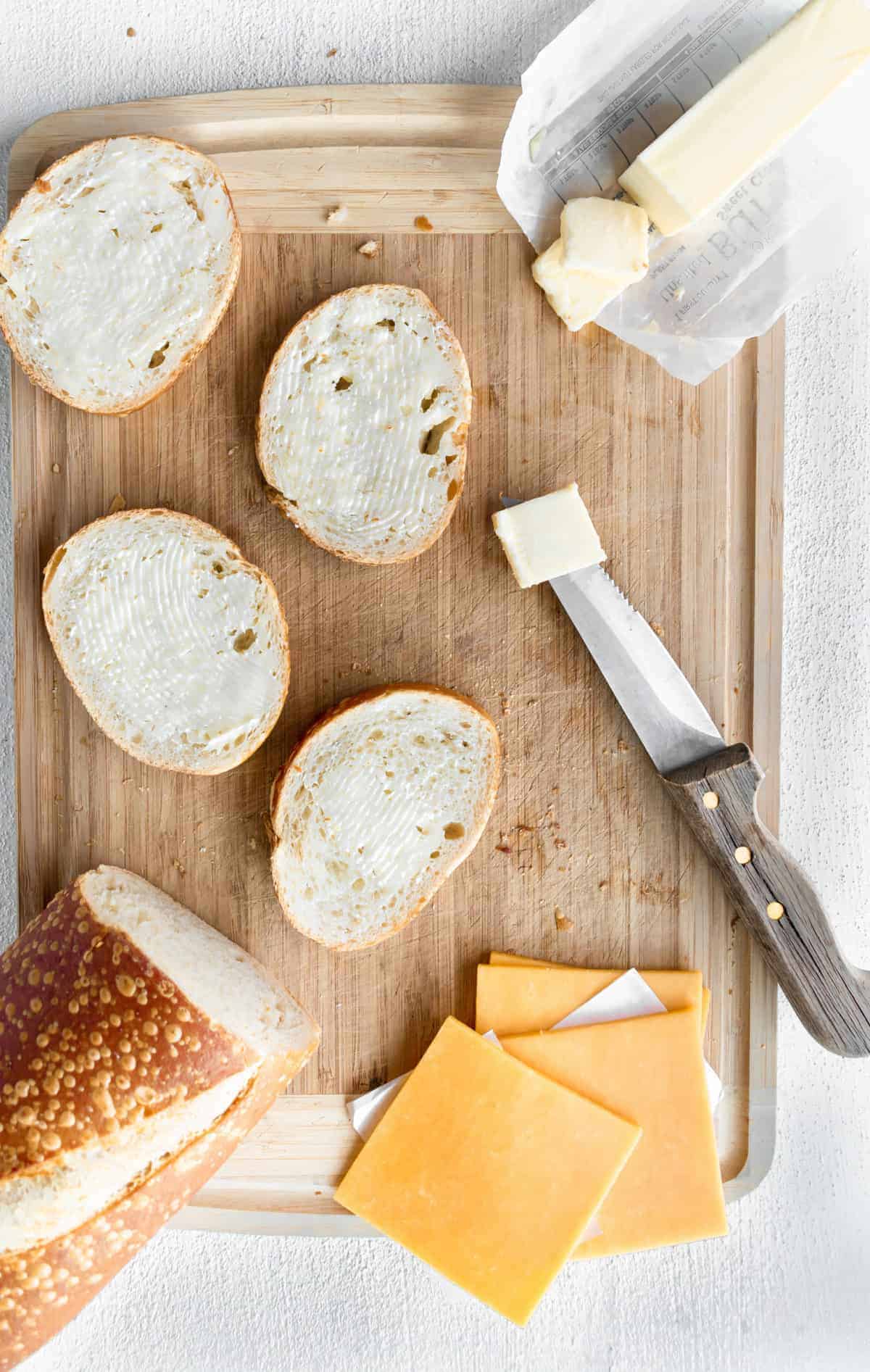 How to Make Grilled Cheese
Grilled cheese is such an easy meal to make and is ready in just 10 minutes. Here are 3 simple steps to make grill cheese!
Butter bread: generously spread on 1/2 tablespoon of room-temperature butter onto one side of both pieces of bread.
Assemble: assemble grilled cheese by placing cheddar cheese slices in between the two pieces of bread, while keeping the buttered sides facing outward.
Fry: heat olive oil in a frying pan over medium heat. Then, fry grilled cheese on the first side for 3-4 minutes, or until golden brown. Flip and fry the other side for 2-4 minutes or until golden brown.
To mayo or not to mayo?
Oh the great debate. Should you add mayo to the outside of your bread or not? Honestly, it's all about preference. I grew up keeping my grilled cheese sandwich super simple. Bread, butter, and cheese…no mayo.
If you'd like to add mayo, be my guest! Add a tablespoon of mayo onto the outside of both pieces of bread before frying.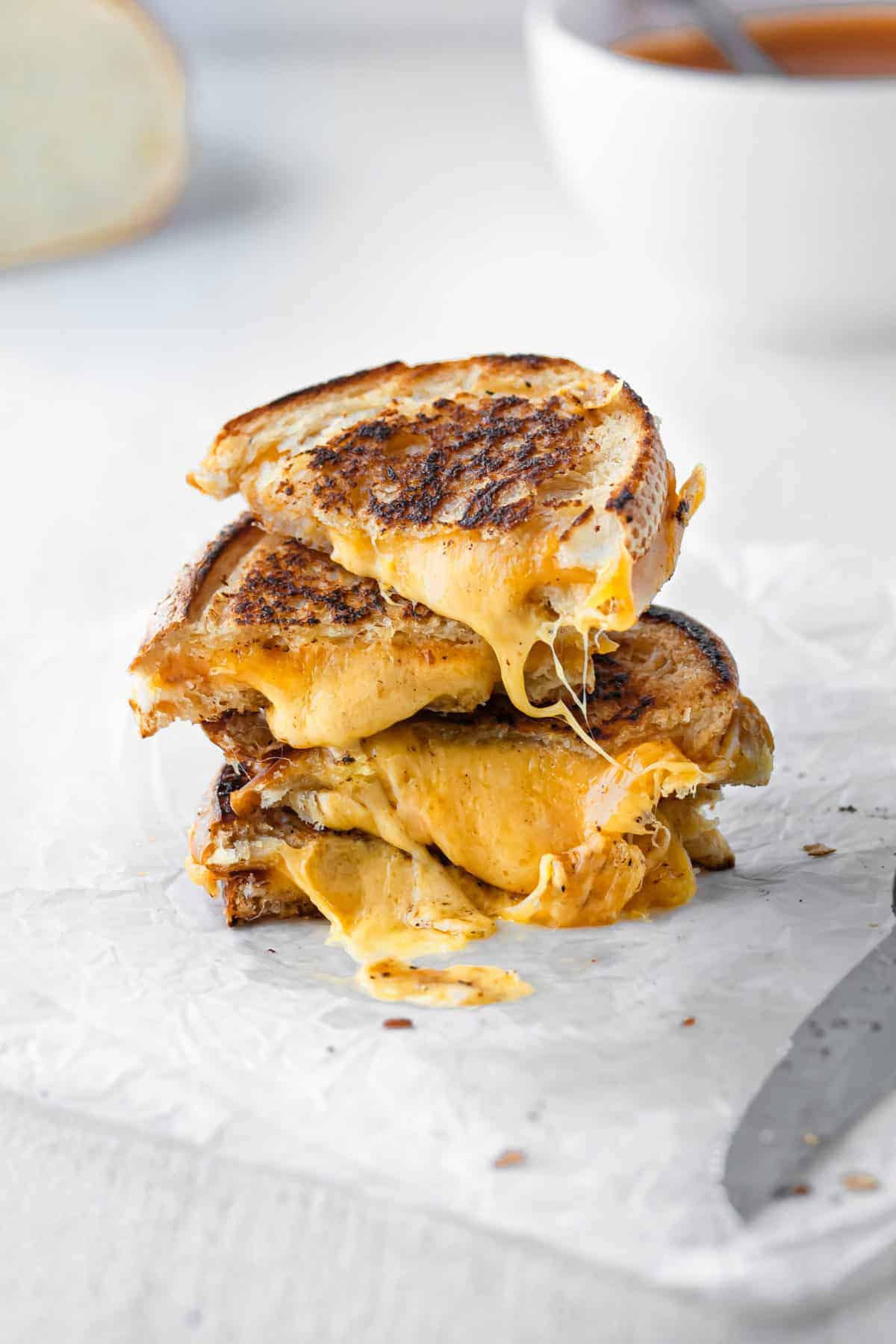 Serving Suggestions
There is nothing better than grilled cheese and tomato soup! Speaking of soup, any kind of soup is delightful served next to a grilled cheese. Here are some other serving suggestions to turn your grilled cheese into a complete meal.
soup
grilled/roasted veggies
chicken breast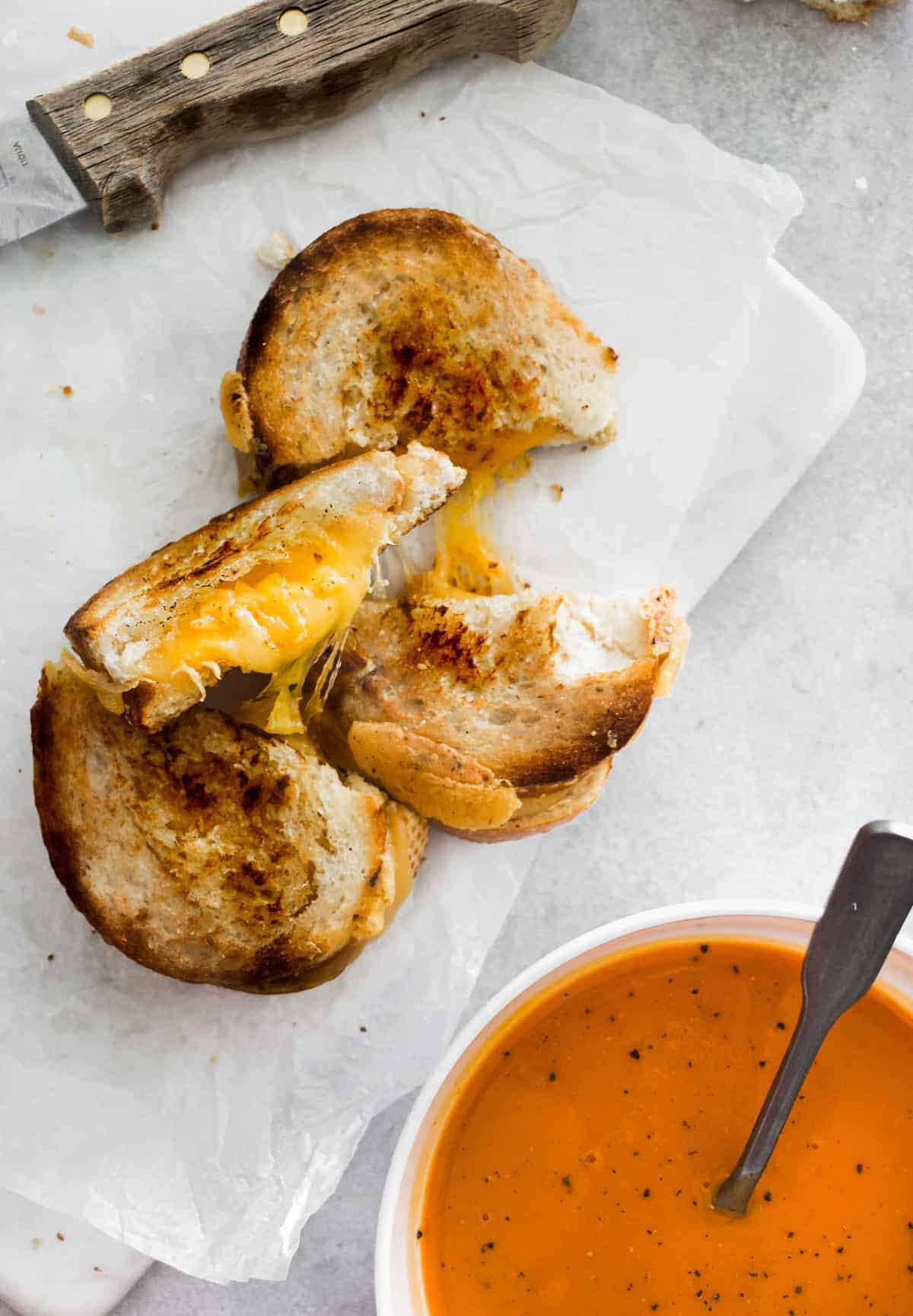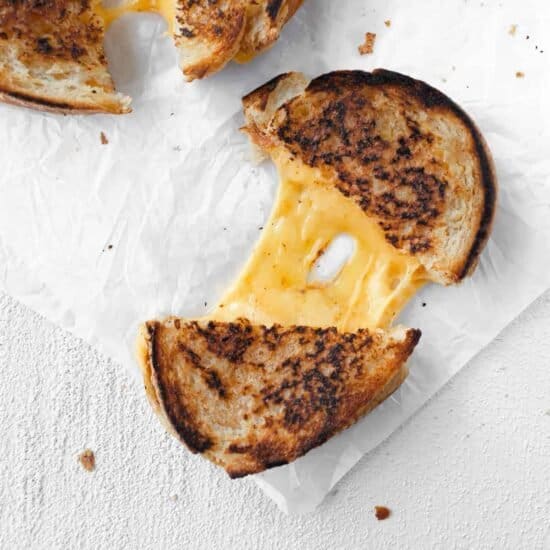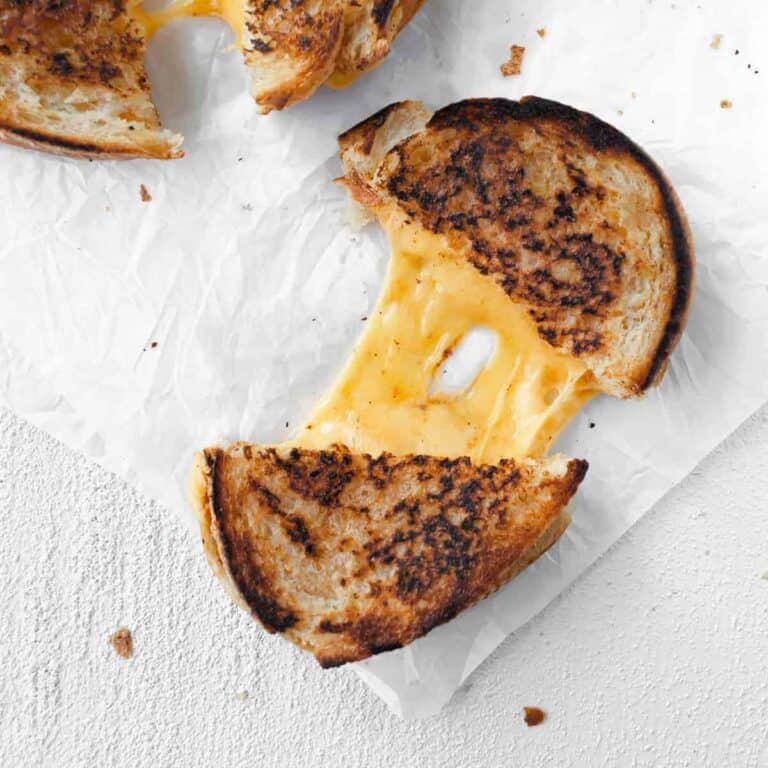 Grilled Cheese
What is better than ooey-gooey grilled cheese made with perfectly melted cheese, an Italian loaf, and all the butter? NOTHING! Learn how to make the best grilled cheese in just 10 minutes.
Ingredients
1/2

tablespoon

olive oil

2

thick slices of Italian bread

any white bread/sourdough works too

1

tablespoon

salted butter

softened

2

slices

deli cheddar cheese
Instructions
First, butter the bread by spreading 1/2 tablespoon of butter on each side of both slices of bread.

Next, place the cheddar cheese slices on top one slice of bread and then place the second piece of bread on top of the cheddar cheese. Set aside.

Next, heat a large skillet over medium heat. Add olive oil.

When the olive oil is fragrant, add the grilled cheese to the pan and let it cook for 3-4 minutes over medium heat.

Flip the grilled cheese and cook for an additional 2-4 minutes. The cheddar cheese should be completely melted before removing the grilled cheese from the pan.*

Remove from the pan, cut in half and enjoy!
Tips & Notes
*Temperature may vary based on stovetop. If the grilled cheese is browning too quickly, try turning the heat to low.
Nutrition facts
Calories:
410
kcal
Carbohydrates:
14
g
Protein:
12
g
Fat:
33
g
Fiber:
1
g
Sugar:
2
g