Our air fryer grilled cheese recipe guarantees you a crispy exterior with an ooey-gooey cheesy center, all in under 15 minutes. Using only 4 simple ingredients, this method is kid-friendly and incredibly delicious.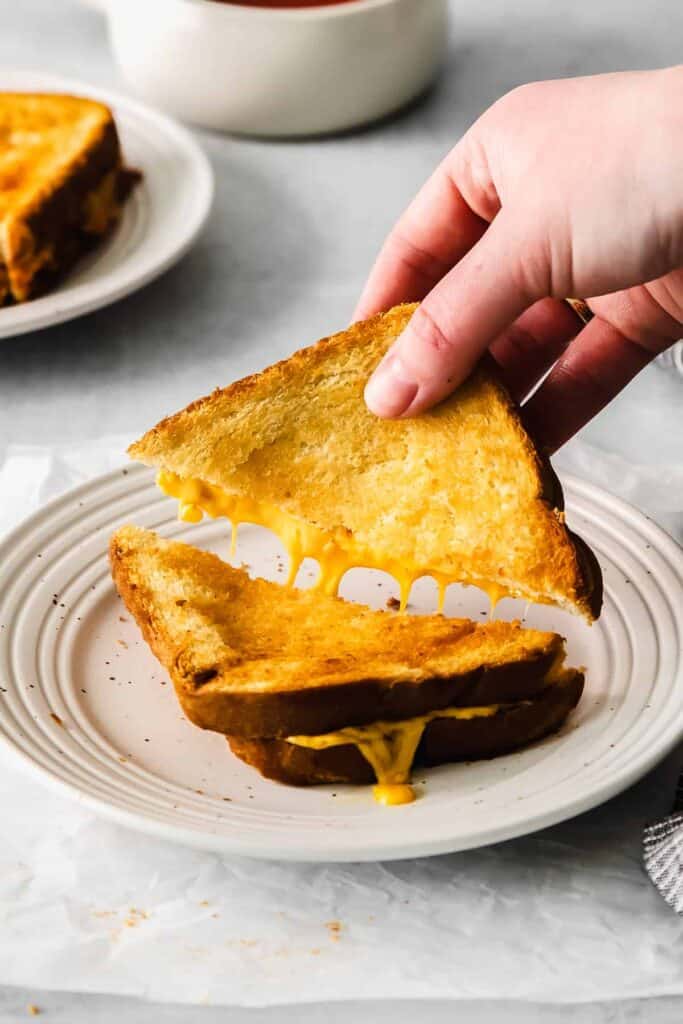 If you ask anyone at Cheese Knees HQ what their favorite sandwich is, I guarantee you more than half of us will say grilled cheese! While we love classic grilled cheese on the stovetop, air fryer grilled cheese really takes it up a notch.
The bread gets incredibly crispy and the cheese melts so perfectly — it's actually insanely hard to mess up this recipe (speaking form experience).
So, are you wondering how to make grilled cheese in the air fryer? Butter two pieces of bread. Place one piece in the air fryer and top with American cheese and shredded cheese. Top with the other piece of bread and air fry at 37ºF for about 8 minutes!
What You Need for Air Fryer Grilled Cheese
Bread: Classic white sandwich bread is the way to go for that nostalgic crunch.
Butter: Slather those bread slices generously; the butter is what creates that golden, irresistible crust.
American Cheese: Classic Kraft singles are a must for their perfect meltability.
Shredded Cheddar: Freshly shred some sharp cheddar to amp up the cheese factor.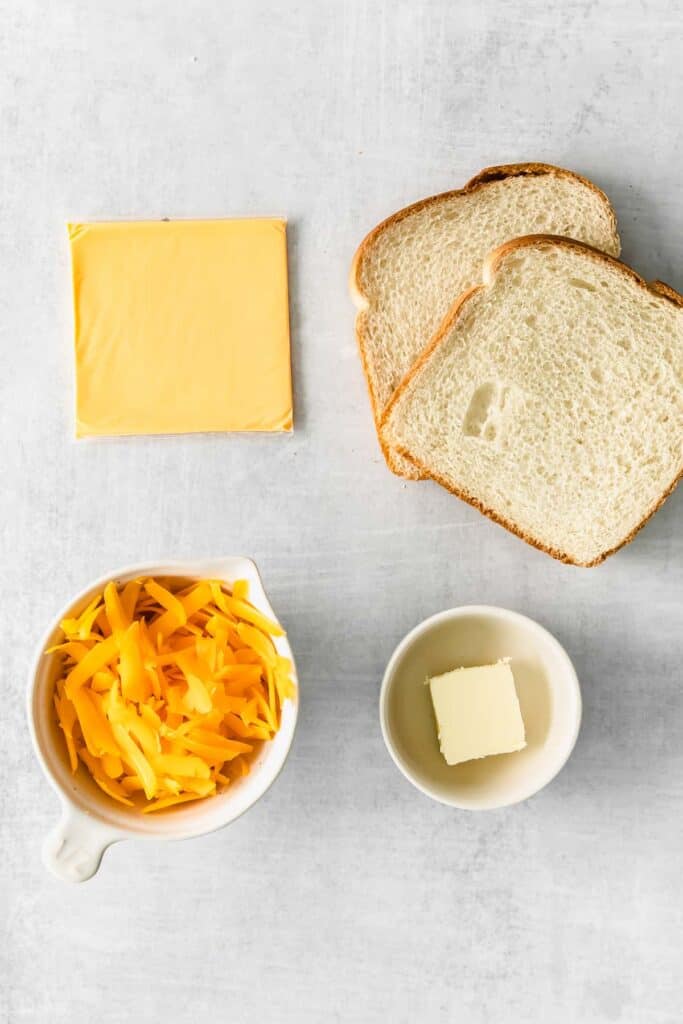 Variations and Ingredient Substitutions
Bread: Swap in sourdough or whole-grain for a rustic twist. You could even use brioche or Hawaiian bread.
Spread: Mayo instead of butter? It's unorthodox but tasty option.
Cheese: Feel adventurous? Try gruyere, provolone, or swiss.
Protein: Add two strips of cooked bacon for a meatier experience.
Flavor Boost: Caramelized onions can make your sandwich gourmet-level.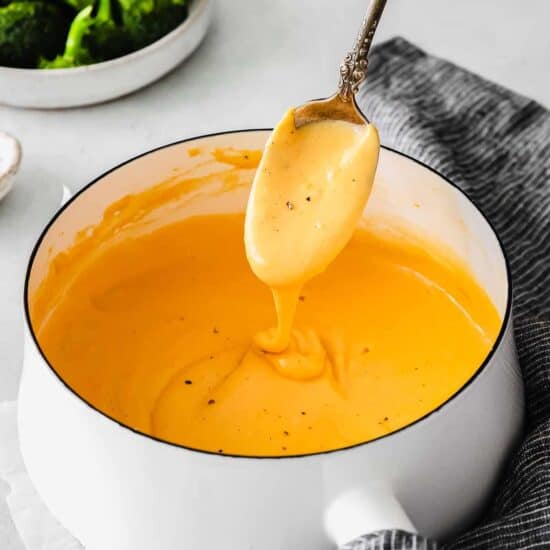 Get More
Cheddar Cheese Recipes
Looking for more recipes with cheddar cheese? Check out our cheesy collection of cheddar cheese recipes.
Get Recipes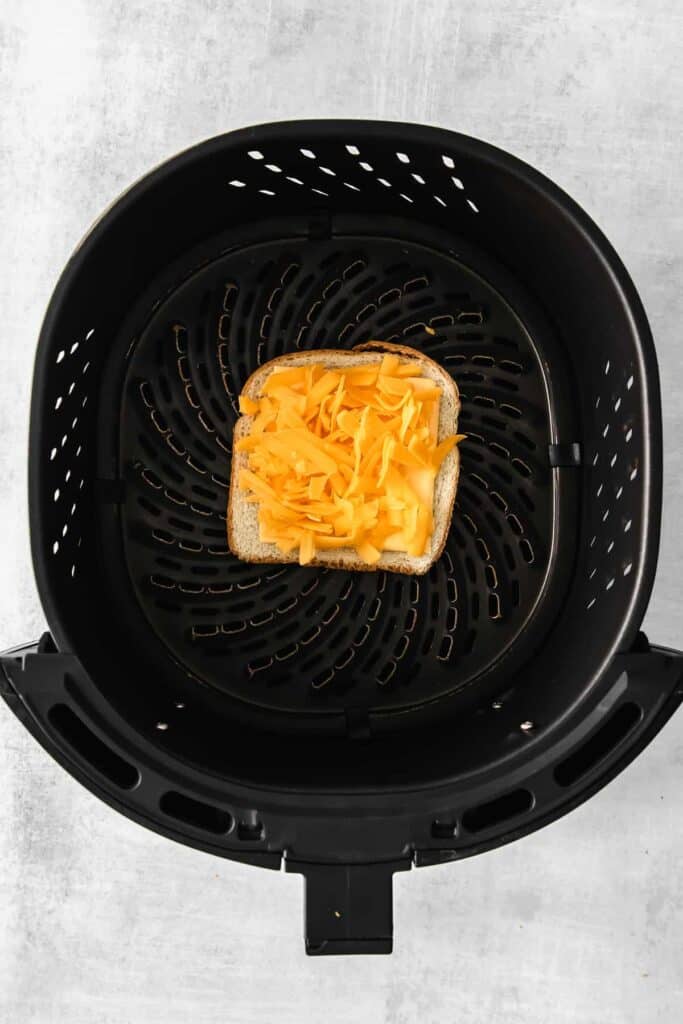 FAQ
How long should I air fry my sandwich?

Air fryer your sandwich or grilled cheese for around 7-8 minutes total at 370ºF.
What happens if you put cheese in an air fryer?

If you put cheese in the air fryer it will melt and maybe even burn. If you're making grilled cheese in the air fryer, be careful not to let any cheese spill out or you will risk it burning.
Can you put shredded cheese in the air fryer?

If you're making grilled cheese in the air fryer, you can easily use shredded cheese. In fact, we love using shredded cheese inside of grilled cheese!
Can I make more than 1 grilled cheese in the air fryer at once?

Depending on the size of your air fryer, you can typically fit up to 2-3 grilled cheeses at once. They can be touching a bit, but make sure not to overlap them or overcrowd them too much.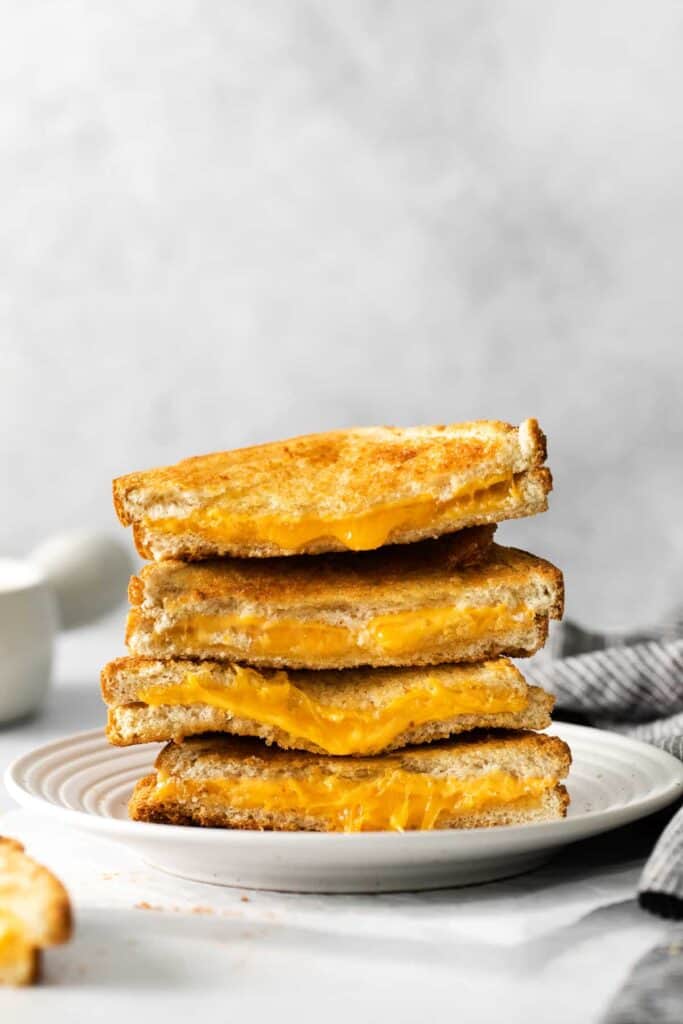 Storage
While we recommend making and eating this fresh, you're more than welcome to store leftovers for later.
Transfer your cooled grilled cheese into an airtight container and refrigerate for up to 2 days.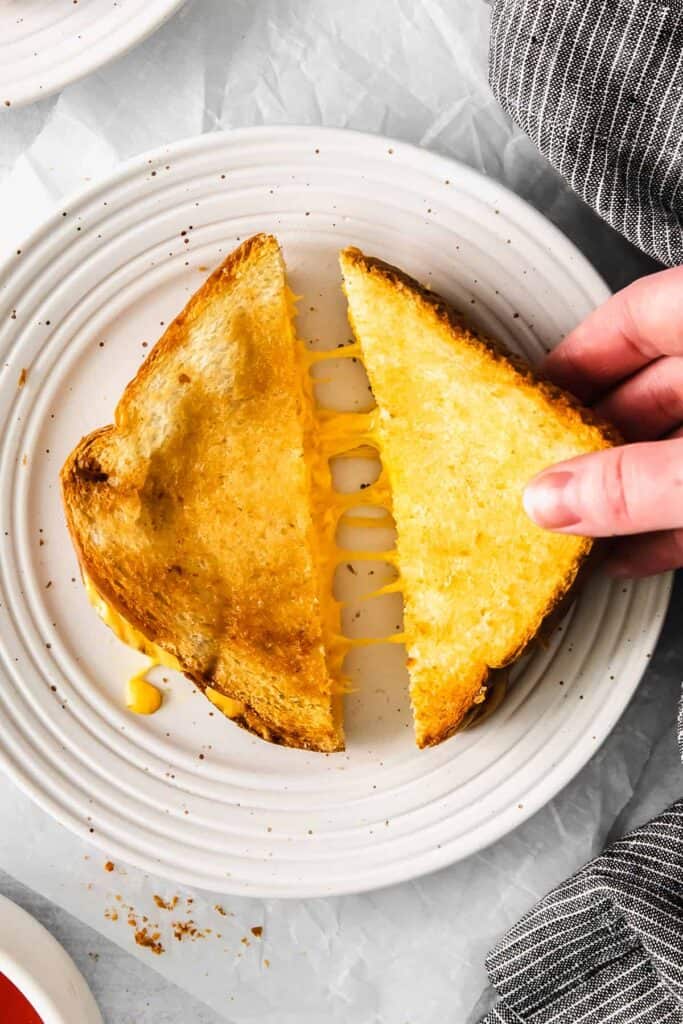 How to Serve Air Fryer Grilled Cheese
Honestly, grilled cheese is amazing on its own. But, if you'd like to pair it with something, soup is always a great idea! Try tomato soup, cheese soup, or pumpkin soup.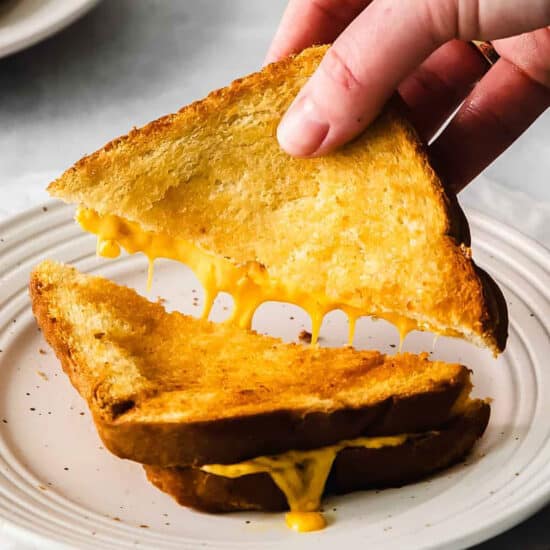 Air Fryer Grilled Cheese
Crispy, perfect air fryer grilled cheese is ready in less than 15 minutes and only requires 4 ingredients!
Ingredients
2

slices

bread

(we used white sandwich bread)

1

tablespoon

salted butter

room temperature

1

slice

American cheese

2

oz.

shredded cheddar

(~½ cup)
Instructions
Preheat the air fryer to 370ºF and spray the basket with nonstick cooking spray.

Spread butter evenly onto one side of each slice of bread.

Next, place one slice of bread into the air fryer basket buttered-side down.

Top the slice of bread with American cheese and shredded cheddar and then place the second slice of bread on top of the cheese buttered-side up.

Air fry the sandwich at 370ºF degrees for 4 minutes, flip and air fry for another 3-4 minutes or until golden brown.

Serve immediately.
Tips & Notes
We used a commercial sandwich bread.
On the first round of cooking my top slice raised off the sandwich a little. That shape is resolved when you flip and do the second air fry.
Make sure not to overcrowd your air fryer. As long as your sandwiches aren't overlapping, you can cook more than one at a time.
Nutrition facts
Calories:
554
kcal
Carbohydrates:
46
g
Protein:
20
g
Fat:
32
g
Fiber:
2
g
Sugar:
7
g