This parmesan herb stuffing is not your average traditional herb stuffing. We've added delicious parmesan cheese into the mix, and boy, does it taste amazing with the fresh herbs, veggies, and moist French bread! It'll be the best stuffing to ever grace your Thanksgiving table.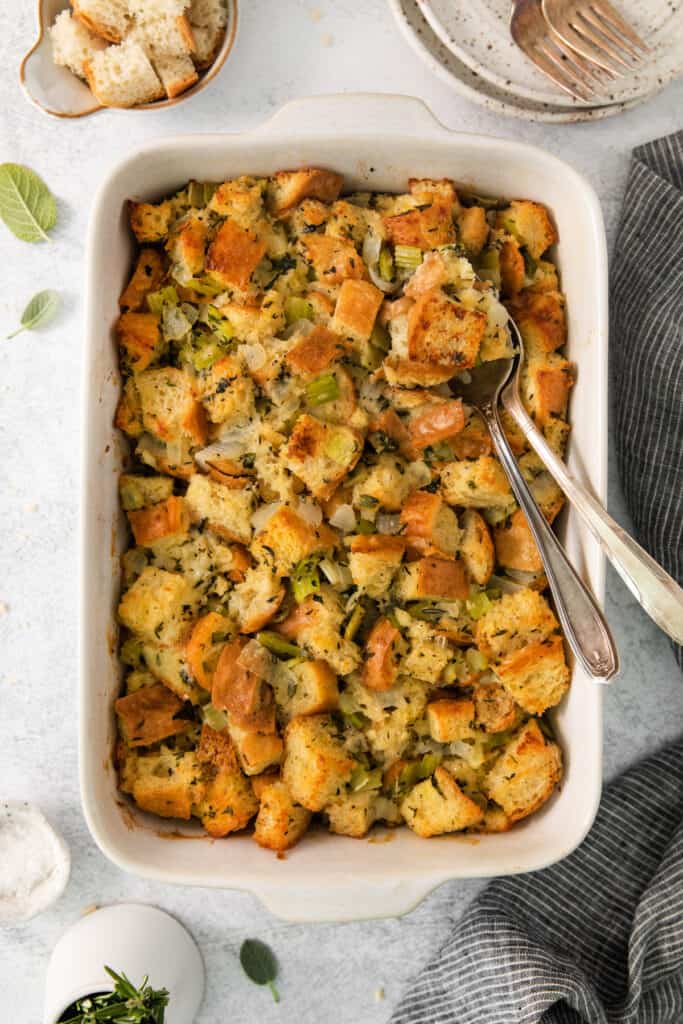 Cheese makes everything better. Even holiday staples like classic herb stuffing deserves to get a delicious upgrade every once in a while. The earthy flavors of the fresh herbs pair perfectly with the tangy Parmesan, while the vegetables are roasted to perfection. And the bread? It absorbs all this tasty goodness up. It's the ultimate holiday season side dish!
To make it, create your base by cooking the veggies and herbs. Then, mix it with the cubed bread along with the cheese, whisked egg, and broth. Mix it all together, and bake in the oven until golden brown. That's all folks.
What You Need for Parmesan Stuffing
You are going to need a 9×13-inch casserole dish for this stuffing recipe. We went with a larger size so the amount of bread used fits. Feel free to use another size, just be sure it's big.
The last note on ingredients (scroll down for more details) is to be sure that whatever bread you use is either stale or baked. You need dried-out bread chunks that will soak up all the delicious liquid.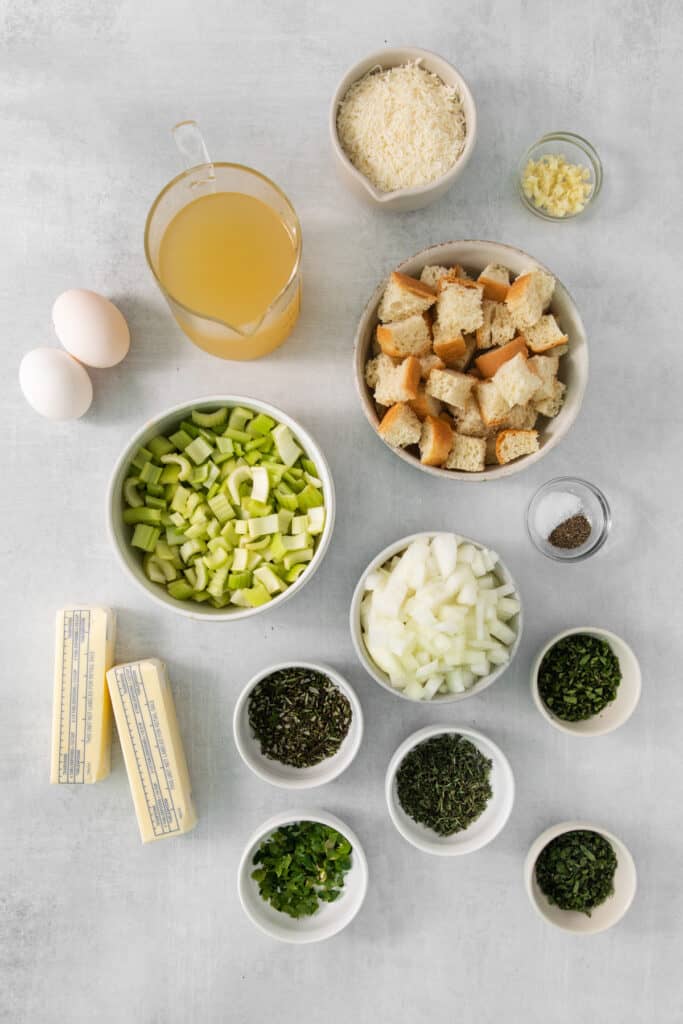 Variations and Substitutions
Bread: If you don't have day-old/stale bread to use for this recipe, cut fresh bread into chunks and place on an ungreased baking sheet. Bake at 200℉ for 45-60 minutes.
Cheese: Swap out Parmesan cheese with similar cheeses like pecorino, halloumi, or gruyere. Or, use your favorite kind of cheese.
Broth: Beef broth, vegetable broth, or turkey broth would also taste great.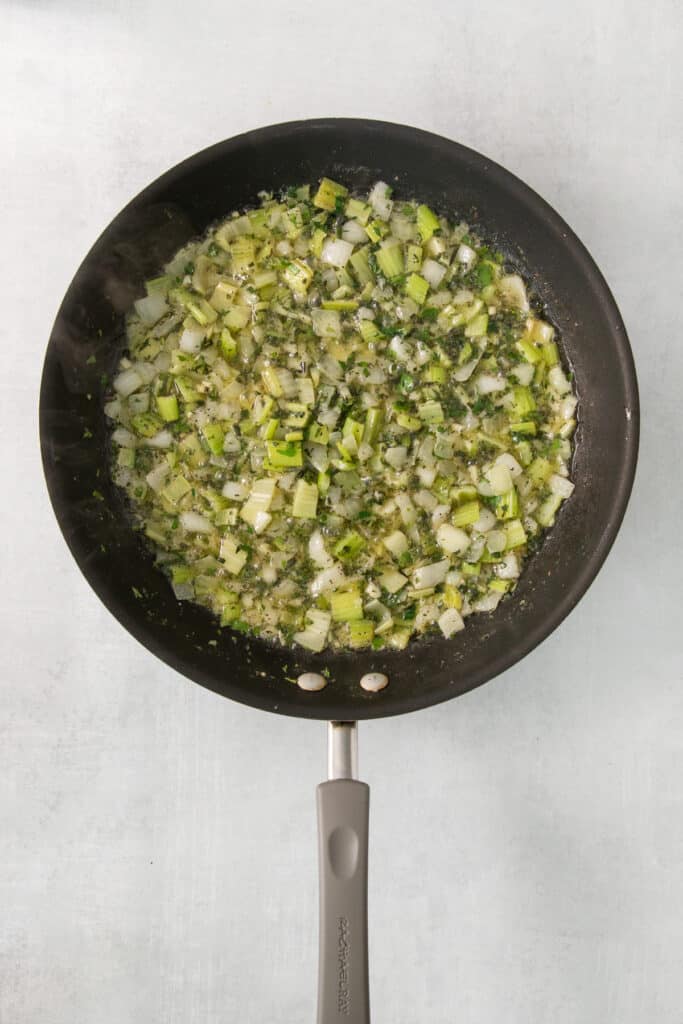 Parmesan Stuffing FAQ
What is the best bread to use for stuffing?

For stuffing, you want to find bread that is hearty and sturdy enough to stand up to the moist filling. 

The best types of bread to use are unsliced French or Italian bread, a sturdy sandwich bread. Bonus points if it's stale! Just stay away from softer breads like brioche.

Should stuffing be soggy before cooking?

Not exactly. The stuffing should be moist but not wet before cooking it. If you add too much liquid to your mix, there may be a puddle of broth in the bottom of the bowl—which means you've over-moistened the stuffing! 

To remedy this, just toss in some extra bread to soak up the dish's excess moisture. 

What if my stuffing is too dry?

Got stuffing that is as dry as a bone? Don't fret! Just melt some butter in a saucepan with some stock, then ladle it into your stuffing. Toss everything together and let it soak up the liquid. Then, cover to keep it warm until ready to serve. You're stuffing is saved!
Storage + Freezer Directions
Store any leftover parmesan herb stuffing in an airtight container in the fridge for 3 to 4 days.
Can you freeze herb stuffing?
To freeze, place your stuffing in a freezer-safe, airtight container and store it in the freezer for up to 3 months.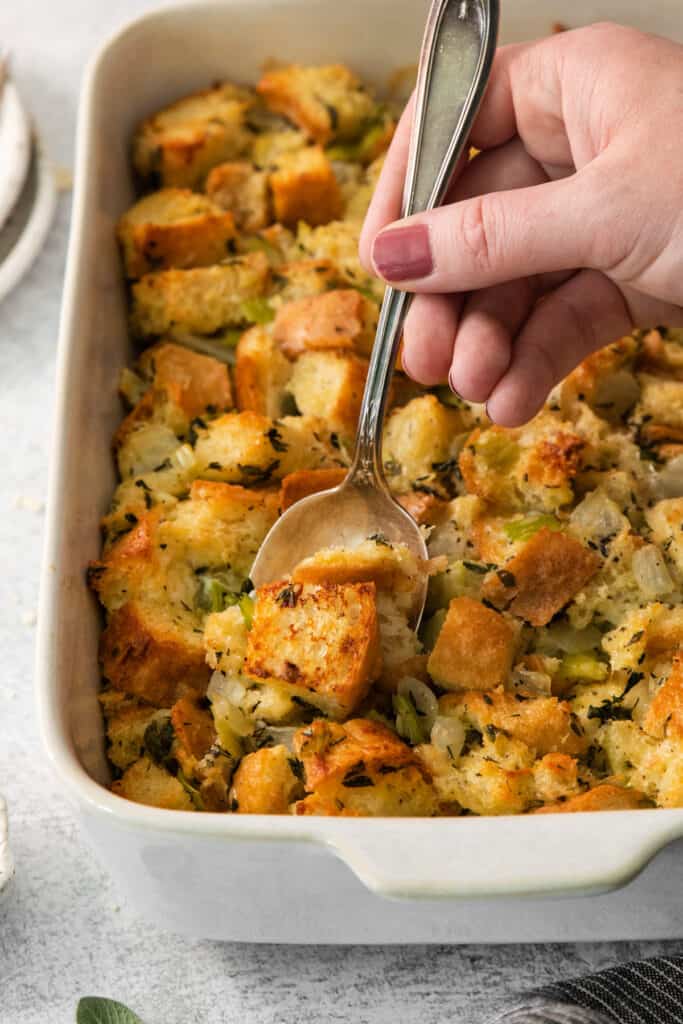 Serving Your Herb Stuffing
Since this is an extra special stuffing recipe, we're going to suggest you pair it with our other extra special Thanksgiving mains and sides! For mains, you've got to try our Cheesy Turkey Tetrazzini, Stuffed Turkey Breast, or Chicken Pot Pie Casserole.For sides, this Mac and Cheese Recipe, Grape Salad with Cream Cheese, and Cream Cheese Asparagus Soup are all uniquely delicious and will add some satisfying nuance to your holiday table.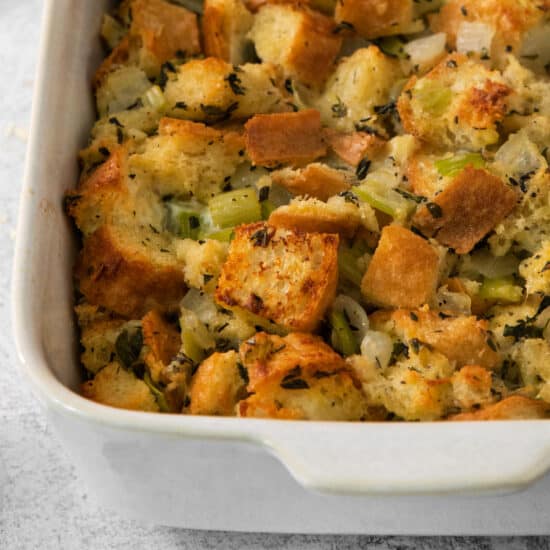 Parmesan Herb Stuffing
This parmesan herb stuffing puts a cheesy spin on the classic herb stuffing to make an even more delicious holiday side that the whole family will love.
Ingredients
1

cup

unsalted butter

~2 sticks

3

cups

celery

diced

1

medium yellow onion

diced

3

cloves

garlic

minced

½

teaspoon

salt

½

teaspoon

pepper

2

tablespoons

fresh oregano

minced

2

tablespoons

fresh thyme

minced

2

tablespoons

fresh rosemary

minced

2

tablespoons

fresh parsley

minced

2

tablespoons

fresh sage

minced

22

oz.

day old French bread

diced (~14 cups)

1

cup

grated parmesan cheese

~5 oz.

2

large eggs

whisked

2

cups

chicken broth
Instructions
Preheat the oven to 350℉ and spray a 9×13-inch baking dish with cooking spray.

Heat the butter in a large skillet over medium heat. Add the onions and celery and cook until they soften about 5 minutes. Add the garlic and cook for an additional minute.

Add the seasoning and herbs and cook for 1 minute. Remove from heat and set aside.

Place the chunks of bread into a large bowl. Transfer the butter and veggies to the bread. Stir to combine and set aside allowing the bread and butter to cool a bit before adding the egg.

Pour the broth and whisked eggs over the bread and stir so all of the bread has some broth on it.

Transfer to the baking dish and bake uncovered for 45 minutes.

Allow the stuffing to rest for 5 minutes before serving.
Tips & Notes
If you don't have day-old/stale bread to use for this recipe cut fresh bread into chunks and place on an ungreased baking sheet. Bake at 200℉ for 45-60 minutes.
Nutrition facts
Calories:
411
kcal
Carbohydrates:
38
g
Protein:
13
g
Fat:
24
g
Fiber:
3
g
Sugar:
4
g