Nothing goes together quite as epically as broccoli and cheese, and this cheesy broccoli is an easy side dish that even the pickiest eaters will love. The homemade cheese sauce will bring you to cheese lovin' heaven, and the tender broccoli acts as the perfect base.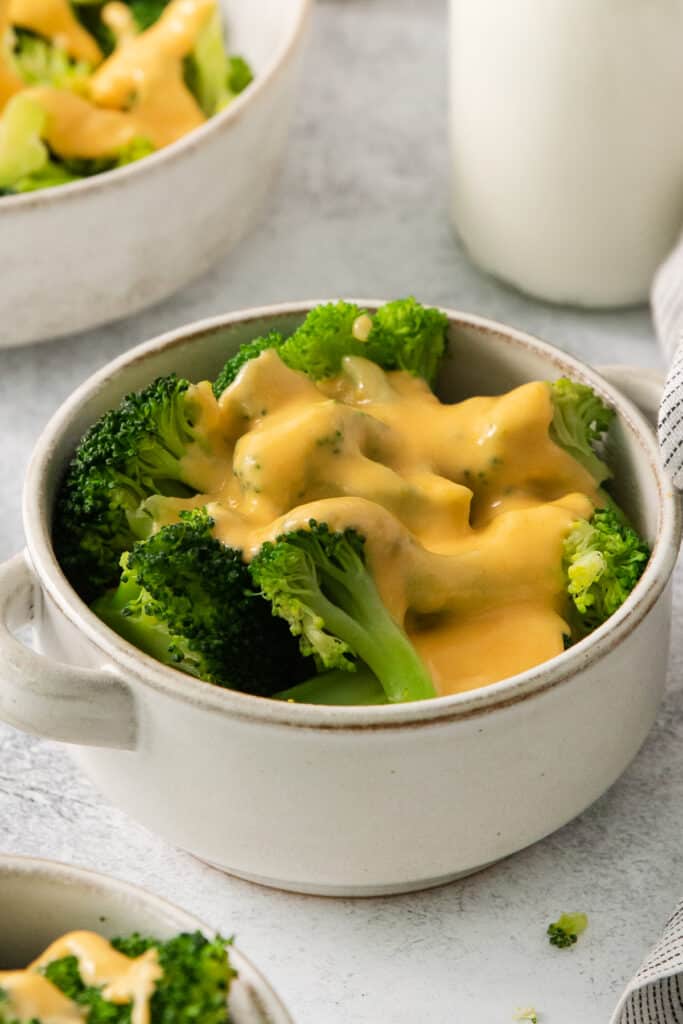 If you're anything like me, you probably scan the soup of the day at cafes and restaurants, hoping to find broccoli cheese soup written on the board. And if you're thinking, "Me, me!" then you NEED this cheesy broccoli recipe in your life. It's got all the flavors of broccoli cheddar soup, but simplified to its delicious basics: steamed broccoli florets and a creamy cheese sauce.
The result? An easy weeknight side dish that will leave everyone's bellies happy. All you have to do is steam the broccoli, make the cheese sauce, and put it all together! There's nothing better than simple ingredients, simple satisfaction, and cheesy goodness. 
What You Need for Cheesy Broccoli
Broccoli florets: we used fresh broccoli florets from a single head of broccoli.
All-purpose flour: this is what thickens the cheese sauce, turning it into a roux.
Whole milk: the base of the homemade cheese sauce. It gives it a creamy, rich flavor.
Shredded cheddar cheese: we kept it classic and used cheddar cheese to provide that cheesy flavor.
Granulated garlic: everything tastes better with garlic!
Franks hot sauce: adds a hint of spice for a more well-rounded taste.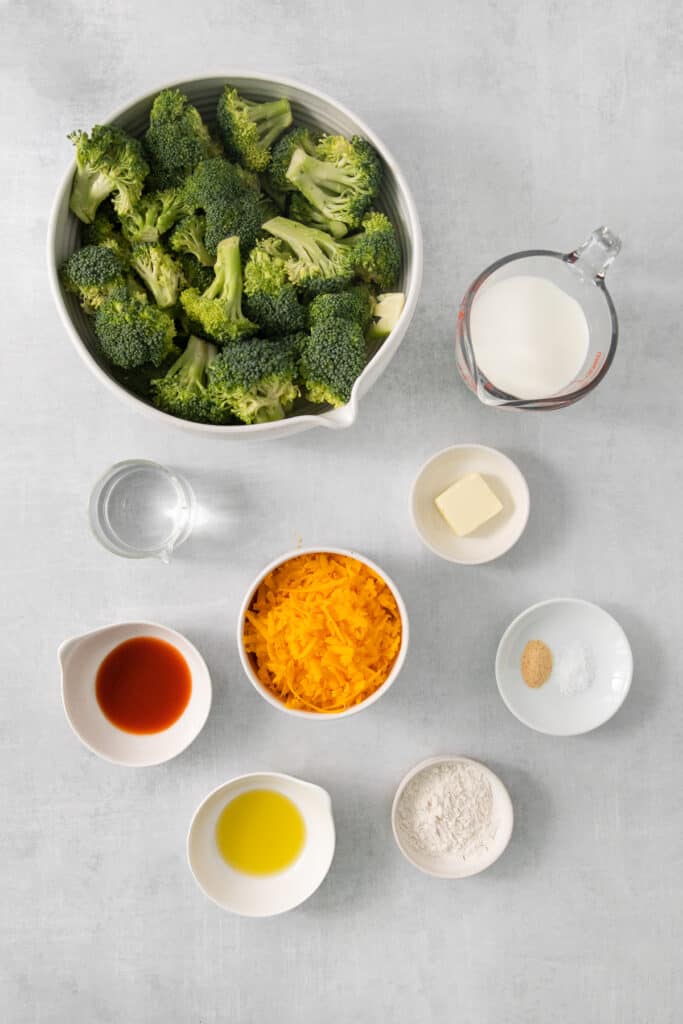 Variations and Substitutions
Broccoli: You're welcome to use frozen broccoli instead of fresh. Just note that it'll take longer for them to steam.
Whole milk: Swap out the whole milk with a fattier non-dairy milk, like oat milk. 2% milk will also suffice.
Cheddar cheese: Feel free to use your favorite kind of cheese in this cheese sauce, or mix more than one kind of cheese together. Parmesan cheese would taste great mixed with sharp cheddar cheese.
Hot sauce: You can use whatever kind of hot sauce you'd like, or omit it altogether.
Roasted: Skip steaming the broccoli and roast instead. Drizzle broccoli with 1 tablespoon of olive oil and roast at 400℉ for 15-20 minutes.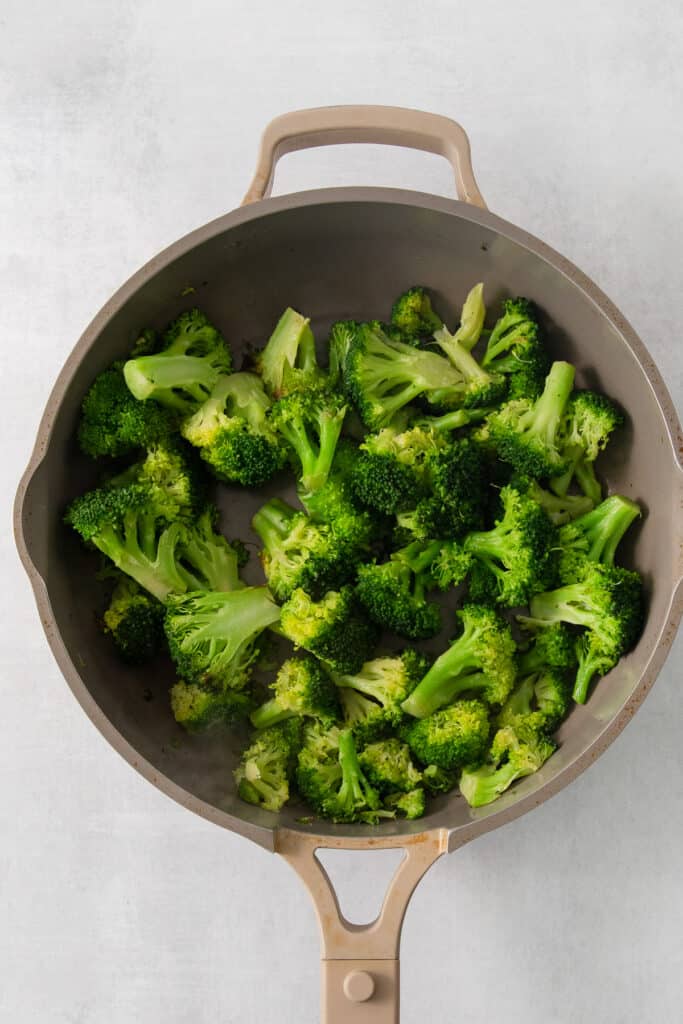 FAQ
How well should broccoli be cooked?

This all depends on your preference. Some people like a slight crunch in their broccoli, while others like softer broccoli. For this recipe, we recommend cooking your broccoli until fork-tender, when you can easily pierce the stems with a fork. This should take about 3 to 5 minutes.
Why is my cheese sauce curdling?


A curdled cheese sauce is likely the result of temperature and fat content. Sauces that are made with dairy or egg-y ingredients can curdle if they don't contain enough fat, such as when skim milk is used instead of cream or whole milk. 

Additionally, high temperatures can cause sauces to curdle, so it's important to keep the heat low and slow when cooking these sauces.
What other vegetable would taste good with this cheese sauce?

Other than broccoli, there are many veggies that taste great with creamy cheese. Cauliflower, Brussels sprouts, and asparagus all work well with cheese sauce. 

For something a little more unconventional to go with your cheese sauce, try adding diced carrots, bell peppers, or mushrooms. This adds a burst of color and flavor to the dish!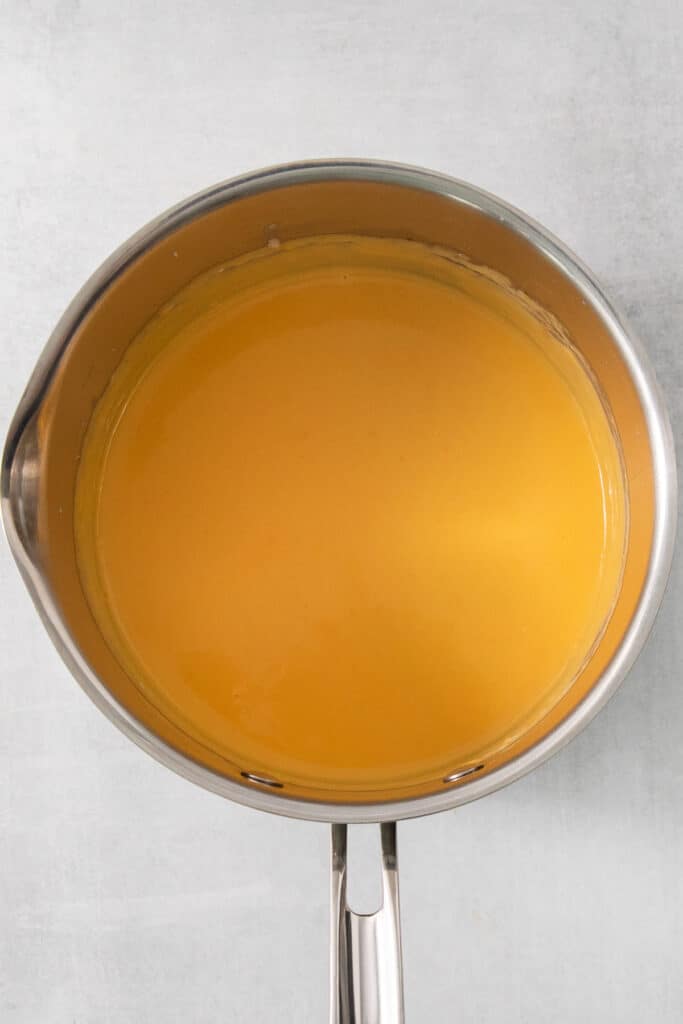 Storage and Freezer Directions
​Store any leftover cheesy broccoli in an airtight container in the refrigerator for up to 3 days.
We don't recommend freezing this recipe, as the texture of the cheese will be compromised.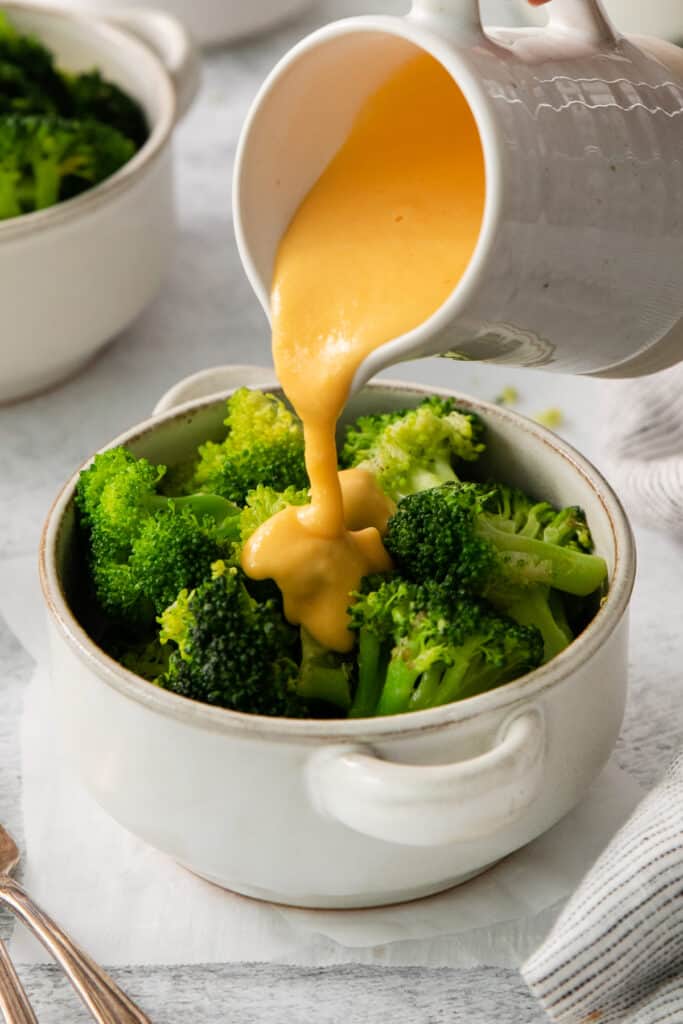 Serving Suggestions
What to pair with cheesy broccoli, you ask? The better question is what CAN'T you pair with this dreamy, cheesy dish? Our favorite picks for main dishes are these Creamy Parmesan Chicken Nuggets, Ham and Cheese Sliders, or Chicken Cordon Bleu.
As for sides, you can't go wrong with our Air Fryer Garlic Parmesan Fries, Cheesy Rice, or, of course, BBQ Chicken Mac and Cheese.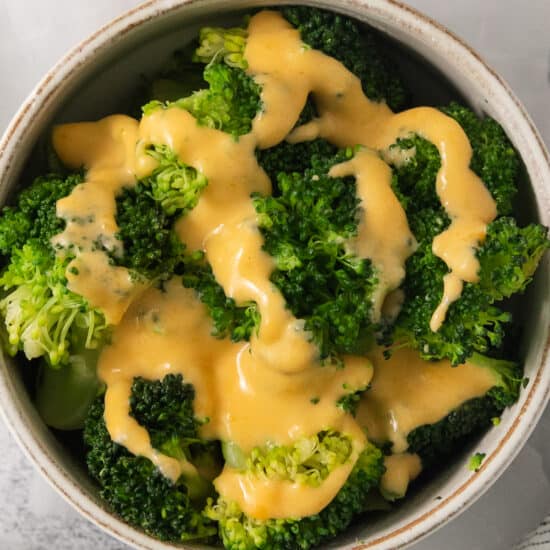 Cheesy Broccoli
Take your ordinary broccoli dish to the next level with this cheesy broccoli recipe made with fresh broccoli and a homemade creamy cheese sauce.
Ingredients
½

tablespoon

olive oil

16

oz.

broccoli florets

~6 cups

⅓

cup

water

1

tablespoon

unsalted butter

1.5

tablespoons

all-purpose flour

¾

cup

whole milk

4

oz.

shredded cheddar cheese

¼

teaspoon

salt

¼

teaspoon

granulated garlic

1

tablespoon

Franks hot sauce
Instructions
Heat the olive oil in a nonstick skillet over medium heat. Add the broccoli and cook for 2 minutes.

Add the ⅓ cup of water to the broccoli and place a lid on the skillet. Lightly shake the pan and cook for another 2 minutes or until the water has evaporated. Remove from the heat and set aside.

Next, make the cheese sauce. Heat a saucepan over medium heat and add the butter. When the butter is melted whisk in the flour until a paste forms. Cook for 1 minute.

Slowly add milk to the pan whisking constantly until the mixture thickens.

When the roux is thickened, remove it from the heat and add the cheddar cheese. Whisk until the cheese has melted. Add in the salt, garlic, and hot sauce to the cheese sauce. Mix well.

Drizzle the cheese sauce over the broccoli and serve immediately.
Tips & Notes
Skip steaming the broccoli and roast instead. Drizzle broccoli with 1 tablespoon of olive oil and roast at 400℉ for 15-20 minutes.
The cheese sauce for this recipe is ½ version of this one cheese sauce for broccoli
Nutrition facts
Calories:
233
kcal
Carbohydrates:
13
g
Protein:
12
g
Fat:
16
g
Fiber:
3
g
Sugar:
4
g