These are the crispiest chicken nuggets! These Parmesan Chicken Nuggets are dipped in egg and then rolled in a flavorful breadcrumb + parmesan mixture and then pan-fried (or baked!) to perfection.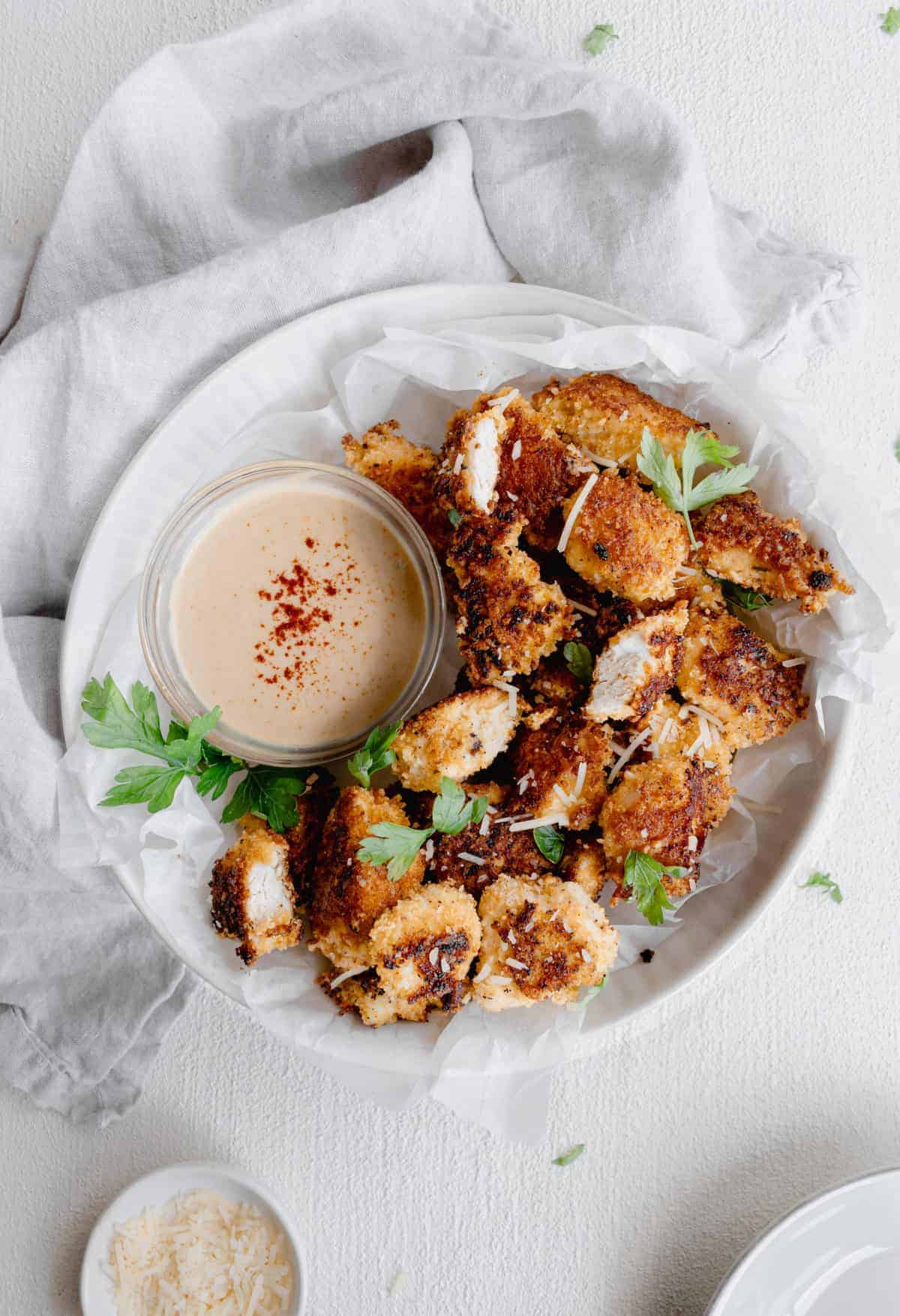 These chicken nuggets are a huge step up from frozen nuggets. We have tested them in the oven, air fryer, and pan-fried. Every version leaves you with a crispy outside and a juicy inside. We love the salty parmesan cheese crust.
Featured Comment
"Made these along with the mac n' cheese and they paired well! I loved how crispy they turned out in the end and had a TON of flavor. Another recipe that reheated well too!" –Hannah Schrempp
What is in Parmesan Chicken Nuggets?
Chicken breast: we use chicken breast here cut into uniform sizes so they cook at the same time. Feel free to use chicken thighs, too.
Grated parmesan: finely grated parmesan works best for the coating of this recipe. It tends to stick better.
Italian bread crumbs: we used traditional Italian bread crumbs but feel free to use panko bread crumbs or your favorite crumbs.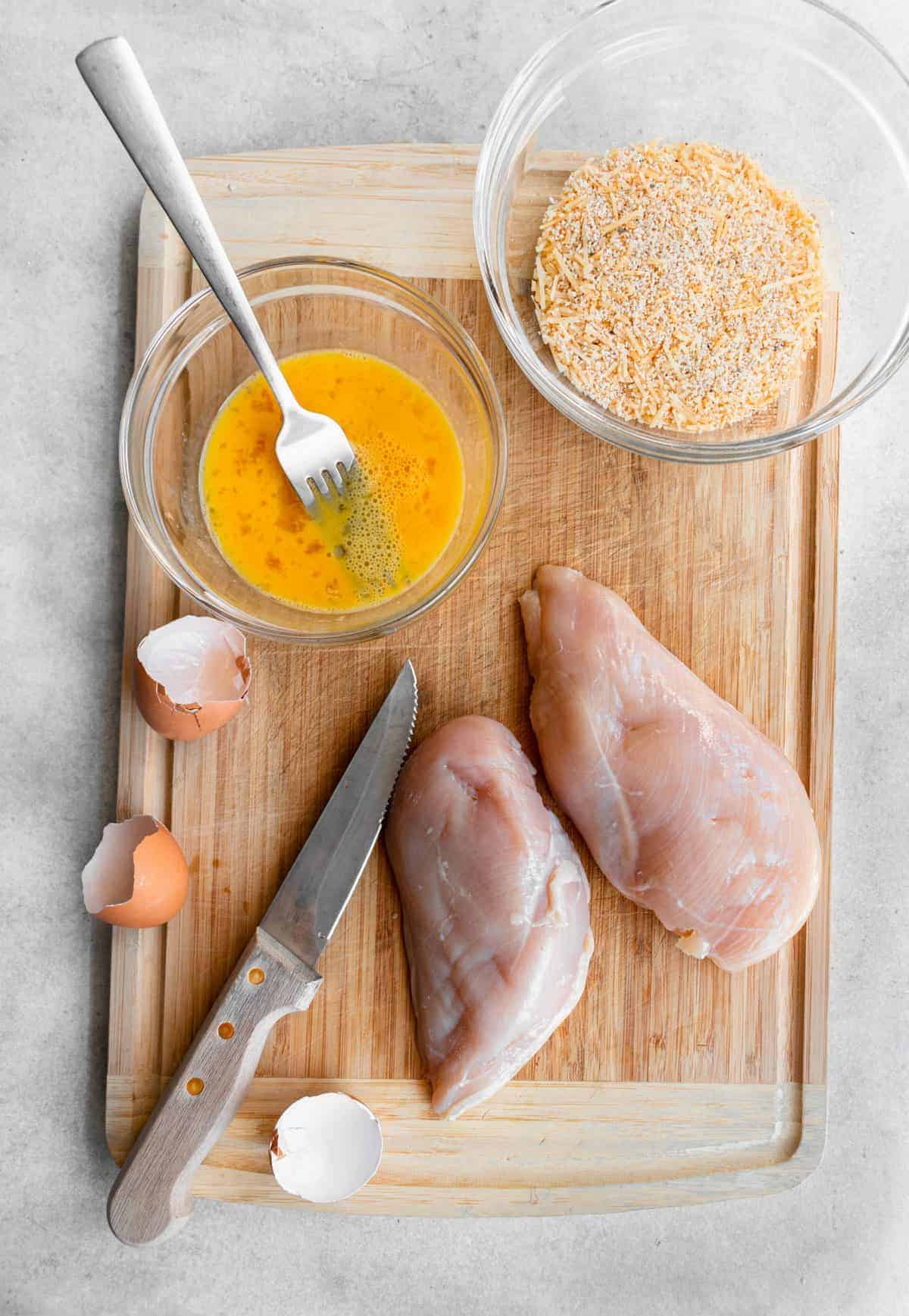 Variation & Substitutions
Feel free to mix up the spices in the chicken nugget coating. Instead of the spice we use, use a few teaspoons of your favorite homemade spice mix.
When you are dredging the chicken, be sure to let any excess egg drip from the chicken pieces before dipping the chicken in the breadcrumb mixture.
Feel free to substitute Italian breadcrumbs with your favorite breadcrumbs.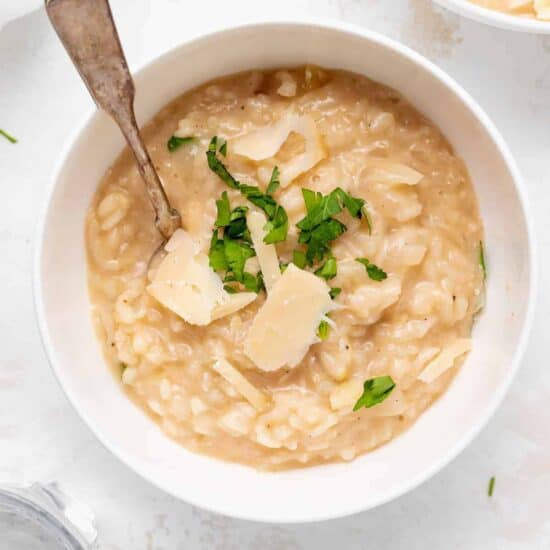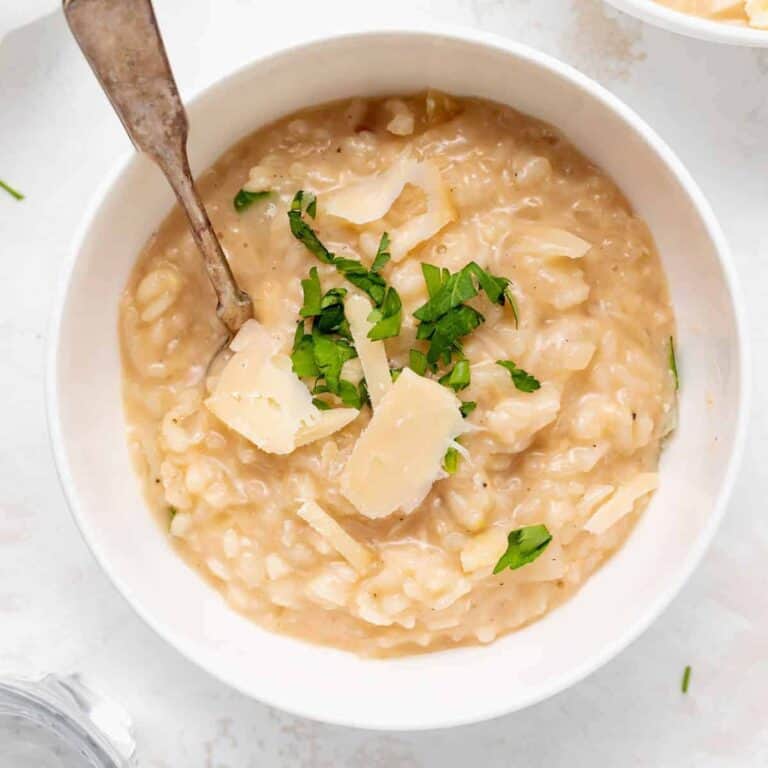 Try it!
Parmesan Cheese Recipes
Love parmesan cheese? Check out some of our very best recipes featuring parmesan cheese!
Get Recipe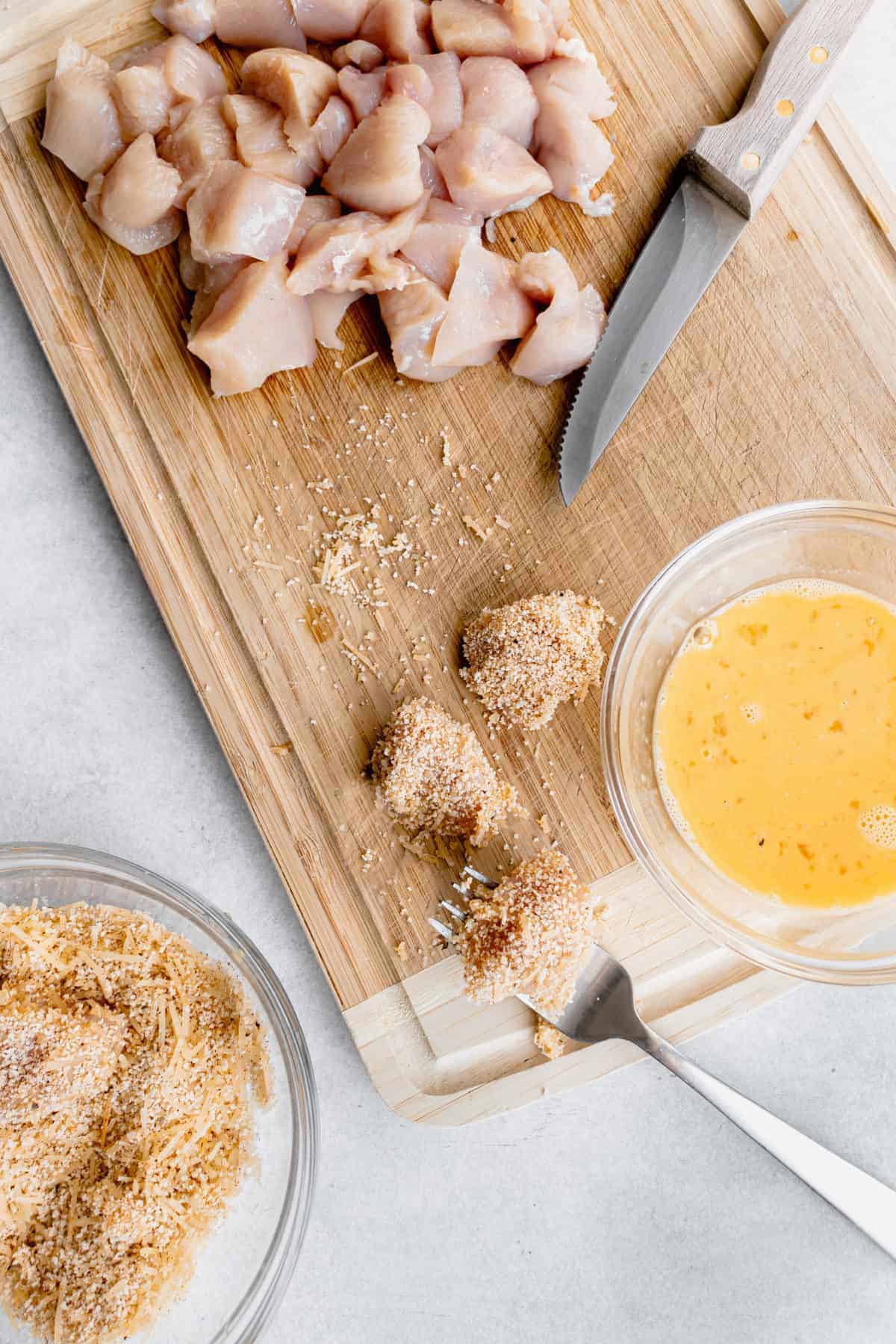 FAQ
Are they gluten-free?

Traditional Parmesan Chicken Nuggets made with breadcrumbs are not gluten-free. However, they can be made gluten-free by using gluten-free breadcrumbs or almond flour.
Can I use chicken thighs instead of chicken breasts?

Yes, you can use boneless, skinless chicken thighs. They tend to be juicier than chicken breasts but keep in mind that cooking times might vary slightly.
How can I make the coating stick better to the chicken?

Dipping the chicken pieces first in a beaten egg or a milk mixture before the breadcrumb-Parmesan mix can help the coating adhere better. It is also so helpful to do one piece of chicken at a time.
Can I make a vegetarian version of this dish?

While the primary ingredient is chicken, you can use alternatives like tofu or cauliflower florets to make a vegetarian version. Adjust the cooking time as needed.
How do I know when the nuggets are cooked through?

The nuggets should be golden brown on the outside. If you're uncertain, use a meat thermometer; the internal temperature should reach 165°F (74°C)
here's a tip
Don't forget to spray the tops of your chicken nuggets with cooking spray before popping them in the oven. This is how you get them nice and crispy.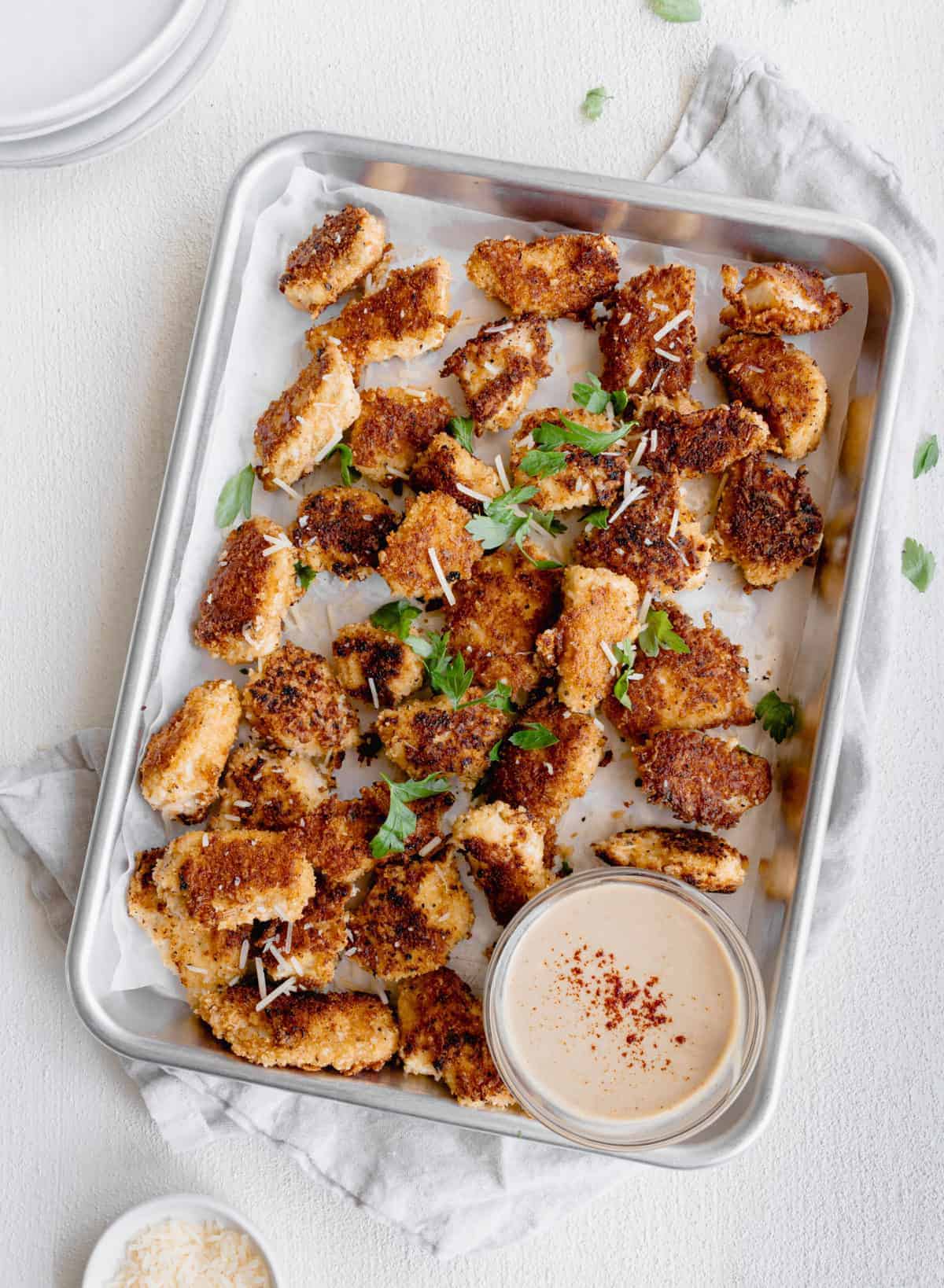 Storage
Once you've cooked the Parmesan Chicken Nuggets, let them cool to room temperature. It's essential not to pack them away while they're still hot as this can create moisture, which can lead to a soggy texture and bacterial growth.
Place the cooled nuggets in airtight containers or resealable plastic bags. Store them in the refrigerator for up to 3 days.
To reheat: preheat the oven to 375°F (190°C). Spread the nuggets on a baking sheet in a single layer.Bake for 10-15 minutes, or until they're heated through and crispy.
How to Freeze
Flash Freezing: this method helps prevent the nuggets from sticking together. Lay the cooled nuggets in a single layer on a baking sheet lined with parchment paper. Place the baking sheet in the freezer for about 1-2 hours or until the nuggets are solid.
Packing for Freezing: once flash frozen, transfer the nuggets to airtight containers or heavy-duty freezer bags.
To cook from frozen: for best results, thaw the nuggets in the refrigerator overnight before reheating. If you're short on time, you can reheat them directly from the freezer. Preheat the oven to 375°F (190°C).
Spread the frozen nuggets on a baking sheet in a single layer. Bake for 20-25 minutes, or until heated through and crispy. Make sure to flip them halfway through for even reheating.
Serving Suggestions
Serve these delicious crispy parmesan chicken nuggets with mac and cheese as a side. We also highly recommend serving it with this cucumber tomato feta salad or this Greek orzo salad with feta.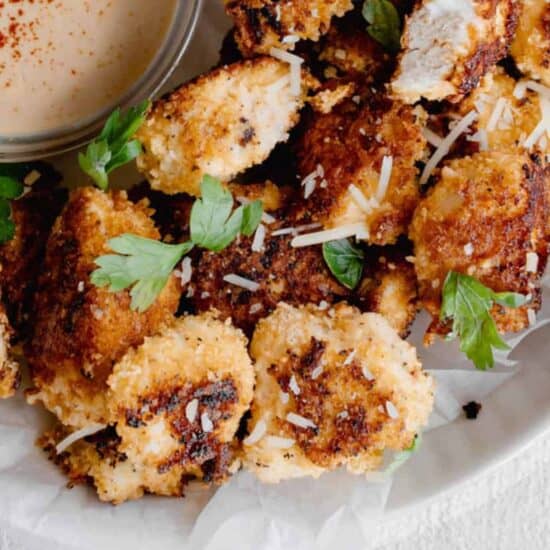 Crispy Parmesan Chicken Nuggets
These parmesan chicken nuggets are juicy on the inside and have a crispy exterior. Fry them on the stove top or bake them in the oven.
Ingredients
1

lb.

boneless skinless chicken breast

cut into 1-inch "nuggets"

2

large eggs

1/3

cup

Italian bread crumbs

1/2

cup

grated parmesan cheese

1/8

teaspoon

ground pepper

1/4

teaspoon

salt

1

teaspoon

garlic powder

1/2

teaspoon

onion powder

1/8

teaspoon

smoked paprika

1-2

tablespoons

olive oil

if you're pan-frying
Instructions
Crack 2 large eggs into a medium bowl and lightly whisk, set aside.

Add Italian bread crumbs, parmesan cheese, ground pepper, and garlic powder to a medium bowl and mix to combine. Set aside.

Prepare chicken nuggets by slicing your chicken breast into 1-inch chunks. Then, dip each nugget into the egg wash, completely coating each piece of chicken. Then, dip the nuggets into the bread crumb mixture, coating each side. It's easiest if you do this one at a time to make sure that the chicken gets fully coated.
Pan Fry
Heat 1 tablespoon of olive oil in a large skillet over medium heat. 

When the olive oil is fragrant, add chicken nuggets to the pan. Fry on each side for 3-4 minutes, flipping every 2 minutes to make sure they don't burn. You'll likely fry your chicken nugget in batches, so you may need to add more olive oil.

Cook until the chicken nuggets are golden brown on the outside and until the internal temperature reaches 165ºF.
Baking
Preheat oven to 400ºF and line a baking sheet with tin foil. Then, place a wire rack on top of your baking sheet and spray it with nonstick cooking spray.

Transfer each nugget onto the wire rack, spacing them out so they do not touch.

Generously spray the tops of the chicken nuggets with nonstick cooking spray and then place the baking sheet into the oven.

Bake at 400ºF for around 15 minutes. Then, for optimal crunchiness, broil on high for an additional 2 minutes or until golden brown. The internal temperature of the chicken breast should be at least 165ºF.
Nutrition facts
Calories:
282
kcal
Carbohydrates:
8
g
Protein:
35
g
Fat:
13
g
Fiber:
0
g
Sugar:
0
g