The easiest parmesan cheese crisps you'll ever make. These parmesan crisps are made with 1 main ingredient and are the best low-carb snack ever!
This parmesan crisps recipe is a fantastic 100 calorie snack that you can munch on all day long. Enjoy!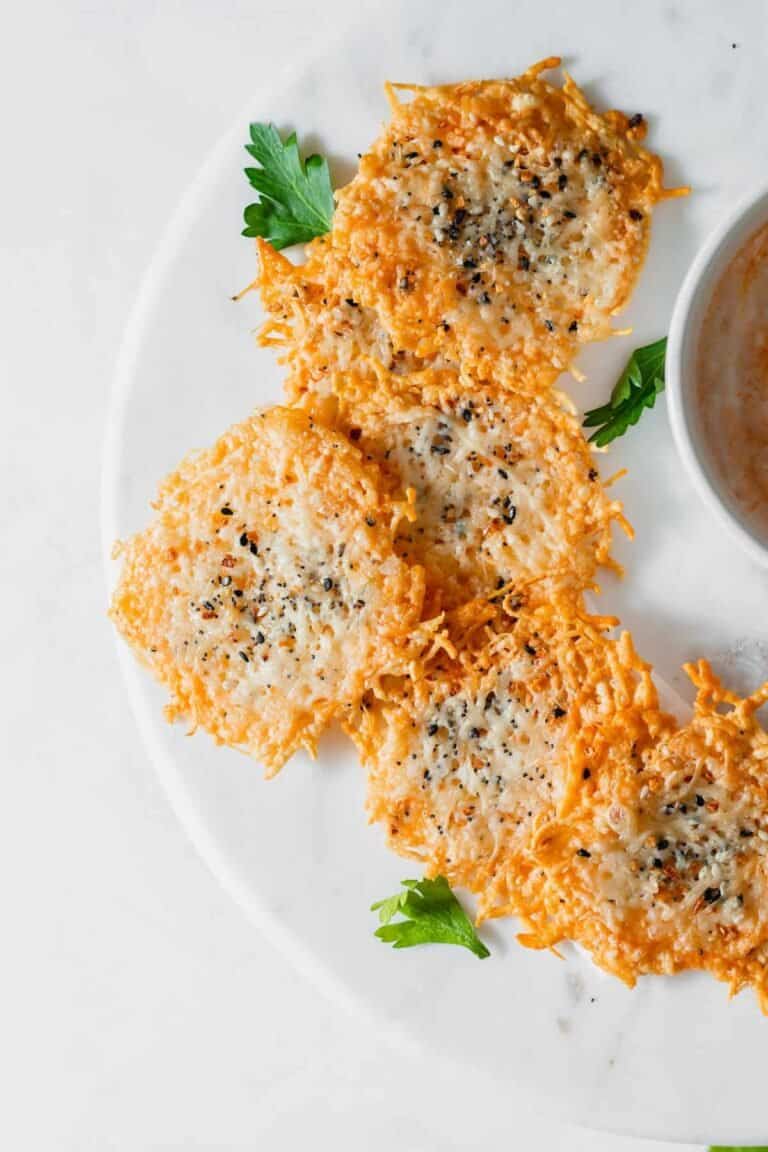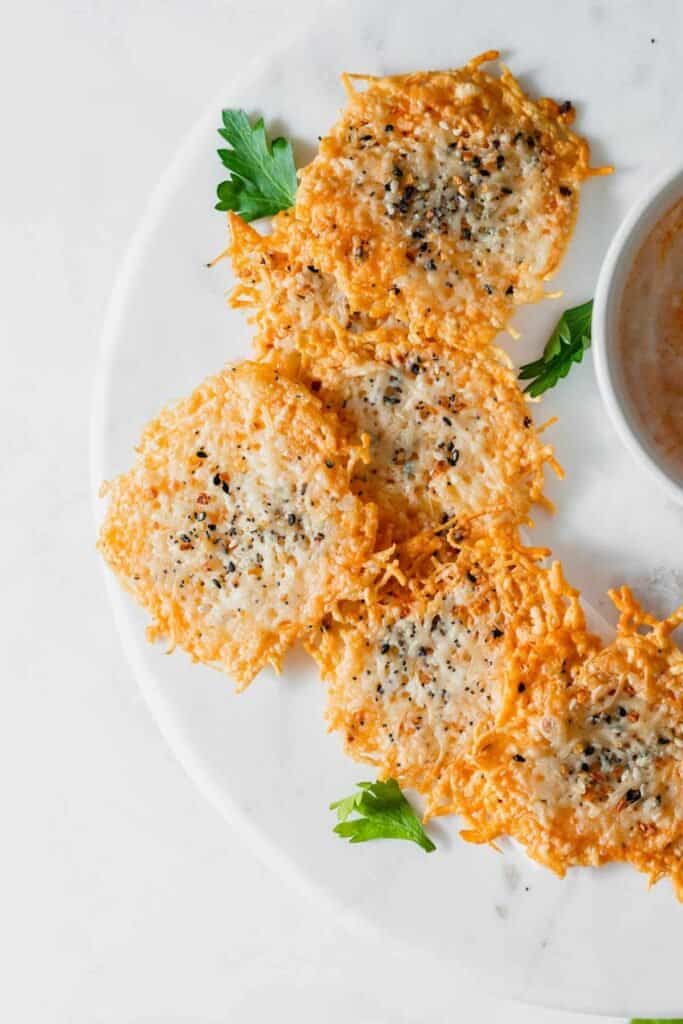 Parmesan Cheese Crisps – The Low Down
Cheese lovers unite because these homemade Parmesan Crisps are 100% cheese. #yourewelcome
At just 100 calories per serving, parmesan crisps are seriously the best low carb snack that you'll want to munch on all day long.
These Parmesan Crisps are:
Made with 1 ingredient
100 calories/serving
Keto and Paleo-friendly
Naturally gluten-free
Low in sugar
7g protein/serving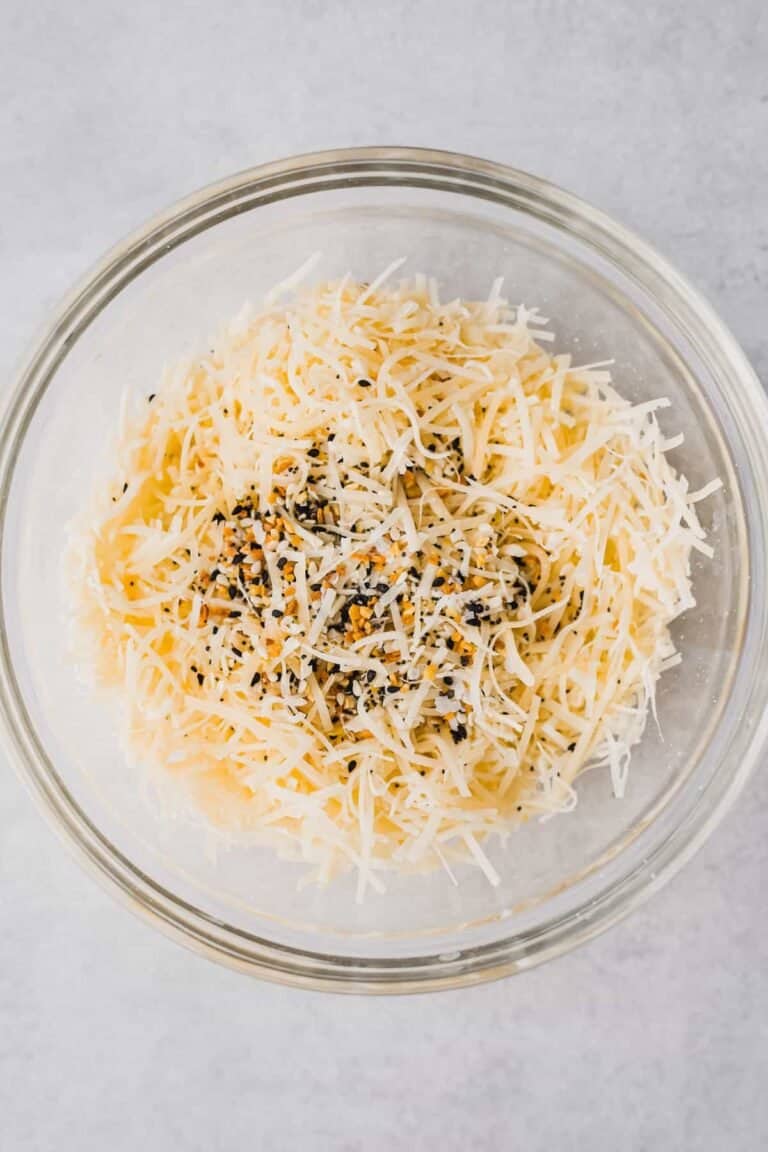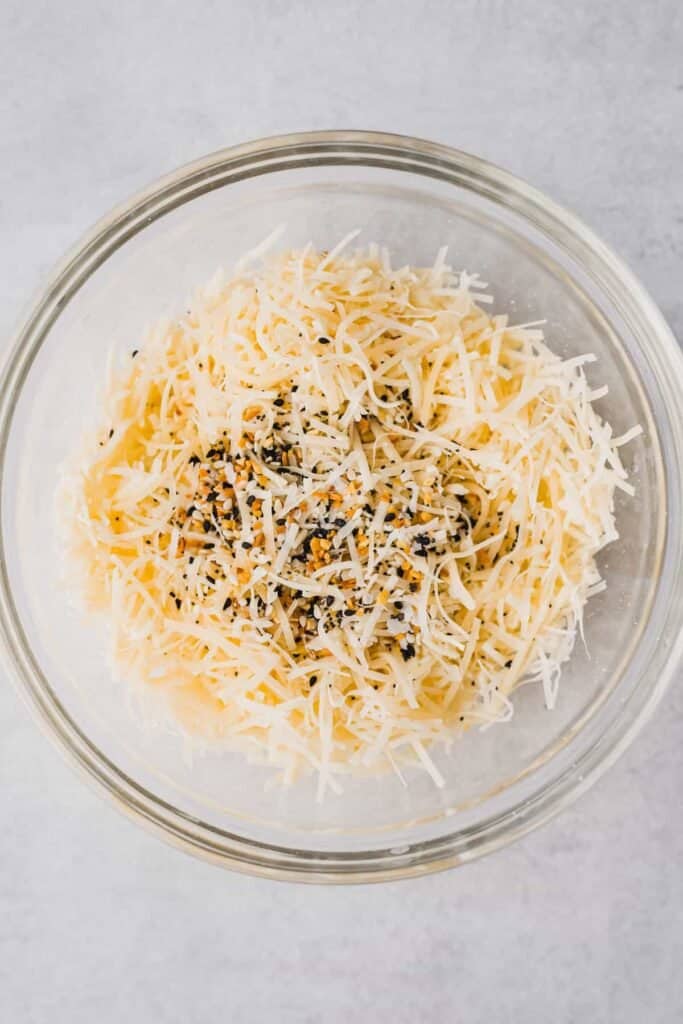 What You Need
The main ingredient in parmesan crisps is –> parmesan cheese! Actually, it's really the only ingredient you need.
For this recipe, you'll need 1 cup of parmesan cheese. Both grated and shredded work really well, so use what you have on hand.
flavor add-ins
In addition to parmesan cheese, we recommend using your favorite spice blend to give your parmesan cheese crisps some extra flavor. Here are some options:
Red Pepper Flakes
Freshly Ground Black Pepper
A little goes a long way with seasonings. Add around 1/2 to 1 teaspoon of seasoning per cup of parmesan cheese. Alternatively, you can sprinkle seasoning right on top of each crisp before baking.
Cheese's We Tested
Since there are lots of different kinds of parmesan cheese, here's the rundown of what we tested:
grated parmesan: grated parmesan cheese will create little round disks that do not have many airy holes in them.
store-bought shredded parmesan: this is what we used in the photographs of this recipe. You'll see that they come out airy and holey.
freshly shredded parmesan: freshly shredded parm works just like store-bought.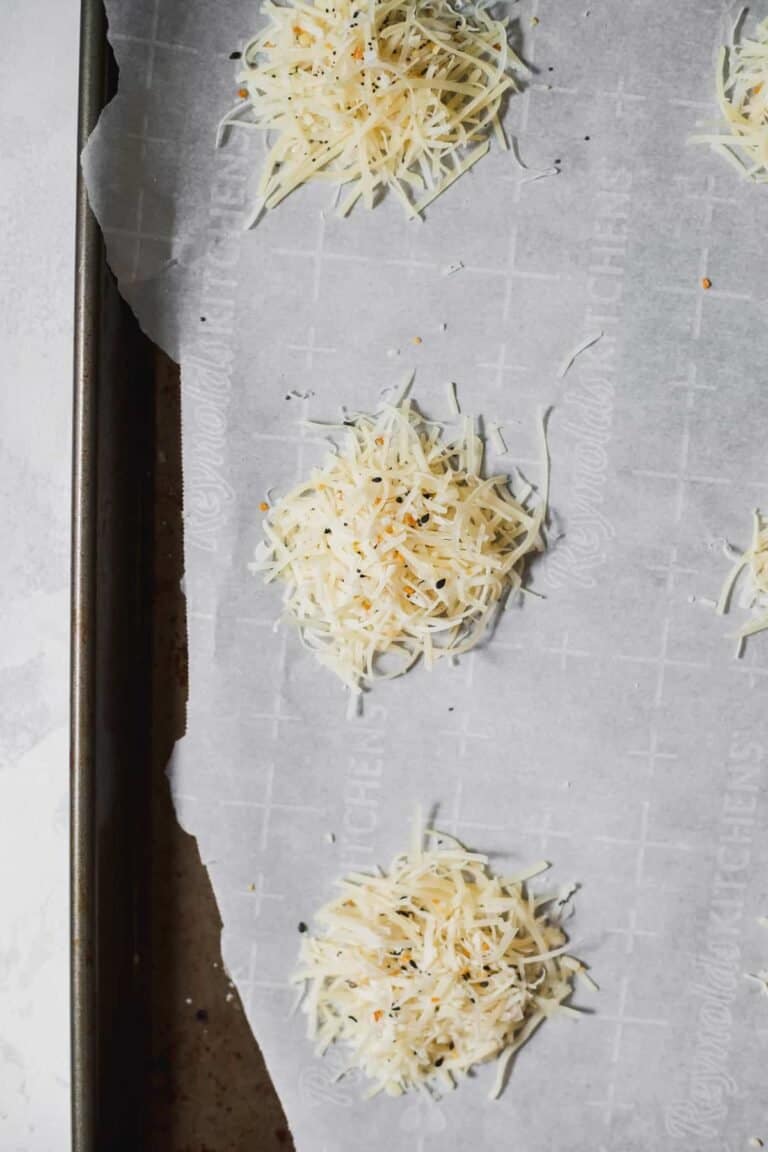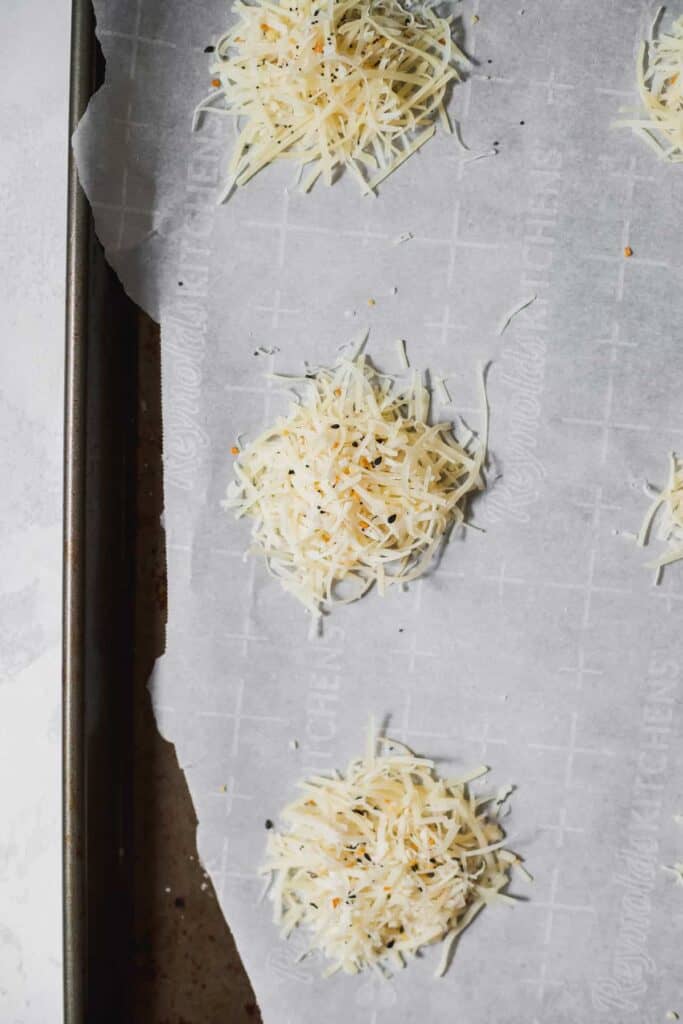 How to Make Parmesan Crisps
Preheat: First, preheat the oven to 400ºF and line a baking sheet with parchment paper. Parchment paper is extremely important. If you don't use it, your parmesan cheese crisps will stick!
Mix: Mix together parmesan cheese and whatever seasoning you wish to use.
Scoop: Scoop about 1 tablespoon worth of parmesan cheese and make 2-inches in diameter discs on your baking sheet. It should be a thin layer of cheese that is the same thickness throughout. You should get around 16 parmesan crisps, so you will need to use 2 baking sheets. The crisps will NOT spread out during baking.
Bake: Bake at 400ºF for about 6-8 minutes, watching very closely. When the parmesan cheese melts and turns golden brown, remove it from the oven immediately.
Cool: Immediately remove the parmesan crisps from the parchment paper and set them on a cooling rack to cool for at least 10 minutes to fully harden.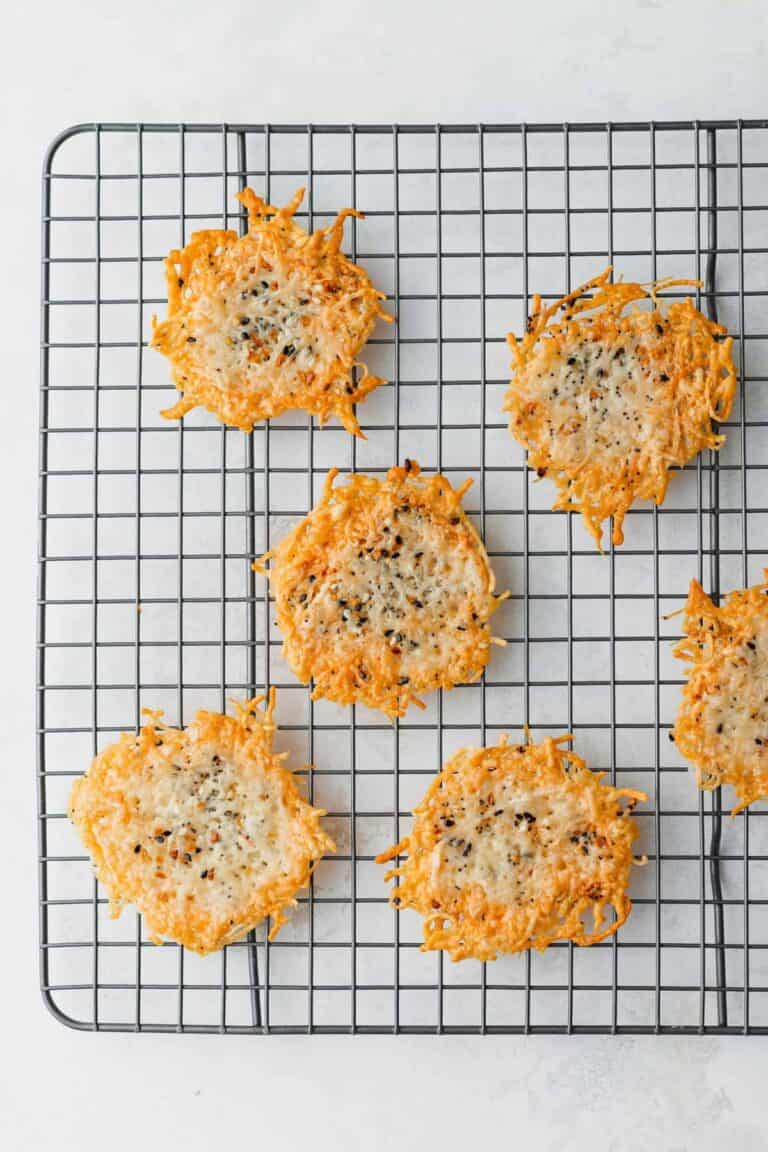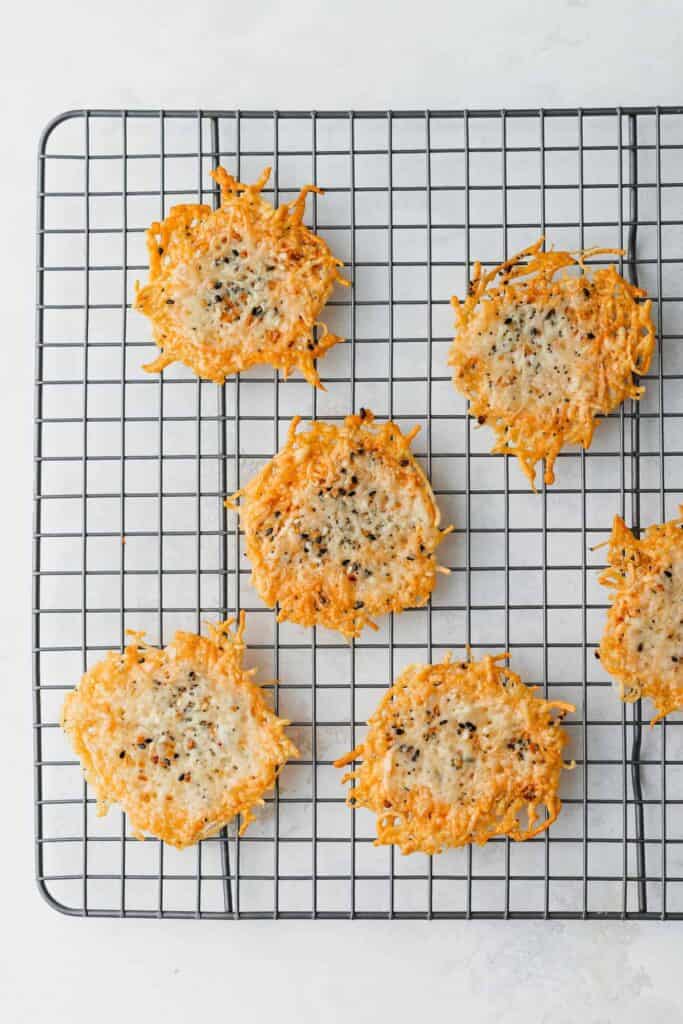 Are parmesan crisps healthy?
Parmesan crisps are a healthy, low-carb snack that are made with 1 ingredient. Parmesan cheese crisps are 100 calories/serving and have 5g protein/serving.
Do parmesan cheese crisps spread in the oven?
Parmesan cheese crisps will not spread in the oven, so you can bake them close together.
How many carbs are in parmesan crisps?
There are around 3 carbs/serving in parmesan cheese crisps.
Why are my cheese crisps soggy?
The reason why your cheese crisps are soggy is because you likely didn't bake them long enough or let them cool long enough. Bake your cheese crisps until the the cheese is fully melted and begins to turn golden brown. Let them cool long enough to harden.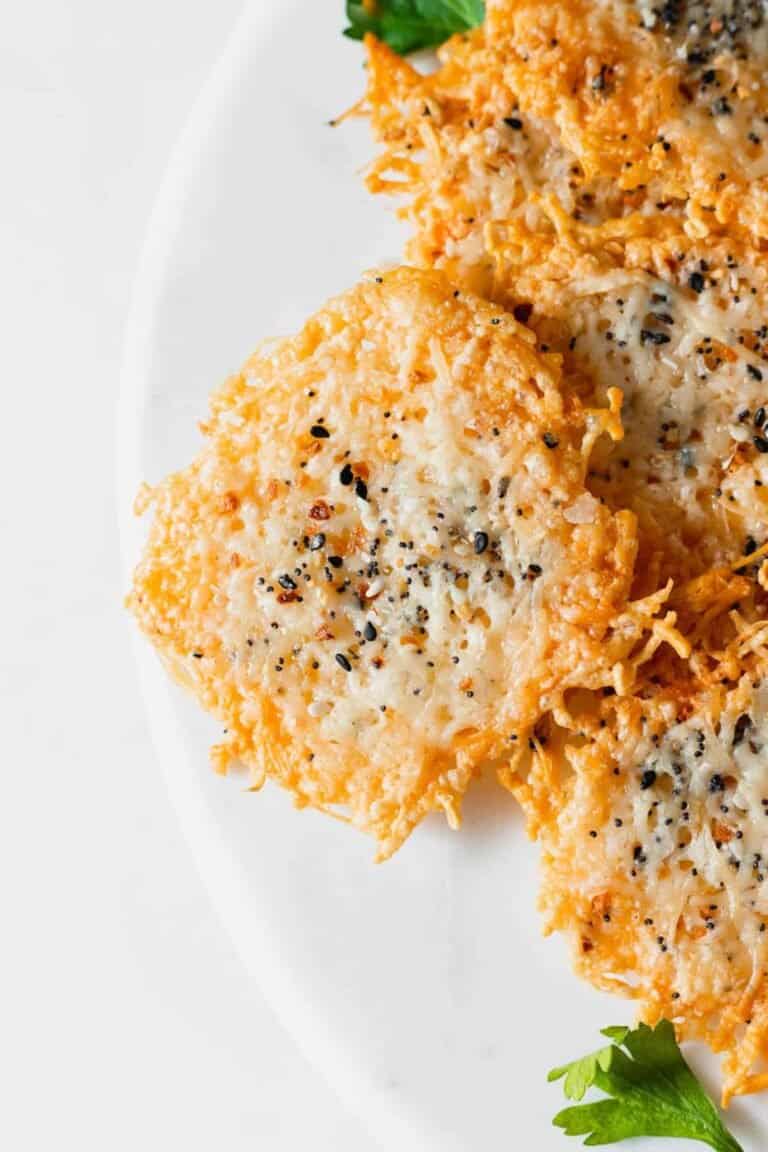 Storage
Let your parmesan crisps recipe cool completely. Then, transfer them into an airtight container. Store at room temperature for up to 2-3 days.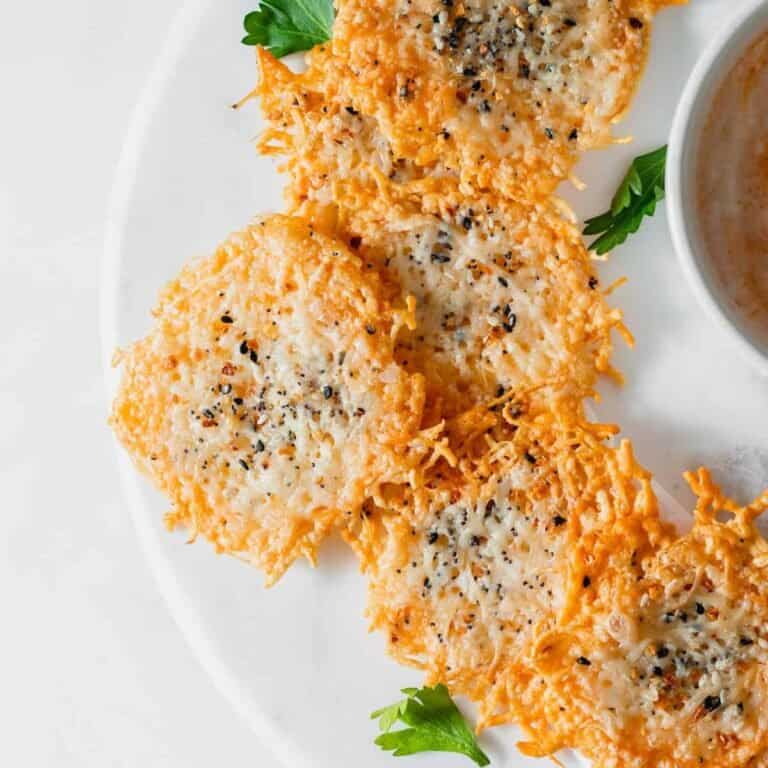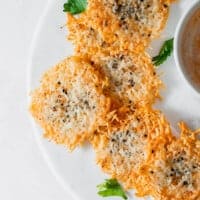 Easy Parmesan Crisps
1-ingredient keto parmesan cheese crisps made in less than 10 minutes! Top your parmesan crisps with your favorite seasoning and you've got yummy snacking at your fingertips.
Prep:
5 minutes
Cook:
8 minutes
Total:
13 minutes
Ingredients
1 cup

shredded parmesan cheese (grated works too)

½

–

1

teaspoon seasoning (everything bagel seasoning, fresh black pepper, red pepper flakes)
Instructions
Preheat the oven to 400ºF and line a baking sheet with parchment paper. 

Add the parmesan cheese to a bowl and add in your seasoning of your choice. Stir until combined. 

Using a tablespoon as your scoop, scoop the parmesan cheese mixture onto the parchment paper and spread it out into a thin, even circle that is about 2 inches in diameter. It should be a thin layer of cheese that is the same thickness throughout. Repeat until there are multiple parmesan crisps on the baking sheet. Be sure the parmesan rounds do not touch (they won't expand). 

Place in the oven and bake for 6-8 minutes or until the parmesan cheese is melted and golden brown. 

Remove from the oven and immediately remove the crips from the parchment paper and set them on a cooling rack. Let cool for at least 10 minutes to completely harden before eating.

Serve like a cracker and top with your favorite toppings or dip.
Tips & Notes
If you use a tablespoon as your scoop, 1 serving of parmesan crisps is 4 parmesan crisps. 
Nutrition Facts
Serving Size:
1/4
Calories:
105
Sugar:
0
Fat:
7
Carbohydrates:
3
Fiber:
0
Protein:
7
Category:
Snack
Method:
Oven
Cuisine:
American
Diet:
Gluten Free
Keywords: parmesan cheese crisps, parmesan crisps