This cream cheese crab rangoon dip takes everything you love from your favorite Chinese takeout appetizer and turns it into a legendary creamy crab dip full of delicious flavors.
It's the perfect appetizer to wow a crowd and, let's be honest, yourself!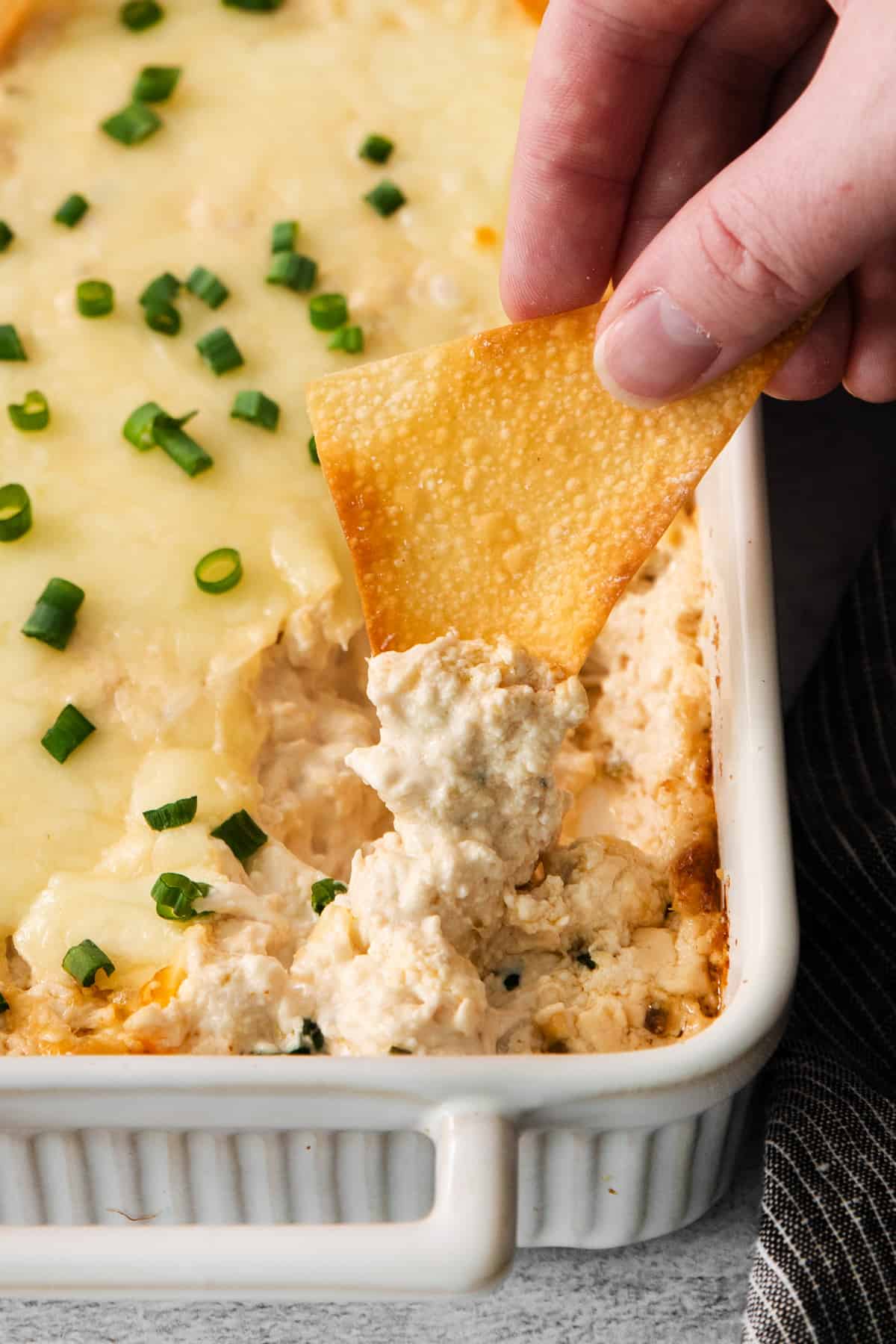 There's something truly special about crispy deep-fried goodness that encases a tangy cream cheese crab rangoon filling. But what's even more special? Reimagining those flavors and transforming them into one of the most deliciously unique dip recipes out there on the block.
We even serve this dip with crispy wonton chips to replicate that deep-fried outer shell that is mmm-mmm good.
Although it tastes like a masterpiece, this crab rangoon dip recipe is quite simple to make. Just mix together your dip ingredients (crab meat and cream cheese included), top with mozzarella cheese, and bake! Then, all you have to do is prep and air fry your wonton chips to golden perfection before digging in.
What's In Cheesy Crab Rangoon Dip
Cream cheese: ​cream cheese is what makes this dip creamy, cheesy, and delicious.
Dried chives: chives add a great oniony flavor that elevates the flavor of this dish.
Sriracha: adds a kick of spice to this cream cheese crab rangoon dip.
Soy sauce: soy sauce adds an umami flavor that's a known staple in Chinese food.
Crab meat: crab pairs so well with the tangy cream cheese!
Shredded mozzarella cheese: adding a sprinkle of mozzarella on top of this dip creates a delicious golden cheese layer.
Wonton wrappers: the perfect dipper for this cheesy crab rangoon dip!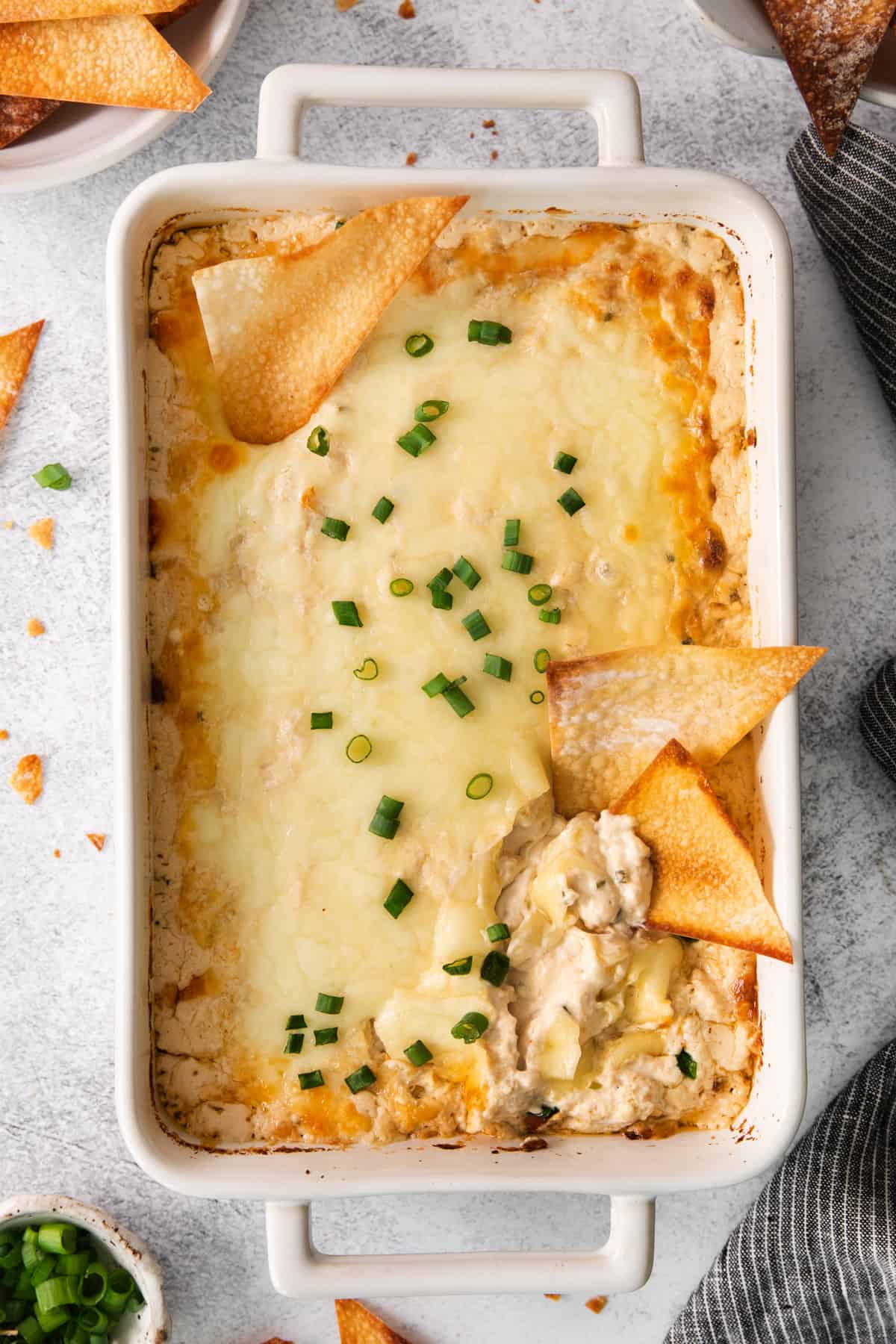 What You'll Need to Make It
8×8-inch baking dish: be sure to use the right size baking dish so that everything cooks evenly.
Hand mixer: a hand mixer will ensure that the crab rangoon dip comes out nice and smooth. You can also use a whisk instead.
Air fryer: we love how quick and crispy the wonton chips come out in the air fryer, but the oven would work just as fine. Baking directions can be found in the "notes" section of the recipe card.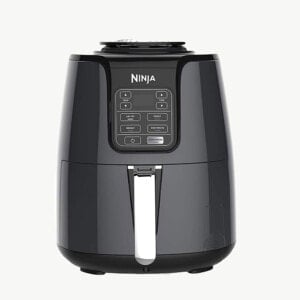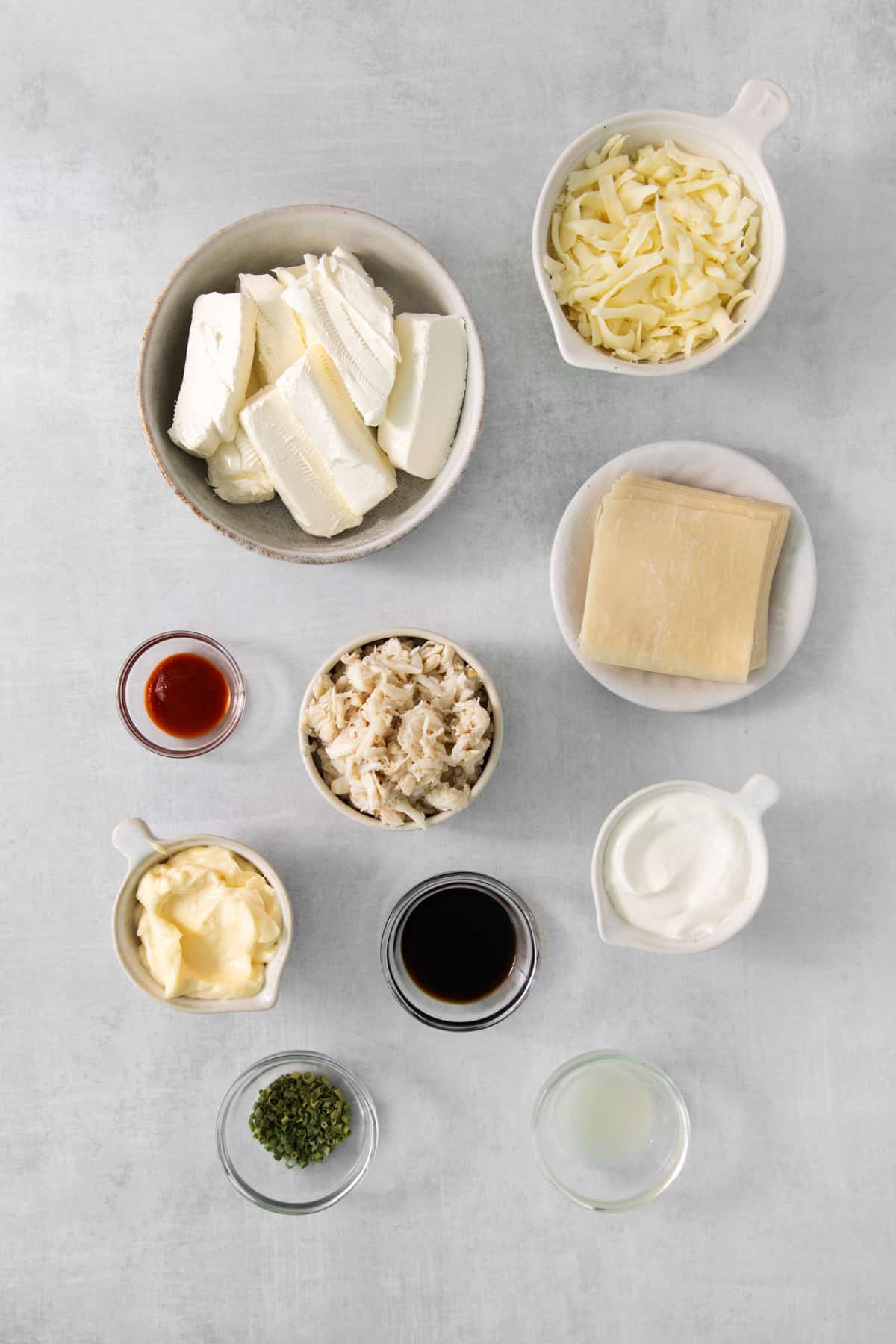 Variations and Substitutions
Chives: Don't have chives? Green onion makes a great substitute. You can also just flavor with onion powder or garlic powder and omit chives altogether.
Sriracha: Sub out sriracha with your favorite hot sauce, or add some diced jalapeños for a kick of heat.
Crab meat: Both real crab meat and imitation crab meat will taste delicious in this recipe. Which one you choose is up to you!
​Mozzarella: Other great melty cheeses to use for this recipe are provolone or Monterey Jack cheese.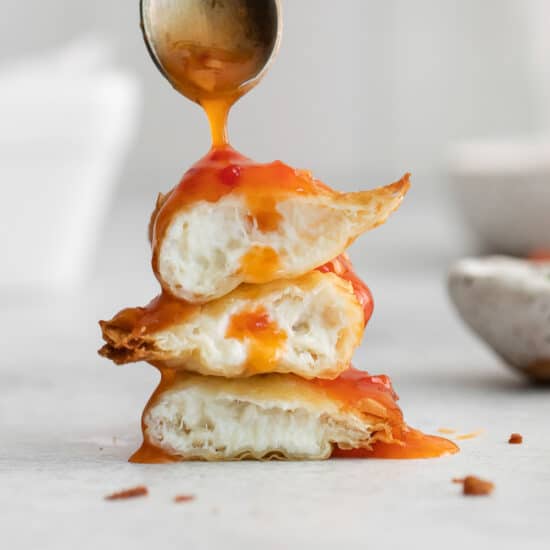 make it!
Easy Crab Rangoon
The ultimate appetizer is this simple cream cheese and crab rangoon recipe made with cream cheese, crab meat, and wonton wrappers!
Get Recipe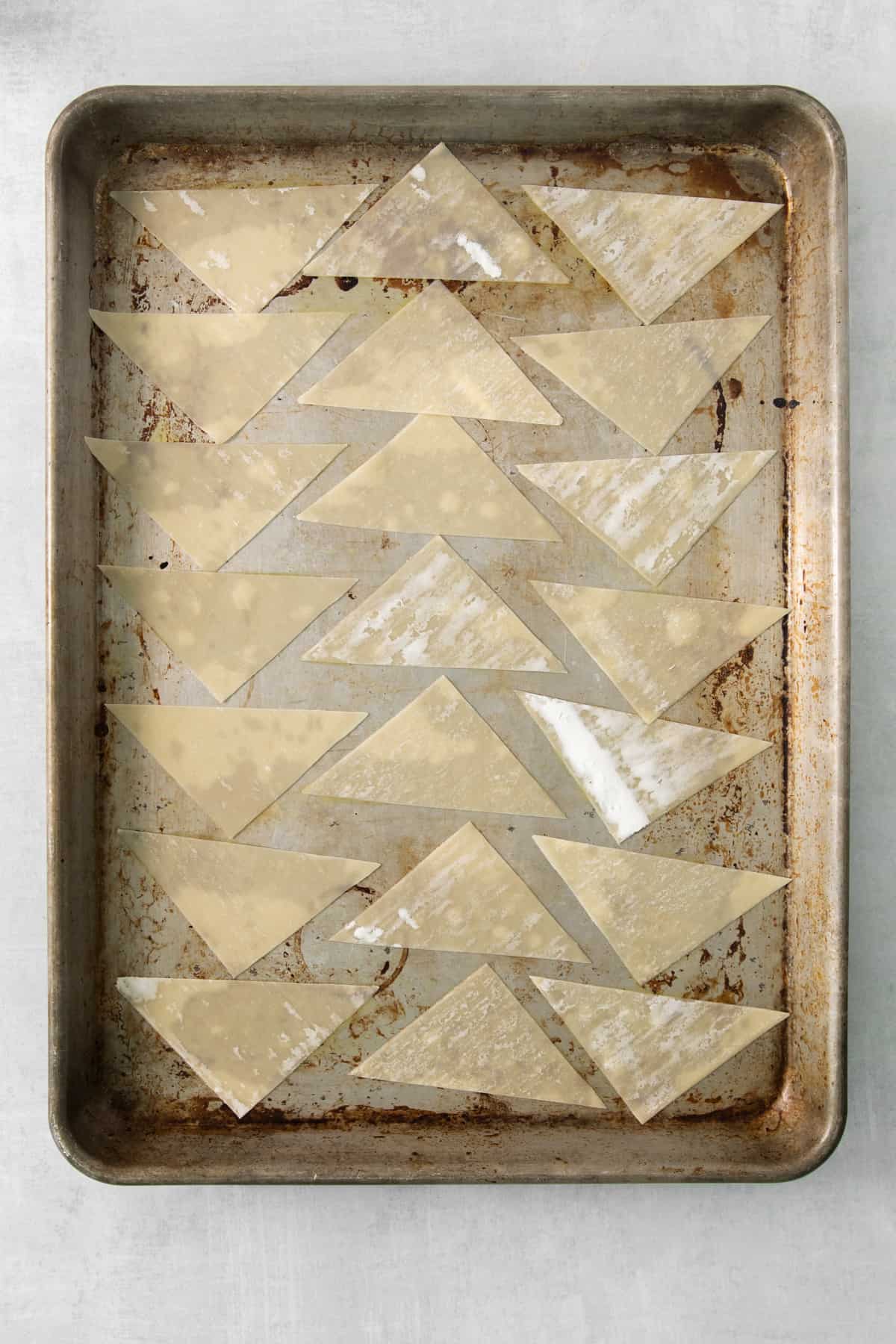 FAQs
What is crab rangoon made of?

Crab Rangoon is made of cream cheese, usually sweetened, plus very small bits of imitation crab, all stuffed inside a wonton wrapper and deep-fried. It's often served with a bright and flavorful sweet-and-sour dipping sauce. 
Can you eat crab rangoon cold?

Yes. If you don't eat them all, leftover crab rangoons can be refrigerated for 1-2 days and still eaten the next day. While it's best to enjoy them warm and hot right out of the fryer, eating cold or room-temperature crab rangoons is perfectly safe. Just note that the texture will be softer once they cool down, so they may not have quite as much crunch. 
How will I know when my crab rangoon dip is done baking?

You'll know when your cheesy crab rangoon dip is done cooking when it's bubbling slightly, and the mozzarella cheese on top is golden brown.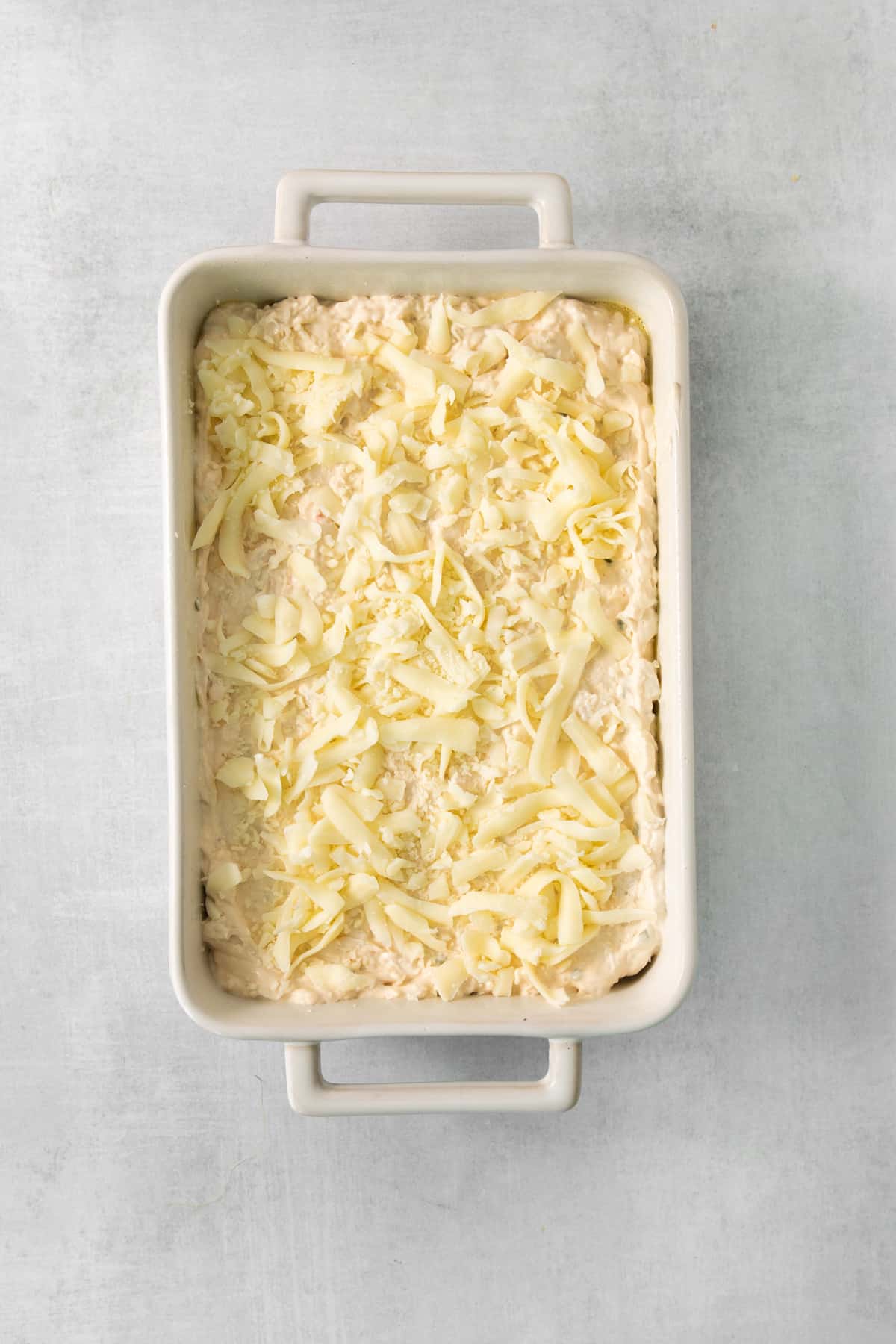 Storage + Freezer Directions
Store any leftover cheesy crab rangoon dip in an airtight container in the refrigerator for up to 2 days. The wonton chips can be stored in an airtight container or bag at room temperature.
We do not recommend freezing this recipe since cream cheese doesn't freeze as well.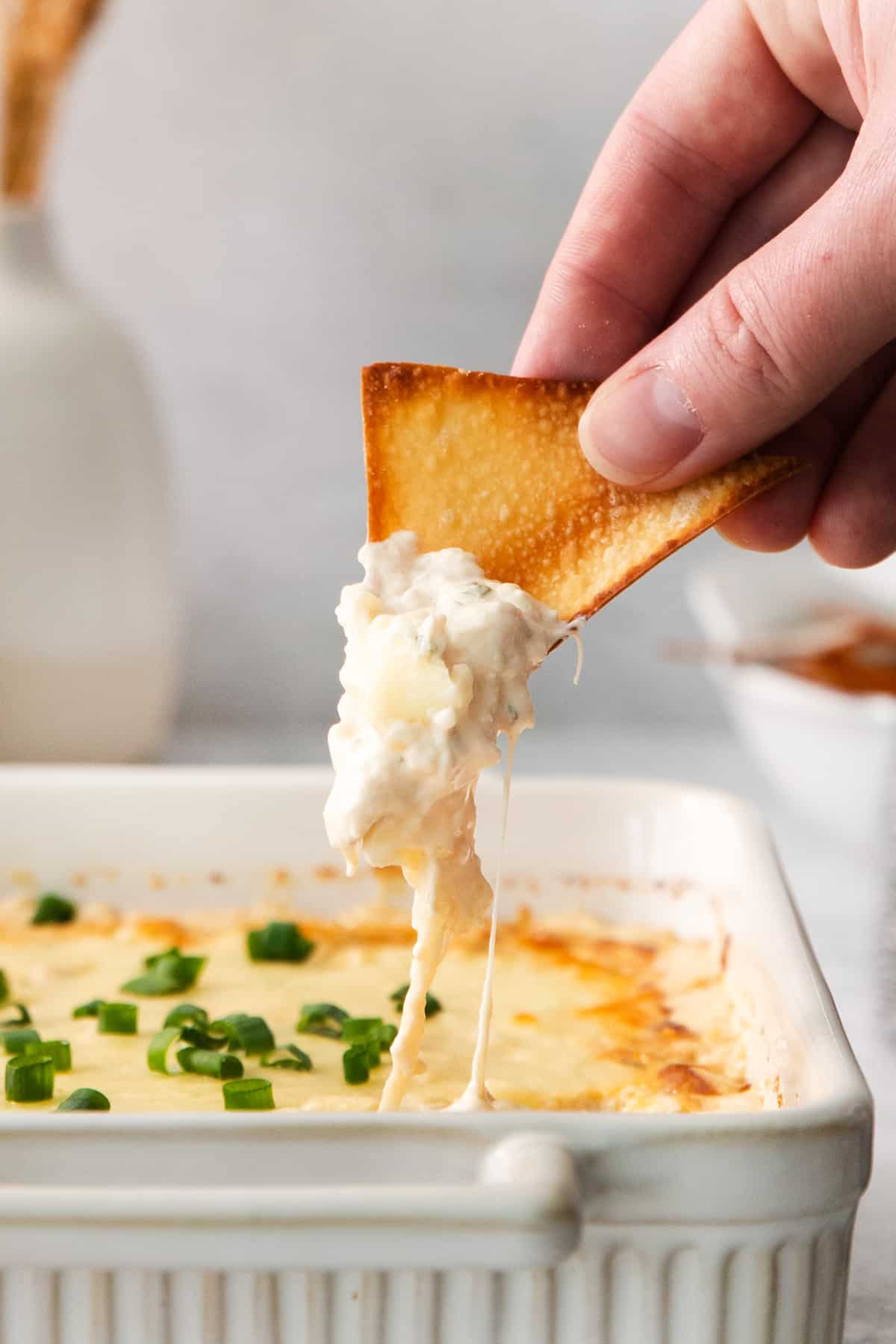 Serving Suggestions
This cheesy crab rangoon dip makes an excellent appetizer for a Chinese-inspired dinner! We recommend trying our Air Fryer Honey Sesame Chicken, Kung Pao Shrimp, or Easy Fried Rice Recipe from our sister site, Fit Foodie Finds.
And to take things over the top with some dessert, you can't go wrong with our Classic Tiramisu, Pistachio Pie Cups, or Caramel Apple Cheesecake!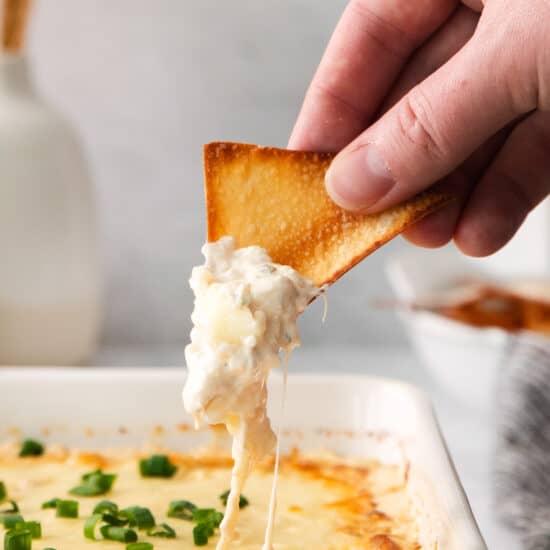 Cream Cheese Crab Rangoon Dip
This cream cheese crab rangoon dip takes one of your favorite appetizers and turns it into a deliciously cheesy dip that'll wow any crowd.
Ingredients
12

oz.

cream cheese

softened

¼

cup

sour cream

¼

cup

mayonnaise

1

tablespoon

dried chives

2

tablespoons

sriracha

1

tablespoon

lemon juice

2

tablespoons

soy sauce

6

oz.

crab meat

4

oz.

shredded mozzarella cheese

divided (~1 cup)

6

oz.

wonton wrappers
Instructions
Preheat the oven to 350℉ and spray an 8×8-inch baking dish with cooking spray.

Place the cream cheese, sour cream, mayonnaise, chives, sriracha, lemon juice, and soy sauce into a large mixing bowl. Blend using a hand mixer until smooth.

Next, the crab meat and ½ cup of mozzarella cheese into the cream cheese mixture.

Transfer the crab dip to the baking dish. Top with the remaining mozzarella cheese.

Bake for 25 minutes.

While the dip is baking, prepare the wonton chips. Cut the wonton wrappers in half diagonally.

Preheat the air fryer to 400℉. Spray inside the basket with cooking spray. Lay the wonton wrappers into the basket and spray once more with cooking spray.

Air fry for 1-3 minutes. Continue cooking in batches until all the wonton chips have been made.

Remove from the oven and let the dip rest for 5 minutes before serving with the wonton chips.
Tips & Notes
We used 6 oz. canned crab meat for this recipe.
Instructions to bake the wonton chips: spray a cookie sheet with cooking spray and lay wonton wrappers on the cookie sheet in an individual layer, making sure not to touch. Bake for 5-8 minutes at 400℉.
Nutrition facts
Calories:
269
kcal
Carbohydrates:
13
g
Protein:
10
g
Fat:
20
g
Fiber:
0.4
g
Sugar:
2
g