Love pizza? Love pasta? Then you've got to try this easy pepperoni pizza casserole recipe! We put two delicious Italian classics together to create a casserole dish like no other. It's meaty, cheesy, and a delicious family favorite.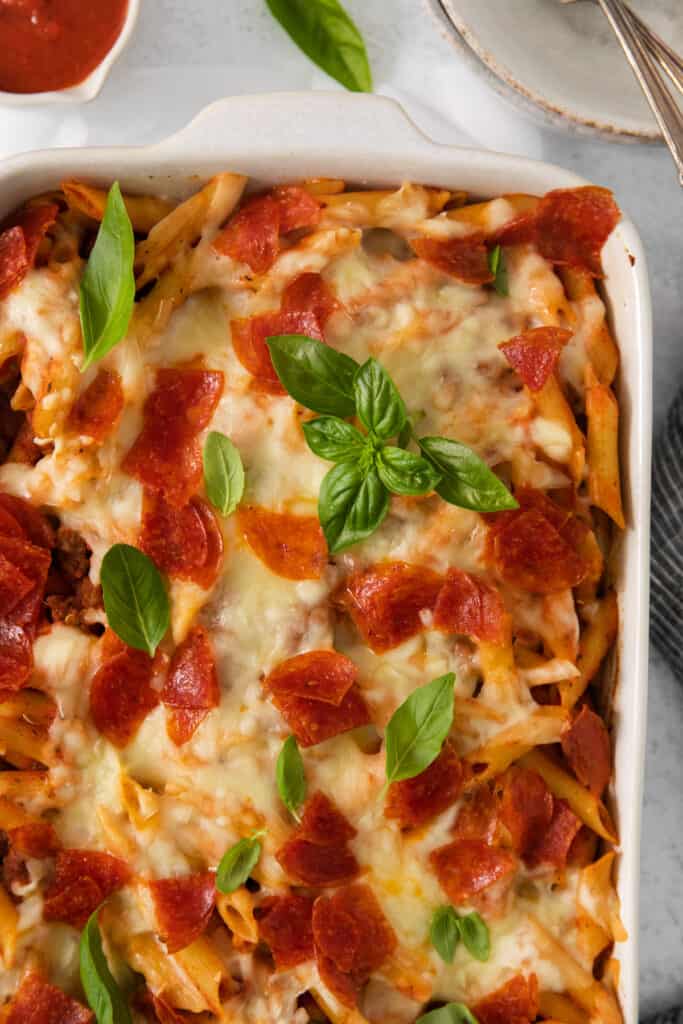 You read it right. We're making pizza… but in pasta form! It takes two things everybody loves and marries them in holy cheesy, meaty, saucy matrimony. Call us geniuses, or call us crazy, but once you have a bite, you'll NEVER go back.
To make this pizza pasta bake, all you have to do is: cook the pasta al dente. Then cook the Italian sausage, flavoring it with garlic and onion. Once the sausage is cooked, add in the tomato sauce, al dente pasta, and add it to your baking dish. Assemble casserole with cheese and pepperoni, and bake to perfection. Mmm!
Pizza Casserole – What You'll Need
Penne pasta: we love how the pasta sauce and cheese taste with penne, but feel free to use your favorite pasta!
Ground Italian sausage: we made this easy pasta casserole "meat lovers pizza" style and added sausage.
Tomato sauce: any can of tomato sauce will do. Or, make your own if you're feeling up for it.
Shredded mozzarella cheese: the ultimate pizza cheese, mozzarella is the perfect melty cheese for this recipe.
Pepperoni: we kept it classic and topped our pizza bake with pepperoni.
9×13-inch baking dish: make sure you have the right-sized baking dish for this recipe so everything cooks evenly.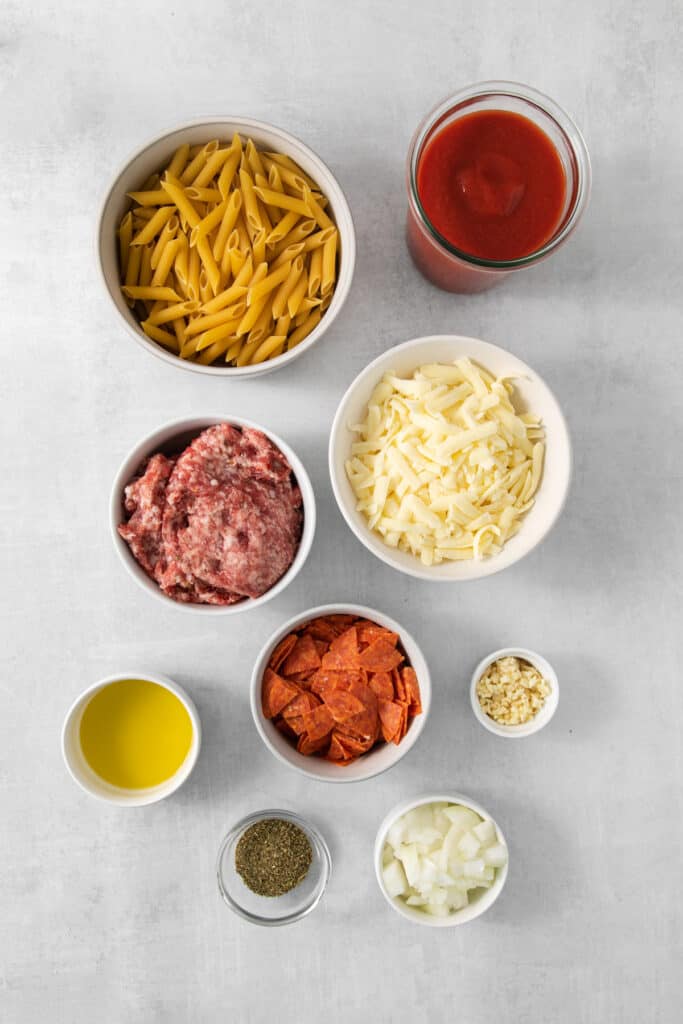 Substitutions & Variations
Pasta: Swap out the penne pasta for other short kinds of pasta like shells, macaroni, or rotini.
Protein: You're welcome to use other meat as the filling of the pizza. Try ground beef, turkey, or even vegan crumbles.
Sauce: The tomato sauce can easily be subbed with pizza sauce. Or, make a white pizza casserole and use cream or Alfredo sauce.
Cheese: This pizza casserole would taste delicious with other melty cheeses like provolone or cheddar.
Toppings: Make this pizza casserole your own by adding your favorite pizza toppings. Olives, jalapeños, pineapple, mushrooms, and bell peppers are all delicious on pizza!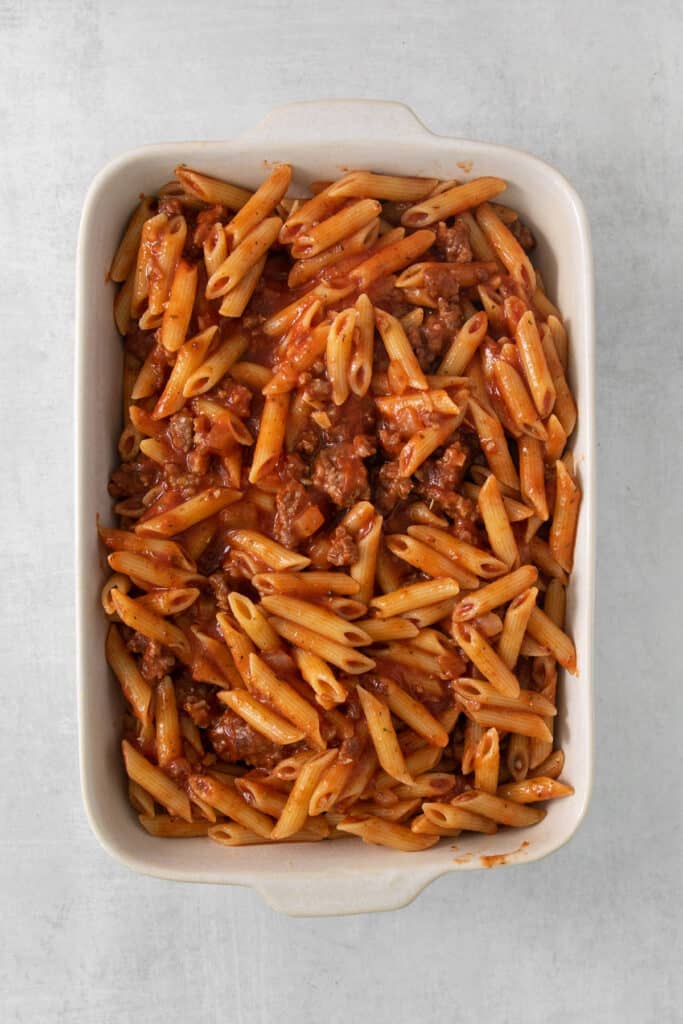 FAQs
Should I drain the sausage grease before adding the sauce and the pasta?

Draining the sausage grease isn't necessary, but it can prevent a greasy end product if you're trying to avoid that. It can also decrease the amount of fat and calories in the dish. But let's be honest here: this dish was meant to be indulgent!
How do you reheat pizza casserole?

There are a few ways to reheat pizza casserole. The quickest and most convenient method is reheating in the microwave. To do this, place the dish in a microwave-safe container and heat for 1-2 minutes or until the casserole is warm throughout. 

You can also reheat your pizza casserole in the oven by preheating your oven to 325°F and cooking the casserole for 10 minutes, or until warmed through. Make sure to check it periodically during the cooking process so as not to overcook it.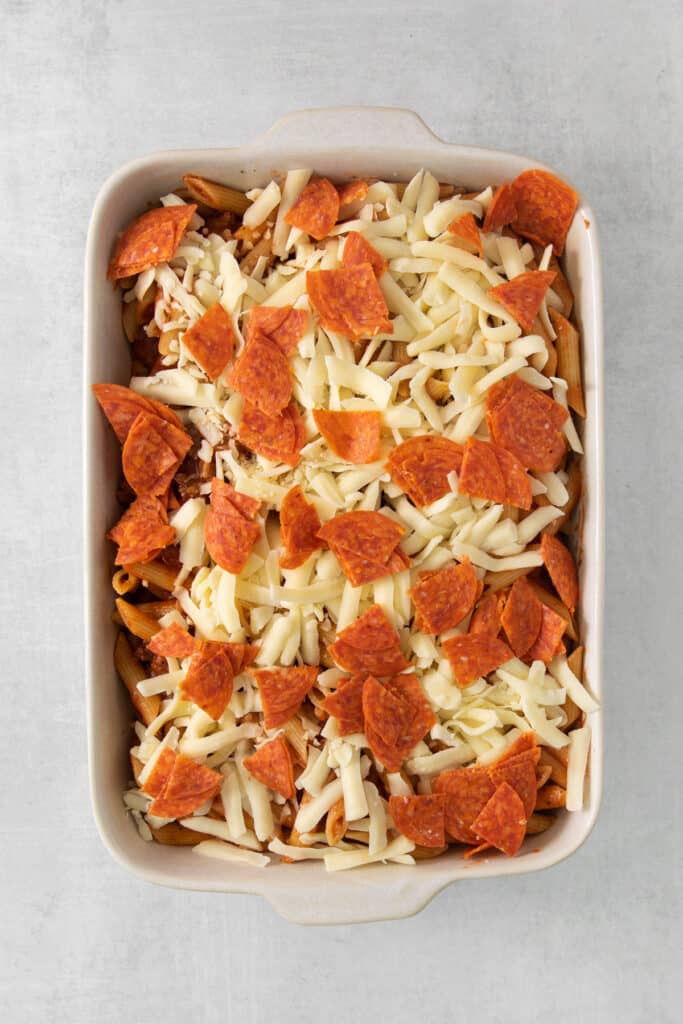 Storage
​Store any leftover pizza casserole in an airtight container in the refrigerator for up to 4 to 5 days.
Freezer Directions
To freeze, allow to cool and cover your casserole in plastic wrap, then tin foil, and store in the freezer for up to 3 months.
Meal Prep Directions
Double up on this pizza casserole recipe and stick one batch of the casserole in the freezer after it cools for a quick and easy freezer meal on the go.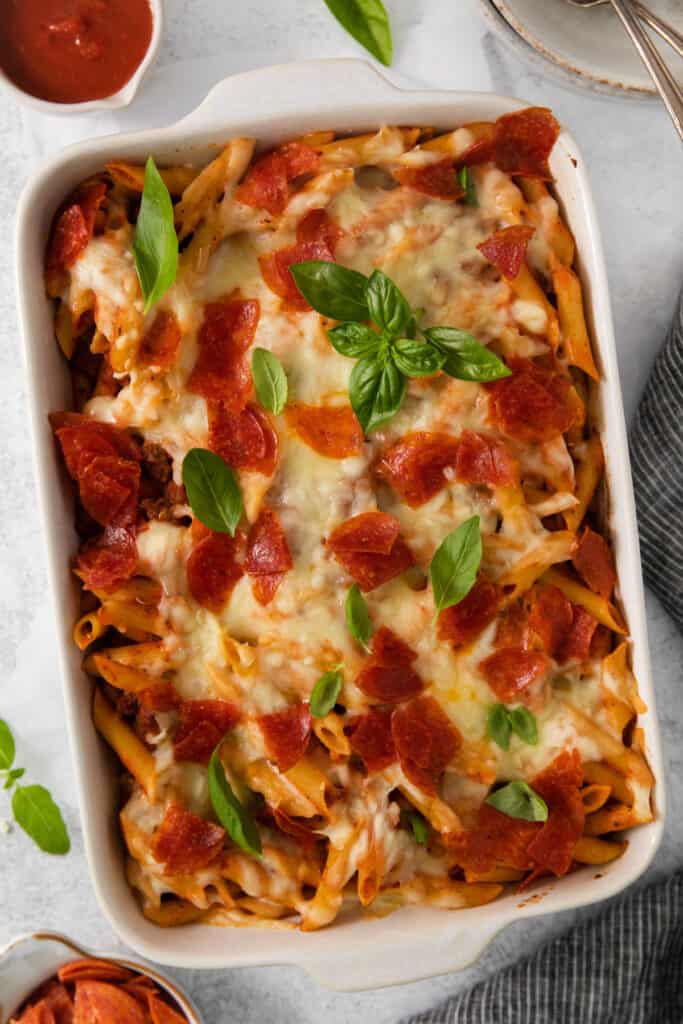 Serving Suggestions
Are you a pizza fanatic? We've got more where this came from 😉 Check out more of our delicious pizza night favorites: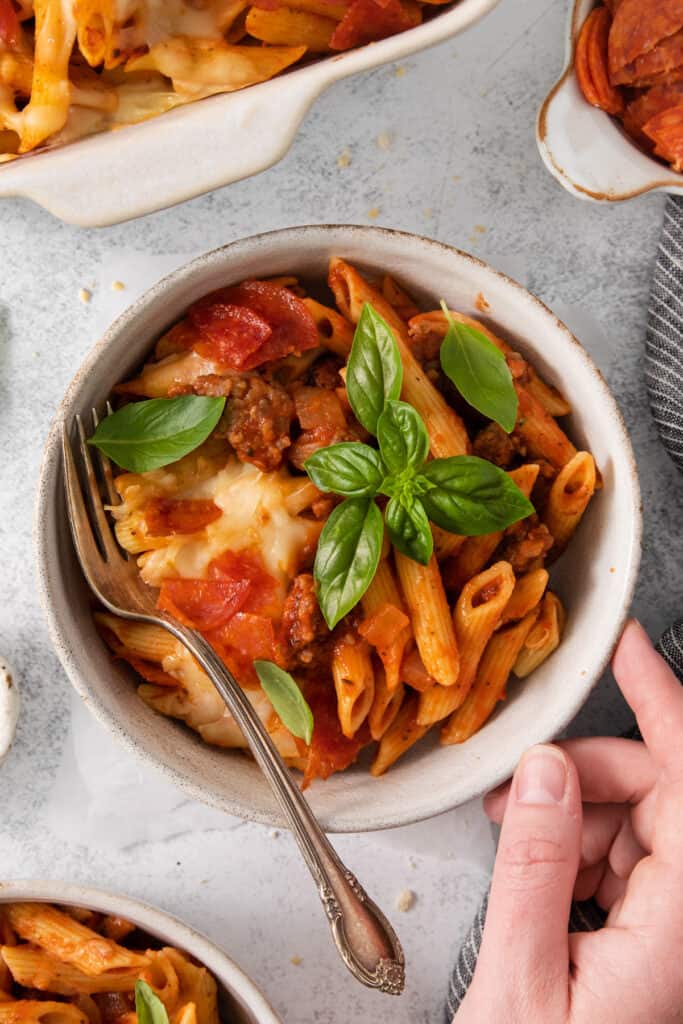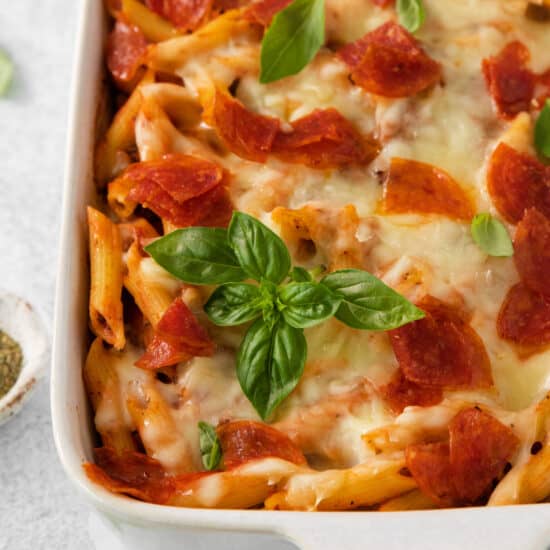 Pepperoni Pizza Casserole
This pepperoni pizza casserole recipe is filled with tender pasta, mozzarella cheese, and juicy sausage for a delicious and easy dinner.
Ingredients
16

oz.

penne pasta

2

tablespoons

olive oil

16

oz.

ground Italian sausage

½

yellow onion

diced

3

cloves

garlic

29

oz.

tomato sauce

2

tablespoons

Italian seasoning

8

oz.

shredded mozzarella cheese

~2 cups

5

oz.

sliced pepperoni

cut into quarters
Instructions
Preheat the oven to 350℉ and spray a 9×13-inch baking dish with cooking spray. Set aside.

Bring a large pot of salted water to a boil. Cook the pasta a few minutes less than al dente. About 8 minutes. Drain and rinse with cold water, and set aside.

Heat the olive oil in a large skillet over medium heat. Add the Italian sausage to the skillet and cook for 5-6 minutes. Add the onion and garlic and cook for another 2 minutes. Remove from heat.

Add the tomato sauce, Italian seasoning, and pasta and stir to combine.

Transfer the pasta to the baking dish. Top with the mozzarella cheese and pepperoni.

Bake for 20 minutes.

Allow to rest for 10 minutes before serving.
Tips & Notes
Any short pasta can be used in this recipe.
It is important to rinse the noodles with cold water so they stop cooking immediately. If they are hot when you add them to the sauce, it could absorb more while baking, resulting in a drier casserole.
We used this Italian Seasoning, which contains salt. If you use a different one that does not contain salt, add 1 teaspoon of salt with the rest of the seasonings in Step 4.
Nutrition facts
Calories:
429
kcal
Carbohydrates:
34
g
Protein:
18
g
Fat:
25
g
Fiber:
3
g
Sugar:
4
g