This cheesy garlic bread is made with 6 ingredients and is ready in just 15 minutes. Get out the butter, garlic, and your favorite cheese!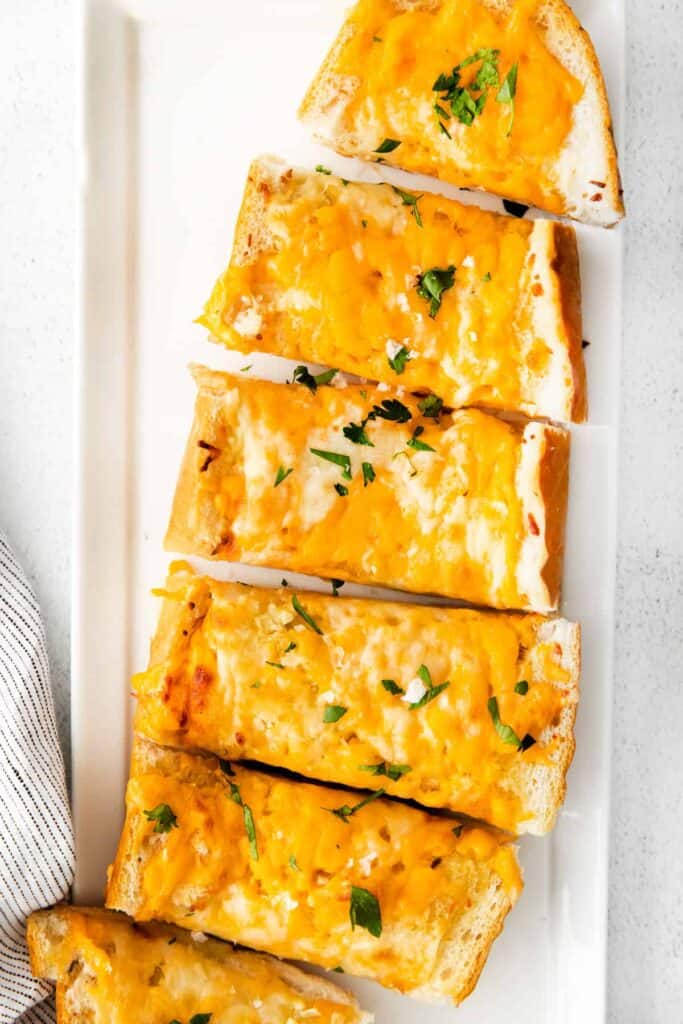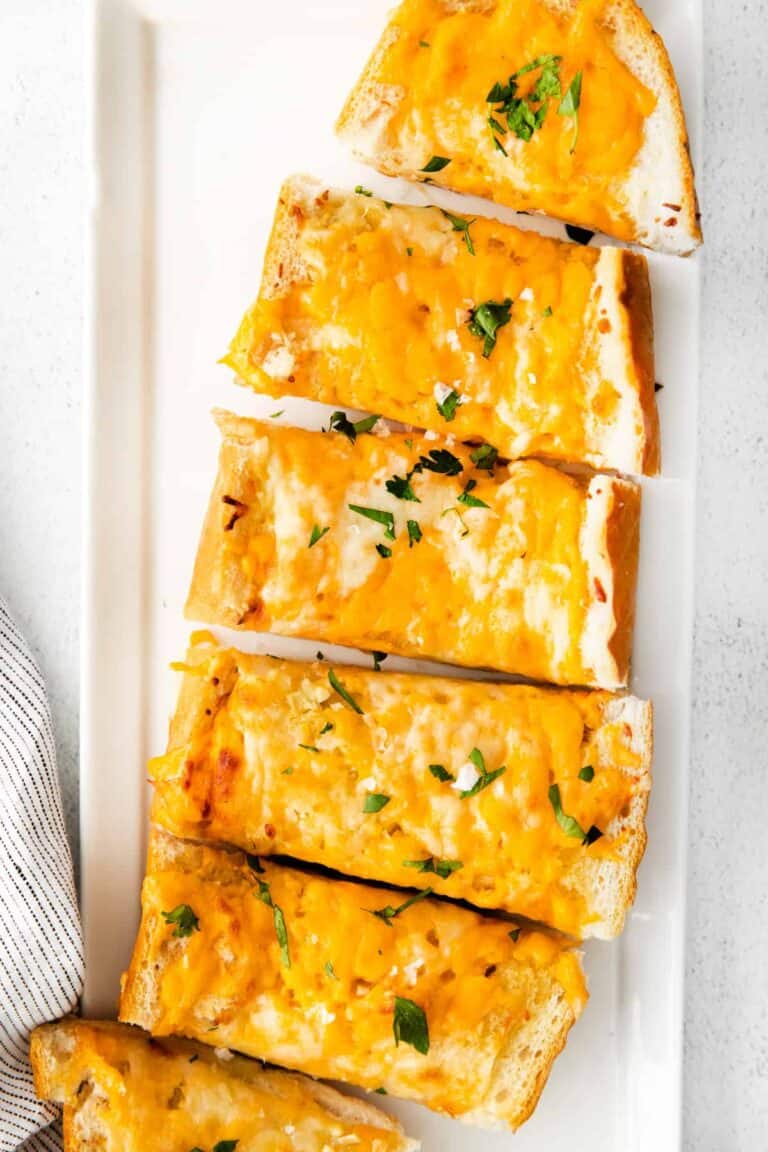 The BEST Cheesy Garlic Bread
Is there anything more nostalgic than cheesy garlic bread (well ok, mac and cheese is pretty nostalgic, but you get it). We love this simple cheesy garlic bread recipe because you only need 6 ingredients and it's ready in just 15 minutes. Does it get any better?
Get yourself everything you need for this garlic bread and get baking.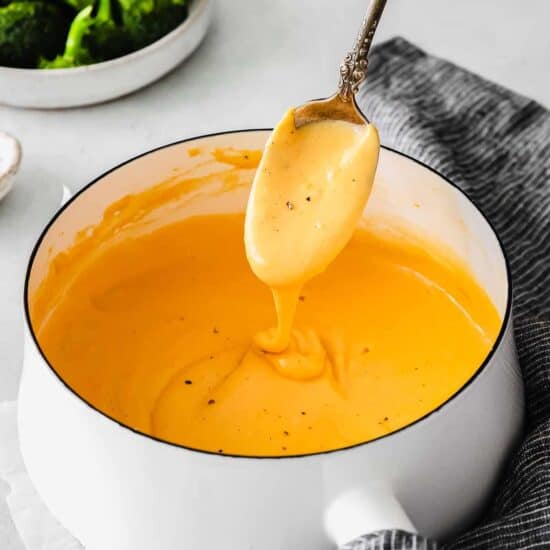 Get More
Cheddar Cheese Recipes
Looking for more recipes with cheddar cheese? Check out our cheesy collection of cheddar cheese recipes.
Get Recipes
What You Need for Cheesy Garlic Bread
For this pull cheesy garlic bread recipe, you need 6 total ingredients. Check it out:
Italian bread- we highly recommend using a big squishy loaf of Italian bread. You can find great Italian bread in the bakery sections of most grocery stores!
Butter– you can use salted or unsalted butter for the garlic butter, but salted butter makes everything better. Just be sure whatever butter you use is softened!
Olive oil– you use a little olive oil and butter in the garlic spread.
Garlic– fresh minced garlic is the answer for this garlic bread. Garlic is in the title after all!
Cheddar cheese– get yourself a big block of your favorite cheddar cheese and shred it before sprinkling it on your bread.
Mozzarella cheese– we added a little mozzarella cheese because it melts like perfection and makes things extra gooey and delicious!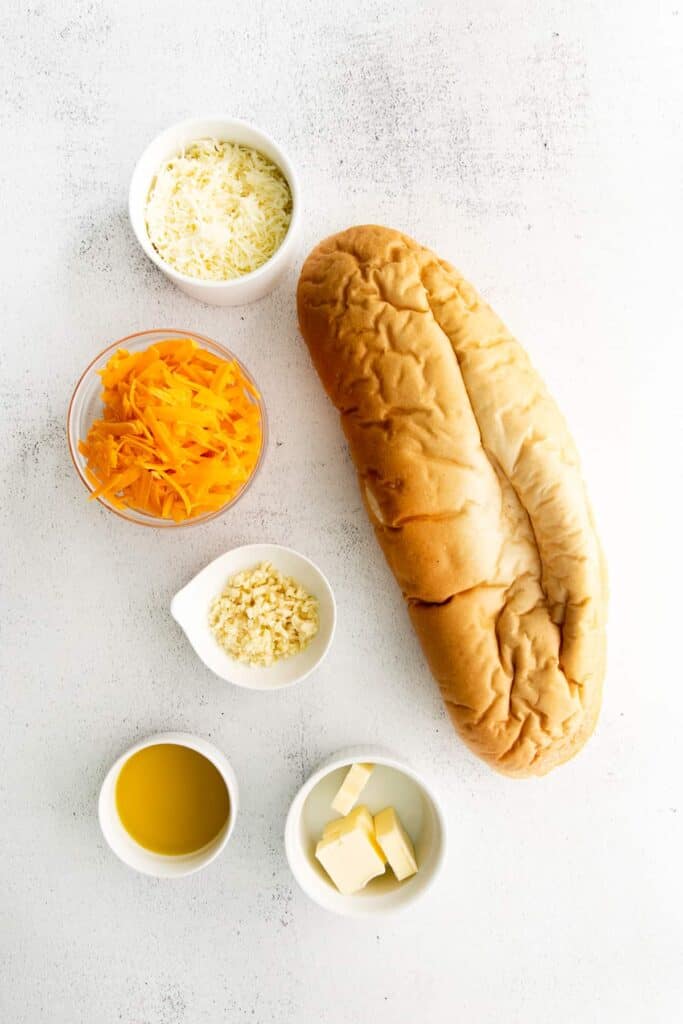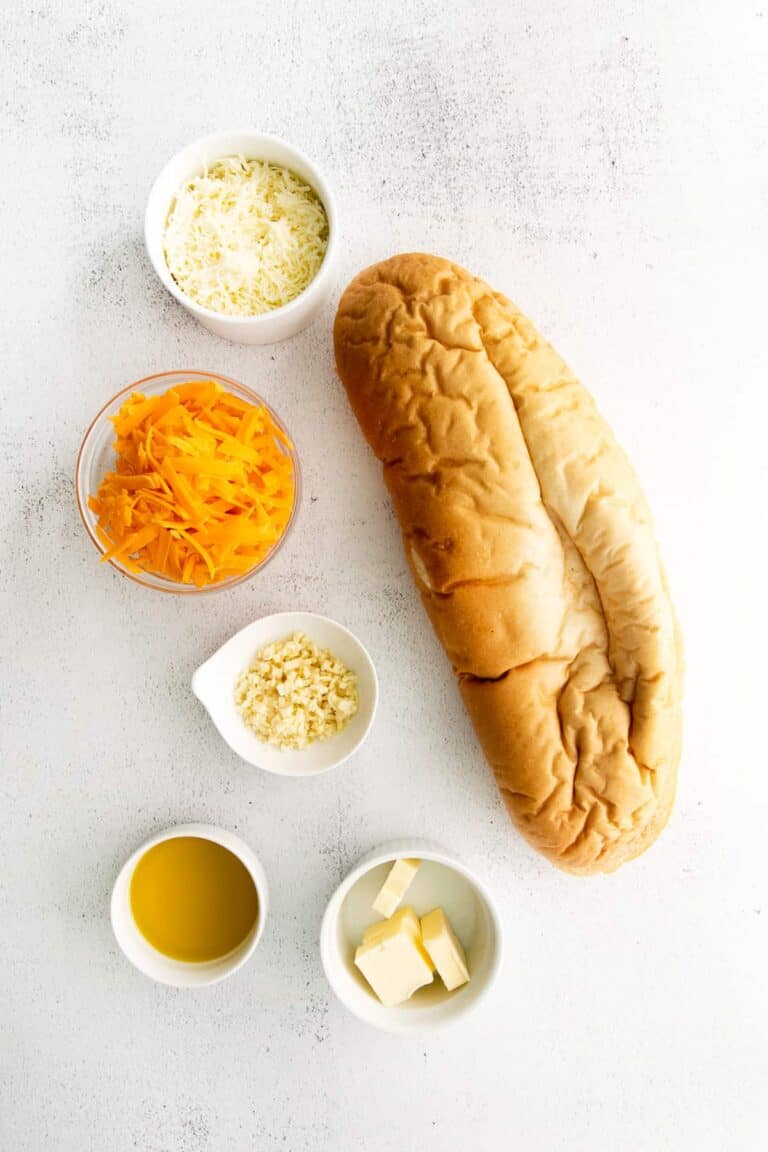 How to Make Cheesy Garlic Bread
Making garlic bread is pretty easy, but there are a few tips and tricks to make it even easier.
Cut the Bread
First things first is prepare your bread loaf by slicing it in half lengthwise. Sometimes bakers will have a bread slicer and can slice it perfectly for you.
If you are going to slice the bread yourself just be sure to use a sharp serrated bread knife.
Make + Spread the garlic butter
There are three ingredients in this garlic butter spread–> softened butter, olive oil, and minced garlic.
The butter has to be softened, not melted. The olive oil acts as the thinning agent and using softened butter gives you something to spread! Once you add the butter and olive oil to a bowl and mix them together add the garlic.
Finally, place the garlic bread on a greased baking sheet and spread half of the mixture on one half of the bread and then the other. Place the garlic bread in the oven and bake it for 5 minutes at 400ºF before adding the cheese.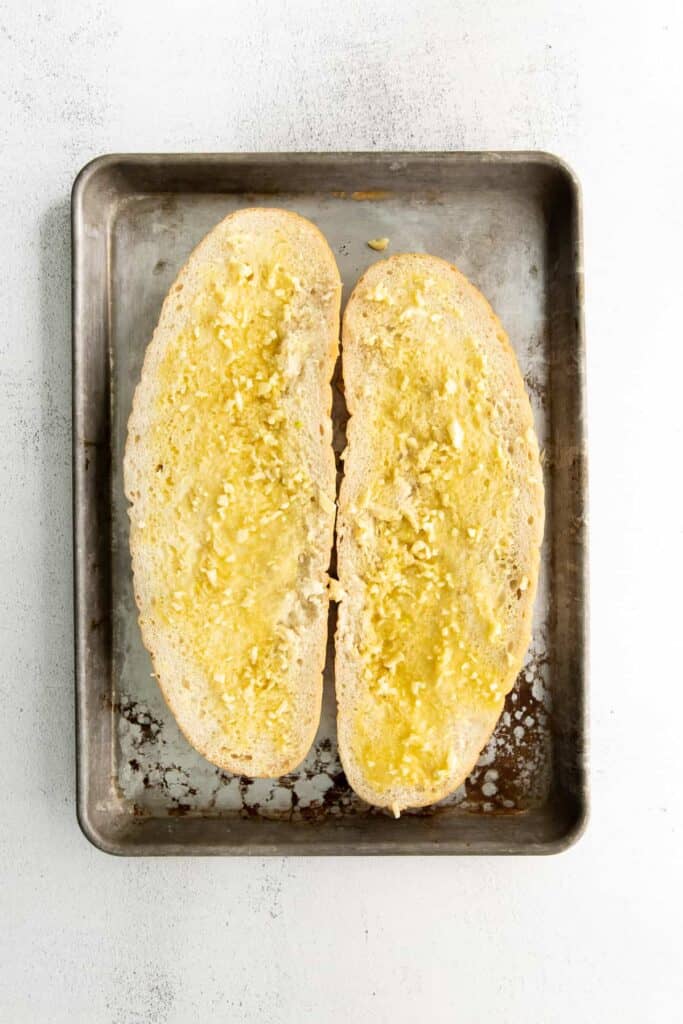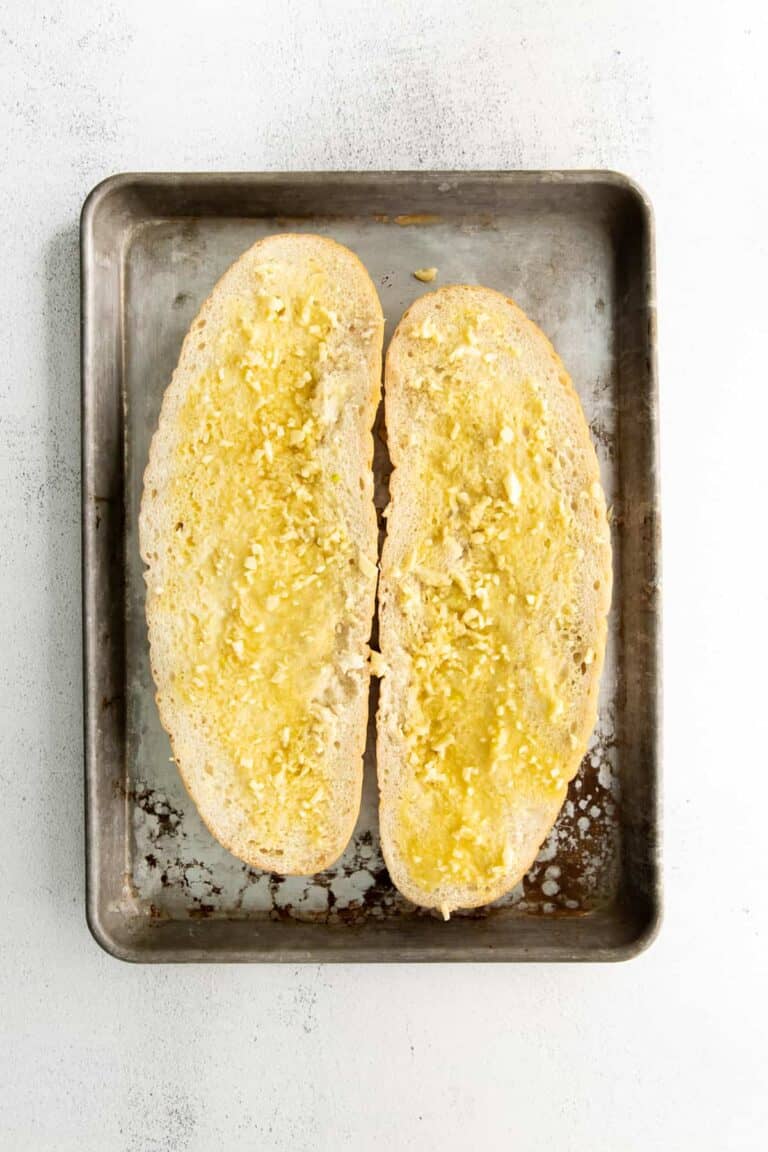 Add the cheese cheese cheese
Once you have baked the garlic bread to crisp it up a bit, evenly distribute the shredded cheddar cheese and mozzarella cheese over the top of the bread and bake it for an additional 10 minutes.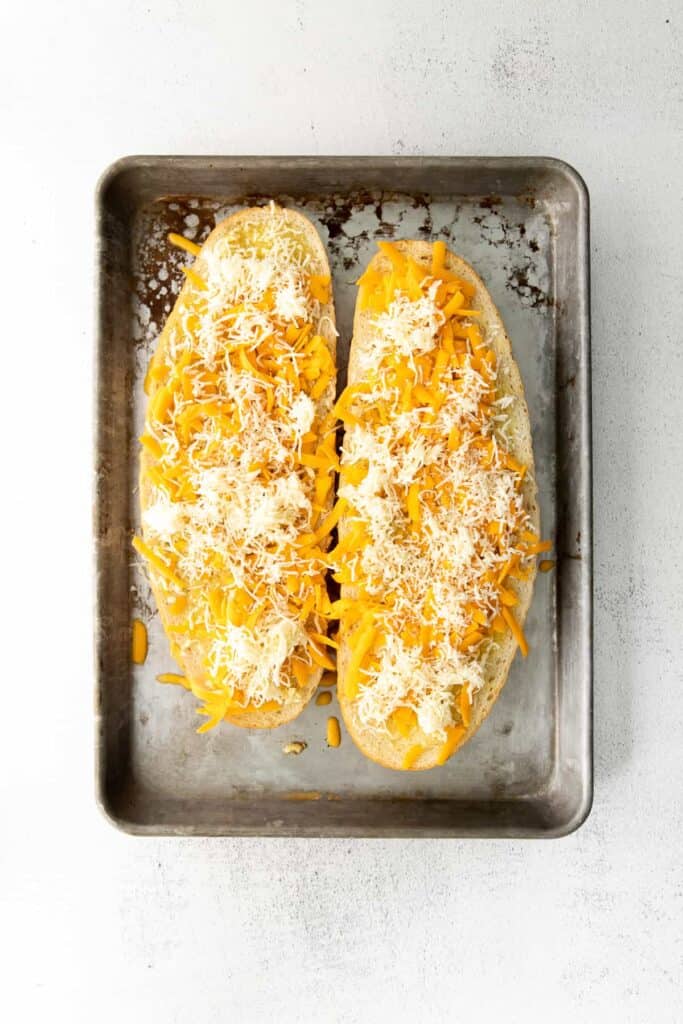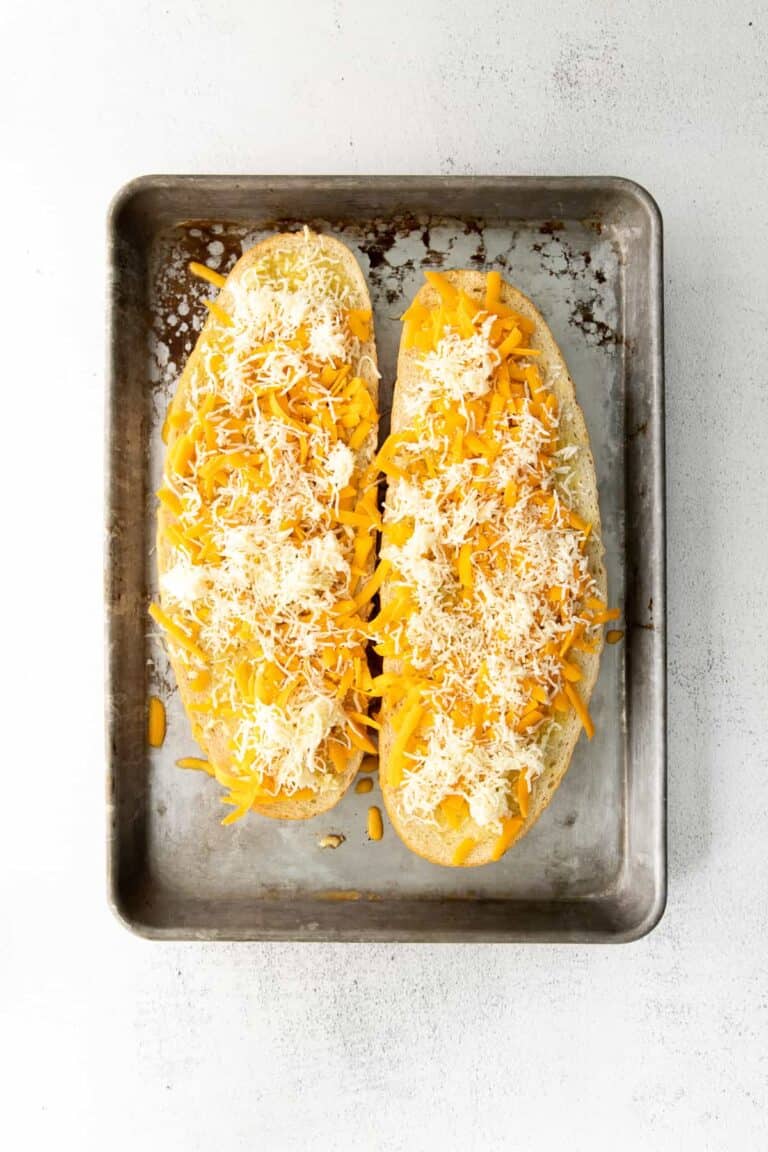 FAQ
Is garlic bread French or Italian?

So many cultures have their own version of garlic bread. This version skews more Italian and is definitely an Italian/American version.
What is the green stuff on garlic bread?

The green stuff on garlic bread is typically chopped fresh parsley.
What can I add to cheesy garlic bread?

You can add sliced tomatoes, more cheese, or even red pepper flakes to garlic bread.
What is the best kind of cheese for cheesy garlic bread?

We used cheddar cheese and mozzarella for a great cheesy, cheese pull. You can use a mixture of may cheeses like parmesan, gruyere, asiago, or other shredded cheese.
How to soften cream cheese
Looking for a quick method to soften cream cheese? Check out our post – How to Soften Cream Cheese – 4 Ways! Here you'll learn 4 unique (and quick!) methods to softening cream cheese the perfect amount for baking and cooking.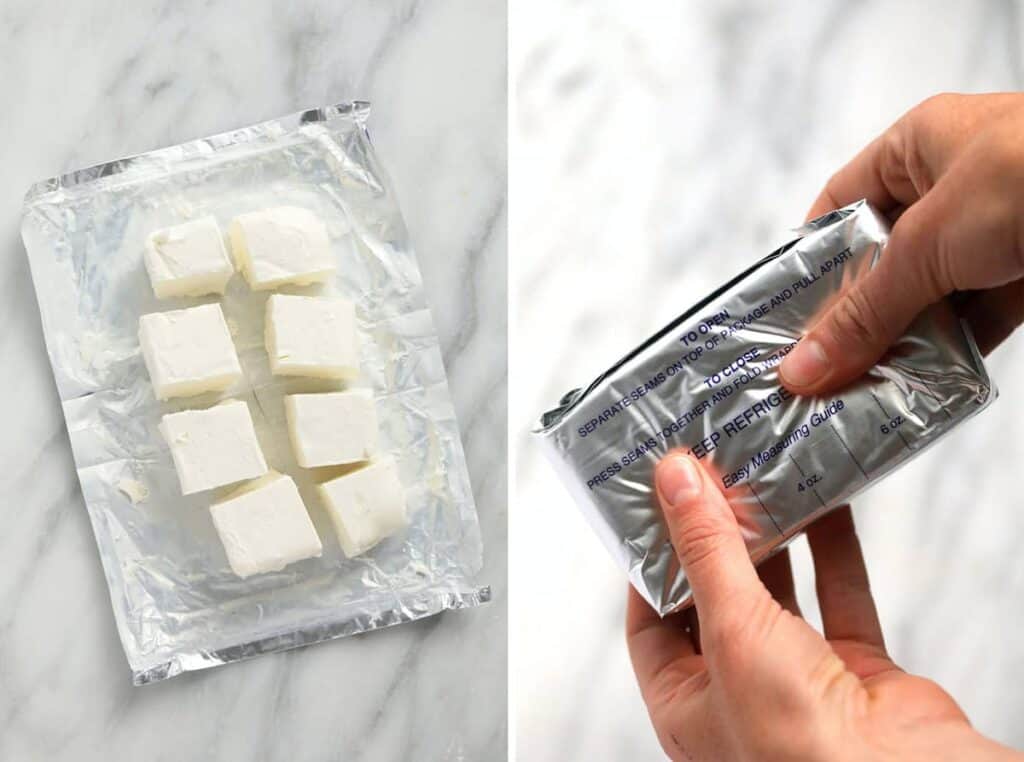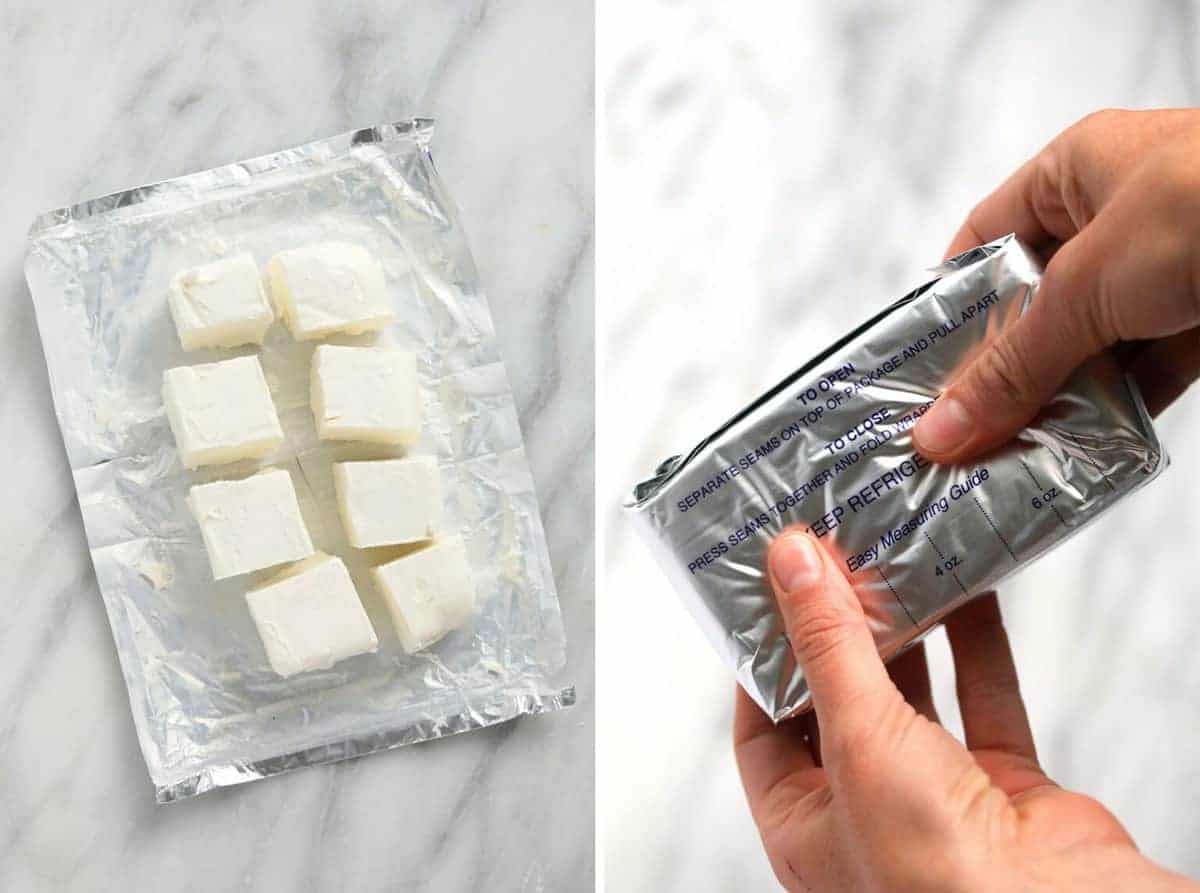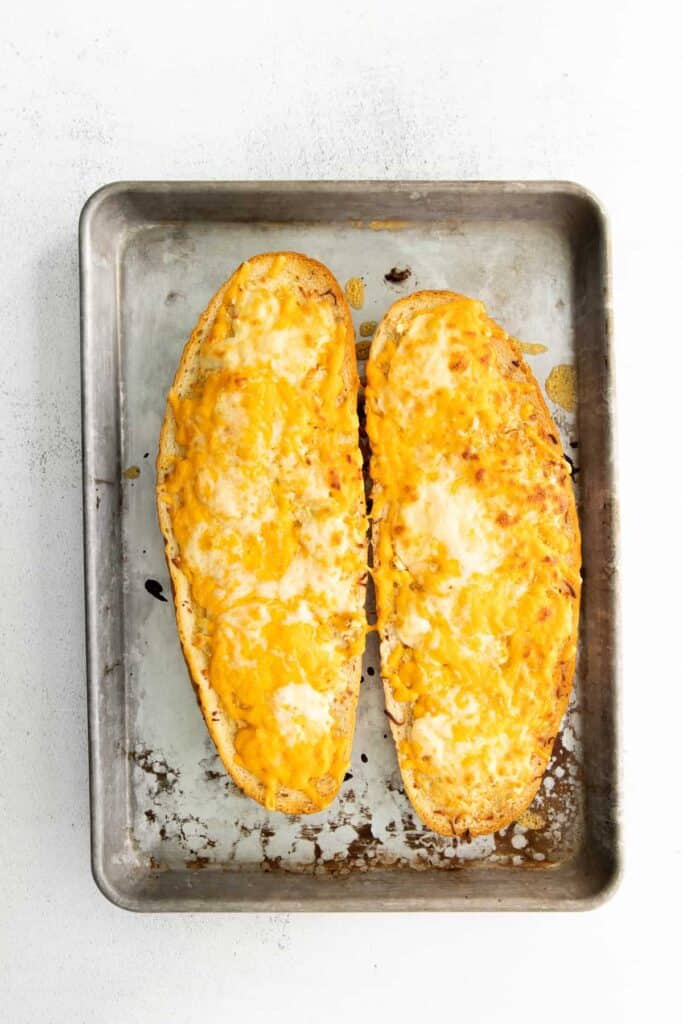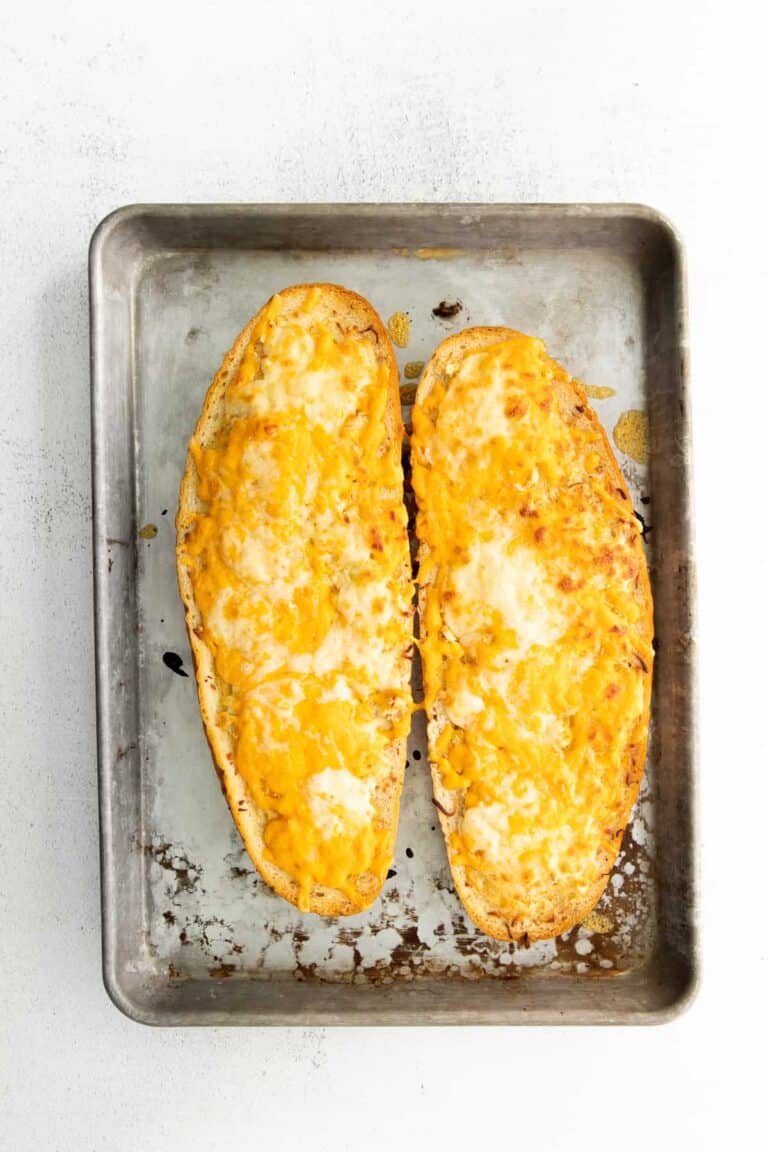 Other Things You Need to Know
You can change up the cheese!
Though we love the cheddar and mozzarella combination, you can always use different cheeses to change things up!
gruyere
pepper jack
cream cheese
parmesan
Make it spicy!
Add a little spice to your cheesy garlic bread by adding red pepper flakes, sliced pickled jalapeños, or add a pinch of cayenne pepper to your garlic butter spread.
Add some protein.
If you want to make this more of a meal, add any of the protein options below to your garlic bread. Add the protein right on top of the bread and then sprinkle the cheese over the protein.
How to Store Garlic bread
Garlic bread isn't the best left over, but if you have leftover garlic bread we suggest storing it for a few days and reheating it in the oven!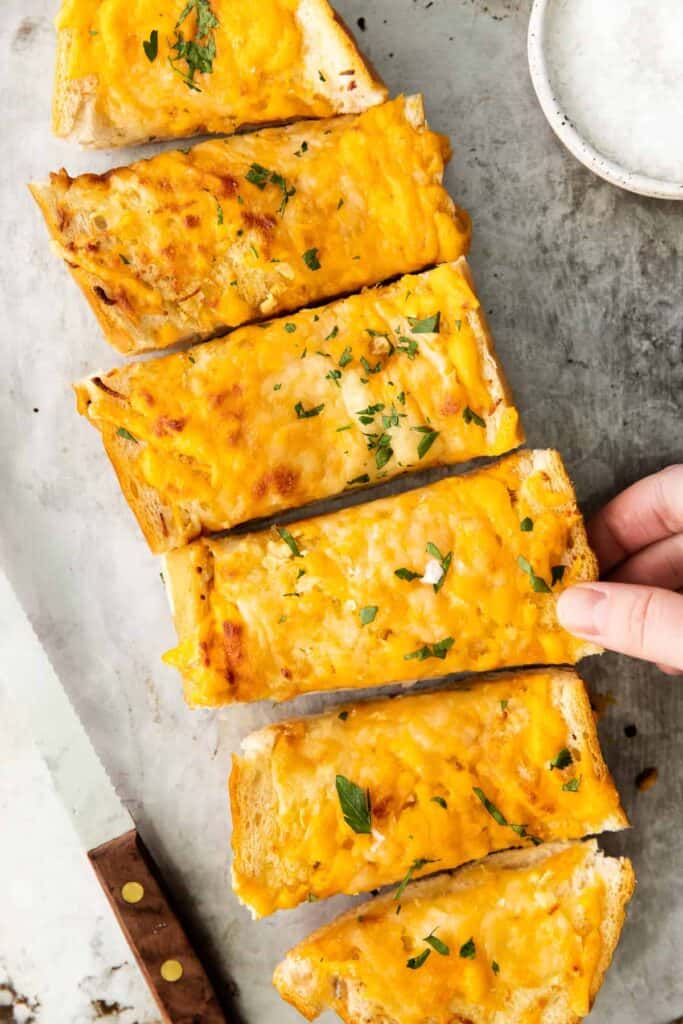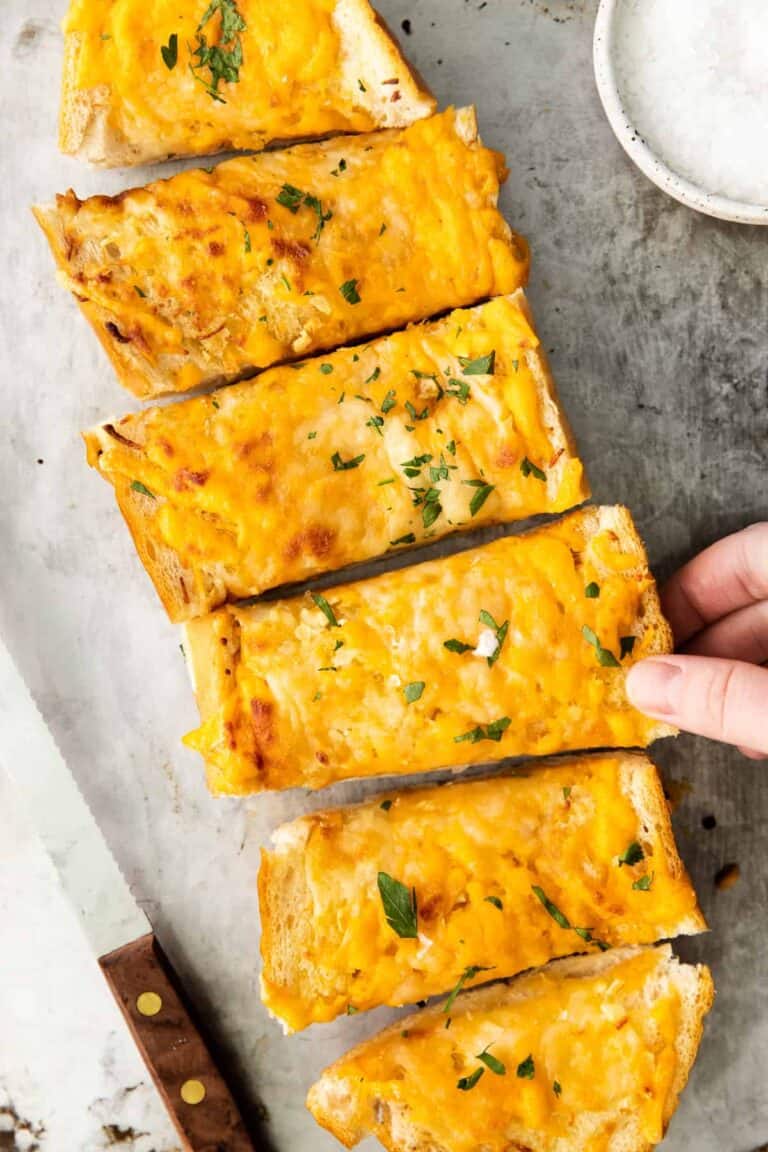 What to Serve with Cheesy Garlic Bread
Garlic bread is delicious on it's own as an appetizer with a tasty marinara dip or you can serve this cheesy garlic bread along side any of the delicious meals below!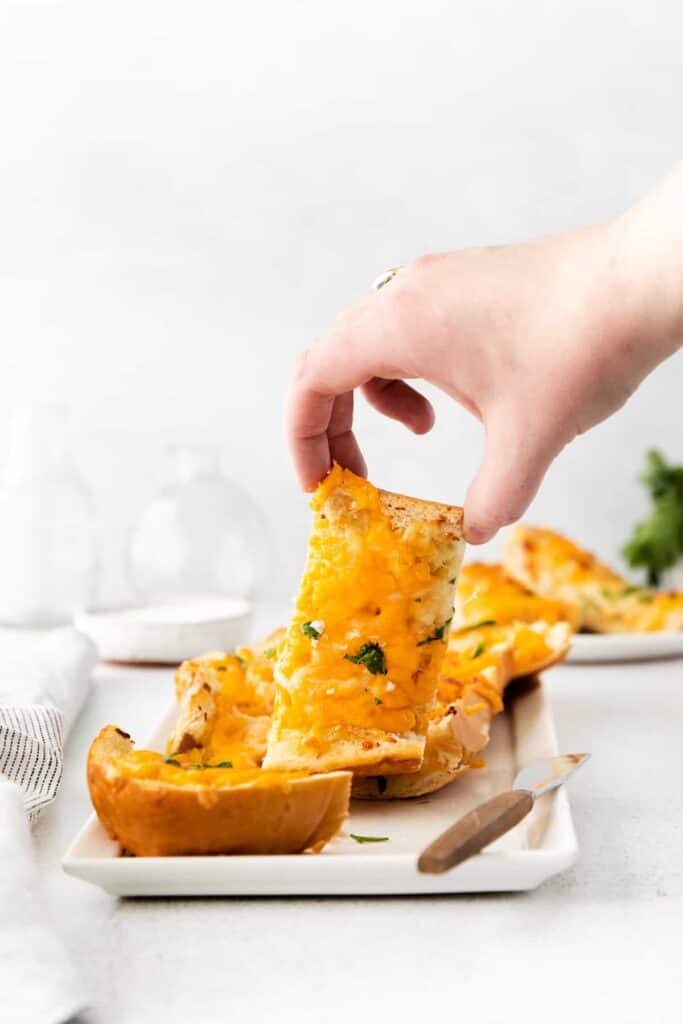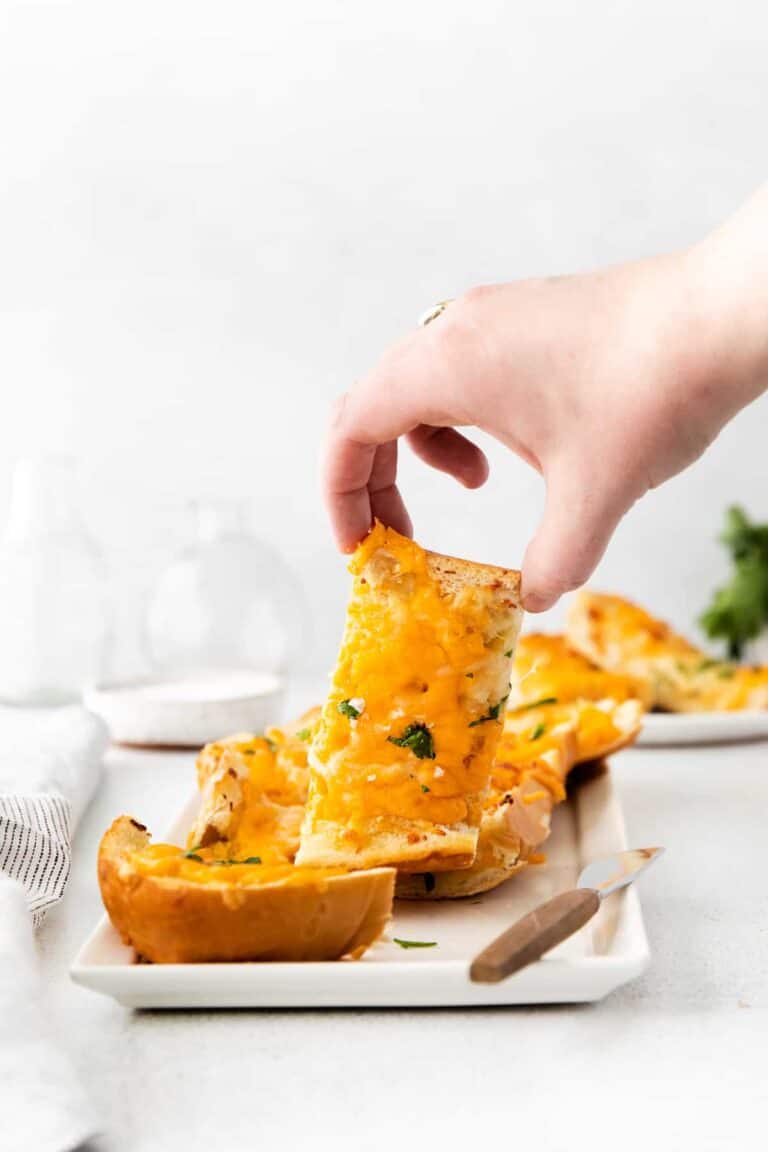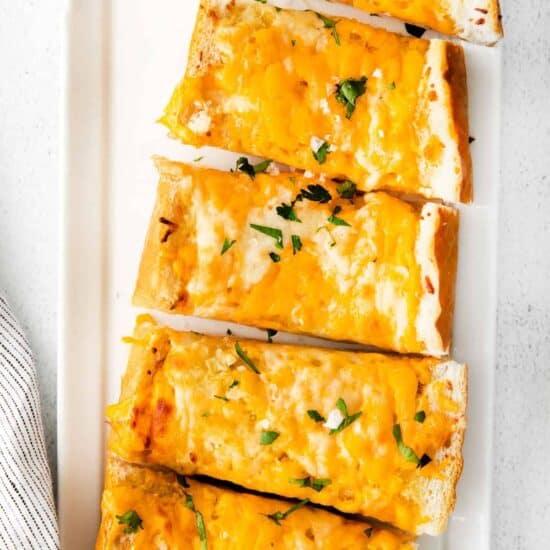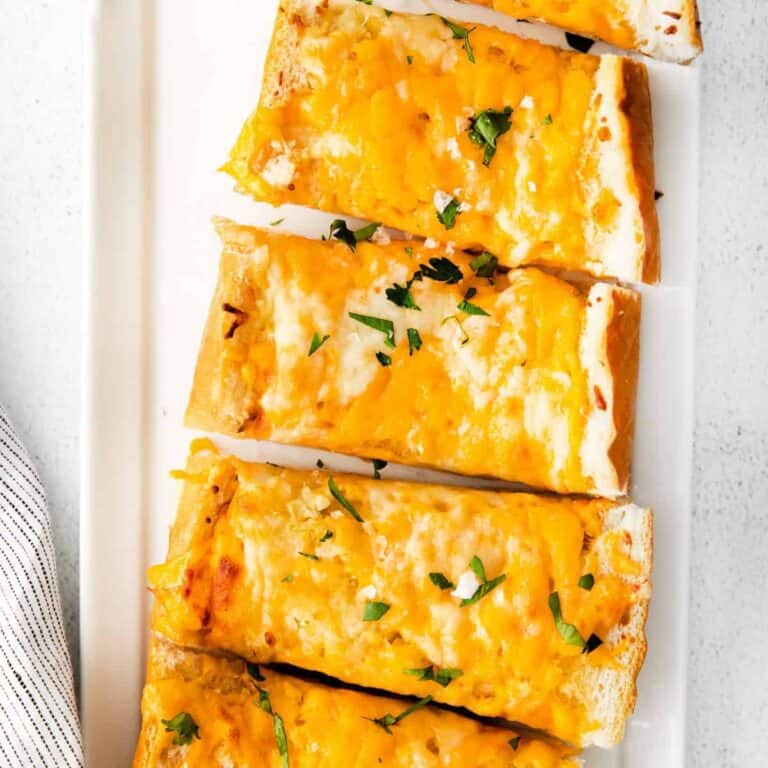 Cheesy Garlic Bread Recipe
This cheesy garlic bread is made with only 6 ingredients and ready in 10 minutes! 
Ingredients
1

loaf Italian or ciabatta bread

4

tablespoons

butter

softened

2

tablespoons

olive oil

3

cloves

garlic

minced (or to taste)

2

cups

shredded cheddar cheese

I used sharp, but any will work

1

cups

shredded mozzarella cheese
Instructions
Preheat oven to 400ºF.

Slice the bread in half lengthwise and place it cut side up on a baking sheet. 

In a small bowl combine the softened butter, olive oil, and garlic. Spread the mixture evenly over the cut side of the bread. 

Bake for 5 minutes at 400ºF. 

Sprinkle the cheddar and mozzarella cheeses on top of the bread and return it to the oven for an additional 8-10 minutes, or until the cheese is starting to bubble and develop brown spots. 

Slice and serve warm. Garnish with fresh parsley and flake salt, if desired. Store any leftovers in an airtight container at room temperature for up to two days. 
Tips & Notes
You can use any combination of cheese you like— gouda, gruyere, fontina, or pepper jack would all be delicious substitutions.

If you don't have fresh garlic on hand, you can substitute 1 teaspoon of garlic powder.
Nutrition facts
Calories:
406
kcal
Carbohydrates:
29
g
Protein:
12
g
Fat:
26
g
Fiber:
0
g
Sugar:
0
g