Seriously this Baked Brie with Fig Jam is going to be your new go-to Baked Brie in Puffed Pastry recipe. It's so flavorful and delicious.
This melty cheese deliciousness is perfect for any time of the year, but it is great during the holiday season. Make it for Thanksgiving or Christmas along side any of these delicious dip recipes.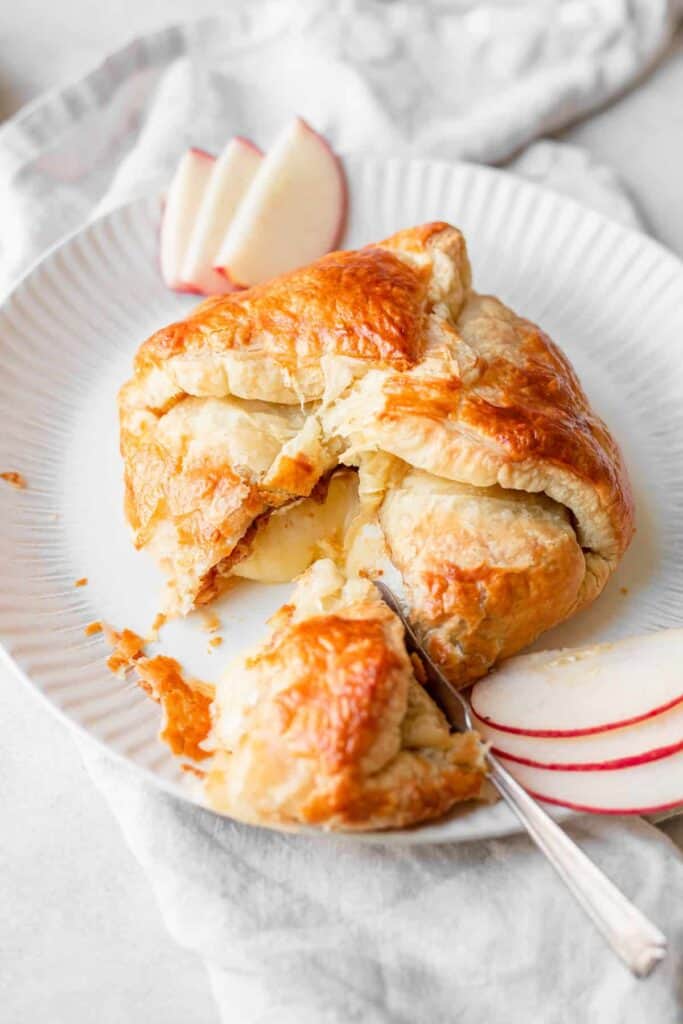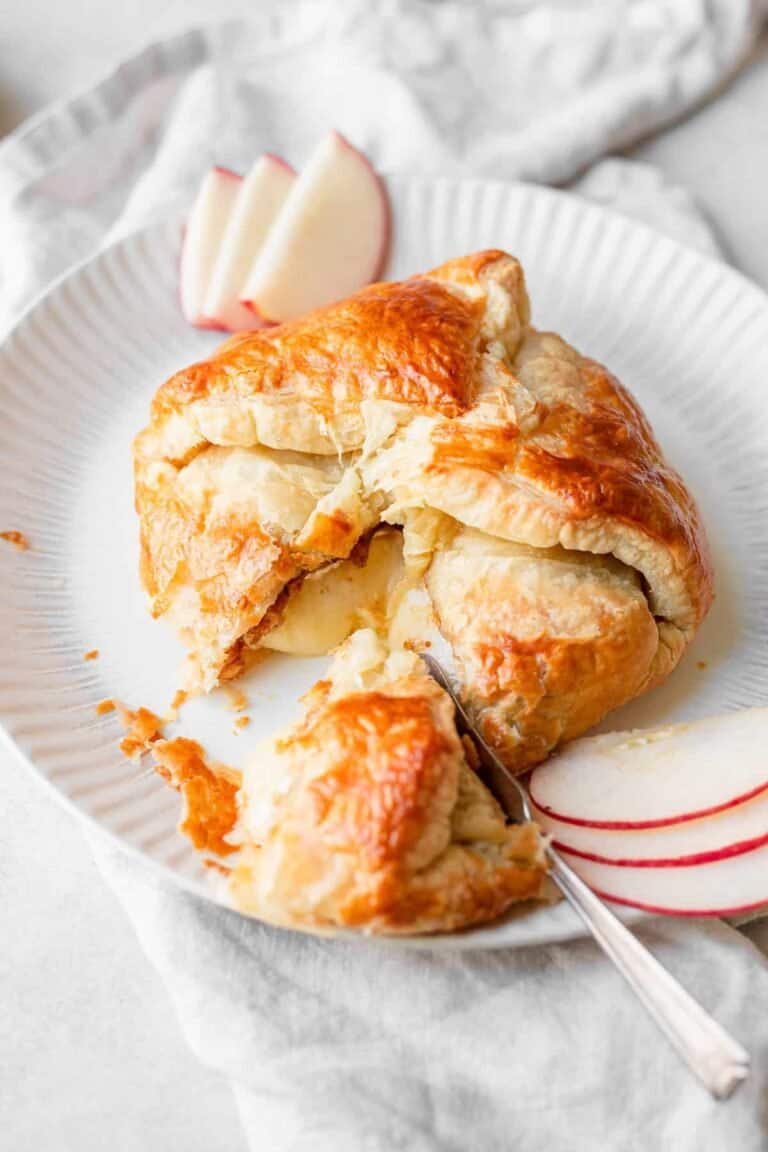 Best Appetizer = Brie in Puff Pastry!
Whip up a fancy appetizer in less than an hour. You'll have your guests asking where you picked this baked brie up from, but really, you made it in your own kitchen!
What is baked brie in puff pastry? Baked brie refers to a wheel of brie cheese wrapped in a piece of puff pastry and baked until melty and warm.
We love baked brie because it's an easy-to-like appetizer that is versatile in so many ways. If you've never had baked brie with fig jam, you are 100% missing out!
Slather your wheel if brie cheese with fig jam, sprinkle on some walnuts, wrap it in puff pastry and you're ready to get bakin'!
What You Need – 5 Ingredients
Puff pastry – this recipe calls for 1 sheet of puff pastry. Typically puff pastry comes in sheets of 2, so use one and save the other! We used the Pepperidge Farm brand.
Wheel of brie – oh, the star of the show! Brie cheese is light and smooth and easy to love. Brie cheese can vary in size, so try and get a wheel around 8 oz.
Fig jam – fig jam is absolutely delicious paired with baked brie.
Walnuts – A few walnuts in this appetizer add really great texture. Feel free to either omit or use pecans instead.
Egg – last but not least, the egg wash. Don't skip this step because it's going to help get your puff pastry nice and crispy on the outside.
Jam Substitutes
We absolutely love this dish with fig jam, but we understand that sometimes that isn't an option for everyone. There are many baked brie variations with different flavors and ingredients.
You can use any of the jams or jelly options below.
raspberry jam
cranberry jam
blackberry jam
blueberry jam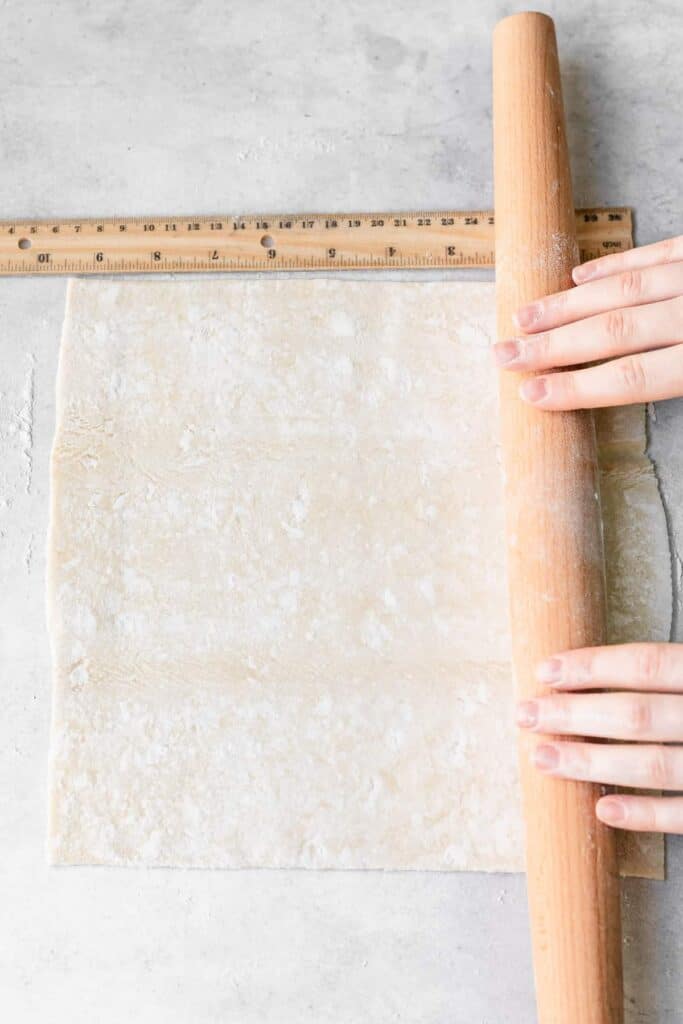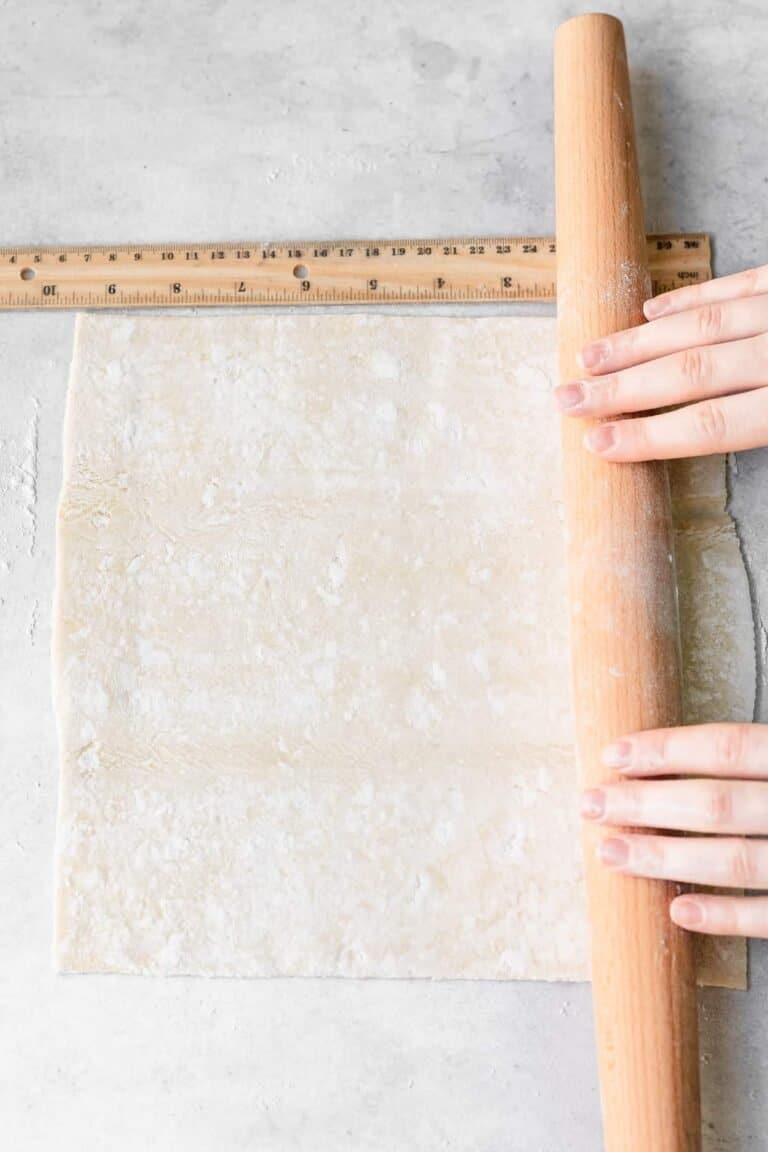 How to Make Brie Baked in Puff Pastry (step by step)
Step 1: Roll out puff pastry
First things first, preheat your oven to 400ºF and then line a baking sheet with parchment paper.
Then, dust your countertop with flour so that your puff pastry doesn't stick. Dust your rolling pin and then roll out your sheet of puff pastry so that it's a 10-inch square.
We used a handy dandy ruler to measure out square. If you don't have one, don't fret! It doesn't have to be perfect.
Step 2: Jam + Walnuts
Place your wheel if brie cheese in the center of the puff pastry and then spoon on the fig jam. Then, sprinkle on chopped walnuts.
get creative!
Get creative with your baked brie flavors. Instead of fig jam, try a different flavor such as apricot or date. Don't have walnuts? Use pecans or pistachios, or omit altogether.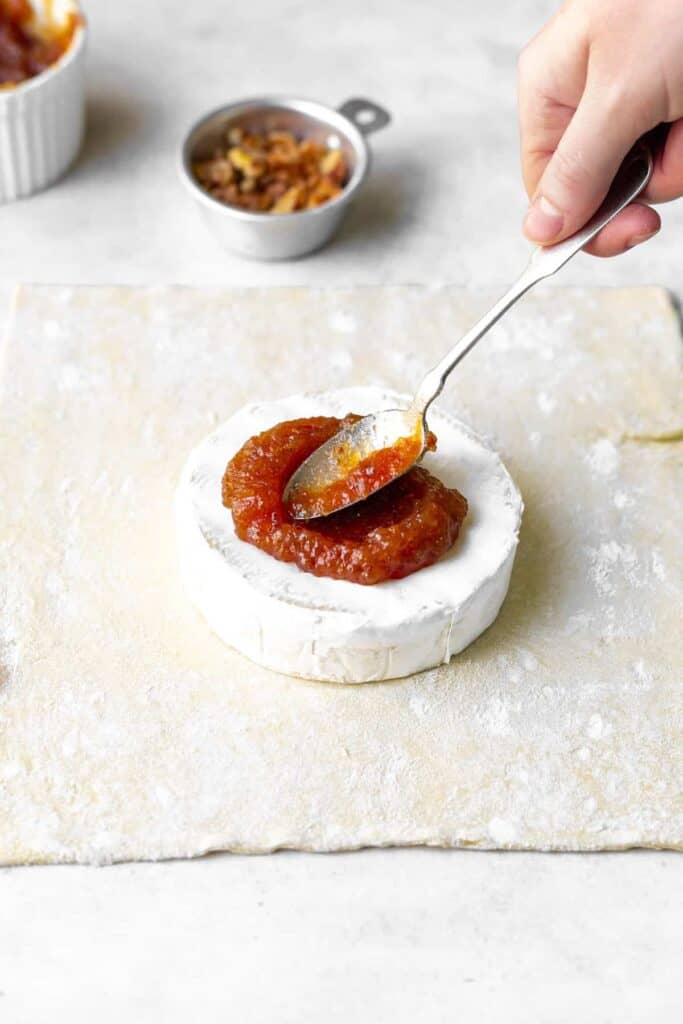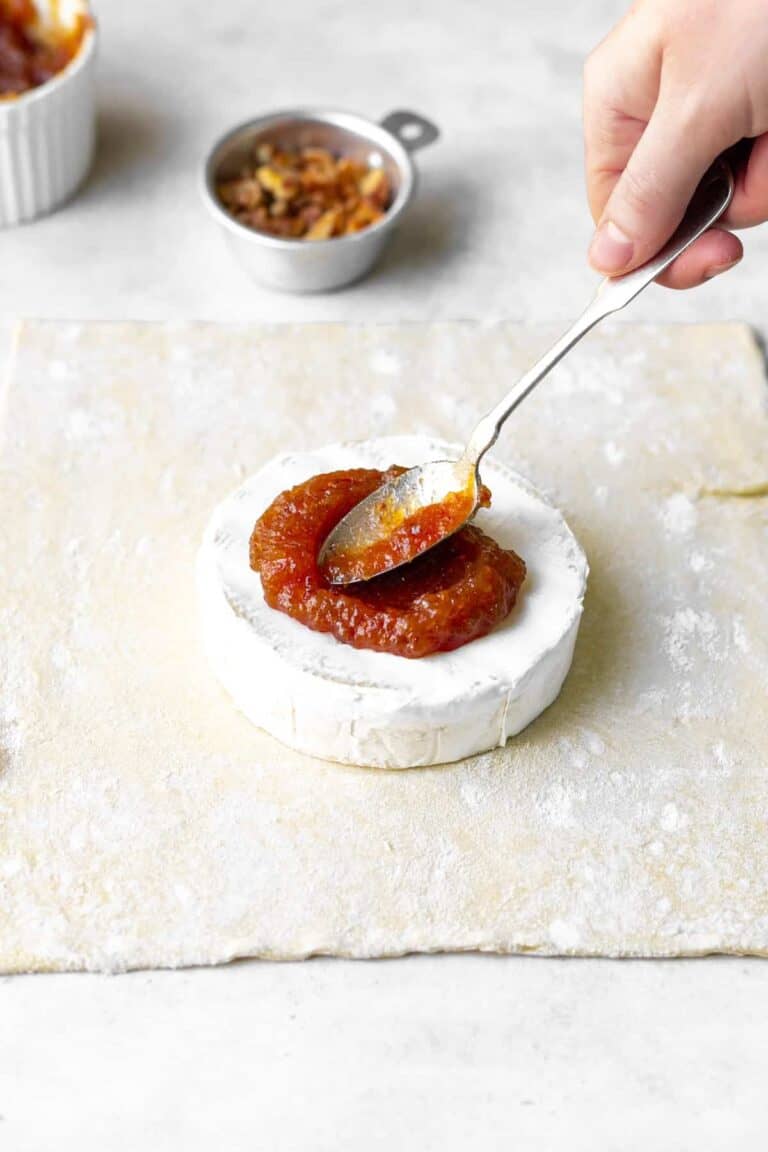 Step 3: Fold + Brush
Fold the edges of puff pastry in towards the center so that your brie is wrapped completely in puff pastry.
Use a brush to paint on the whisked egg to the top of the puff pastry. This will help it turn a beautiful golden brown color.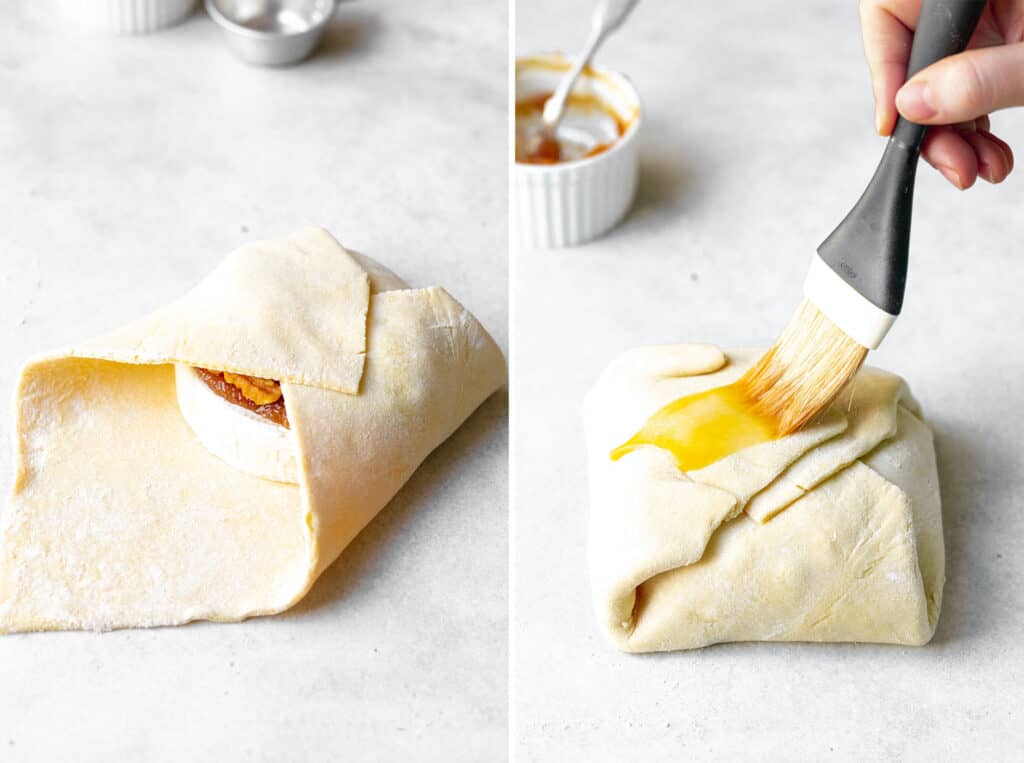 Step 4: Bake
Transfer your brie to the baking sheet and then bake at 400ºF for 20 minutes or until the puff pastry turns golden brown.
A Few Fun Topping Ideas
If you want to elevate this delicious appetizer you can drizzle the baked brie with honey and then sprinkle chopped nuts over the top. It is to die for!
FAQ
Should you cut the rind off of brie before baking in puff pastry?
There is no need to remove the rind from the brie before baking in puff pastry. The rind will soften in the oven and you can actually eat it!
How long should you bake brie for?
Bake brie at 400ºF for 20 minutes or until the puff pastry turns golden brown.
Can you wrap brie in puff pastry ahead of time?
Brie in puff pastry can be prepped up to 24 hours ahead of time.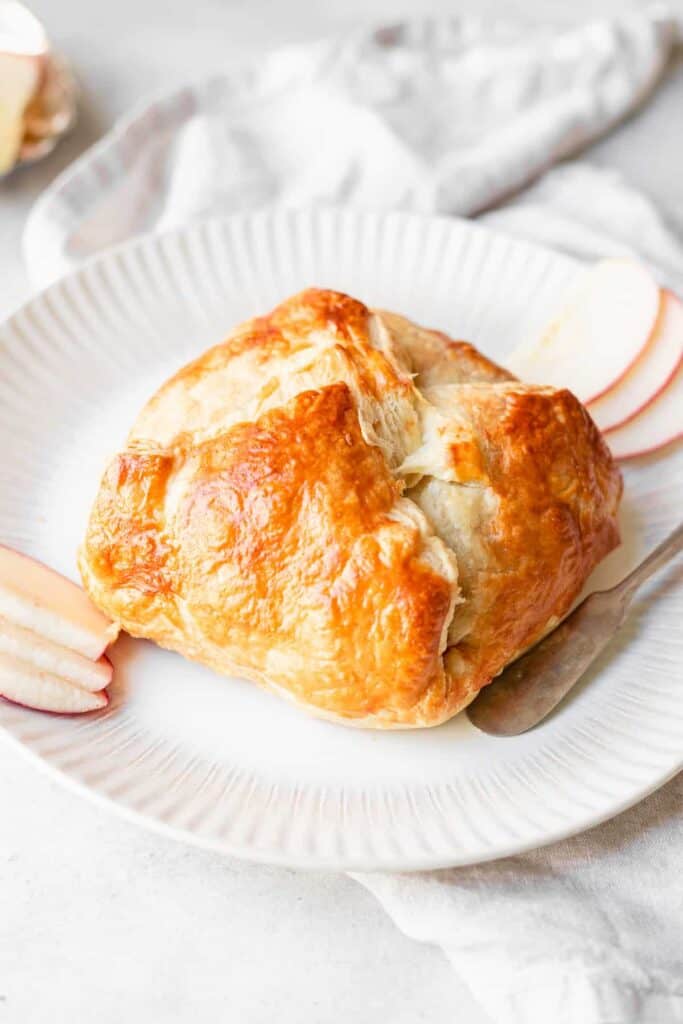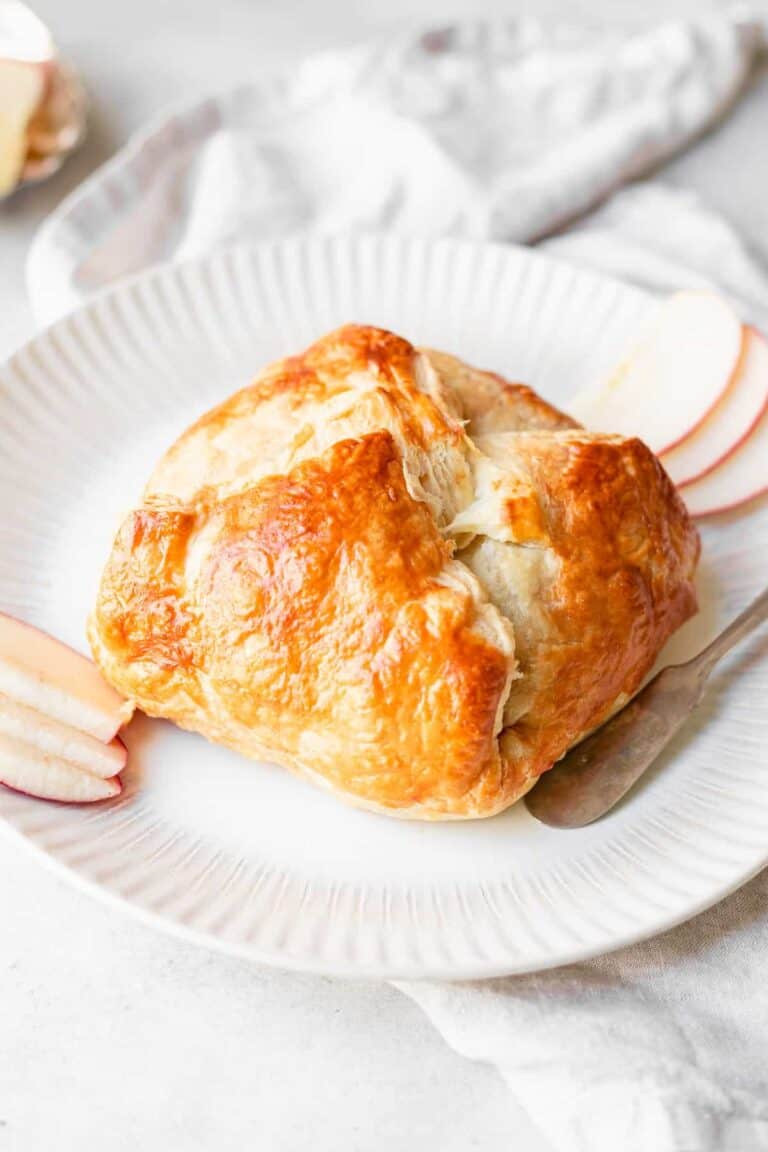 What to Serve with Baked Brie
While you can totally rip a piece of the puff pastry off and use that to scoop up your baked brie, you can also serve this delicious appetizer with other things. Here are some ideas:
crackers
apple slices
crostini
Italian bread
Got Leftovers?
Whatever you do, don't throw out your baked brie with fig jam! You can totally save it for later.
You can also make a totally new dish out of the brie and jam innards by slathering it on a sandwich!
Storage
Let your baked brie puff pastry cool completely. Then, transfer it into an airtight container or gallon-size bag. Store in the refrigerator for up to 1-2 days.
How to Reheat
To reheat, transfer chilled baked brie onto a microwave-safe plate and microwave on high for 60-90 seconds.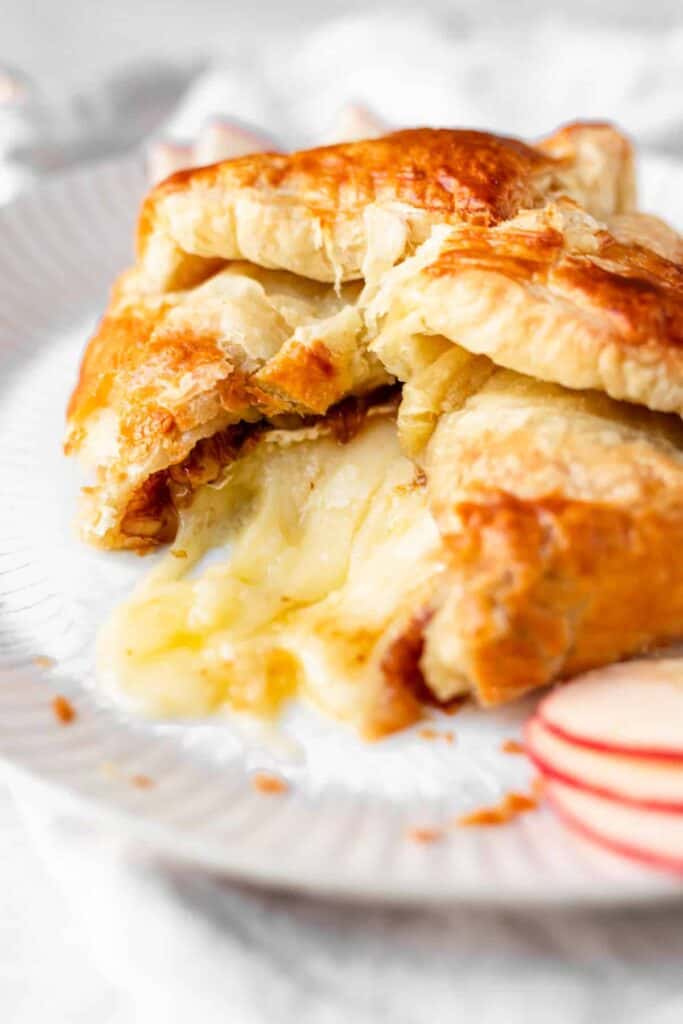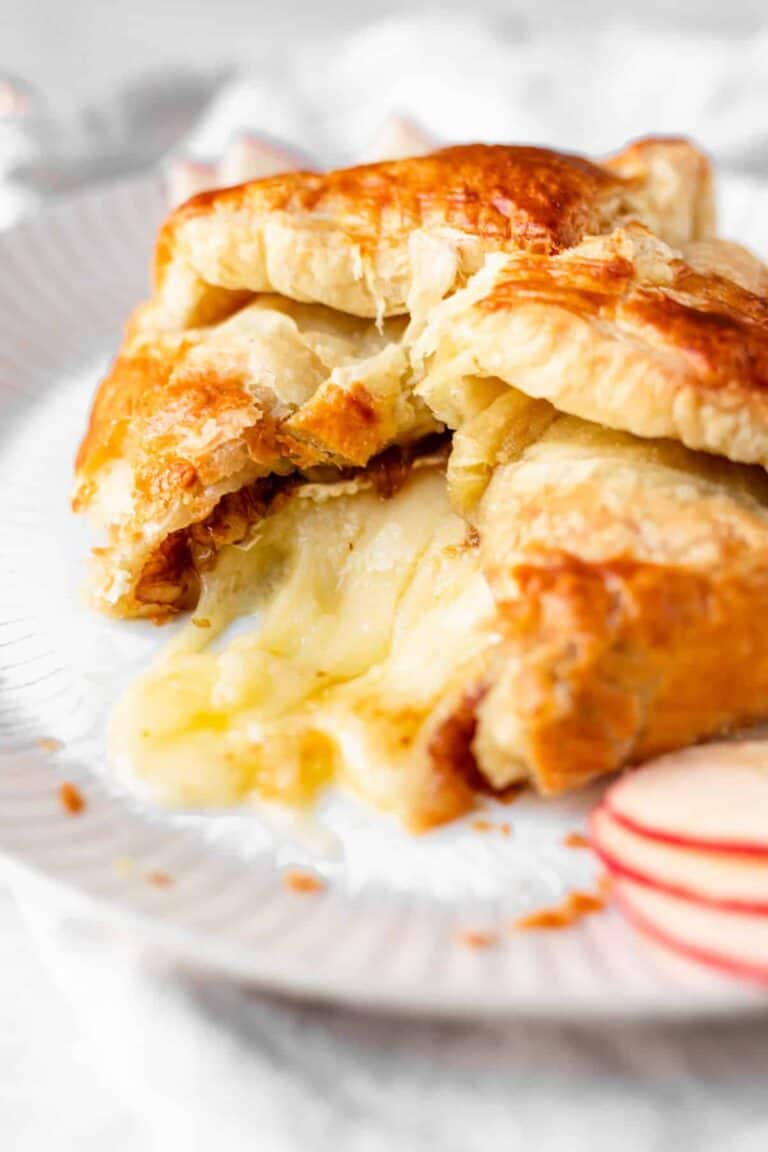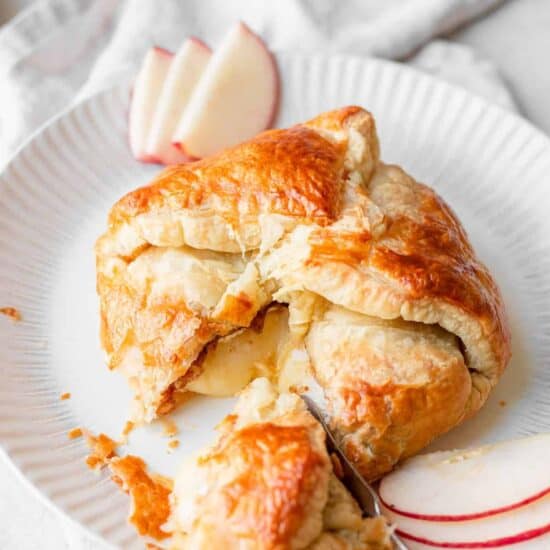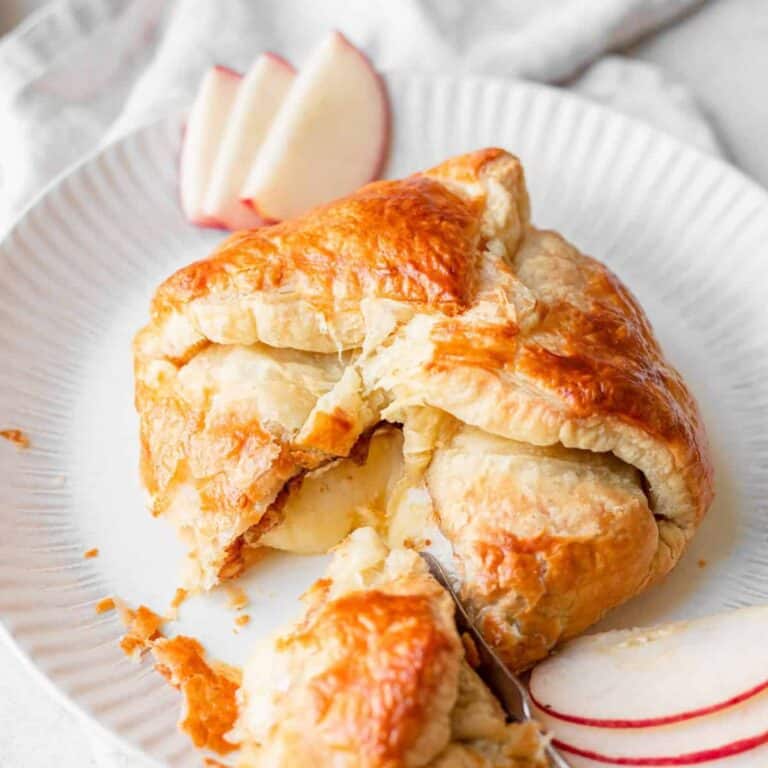 Baked Brie in Puff Pastry
Looking to make baked brie in puff pastry? You'll love the flavor combination of brie cheese and fig jam wrapped in flakey puff pastry!
Ingredients
2

tablespoons

all-purpose flour

for dusting

1

puff pastry sheet

8

oz

wheel of brie cheese

⅓

cup

fig jam

3

tablespoons

chopped walnuts

1

large egg

whisked
Instructions
Preheat the oven to 400ºF and line a baking sheet with parchment paper. 

Next, lightly dust a flat counter top with flour and lay out the puff pastry sheet onto the flour. 

Dust a rolling pin with flour and roll out the puff pastry to a 10-inch square. It does not have to be exact, just close!

Place the brie in the center of the square and carefully spread the fig jam over the top of the brie wheel and then sprinkle the walnuts over the fig jam. 

Next, fold in each corner of puff pastry so that the brie is wrapped completely in puff pastry. 

Transfer the baked brie to the lined baking sheet and brush the whole pastry with egg wash. 

Place the baking sheet in the oven and bake the brie for 20 minutes at 400ºF or until the puff pastry is golden brown. 

Remove the baked brie from the oven and slice the brie into small pieces and enjoy. Be careful, the brie will be hot but delicious! 
Nutrition facts
Calories:
294
kcal
Carbohydrates:
13
g
Protein:
8
g
Fat:
20
g
Fiber:
1
g
Sugar:
1
g