Baked feta pasta is all the rage and now we know why! This baked pasta dish which came to fame as "Tik Tok Pasta" is made with a delicious roasted tomato and feta cheese sauce and is topped with fresh herbs and kalamata olives.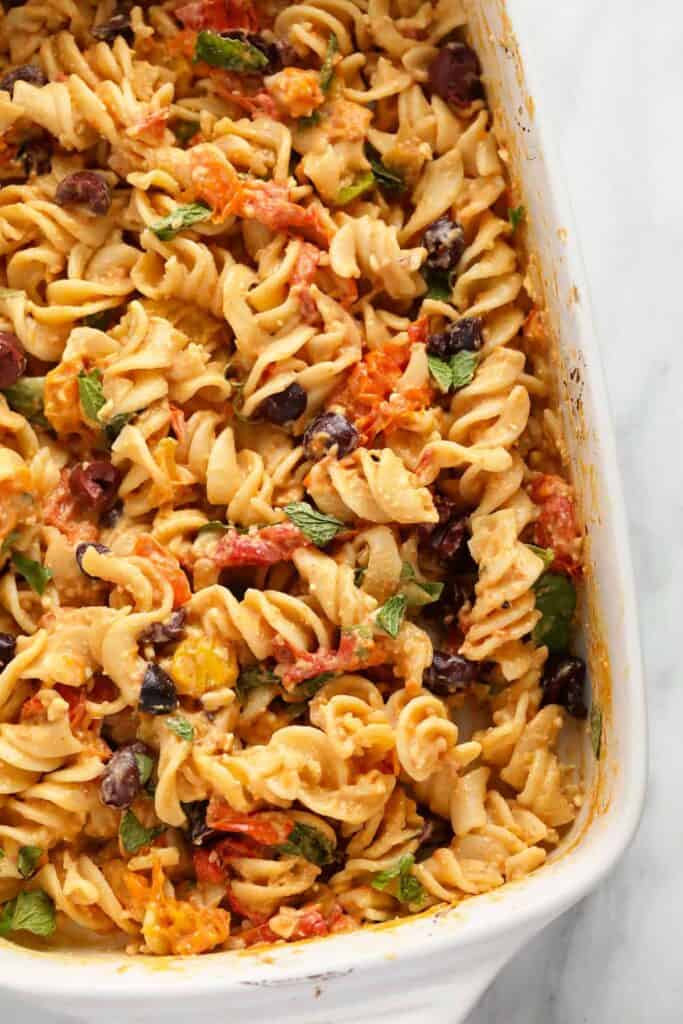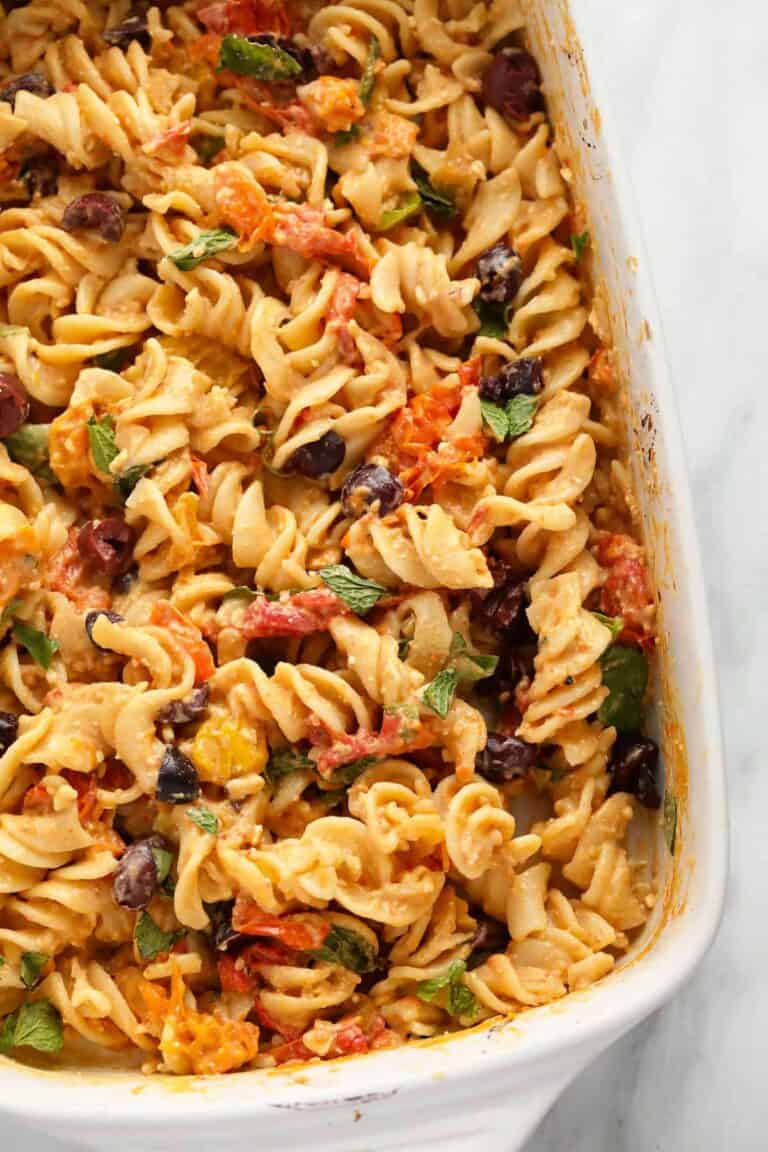 Are you ready to learn how to make the most delicious and EASY baked feta pasta in all the land? We've seen so many TikTok videos and Instagram reels of this pasta and we had to try and obviously give it our own twist.
Our baked feta pasta recipe is made with other Mediterranean flavors such as kalamata olives, fresh herbs, and a little balsamic vinegar. It's an easy pasta recipe made with a whole block of feta cheese that cooks and softens in the oven.
What You Need for Baked Feta Pasta
The star of baked feta pasta is obviously the FETA. Feta cheese is a delicious, salty cheese that has a very unique flavor- perfect for pasta. Check out what else you need:
cherry tomatoes: in addition to the feta cheese, cherry tomatoes are going to be the base of your pasta sauce. Feel free to use red, orange, or a combo of colors.
olive oil: olive oil is a must as it will make sure nothing sticks to your casserole dish. It also adds a great nutty flavor to this baked feta pasta recipe.
balsamic vinegar: balsamic vinegar is a classic Mediterranean flavor and it really adds just the right amount of sweetness to this dish.
minced garlic: do not skip the garlic. Love the savory warmth of this ingredient.
white onion: onion of any kind will work in this dish. It helps create a beautiful sauce base.
pasta: any kind of pasta works for baked feta pasta because you cook the pasta separately. Pick your favorite shape.
pasta water: pasta water is truly the "secret sauce" of this sauce. After your pasta cooks in the water, make sure to reserve some of the starchy water. It will help thicken your feta cheese sauce.
fresh herbs: fresh herbs are a must in this dish! We used mint and basil.
kalamata olives: olives are the perfect salty topper for this dish. They also tie in that Mediterranean flare we're going for.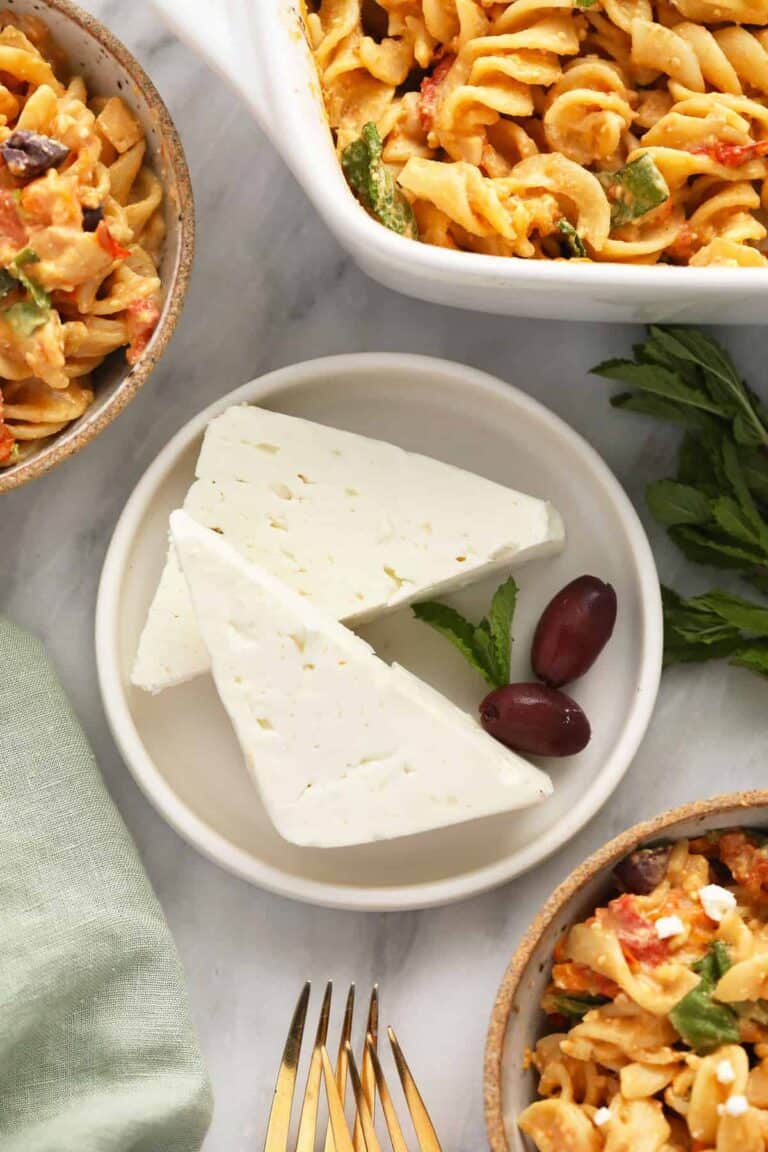 Feta Cheese Suggestions
There are lots of different feta brands out there. This baked feta pasta dish calls for an 8-oz. block. Below you'll find our top 3 brand choices to check out:
Athenos
Odyssey
Kryssos Co.
Can I use feta crumbles?
While we haven't personally made this recipe with feta crumbles, it will totally work. We suggest cooking the tomatoes first for about 25-30 minutes and then adding the feta crumbles and cooking for an additional 10-15 minutes. Since the feta is in much smaller pieces, it won't need to cook as long.
I can only find aged feta, can I use that?
Any kind of block feta should do the trick.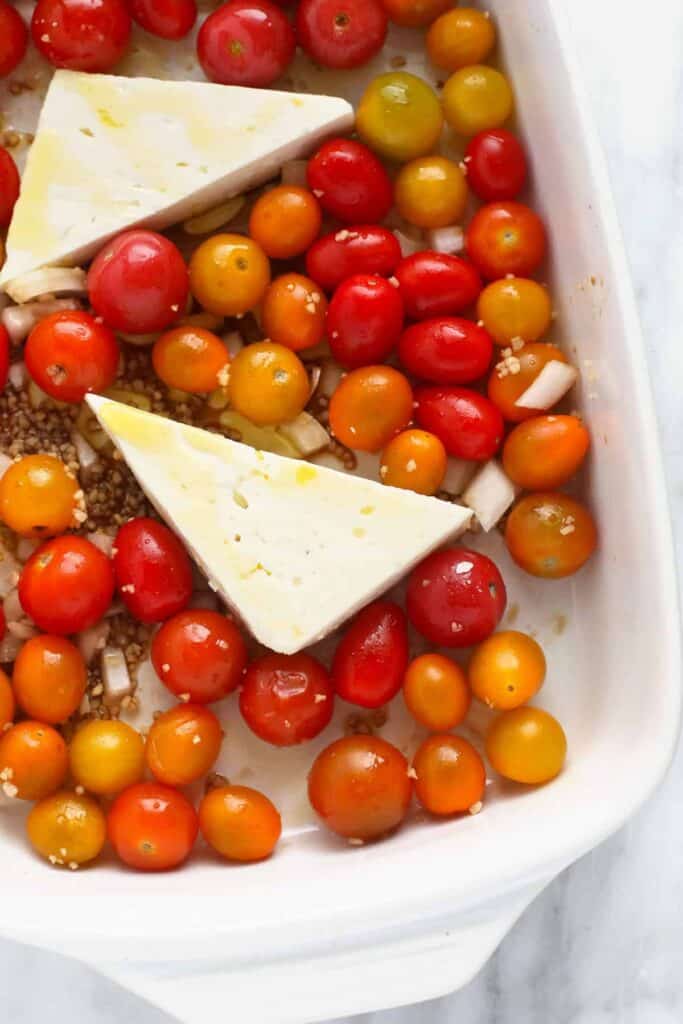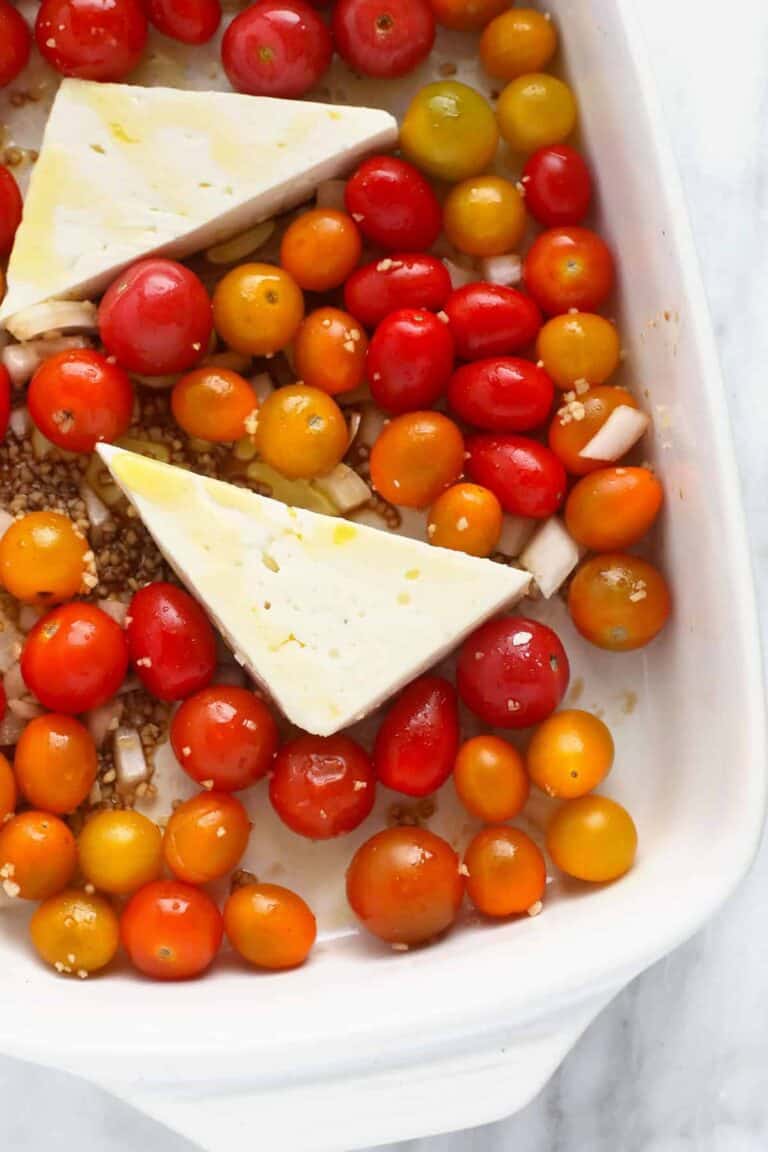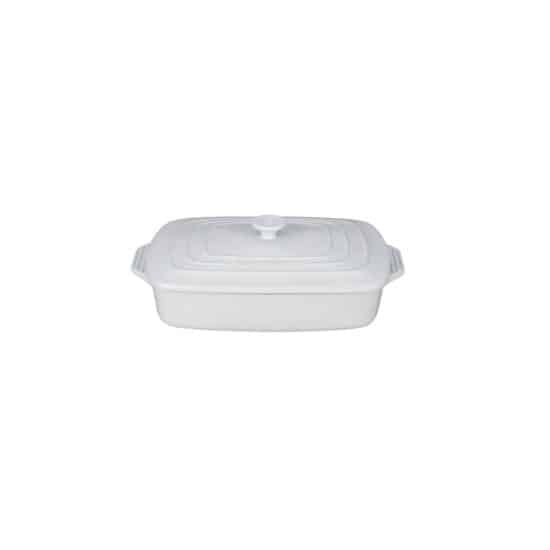 Our Favorite
Casserole Dish
This le creuset casserole dish is our all time favorite casserole dish! The white color rocks, it has a cover, and it's great for so many dishes.
Buy One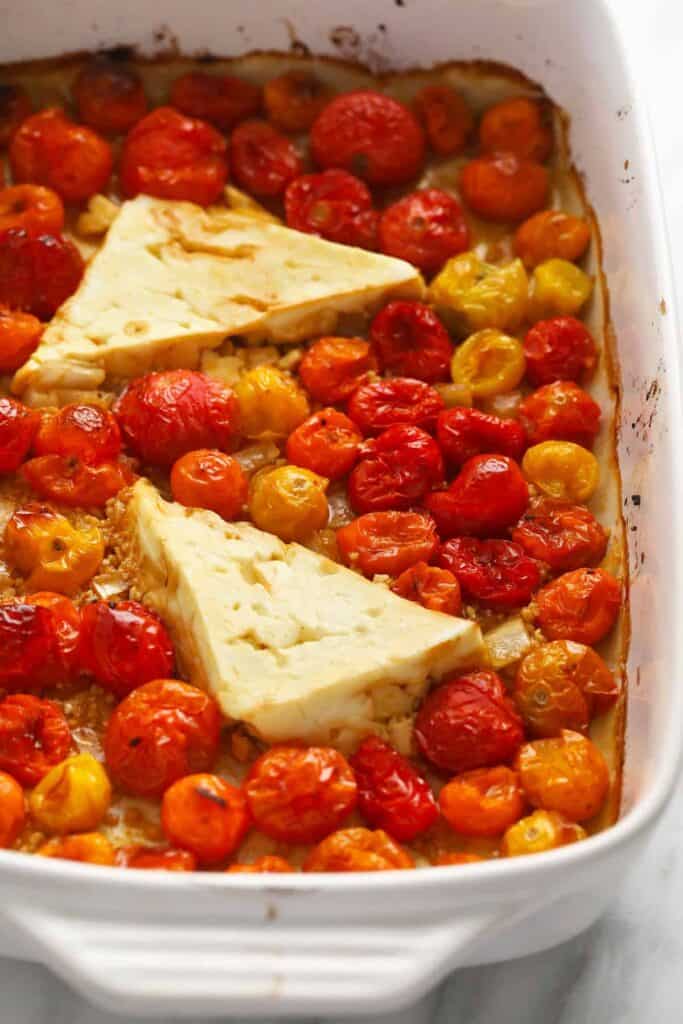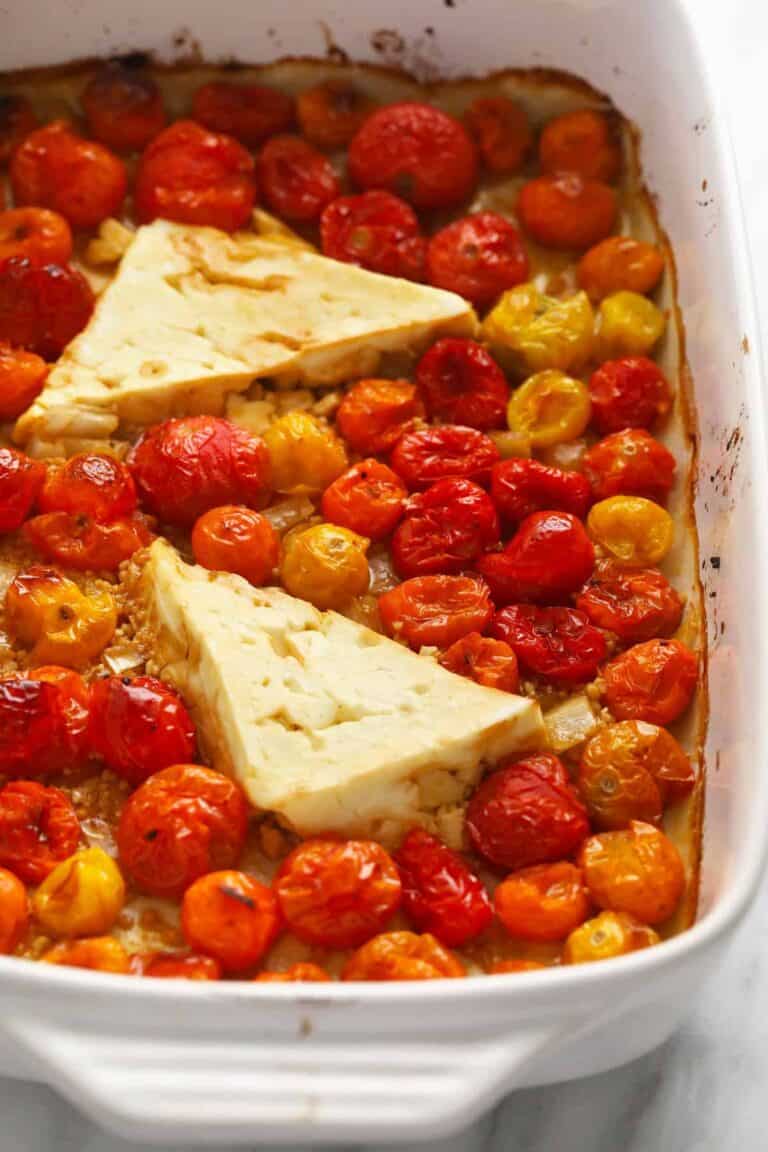 Baked Feta Pasta Variations
Add spinach or kale: wanting to get more veggies in your pasta? Add sautéed spinach or kale right at the end.
Add a protein: garlic butter shrimp or pan seared chicken would be absolutely delicious served next to or tossed right into this pasta.
Use goat cheese instead: try swapping the feta cheese for goat cheese for a similar sauce consistency, but a sweeter flavor!
Ditch the noodle: not a huge fan of noodles? Try using zoodles or spaghetti squash noodles instead!
a note on the bake time
The reason the bake time is a full 40 minutes is a couple of things:
You want to make sure the tomatoes have enough time to break down and easily burst, to create the base of your sauce.
The feta needs enough time to soften and easily mix with the rest of the sauce ingredients.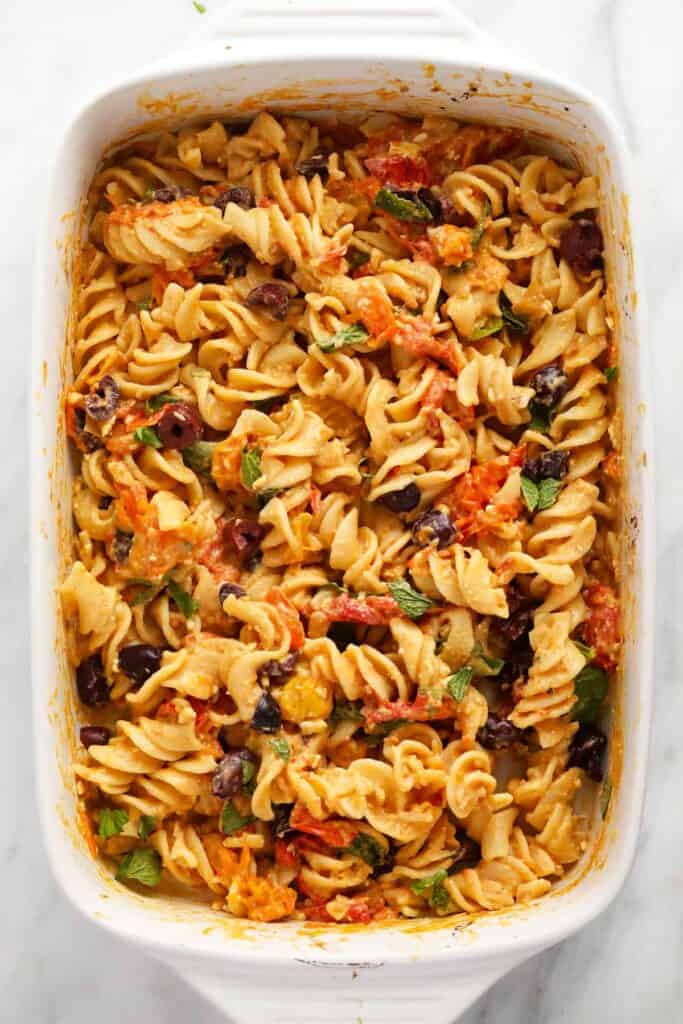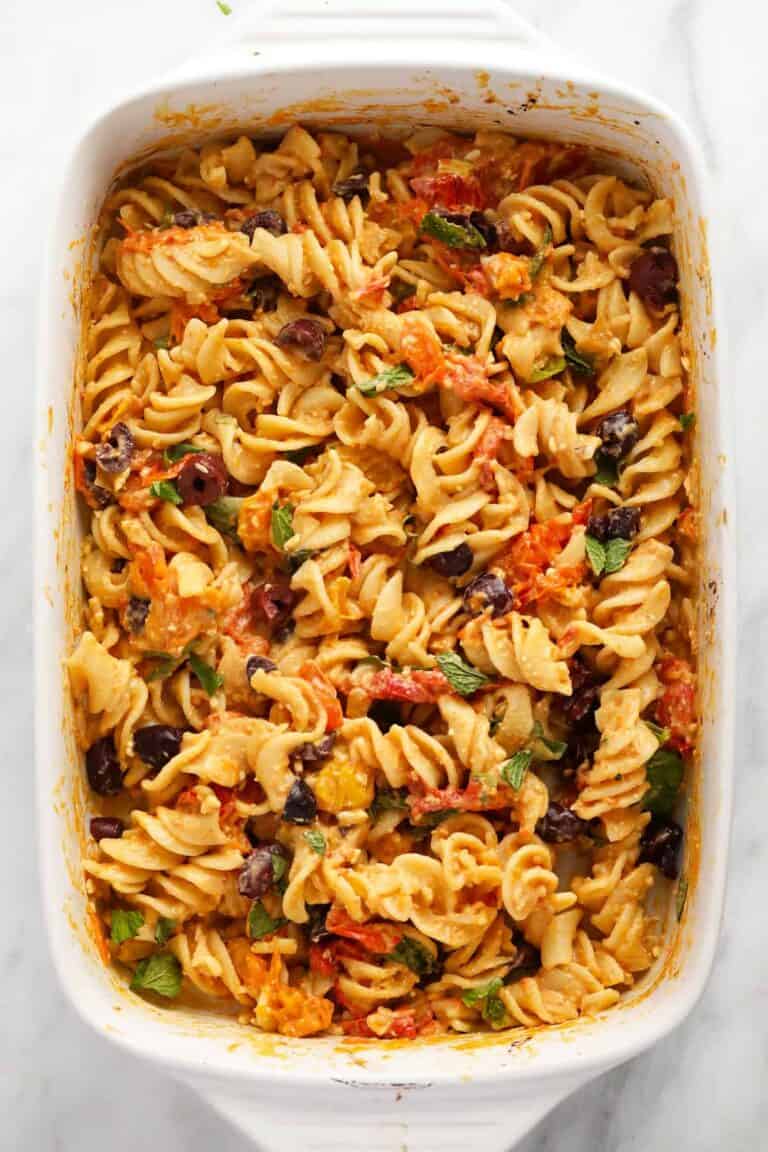 Storage
Let pasta cool completely and then transfer it into an airtight container. Store in the fridge for up to 3-5 days.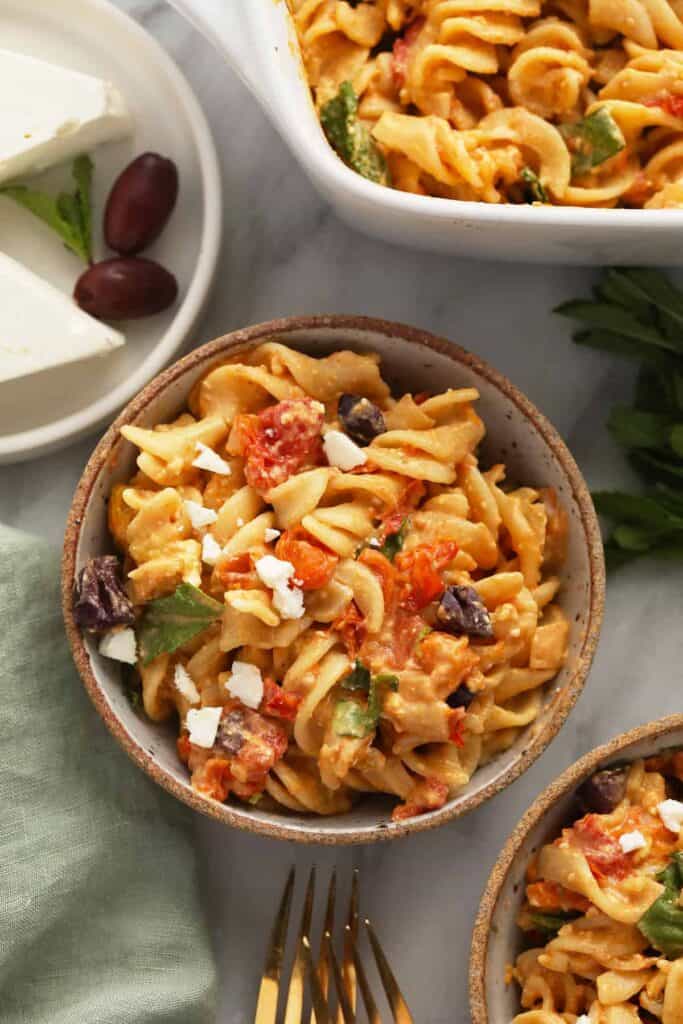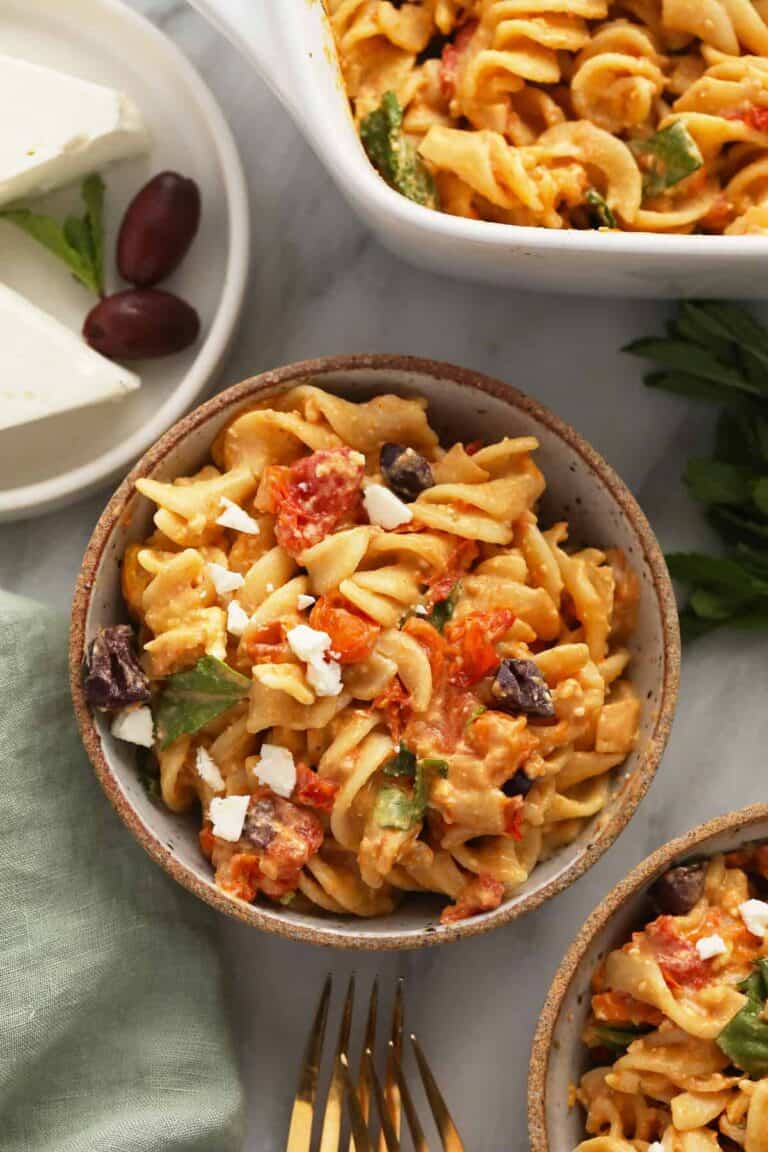 Serving Suggestions
Beet Goat Cheese Salad: Make a big beet goat cheese salad for an easy and veggie-packed meal! This salad is made with pears, goat cheese, walnuts, spinach, and a delicious salad dressing.
Arugula Goat Cheese Salad: Eat the rainbow with this super flavorful arugula goat cheese salad that comes together with 6 simple ingredients in under 30 minutes.
Butter lettuce Salad: This butter lettuce salad has a combination of vegetables, fruit, nuts, cheese, and is drizzled with a simple lemon vinaigrette. Everything on a bed of tender butter lettuce makes a perfect and delicious salad.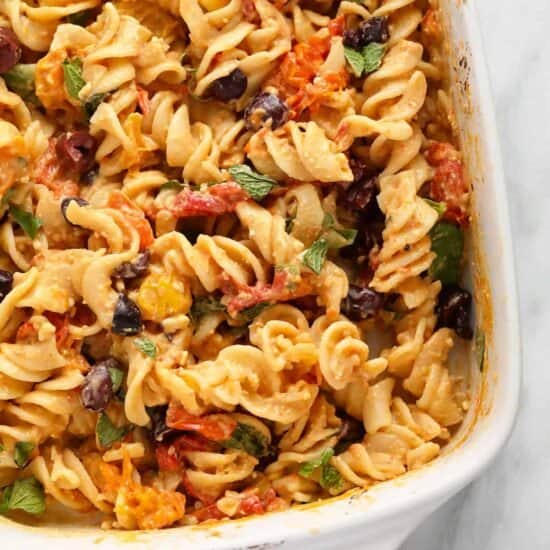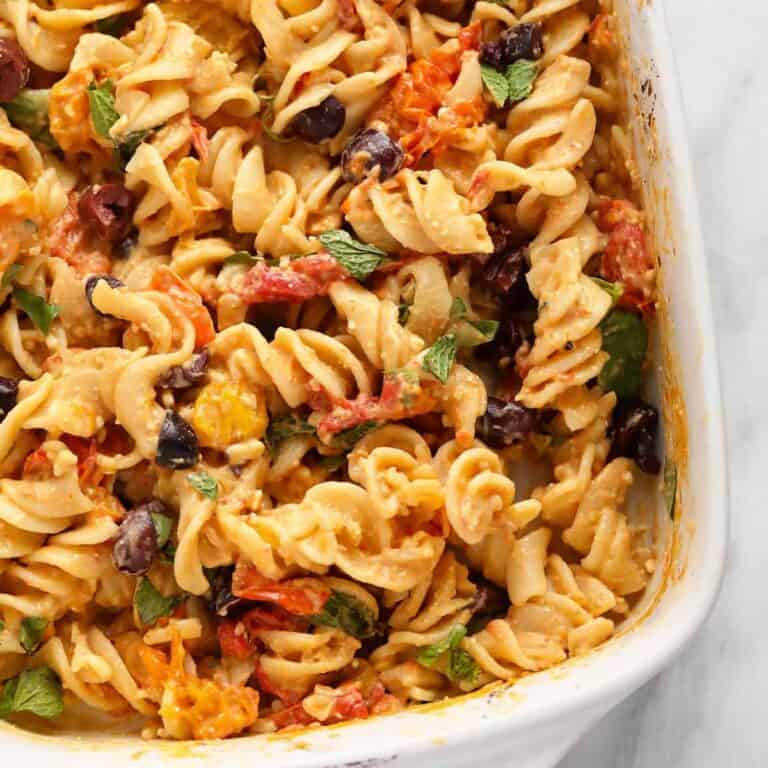 Baked Feta Pasta
Baked Feta Pasta is such a simple, yet flavorful meal to make. Our baked feta pasta recipe is made with a roasted tomato base and also includes fresh herbs, balsamic vinegar, and garlic!
Ingredients
2

pints

cherry tomatoes

1/4

cup

olive oil

2

tablespoons

balsamic vinegar

2

tablespoons

minced garlic

1/4

medium white onion

minced

8

oz.

block feta

8

oz.

pasta

any kind

1/2

cup

pasta water

2

tablespoons

fresh basil

roughly chopped

2

tablespoons

fresh mint

roughly chopped

1/4

cup

kalamata olives

chopped
Instructions
Preheat the oven to 400ºF.

Pour 2 pints of cherry tomatoes into a 9×13-inch casserole dish. 

Drizzle olive oil over the cherry tomatoes and toss until all the tomatoes are coated in oil. 

Add the balsamic vinegar, garlic, and onion to the baking dish and toss. 

Next, create 2 wells in the baking dish by moving the tomatoes aside. Cut the block of feta in half diagonally and place them into the baking dish.

Bake at 400ºF for 40 minutes. 

Meanwhile, bring a large pot of salted water to a boil and add pasta. Cook the pasta until it is cooked to al dente. 

Before pouring the pasta into a strainer, remove 1 cup of pasta water from the pot and set it aside. Then, strain pasta and set it aside. 

Once the timer goes off, remove the dish from the oven and smash the feta and cooked tomatoes with a fork or spatula. Make sure that all of the tomatoes have burst. Then, add in 1/2 cup pasta water and stir everything together to create a creamy feta sauce.

Finally, add the cooked pasta to the casserole dish and mix until the pasta is coated in sauce. 

Add basil, mint, and olives to the casserole dish and toss the baked feta pasta one last time. 

Serve with fresh cracked black pepper and enjoy. 
Nutrition facts
Calories:
561
kcal
Carbohydrates:
53
g
Protein:
20
g
Fat:
30
g
Fiber:
4
g
Sugar:
8
g