Our watermelon feta mint salad is truly a fresh summer staple. It's made with bursting watermelon, fresh mint, feta cheese, and blueberries!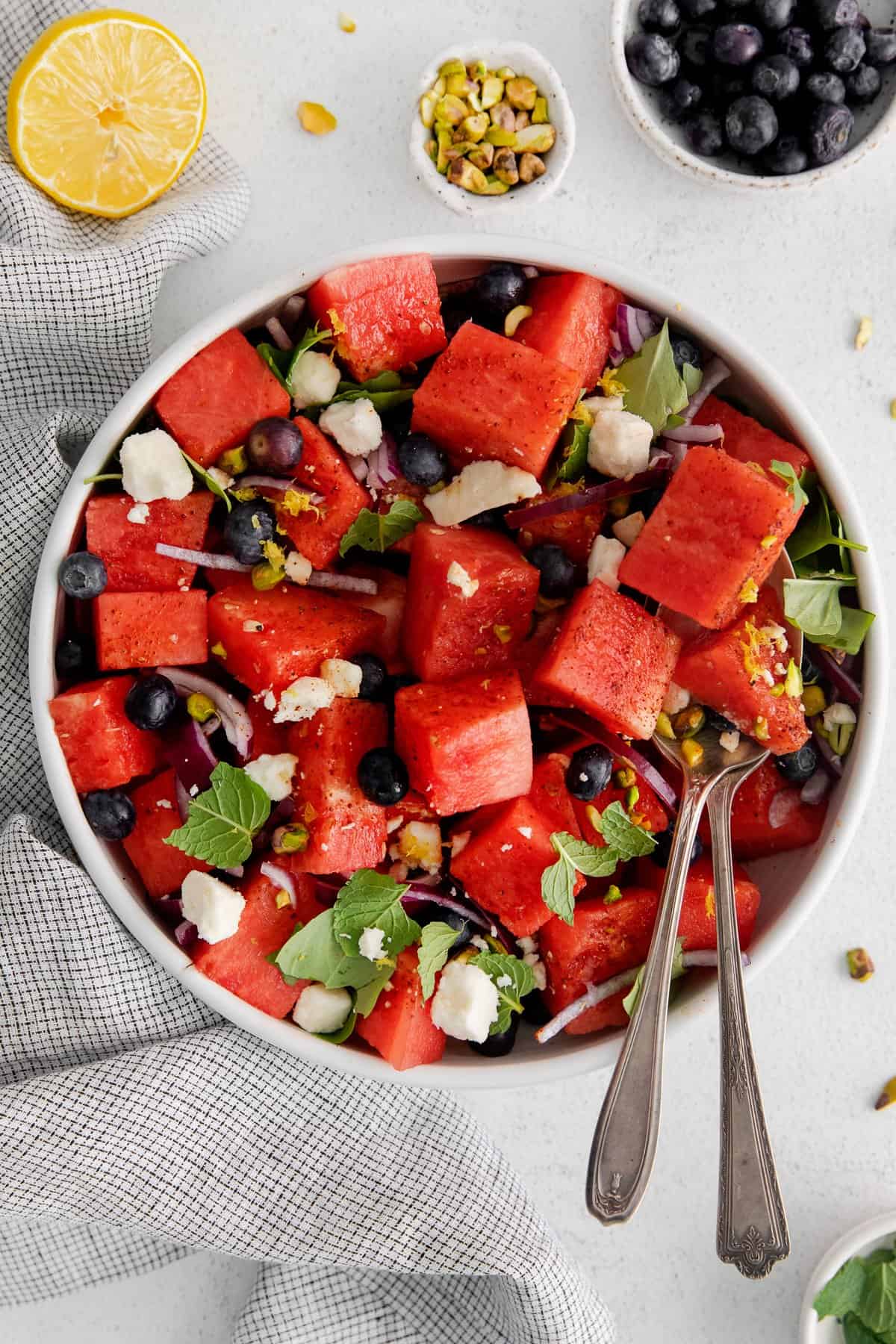 Our Favorite Watermelon Salad with Feta and Mint
This naturally sweet and salty salad is a summer favorite. We love bringing it to BBQs to share or even just making it to eat for our families.
The watermelon is so juicy and serving it alongside fresh mint and feta cheese is just…a chef's kiss!
Our signature watermelon feta mint salad recipe is made with a twist of fresh blueberries and pistachio nuts for a crunch.
Why you'll love it!
Fresh
Quick to prepare
Juicy
Healthy
What You Need
Watermelon: cubed watermelon is so juicy and fresh. We recommend buying a full watermelon and cubing it yourself for optimal freshness.
Red onion: red onion adds a nice bite. Any kind of onion will work.
Blueberries: blueberries add a pop of sweetness.
Mint: fresh mint pairs quite nicely with watermelon.
Basil: you read that correctly. Not only does this watermelon feta salad have mint, but basil too. The more herbs the better.
Pistachios: any kind of nut will work for this recipe, but pistachios add a nice sweetness.
Feta cheese: feta cheese is the star of the show. It's salty and so perfect paired with watermelon.
Lemon zest: fresh lemon zest is the cherry on top.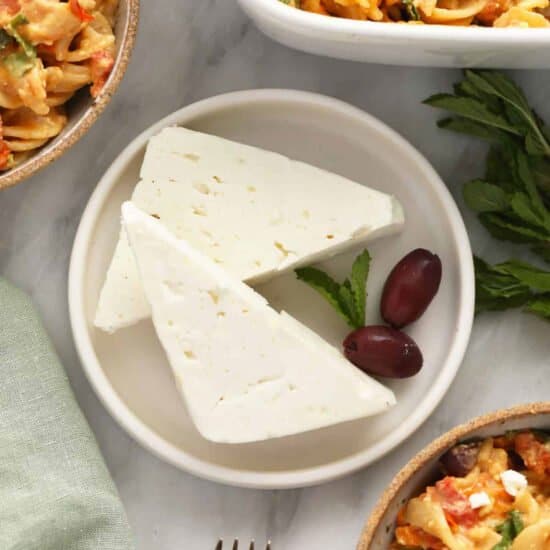 Try it!
What is Feta Cheese?
Looking to learn more about the salty, soft feta cheese? In this post, we'll teach you all about feta cheese and share some delicious feta cheese recipes to go with it!
Learn More
Dont like feta cheese?
We highly encourage someone who doesn't like feta cheese to try a fancier one. Israeli feta is made from spring milk — it's super mild and a lot softer than the Athenos feta crumbles you can get in the dairy section.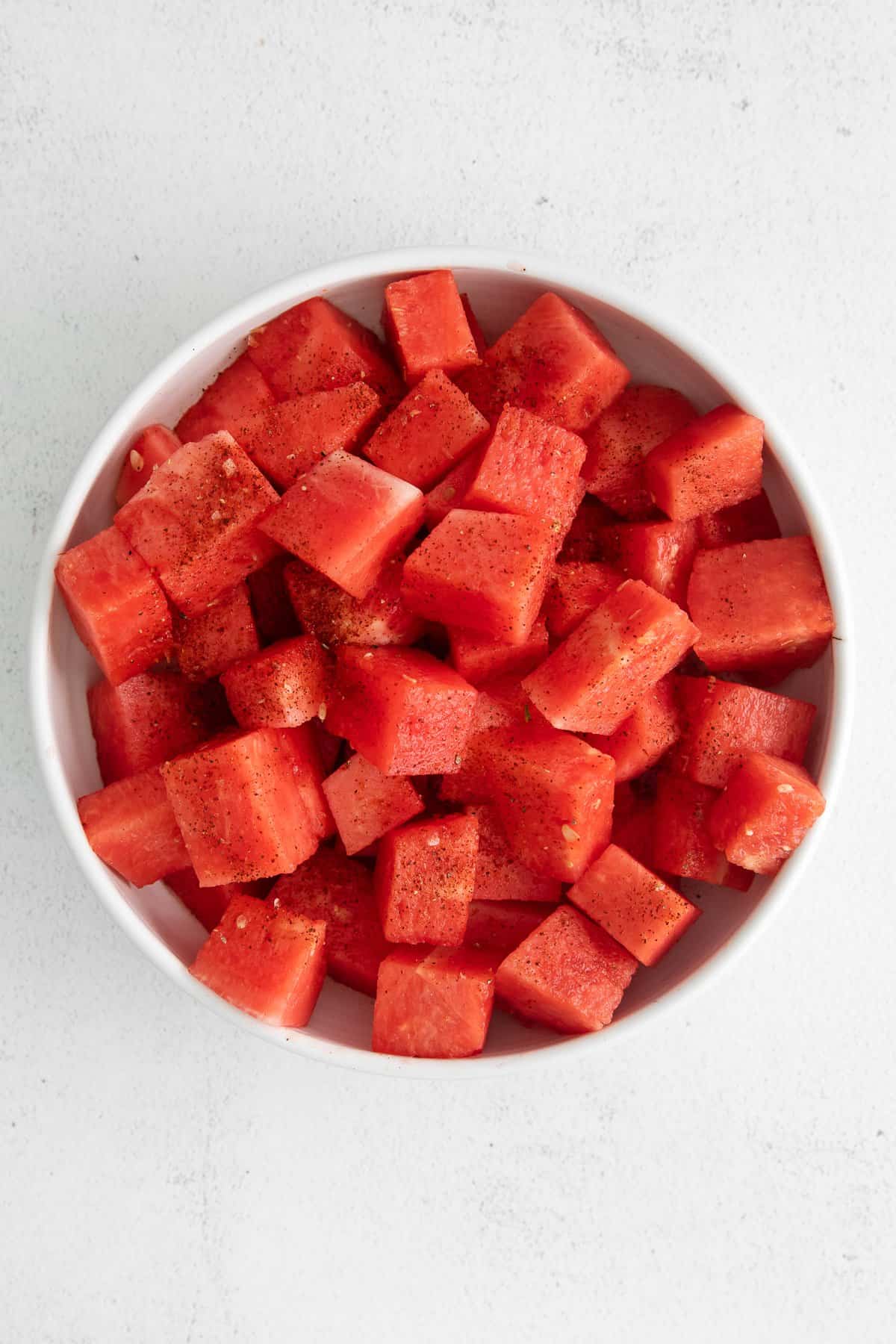 How to Make Watermelon Feta Salad
Season watermelon
Season cubed watermelon with chili powder, salt, and pepper.
Assemble
Add watermelon to a platter. Then, distribute red onion, blueberries, basil, mint, and pistachios.
garnish
Garnish the salad with feta cheese, lemon zest, and remaining spices and toss.
Serve
Serve salad immediately.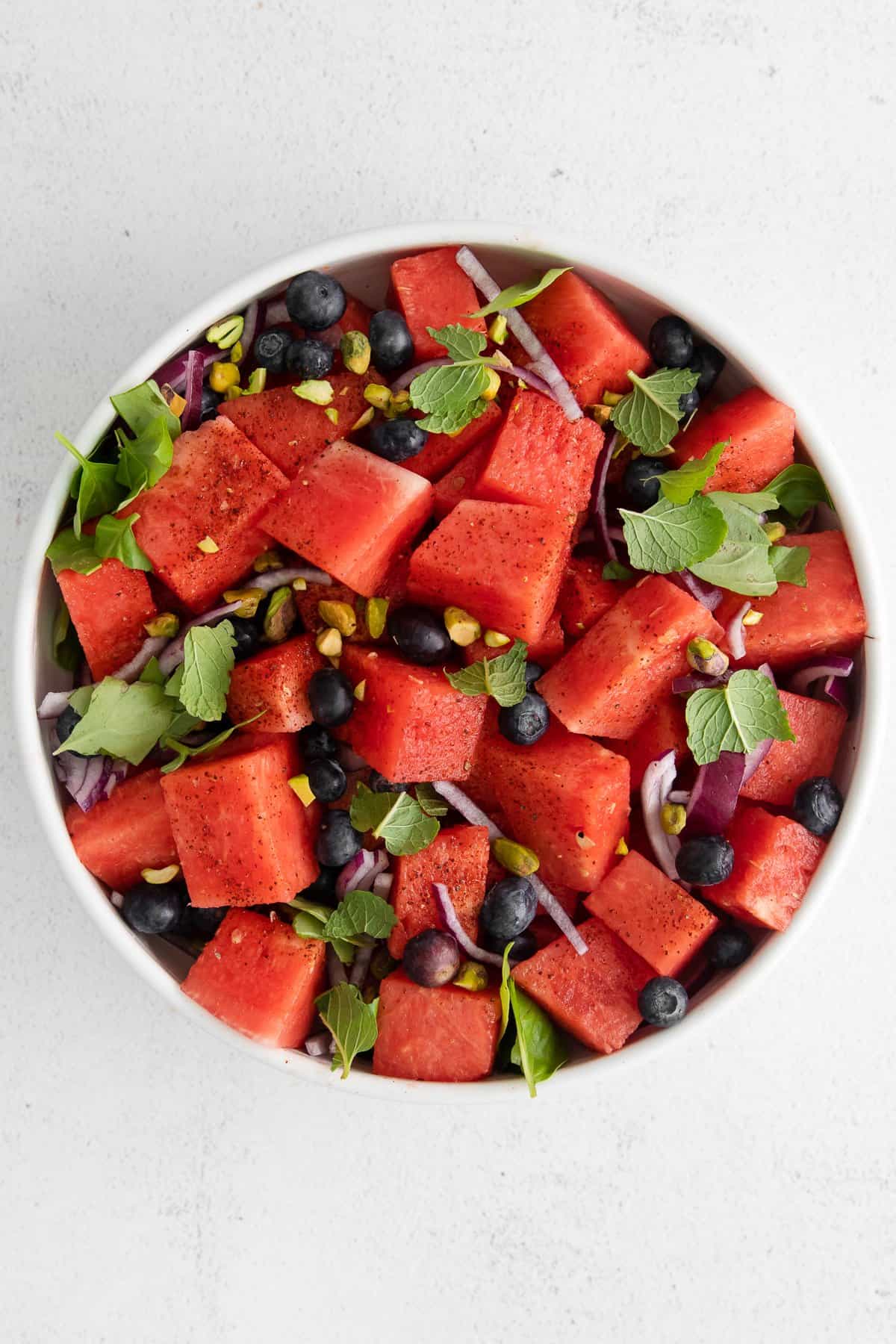 Ingredient Swaps
Feta cheese > use cotija cheese instead. It has a similar flavor and texture profile as feta cheese.
Lemon zest > try orange or lime zest.
Pistachios > use chopped walnuts, slivered almonds, or toasted pine nuts.
FAQ
What cheese goes with watermelon?

The most common cheese served with watermelon is feta cheese.
What is watermelon salad made of?

Watermelon salad is commonly made up of diced watermelon, feta cheese, and mint.
Latest Feta Cheese Recipes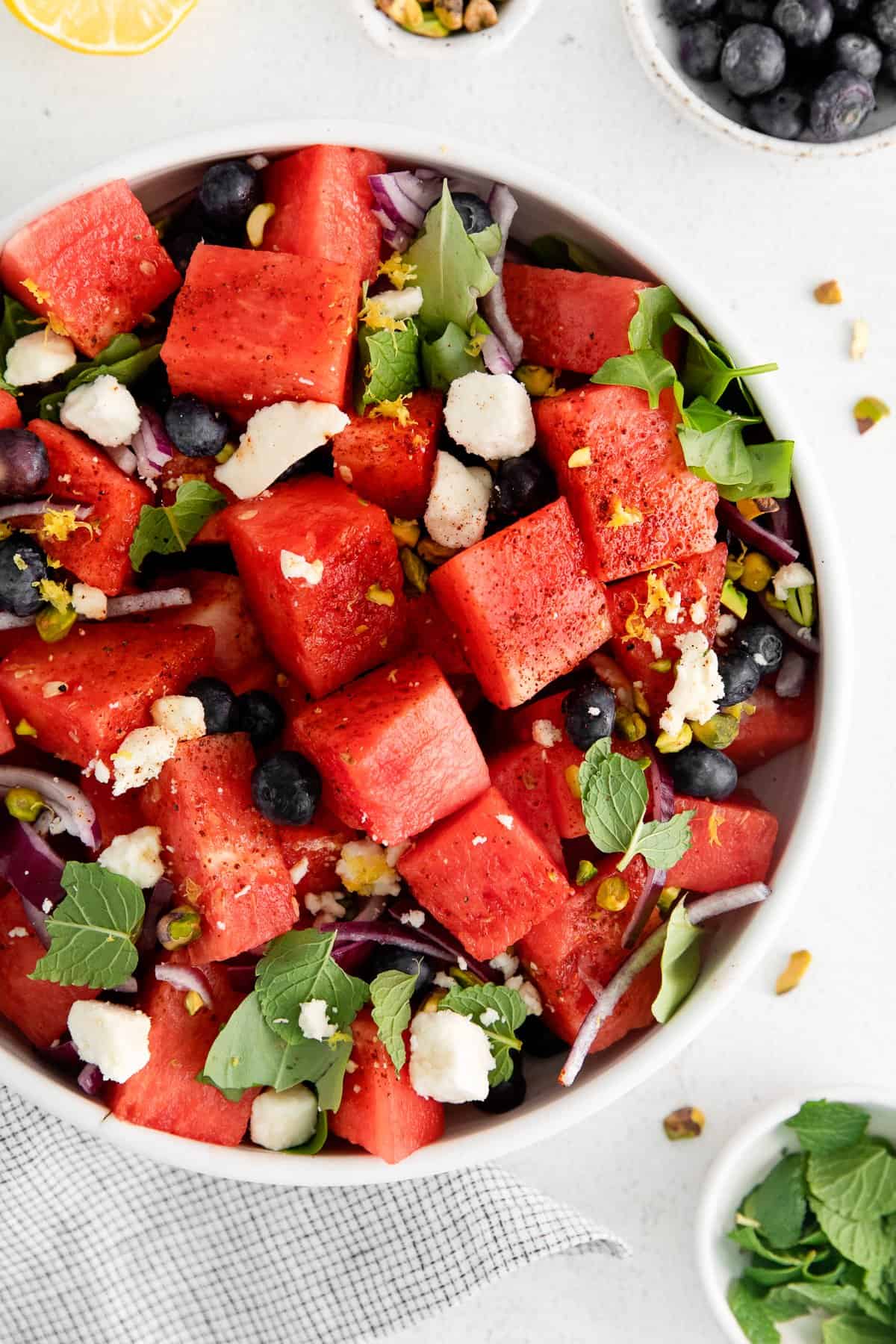 Storage
We don't recommend making this ahead as watermelon is best right after sliced. If you do have leftovers, you can store it in an airtight container in the fridge for 1 night.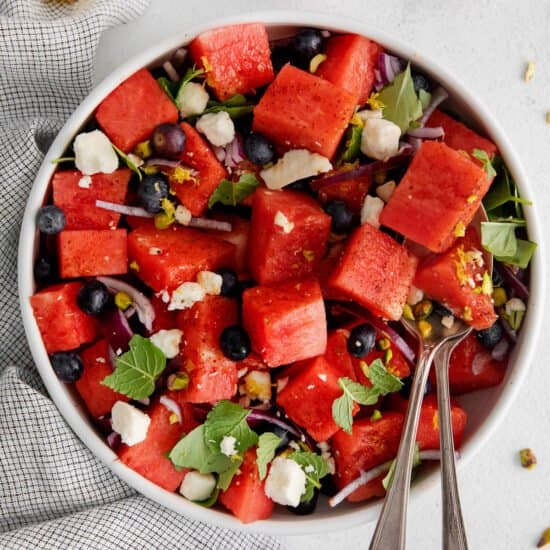 Watermelon Feta Salad
This watermelon feta mint salad recipe is bursting with flavors from fresh watermelon, blueberries, mint, basil, and feta cheese.
Ingredients
1.5

teaspoons

chili powder

1

teaspoon

flaked salt

¼

teaspoon

ground black pepper

4.5

cups

cubed watermelon

seeded and rind removed

¼

medium red onion

thinly sliced

½

cup

blueberries

¾

cup

fresh basil

ripped

½

cu

fresh mint

ripped

⅓

cup

pistachios

chopped

6-

oz.

crumbled feta cheese

1

tablespoon

lemon zest
Instructions
Add the chili powder, flaked salt, and black pepper in a small bowl and mix. Set aside.

Place the cubed watermelon on a serving dish or in a bowl and season with 1 teaspoon of the spice mixture.

Next, sprinkle the red onion, blueberries, fresh basil, fresh mint, and pistachios evenly over the watermelon.

Lastly, sprinkle the feta, lemon zest, and the remaining spices over the salad.

Taste the salad to make sure there is enough salt and enjoy immediately.
Tips & Notes
Because watermelon has a lot of water, be sure to eat this salad immediately. The salt will draw out the water and make all of the ingredients mushy if not eaten right away.
We do not recommend preparing this salad beforehand.
Feel free to use any nut you'd like in place of pistachios.
Nutrition facts
Calories:
162
kcal
Carbohydrates:
15
g
Protein:
7
g
Fat:
10
g
Fiber:
2
g
Sugar:
9
g