Throw marinated feta on the grill for a delicious grilled feta recipe! This grilled feta is marinated in olive oil, honey, salt, and fresh honey for a flavorful appetizer or additional to any cheesy meal.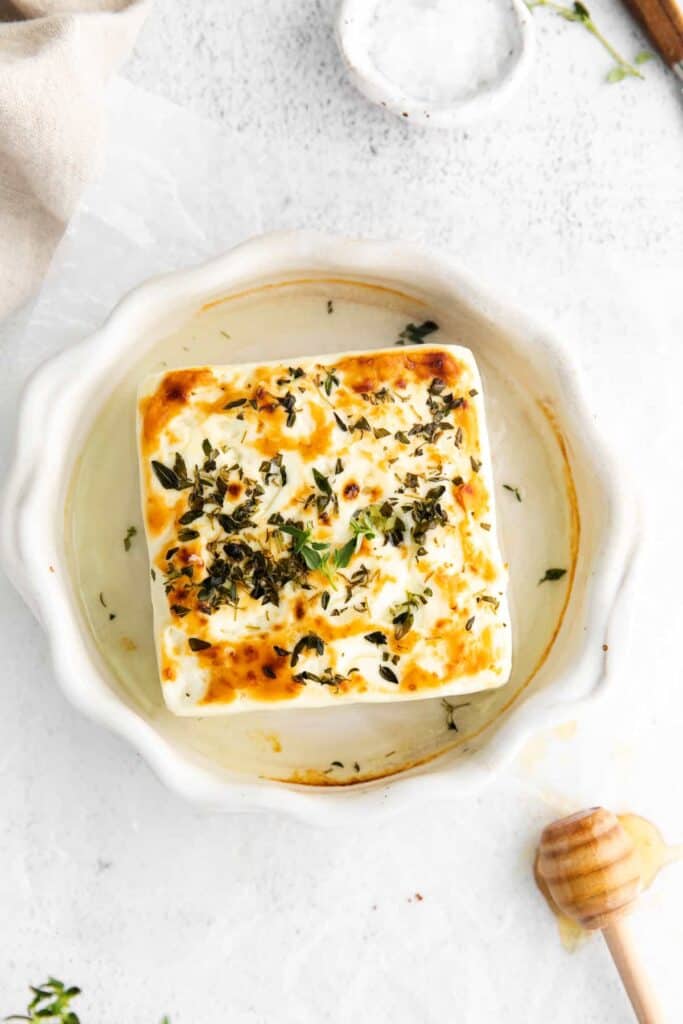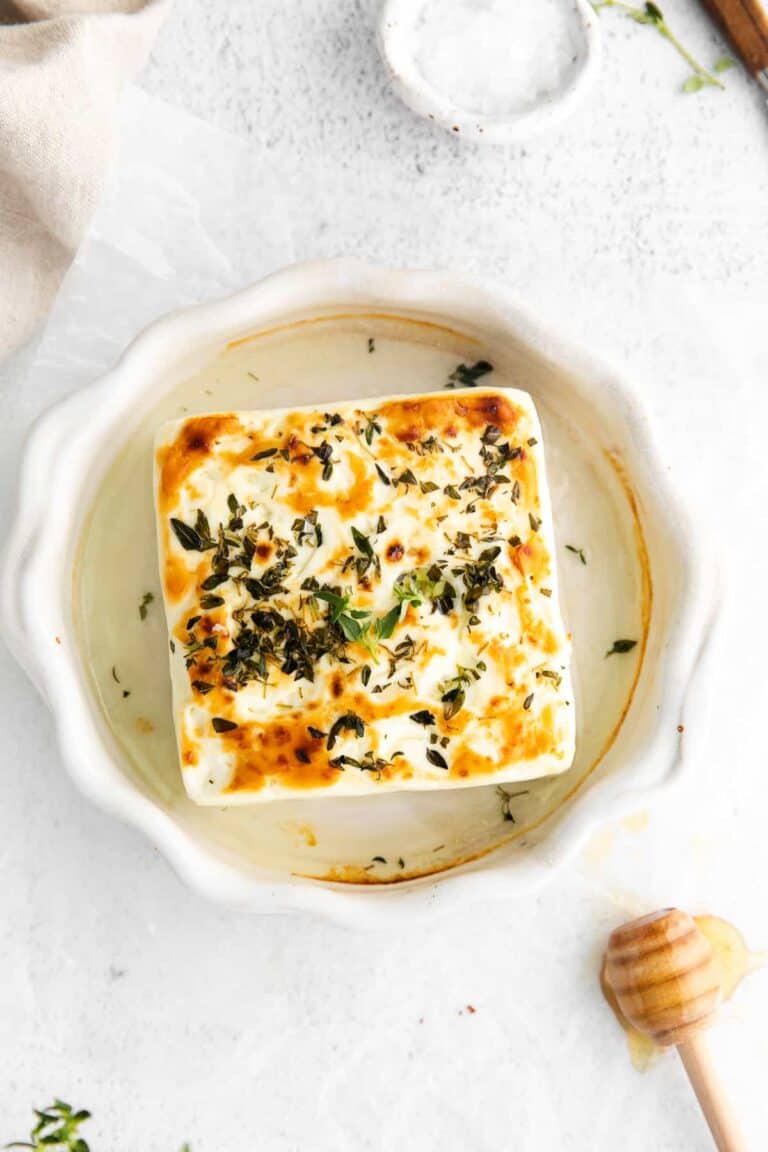 Why Would I Make Grilled Feta
Feta cheese is a piece of salty cheese heaven and we just love it. We took feta up a notch and marinated it in fresh herbs and threw in on the grill for a delicious summer appetizer.
Here's why we love this recipe!
It takes less than 15 minutes to make this tasty treat.
You can serve this grilled feta as an appetizer!
We like to add it to delicious dishes like sandwiches, wraps, or pastas.
Ingredients You Need
Block of feta- you are gong to need a block of feta for this recipe, not crumbled feta. We highly encourage you to use full fat feta rather than reduced fat.
Olive oil– the block of feta sits in herbs and olive oil to marinate and then the olive oil helps crisp of up the feta while it is browned.
Fresh thyme– remove the fresh thyme from the sprigs and be sure the fresh thyme is also covered in oil to avoid burning.
optional ingredients
After the feta is grilled with drizzle it with a little honey and flaked salt. OMG it is so good. Feta is generally salty, so be cautious about how much salt you add.
The honey drizzle helps to balance out the saltiness to the feta, it's delish!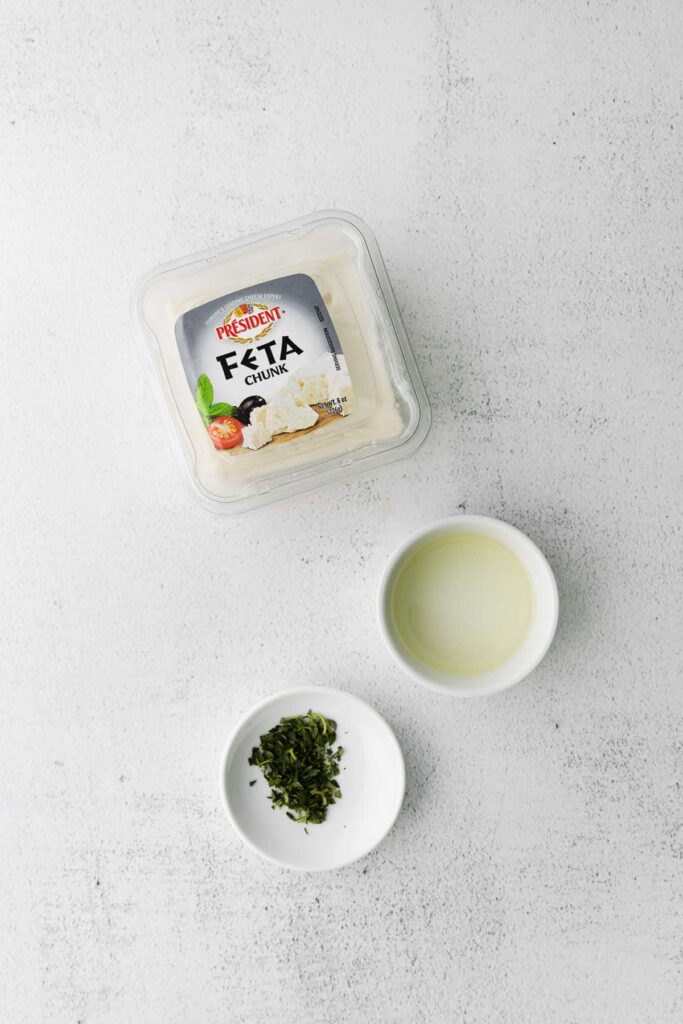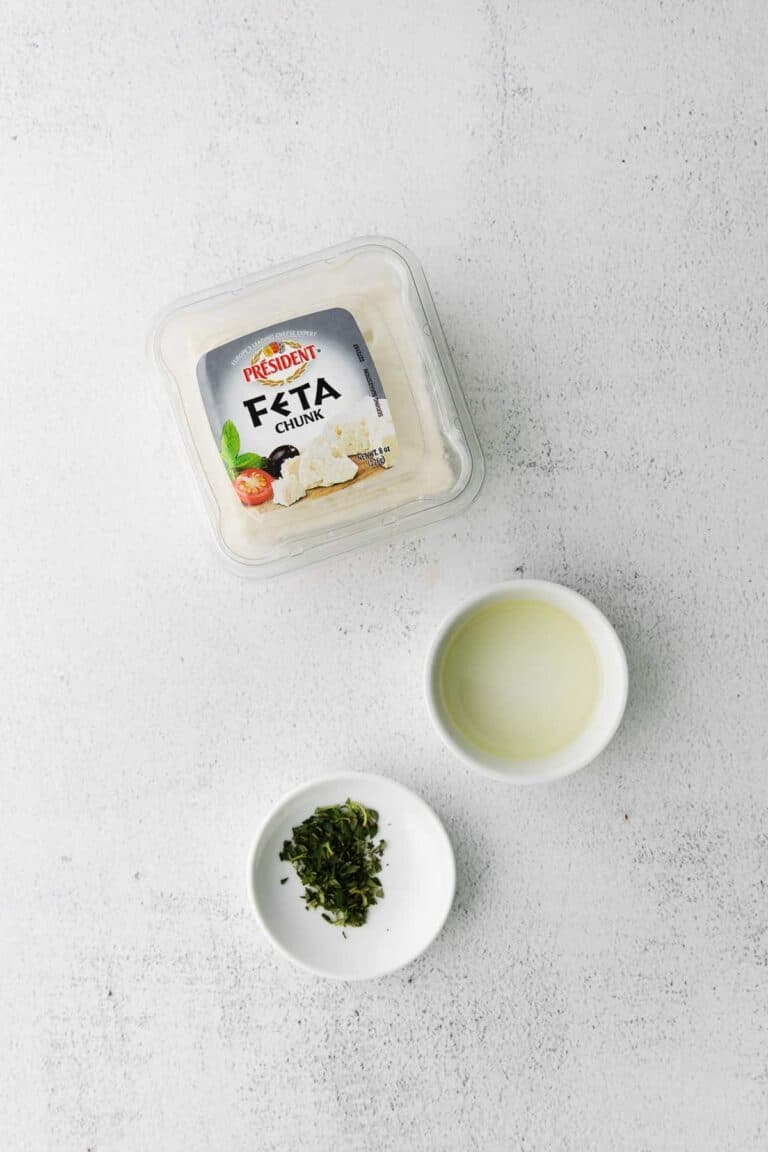 How to Make Grilled Feta
Preheat the grilled. Preheat the grill to 375ºF.
Dry the feta. Some feta blocks come in a bit of liquid and you want to be sure the feta is dry before you grill it. Pat the feta block with a paper towel.
Add other ingredients. Place the feta block into a small ramekin and sprinkle the fresh thyme over the top of the feta block and then drizzle the olive oil over everything. Be sure the feta block is covered in oil.
Grill feta. Place the ramekin on the grill over indirect heat for 8-10 minutes or until the feta begins to brown.
Add optional ingredients. Carefully remove the ramekin from the oven and place it on a cutting board. Drizzle with honey and flaked salt.
Serve. Serve the grilled feta immediately with toasted bread, vegetables, or crackers.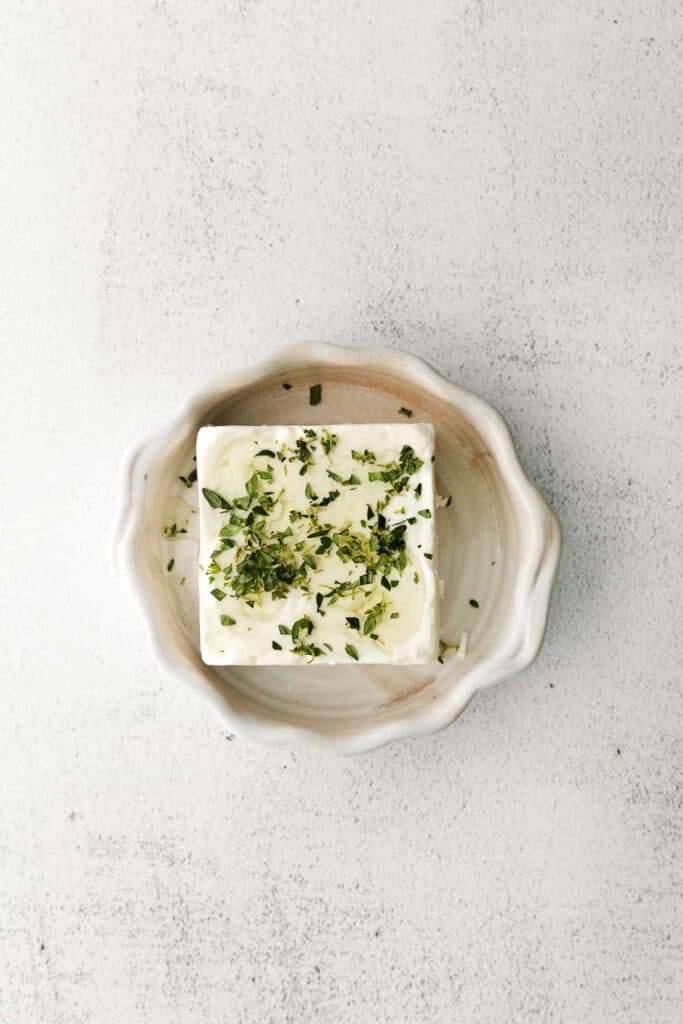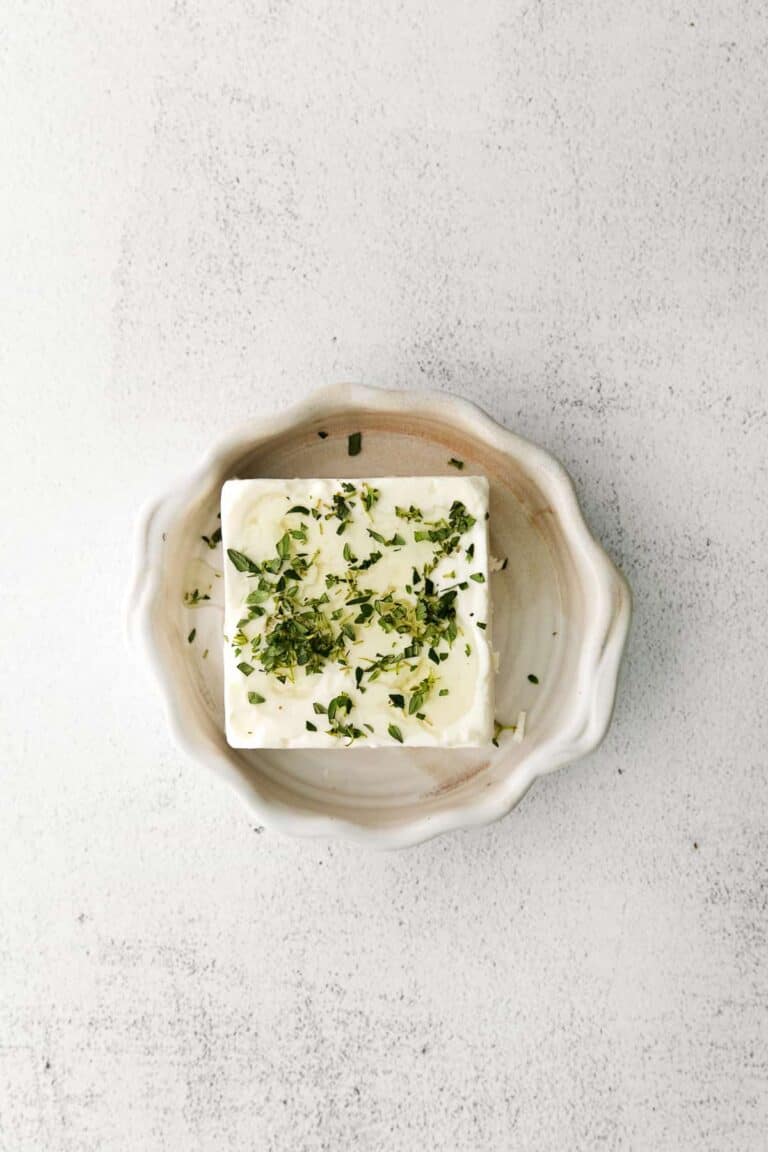 Grilled Feta Tips + Tricks
Make it Spicy
If you want to make this grilled feta a bit spicy there a a few options.
Sprinkle the feta with 1/8 teaspoon of cayenne pepper when you add the olive oil and fresh thyme (prior to grilling).
Add 1/4 teaspoon of red pepper flakes to the feta after it is done grilling when you drizzle the feta with honey. The sweet and spicy combination is amazing.
Change up the herbs
If you don't have fresh thyme feel free to use whatever herb you have at home. Some great options are below.
Use the Oven
If you would rather make this grilled feta in the oven you would turn your broiler to high and place the ramekin in the oven under the broiler for 5-6 minutes, but you'd have to be extra vigilant so that the feta doesn't burn.
Serving Options
You can serve this grilled feta as an appetizer as an addition to any of the delicious meals below.
Storage Suggestion
Store this grilled feta in an air tight containers for up to 5 days in the refrigerator.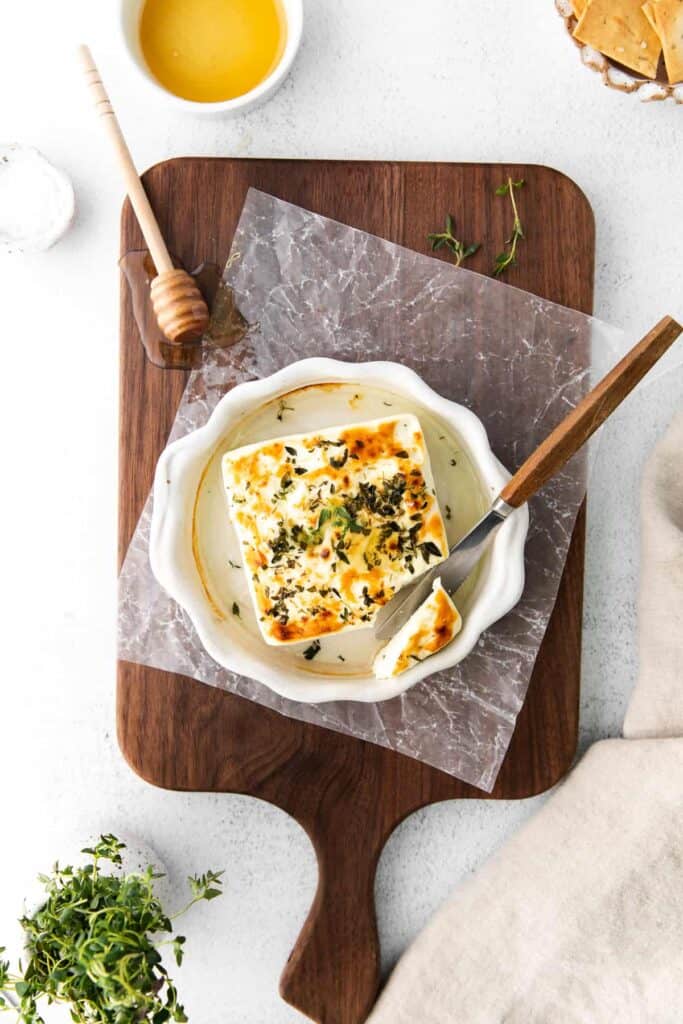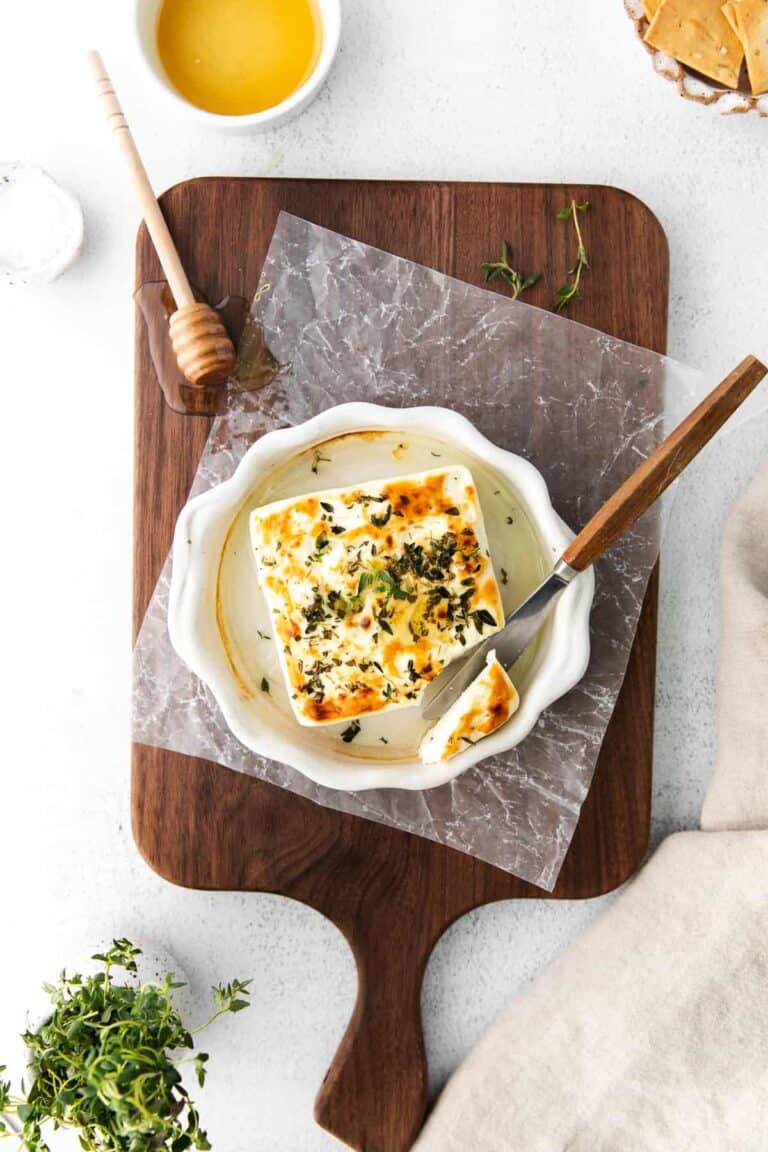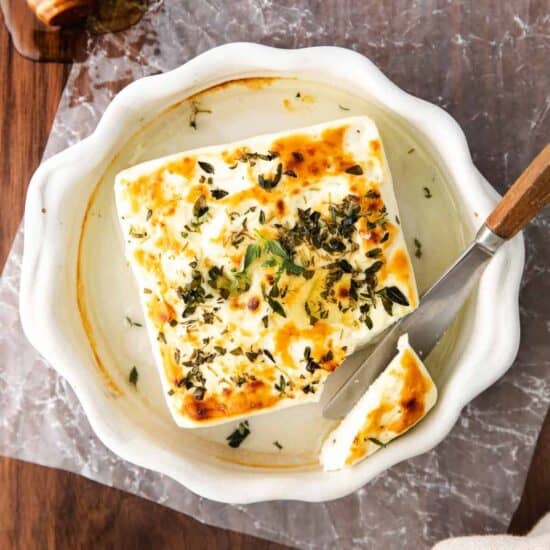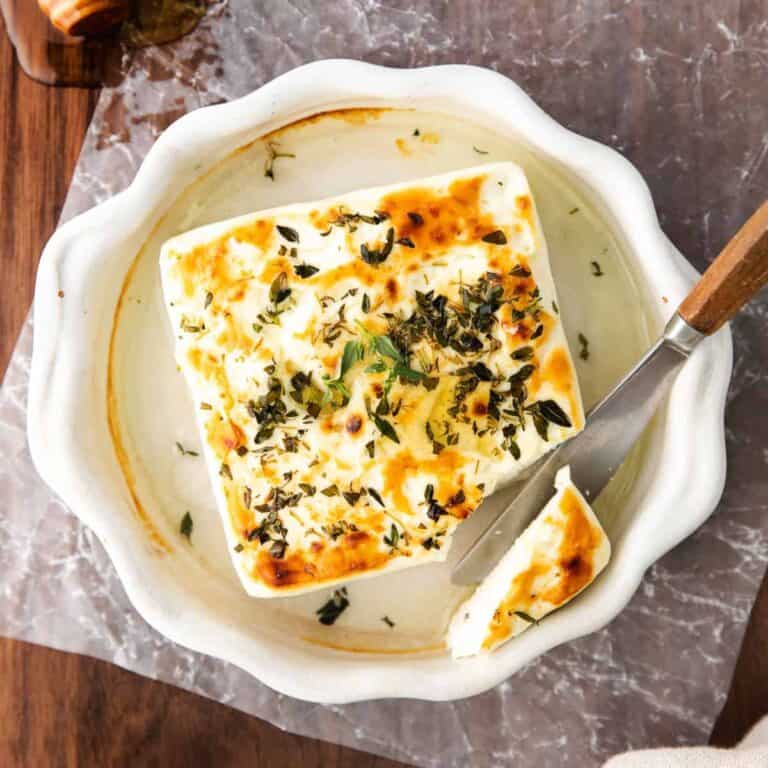 Grilled Feta
This grilled feta recipe is super easy to make and a perfect quick appetizer for any gathering! 
Ingredients
8

oz.

block feta cheese

1

tablespoon

olive oil

1

teaspoon

fresh thyme

minced

Flakey sea salt

optional

Honey

optional
Instructions
Preheat one side of your grill (or your broiler on High) to 375ºF-- about medium-high heat. 

Drain the cheese and pat it dry with a paper towel. 

Place the feta in a small oven-safe ramekin or cast iron skillet and drizzle over the olive oil and fresh thyme. 

Place the pan next to the heat (but not directly over the flame) and cook for 8-10 minutes, or until the cheese is soft but not fully melted. If using the broiler, place it about 6 inches away from the heat source and cook for 5-6 minutes, or until it is golden brown on top— make sure to watch it so it doesn't burn! 

Sprinkle over flakey sea salt and drizzle with honey, if using. Serve immediately. 

Store any leftover feta in an airtight container in the fridge for up to three days. 
Nutrition facts
Calories:
113
kcal
Carbohydrates:
3
g
Protein:
8
g
Fat:
8
g
Fiber:
0
g
Sugar:
1
g