These keto quesadillas are made with cheese tortillas and packed with your favorite quesadilla fillings. No need for tortillas when you have cheese!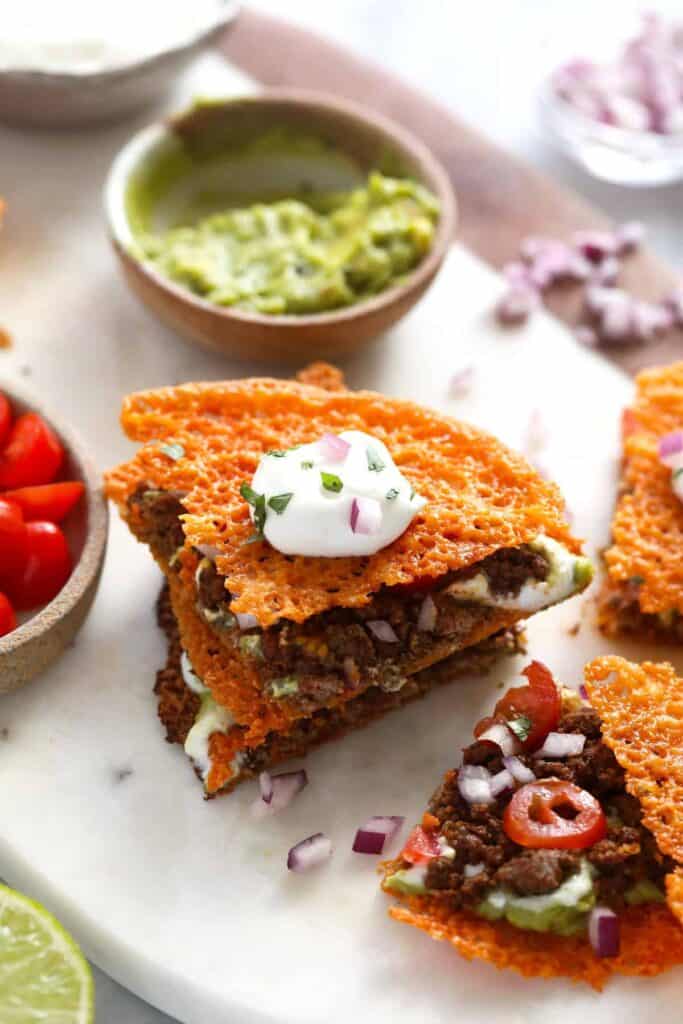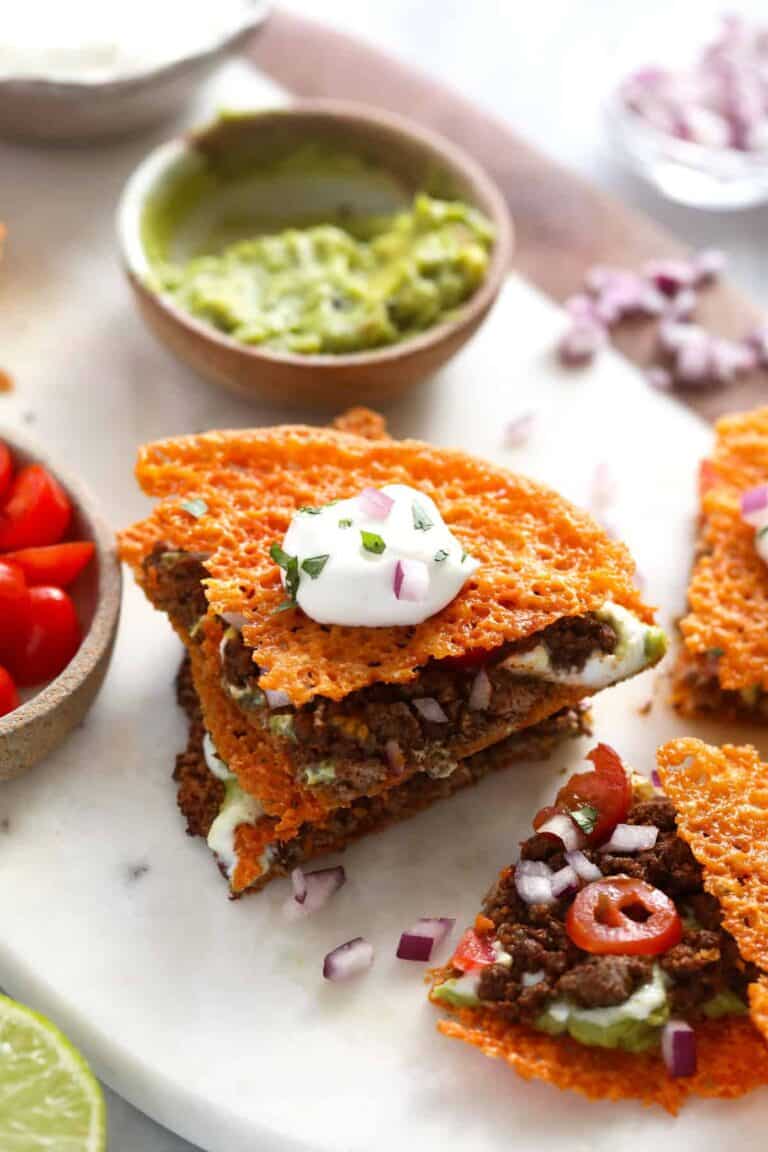 Delicious Cheesy Keto Quesadillas
Quesadillas are one of the easiest and most delicious easy meal options out there. These keto quesadillas are made without traditional tortillas. That's right, no tortillas necessary.
These keto quesadillas use a low carb cheese tortilla that hardens and acts like a traditional tortilla, but no gluten necessary.
We use a similar technique to make the cheese crisps as these parmesan cheese crisps, but instead of baking the cheese, we heat it up on the stove.
Other reasons we love these keto quesadillas:
They are packed with flavor and all the best quesadilla fillings.
These quesadillas are low carb dinner option!
You don't have to be keto to enjoy these quesadillas, they taste delicious no matter who you are!
Ingredients You Need
Cheddar cheese slices- You know the crispy bits of burnt cheese that end up on the baking sheet when you make nachos? That's what these crispy cheese tortillas taste like. For these keto quesadillas we recommend round cheddar cheese slices, but square will work, too.
Ground beef- we went with traditional ground beef for these quesadillas. Feel free to use ground turkey or ground chicken instead.
Taco seasoning- you can use a homemade taco seasoning or a store bought seasoning!
Water– you need a little water to cook the ground beef with the taco seasoning to create a delicious and saucy meat mixture.
Greek yogurt– we use the Greek yogurt to act as a glue to keep the tortillas connected to all the other ingredients. And? it adds a delicious tartness to the quesadilla. A good substitution for Greek yogurt is always sour cream.
Guacamole– the guacamole is like the Greek yogurt. It helps keep the tortillas in place. You can make homemade guacamole or you can use store bought guacamole like Wholly Guacamole.
Cherry tomatoes– slice the cherry tomatoes into slices so they lay flat on top of the tortillas.
Red onion– a little red onion belongs in quesadillas! Again, dice them up small so they stick into the Greek yogurt and guacamole. Also, you want one in every bite, of course.
Fresh cilantro– a sprinkle of fresh cilantro completes this delicious quesadilla.
change up the cheese
We made these keto quesadillas with cheddar cheese, but you can get creative and use a different kind of cheese to make your cheese tortillas.
Pepper jack cheese slices will offer a delicious spicy option.
Provolone cheese will change the flavor of the quesadillas, but will still be delicious.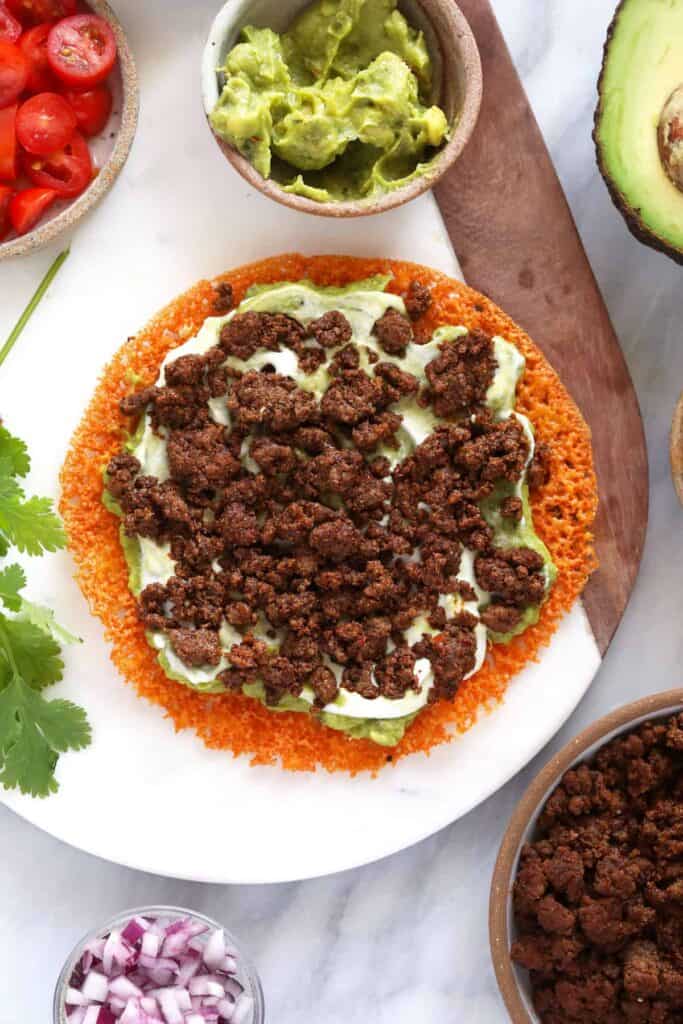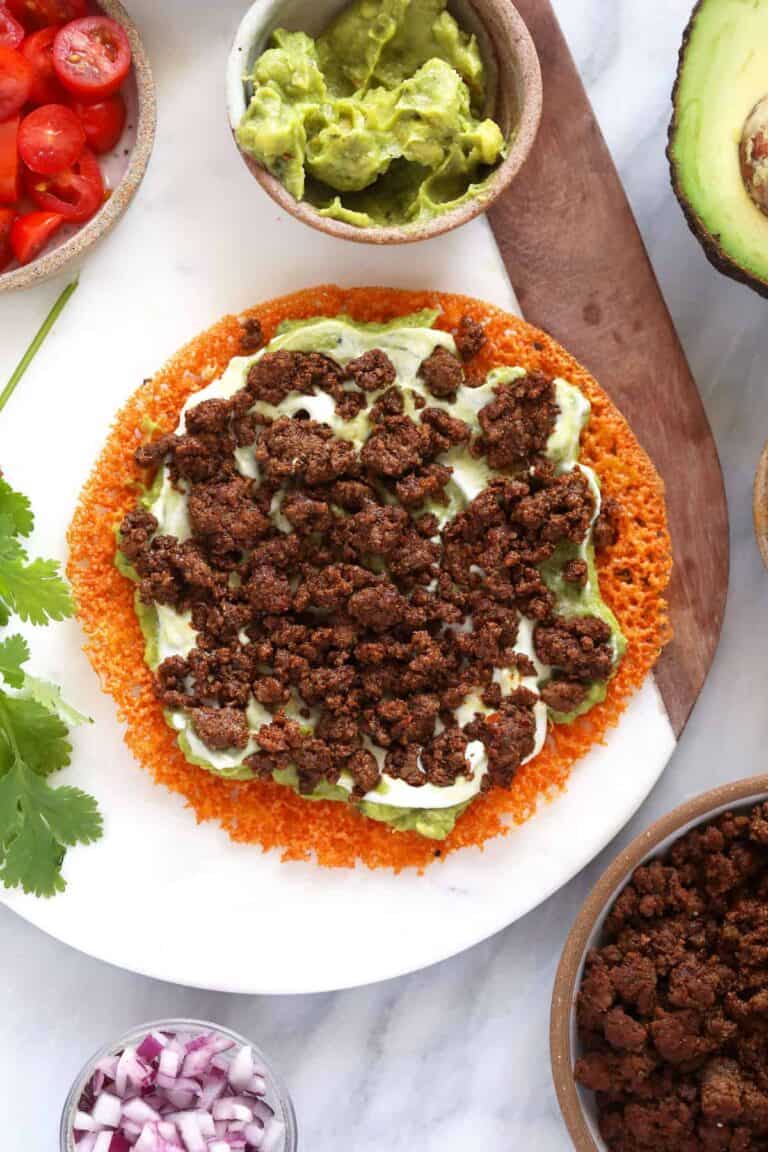 How to Make a Keto Quesadilla
Prepare the cheese tortillas. Place the cheese slice in a non-stick skillet and heat the cheese until it starts to bubble and brown. Remove the cheese crisp carefully and repeat until you have 4 cheese crisps (enough to make 2 quesadillas). Set the cheese tortillas aside to harden on a flat surface.
Cook the ground beef. Add the ground beef to a large skillet and cook the beef. Add the taco seasoning and water and mix. Cook the beef down until all of the liquid has absorbed into the meat. Set aside.
Prepare the other quesadilla ingredients. Dice the red onion, slice the tomatoes, and measure out the Greek yogurt and guacamole.
Assemble the quesadillas. Spread 1 tablespoon of guacamole and 1 tablespoon of Greek yogurt on each cheese tortilla. Then, evenly sprinkle the red onion, tomatoes, and ground beef on 2 of the cheese crisps. Place the other tortillas (Greek and guacamole side down) on top of the other ingredients.
Cut the quesadillas. Cut the quesadillas into quarters with a sharp knife in a flat, firm downward motion to avoid the cheese tortillas from cracking and enjoy!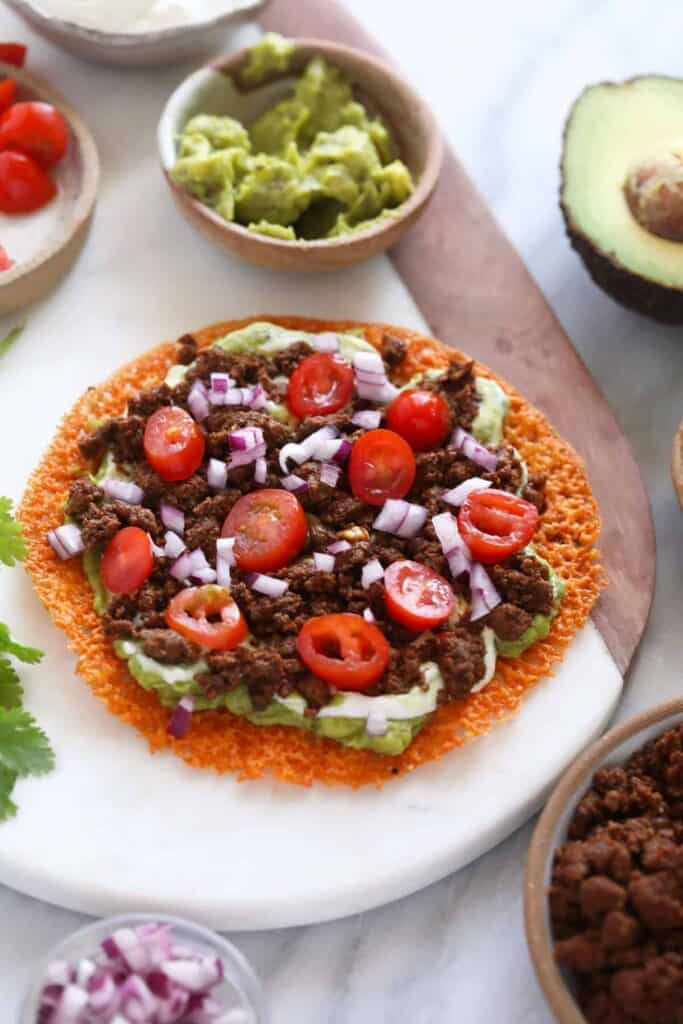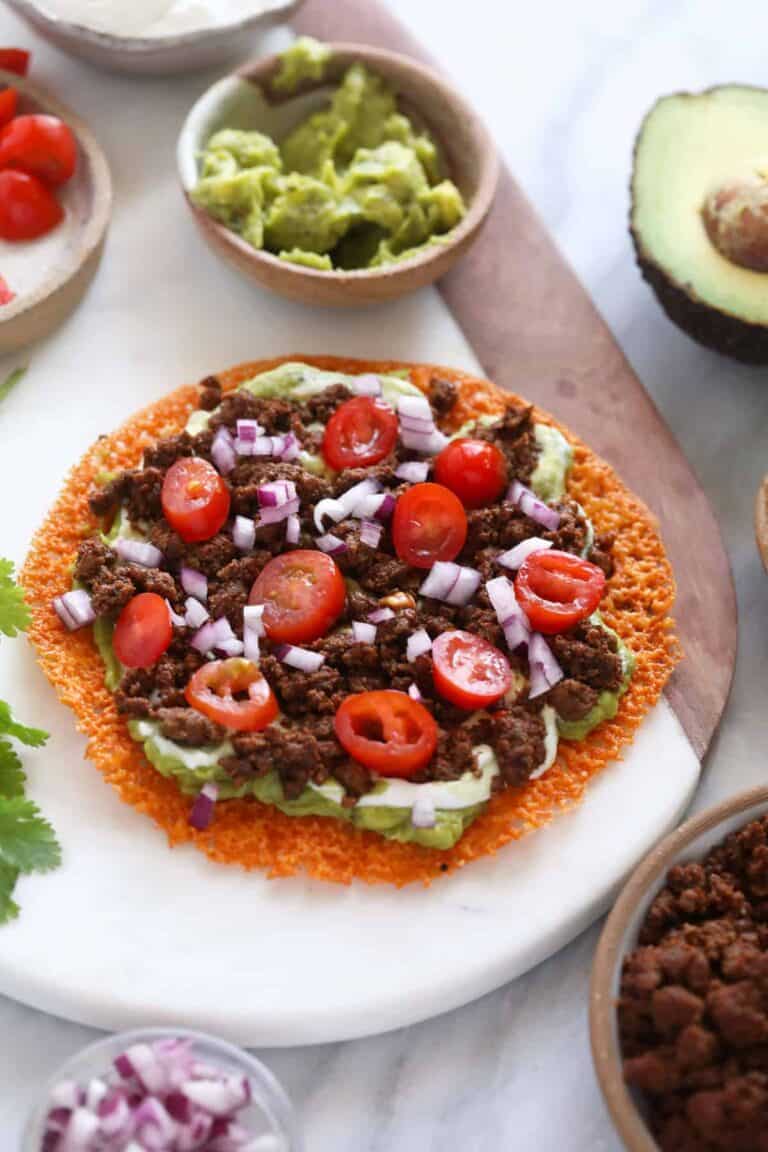 Other Information on Keto Quesadillas
What can I use instead of cheese slices?
You can use 1/2 cup of shredded cheese if you don't have cheese slices. Spread the shredded cheese out evenly on a non-stick skillet. Be sure all the cheese is touching. Heat the cheese until it begins to melt and bubble.
How long do the crispy cheese tortillas last after you make them?
The cheese crisps will last for up to 5 days if stored in an air tight container with a piece of paper towel.
What other ingredients can I put in this quesadilla?
You can use any ingredients that you would like in these keto quesadilla. If you would like it to stay keto, use any keto ingredients! Otherwise, below are a list of other ingredient options.
sliced jalapeños
corn
salsa
How do you store these keto quesadillas?
We recommend storing all of the ingredients for these quesadillas separately until you are ready to eat them.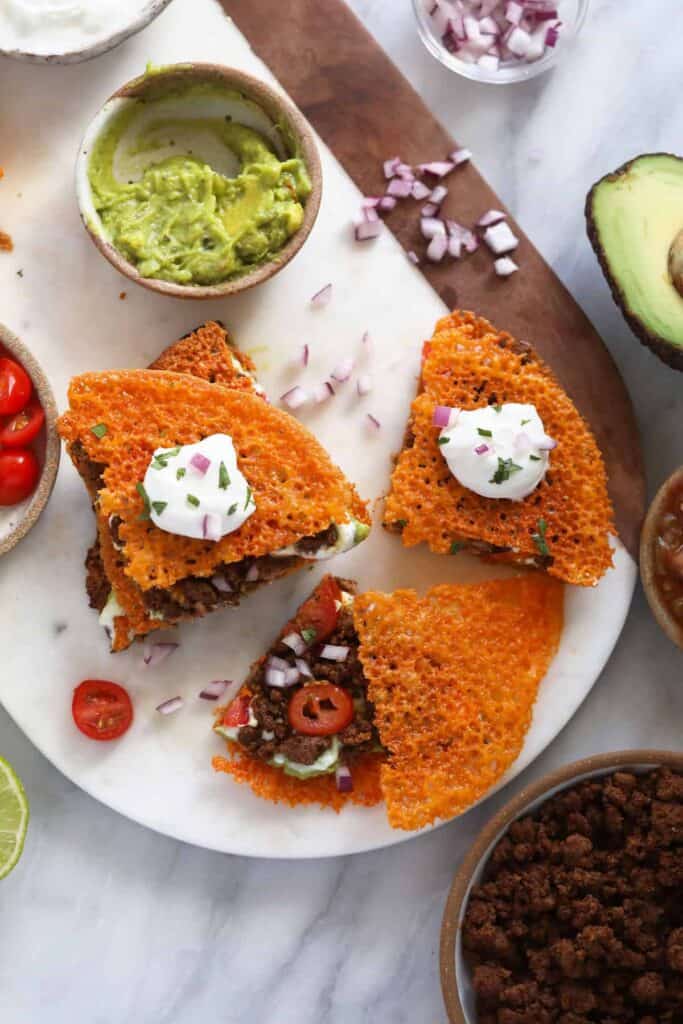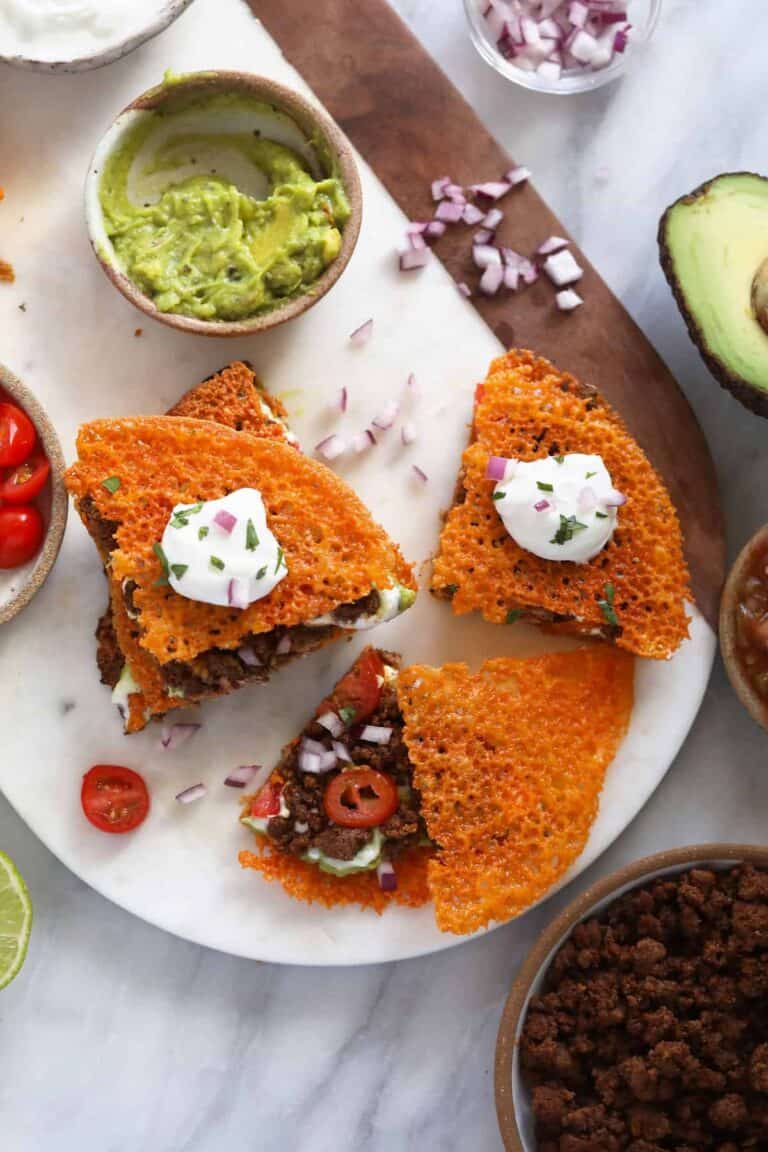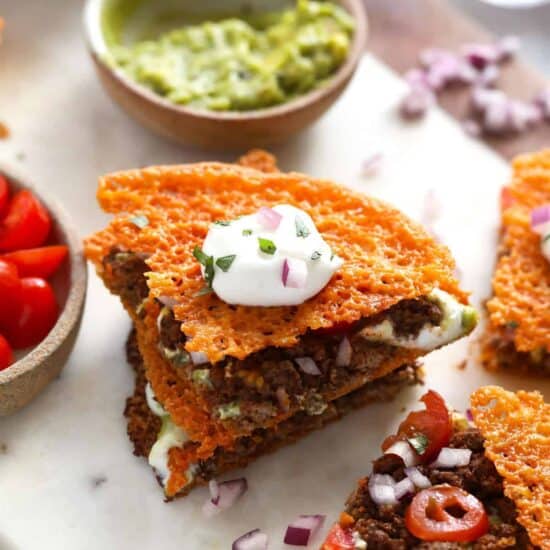 Keto Quesadillas
These keto quesadillas are packed with protein, healthy fats, and delicious ingredients! 
Ingredients
4

cheddar cheese rounds

1/2

lb.

ground beef

1.5

tablespoons

taco seasoning

store bought will work

2

tablespoons

water

1/4

cup

plain Greek yogurt

1/4

cup

guacamole

1/2

cup

sliced cherry tomatoes

1/4

large red onion

minced

1/4

cup

fresh cilantro
Instructions
First, prepare your cheese tortillas. Drizzle olive oil in a nonstick frying pan and heat over medium heat.

Place one slice of cheddar cheese into the pan and heat the cheese wrap until it begins to bubble and brown around the edges. It will start to melt immediately, but it will take around 4-5 minutes to get nice and crispy.

Remove the pan from heat and let the crispy cheese tortilla cool in the pan for 2-3 minutes. As it cools it will harden even more.

Carefully remove the crispy cheese tortilla from the pan with a spatula and set it on a plate. Repeat until all the tortillas have been made and hardened. Set aside. 

Prepare your ground beef by heating a large skillet over medium/high heat.

When the pan is hot add ground beef. Using a wooden utensil, break the ground beef into small pieces. Let the beef cook for 3-5 minutes.

When the beef begins to brown*, add taco seasoning and water to the pan and mix until all of the ingredients are combined. Bring to a boil.

Once boiling, turn the heat to low and let simmer for 5-7 minutes in order to thicken the sauce. 

The liquid should thicken and the beef should have absorbed most of liquid. 

Before assembling quesadillas, make sure that all of the cheese tortillas have cooled enough to harden.

To assemble the quesadilla, spread 1 tablespoon of Greek yogurt and 1 tablespoon of guacamole on each crispy cheese tortilla.  

Then, evenly distribute the ground beef,  cherry tomatoes, red onion, and fresh cilantro on 2 of the cheese tortillas. 

Top those ingredients with the other two cheese tortillas (Greek yogurt and guacamole side down).

Cut the quesadillas into quarters with a sharp knife in a flat, firm downward motion to avoid the cheese tortillas from cracking and enjoy! 
Nutrition facts
Calories:
451
kcal
Carbohydrates:
8
g
Protein:
35
g
Fat:
30
g
Fiber:
1
g
Sugar:
4
g