These are the best chicken enchiladas! They are made with rotisserie chicken, monterey jack cheese, and a delicious salsa verde. You will never make another homemade chicken enchilada recipe again!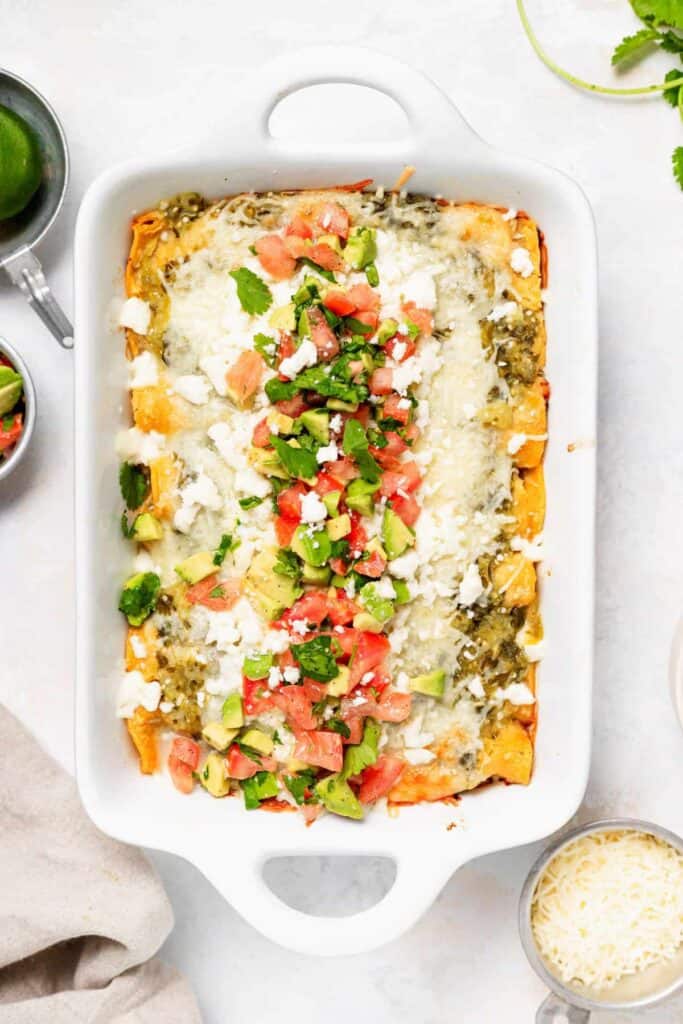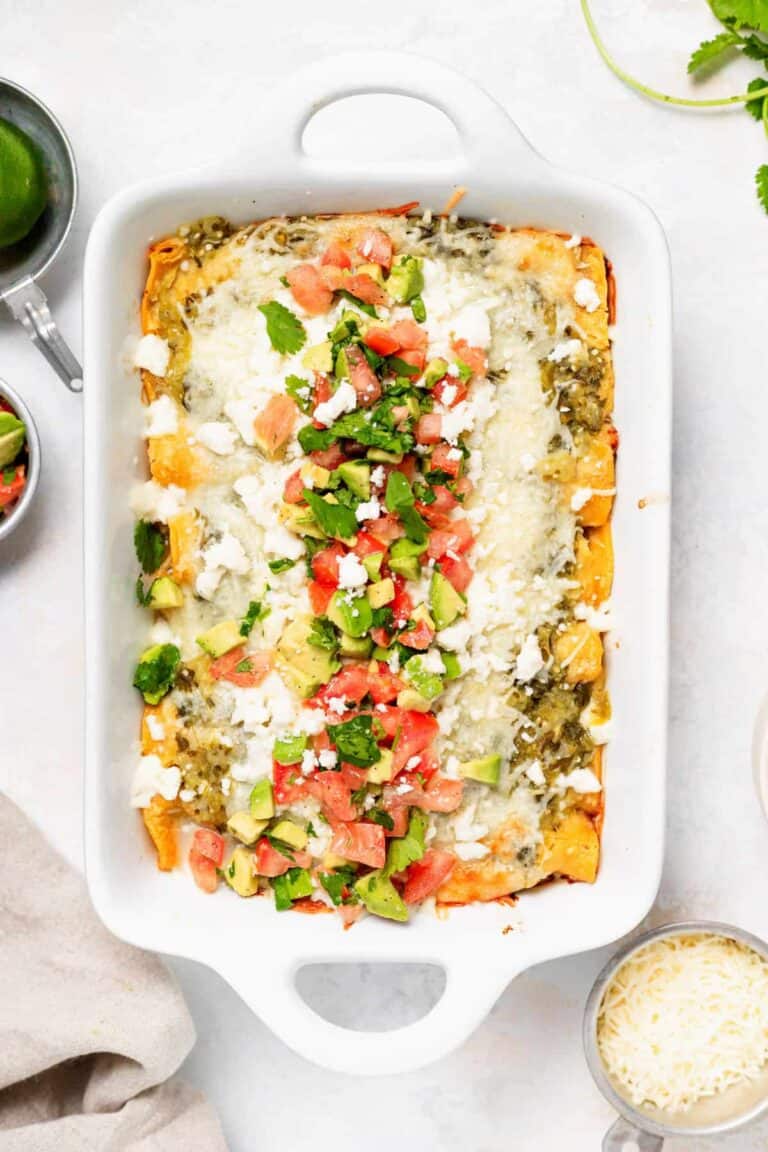 Best Chicken Enchiladas Recipe
Say hello to these delicious and flavorful chicken enchiladas! Forget going to a restaurant for delicious enchiladas because these enchiladas are seriously easy to make!
These are not your average enchiladas. Instead of a red enchilada sauce you make these chicken enchiladas saucy by making a delicious salsa verde. Get ready to add this recipe to your monthly dinner menu.
Let's see what ingredients you need to make these enchiladas!
Ingredients You Need
Fresh tomatillos- Fresh tomatillos are the base of the salsa verde that you add to these enchiladas. We recommend using fresh tomatillos but feel free to use canned tomatillos, too. Just be sure that if you do use canned tomatillos to strain the liquid from them.
Garlic cloves– Oh baby, garlic makes everything better.
White onion– We recommend using white onion, but if you have a different kind of onion on hand that is ok, too.
Jalapeños– A little spice is perfect for these enchiladas and jalapeños will do the trick! If you prefer Serrano peppers, they will work just fine!
Fresh cilantro – You are going to need cilantro for both the salsa verde and fresh cilantro for the top of the enchiladas after they are baked.
Kosher salt– The kosher salt brings out all of the delicious flavors of the salsa verde.
6-inch white or yellow corn tortillas– We use corn tortillas but you can use flour, too. Just be sure they are 6 inchers!
Vegetable oil– You are going to fry the tortillas in oil and vegetable oil works the best, but if you only have canola oil you can use that, too!
Rotisserie chicken– The best part of preparing these enchiladas is that you don't have to prepare chicken. Buy yourself a large rotisserie chicken and use two forks to shred the chicken.. If you prefer to prepare your own chicken you can use skinless chicken breasts and prepare them one of these ways–> Instant Pot shredded chicken, baked shredded chicken, or even pan seared chicken.
Monterey jack cheese– Monterey jack cheese melts to perfection on top of these chicken enchiladas.
Refried black beans– We are big fans of refried beans because they add protein and a delicious creaminess to any recipe.
Queso fresco– Finish off these enchiladas with salty and delicious queso fresco.
Toppings– You top these enchiladas with tomatoes, avocado, sour cream, and fresh cilantro!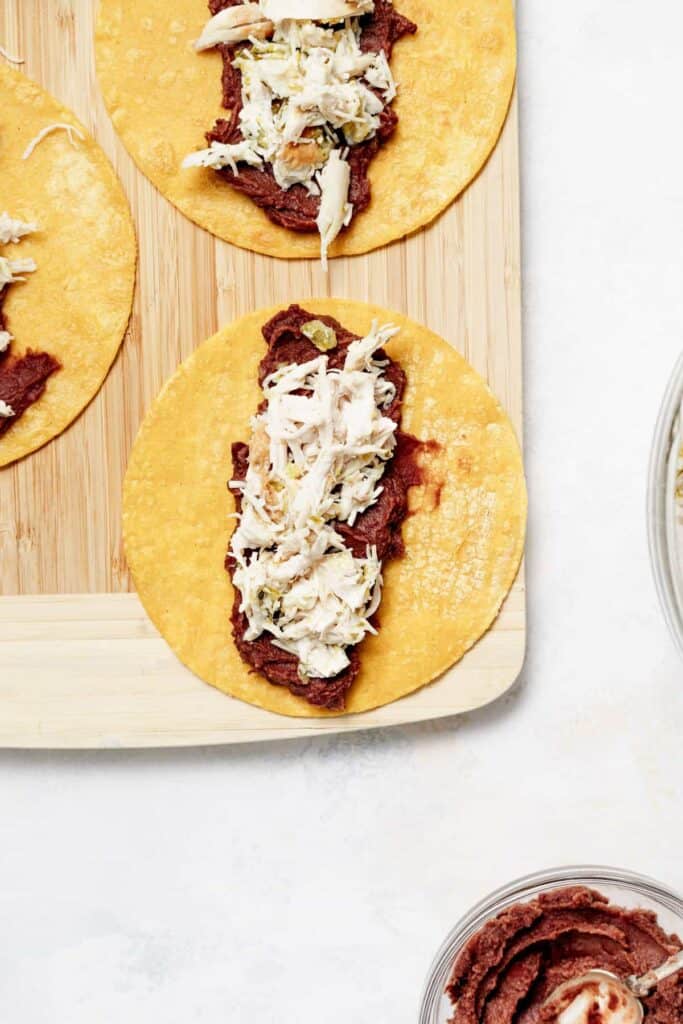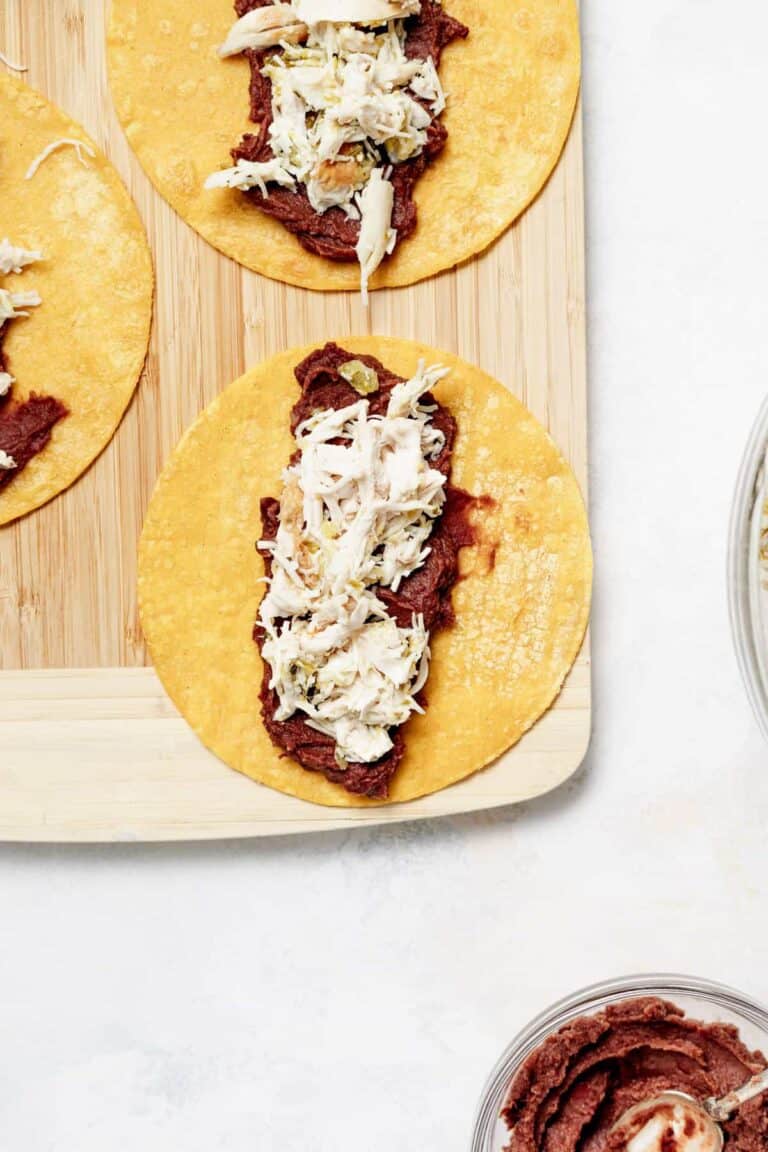 How to Make Homemade Chicken Enchiladas
Salsa verde: Before anything prepare the salsa verde. Place all of the ingredients for the salsa verde into a saucepan and simmer for 10 minutes, be sure to stir the sauce periodically. After the ingredients have simmered for 10 minutes remove 1/2 of the water in the saucepan and then blend with an emulsifier.
Fry the tortillas: Before preparing the enchiladas you fry the tortillas in oil. We recommend using vegetable oil. You want to fry the tortillas just long enough that they absorb oil. We recommend heating your skillet to medium-high heat. You want them to still be pliable. You can use a non-stick skillet or a cast iron skillet.
Prep the chicken: Add the shredded chicken, 1 cup salsa verde, and Monterey jack cheese to a bowl and mix.
Stuff the enchiladas: Spread the black beans and chicken mixture in each tortilla.
Roll: Roll each enchilada and place them seam side down on top of salsa verde that has been spread out on the bottom of a casserole dish (don't forget to spray your casserole dish with cooking spray or rub with butter). Repeat until all the enchiladas are rolled and placed.
Bake: Pour the rest of the salsa verde over the enchiladas and top with the monterey jack cheese and bake at 375ºF for 20-25 minutes.
Toppings: Remove the enchiladas from the oven and top them with the tomatoes, avocado, queso fresco, and sour cream.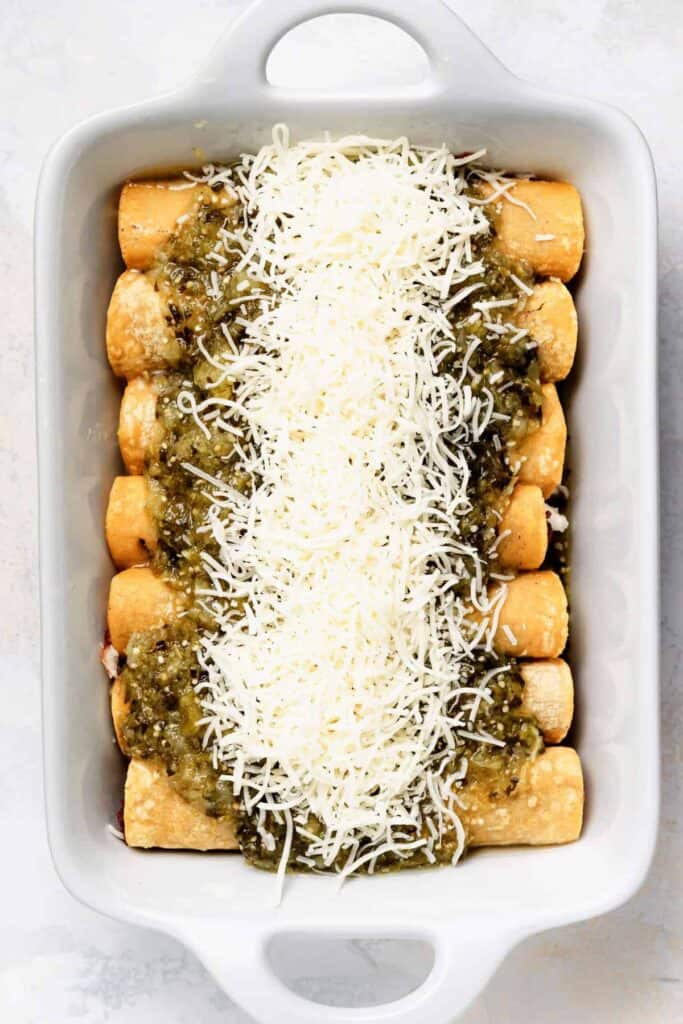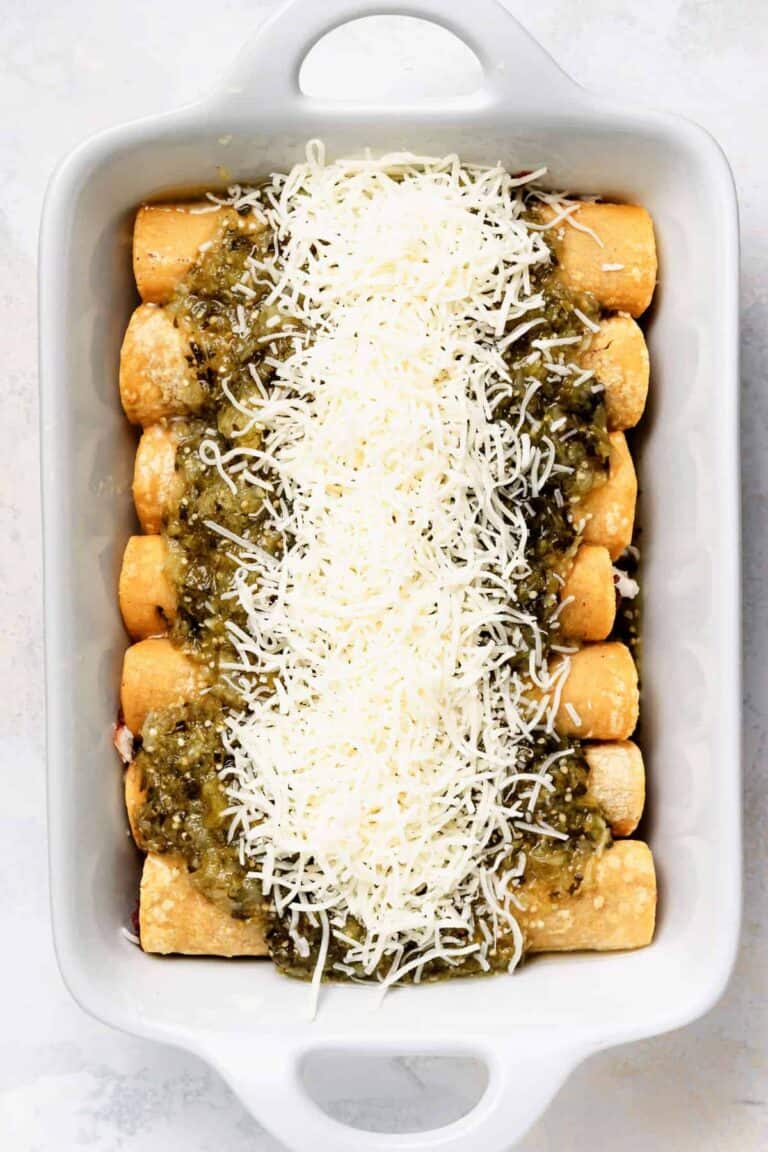 Storage
To store these enchiladas, let them cool completely before placing them in an air tight container or cover them with aluminum foil. Store them in the fridge for up to 5 days.
Freeze
If you want to freeze these enchiladas, we recommend baking them first in a freezer safe casserole dish.
After they are baked, do not top them with the tomato mixture (you will do this after you thaw them and reheat them).
After you bake the enchiladas, let the cool completely before covering them with tin foil or a freezer safe cover for your casserole dish. Freeze them for up to 3 months.
Reheating Instructions
Remove the enchiladas from the freezer and preheat the oven to 350ºF.
Place the enchiladas in the oven and bake for 25-35 minutes or until they are warmed all the way through.
Top them with the tomato mixture and enjoy.