Make dinner easy and delicious with this cheesy taco lasagna! it is packed with all of your favorite taco ingredients layered into lasagna. Does it get any better?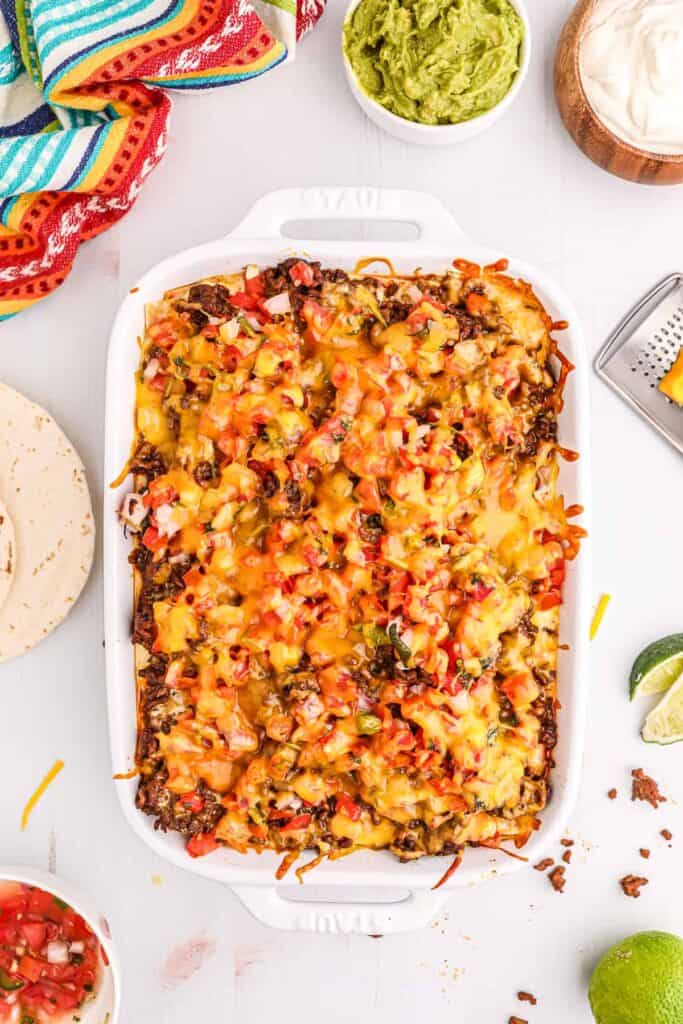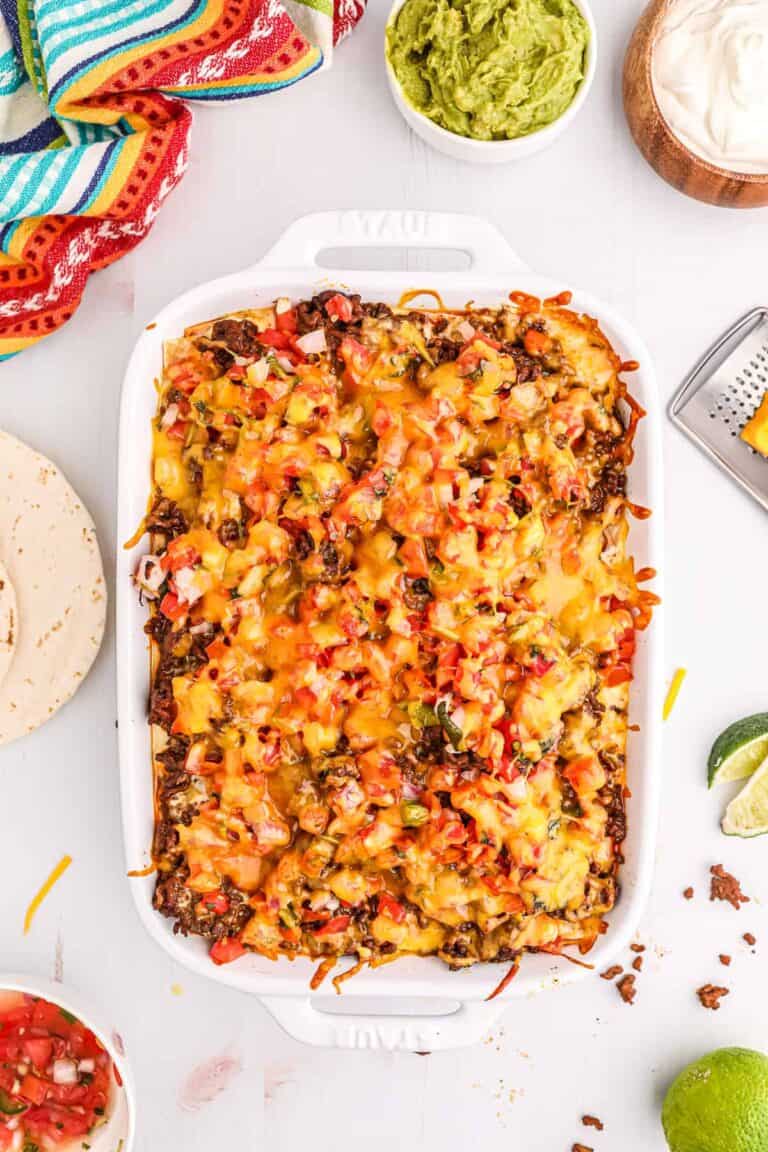 What is Taco Lasagna?
This taco lasagna is a smash bang fusion of tacos and lasagna. All of your favorite taco ingredients are deconstructed and layered into a perfect lasagna shape.
No, there are no noodles in this taco lasagna. We use tortillas instead of noodles and pico de gallo and beef instead of marinara sauce.
Get excited because this taco lasagna is also smothered in a delicious cheese sauce that you won't be able to get enough of!
Ingredients You Will Need
All of the ingredients for this taco lasagna are easy peasy to find! Have no fear if you don't have everything on the list, ingredients for this recipe have many substitutes!
Flour Tortillas- we suggest using 8 or 10-inch flour tortillas. You can substitute corn tortillas (or any GF option) for the flour tortillas you may just have to use more since they tend to be smaller.
Ground Beef– we are big fans of fatty ground beef. If you aren't a beef eater you can use ground chicken, ground turkey, or even vegan crumbles!
Spices– the spices that you add to the beef are a pretty traditional taco seasoning–> chili powder, cumin, garlic powder, oregano, and paprika. Feel free to add spices to heat things up or just use a store bought taco seasoning.
Pico de Gallo– we love that the pico de gallo adds texture and tomatoes to this lasagna. We don't recommend using a salsa because there is so much added liquid.
Heavy Cream– the base of the cheese sauce is heavy cream! There is no substitute for heavy cream, people.
Cheddar Cheese– whether you buy white or yellow cheddar, just be sure it's shredded!
Butter– don't skip the butter. It is used as a thickener and binding agent for the cheese sauce!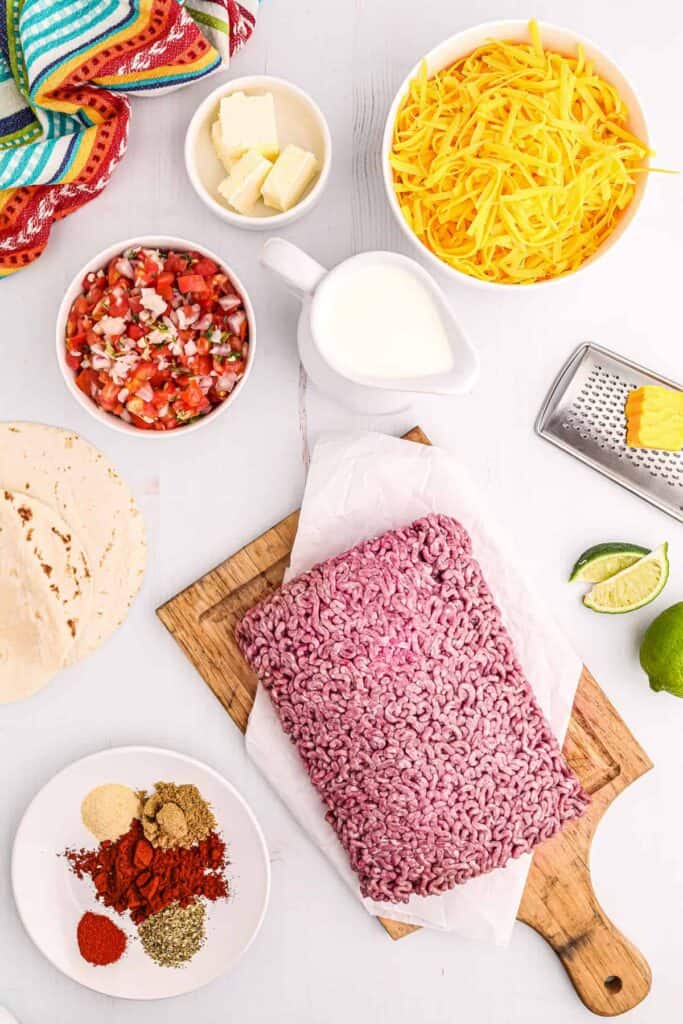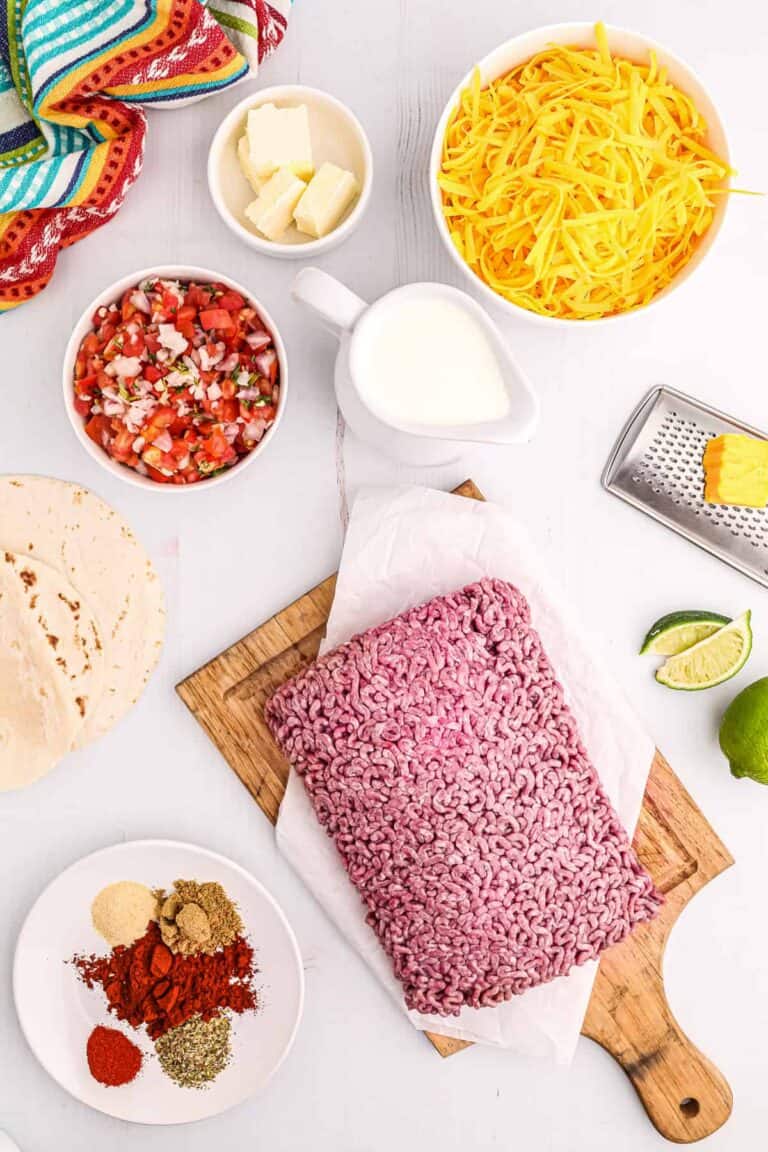 Tools You Will Need
Just like this meal, you don't need much when it comes to tools. Here are a few things you need to make this taco lasagna.
How to Make Taco Lasagna
There are four main steps to follow before you stick this taco lasagna into the oven for dinner. This is a very forgiving recipe, so don't fret too much if you have to make minor adjustments or get the layering wrong!
Prepare the Ground Beef
You are going to prepare the ground beef just as you would if you were making ground beef tacos.
Brown your beef and drain the excess fat.
Add spices and water to the beef so the beef absorbs all of the spices.
Remove from heat and set aside.
make it spicy
This recipe uses a variety of spices that makes up a homemade taco seasoning. If you like things spicy, add 1/4 – 1/2 teaspoon of cayenne pepper the spice mixture.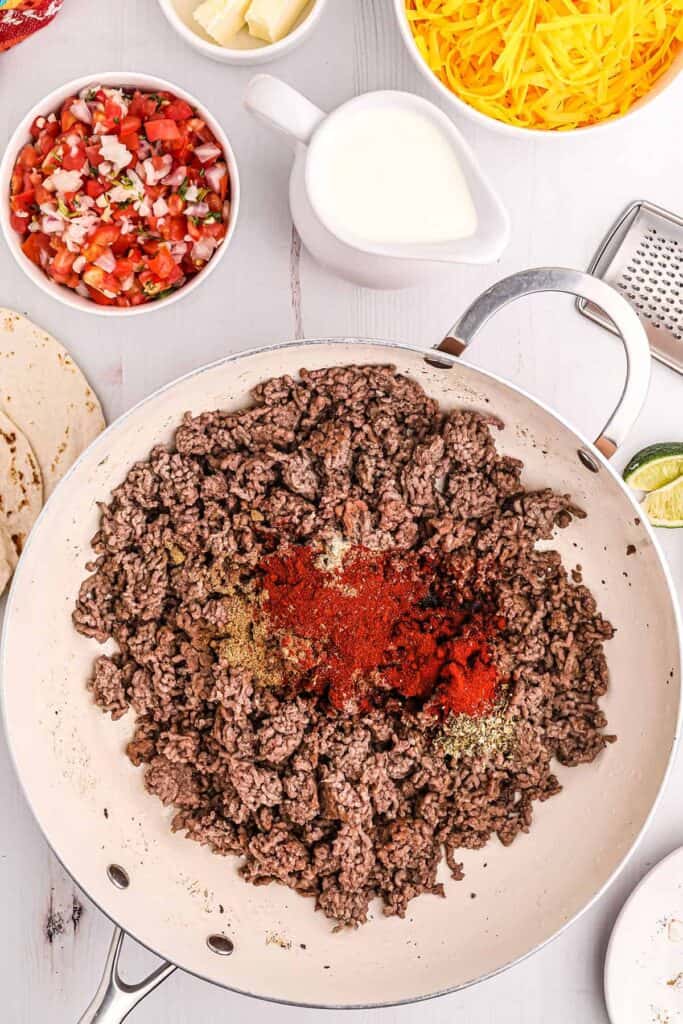 Make the Cheese Sauce
The cheese sauce for this recipe is so simple. No roux needed, people!
To mix up this cheese sauce adding the butter to a large saucepan over medium. When the butter is melted slowly whisk in the heavy cream. Add in 2 cups of shredded cheddar cheese and whisk until smooth. Remove from heat.
Mix up the cheese you use
We use shredded cheddar cheese for this recipe, but feel free to change up what type of shredded cheese you use. check out some tasty options below.
Pepper jack- take the spice level up and use shredded pepper jack cheese!
Monterey Jack- this cheese skips the spice but still melts really well.
Mexican Blend- any Mexican blend from the grocery store will work!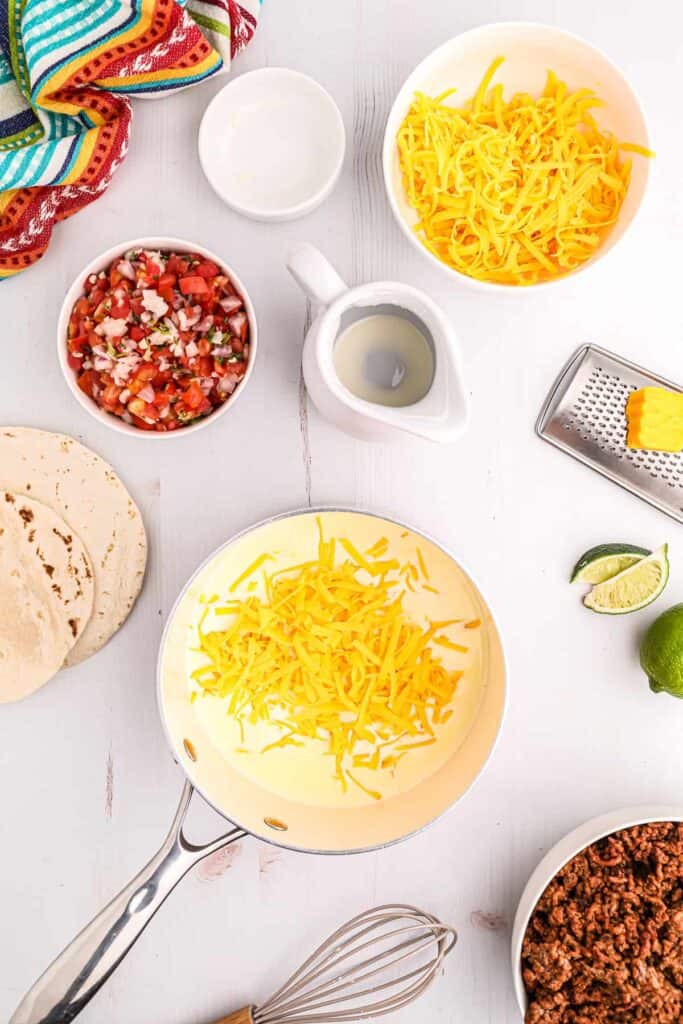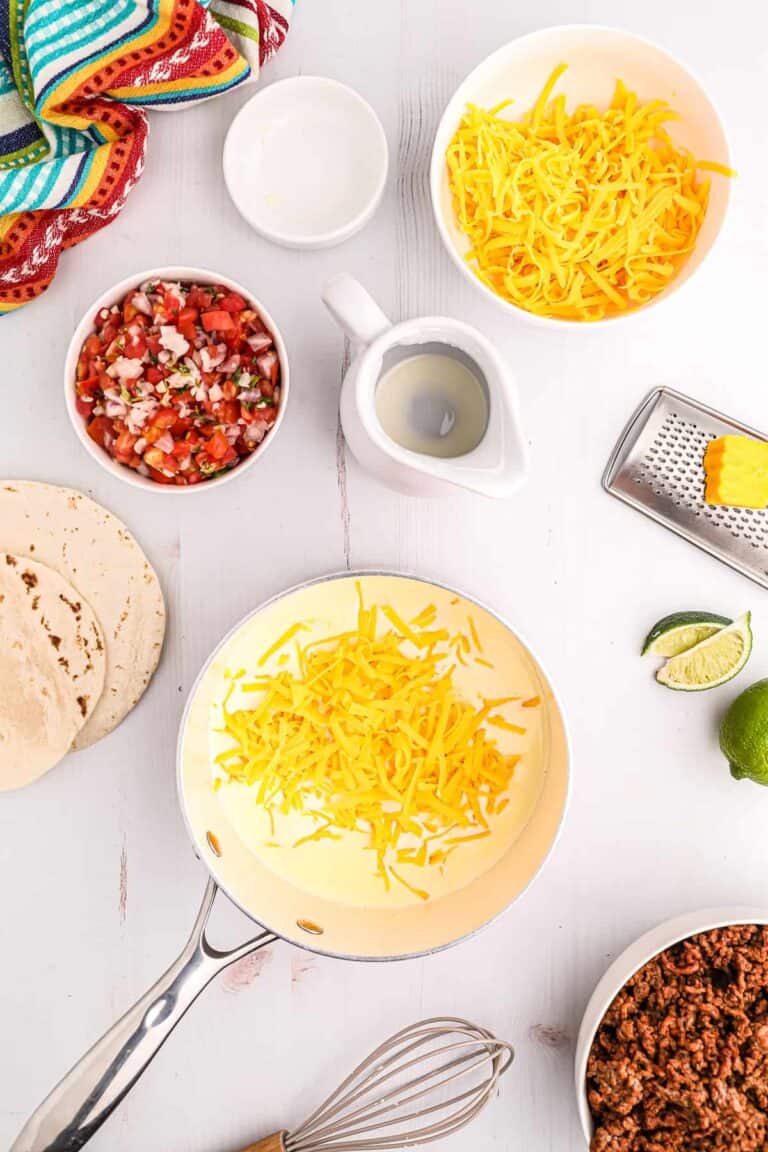 Start Layering Ingredients
Now it's time to layer all of your ingredients together just like you would a classic lasagna recipe.
Begin by halving all of your tortillas and laying them at the bottom of a greased baking sheet. Then, sprinkle 1/3 cup ground beef and 1/3 cup of the cheese sauce over the tortillas and spread them out evenly.
Repeat the layering process until the layers meet the top of the baking dish. Sprinkle with the remaining shredded cheese!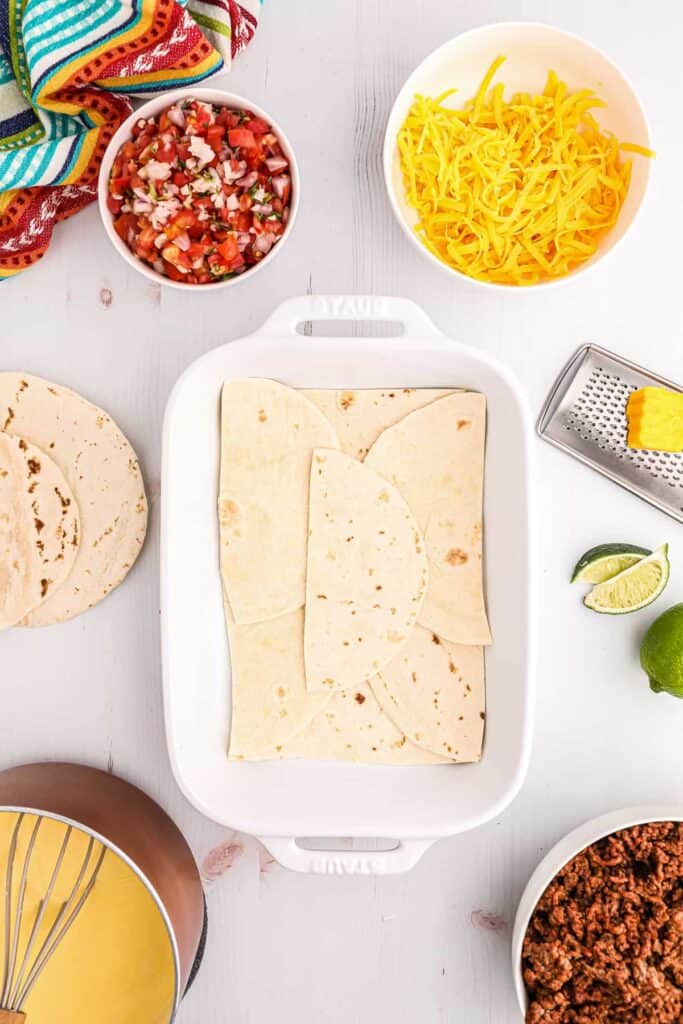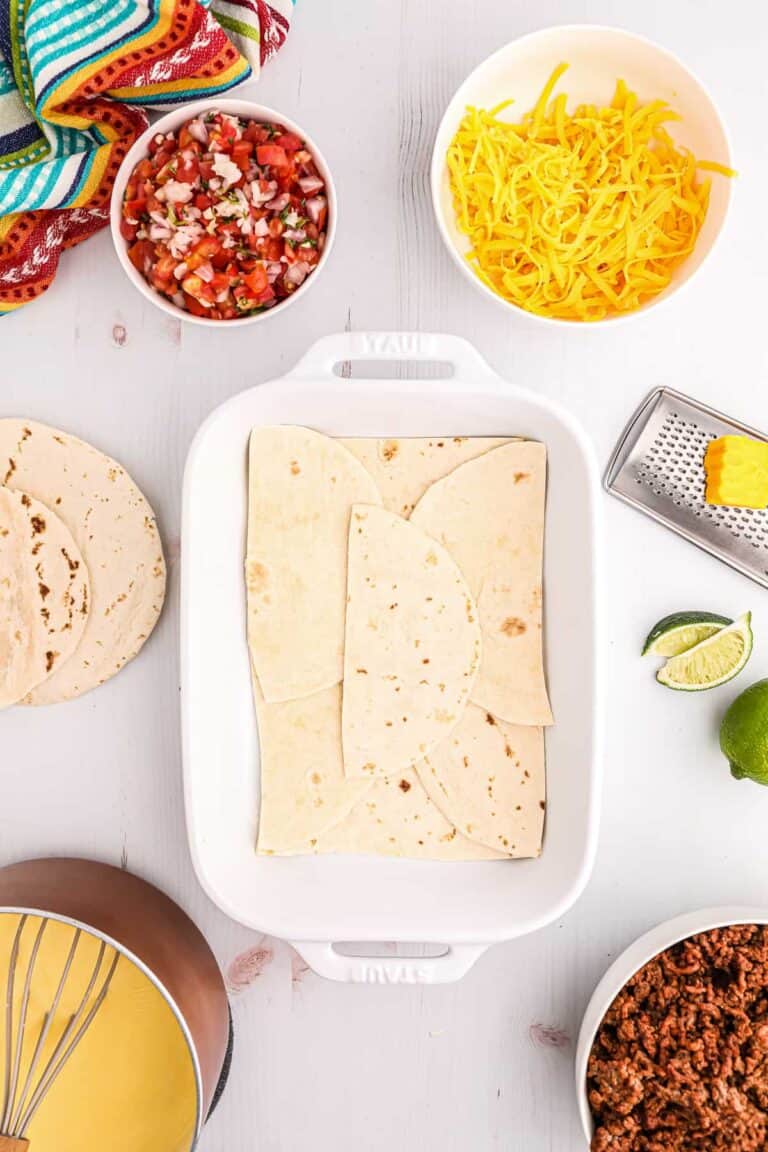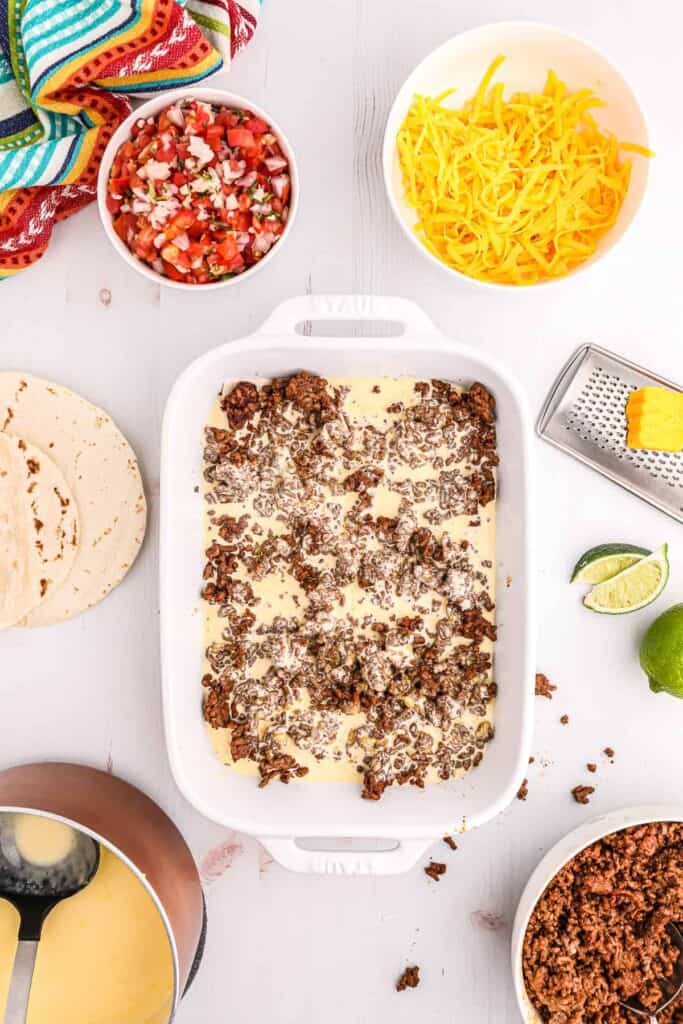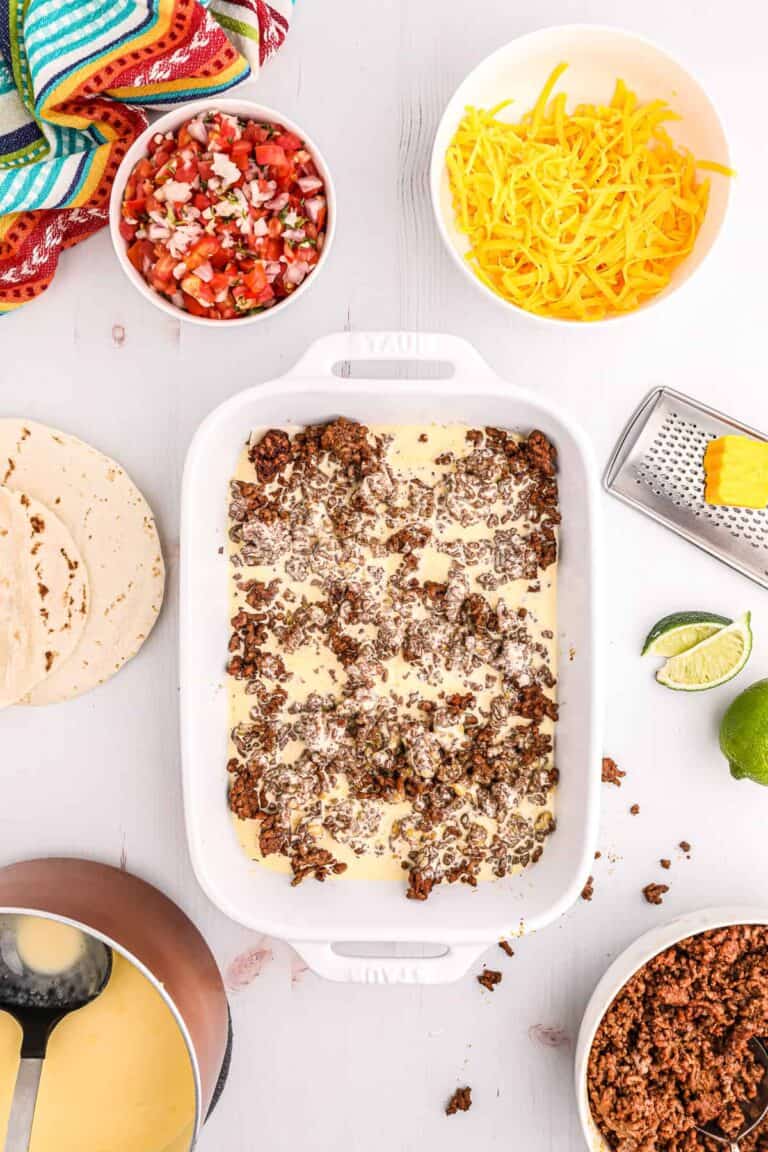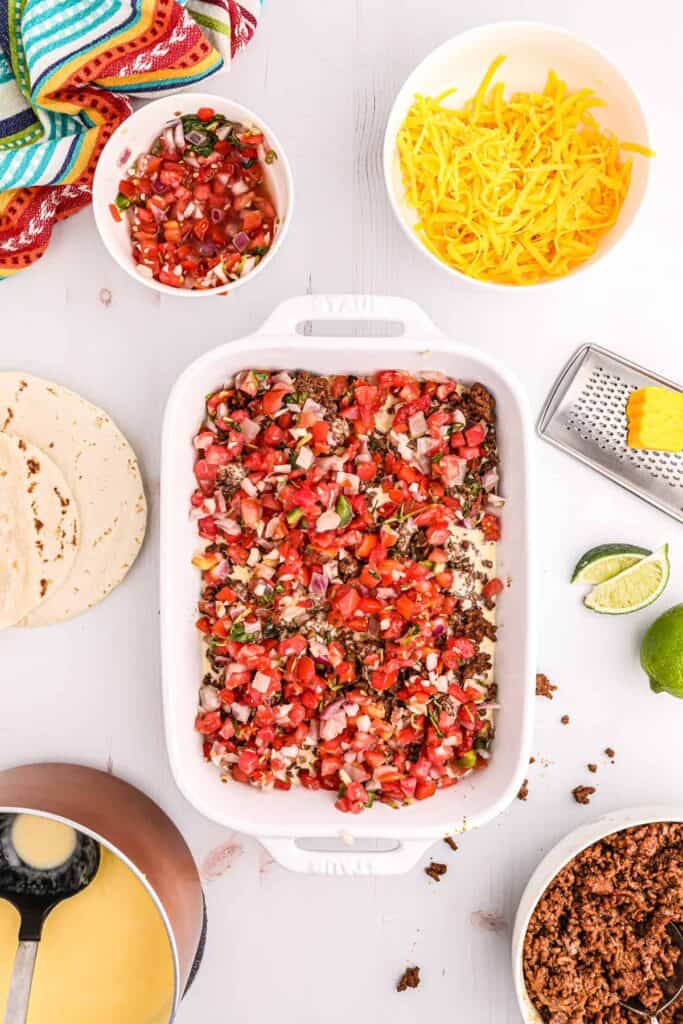 Bake!
Place the lasagna in the oven and bake at 400ºF for 20-25 minutes. Everything is already cooked, you are baking everything together so that the tortillas soak up all the delicious flavors and cheese sauce!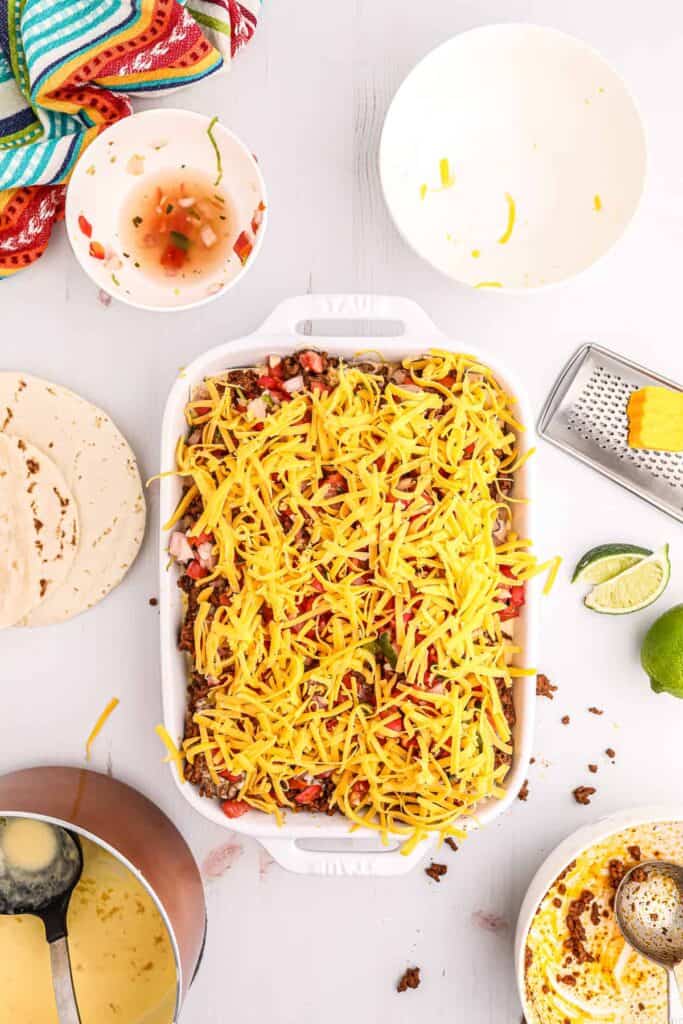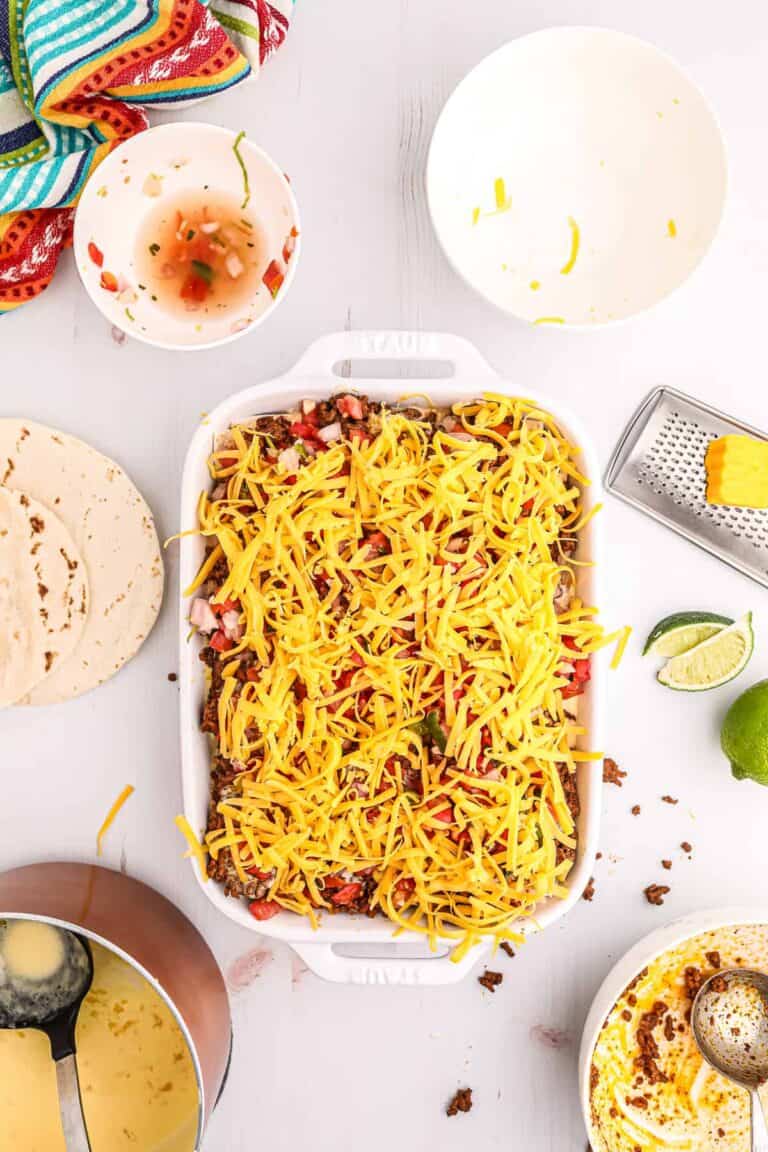 Taco Lasagna Tips + Tricks
I cheat and use store bought pico de gallo, but you can certainly make your own.
You can also cut some more time by using store bought taco seasoning.
Don't be afraid to mix things up and serve it with your favorite taco toppings! We typically use sour cream and guacamole, but you can even add some diced red onions, cilantro, etc!
Serve with your favorite tortilla chips!
How do I store Taco Lasagna?
You can store any leftovers in an airtight container in the fridge. Make extra just to have leftovers because they are even better the next day!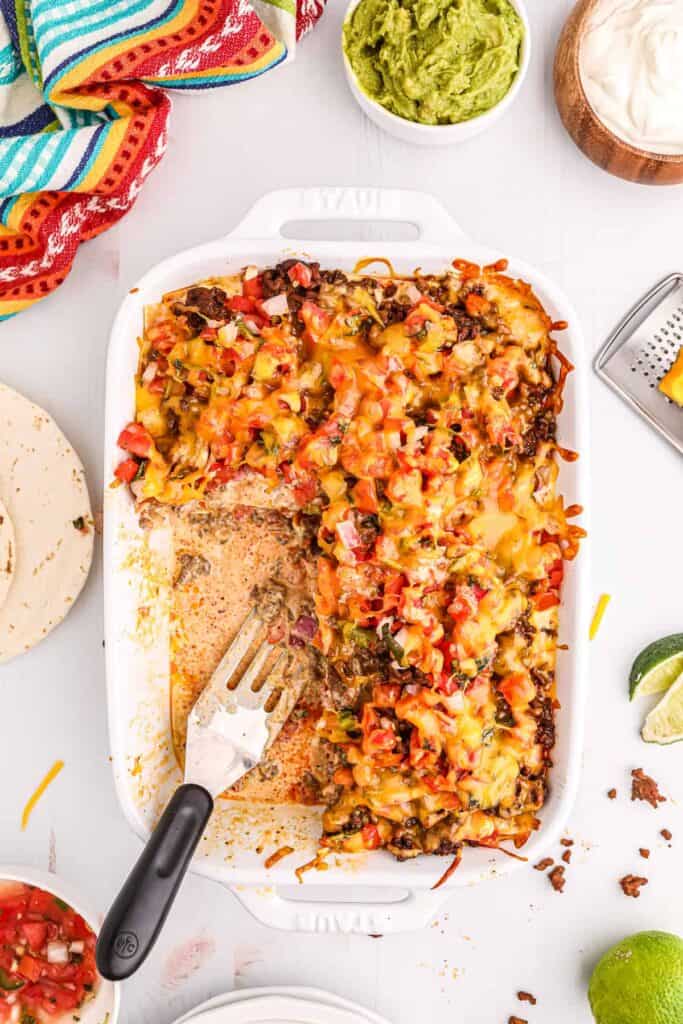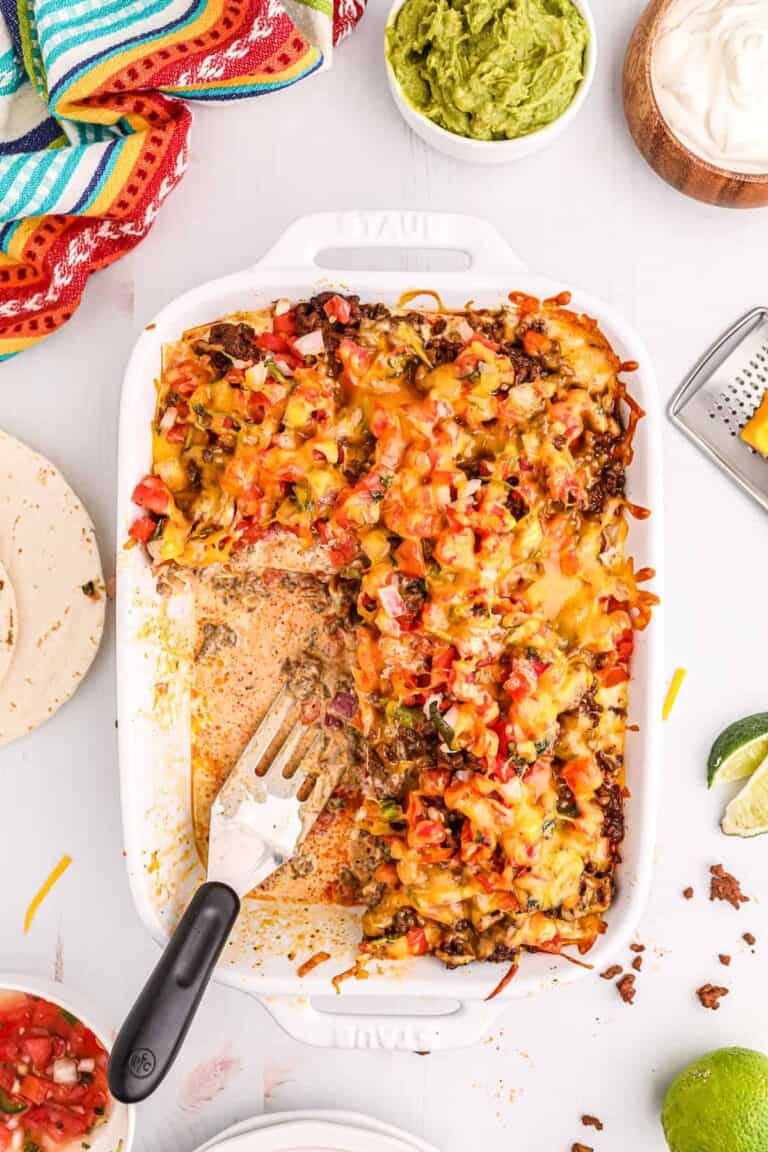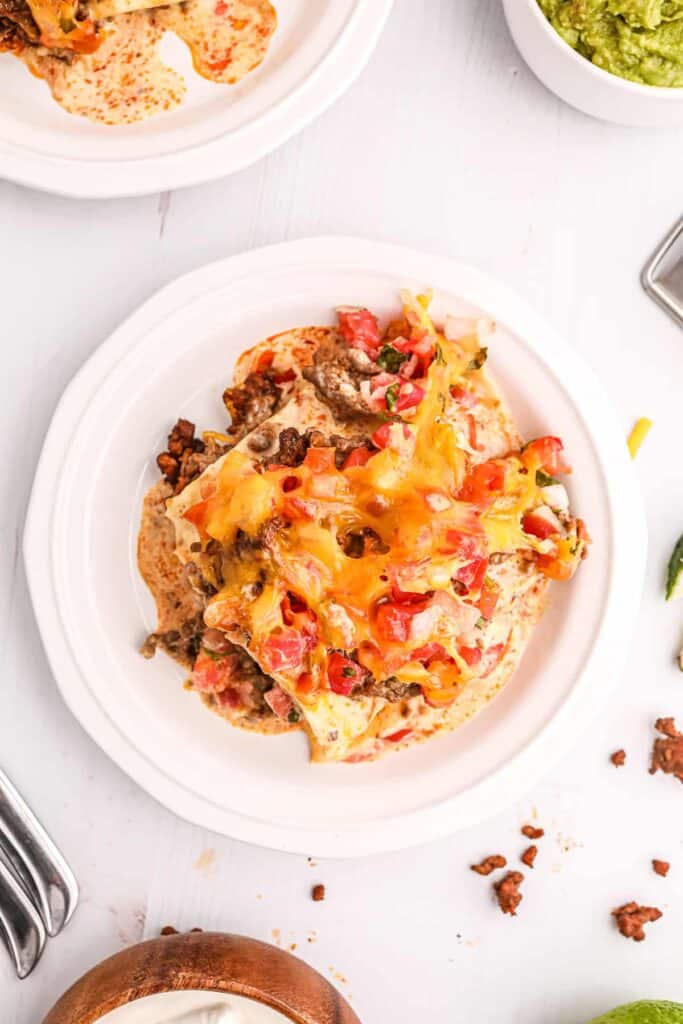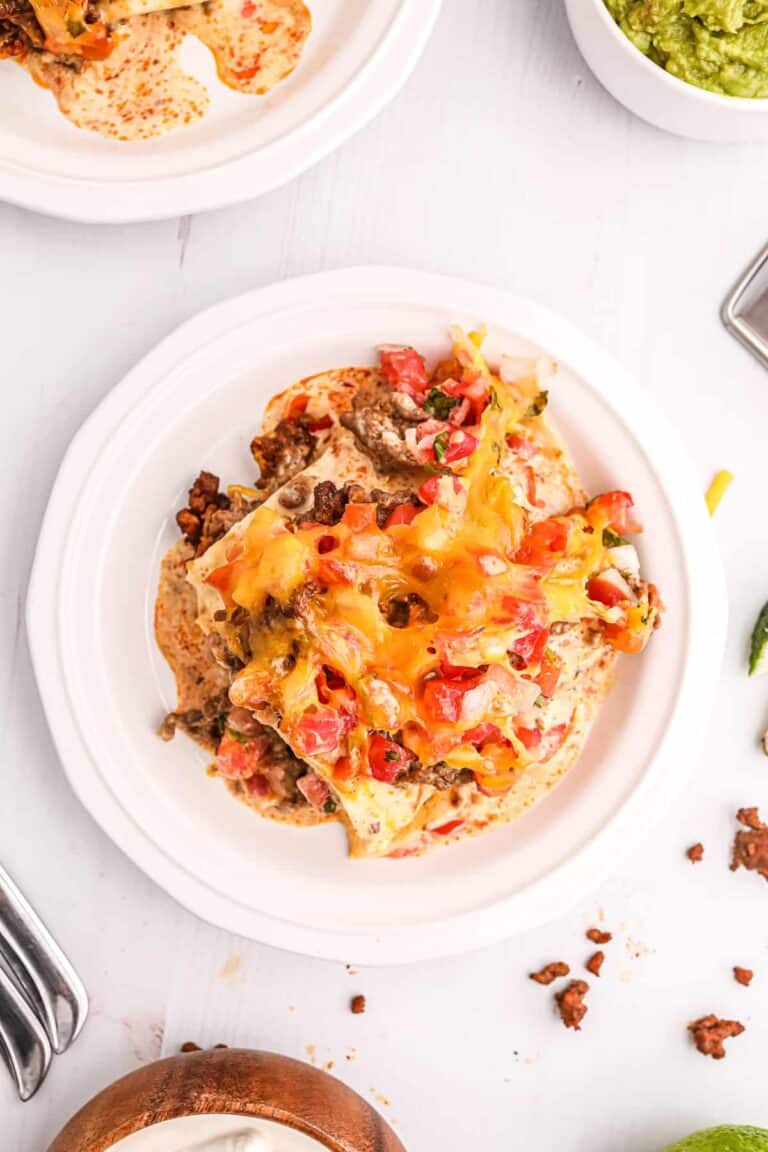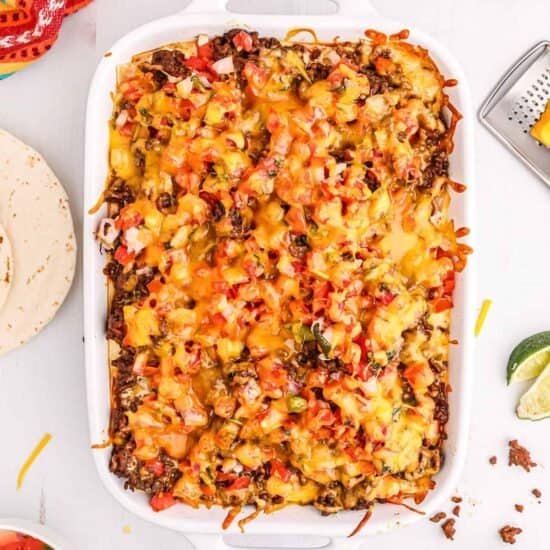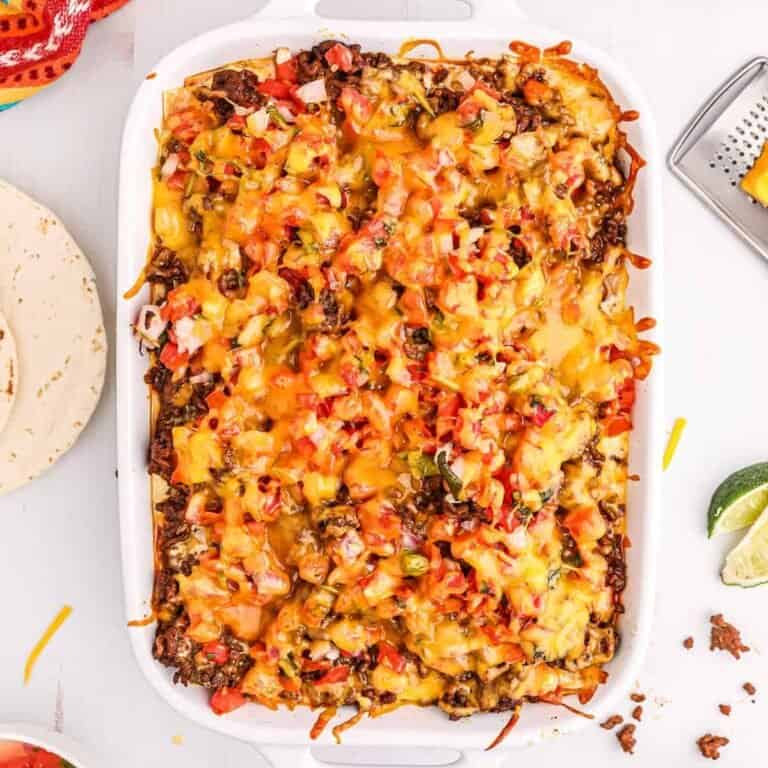 Taco Lasagna Recipe
This taco lasagna is layered with delicious ingredients and the perfect weeknight dinner! 
Ingredients
8-10

flour tortillas

cut in half

1.5

lbs.

ground beef

1

tablespoon

chili powder

1

teaspoon

ground cumin

½

teaspoon

garlic powder

½

teaspoon

dried oregano

¼

teaspoon

paprika

1-2

tablespoons

water

20

oz.

Pico de Gallo

I save time and use store-bought

2

cups

heavy cream

3

cups

shredded cheddar cheese

divided

4

tablespoons

1/2 stick butter

Optional topping: guacamole

Optional topping: sour cream
Instructions
First, preheat the oven to 400ºF.

In a large skillet, brown the ground beef and drain any excess fat.

Add the chili powder, cumin, garlic powder, oregano, and paprika, plus a tablespoon or two of water to help coat the ground beef with the spices.

In a medium saucepan, begin preparing the cheese sauce by melting the butter over medium heat.

Slowly add the heavy cream, whisking gently to combine,

Add 2 cups of the shredded cheddar cheese, whisking until the cheese has melted and the mixture is smooth.

Grease a 9x13-inch baking dish and begin layering the taco lasagna. Start with a single layer of flour tortillas, then top with about 1/3 of the ground beef.

Top the ground beef with 1/3 of the cheese sauce and then sprinkle some of the pico de gallo on top of the cheese sauce.

Place another layer of flour tortillas on top of the pico and repeat the layers until you reach the top of the pan (or run out of ingredients).

Top with the remaining cup of shredded cheese,

Bake for 20-25 minutes, or until the cheese on top is hot and bubbling.

Serve with sour cream and guacamole, if desired.
Nutrition facts
Calories:
461
kcal
Carbohydrates:
21
g
Protein:
20
g
Fat:
35
g
Fiber:
3
g
Sugar:
2
g