The easiest (and cheesiest!) Instant Pot Mac and Cheese recipe you will ever make!
This Instant Pot Mac and Cheese is made entirely in the pressure cooker and there is no roux involved, making the cheese sauce so easy to make!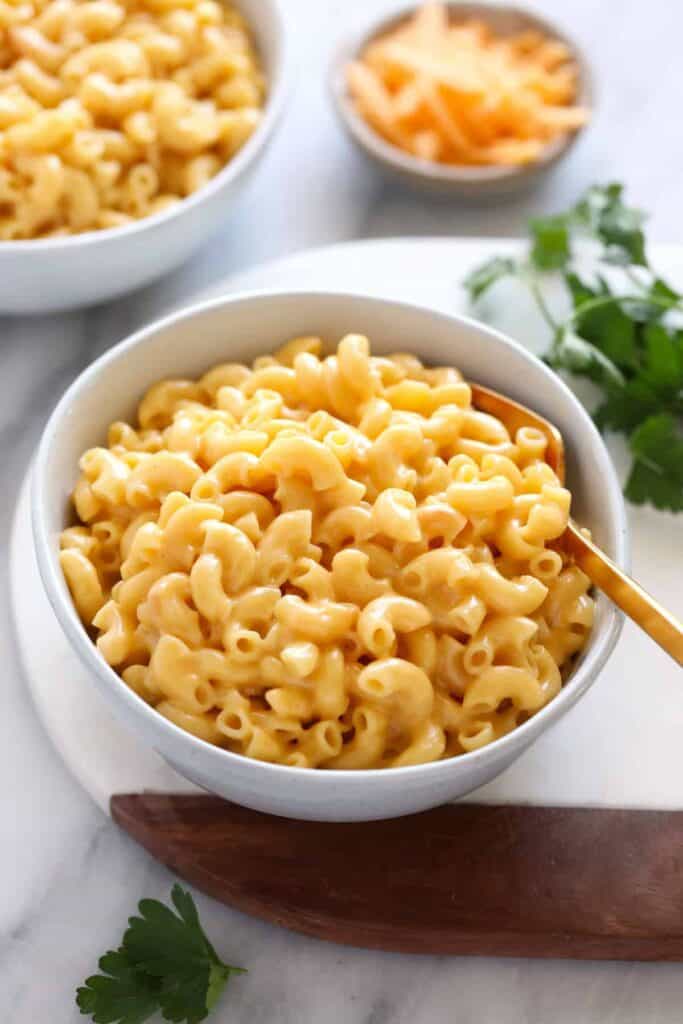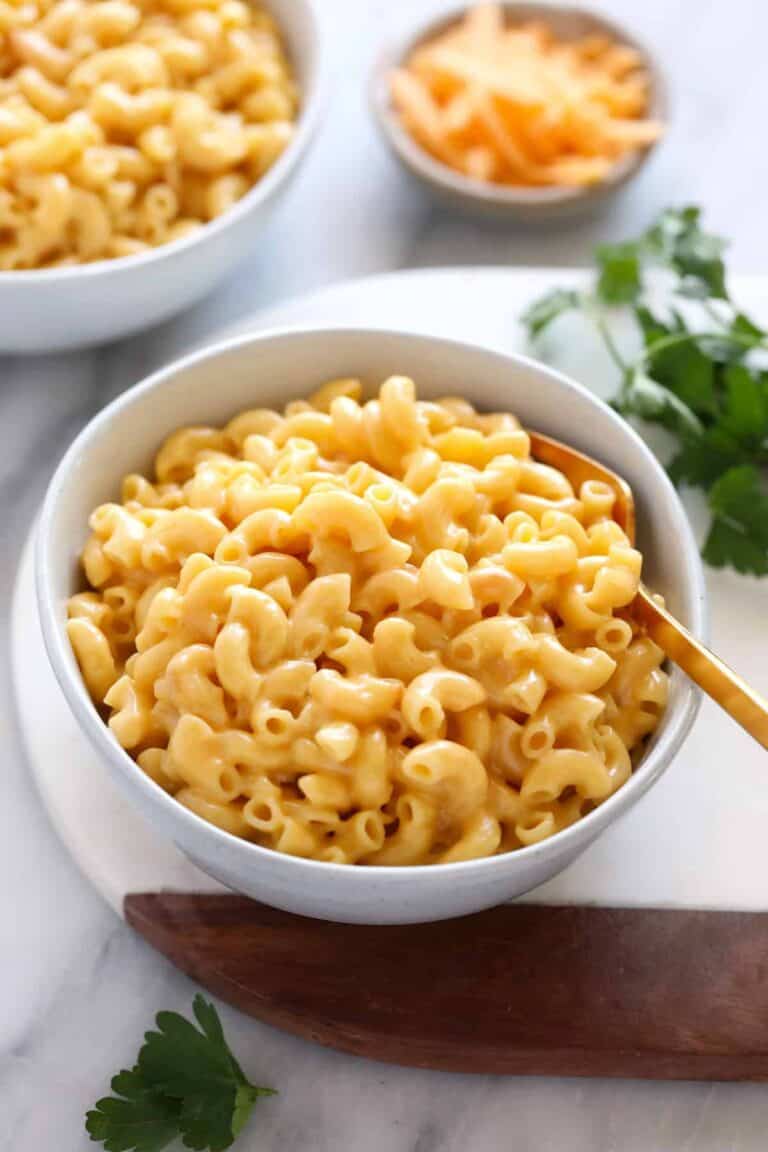 When in doubt, make mac and cheese. I'd say that's a pretty solid motto to live by! Obviously, Mac and Cheese is a huge love of ours here at the Cheese Knees. Our Classic Mac and Cheese Sauce is SO creamy and our Queso Dip Mac is unreal.
In this post, we're teaching you how to make classic Instant Pot Mac and Cheese with just 8 ingredients!
Best Instant Pot Mac and Cheese
Mac and Cheese in Instant Pot is about to be the only way you ever want to make mac again. Not only does this recipe come out super creamy and flavorful, but it's so flipping easy!
Ready in less than 30: homemade mac and cheese ready in 30 minutes? YES PLEASE.
8 Ingredients: 8 common ingredients is all you need to make the most fabulous Instant Pot Mac and Cheese.
One-Pot: that's right, literally everything is made inside of your Instant Pot. No need to use the stovetop.
Kid-Friendly: this is about to be your kiddo's new favorite dinner!
Serves the Masses: Mac and cheese for 8. Oopsies 😀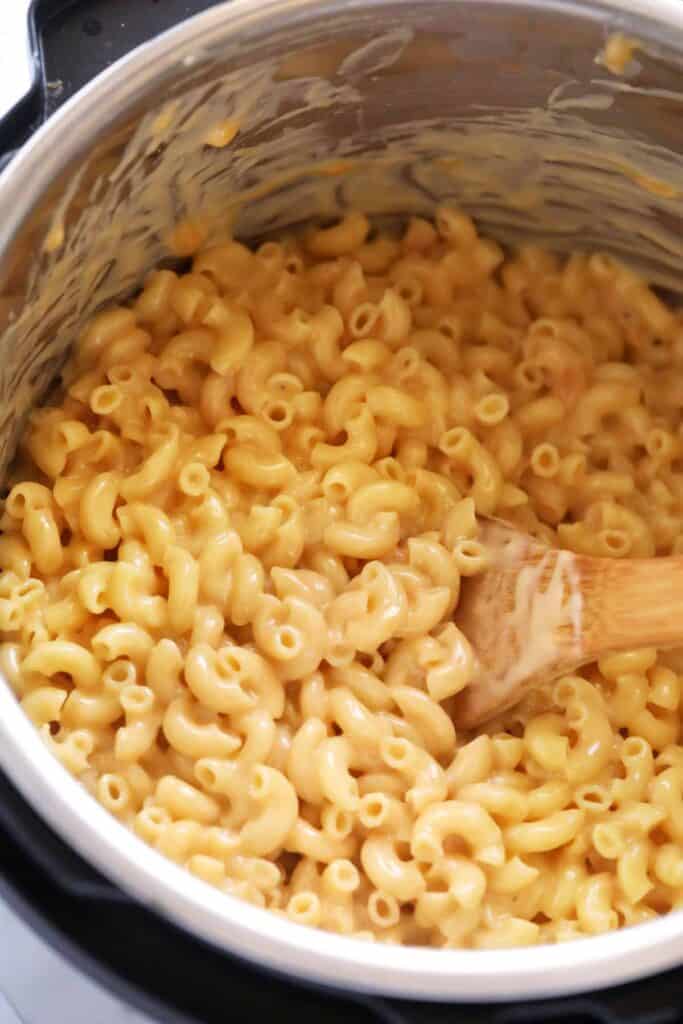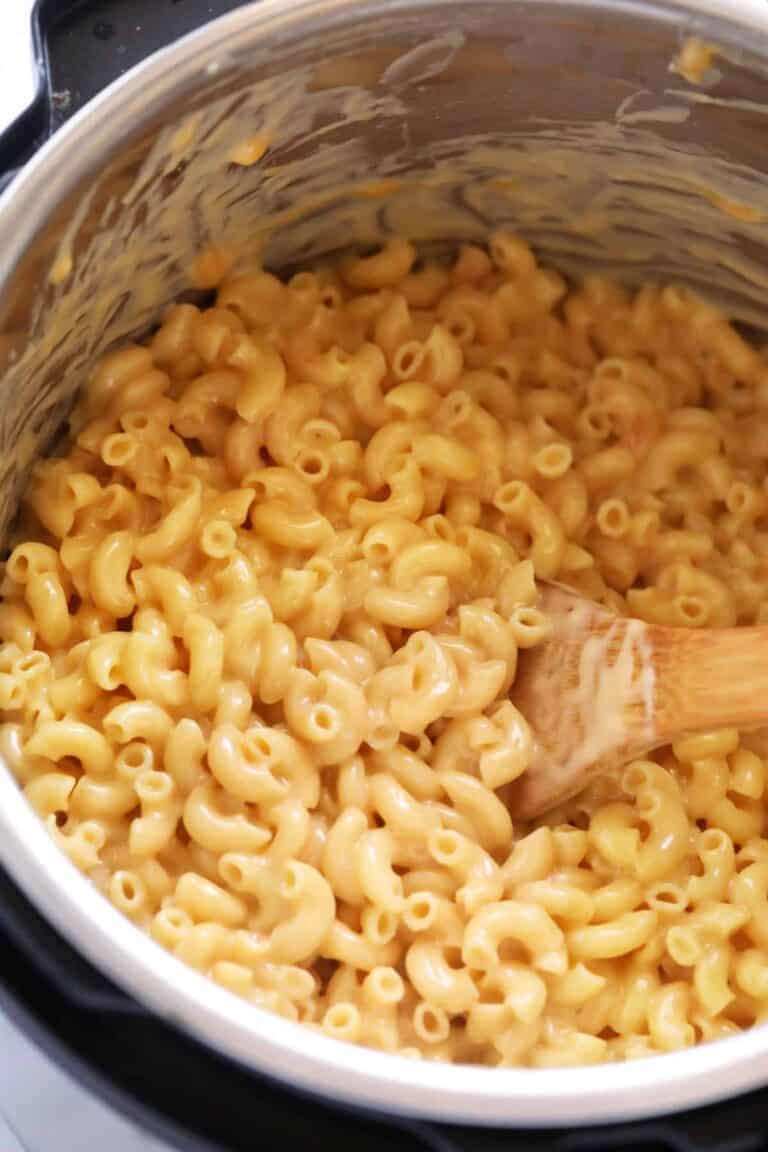 Ingredients Needed
8 Ingredient Mac and Cheese Instant Pot!? Heck yes! Here's what you need:
salted butter – what is mac and cheese without a little buttah?
garlic – I dare you to double the garlic.
hot sauce – trust us. A little hot sauce goes a long way, but the vinegar does wonders to bring out the flavors.
broth – feel free to use chicken, vegetable, or beef broth for this recipe. Whatever you do, don't sub it for water.
macaroni noodles – this calls for an entire 16-oz. bod of macaroni noodles. Oops.
heavy cream – heavy cream really helps the sauce get extra creamy and decadent.
sharp cheddar cheese – you need 3 whole cups of shredded cheddar cheese!
salt – add salt to taste.
Can I use a Different Cheese?
Feel free to use whatever kind of shredded "cheddar" cheese you want, or even use 2 or 3 kids! Here are some more ideas:
Monterrey Jack
Mexican Cheddar
White Cheddar
Other soft shredded cheeses such as mozzarella, swiss, and gouda would be delicious too!
Best Cheddar Cheese for IP Mac and Cheese
Use a high quality cheddar cheese! We used Tillamook Sharp Cheddar (farmstyle thick-cut) even though the price point is higher and it's totally worth it. The flvor and creaminess is off the charts.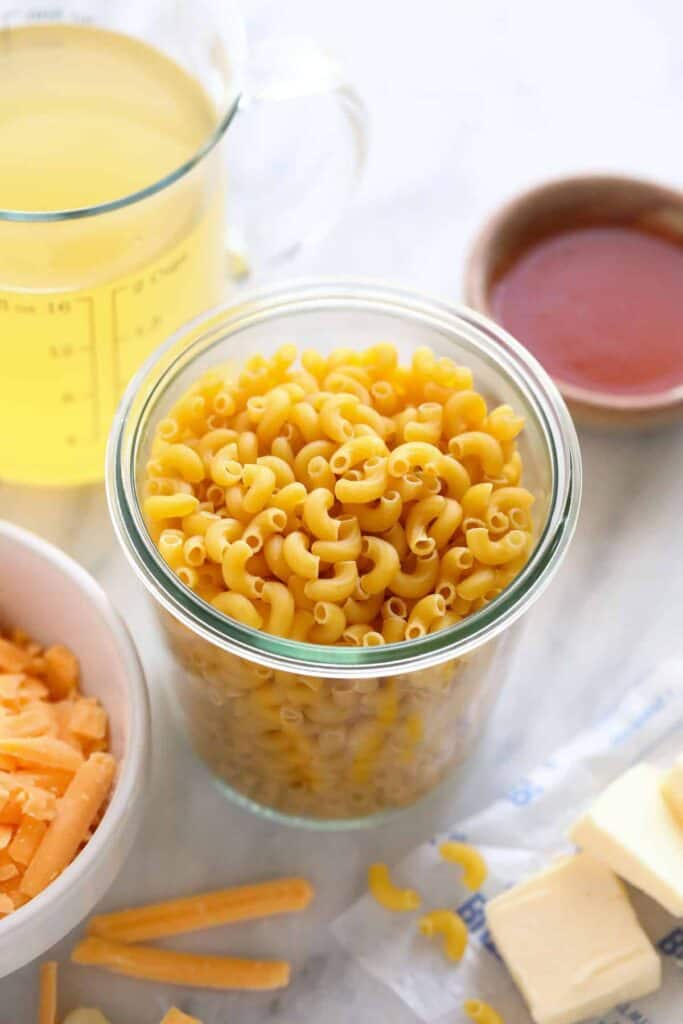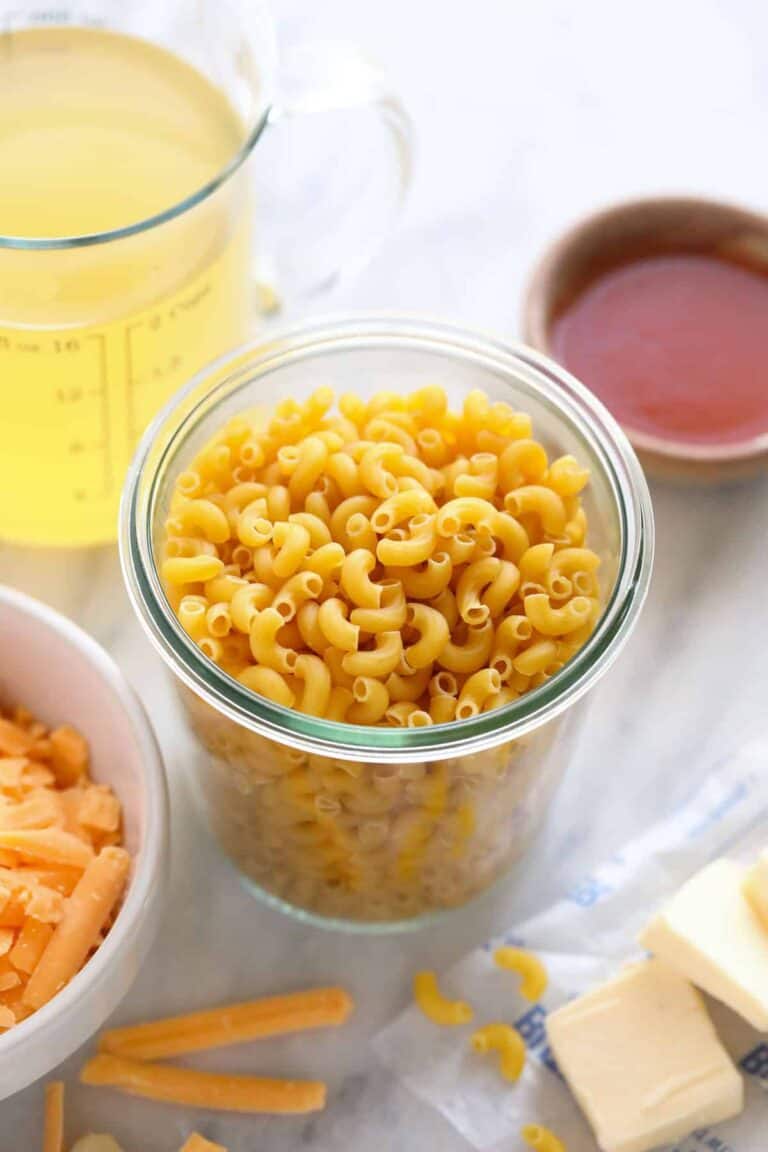 How to Make Instant Pot Mac and Cheese (step by step)
Step 1: Saute Garlic
Add butter to the Instant Pot and turn on the saute feature. When the butter has melted, cook garlic for a few minutes and then turn off the saute feature.
Did you know?: by using the sauté feature before pressure cooking, it actually helps build the pressure faster?
Step 2: Add Ingredients
Add the noodles, broth, and hot sauce to the Instant Pot and stir.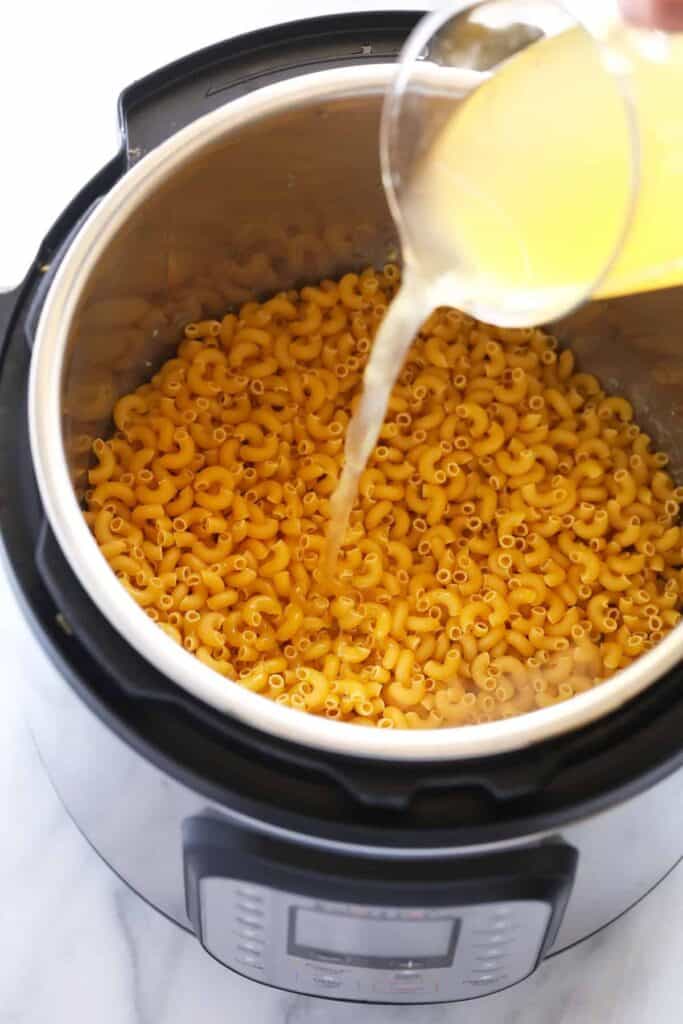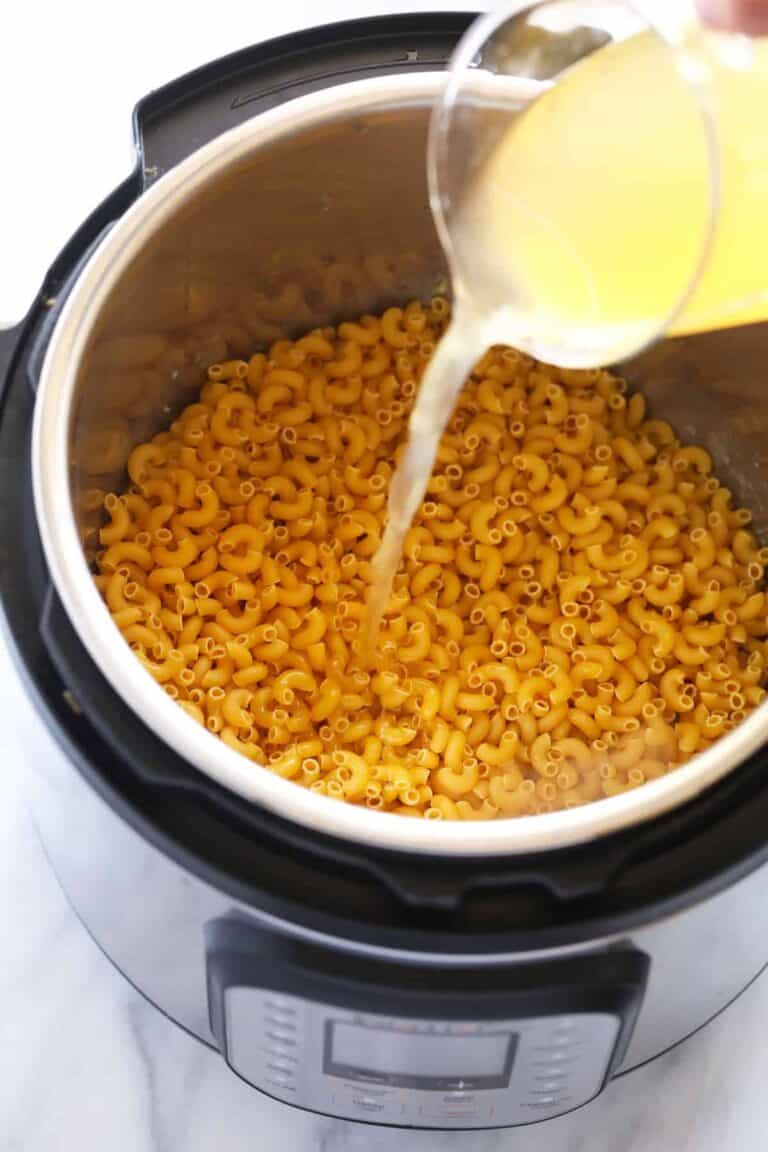 Step 3: Pressure Cook
Cover the Instant Pot and cook on high pressure for 4 minutes. It will take a few minutes to build up enough pressure to start counting down from 4.
Once the timer goes off, quick-release the Instant Pot.
Step 4: Add Cheese and Cream
In this next step, it is extremely important that you work quickly while the noodles are still hot.
Uncover the Instant Pot and stir noodles. Add cheddar cheese, heavy cream, and salt and mix constantly for a few minutes until the cheese has fully melted. The heat from the noodles will melt the cheese.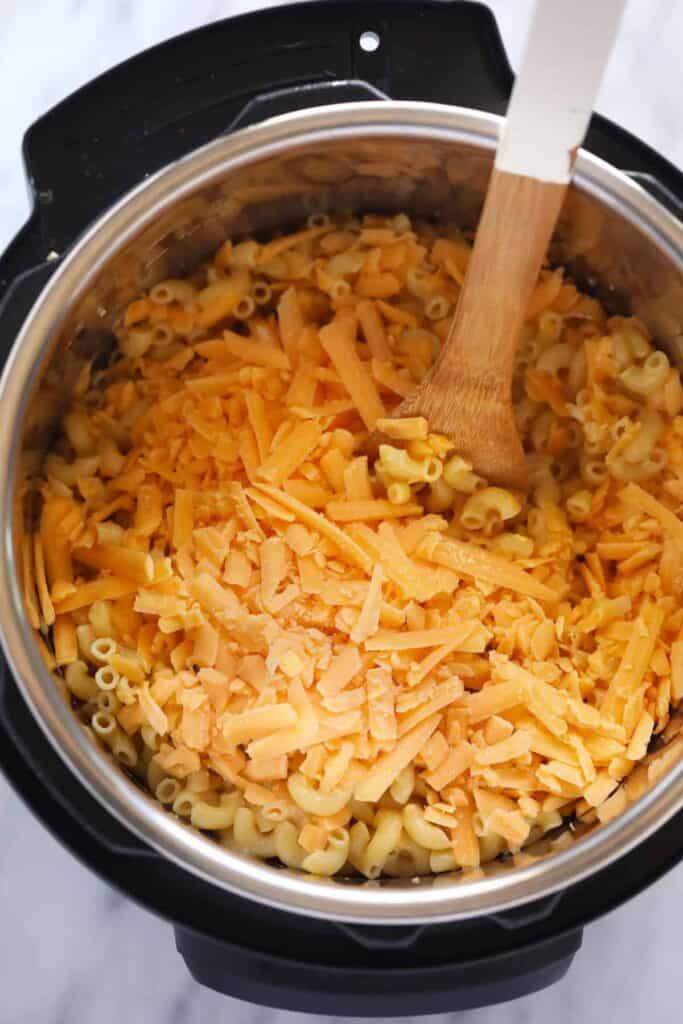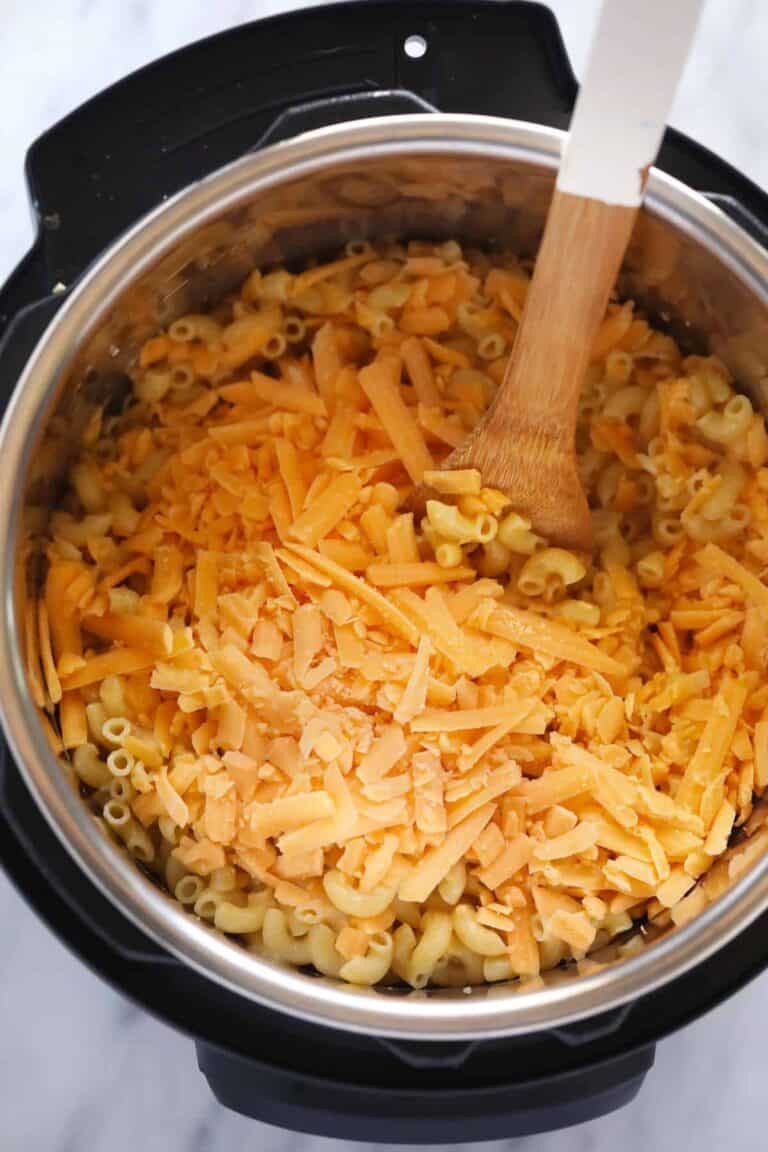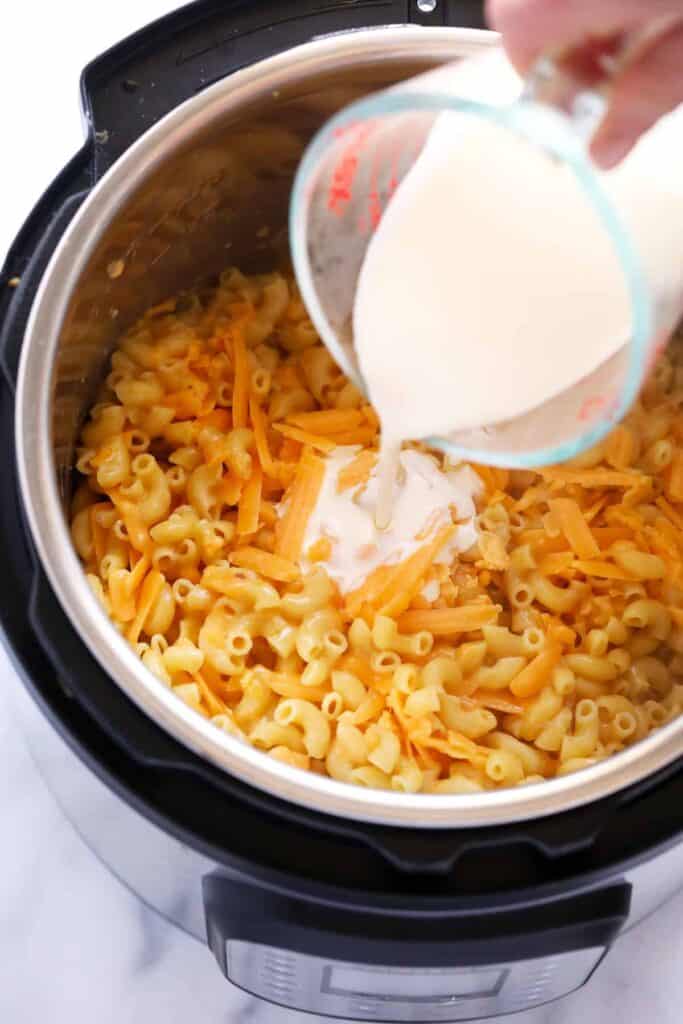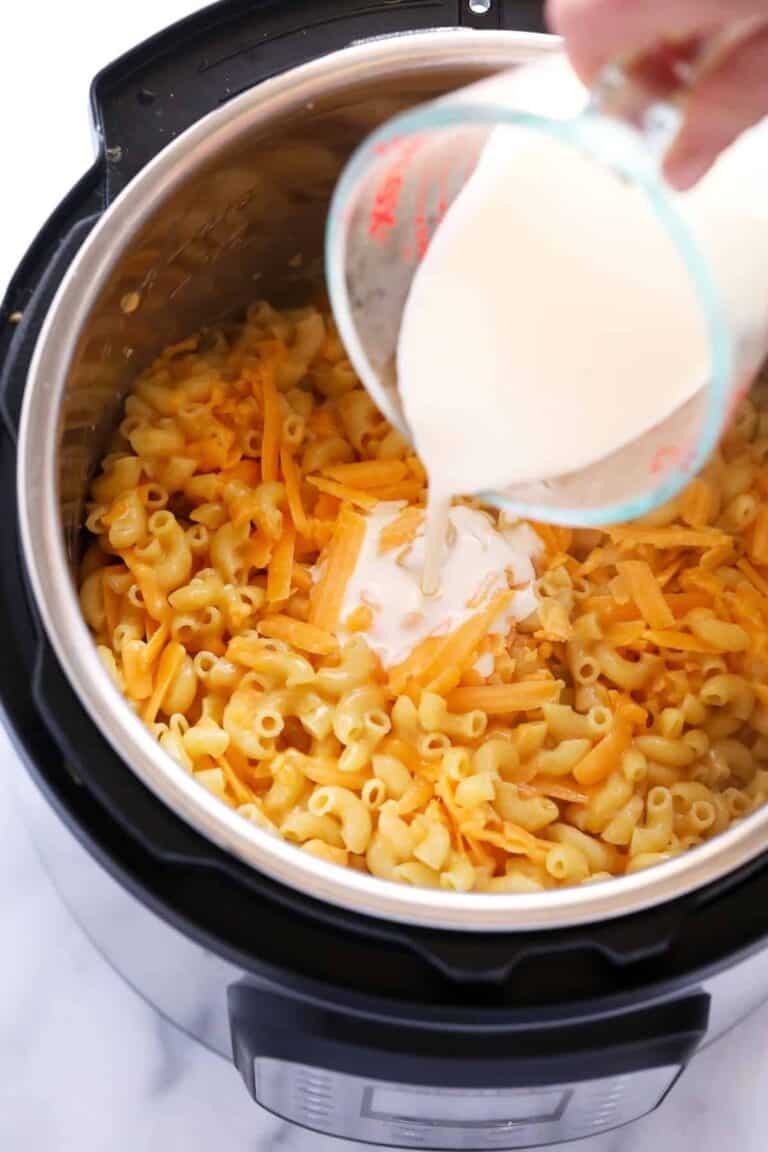 Step 5: Serve and Enjoy!
Give your mac and cheese a little taste test and add more salt and hot sauce as needed. Serve your Mac and Cheese in Instant Pot with fresh cracked pepper and enjoy.
Serving Suggestions
This Instant Pot Mac and Cheese recipe really does make for the best side. Here are a few main meal suggestions for you to serve your mac with!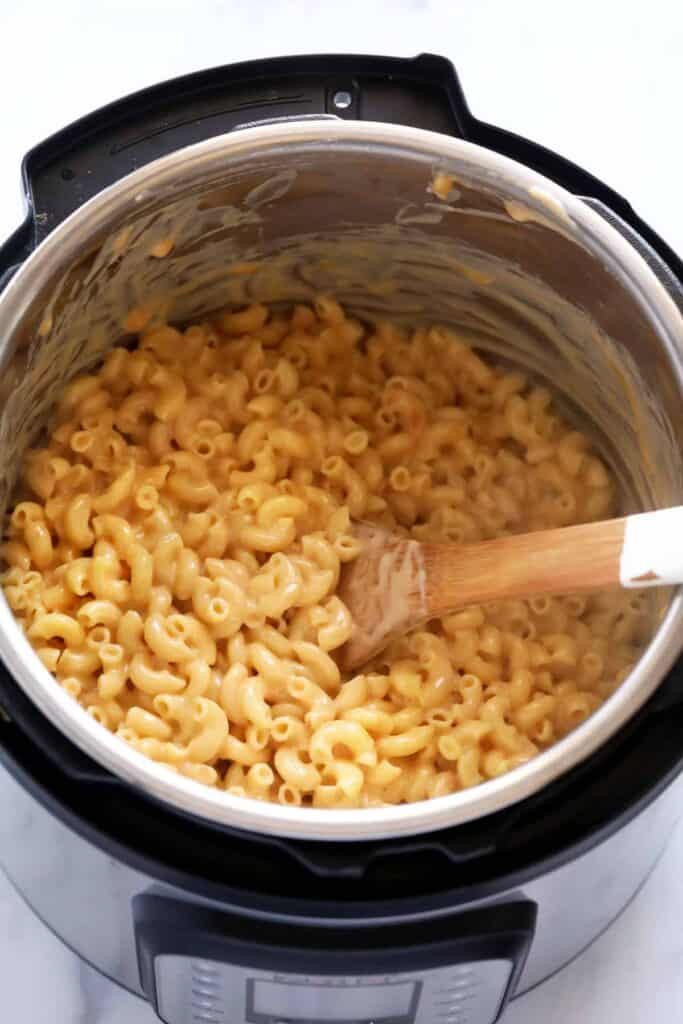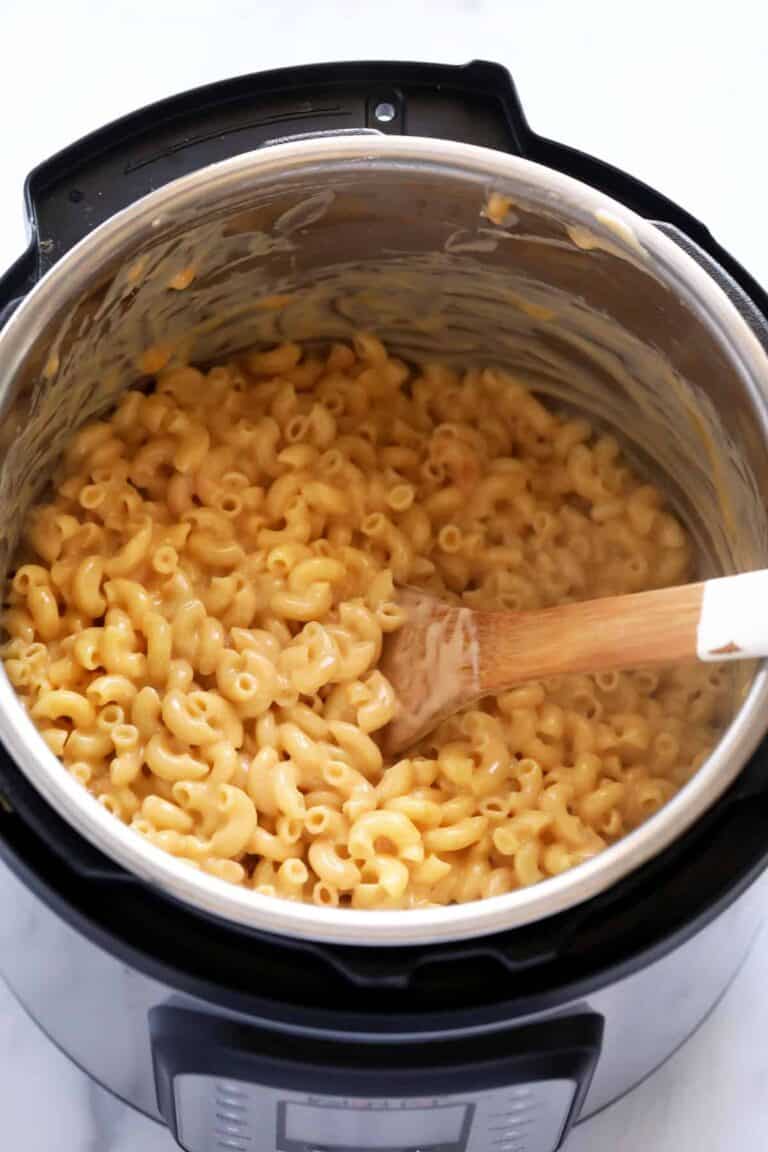 Storage
Let mac and cheese cool completely. Then, store in an airtight container in the fridge for around 3-5 days.
reheating tip
When you are ready to reheat, add a little broth to your mac and cheese as it will likely solidify into one mass. You can reheat it in the microwave for around 90 seconds, or on the stovetop. Either way, a little broth will help it get nice and creamy again.
Can You Freeze Mac and Cheese?
Unfortunately, we do not recommend freezing Mac and Cheese. Dairy and noodles don't do the greatest when frozen and re-thawed. Mac is best eaten as fresh and possible.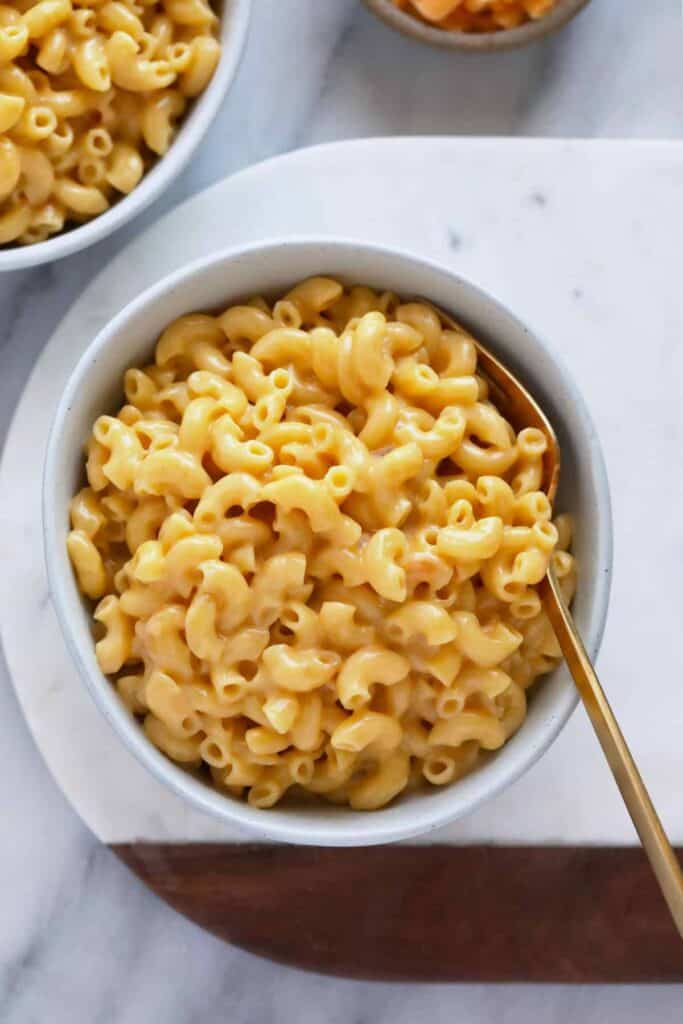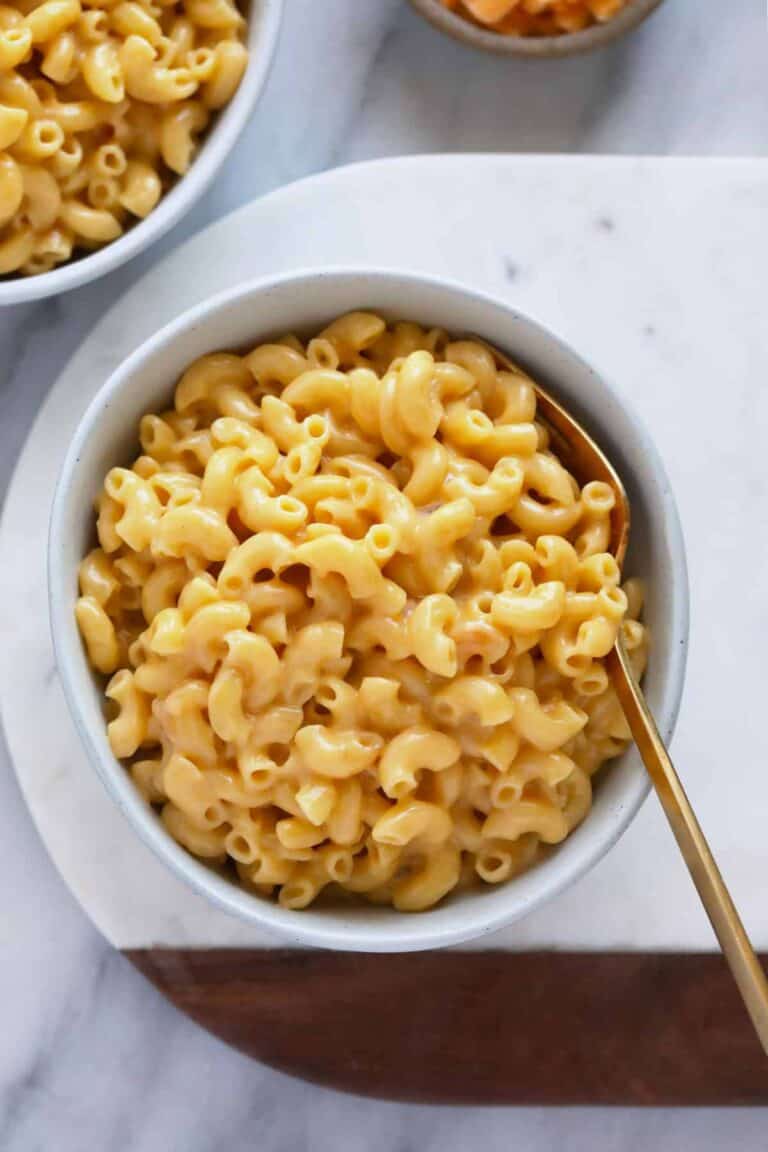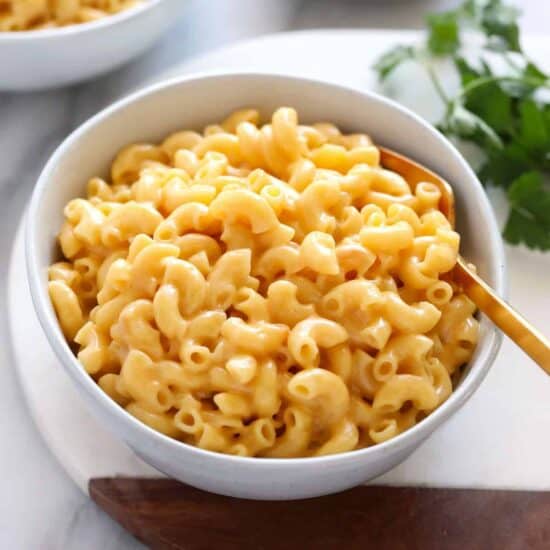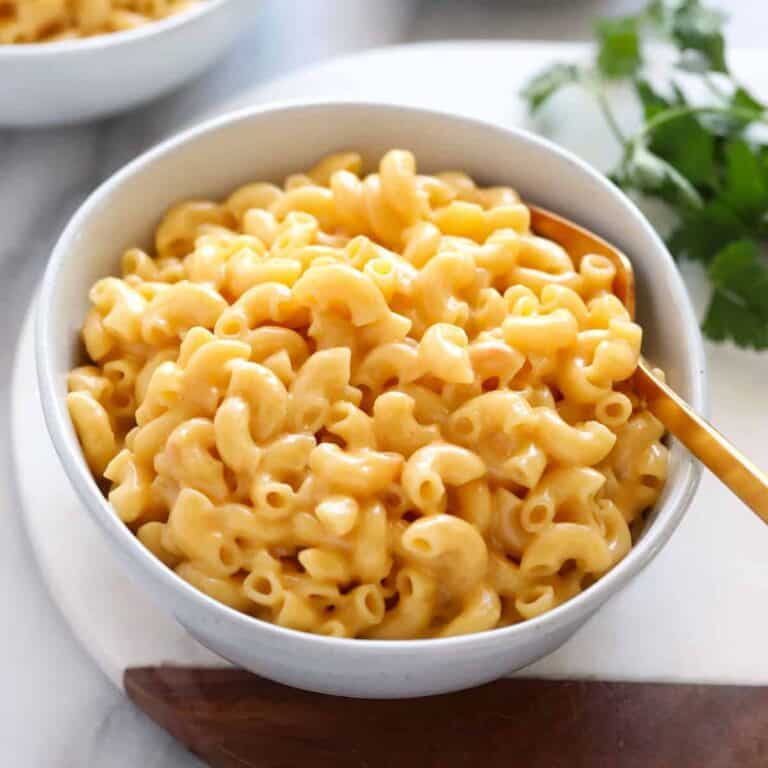 Instant Pot Mac and Cheese
This is the Best Instant Pot Mac and Cheese made entirely in the pressure cooker. This mac and cheese comes out so creamy and cheesy and only requires 8 ingredients!
Ingredients
2

tablespoons

salted butter

3

cloves

garlic

minced

1/2

tablespoon

hot sauce

4

cups

broth

any kind

16

oz.

macaroni noodles

1/2

cup

heavy cream

3

cups

shredded sharp cheddar cheese

1/2

teaspoon

salt
Instructions
Turn the Instant Pot's sauté feature and add the butter to the pot. When the butter is melted, add the garlic. Sauté garlic for 2-3 minutes.

Turn off the sauté feature and then add the noodles, broth, and hot sauce to the pot and stir everything together. 

Cover the Instant Pot and cook on high pressure for 4 minutes

.

Quick-release the pressure and uncover the pot.  

It is very important that you do this next part immediately while the noodles are steaming hot. Stir the noodles and then immediately add the cheddar cheese, heavy cream, and salt. 

Stir everything together with a spoon until all the cheese is melted and hot (this might take a minute or so).

Give your Instant Pot Mac and Cheese a taste test and add salt and hot sauce, to taste.
Nutrition facts
Calories:
435
kcal
Carbohydrates:
44
g
Protein:
14
g
Fat:
23
g
Fiber:
0
g
Sugar:
1
g