Have you always wanted to learn how to make queso fresco? Now is your chance! This queso fresco recipe is easy to make and a perfect addition to so many dishes!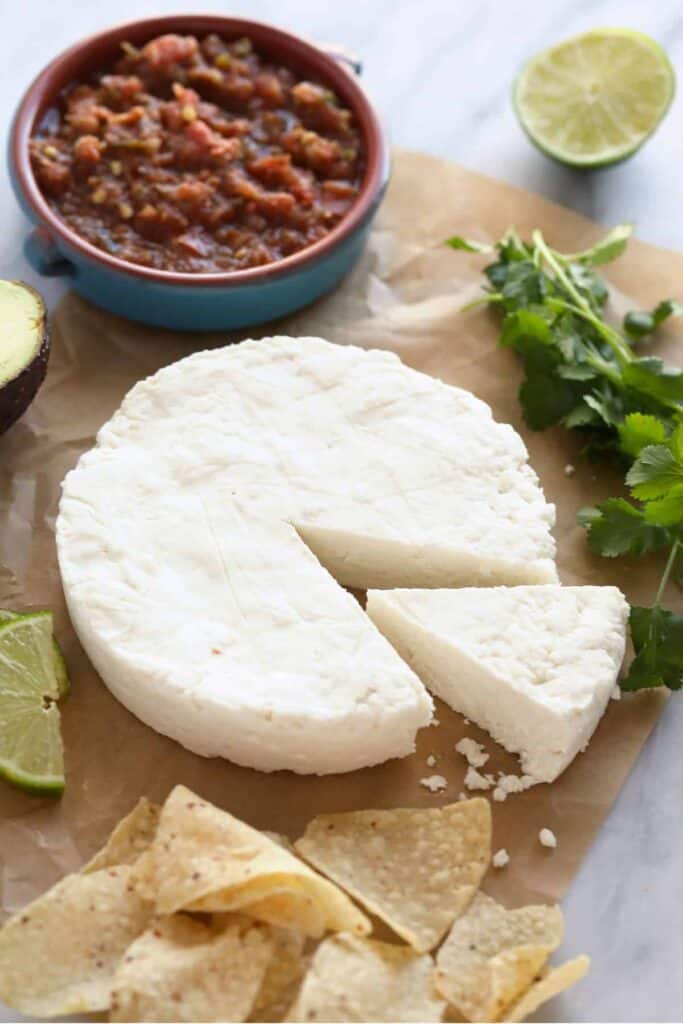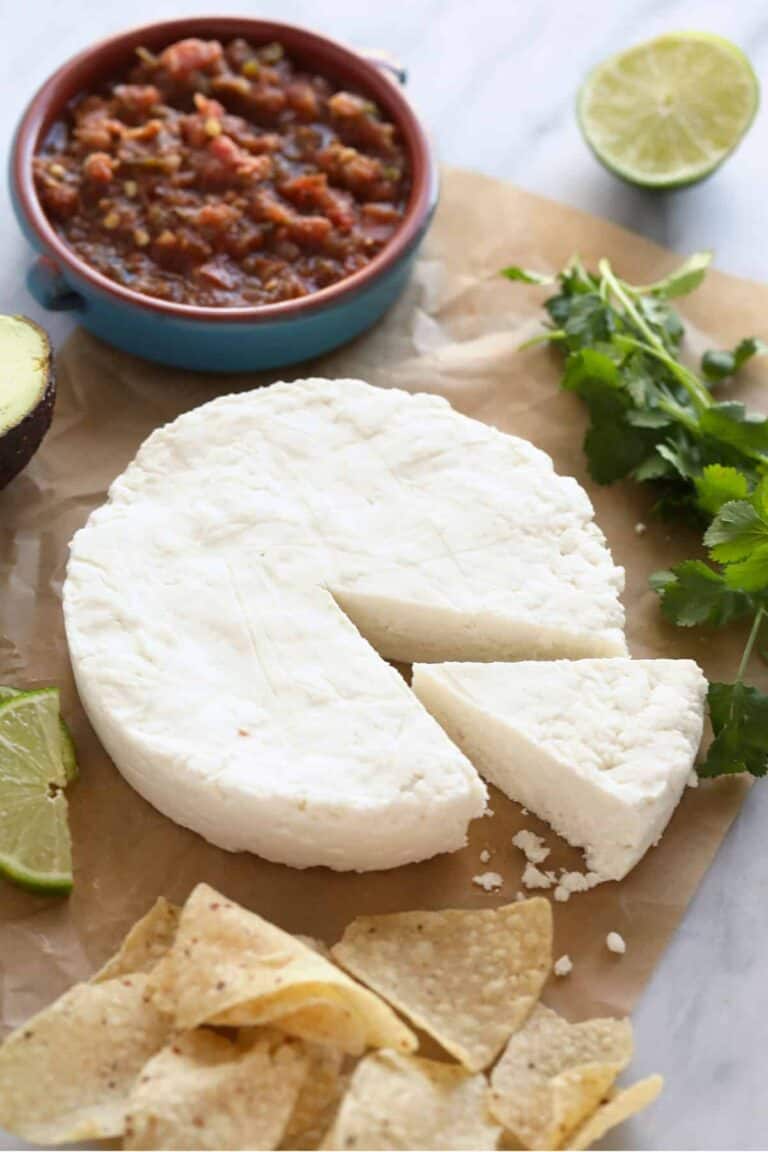 What is Queso Fresco?
Queso fresco means 'fresh cheese' in Spanish. Queso fresco is a bright and milky cheese that is traditionally made with cows milk or goats milk. Queso fresco is known for being very versitle and not too salty.
Homemade Queso Fresco
When it comes to making cheese at home, queso fresco is one of the easier cheeses to make at home if you have all of the right ingredients! We love this queso fresco recipe for so many reasons!
You can have fresh queso fresco in less than a day made in your own home!
Queso fresco is the perfect salad topper, addition to so many meals, and even delicious on a charcuterie board!
You can make minor changes to this recipe to add fun flavors and different spices!
Traditional Queso Fresco
The history of Latin cheese is that queso fresco is made with rennet and queso Blanco is made with vinegar. Our cheese maker always tries to honor the history of the cheese she's making.
There are many recipes on the internet that use vinegar or citrus, but this recipe specifically uses liquid rennet!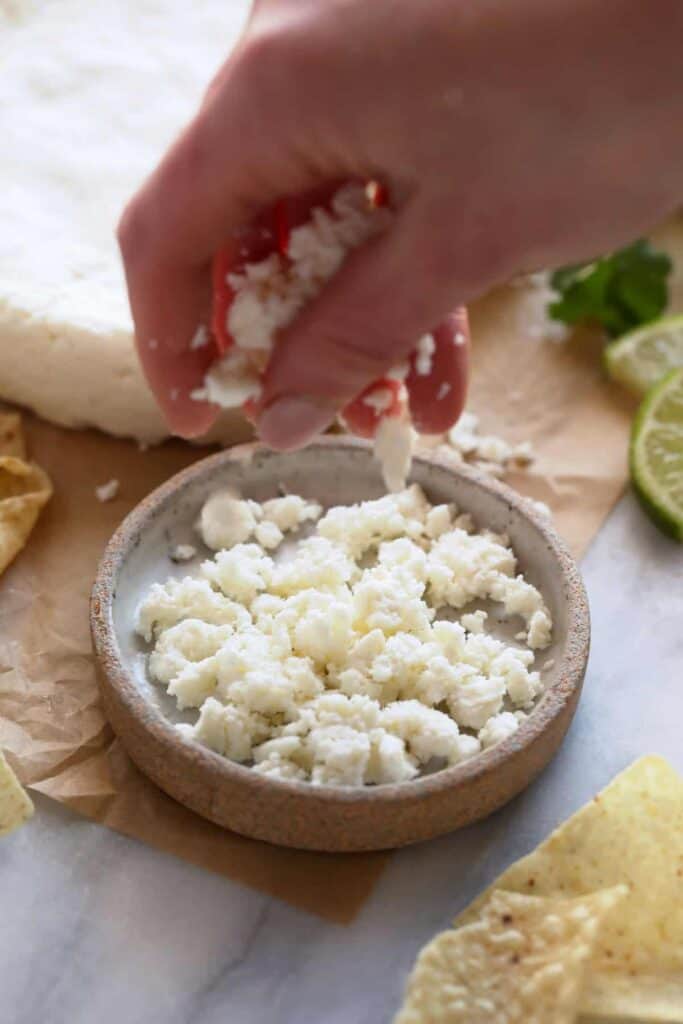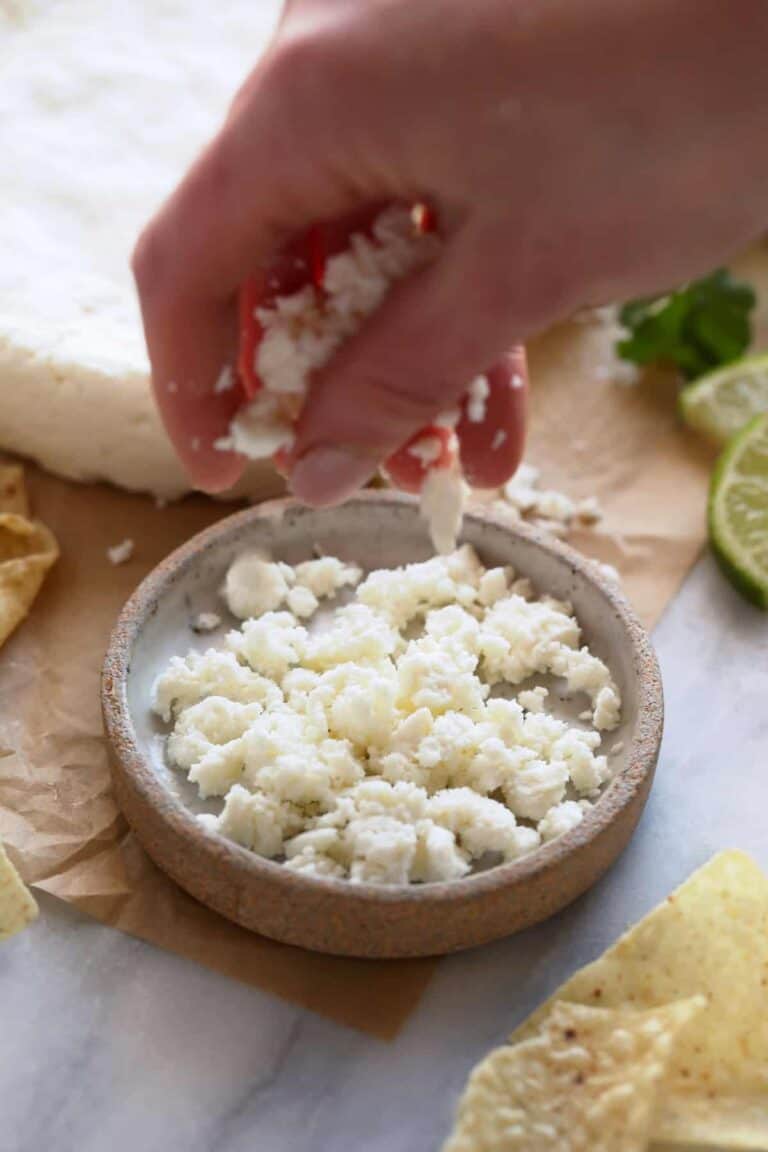 What is rennet?
Rennet is an an enzyme used in cheesemaking that is used to coagulate the milk to form curds.
There are a few different types of rennet to choose from.
Liquid rennet – there are two common types of liquid rennet. Animal rennet and vegetable rennet. We have tested both of these and they worked great. We prefer using liquid rennet over any other type of rennet because it is the most accurate when measuring out the rennet.
Rennet tablets – rennet tablets are available at most co-ops or online. They keep longer than other rennet options. We did test cheese with rennet tablets and it did not work, but we are attributing that fail to the milk we used!
Powdered rennet– this type of rennet is also available to order online, it also keeps longer than liquid rennet. We have not tested powdered rennet.
Equipment You Need
Cheese making isn't your average recipe. There are a few important pieces of equipment you need before starting!
Cheesecloth
Digital thermometer
Colander
Mixing bowl
Heavy-bottom stainless steel pot
Large whisk
Slotted spoon
1 2-lb cheese mold or 2 1-lb cheese molds (you can also use a glass container like this, just be sure you line the bowl with cheese cloth)
Ingredients You Need
You only need 3 ingredients to make this queso fresco. However, the three ingredients you use are a bit specific!
1 gallon organic pasteurized whole milk, non- UHT
½ teaspoon single strength liquid animal or vegetable rennet
1 teaspoon kosher salt
its all about the milk
The milk you use in queso fresco is the most important ingredient! We've had success using liquid rennet and rennet tablets, but the milk is the most important!
We tested this recipes with multiple brands of milk and we found that you must use non-homogenized and non-UHT milk!
What does UHT stand for?
UHT stands for Ultra Heat Treated Milk. Most milks in the USA are UHT, so you need to buy a milk for this queso fresco recipe that specifically states that it is non-UTH. Non-UHT milks are more common in Canada, FYI!
You need to use non-UHT milk. UHT milk will never work for cheesemaking because the protein structure has actually changed in the high temperature pasteurization
the best milk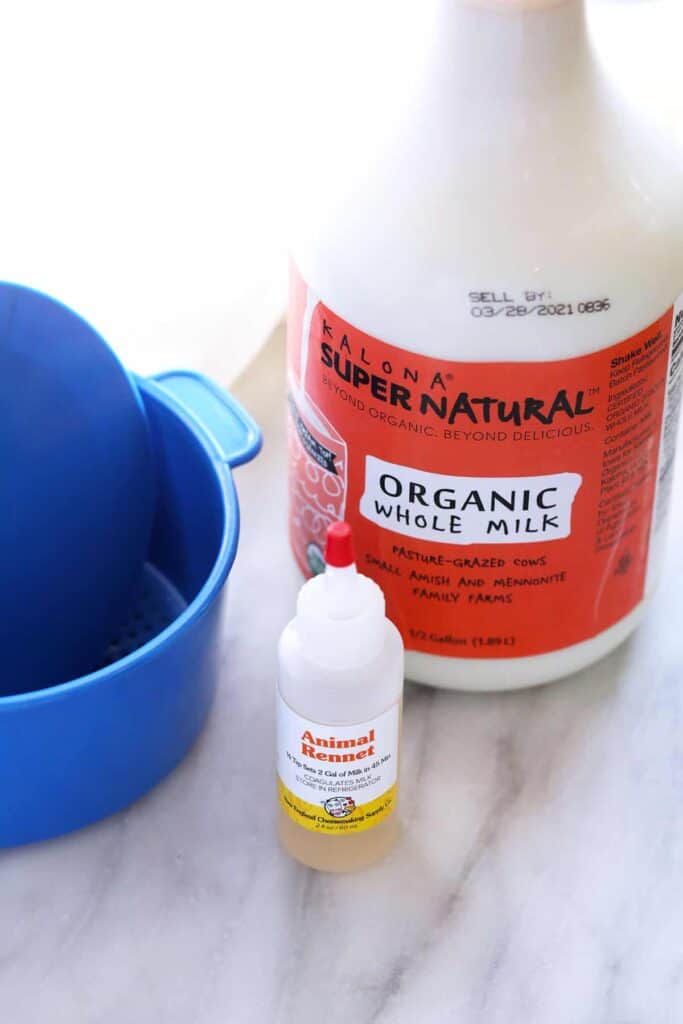 How to Make Queso Fresco
Patience is key when you are making this Queso Fresco recipe. Do not rush things along and be sure to follow the directions in the recipe.
Heat the milk.
Pour the milk into the pot and whisk so the thick cream of the milk has dissolved. Heat the milk to 109ºF. Remove from heat.
Add the rennet.
Add rennet to the milk, whisk to combine.
Let sit.
Let the rennet and the milk sit for at least an hour.
Cut the custard.
Check the milk and if the milk has firmed up into a curd, cut the curd into 1/4 inch chunks with a whisk. If the milk hasn't set, let sit for another 15 minutes. Do not let the milk sit too long, if the curd hardens too much you won't be able to make cheese.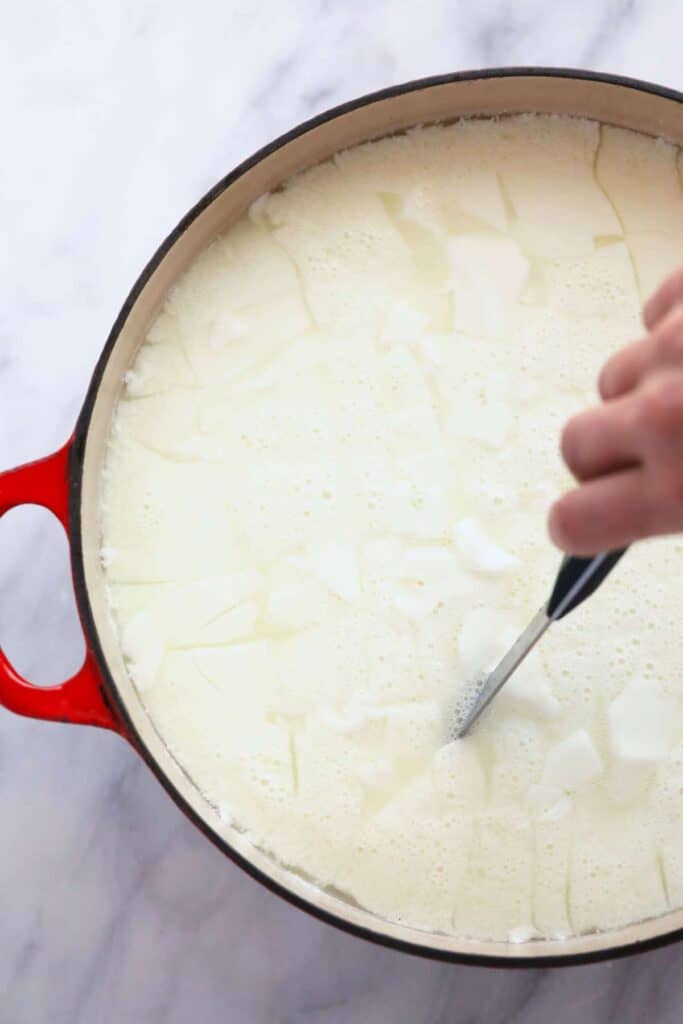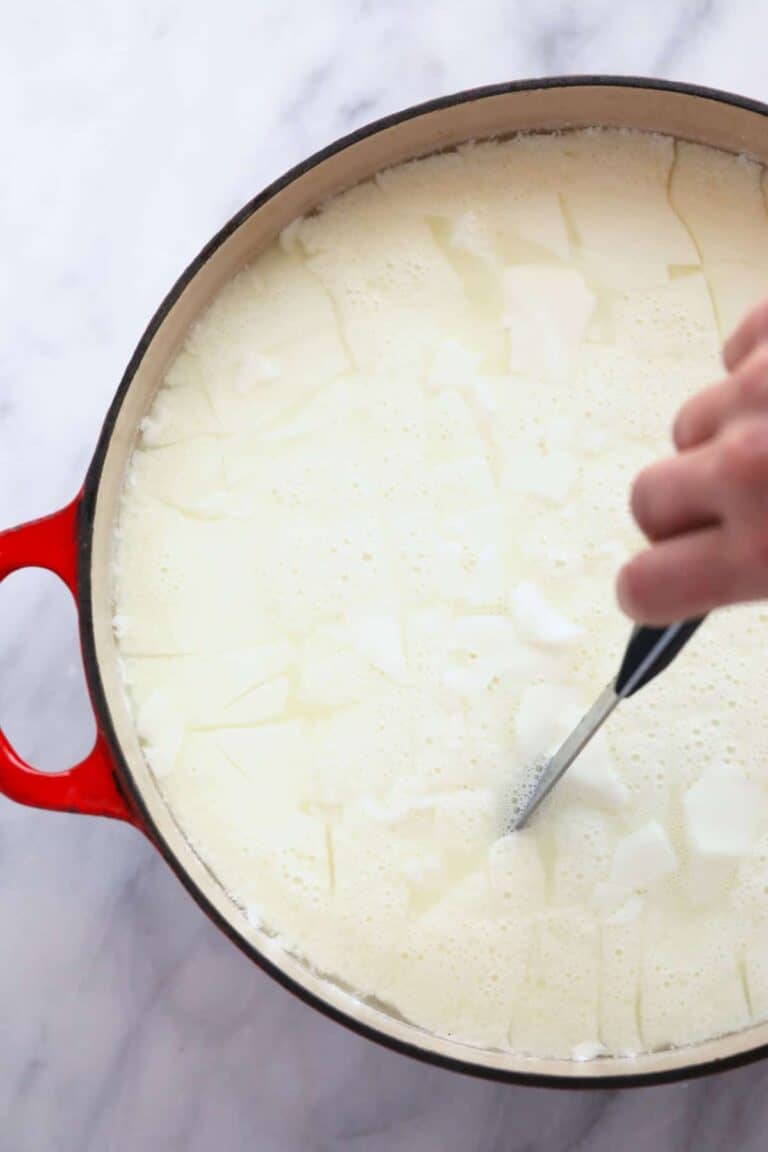 Let sit.
After you cut the curd, let the cheese sit for 10 minutes while the curd falls to the bottom of the pot and separates from the whey.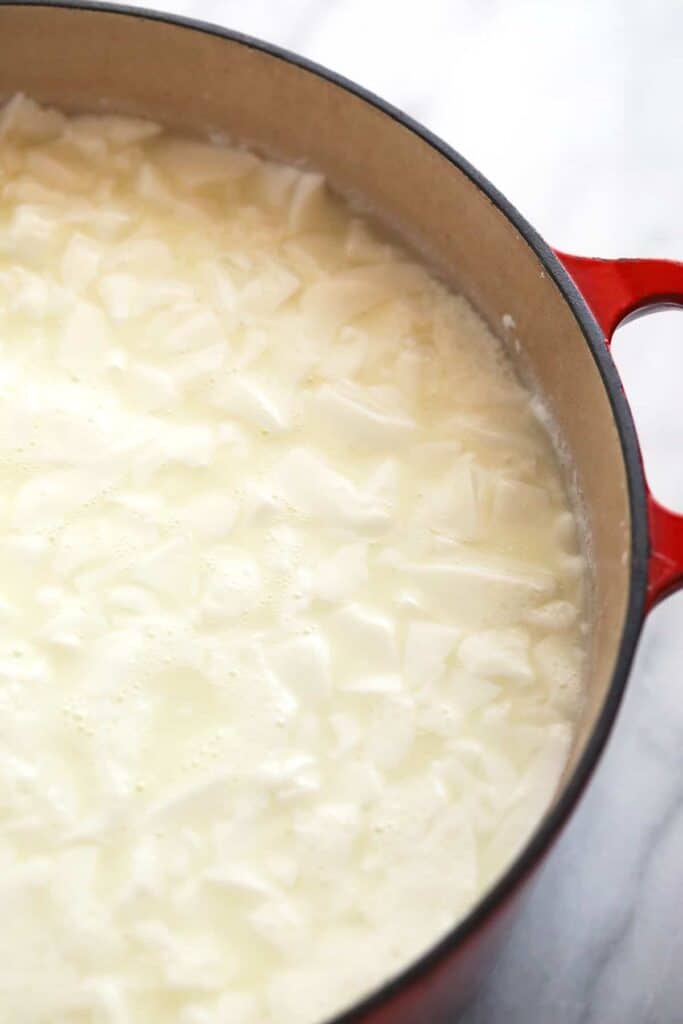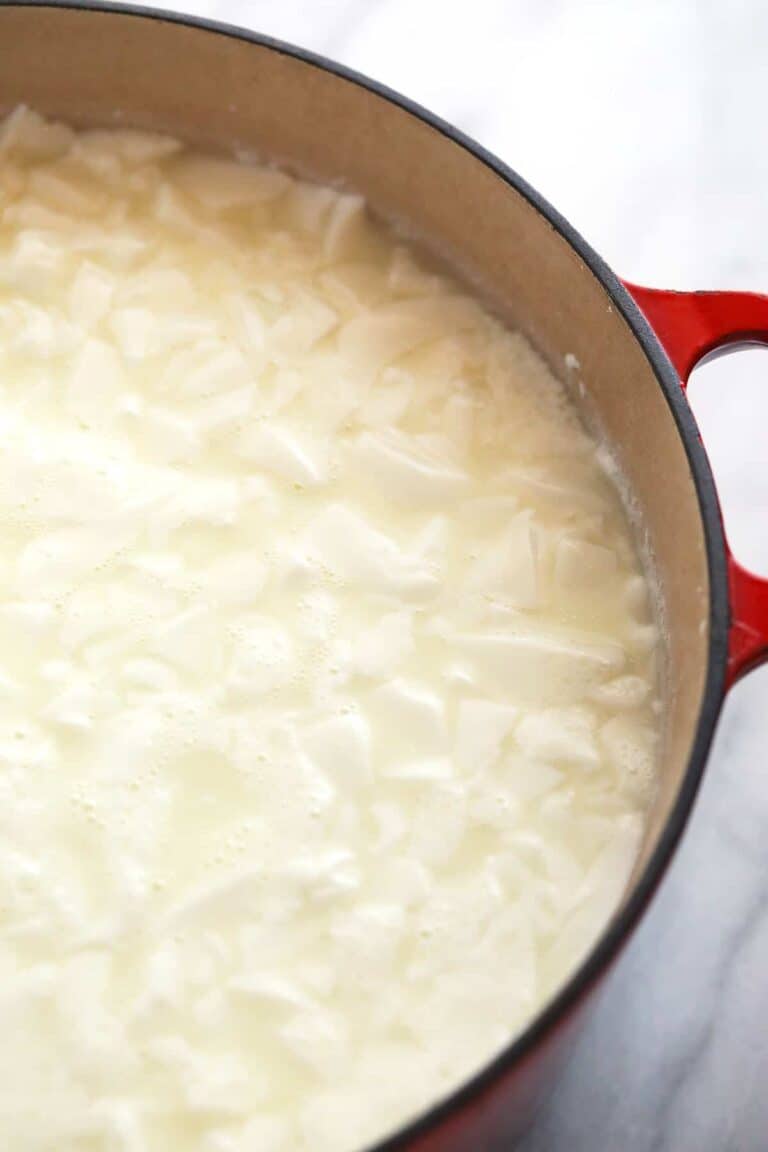 Transfer Curds.
Wet a cheesecloth and line a colander. Transfer the curds to the lined colander with a slotted spoon. Discard the whey.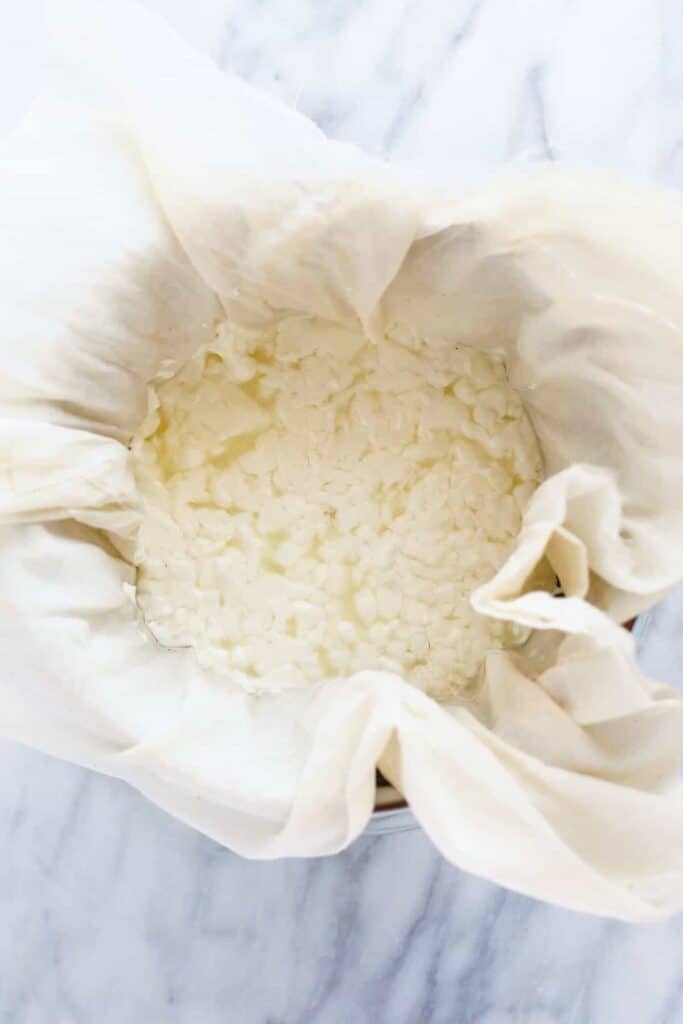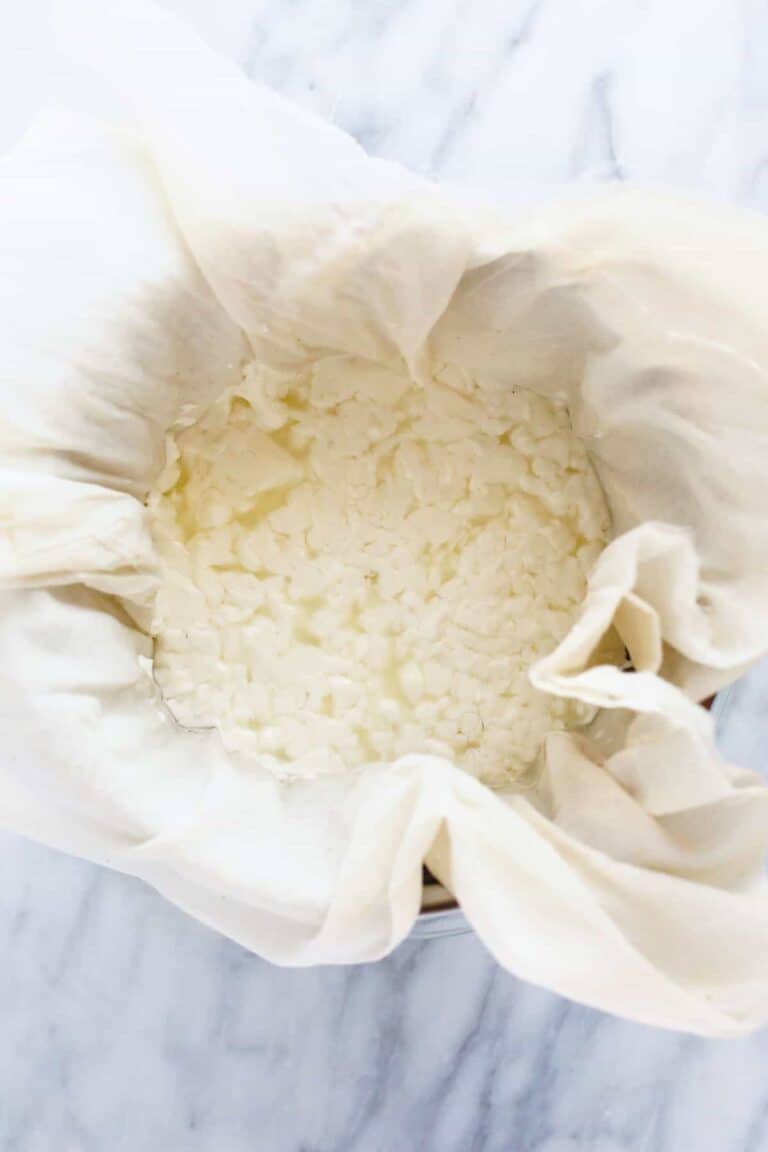 Drain Curds.
Gather the ends of the damp cheese cloth and gently twist the cheese cloth so that excess whey drains from the curds. Use your hand to drain the excess whey from the curd for about 10 minutes.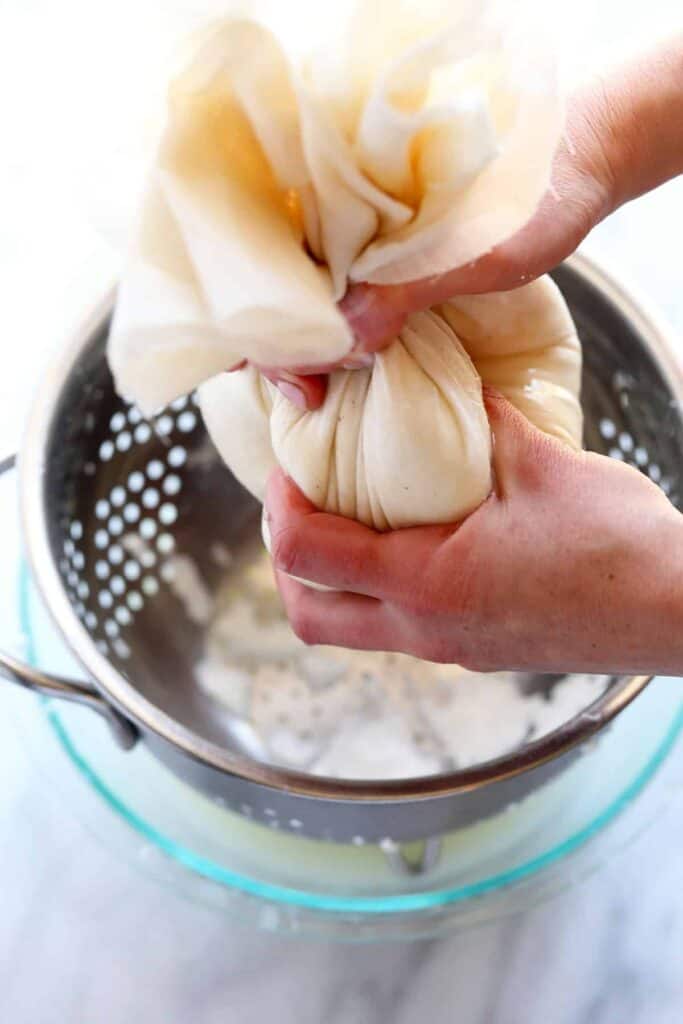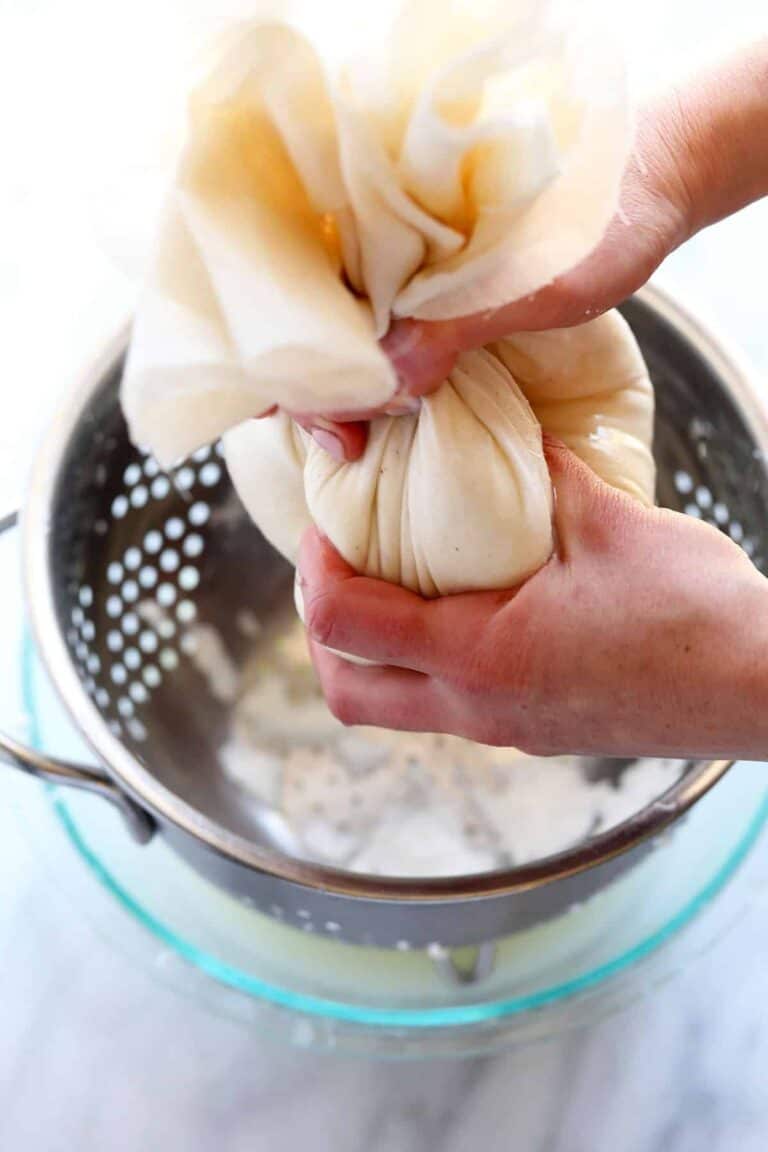 Let sit.
Set the twisted cheese cloth back into the colander and let the queso sit for an additional 10 minutes.
Add salt.
Carefully unwrap the queso and use your hands to break up the cheese and add salt. Gently massage the salt into the cheese.
Mold the cheese.
Place a damp cheese cloth into your cheese mold and add the queso to the mold. Fold the ends of the cheese cloth over the queso and then use a press to gently press the cheese down into the mold.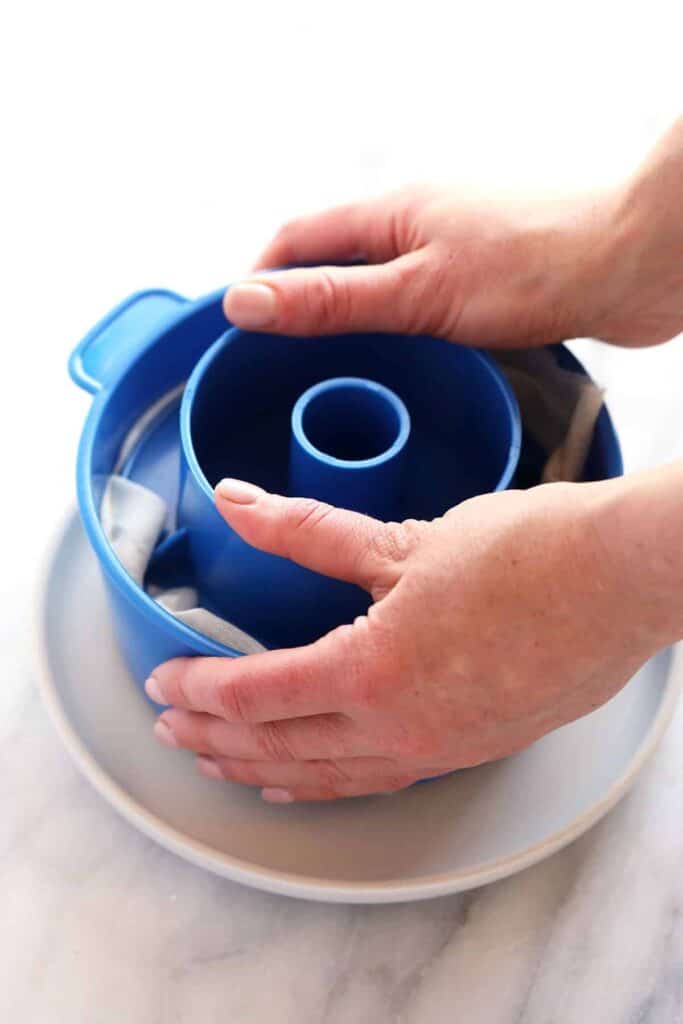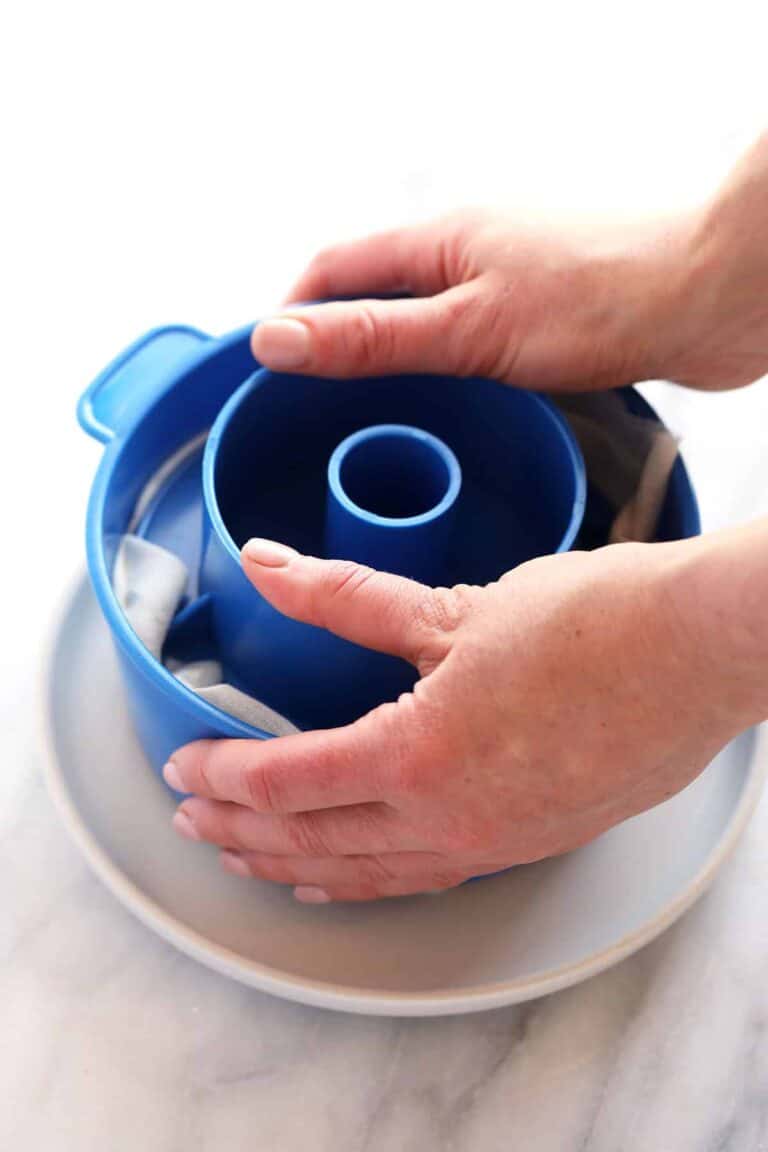 Let sit.
Let the cheese sit in the mold for 10 minutes.
Flip the cheese.
Carefully flip the cheese and press the mold on top of the cheese and then let the cheese sit for 1 hour- 6 hours in the fridge to set (the longer the better).
ENJOY.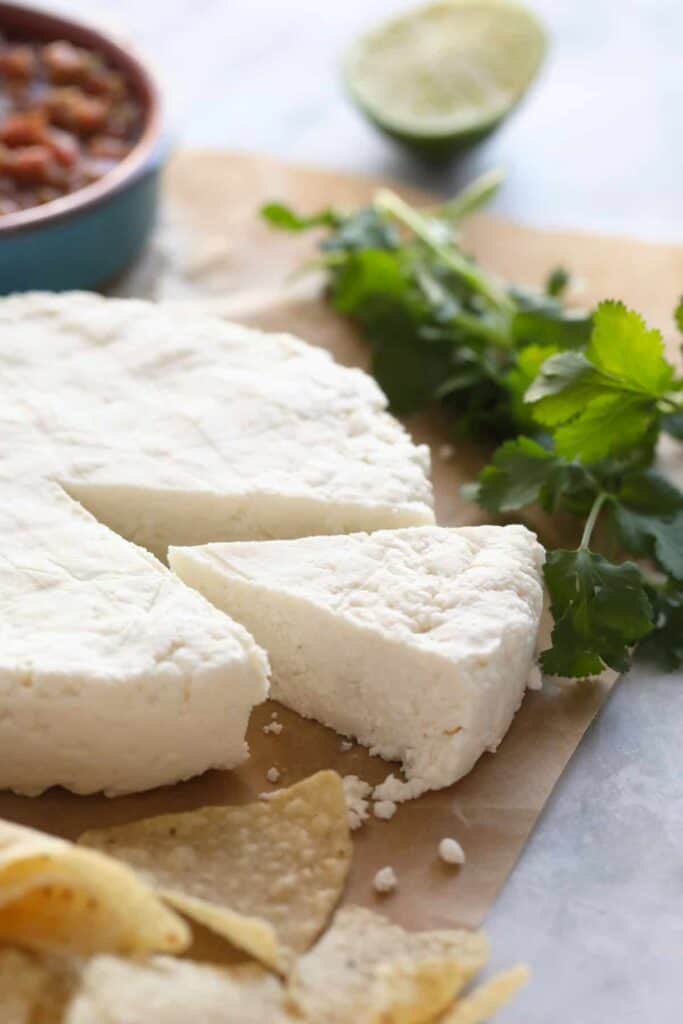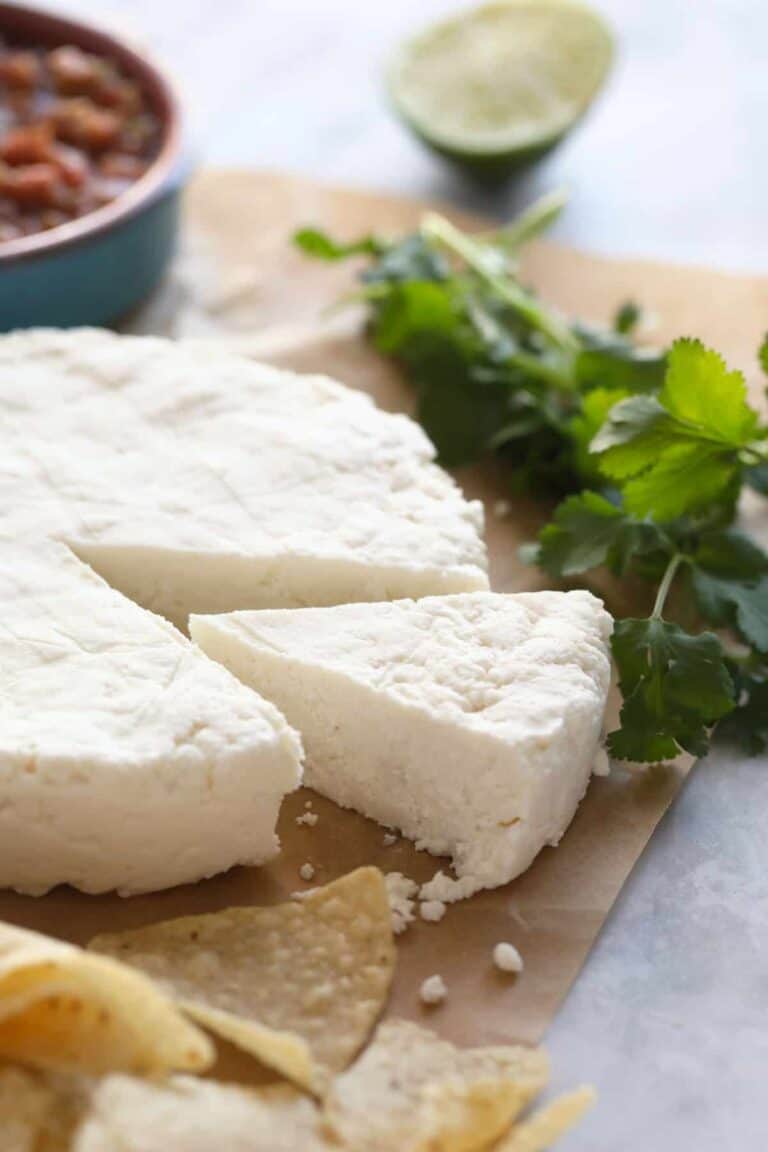 Tips + Tricks
Ingredients are so important.
Don't stray away from the tips and tricks we gave you for choosing the milk and rennet for this recipe! You NEED non-UHT milk!
Patience. Patience. Patience.
Do not rush the process of this cheese! Deciding to make cheese is so fun and a new adventure. When you're not patient you may ruin your cheese and that stinks! Be patient and follow the directions!
Fun Flavor Add-ins.
When you add the salt into the queso freso, you have the opportunity to add in other herbs or spices! Feel free to get creative! Below are some great options!
Cracked black pepper
Fresh minced garlic
Garlic powder
Roughly chopped fresh cilantro
Red pepper flakes
What to serve with queso fresco.
You can add queso fresco to tacos, enchiladas, or any other delicious dish! We also love adding our homemade queso freso to a charcuterie board topped with a little jalapeno jelly. YUM.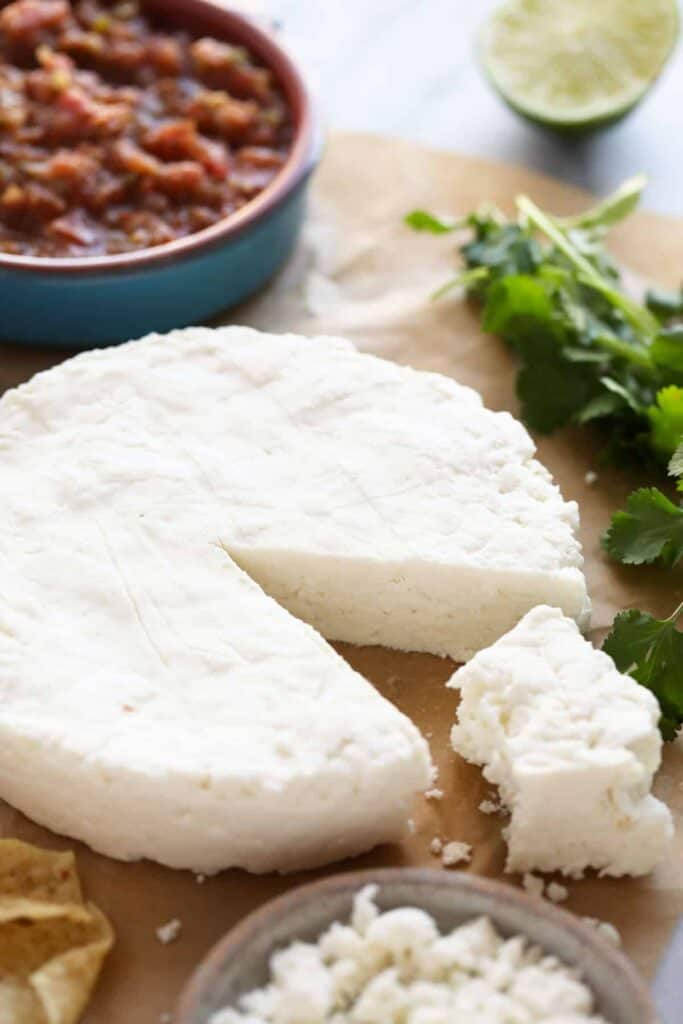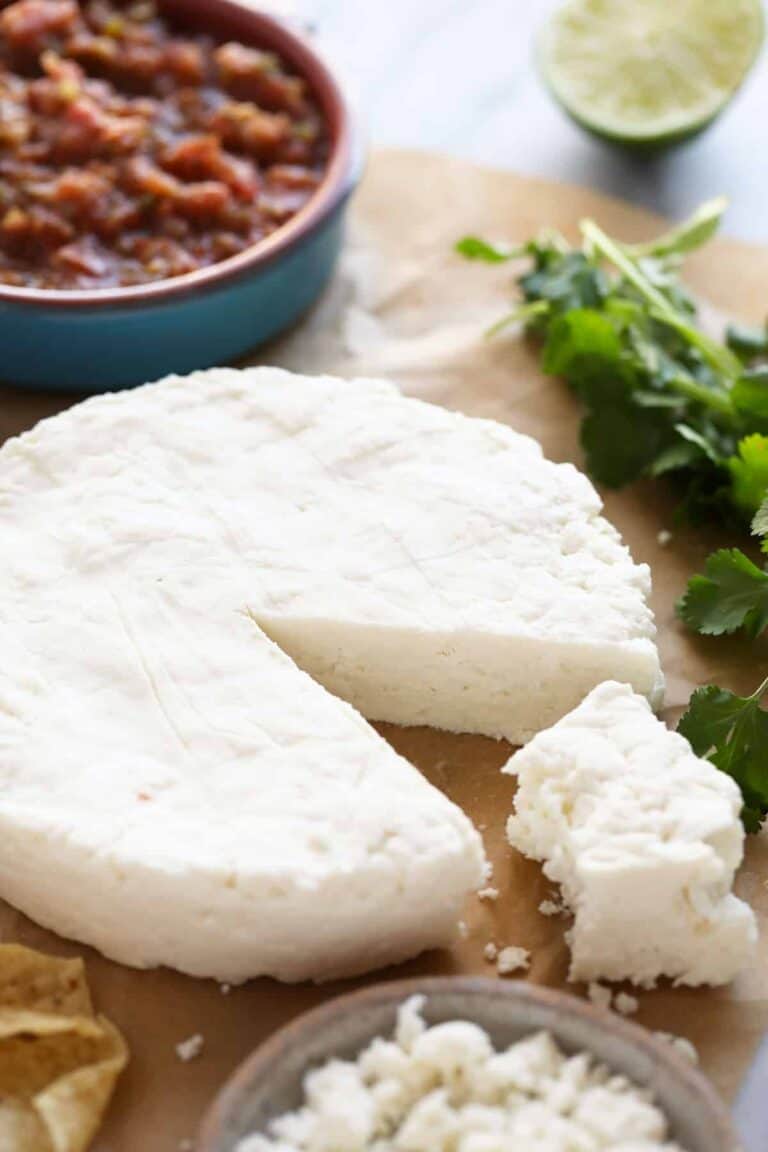 How to Store Queso Fresco
Store your queso fresco in an air tight container for 7-10 days with a piece of cheese cloth.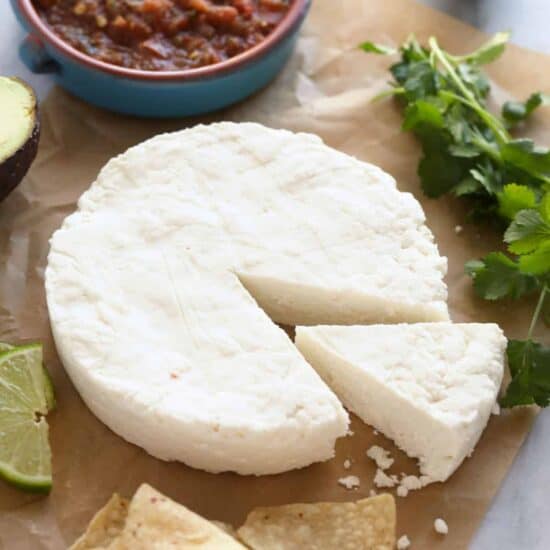 Queso Fresco Recipe
Have you always wanted to learn how to make queso fresco? Now is your chance! This queso fresco recipe is easy to make and a perfect addition to so many dishes!
Prep:
3 hours
Cook:
0 minutes
Total:
3 hours
Fat
14
Carbs
4
Protein
10
Ingredients
Equipment Needed
Cheesecloth

Digital thermometer

Colander

Mixing bowl

Heavy-bottom stainless steel pot

Large whisk

Slotted spoon

1

2-lb cheese mold or

2

1-lb cheese molds
Cheese Ingredients
1 gallon

organic pasteurized whole milk non- UHT) 

½ teaspoon

single strength liquid animal or vegetable rennet

1 teaspoon

kosher salt
Instructions
Begin by heating the milk. Pour milk into a large, heavy-bottomed pot. Stir the milk until cream dissolves in milk.
Warm over medium-low heat, stirring occasionally, until milk reaches 109°F (about 18 minutes) making sure to not overheat the milk.

Remove from heat, and thoroughly whisk in the rennet. Cover pot, and let stand for 1 hour.

After 1 hour, check the consistency of the curd by using a small knife to pierce the surface. It should be set like firm custard.

Using a large metal whisk, cut the curd into approximately 1/4-inch pieces. Let stand until curds sink to bottom of the pot, about 5 minutes.

Meanwhile, line a colander with damp cheesecloth (with enough overhang cloth to tie the ends together to form a bag), and set inside a large bowl.

Using a slotted spoon, transfer curds to colander.

Gather corners of cheesecloth, and lift with one hand while gently squeezing curds in cheesecloth with other hand to drain thoroughly. This will take 8-10 minutes.

Return to the colander, and let drain for another 10 minutes. Then, discard whey.

With clean hands, open cheesecloth, and transfer cheese to a medium bowl.

Break open cheese ball, and sprinkle with salt. Gently mix, breaking up cheese until salt is well incorporated.

Line the cheese molds with damp cheesecloth, allowing excess to drape over sides. 

Add curds to mold, pressing to fill evenly.

Fold cheesecloth over top, and press to expel remaining whey. Let stand 10 minutes.

Unmold cheese, flip, and return to cheesecloth-lined mold (the bottom will now be the top). Press cheese gently to set shape (a large can of tomatoes or beans works well as a weight for this).

Transfer mold to a rimmed baking sheet, and chill at least 1 hour and up to 6 hours before unmolding.

Unmold cheese, and serve immediately, or store in an airtight container in the refrigerator for up to 1 week. Cut into wedges or crumble before serving.
Nutrition Facts
Serving Size:
1/12
Calories:
178
Sugar:
4
Sodium:
138
Fat:
14
Carbohydrates:
4
Fiber:
0
Protein:
10
Cholesterol:
31
Category:
Cheese
Method:
No Bake
Cuisine:
Latin