The ultimate steak quesadilla is made with flank steak, mushrooms, onion, and tons of Monterrey Jack cheese!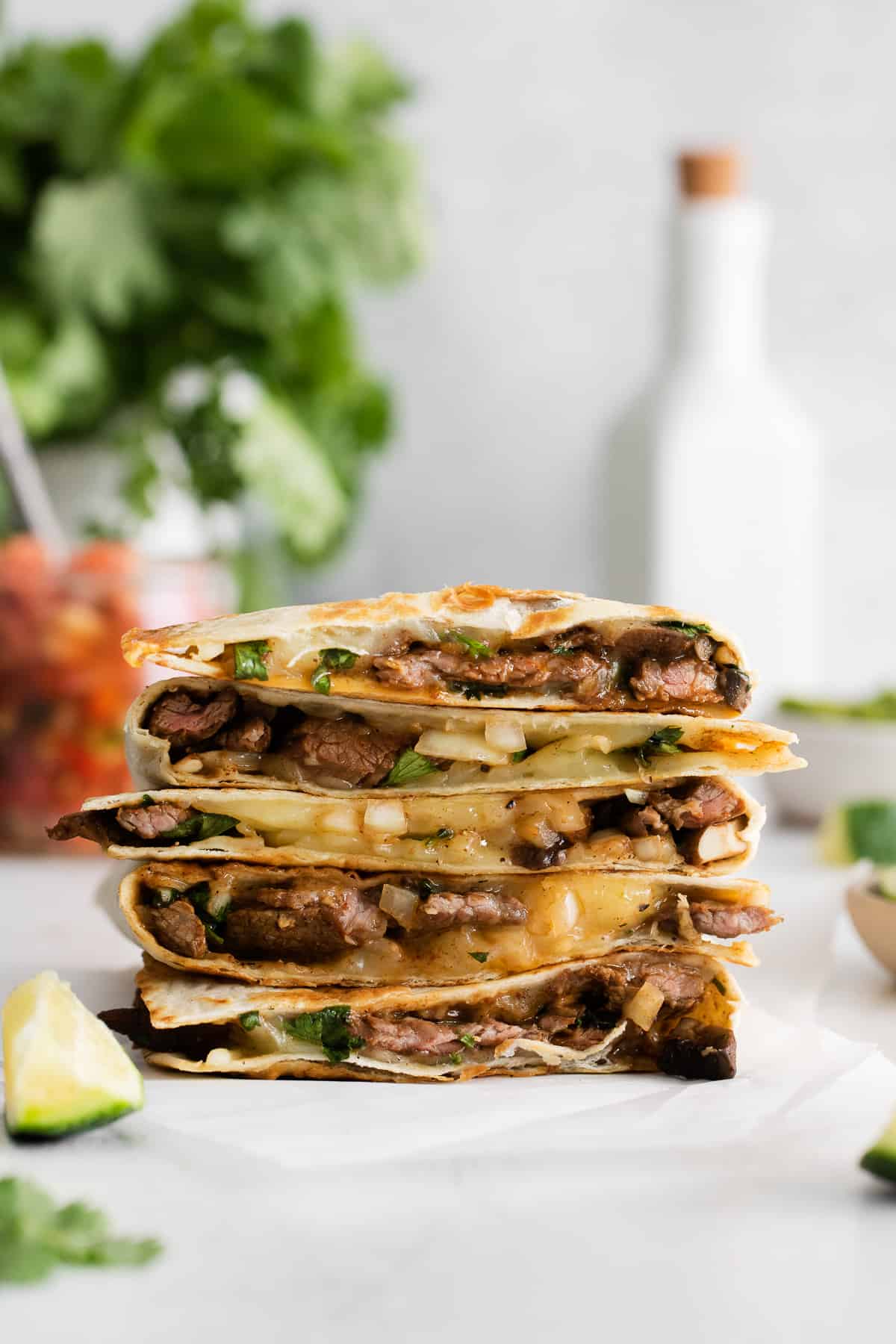 Ultimate Steak Quesadilla Recipe!
We've mastered the basic cheese quesadilla and chicken quesadilla and now we're bringing you the ultimate steak quesadilla.
This steak quesadilla is mouthwatering-good made with caramelized mushrooms, onions, garlic, and tons of cheese.
It would be so delicious served next to Mexican street corn salad and homemade guacamole.
Why you'll love it!
Protein-packed
Cheesy
Easy leftovers
Quick dinner idea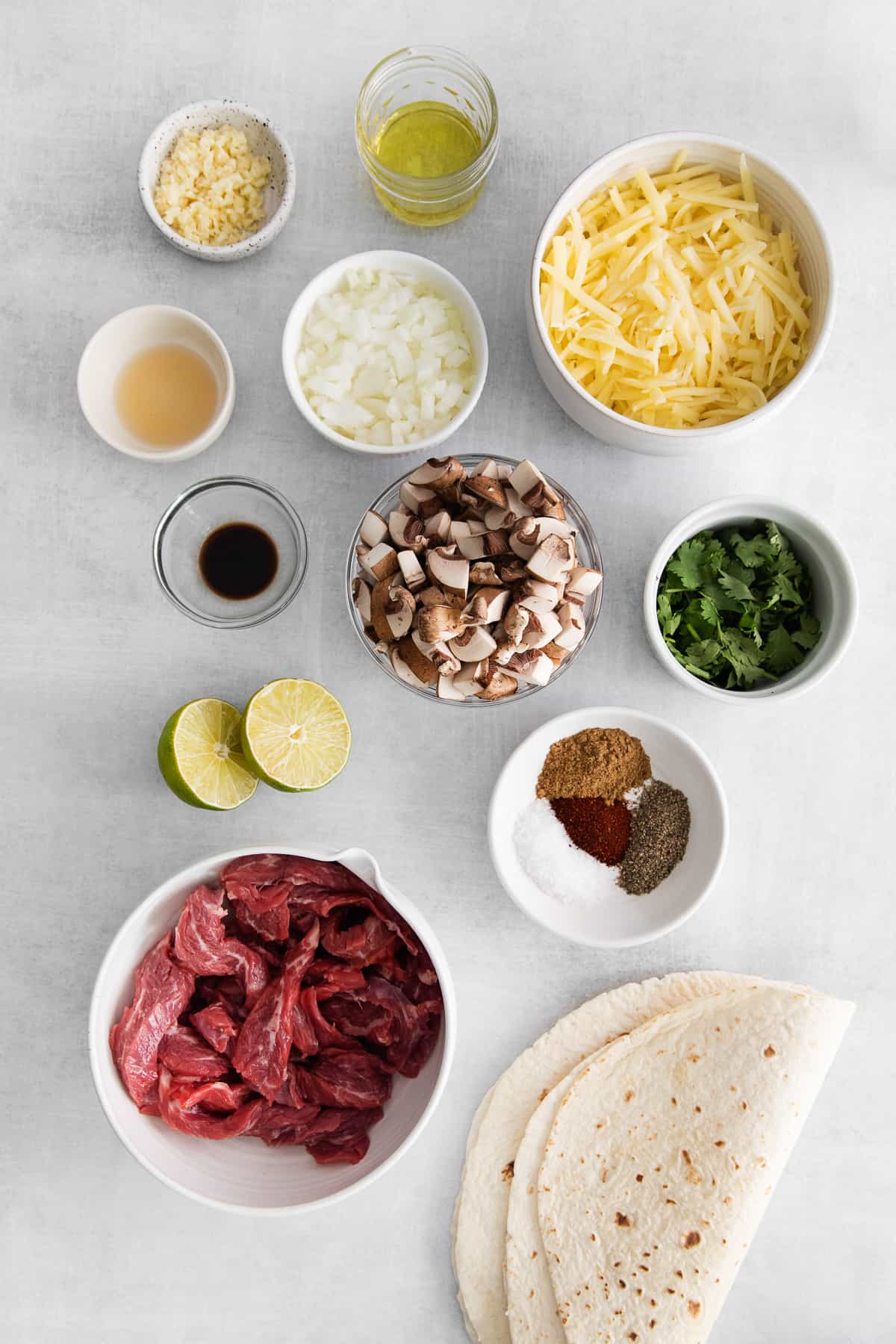 Best type of steak for quesadillas?
We've found that flank steak is the best kind of steak for quesadillas because it's affordable and when pan-seared, super tender. Other kinds of steak you can use include:
What is in a steak quesadilla?
This steak quesadilla recipe is made with flank steak, mushrooms, onions, fresh cilantro, cheese, and spices.
If you're looking for a more traditional quesadilla filling, you can swap the caramelized mushrooms for bell peppers. Check out this fajita veggies recipe.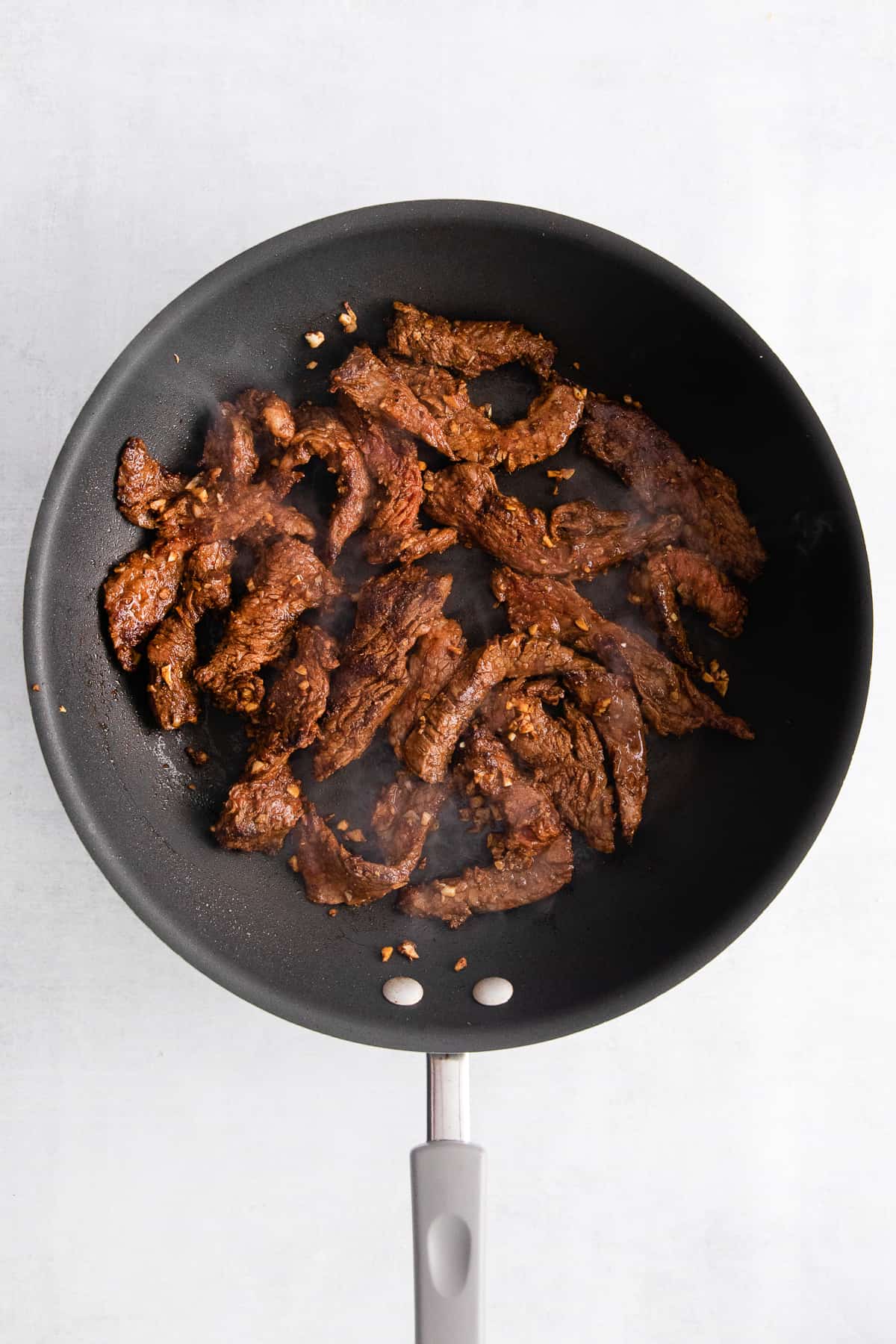 Types of Cheese to use in a Quesadilla
Since we're a cheese site, we're obviously extremely passionate about what type of cheese goes into a steak quesadilla! While we used Monteray jack cheese in this recipe, here are a few more options:
Mexican cheddar blend cheese
Colby Jack cheese
Quick tip: we always recommend freshly shredding your cheese over purchasing pre-shredded!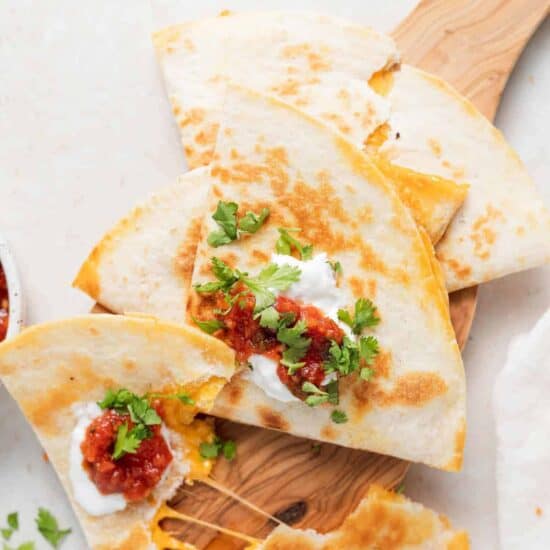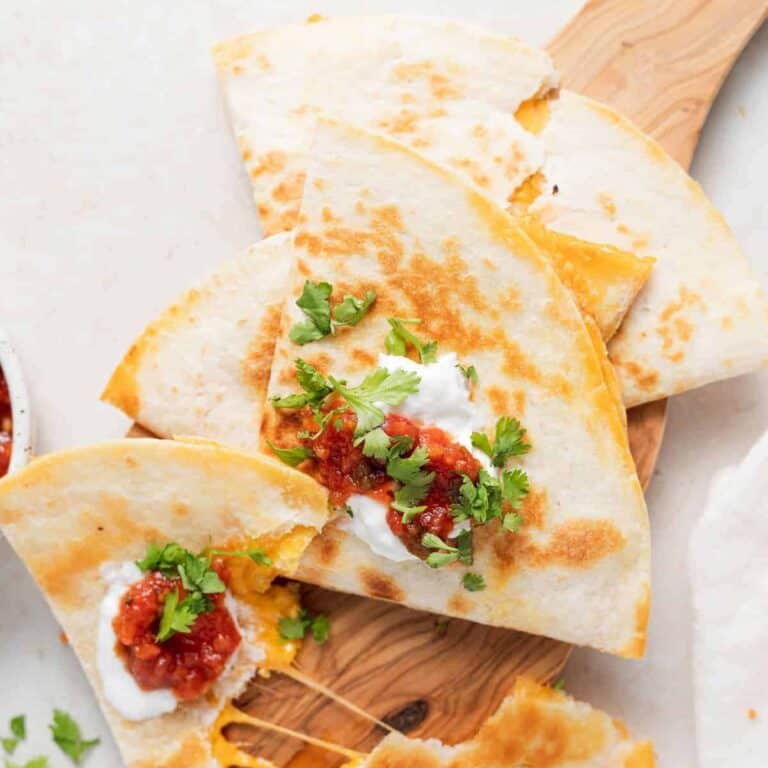 Try it!
Cheese Quesadilla
Here's a quick recipe for a cheese quesadilla. In this post, we'll teach you how to make a cheese quesadilla, plus how to stuff it and make it your own!
Try it!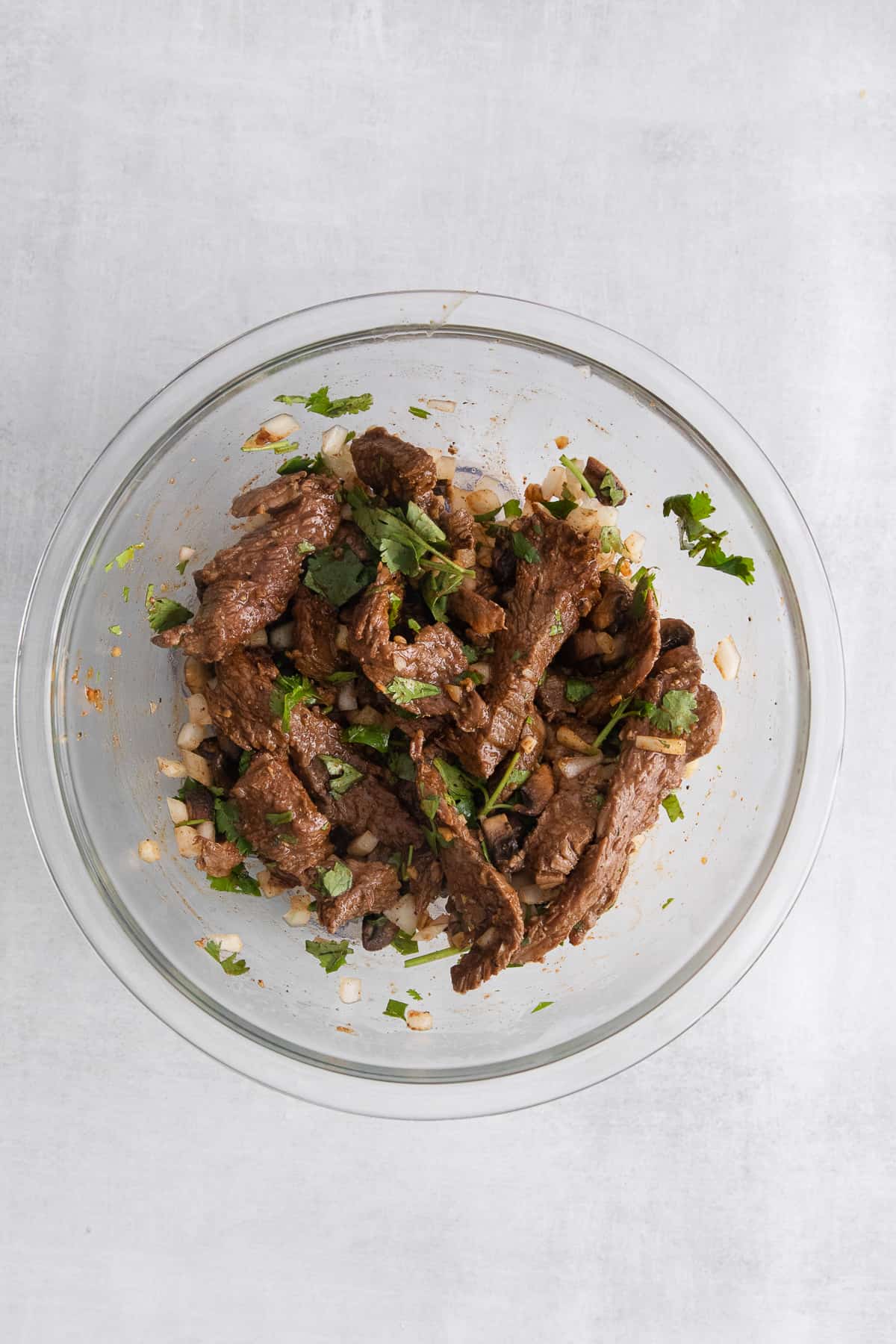 FAQs
What goes with steak quesadillas?

We recommend serving your steak quesadilla with fresh salsa, guacamole, sour cream, and cilantro.
What do you put in a steak quesadilla?

Common things to put inside of a steak quesadilla include bell pepper, onions, mushrooms, and cheese.
What kind of cheese is best for quesadillas?

The best type of cheese for a quesadilla is a shredded cheddar-based cheese because it melts easily. Try classic cheddar, Mexican cheddar cheese, Monterrey jack cheese, or Colby Jack cheese
Storage
Store leftover steak quesadilla in an airtight container in the fridge for up to 3 days.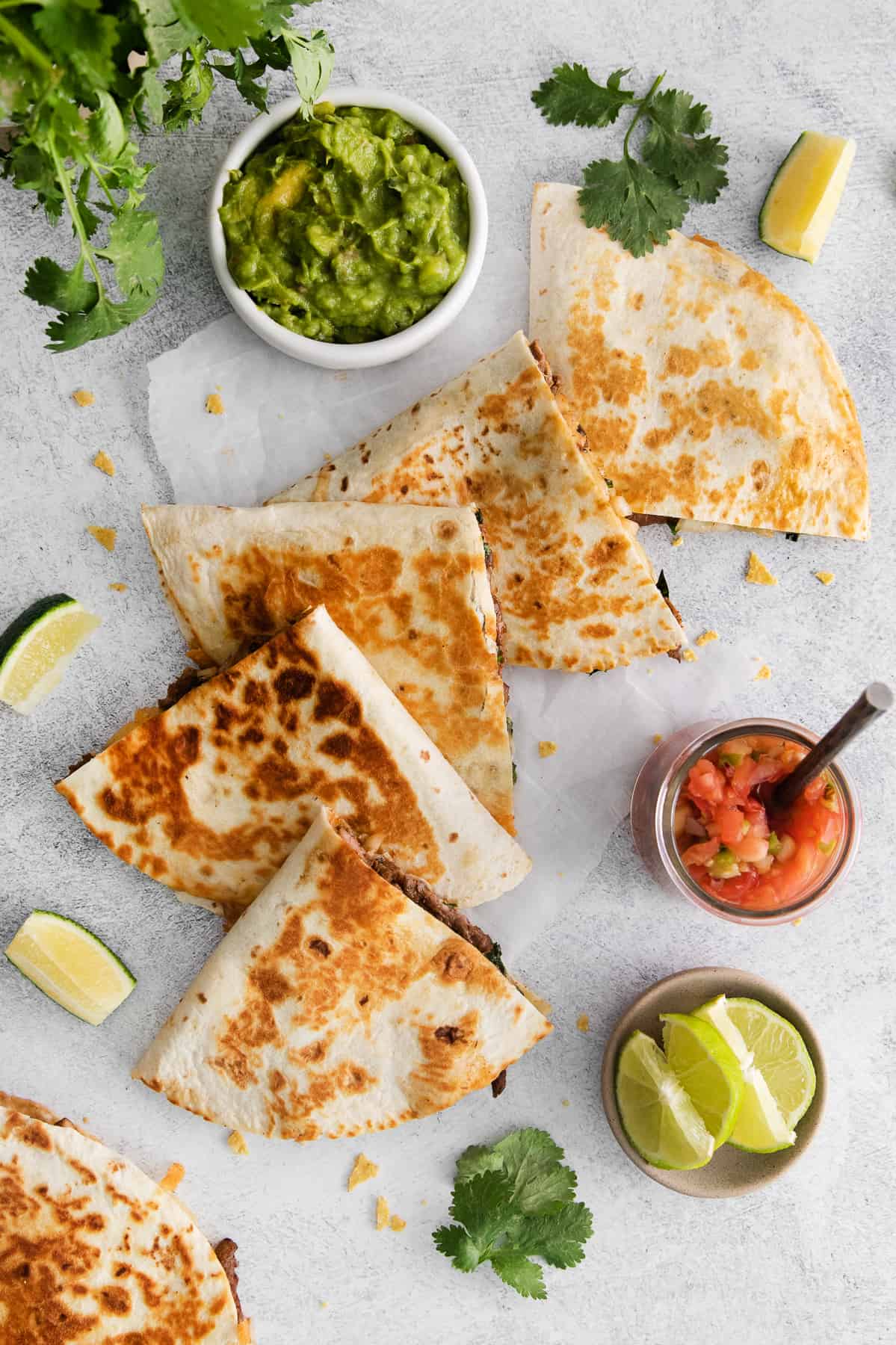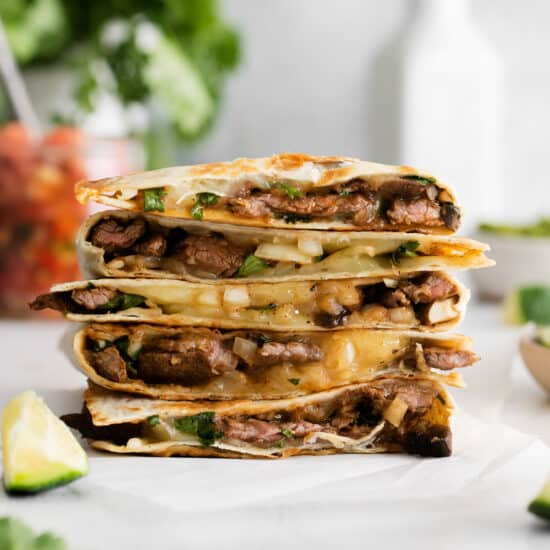 Steak Quesadilla
This steak quesadilla recipe is packed with flank steak, tons of cheese, caramelized mushrooms, and onions!
Ingredients
1.5

lbs.

flank steak

2.5

teaspoons

flaked kosher salt

separated

2

teaspoons

ground cumin

1

teaspoon

chili powder

2

teaspoons

ground black pepper

1

teaspoon

Worcestershire sauce

4

cloves

garlic

minced

½

medium white onion minced

½

cup

fresh cilantro

roughly chopped

2

teaspoons

fresh lime juice

1

teaspoon

apple cider vinegar

2

tablespoons

avocado oil

or olive oil

1.5

cups

mushrooms

any kind, roughly chopped

2

cups

shredded Monterey Jack cheese

8

8-inch

flour tortillas

8

fresh lime wedges
Instructions
Place the flank steak on a cutting board and cover it with plastic wrap and pound the steak with a meat tenderizer until the whole piece of meat is about ¾-inch thick. Slice the flank steak into thin strips, using a sharp knife to slice the steak against the grain of the steak. Place the strips of steak into a large bowl.

Season the steak strips with 1.5 teaspoons salt, cumin, chili powder, peppercorns, maggie sauce, and garlic. Massage the ingredients into the steak with your hands and set aside.

Add the cilantro, white onion, lime juice, and vinegar to a small bowl and season with a pinch of salt. Toss the ingredients together and let them rest.

Next, heat a large skillet over medium heat and add 1 tablespoon of oil to the skillet. When the oil is hot, add sliced mushrooms to the skillet and season with 1 teaspoon of salt. Let the mushrooms saute for 7- 10 minutes or until the mushrooms are cooked to your liking. Remove the mushrooms from the skillet and add them to a large bowl and set aside.

Heat the same skillet over medium/high heat and add the remaining oil to the pan. When the oil is fragrant add the seasoned beef strips to the pan and move the meat around periodically until cooked to your liking. We like some pieces to be cooked medium rare, but if you like well done meat, cook until you see pink

Use a slotted spoon to remove the meat from the skillet and allow the drippings to stay in the skillet. Place the steak strips into the same mixing bowl as the mushrooms.

Pour the steak drippings into a small saucepan and heat over low heat to keep the drippings warm until the quesadillas are ready to serve.

Add the white onion and fresh cilantro mixture to the mixing bowl with the steak and mushrooms and mix until combined.

Assemble the quesadillas in a skillet pan. Wipe the same skillet pan clean with a paper towel and then heat the skillet pan over medium/high heat. Add 1-2 teaspoons of oil. Add one tortilla to the skillet and add ¼ cup of shredded cheese to half of the tortilla, then add ½ cup of the beef over the top of the cheese, and lastly add ¼ cup more of shredded cheese over the top of the beef. Fold the other half of the quesadilla over the ingredients and press the quesadilla down firmly with a spatula. Cook the quesadilla for 3-4 minutes on each side until golden brown. Remove from the skillet.

Repeat step 8 until all of the quesadillas are made.

Serve the quesadillas with a squeeze of fresh lime juice, the steak drippings as a dip or with salsa and guacamole.
Tips & Notes
If you don't like cilantro, omit the cilantro or serve it on the side.
Nutrition facts
Calories:
424
kcal
Carbohydrates:
28
g
Protein:
30
g
Fat:
21
g
Fiber:
3
g
Sugar:
3
g