Crunchy, perfect homemade Cheez Its only require a few ingredients — including real cheddar cheese! Learn how to make them in this post.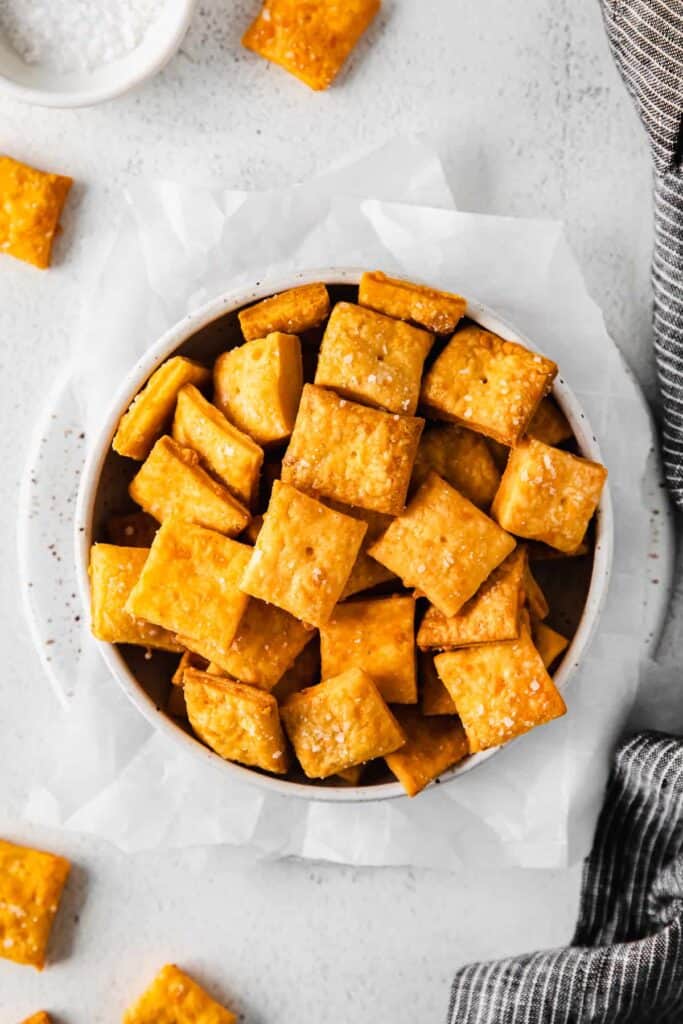 Best Cheesy, Crunchy Snack –> Homemade Cheez Its!
As a Wisconsin gal, Cheez Its are no stranger to my snack drawer. I love me a good cheesy snack and Cheez Its make the top of my list.
Since we're a cheese site, we figured we needed a homemade cheez its recipe and one that's made with real cheese!
This recipe only calls for 6 basic ingredients and yields around 4-cups of crunchy, salty, perfect homemade Cheez Its!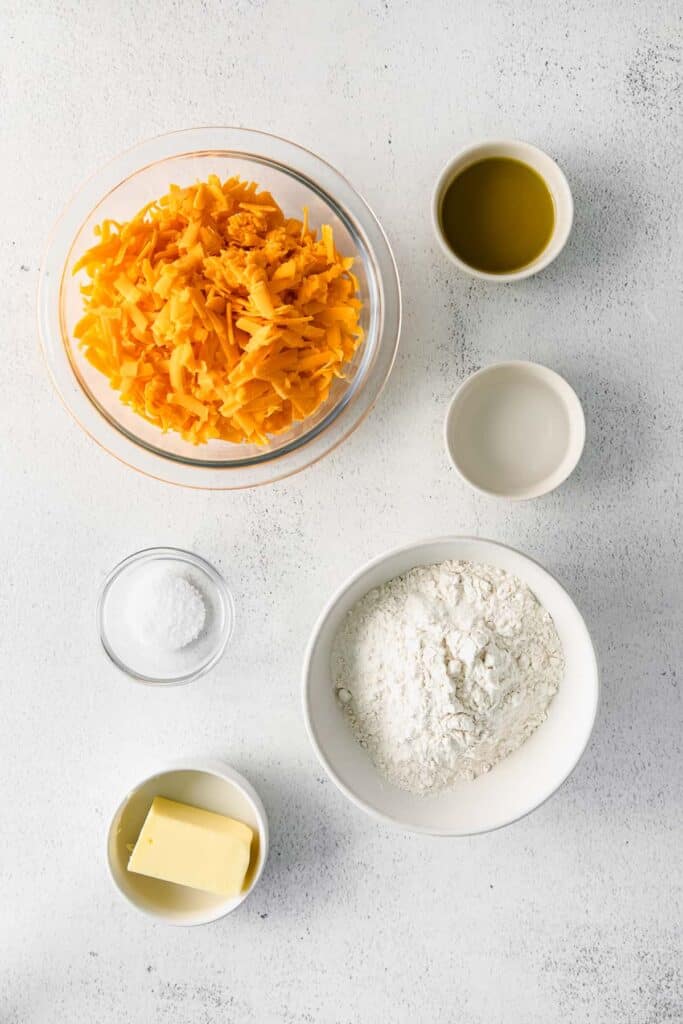 What You Need
Butter: we recommend using unsalted butter for this recipe.
Cheddar cheese: both pre-grated and freshly grated cheddar cheese work. But, we always recommend going with freshly grated.
All-purpose flour: AP flour is the base of this recipe. We haven't tested it with anything else.
Salt: what would a cracker be without salt?
Cold water: water is used to create the dough. Add a little at a time.
Olive oil: the tops of the crackers are brushed with olive oil to make sure they come out nice and crunhcy.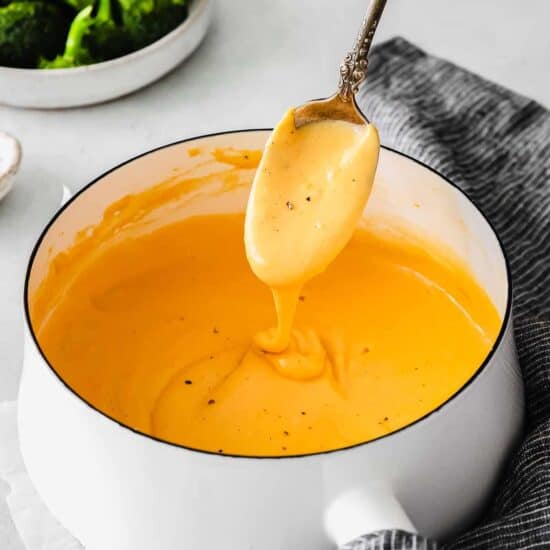 Get More
Cheddar Cheese Recipes
Looking for more recipes with cheddar cheese? Check out our cheesy collection of cheddar cheese recipes.
Get Recipes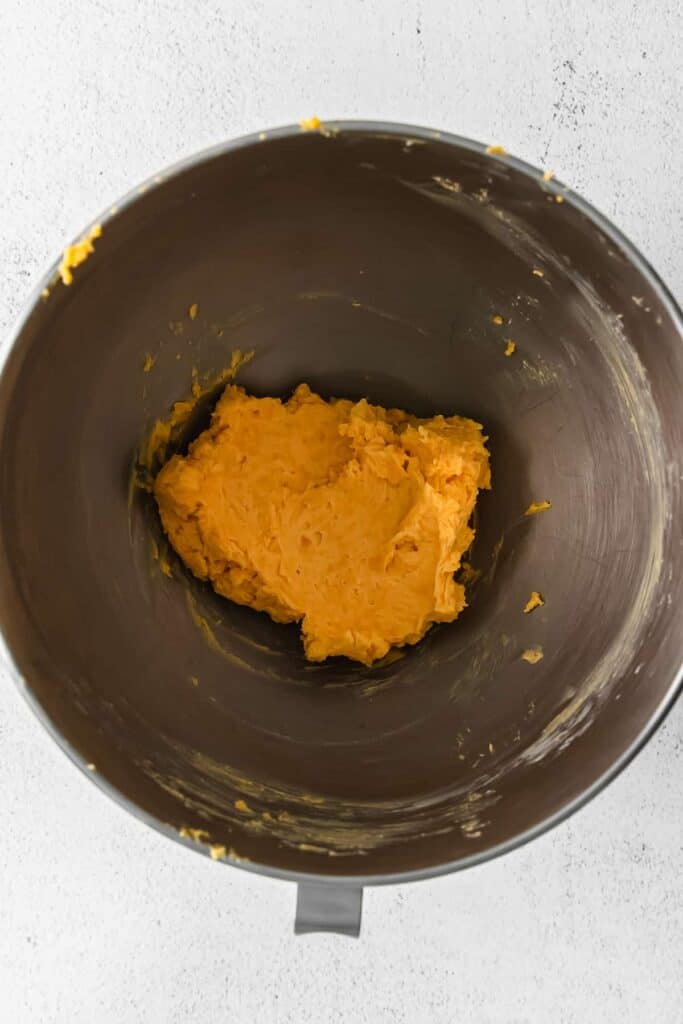 How to Make Homemade Cheez Its
Combine Butter and Cheese
Place butter and cheddar cheese into the bowl of a stand mixer and mix on medium/high until the mixture is smooth and fluffy.
Add Flour & Mix
Slowly add flour and salt and mix on low until combined. The mixture should be crumbly.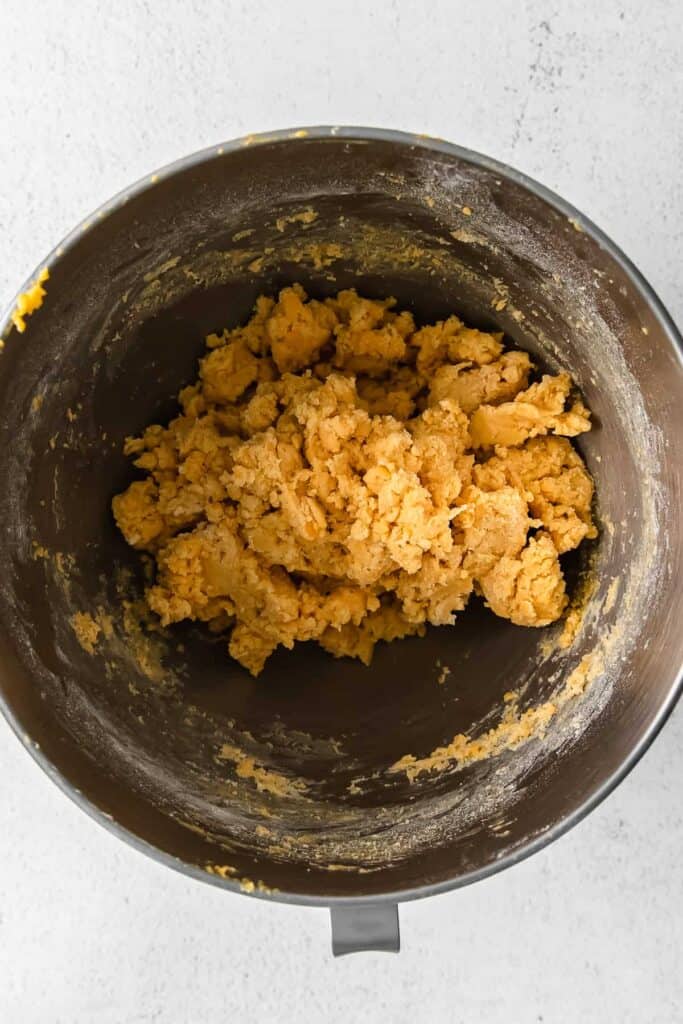 Add Water & Mix
Add cold water by the teaspoon and continue to mix until a dough has formed.
Refrigerate
Roll the dough into a ball and then flatten it into a disc. Wrap it with plastic wrap and refrigerate for at least and hour.
Roll Out Dough
Roll the dough out on top of a piece of parchment paper so that it's 1/8 inch thick. Make sure it is even.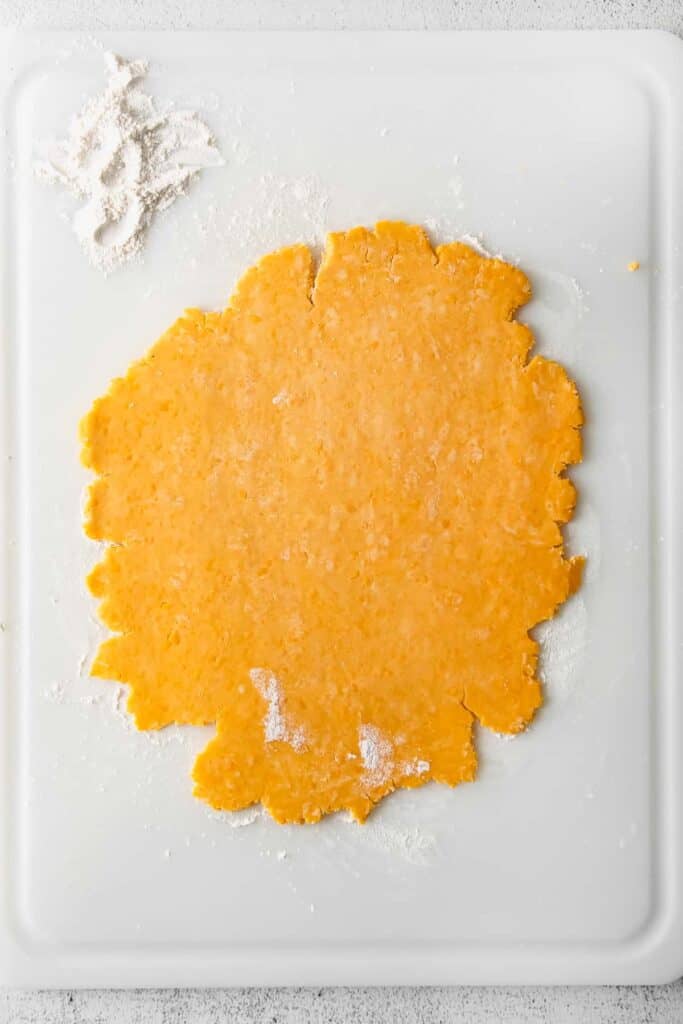 Slice
Use a ruler to mark a 1-inch grid both vertically and horizontally around the dough and then use a pizza cutter or pastry cutter to slice the 1-inch crackers. Then, use the flat end of a skewer to poke a hole in the center of each cracker just like a classic Cheez It.
Bake
Transfer the parchment paper to a baking sheet and then make sure the crackers aren't touching. You'll need to separate them a little bit (see photo below).
Brush each cracker with olive oil and season with salt. Bake at 375ºF for 15-17 minutes, checking on them halfway.
Cool
Immediately remove the crackers from the baking sheet and transfer them to a cooling rack to cool.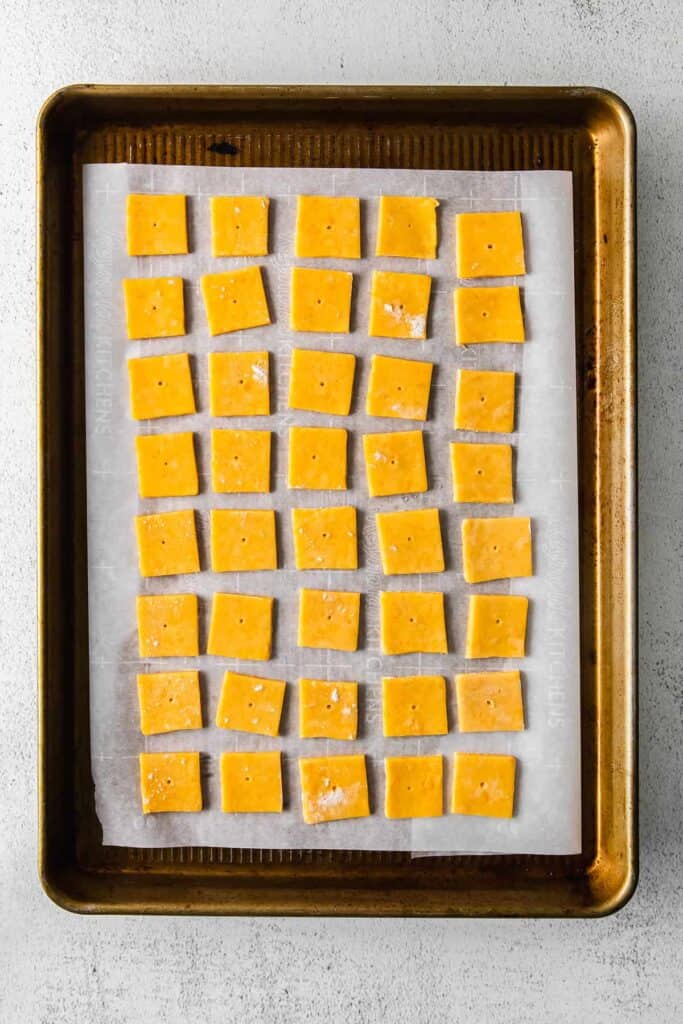 Top Tips for Perfect Homemade Cheez Its
Room temperature butter: Be sure you use room temperature butter. The butter needs to cream for the shredded cheese and butter to become homogeneous.
Flour tip: Don't fret when you add the flour to the bowl, it will seem very crumbly, but that is how it is supposed to be.
Start small with water: Add 2 tablespoons of water to start and if the dough still doesn't form, add the 3rd tablespoon.
Roll it thin: Be sure you roll the dough out very thin or else you will end up with thick Cheez Its .
Parchment paper: We liked to roll the dough out on the same parchment paper that the Cheez Its are baked on to make life easier when transferring the Cheez Its to the baking sheet.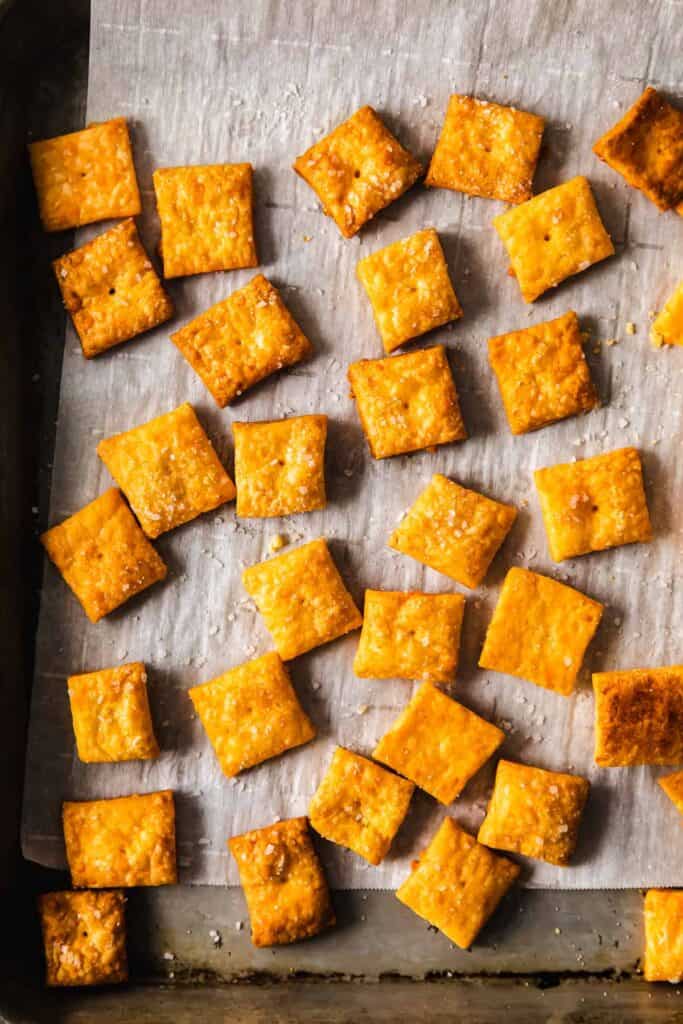 Storage
Let your crackers cool completely. Then, transfer them into an airtight container and store in a cool, dark place for up to 1 week.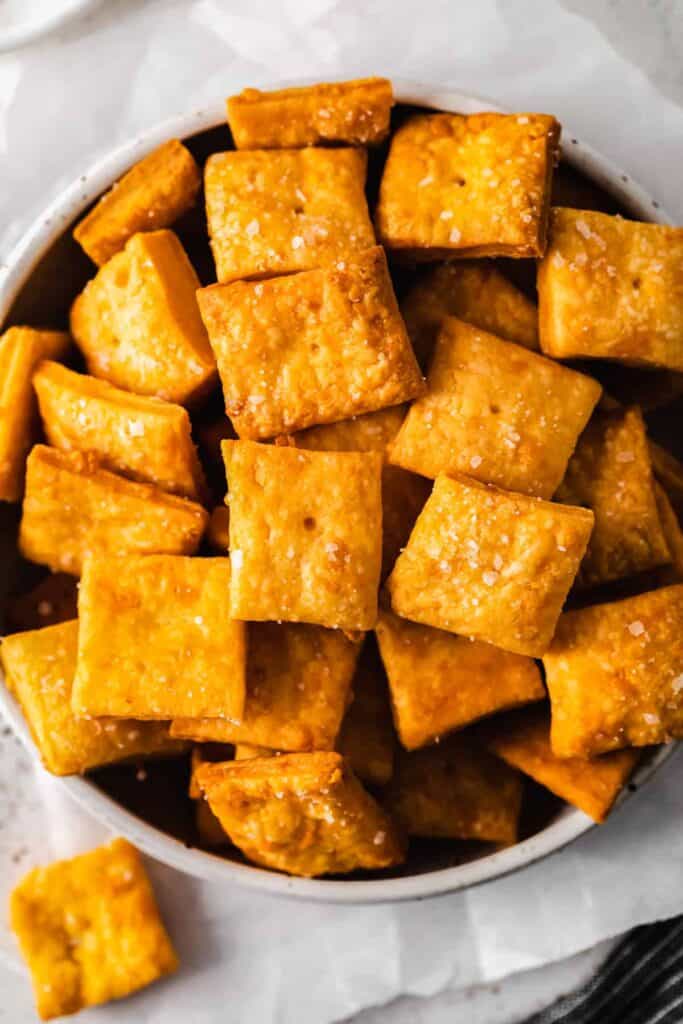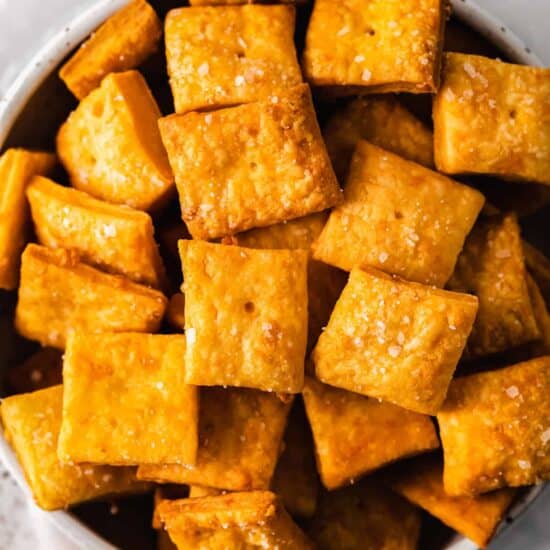 Homemade Cheez Its
These homemade Cheez Its are made with 6 basic ingredients including real cheddar cheese. Learn how to make them in this simple tutorial.
Ingredients
¼

cup

unsalted butter

room temperature

8

oz.

sharp cheddar cheese

shredded

1 ¼

cups

all-purpose flour

1

teaspoon

kosher salt + more for topping

2-3

tablespoons

cold water

2

tablespoons

olive oil
Instructions
Place the butter and sharp cheddar cheese into a mixing bowl. Using a standing mixer or an electric mixer, mix the two ingredients together on medium/high speed for 4-5 minutes or until the mixture becomes smooth, combined, and fluffy. 

Add 1 teaspoon of salt to the flour and whisk the two together. Slowly add the flour and salt to the bowl and mix the ingredients together on low speed. The mixture will begin to turn into a dry crumble. 

Once all of the flour has been added to the bowl, slowly add the cold water by the teaspoon to the bowl. A dough will begin to form. 

Next, form the dough into a ball and then flatten it into a disk shape. Wrap the dough in plastic wrap and place in the refrigerator for at least 1 hour. 

Remove the dough from the fridge and preheat the oven to 375ºF. 

Lay a piece of parchment paper down on the counter and roll the dough out into a large rectangle that is less than ⅛ inch thick. 

Use a ruler to measure out 1-inch marks vertically and horizontally to create a grid for cutting the dough into 1-inch squares. 

Carefully use a pizza cutter or pastry cutter to cut straight lines from the markings you have made with the ruler. Be careful not to cut the parchment paper! 

Once all of the 1-inch squares have been cut, use the flat end of a wooden skewer to make small holes in the center of each square. 

Carefully transfer the parchment paper to a large baking sheet and be sure all of the squares aren't touching. 

Finally, brush each cheese square with olive oil and sprinkle them with kosher salt. 

Place the baking sheet in the oven for 15-17 minutes or until they begin to brown. 

Remove from the oven and immediately remove the parchment paper from the baking sheet and place it on a cooling rack. 
Tips & Notes
This recipe yields around 4 cups of Cheez Its.
Every oven is different, and make sure to check halfway. Our oven is hotter on one side, so if one side is darker, flip it.
Nutrition facts
Calories:
224
kcal
Carbohydrates:
12
g
Protein:
9
g
Fat:
18
g
Fiber:
1
g
Sugar:
0
g