Our pimento cheese recipe is a no-fail dip and spread that we make over and over again when we need a last minute app or spread to amp-up a sandwich.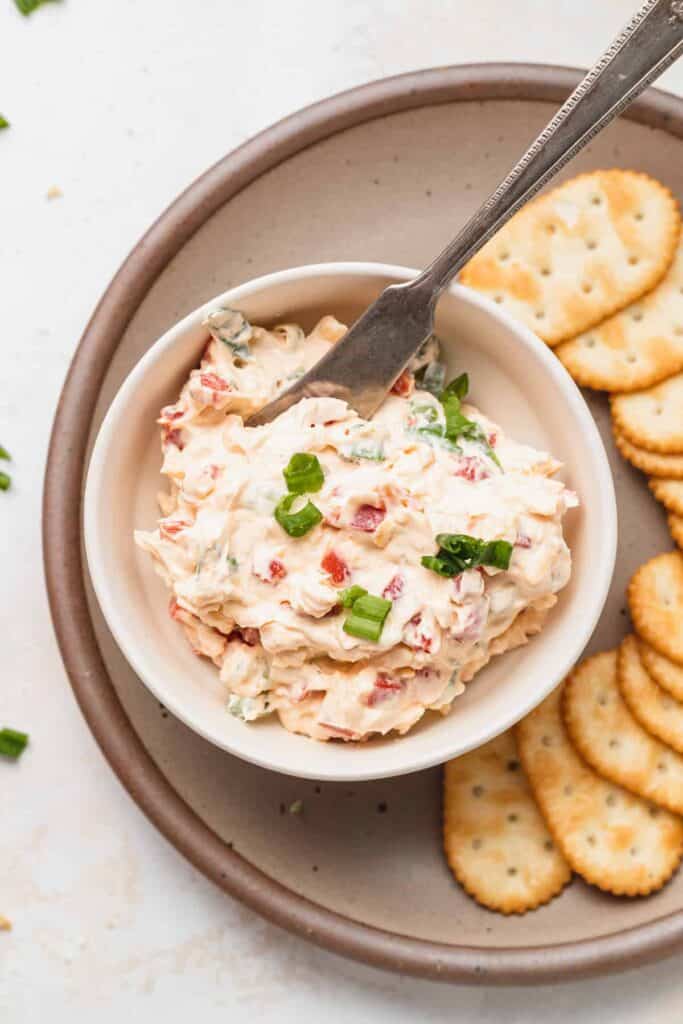 It was only a matter of time before we came up with one of our favorite cheese dips — Pimento Cheese! We're obviously huge fans of cheeses that double as a dip and triple as a cheese spread and pimento cheese is so versatile.
We made this homemade pimento cheese recipe our own by swapping the mayo (a classic pimento ingredient) for Greek yogurt and cream cheese and adding a little Worcestershire sauce and hot sauce for that tang that keeps you coming back!
What is in this homemade pimento cheese recipe?
Cream cheese: cream cheese is an excellent base for pretty much any kind of dip. It's milk and creamy.
Shredded cheddar cheese: we used a yellow/orange shredded cheddar cheese, but any kind works.
Greek yogurt: Greek yogurt is used instead of mayonnaise because it's our personal flavor preference.
Worcestershire sauce: a burst of savory flavors and salt.
Hot sauce: we recommend using a vinegar-based hot sauce like Frank's.
Salt and pepper: always season to taste.
Green onions: green onions add flavor and a bite.
Lemon juice: lemon juice is added to create a balance of flavors between the vinegar and sweet pimento peppers.
Pimento peppers: pimento peppers are sweet and mild, perfect for a dip.
What is a pimento?
A pimento is a type of chili pepper that is sweeter and mild than it is spicy. It's actually more mild than a bell pepper and so tasty.
Where do I buy pimento peppers?
Most pimento peppers come diced and jarred. Look for them at your local grocery store near the olives or roasted red peppers.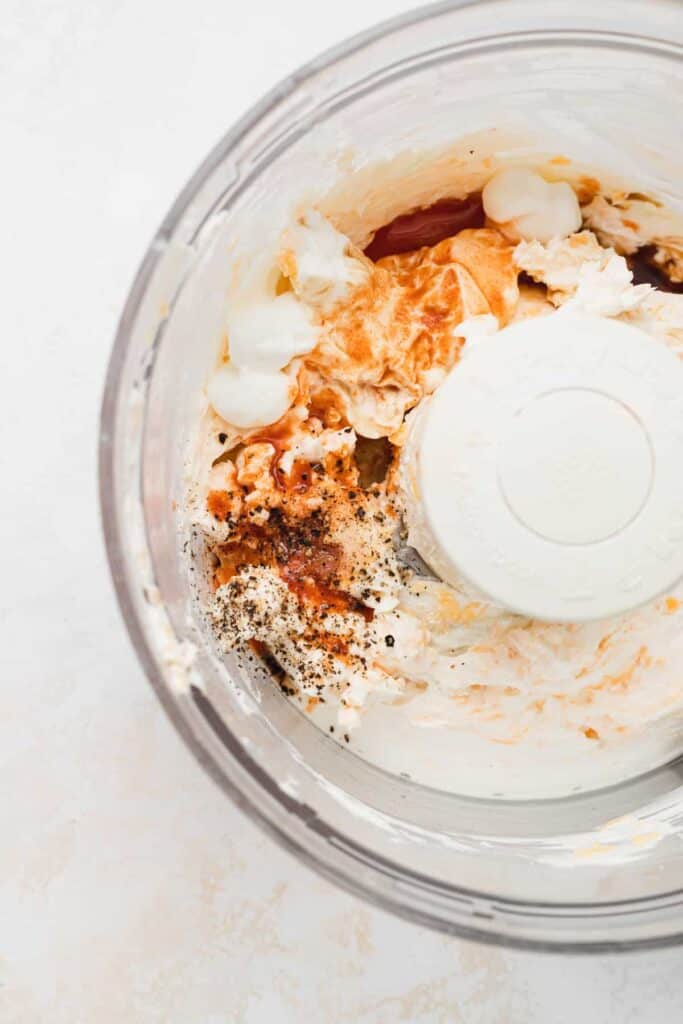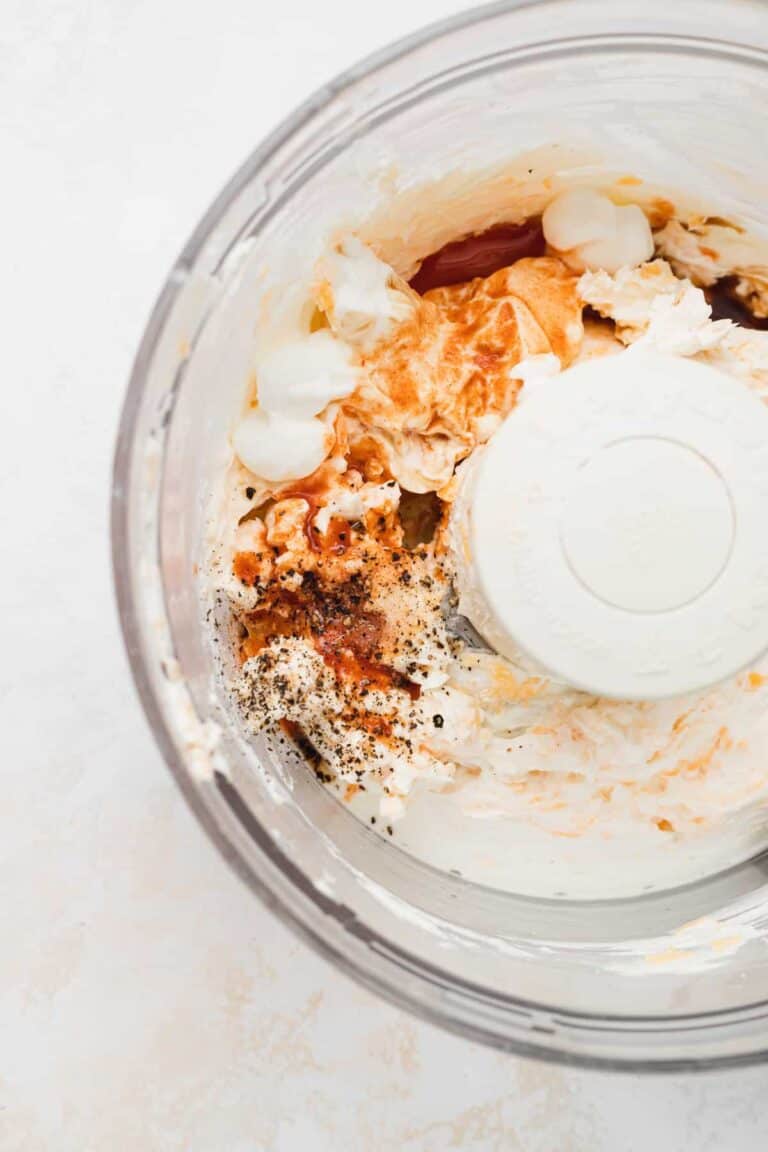 FAQ
What is pimento cheese?

Pimento cheese is classically made from a base of shredded cheddar cheese, mayo, and pimento peppers. It's a popular spread for sandwiches and can be eaten plain as a dip.
What does pimento cheese dip taste like?

This pimento cheese dip is cheesy with a hint of vinegar and hot sauce. It's so perfect for crackers and/or chips or even a sandwich.
How are you supposed to eat pimento cheese?

We recommend eating pimento cheese as either a dip with crackers or chips or a spread on bread or sandwiches.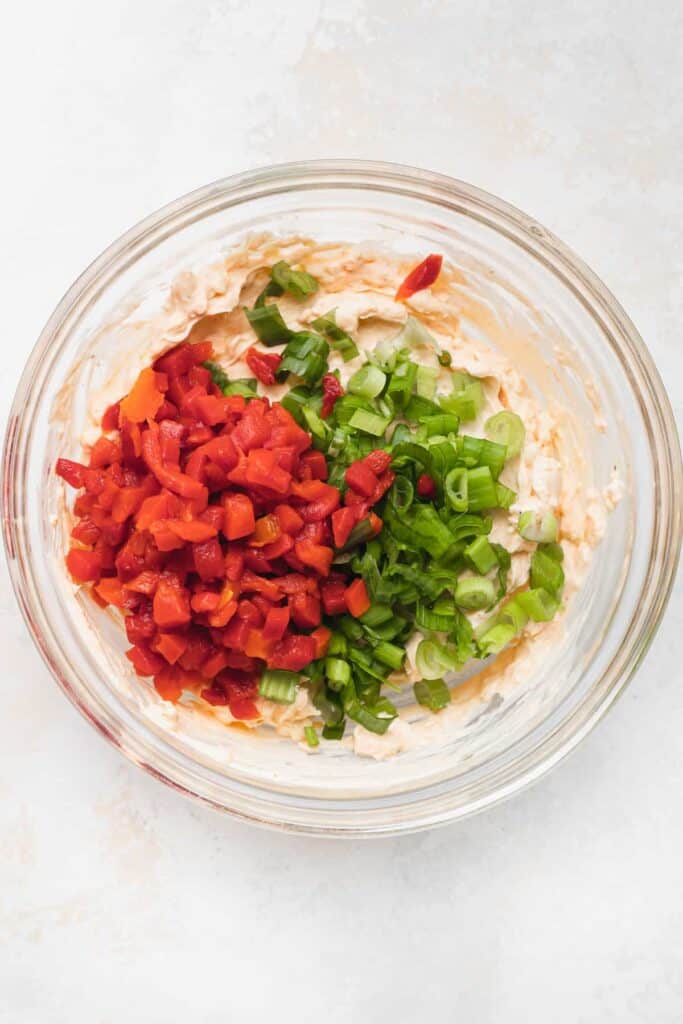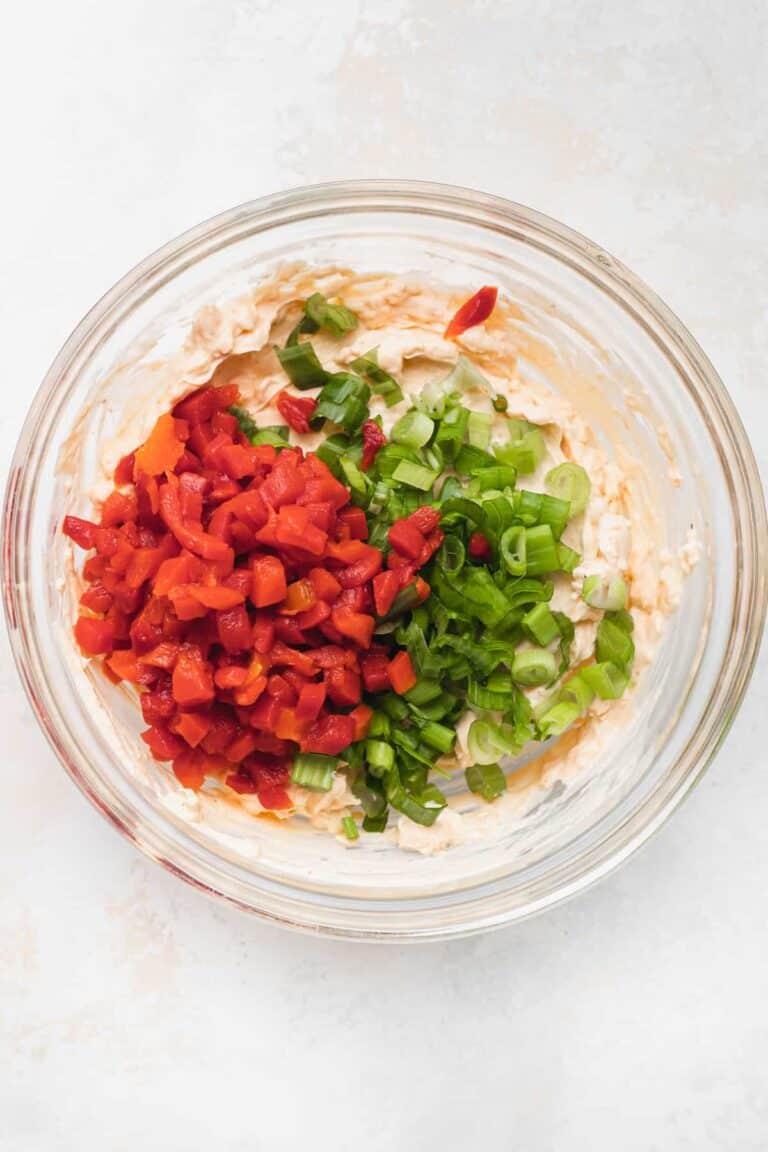 Storage
Store leftover pimento cheese in an airtight container in the refrigerator for up to 3 days.
quick tip!
As your homemade pimento cheese sits in the fridge, things will become more firm. So, let it sit on the countertop for about a half our before eating as a dip to soften up.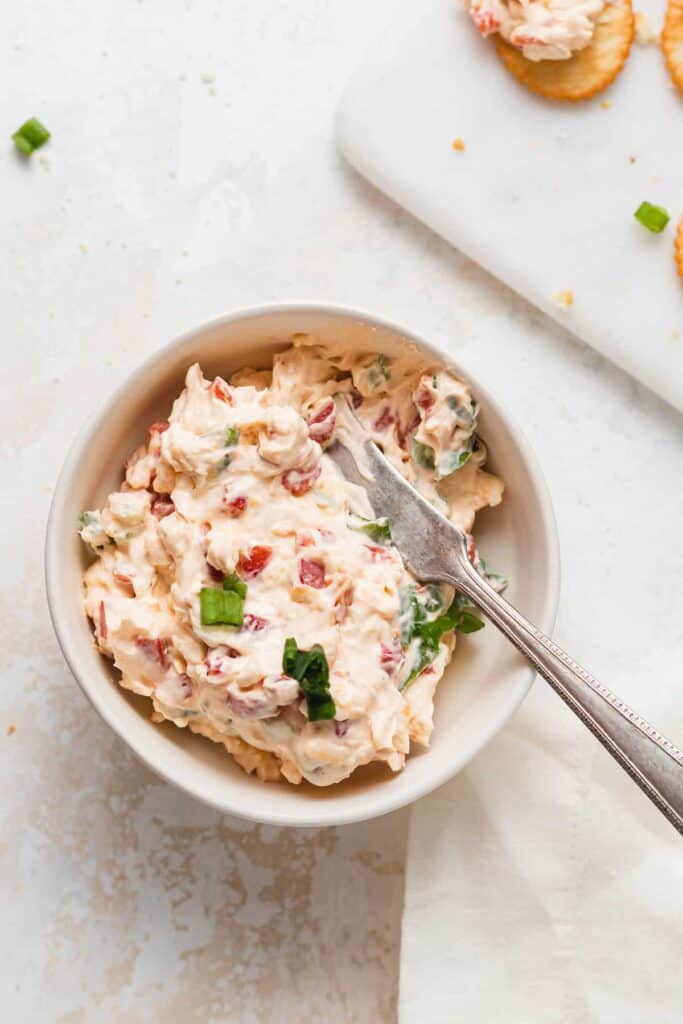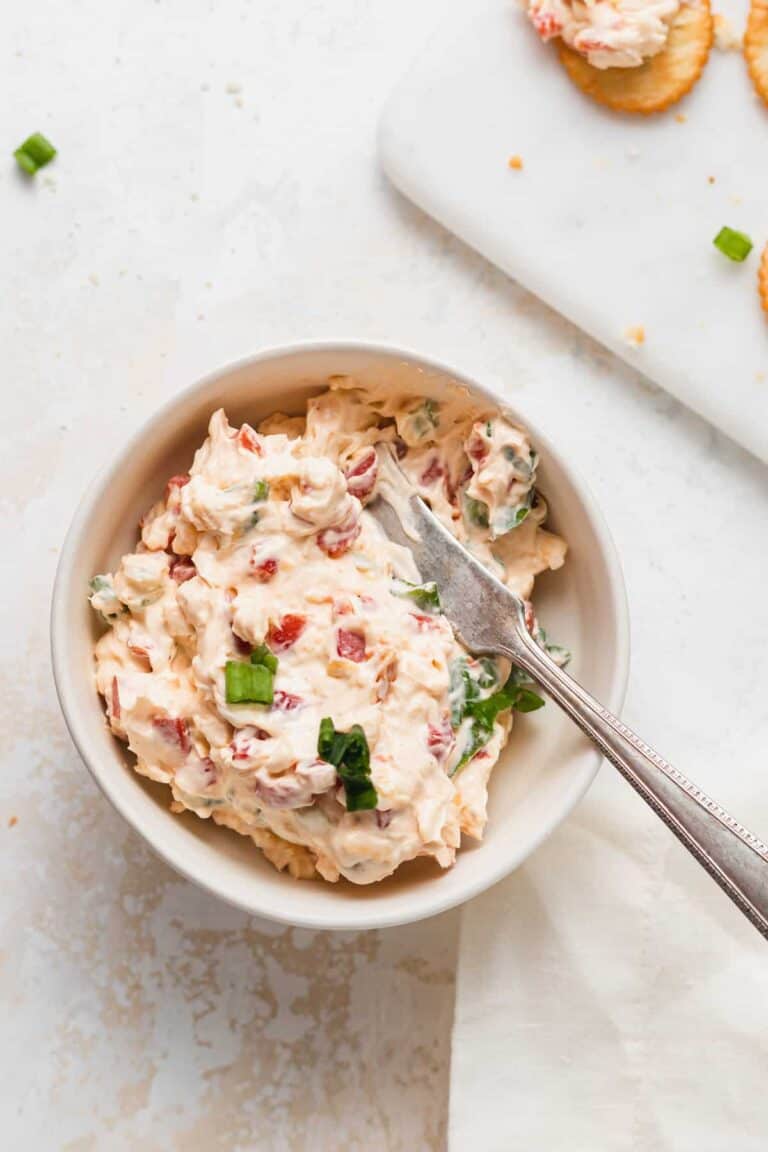 How to Serve Pimento Cheese
As a dip: one of the most common ways to serve pimento cheese is as pimento cheese dip! Eat it with chips, crackers, or veggies.
Spread: make a pimento cheese sandwich! Spread some homemade pimento cheese on the back of a sandwhich or make our fancy grilled cheese.
In place of cream cheese: up your cream cheese game and spread this on a bagel for breakfast! Or, make pimento cheese pinwheels.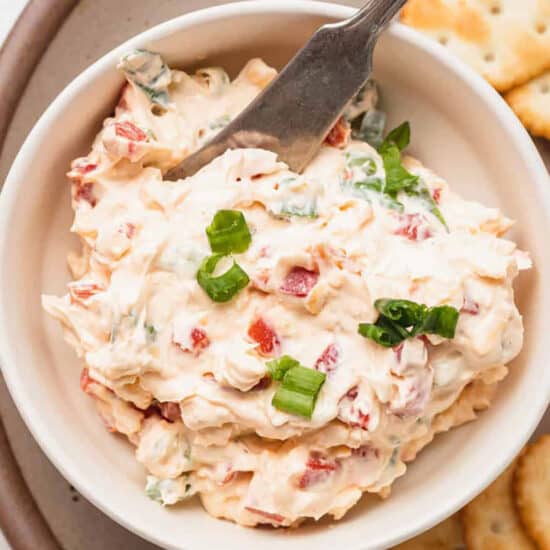 Homemade Pimento Cheese
Homemade pimento cheese is so easy to make. Our pimento cheese recipe is made from the base of cream cheese, Greek yogurt, cheddar cheese, and pimento peppers!
Ingredients
8

oz.

cream cheese

softened

1

cup

shredded yellow cheddar cheese

3

tablespoons

Greek yogurt

1

teaspoon

worcestershire sauce

2

teaspoons

Frank's hot sauce

½

tablespoon

lemon juice

¼

teaspoon

salt

¼

teaspoon

pepper

⅓

cup

chopped green onions

4

oz.

Pimentos peppers

drained from liquid
Instructions
Place the softened cream cheese into a food processor and blend on high until smooth. 

Scrape down the sides of the food processor and then add the cheddar cheese. 

Pulse the cheddar cheese into the cream cheese until the cream cheese turns yellow, but still leaving small chunks of cheddar cheese. 

Scrape down the sides of the food processor again and add the Greek yogurt, worcestershire, lemon juice, pepper, and salt to the food processor and blend until combined.  

Scrape the cream cheese mixture into a large bowl and add green onions and pimentos. Fold the ingredients into the cheese mixture. 

If the pimento cheese feels a bit runny, place it in the refrigerator for 15 minutes to set, otherwise serve with crackers, vegetables, or slices of bread. 
Nutrition facts
Calories:
159
kcal
Carbohydrates:
1
g
Protein:
5
g
Fat:
14
g
Sugar:
1
g