Say hello to the most delicious and easy homemade cheese popcorn. This cheesy snack is ready in no time and in the comfort of your own kitchen. Add this recipe to your next movie night.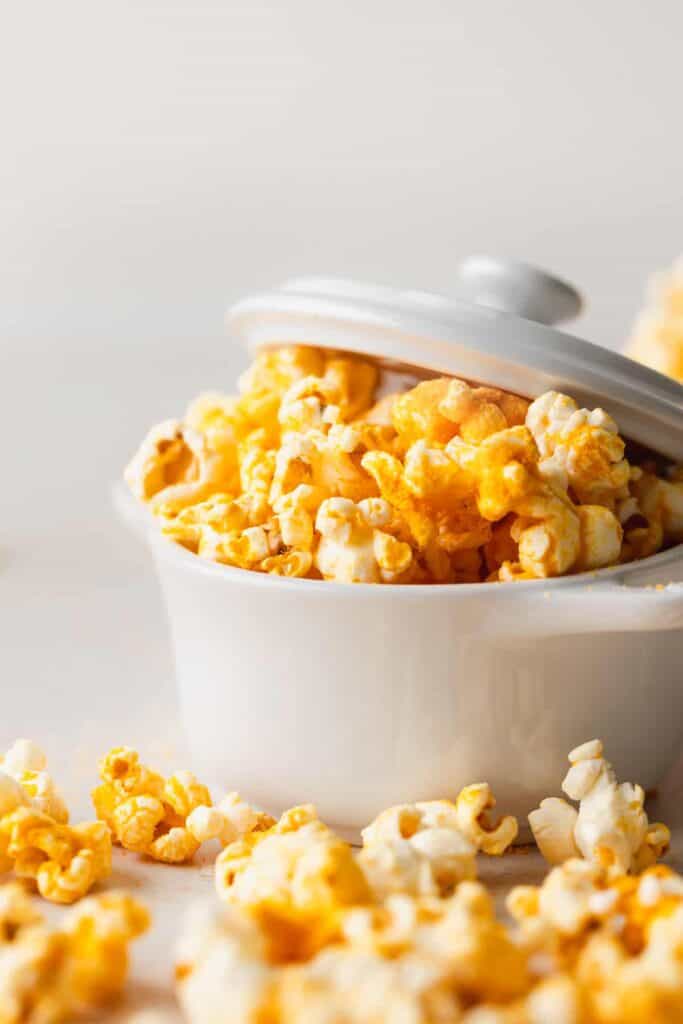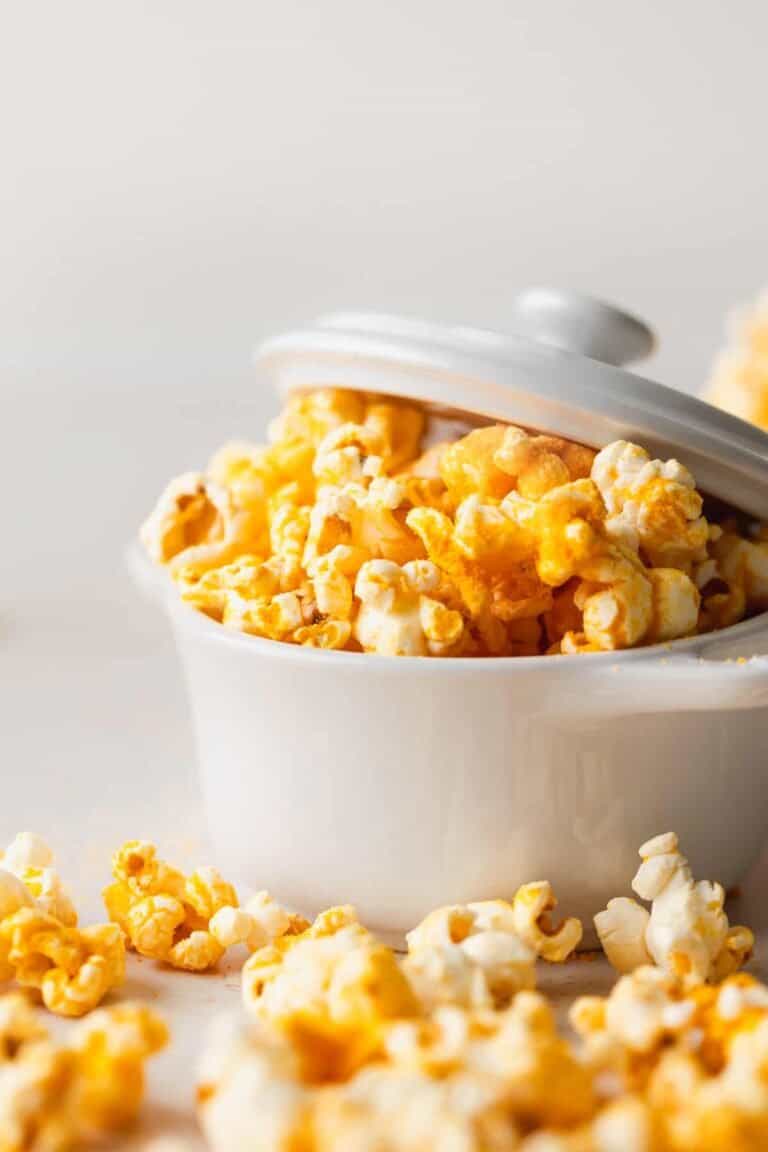 Easy Homemade Cheese Popcorn
Have you ever bought or received a tin of popcorn full of cheddar cheese popcorn for Christmas or during the holiday season? It's so cheesy, salty, and crunchy. This homemade cheese popcorn is easy to make and tastes just like that delicious and nostalgic popcorn from the tin!
why we like this cheesy snack
It is easy to make!
Cheese popcorn elevates simple popcorn into something fun.
This homemade cheese popcorn only takes 15 minutes to make.
Everyone loves cheese popcorn.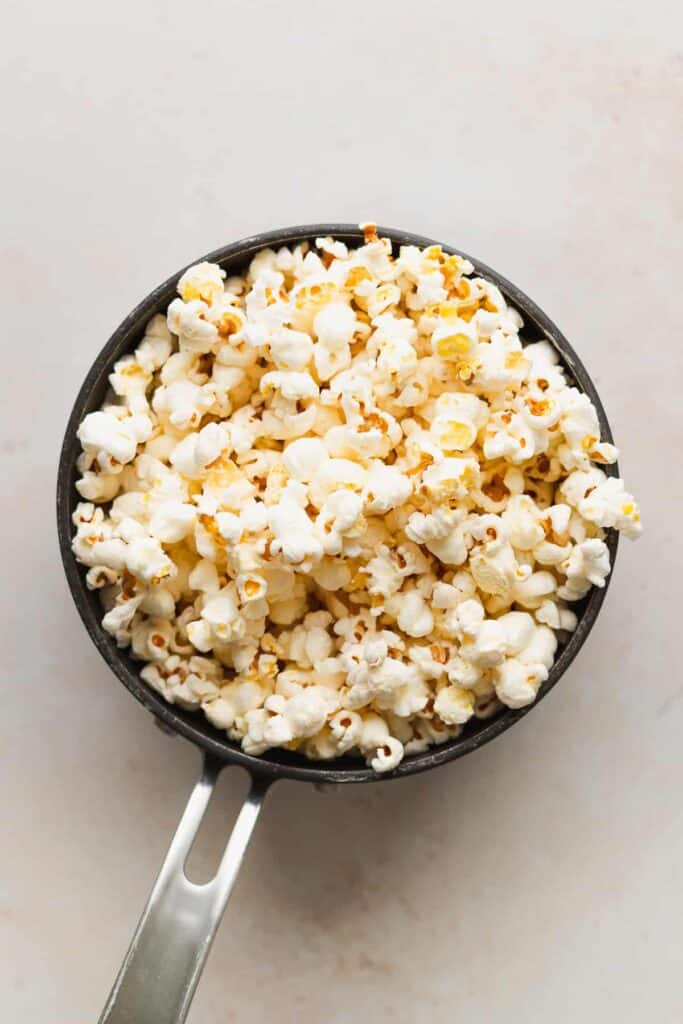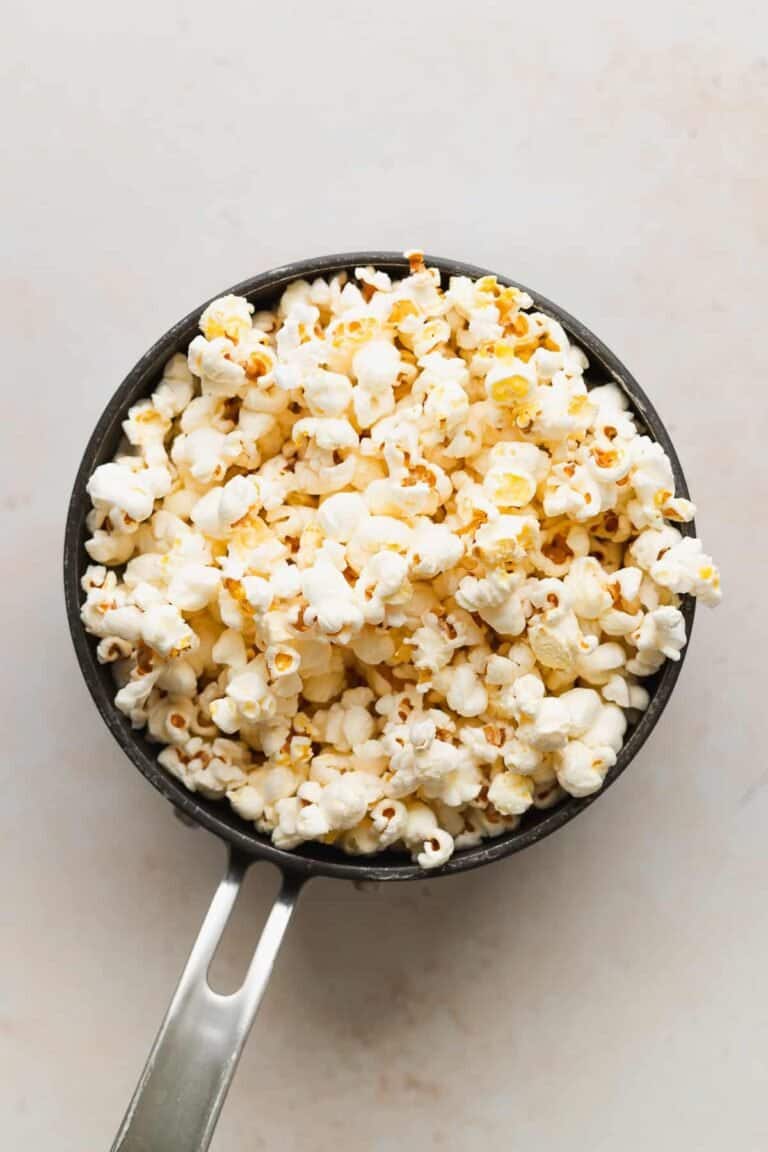 It's All About the Cheese Powder
How do you get popcorn so cheesy? It's all about the cheese powder. There is no alternative for using a cheese powder for this recipe so don't even try! Cheese powder offers the best cheesy flavor for cheese popcorn.
Is it real cheese? Who knows. We just know it's finger-lickin good. There a few different ways you can go about buying cheese powder.
Kraft (and other brands) makes a cheddar cheese powder that comes in a little canister that you can add to snacks, mac and cheese, etc. You can usually find it near the macaroni and cheese or in the spice isle or popcorn aisle at your grocery store.
Otherwise Amazon sells lots of different brands.
Sometimes you can find cheese powder at specialty food stores.
We use a cheese packet from a box of mac and cheese when we are running low on cheese powder and it works like a charm.
The beauty of using a pouch from a mac and cheese box is that you can use yellow cheese powder, white cheese powder, or whatever cheese powder comes with your favorite boxed mac and cheese.
Other Ingredients You Need
Other than the cheese powder there are a few other ingredients you need to prepare the popcorn.
Coconut oil- we melt and pop the popcorn in coconut oil because it gives the popcorn amazing flavor that is similar to movie theater popcorn.
Popcorn kernels- you can use your favorite brand of popcorn kernels.
Butter- before we toss the popcorn with cheese powder we shake the popcorn with melted butter to make sure the cheese powder sticks to the popcorn.
Salt- a little salt brings this recipe to the next level.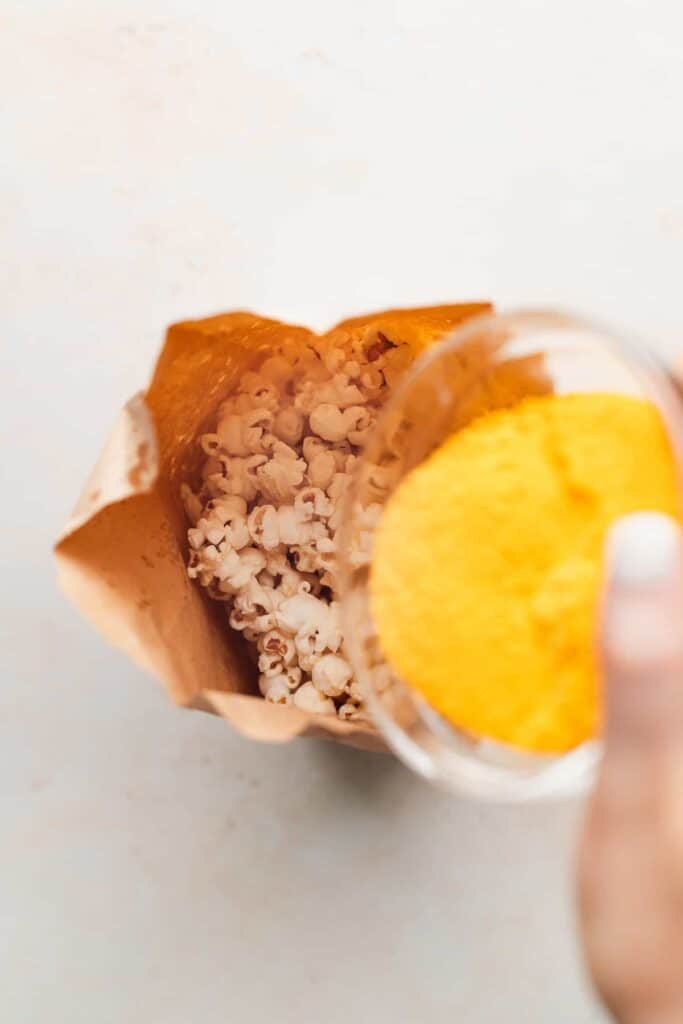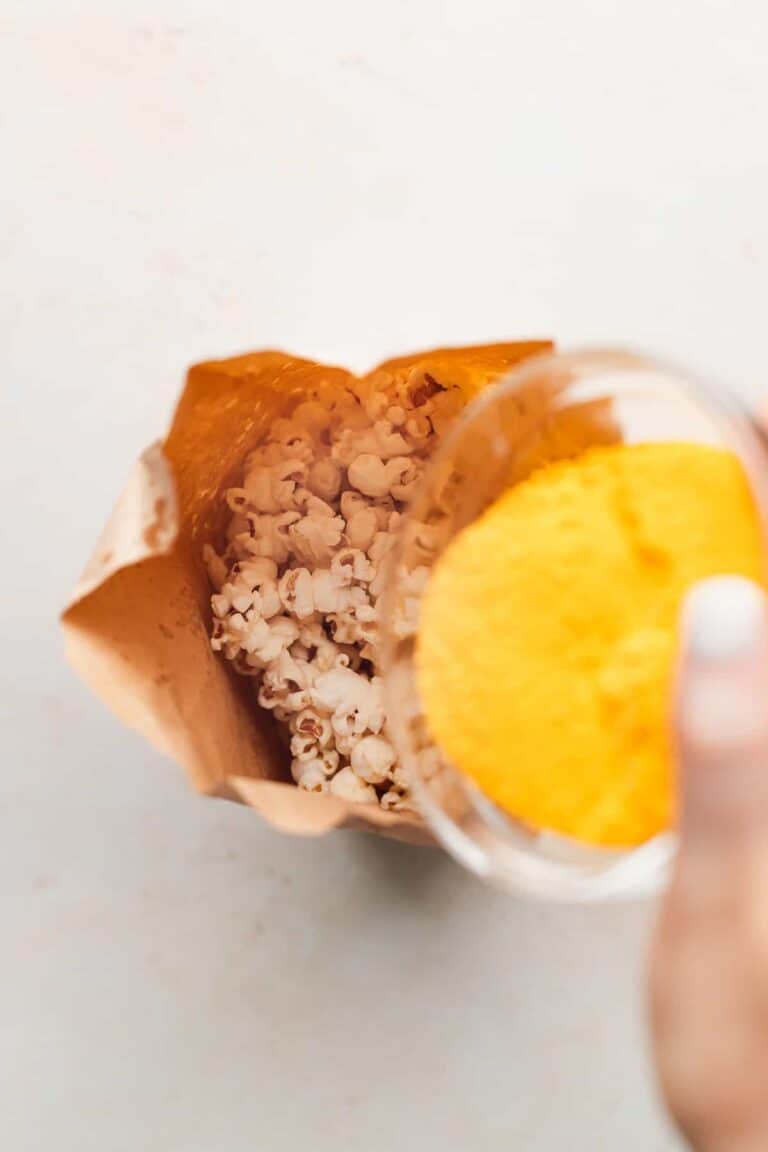 How to Make Cheese Popcorn at Home
We use the stovetop method to make popcorn for this recipe. If you need to cut your time in half you can use microwave popcorn and skip to step 3. However, we do prefer stovetop popcorn for this recipe.
Melt the coconut oil. Heat a large saucepan over medium/high heat and add coconut oil. Melt the coconut oil in the saucepan.
Add popcorn + pop. Add the popcorn to the saucepan and shake the saucepan so that the popcorn kernels are covered in oil. Cover the saucepan and let the popcorn heat in the oil. It will take 3-5 minutes for the kernels to pop.
Sometimes it is helpful to shake the saucepan with the cover on it to make sure no kernels are burning to the bottom of the saucepan.
The popcorn will begin to pop and fill the saucepan. Pour the popcorn into a large brown paper bag as it pops to make room for more popping corn and to be sure the popcorn doesn't burn.
Shake it. Drizzle the butter over the popcorn in the paper bag. Roll the top of the bag so that no popcorn kernels escape. Shake the bag.
Add cheese powder. Sprinkle the cheese packet to the bag and add the salt to the popcorn. Roll the top of the bag and shake again. You may need more butter if the cheese powder isn't sticking. Shake the bag until all the popcorn kernels are covered in cheese powder.
Enjoy. Enjoy your popcorn while watching a movie or doing whatever you do when you eat popcorn. 🙂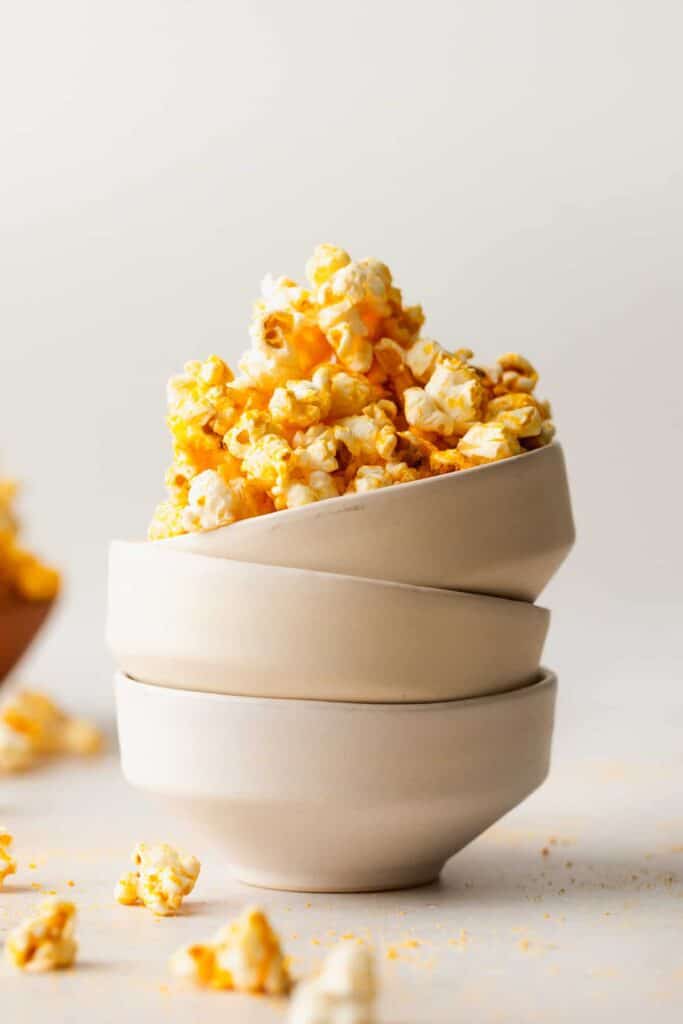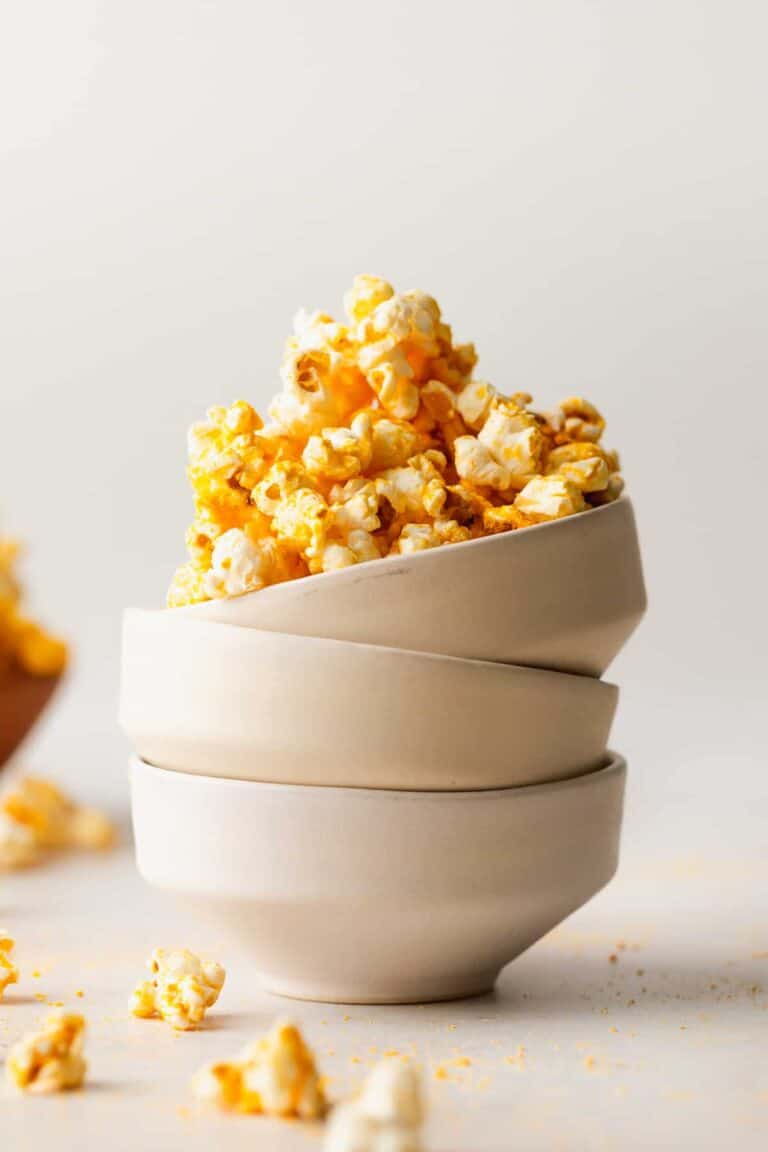 Flavor Variations
If you want to take this cheddar cheese popcorn recipe to the next level, below are some other fun spices you can add to the mix.
Make it spicy cheese popcorn and add 1/4 teaspoon of cayenne pepper.
Make it chili cheese popcorn and add 1-2 teaspoons of chili powder.
Cheesy ranch popcorn would be delicious. Just add 1 teaspoon of ranch seasoning.
Add 1 teaspoon of garlic powder for a delicious cheesy garlic popcorn.
Fun Ingredient Add-Ins
Another way that you can take this popcorn to the next level is by adding in other ingredients to add different textures and flavors. Just add any of the ingredients to the brown paper bag and shake.
Sliced almonds
Caramel popcorn
Peanuts
Candied nuts
Doritos
Storage
Store this cheese popcorn in a dry place in an airtight container. Nobody likes soggy popcorn.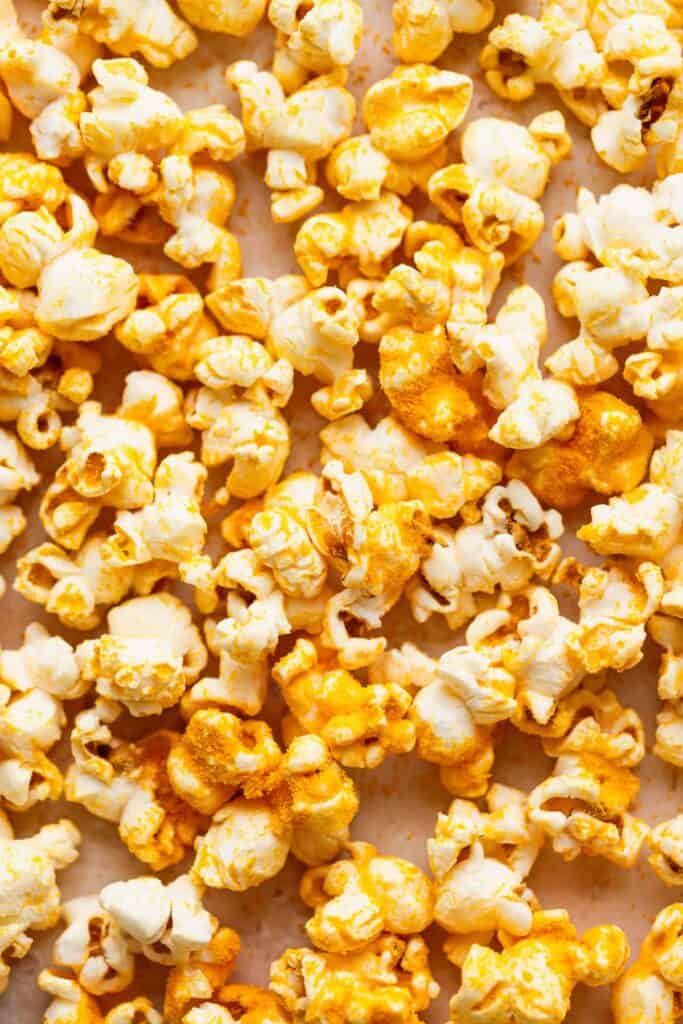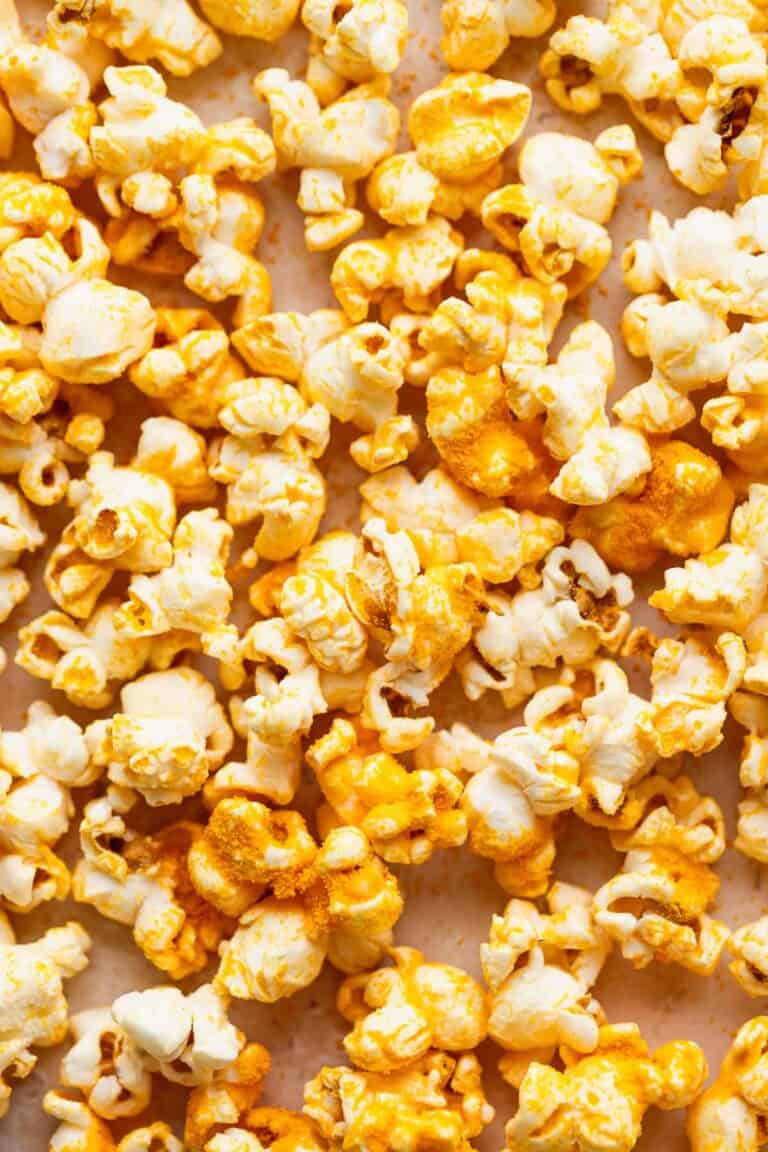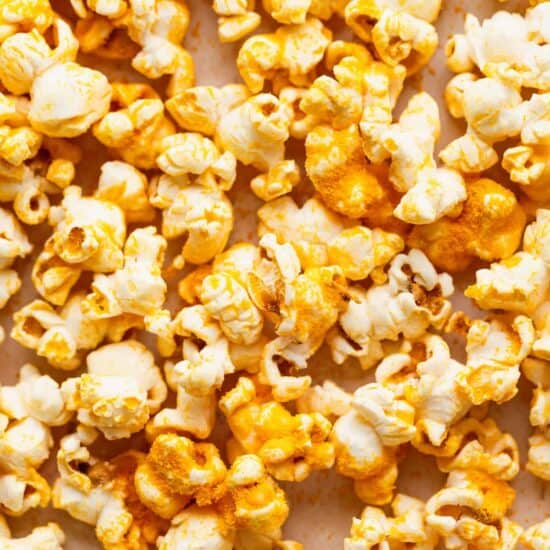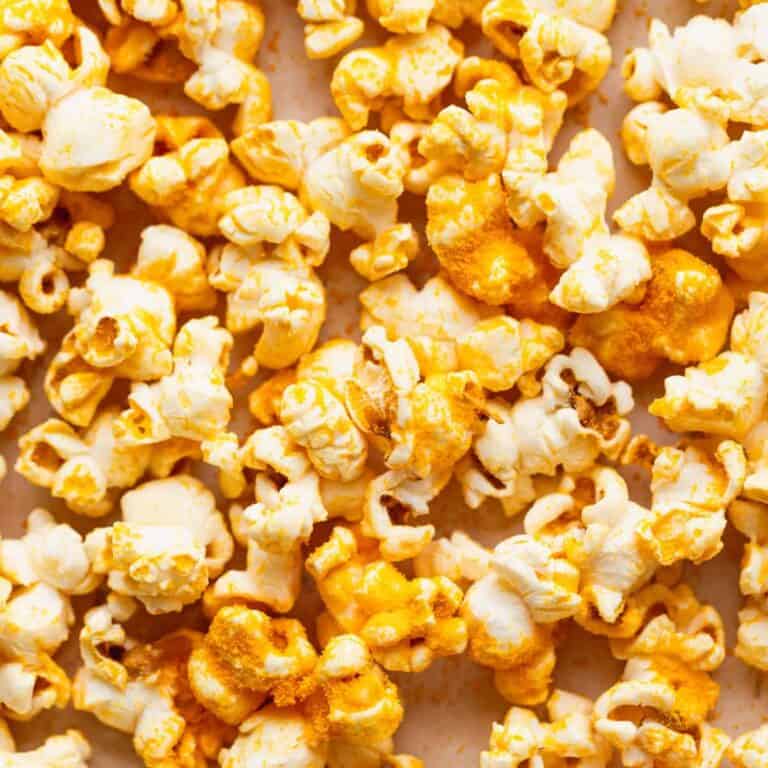 Homemade Cheese Popcorn
You only need 5 simple ingredients to make this cheese popcorn. Make it for an easy snack or for a special snack for movie night. 
Ingredients
2

tablespoons

coconut oil

½

cup

popcorn kernels

1

tablespoon

melted butter

½

cup

cheese powder

½

teaspoon

salt
Instructions
Heat a saucepan over medium/high heat and add coconut oil. 

When the coconut oil is melted, add popcorn kernels to the saucepan and cover. Shake the kernels a few times every minute so that they don't burn.

The popcorn will begin to pop after 3-5 minutes. Continue to shake the kernels every so often.

Once there is more than 3 seconds in between pops, you know the popcorn is done popping. Transfer the popcorn into a paper bag.

Drizzle melted butter over the popcorn and roll the top of the bag so that no popcorn can escape and shake the bag. 

Open the bag and sprinkle the cheese powder and salt over the popcorn. Roll the top of the bag and shake again. Continue to shake until all the popcorn is covered in cheese powder. 

Enjoy! 
Nutrition facts
Calories:
168
kcal
Carbohydrates:
7
g
Protein:
0
g
Fat:
7
g
Fiber:
0
g
Sugar:
6
g