Say hello to the most delicious chicken parmesan casserole. This pasta casserole has crispy chicken, savory marinara sauce, and lots of CHEESE. It is the perfect family dinner that everyone will love!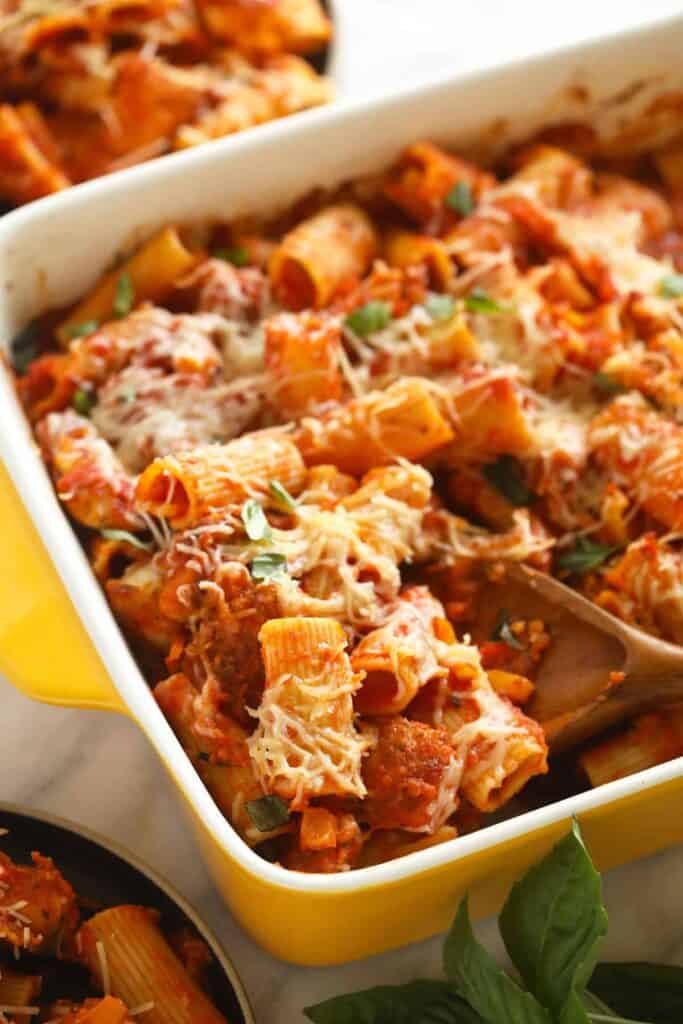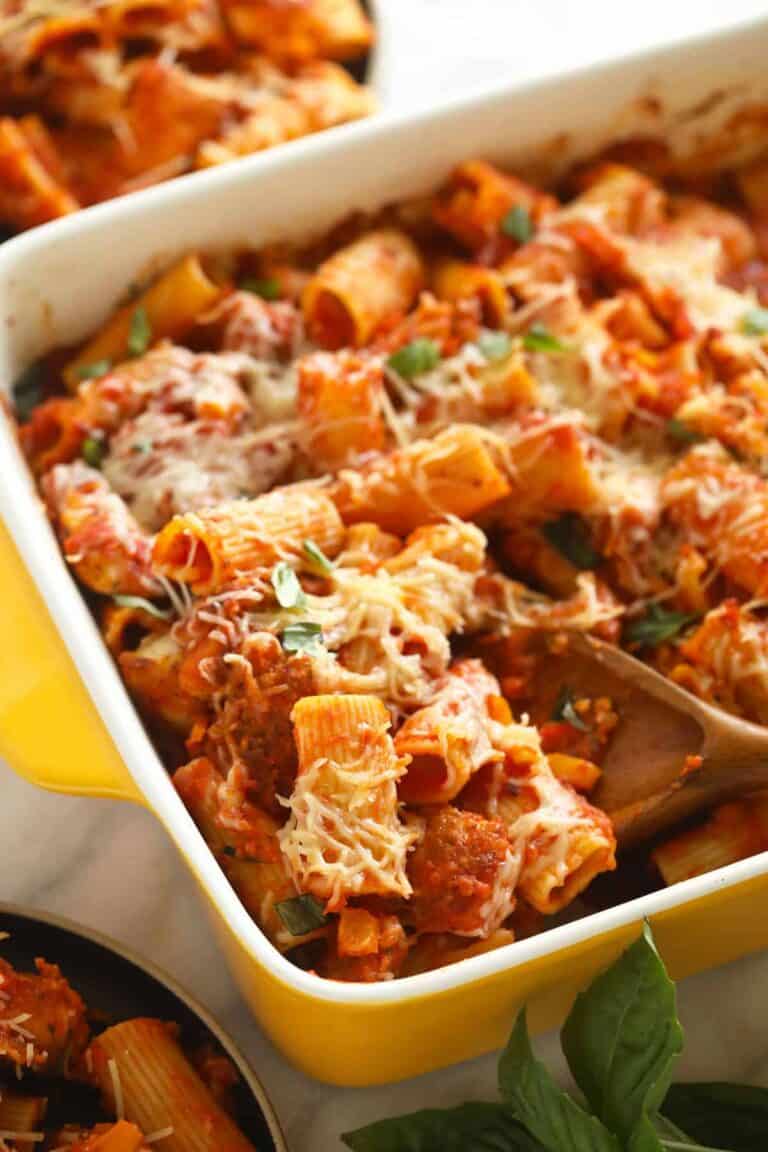 The Perfect Chicken Parmesan Casserole
What's less time-consuming and more midwestern than classic chicken parmesan? Chicken parmesan casserole, of course! We love this chicken parmesan casserole for so many reasons.
If you like this chicken parmesan casserole, we highly suggest adding this Cheesy Hamburger Casserole and Baked Mac and Cheese with Velveeta to the menu.
why you'll love this casserole
Casseroles are so easy to make for the family during a busy week!
This chicken parmesan casserole is semi-homemade so you can have a delicious recipe in half the time.
The chicken in this chicken parmesan casserole is crispy and flavorful.
We love pasta casseroles.
This chicken parmesan casserole is the cheesiest of cheese casseroles.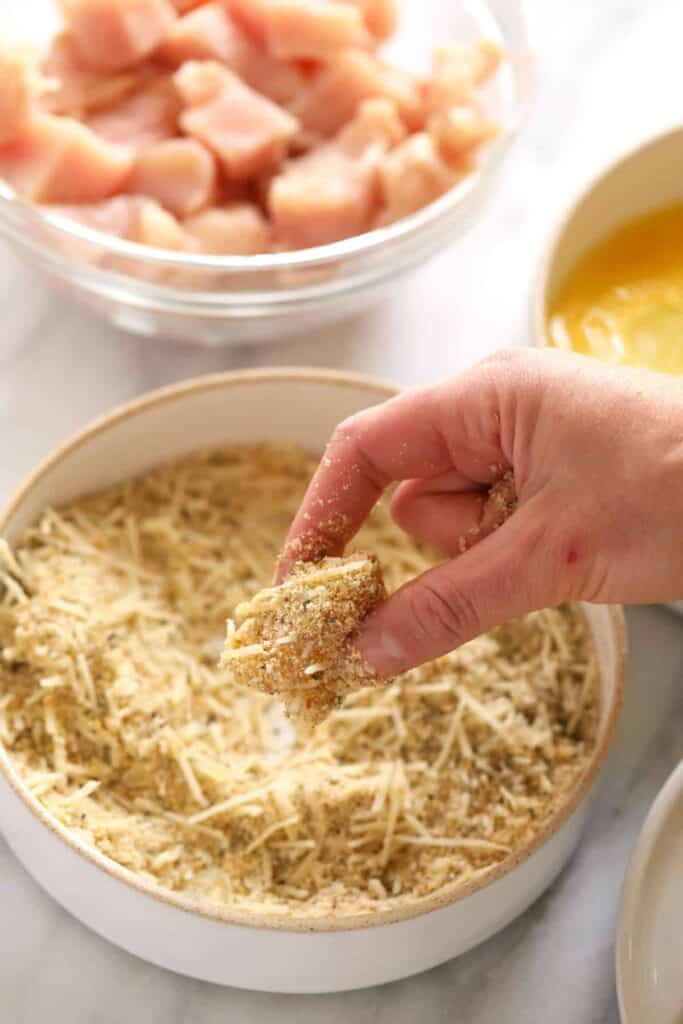 Everything You'll Need
This chicken parmesan casserole is made with whole ingredients that you can find at any grocery store. Check out everything you need right here.
Rigatoni pasta- we use rigatoni pasta, but you can use penne, fusilli, ziti, or similar pasta.
Boneless, skinless chicken breast, cut into 1-inch chunks– traditional chicken parmesan uses chicken breast but you can also use skinless chicken thighs.
Large eggs– we suggest using large eggs, but you can use medium or extra large.
Plain bread crumbs– we love plain bread crumbs for this recipe, but you can also use panko breadcrumbs
Shredded parmesan cheese– it's in the name, don't skimp on the parmesan cheese
Italian seasoning– any Italian seasoning works for this recipe. It's a dry herb blend of dried parsley, oregano, basil, and sometimes other spices.
Garlic powder– garlic powder adds so much flavor to this casserole, please don't skip the garlic, people.
Bell peppers– we added a bit more veg to the recipe with bell peppers.
Purple onion– love a good Italian recipe with onion. Don't have purple? Use any type of onion.
Marinara sauce– we kept this recipe easy and have you use your favorite marinara sauce. You can also use tomato sauce and spice it up with more Italian seasoning and a little sugar.
Olive oil– You brown the chicken for this recipe in olive oil. Don't mess with the oil.
Garnish options– we highly suggest garnishing this chicken parmesan casserole with fresh parsley or fresh basil.
add a little more cheese
Feeling extra cheesy? Add some shredded parmesan cheese into the mix. Sprinkle this easy chicken parmesan casserole with 1/2 cup of mozzarella cheese at the end to take it up a notch. It's delicious and melty.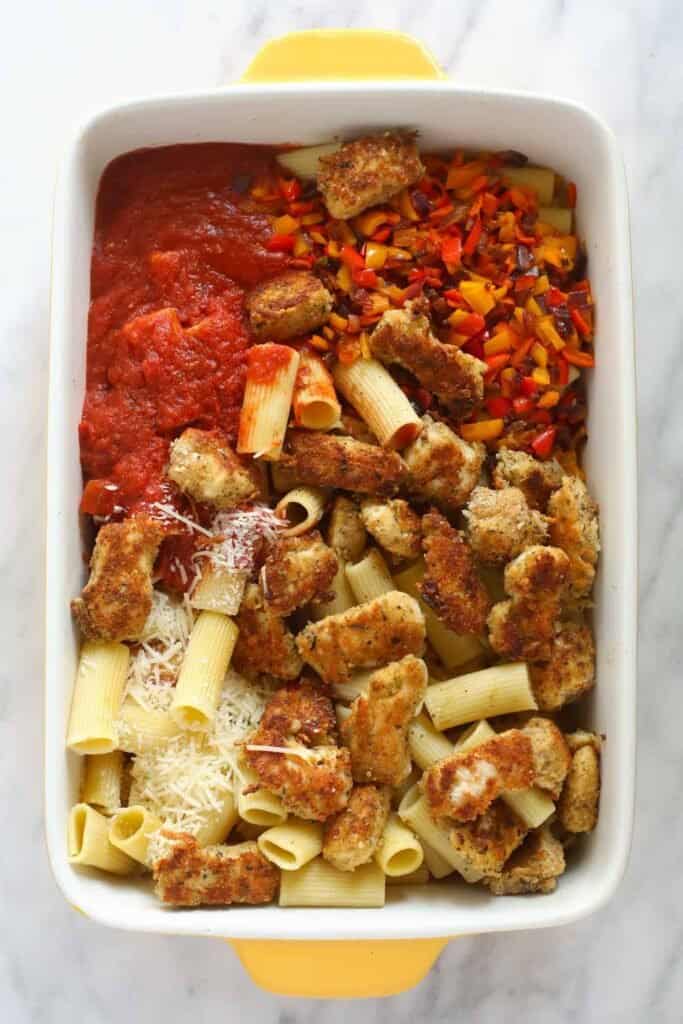 Quick Directions for Chicken Parmesan Casserole
Make sure to scroll all the way down to the recipe card to get the full ingredient list and written recipe.
There are only a few steps to making this delicious chicken casserole.
Partially cook your pasta: This is an important step. You don't want to cook your pasta so it's ready to eat. You want to leave it crunchier so that when it finishes cooking in the oven it isn't mushy!
Crisp up your chicken: Crisping up your chicken brings this chicken to the next level! You want to only partially cook your chicken so that it doesn't over-cook in the oven! Sometimes that means browning one side more than the other! Just be sure that you don't skip this step!
Sauté your veggies: After you take your chicken out of the skillet, it's time to do a quick sauté of the veggies! Do you have to sauté your veggies? No. Should you sauté your veggies? Yes! Cooking your veggies before you throw them in the casserole adds so. much. flavor. to the casserole!
Throw it all together: After everything is partially cooked all you have to do is throw everything into a casserole dish and mix it together!
Bake + Cheese: You only have to bake this casserole dish for 20 minutes since everything is partially cooked and then all you have left to do is sprinkle on all the cheese and let it brown to perfection!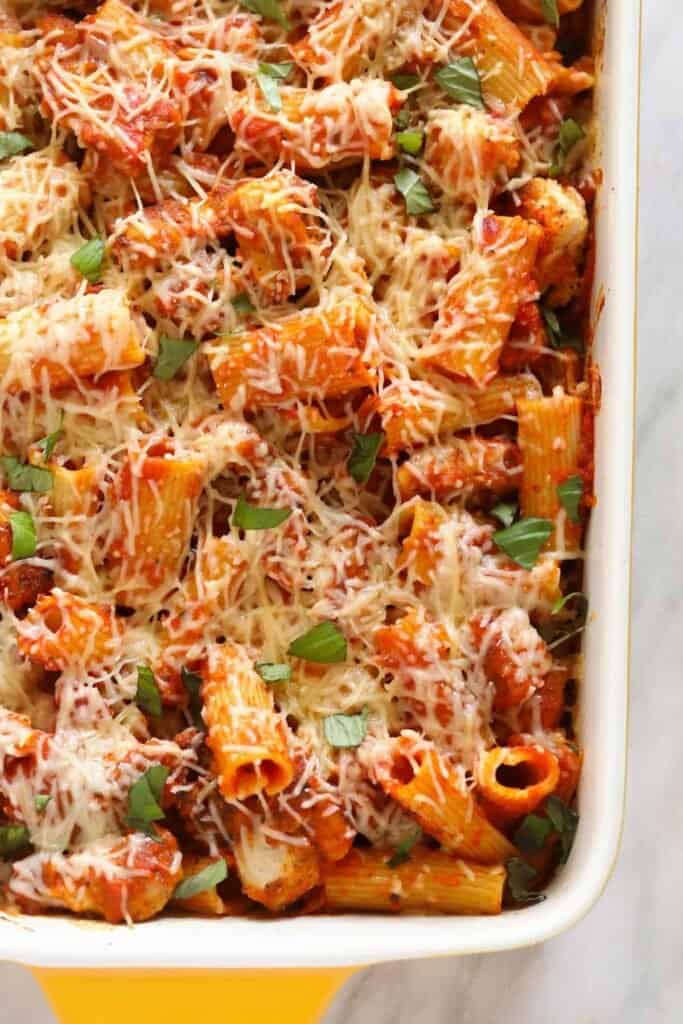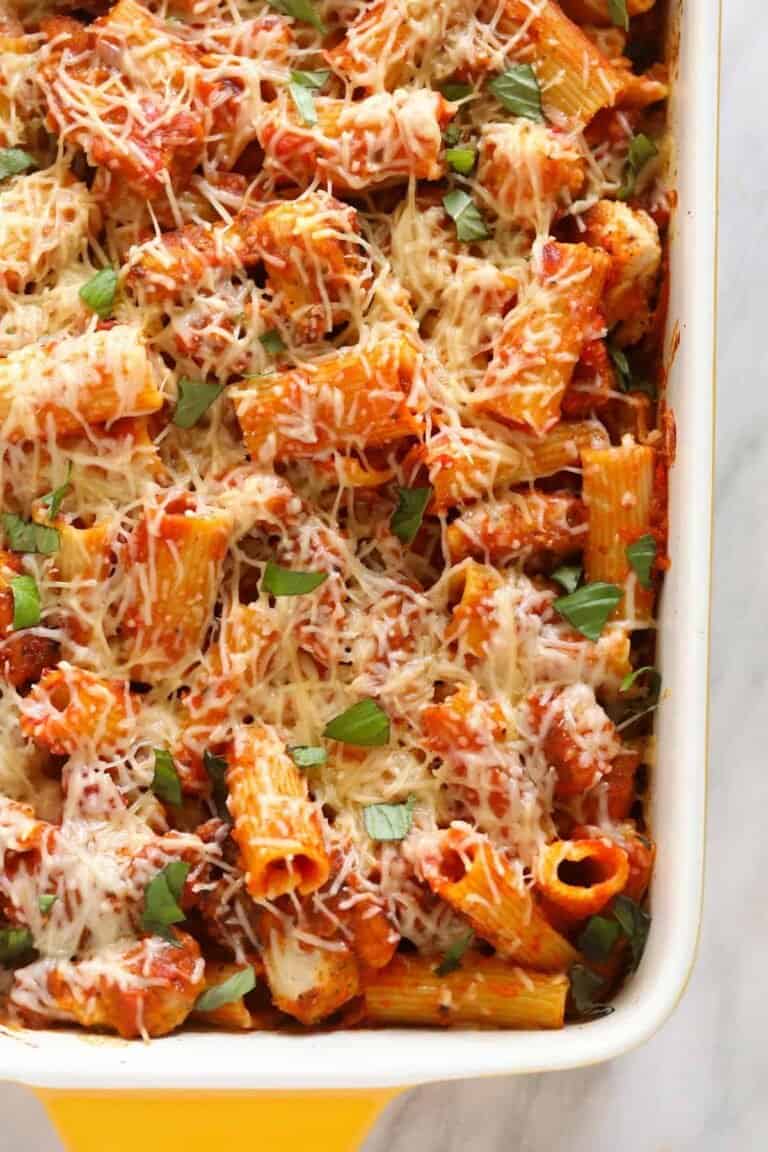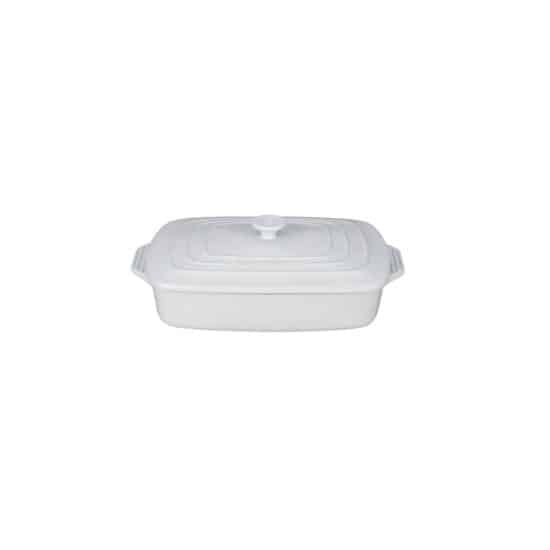 Our Favorite
Casserole Dish
This le creuset casserole dish is our all time favorite casserole dish! The white color rocks, it has a cover, and it's great for so many dishes.
Buy One
Got Questions?
Can I use any kind of pasta in this recipe?

Yes, you can use any kind of pasta in this recipe (except for spaghetti). We used rigatoni because we love the shape and it carries the sauce in the middle and it's so so good. Below are some of our other top choices for other pasta options.

– Penne pasta
– Rotini pasta
– Farfalle pasta
– Fusili pasta
What kind of marinara should I use?

You can use any jarred marinara sauce that you would like. We recommend using a low-sugar and organic brand.
Can I cook raw chicken in a casserole?

Yes, you can cook raw chicken in a casserole, however, we do not suggest it in this casserole because we recommend breading and sautéing the chicken first.

Anytime you cook chicken, be sure the internal temperature of the chicken is 165ºF.
Can I freeze this casserole?

We do not recommend freezing this casserole.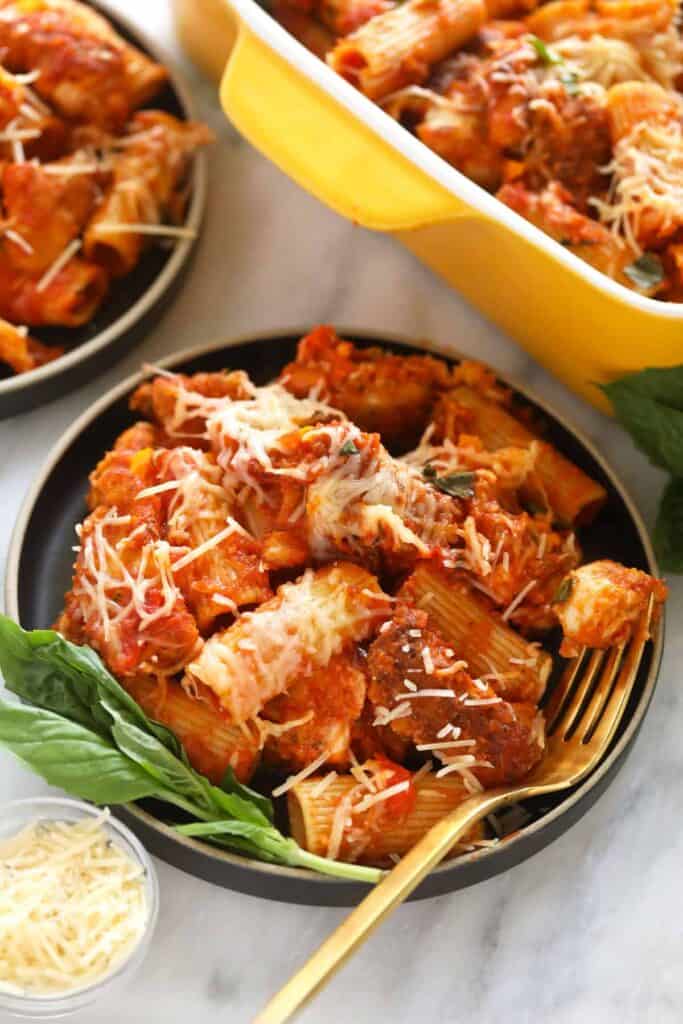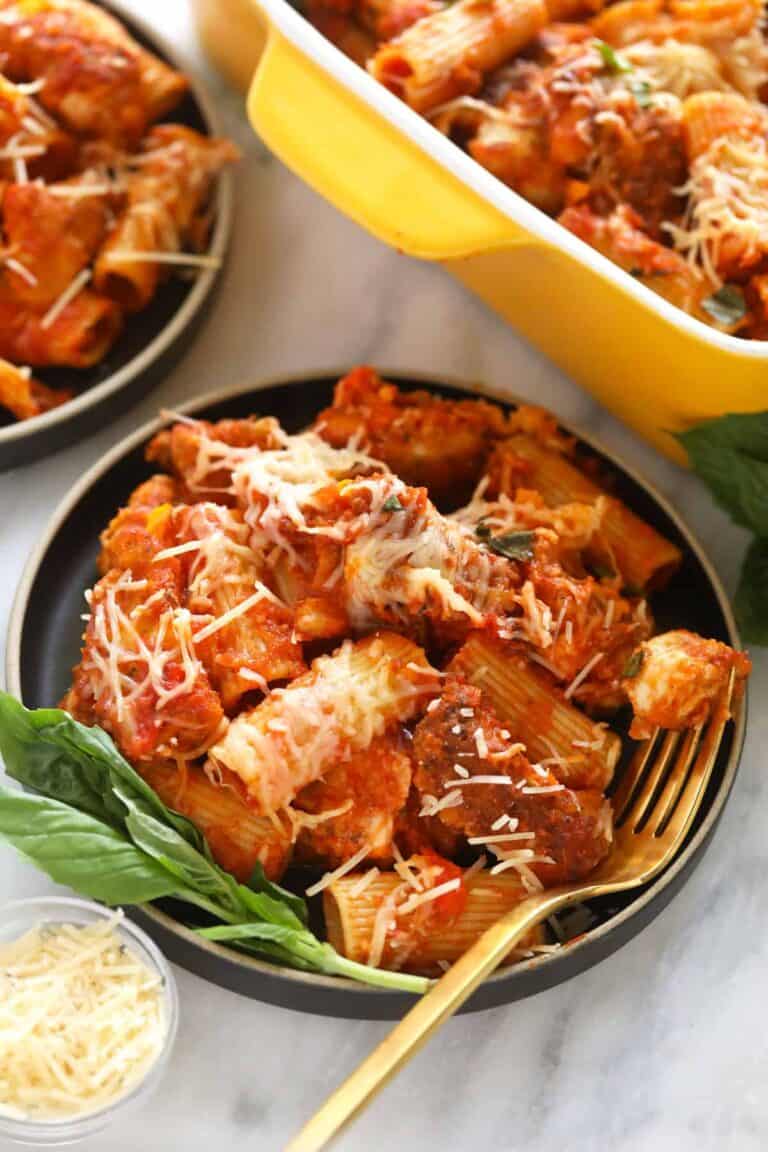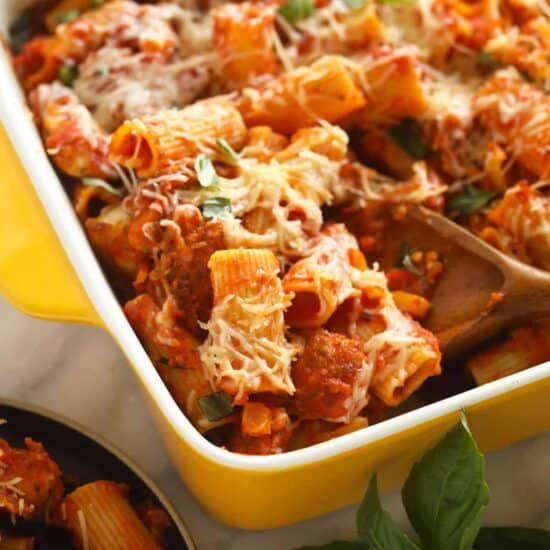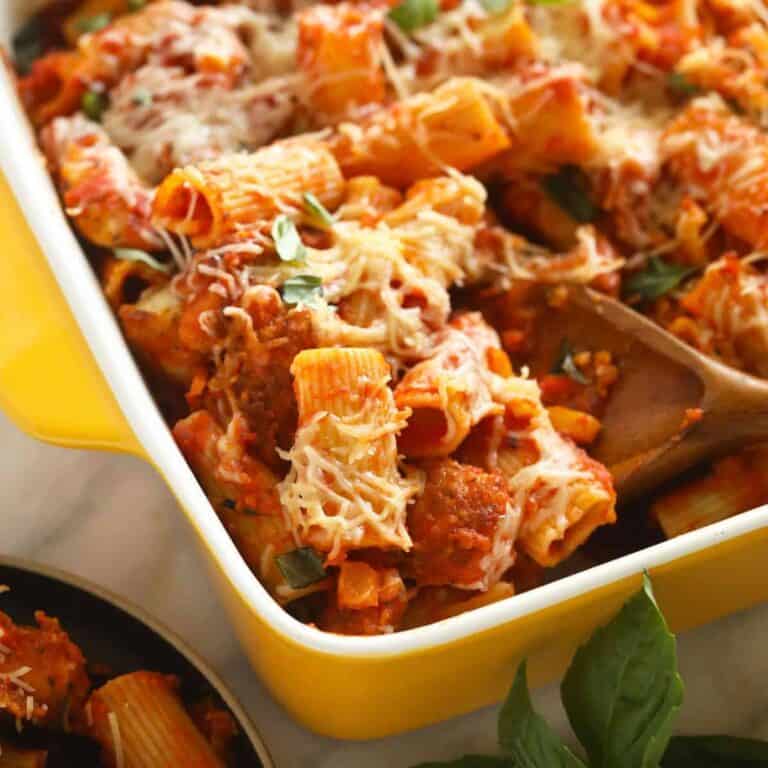 Chicken Parmesan Casserole (with noodles)
Say hello to the most delicious chicken parmesan casserole. This pasta casserole has crispy chicken, savory marinara sauce, and lots of CHEESE. It is the perfect family dinner that everyone will love!
Ingredients
16

oz.

rigatoni pasta

1.5

lbs.

boneless

skinless chicken breast, cut into 1-inch chunks

2

large eggs

1/2

cup

plain breadcrumbs*

2

cups

shredded parmesan cheese

divided

2

teaspoons

Italian seasoning

1

teaspoon

garlic powder

2

medium bell peppers

any color, minced

1/2

medium purple onion

minced

2

24-oz.

jars marinara sauce

2

tablespoons

olive oil
Instructions
Preheat the oven to 375ºF and grease a 9×13-inch casserole dish. Set aside. 

Bring a large pot of salted water to a boil and add pasta. Cook the pasta for 4-6 minutes or until slightly undercooked. The casserole will cook for an additional 20 minutes in the oven. 

Next, whisk the two large eggs together in a medium-sized bowl. Set aside. 

In a separate bowl, combine the breadcrumbs, 1 cup parmesan cheese, Italian seasoning, and garlic powder and mix. 

Prep chicken by dipping the chicken pieces into the egg wash and then into the parmesan mixture making sure everything is generously coated. Place coated chicken pieces on a plate.

Next, heat a large skillet over medium/high heat. Add 1 tablespoon of olive olive. 

When the olive oil is fragrant, add half of the chicken chunks to the skillet and cook them for 1-2 minutes on each side. Do not fully cook the chicken because it will continue to cook in the oven. Repeat until all the chicken has been browned. Remove from heat. 

Set the chicken aside and then add the last tablespoon of olive oil to the pan. Add the bell peppers and onion to the pan and sauté the peppers and onions for 4-5 minutes. Scrape the brown bits from the chicken from the bottom of the pan to add flavor to the peppers. Remove from heat. 

Finally, add the pasta, partially cooked chicken, bell peppers, onion, and marinara sauce into the casserole dish and mix to combine everything in the sauce

Place the casserole dish into the oven and bake at 375ºF for 20 minutes. 

Remove from the oven and sprinkle the last 1 cup of parmesan cheese on the top of the casserole dish and bake for an additional 5-10 minutes to melt the cheese. 

Finally, remove the casserole from the oven let it cool for 5 minutes and enjoy. 
Tips & Notes
breadcrumbs: if you are using Italian breadcrumbs, you can omit the other spices.
Nutrition facts
Calories:
529
kcal
Carbohydrates:
58
g
Protein:
47
g
Fat:
14
g
Fiber:
5
g
Sugar:
10
g