This spicy vodka pasta bake isn't your average homemade vodka sauce dish. The crushed red pepper gives it a spicy kick and goes from the stovetop to the oven — all in one skillet! It's a delicious spin on one of our favorite dishes.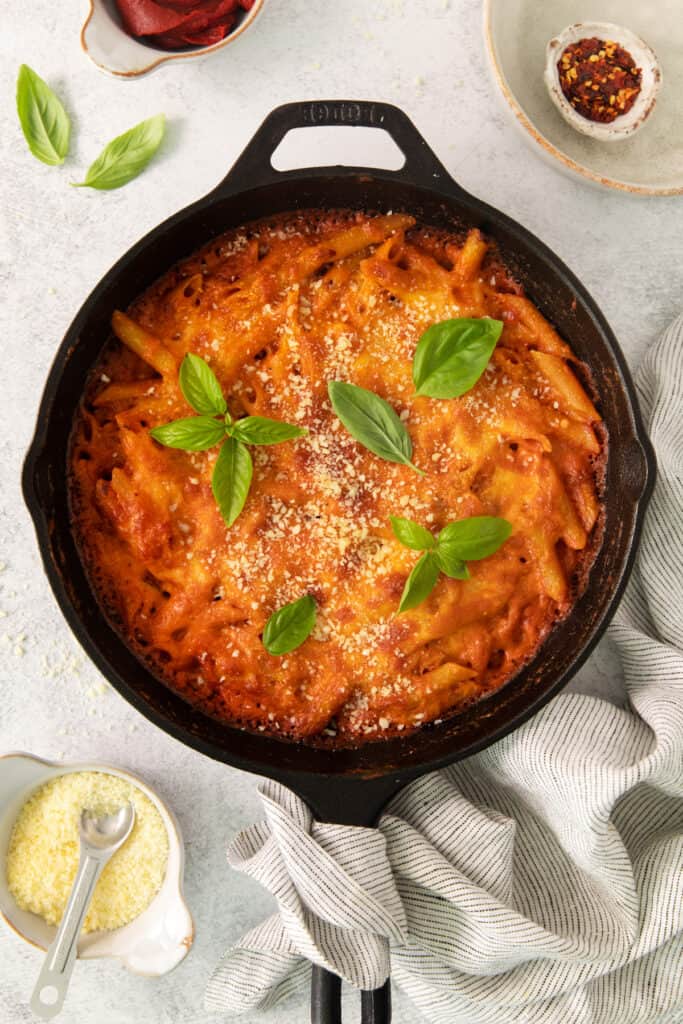 You haven't lived until you've tried this spicy vodka pasta recipe! Adding a spicy element to this dish really gives this classic dish a whole new life. The usual vodka pasta just uses parmesan, but we wouldn't be The Cheese Knees without adding another layer of cheese: mozzarella! It's the perfect melty cheese to take this delicious meal to the next level.
What You Need to Make This Spicy Vodka Pasta Bake
Penne pasta: we used penne pasta in this recipe, but any chunky pasta will do.
Yellow onion: this onion has a sharp, pungent flavor that's great as a base for sauces.
Crushed red pepper: the secret ingredient to making this creamy vodka sauce nice and spicy!
Vodka: you can use your favorite vodka sauce for this recipe. Premium vodka will always taste the best.
Shredded mozzarella cheese: mozzarella is a nice melty cheese that'll enhance the flavor of the creamy sauce.
Large cast iron skillet: We recommend cooking this spicy vodka pasta dish in a cast iron skillet. This method allows you to cook your creamy pasta on the stove and then transfer it to the oven in the same skillet, reducing the number of dishes you need to clean.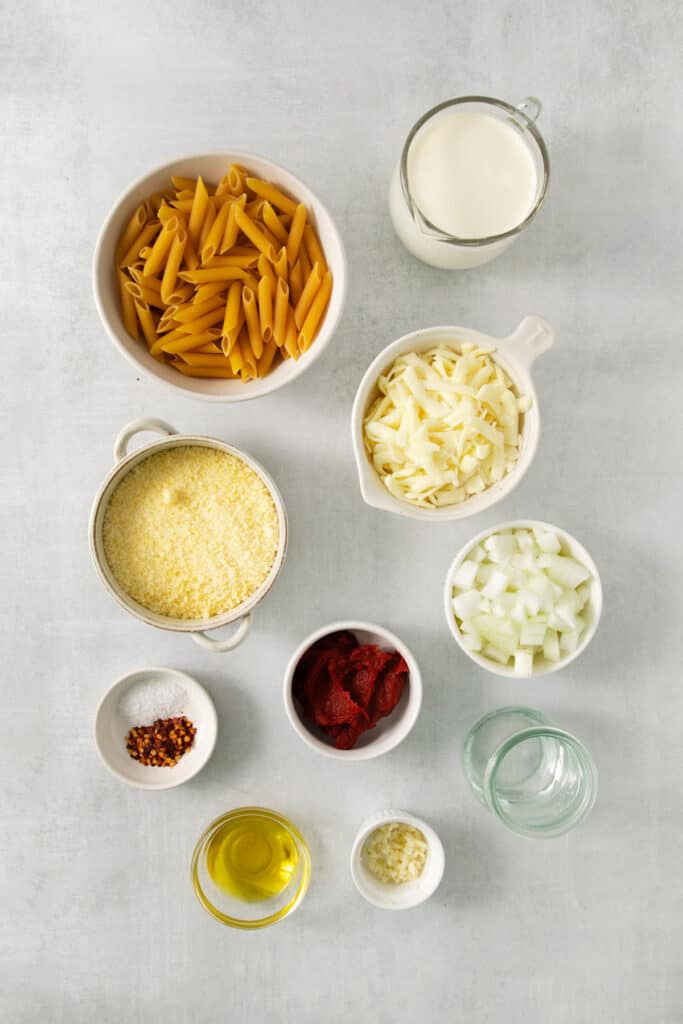 Substitutes & Variations
What's great about easy pasta recipes is that you can swap things out or add all sorts of extra mix-ins to make all your comfort food dreams come true.
Pasta: We kept it classic and used penne pasta, but you're welcome to use other chunky noodles like Orecchiette ("little ears"), small pasta shells, or any other type of pasta that holds sauces well.
Onion: Fresh out of yellow onion? Don't sweat it. Red onion, white onion, or shallots will work just fine.
Garlic: If you're crazy about garlic, you can always double or even triple up the amount of garlic. You really can't have too much!
Cream: Half-and-half or whole milk are great alternatives to heavy cream. Just be sure to allow it to reduce a bit longer.
Vodka: Vodka isn't necessary for this dish. You can sub it with other booze like gin and cognac for some extra flavor. Tequila is also a great option and will give your sauce a spicy finish, while white wine is more budget-friendly. To omit alcohol altogether, replace it with chicken broth or chicken stock.
Spice: There are plenty of other ways to put the "spicy" in this spicy vodka pasta bake. Chili flakes, diced jalapeno peppers, or even a teaspoon of your favorite hot sauce will do the trick.
Add Greens: Add some color to your dish by mixing in some fresh basil, arugula, or spinach.
Add Veggies: Vegetables like mushrooms, bell peppers, or artichoke hearts will provide extra flavor and nutrition.
Add Protein: For a more substantial meal, feel free to add some shredded chicken or cooked sausage.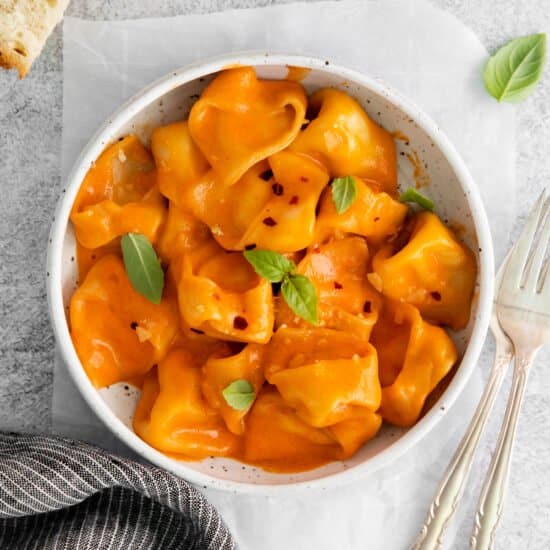 try it!
Cheese Tortellini with Vodka Sauce
It doesn't get much better than this cheese tortellini with vodka sauce. The tortellini is filled with three cheese and then tossed in the most simple but flavorful vodka sauce.
Get Recipe
FAQs
What is the point of using vodka in vodka pasta?

Vodka helps maintain the creamy texture and ensures that the tomato base won't overpower the dish. While you could also do this with wine, vodka adds a unique taste with its subtle hint of heat and sharp bite. 
What vodka is best for making vodka sauce?

Some argue that premium vodkas or potato vodkas have more depth of flavor, but the truth is that any vodka will work for making a delicious sauce. The real key to making an amazing vodka sauce is all in the ingredients and your cooking technique. 
Can kids eat this spicy vodka pasta bake?

Yes. This vodka sauce uses only a small amount of alcohol that should evaporate as it cooks, so you don't have to worry about alcohol with this recipe.
How do you know when pasta is al dente?

You'll know when your pasta is perfectly al dente when you bite into it, and the texture is tender but firm and chewy. It's similar to the texture of biting into a thin slice of red onion — tender but with some bite.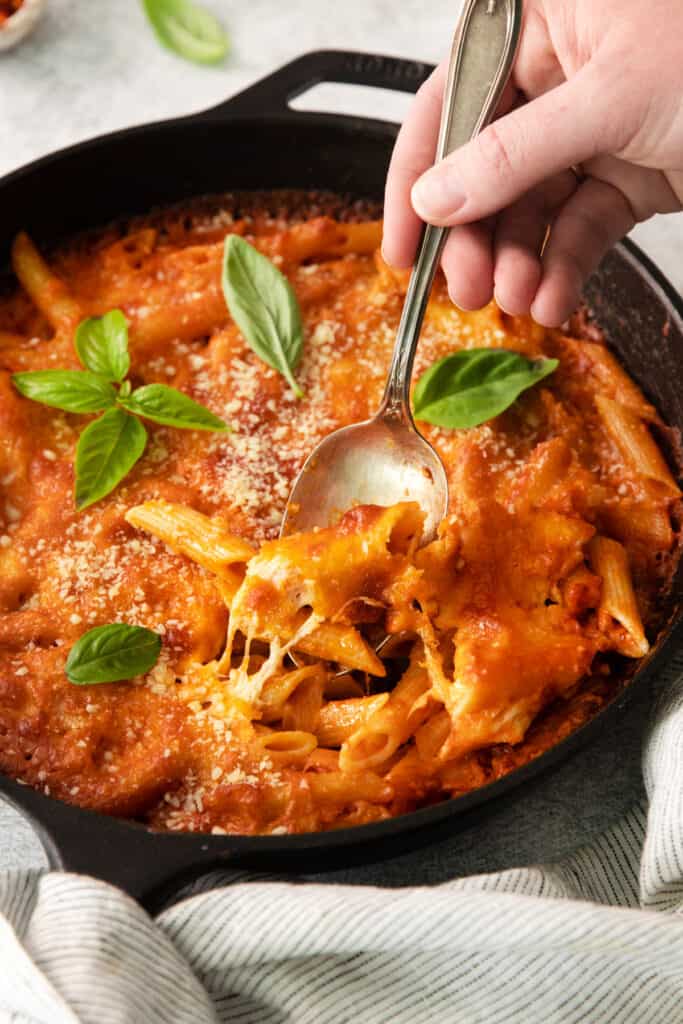 Storage
Store any leftover spicy vodka pasta bake in an airtight container in the fridge for up to 3 days.
Freezer Directions
To freeze your pasta, we recommend freezing the sauce and pasta separately for best results. If it's too late for that, that's okay! It'll still freeze fine. Place your pasta in a freezer-safe, airtight container in the freezer for up to 3 months.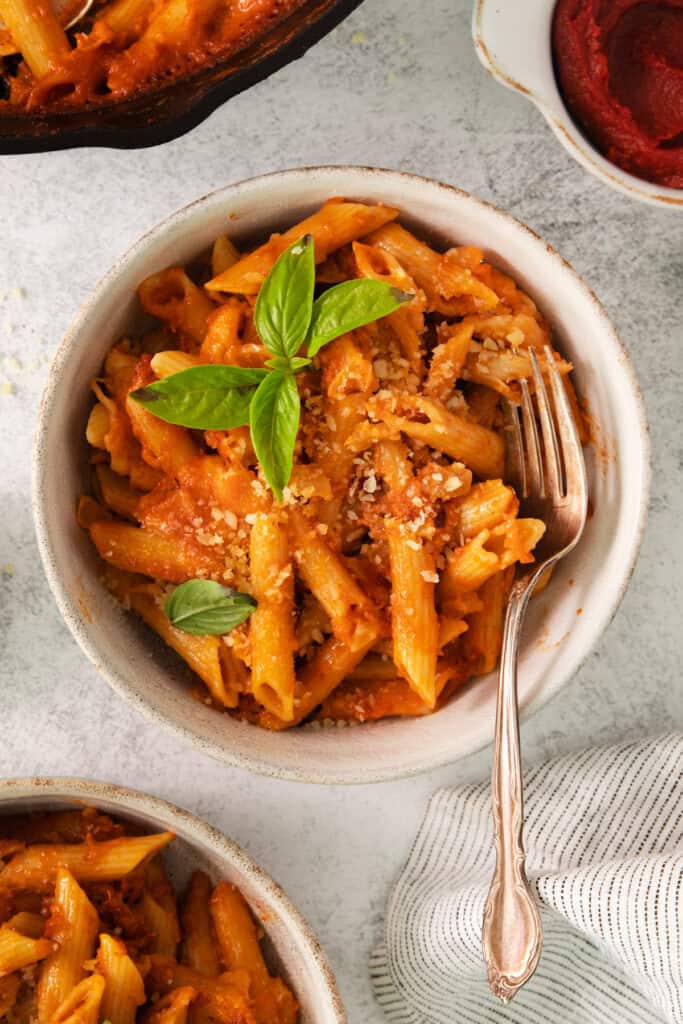 Serving Suggestions
​If you can't get enough of this spicy vodka pasta bake, there's more where that came from! If you loved the spicy element of this dish, try our Queso Dip Mac and Cheese, Buffalo Chicken Pasta Salad, or Taco Lasagna.
All about that vodka sauce? This Cheese Tortellini with Vodka Sauce is the bomb.com! And if you're a certified cheesehead, you've got to try our Southern Baked Mac and Cheese or Baked Cream Cheese Pasta.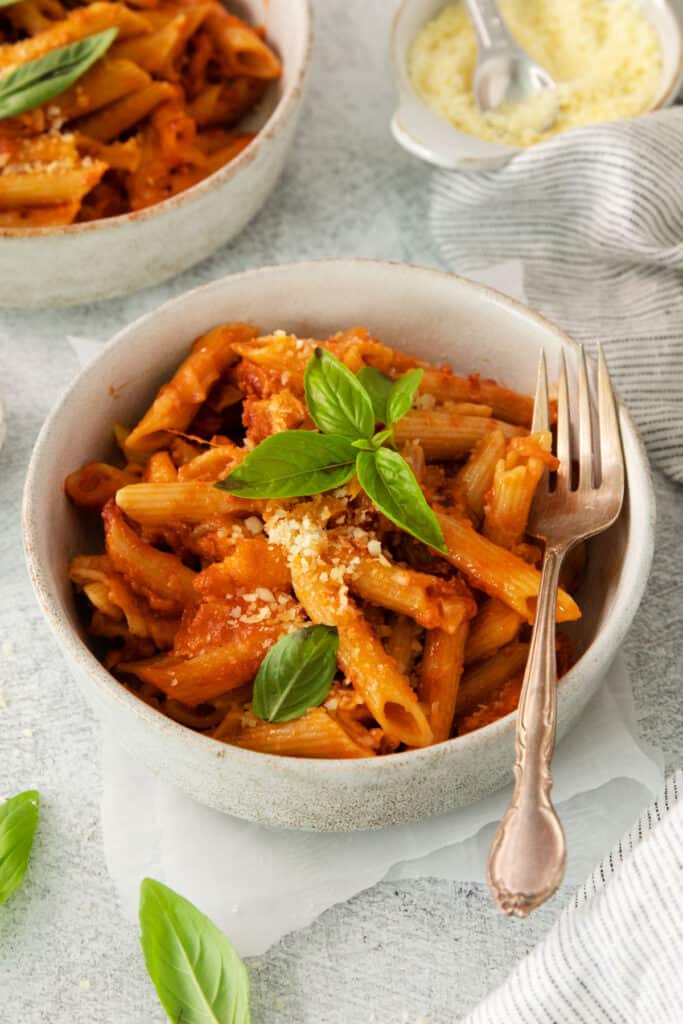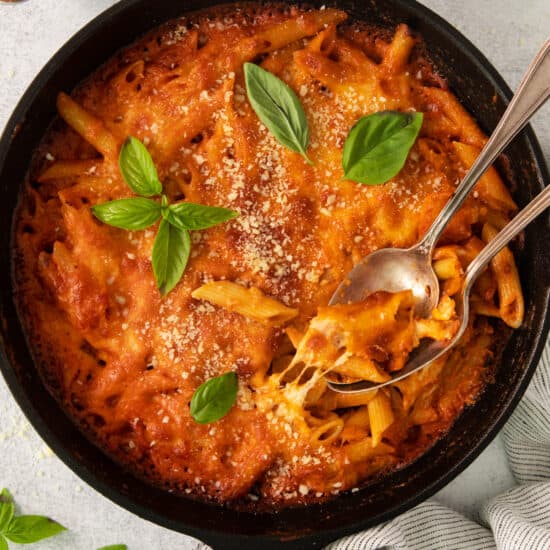 Spicy Vodka Pasta Bake
This spicy vodka pasta bake has a flavorful and unique spicy vodka sauce that is rich, creamy and delicious.
Ingredients
8

oz.

penne pasta

2

tablespoons

olive oil

½

yellow onion

diced

3

cloves

garlic

minced

1

teaspoon

crushed red pepper

½

teaspoon

kosher salt

3

tablespoons

tomato paste

¼

cup

vodka

1

cup

heavy cream

1.5

cups

grated parmesan cheese

~5 oz.

4

oz.

shredded mozzarella cheese

~1 cup
Instructions
Preheat the oven to 350℉.

Bring a large pot of salted water to a boil. Add the penne and cook for 1 minute less than al dente, about 6 or 7 minutes. Drain and set aside.

Heat the olive oil in a cast iron skillet over medium heat. When the oil becomes fragrant, add the onion and cook for 2-3 minutes. Add the garlic, crushed red pepper, and salt, and cook until the garlic becomes golden brown and fragrant.

Next, add the tomato paste and cook for 1 minute, stirring constantly. Add the vodka to the skillet and stir. Add the heavy cream and 1 cup of parmesan and stir until the cheese has melted.

Transfer the noodles to the skillet and fold together until the noodles are coated. Top with remaining parmesan and mozzarella cheese.

Bake for 20 minutes. Allow 5 minutes to cool before serving.

Garnish with more crushed red pepper, parmesan cheese, and fresh basil.
Tips & Notes
We used penne pasta in this recipe, but any chunky pasta will do.
Nutrition facts
Calories:
515
kcal
Carbohydrates:
36
g
Protein:
18
g
Fat:
31
g
Fiber:
2
g
Sugar:
4
g