This easy stuffed shells recipe with meat sauce combines three delicious kinds of cheese: ricotta, parmesan, and mozzarella, to get the most irresistible gooey cheese filling for your jumbo shells pasta.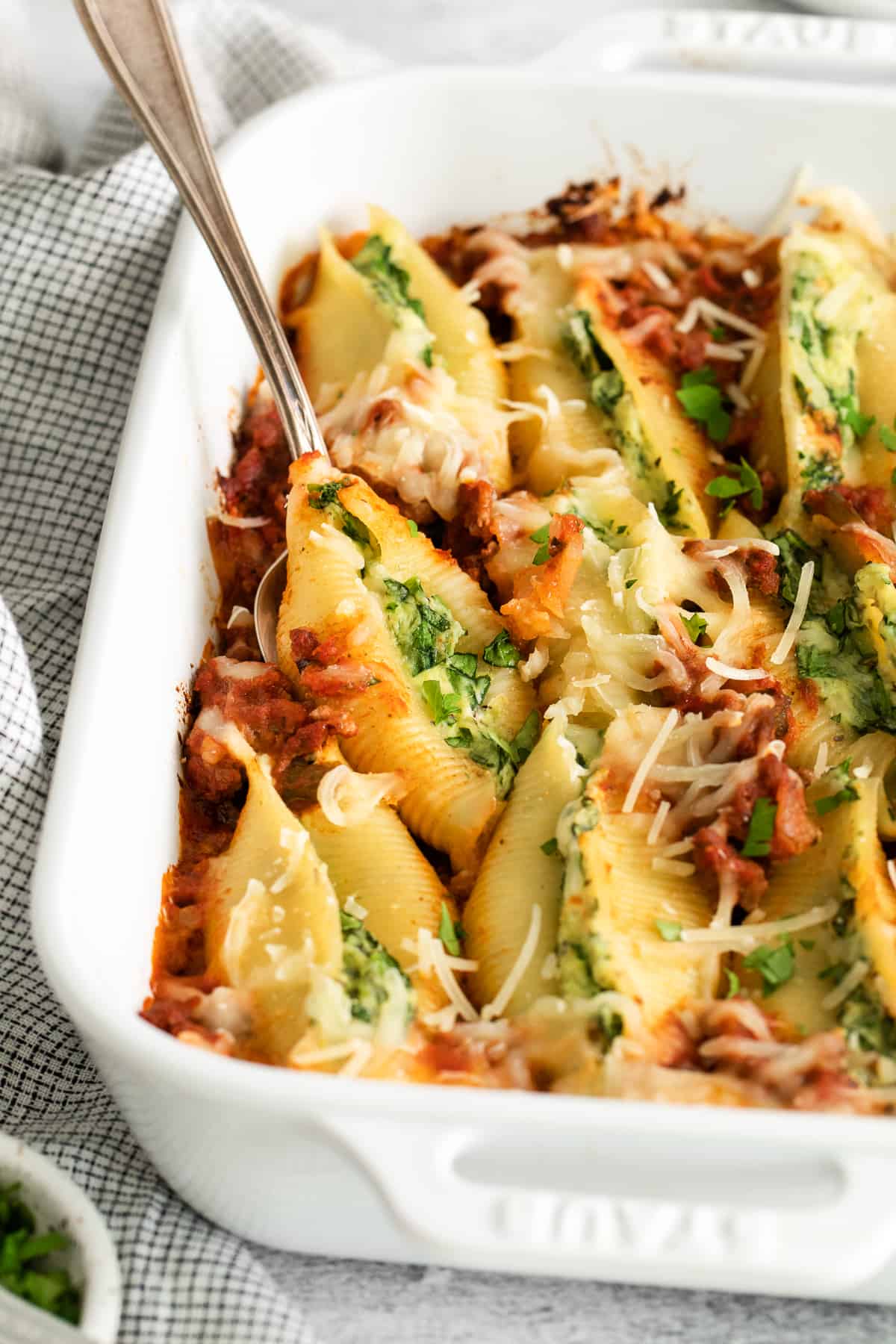 Whenever we have a busy week you will always find stuffed shells on the menu. We tested this recipe with a few different kinds of meat and ground beef was the winner.
Once you make these stuffed shells with meat, try these ricotta stuffed shells or this easy cottage cheese lasagna for great, cheesy meal prep meals for the week.
What You Need for Stuffed Shells with Meat
Casserole dish: these shells are stuffed and lined up in a 9×13-inch casserole dish. We suggest using a ceramic pan. If you use a different material, be sure to check on the stuffed shells more often.
Jumbo shells: jumbo shells work best for this recipe. They are bigger and will hold more cheese and sauce.
Ground beef: the marinara sauce is cooked up with ground beef.
Cheese: there are three types of cheese used in these shells. Ricotta, mozzarella, and parmesan cheese are the perfect combination.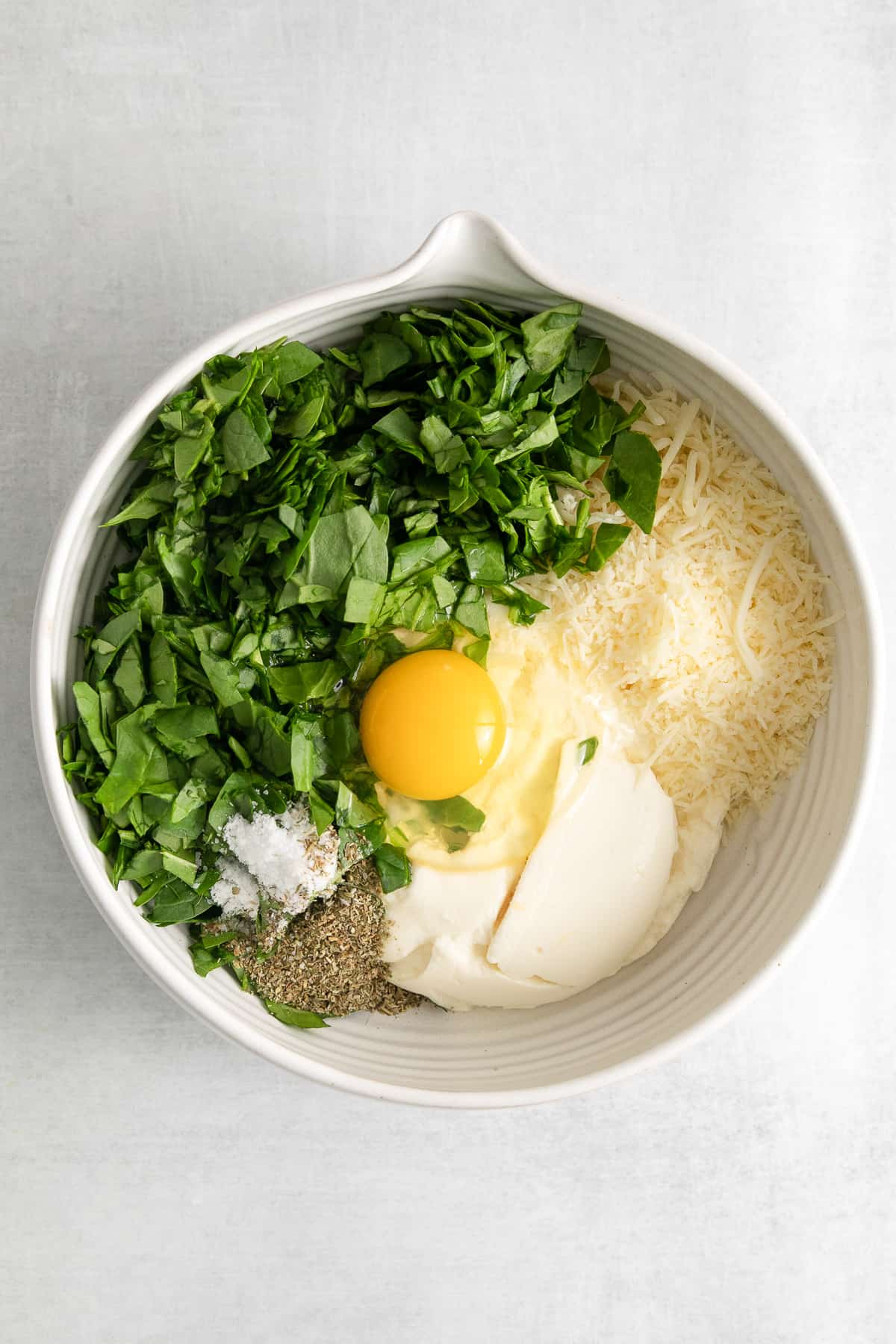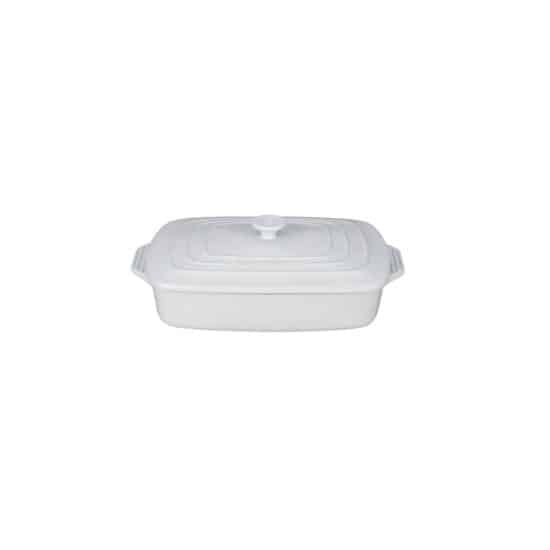 Our Favorite
Casserole Dish
This le creuset casserole dish is our all time favorite casserole dish! The white color rocks, it has a cover, and it's great for so many dishes.
Buy One
Substitutions & Variations
You can substitute ricotta cheese with blended cottage cheese or mascarpone cheese.
If you have to use smaller shells, the amount of filling used in each jumbo shell with vary.
You can substitute ground beef with ground pork, chicken, or turkey.
why you'll love 'em!
Stuffed shells are easy to prepare ahead of time! You can prepare this dish the night before, or you can freeze it for another time.
The meat sauce is full of flavor and tastes fantastic with the cheesy shells!
It's a classic recipe that even the pickiest of eaters will love.
You can feed the entire family or have enough leftovers throughout the week.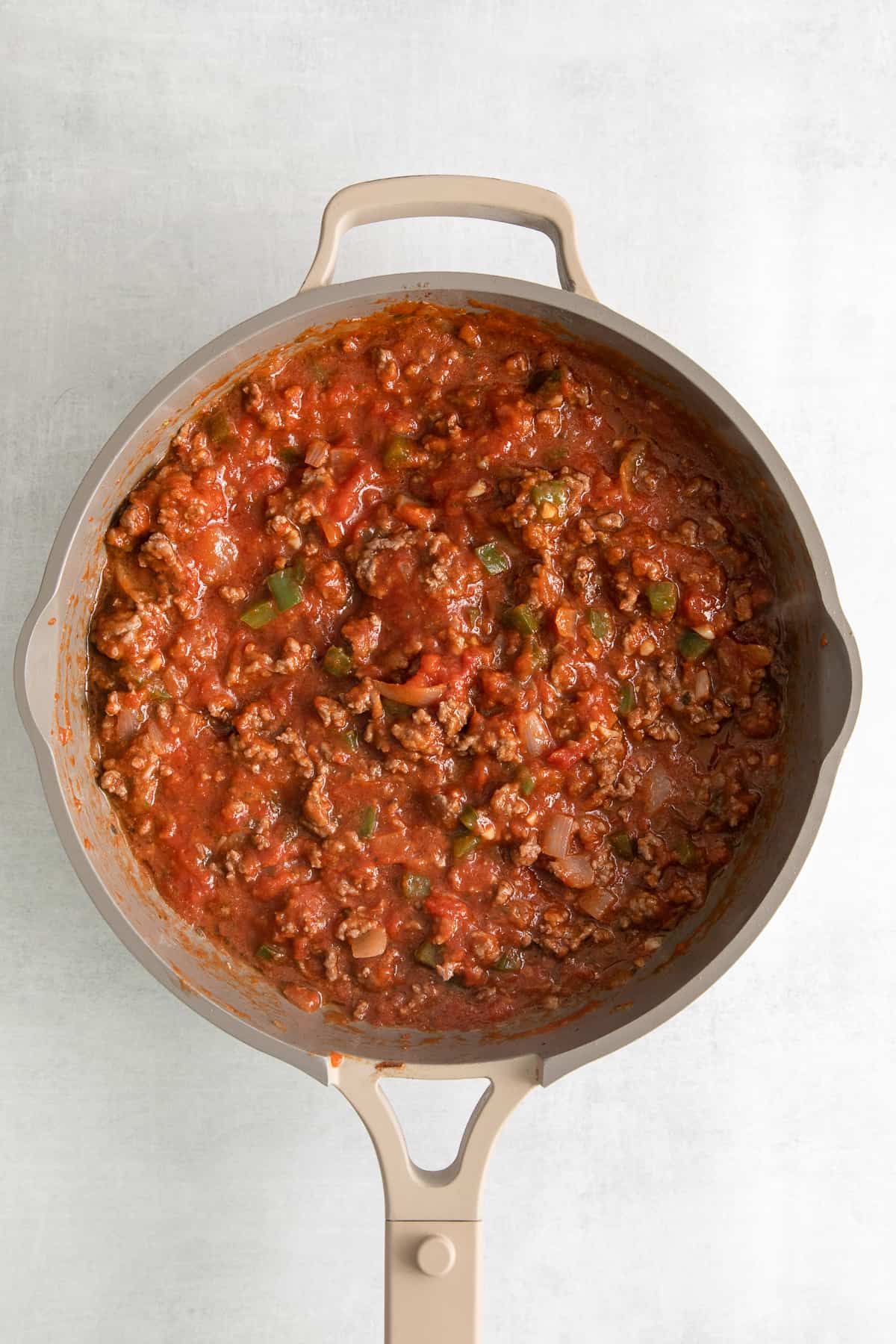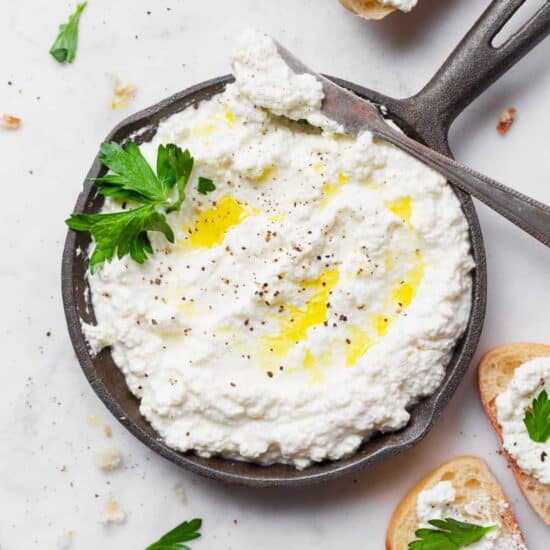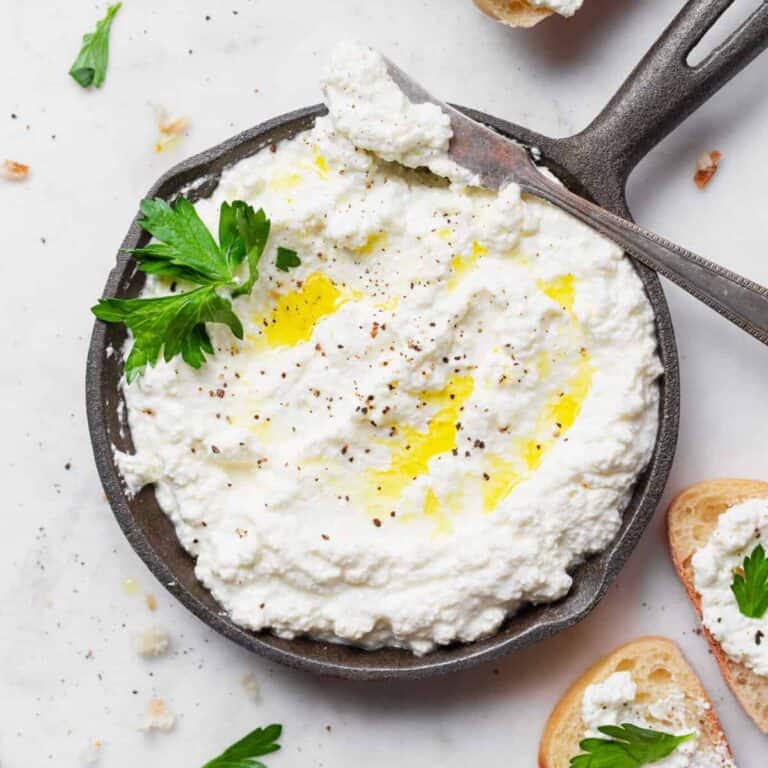 Tutorial
How to Make Ricotta Cheese
Homemade ricotta cheese is a brilliant way for anyone to begin their journey into home cheesemaking. The magic of turning fresh milk and cream into delicate curds and whey is deeply satisfying and deliciously simple!
Get Recipe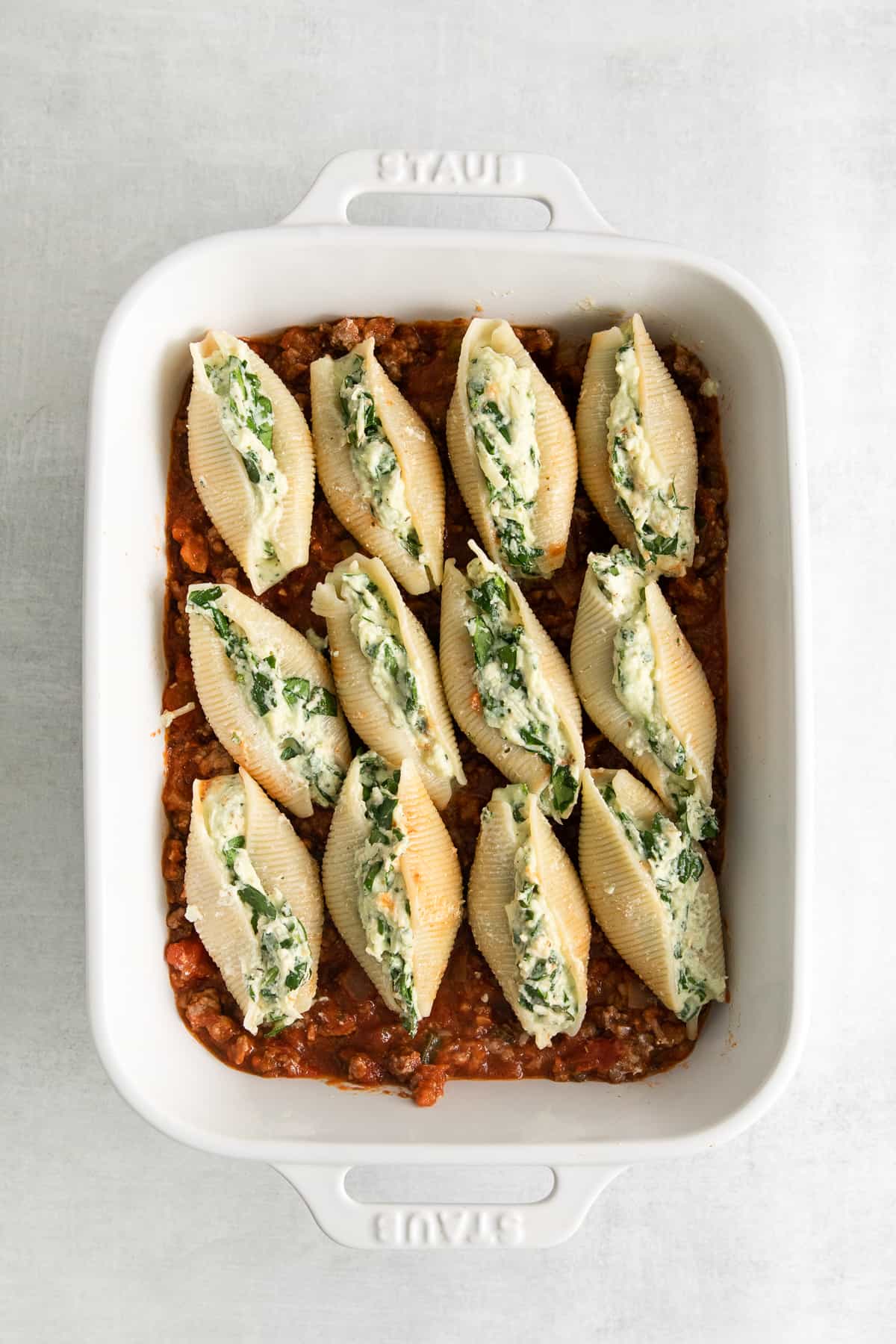 FAQs
Why are my stuffed shells watery?

Your stuffed shells can become watery if you don't allow your ricotta cheese to dry properly before cooking with them. 

To avoid this, place paper towels or a clean kitchen cloth on a rimmed baking sheet to spread your ricotta cheese. Then, top the cheese with more towels and allow it to sit for about 5 minutes.
What can I use instead of ricotta for stuffed shells?

There are many other different types of cheeses that you can substitute for ricotta cheese. Our top choices include cottage cheese, goat cheese, queso fresco, and cream cheese. They won't provide the exact same flavor, but they'll still make for a delicious filling for your pasta shells.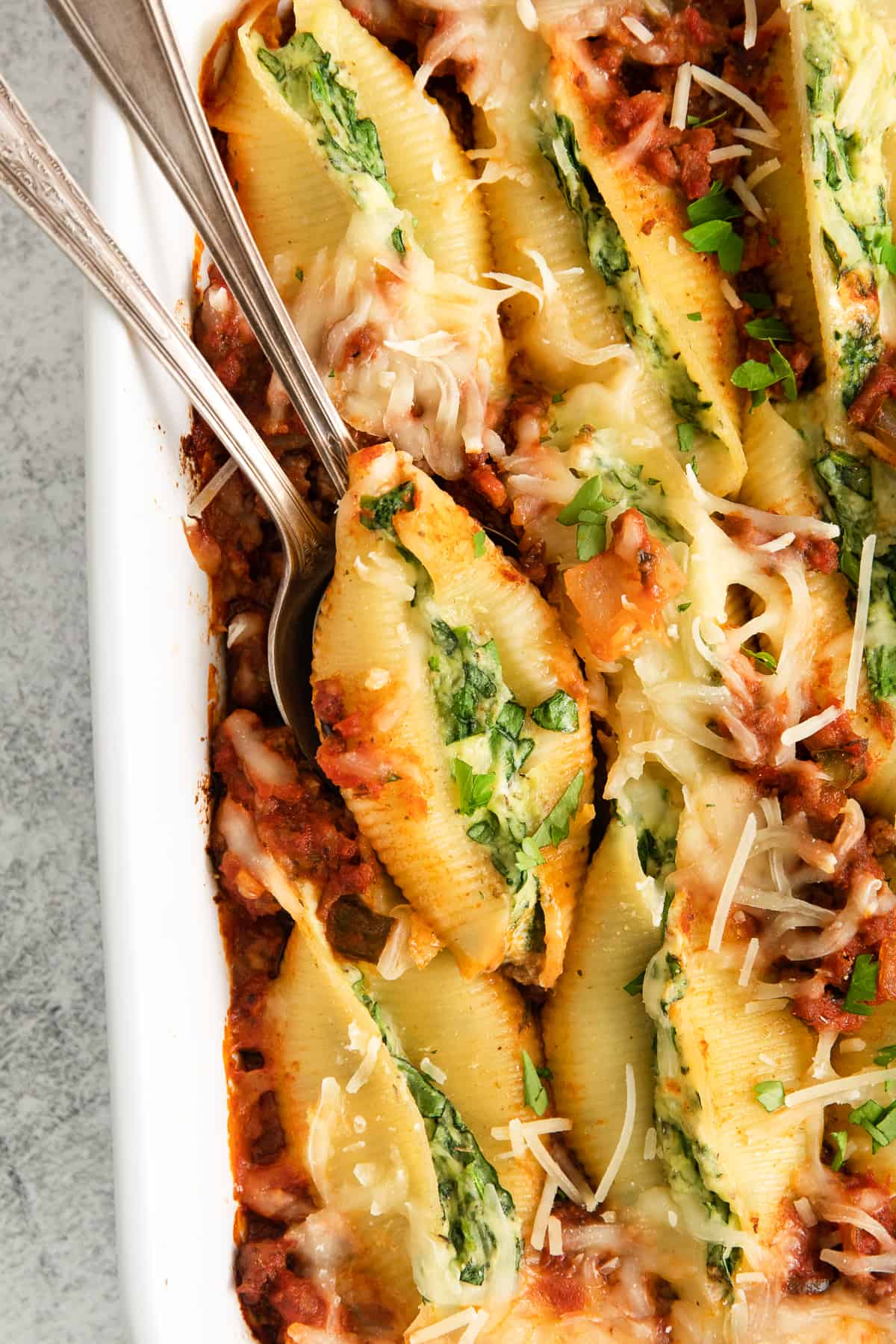 Storage
After your stuffed shells with meat sauce are baked, let them cool completely before placing in an airtight container. Then, store it in the refrigerator for up to 5 days.
To reheat, let them come to room temperature and then reheat in the oven covered at 350ºF until the cheese melts and the middle of the shells and marinara sauce are warm.
To Freeze Stuffed Shells
Let your pasta dish cool completely before covering with plastic wrap and aluminum foil—place in the freezer for up to 3 months.
To reheat, let the dish come to room temperature and then heat in the oven covered at 350ºF. Heat until the cheese melts and the middle of the shells and marinara sauce are warm.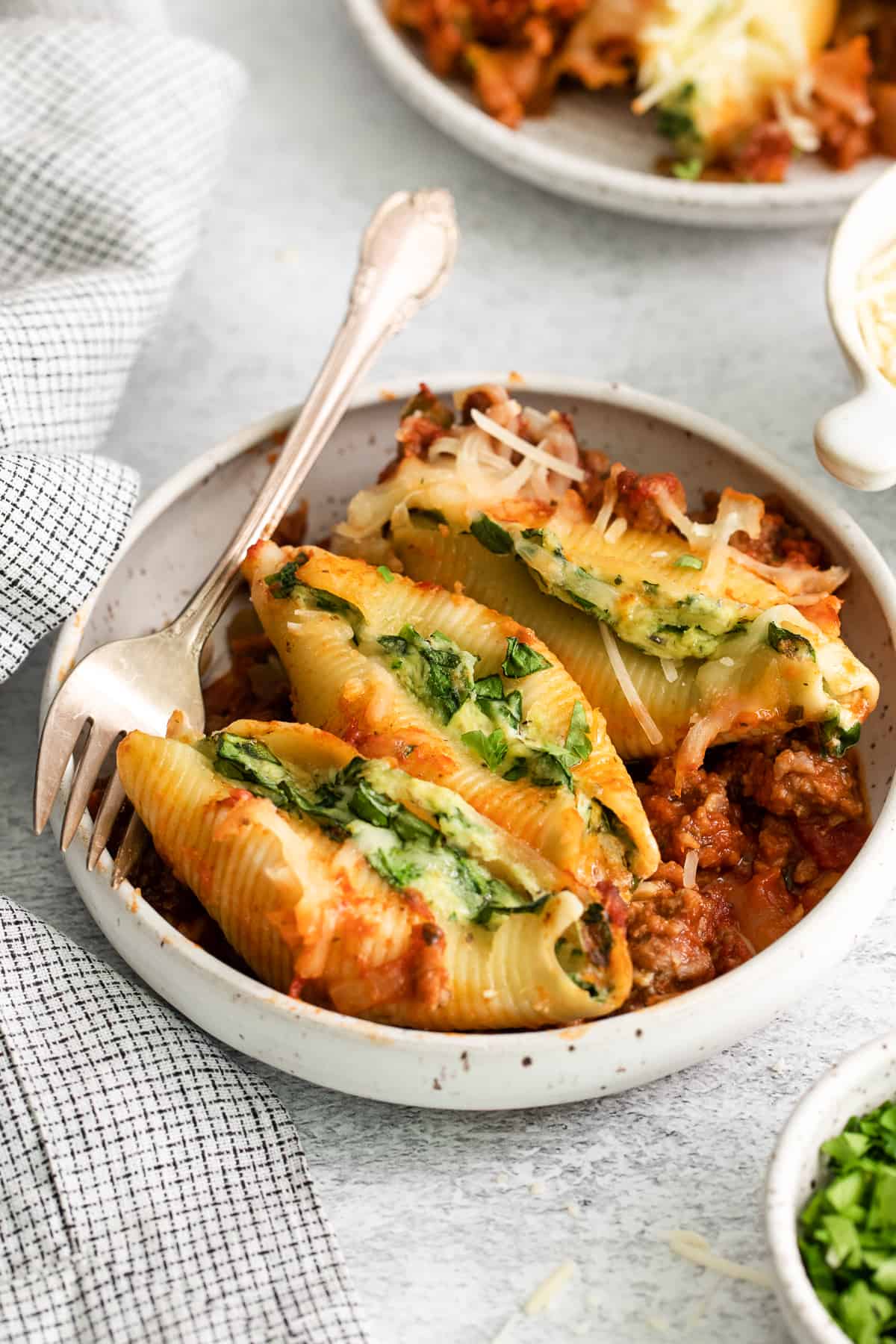 Serving Suggestions
There's nothing that goes better with pasta than cheesy garlic bread and an easy green salad.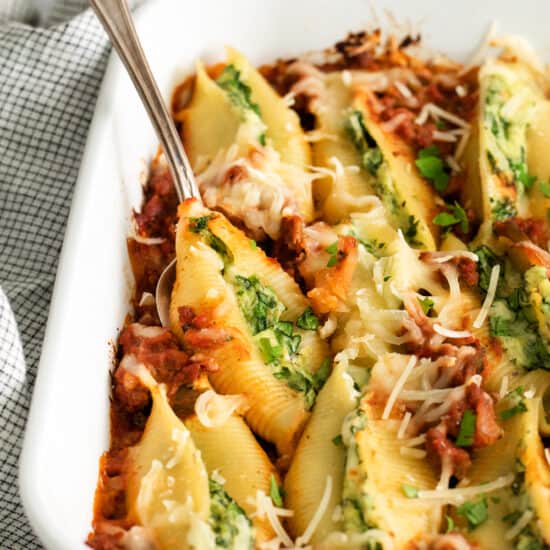 Stuffed Shells with Meat Sauce
These stuffed shells with meat sauce are stuffed with spinach and a cheesy filling and then baked in a hearty meat sauce. Enjoy!
Ingredients
8

oz.

jumbo shells

16

oz.

whole milk ricotta cheese

1

oz.

grated parmesan cheese

~½ cup

8

oz.

shredded mozzarella cheese

divided (~2 cups)

1

tablespoon

Italian Seasoning

1

teaspoon

salt

1

large egg

5

oz.

fresh spinach

finely chopped

2

tablespoons

olive oil

½

medium yellow onion

diced

1

green bell pepper

diced

1

lb.

85/15 ground beef

3

garlic cloves

minced

24

oz.

marinara sauce
Instructions
Preheat the oven to 350℉ and spray a 9×13-inch baking dish with cooking spray. Set aside.

Bring a large pot of salted water to a boil. Cook the pasta according to package instructions. Drain and set aside — about 10 minutes.

Add the ricotta, parmesan, ½ cup mozzarella, Italian seasoning, salt, egg, and spinach to a large bowl. Mix until well combined. Transfer the mixture to a gallon-size storage bag and set aside.

Heat olive oil in a large skillet over medium/high heat. Add the onions and peppers and cook for 3-4 minutes. Add the ground beef and garlic and cook for another 5 minutes. Add the marinara sauce and cook for 2-3 minutes. Set aside.

To assemble, pour 1 cup of the beef marinara into the bottom of the baking dish. Spread to cover the bottom. Pipe about 1-2 tablespoons of the ricotta mixture into each shell. Line up the shells in the baking dish until all the noodles and ricotta mixture have been used. Top with the remaining marinara sauce. Then top with remaining mozzarella cheese.

Bake for 30 minutes uncovered. Allow to rest for 10 minutes before serving.
Tips & Notes
Don't skip chopping the spinach ahead of time. It is hard to pipe the ricotta mixture with whole spinach leaves coming out.
Italian sausage would be an excellent substitute for ground beef.
To make ahead of time, assemble and refrigerate. Bake for 30 minutes covered and then an additional 30 uncovered.
Nutrition facts
Calories:
498
kcal
Carbohydrates:
31
g
Protein:
31
g
Fat:
28
g
Fiber:
3
g
Sugar:
5
g