This cowboy casserole is the perfect weeknight dinner. It's flavorful, comforting, and an instant family favorite — even for the picky eaters! Made all in one cast iron skillet, you'll have this easy casserole recipe on your kitchen table in no time.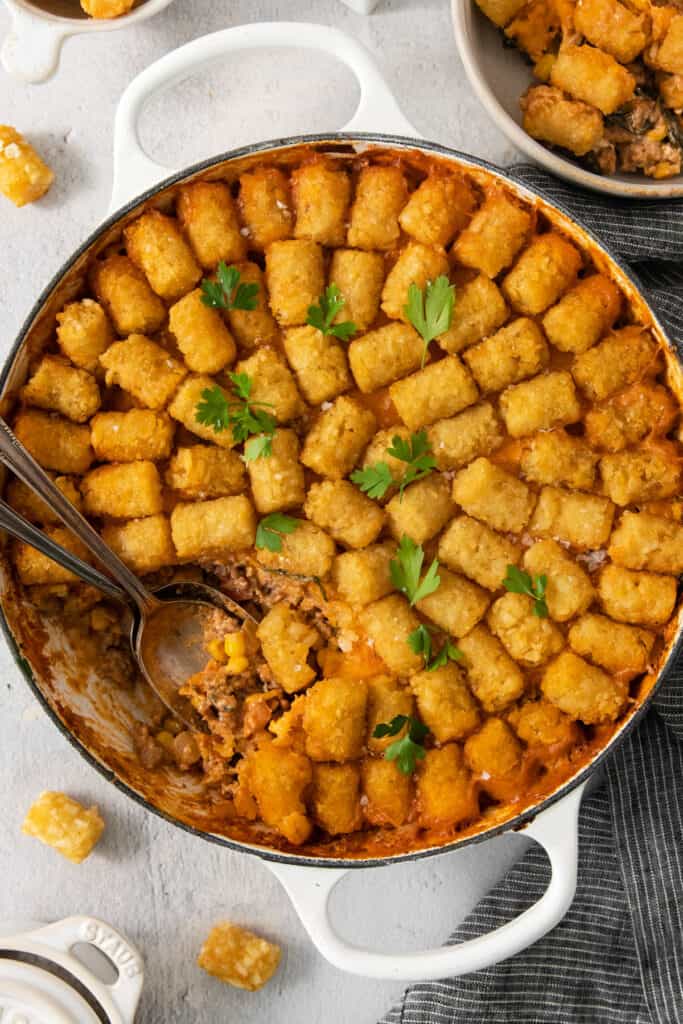 We're going to say it because it's true: this cowboy casserole will have you saying "YEEHAW." And yes, the recipe is even cheesier than that sentence. The combination of cream cheese, lean ground beef, fresh veggies, spinach, and a crispy tater tot topping makes this hearty casserole as bold and legendary as a cowboy.
Making this casserole dish is simple. Cook up the beef base, then cook the veggies before adding the cheese and milk. Now all that's left to do is top the casserole with tater tots and bake until golden brown and bubbly. Now that's the good stuff!
What is Cowboy Casserole?
Cowboy Casserole is a hearty and comforting dish that typically combines ground meat (often beef), potatoes (we're using tater tots!), cheese, and a variety of vegetables in a single baking dish. It is often flavored with ingredients like garlic, onion, and sometimes condensed soup like cream of mushroom or cream of chicken to create a creamy base.
The dish is baked until the components are cooked through and the top is often browned and bubbly. YUM!
What's In Cowboy Casserole?
85% ground beef: we used lean ground beef for an extra boost of protein.
Veggies: red bell peppers and frozen corn are the veggies used for this easy recipe.
Fresh spinach: spinach adds a pop of color and boosts the nutritional value.
Cream cheese: cream cheese is what makes this cowboy dinner super rich and creamy.
Shredded cheddar cheese: shredded cheese is sprinkled on top for crispy, cheesy tater tots.
Frozen tater tots: these go on top of the casserole for added crunch and flavor.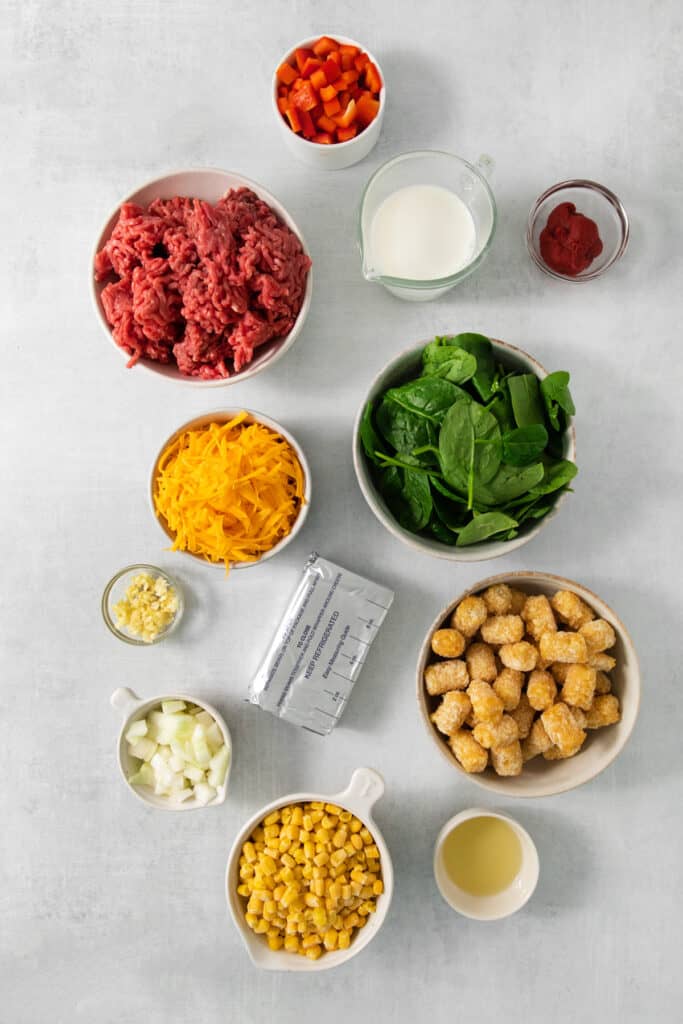 Substitutes & Variations
Protein: you're welcome to sub out the ground beef for ground turkey or ground chicken.
Veggies: we kept it southwest style with bell peppers and corn, but veggies like broccoli, mushrooms, or peas also taste great.
Cream Cheese: swap out the cream cheese for sour cream if you'd like something a bit lighter in taste.
Milk: we used 1% milk, but feel free to use any milk of your choice. Non-dairy milk would also work fine, just note that the taste and texture will vary.
Cheddar Cheese: use your favorite kind of shredded cheese. Mexican blend, cheddar/Monterey jack, or mozzarella are all great options.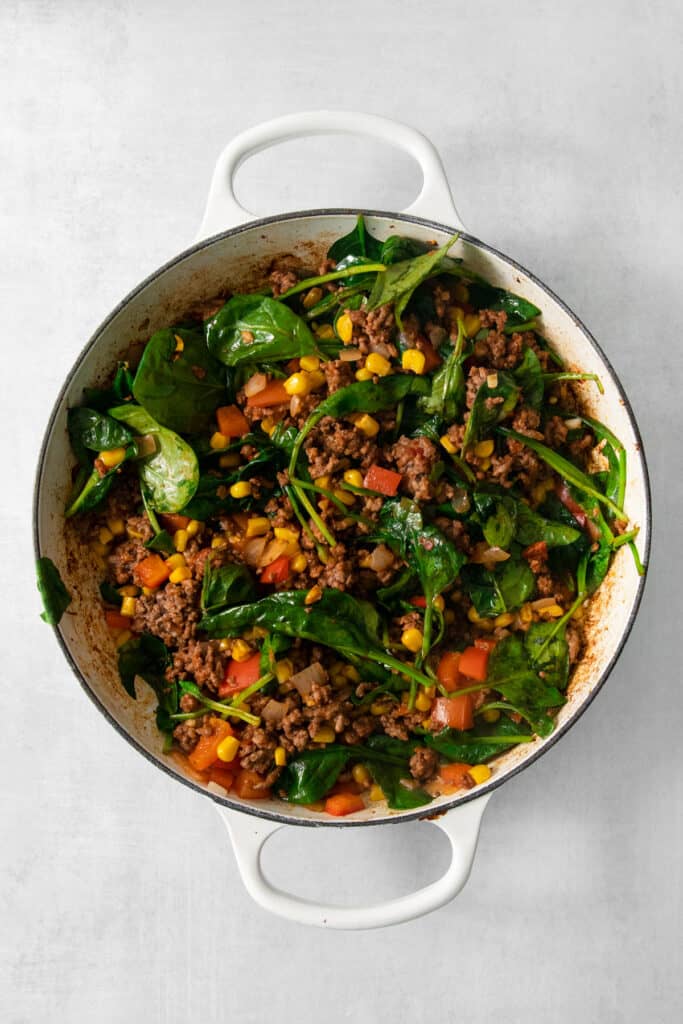 FAQs
What is cowboy casserole made of?

Cowboy casserole is a delicious, hearty dinner dish that is typically made up of layers of sautéed vegetables, ground beef, beans, tomatoes, sour cream and cheese. To top it off, there's a crispy layer of tater tots for extra crunch and flavor. Our cowboy casserole has a special ingredient: cream cheese, which makes it even more flavorful and creamy. 
What is the Minnesota name for casserole?

As proud Minnesotans,  we never forget the Minnesota name for casserole—Hotdish! Hotdish, a combination of starch, vegetables, and meat, is an iconic dish that has become synonymous with our home state. It's a hearty meal that warms us up during the long Minnesota winters; one bite and it feels like home. 
Can this casserole be made ahead of time?

Absolutely. Just follow the recipe up till the baking portion and refrigerate or freeze your cowboy casserole until you're ready to bake.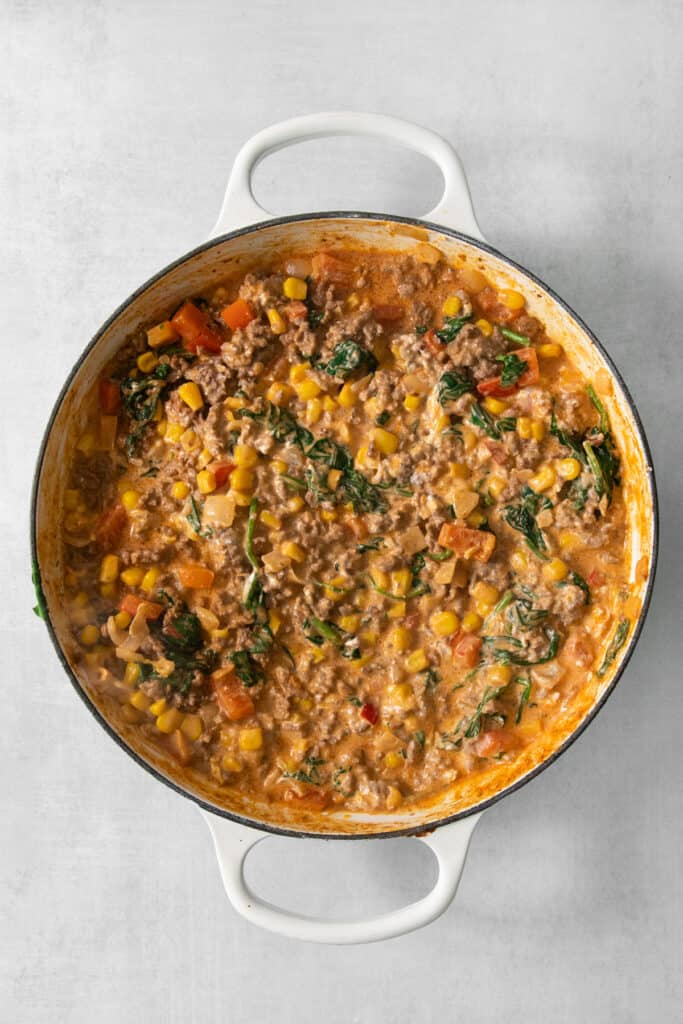 Storage
Store any leftover cowboy casserole in an airtight container in the fridge for 4 to 5 days.
Freezer Directions
To freeze, place your tater tot casserole in an airtight, freezer-safe container or bag and store it in the fridge for up to 3 months.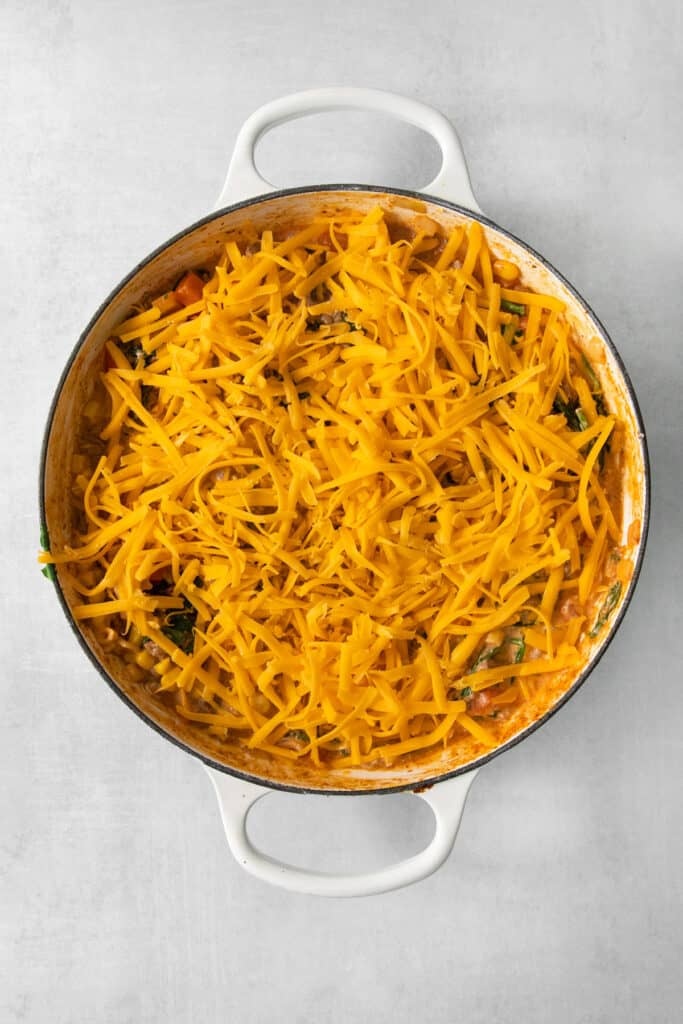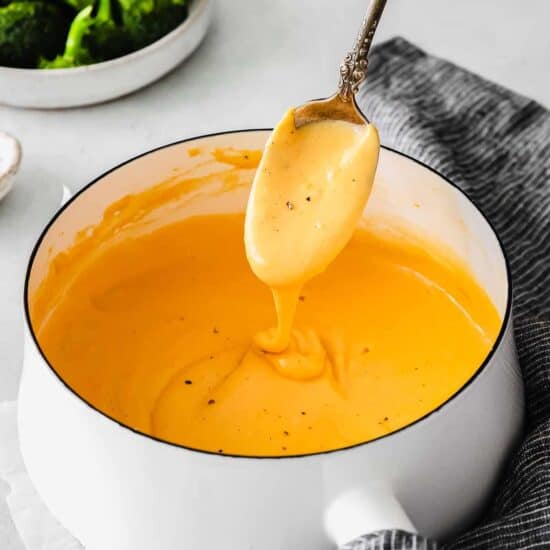 Get More
Cheddar Cheese Recipes
Looking for more recipes with cheddar cheese? Check out our cheesy collection of cheddar cheese recipes.
Get Recipes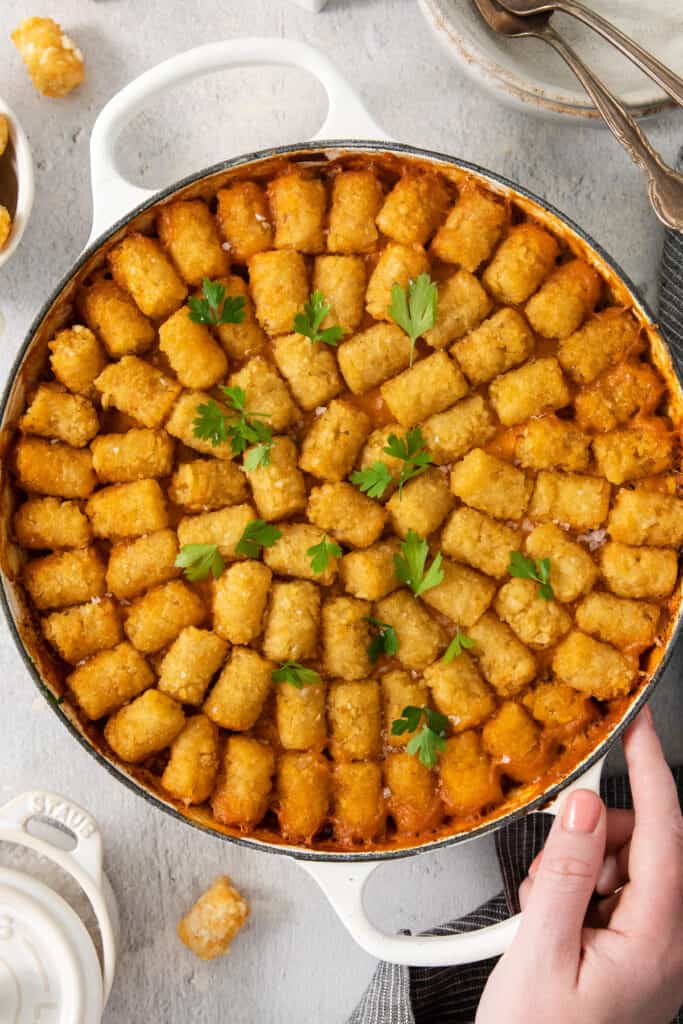 Other Tasty Casseroles You'll Love
Need more cheesy casseroles in your life? Well, we've got the motherload. Here are some of our most popular casserole dishes that are just as easy as they are delicious: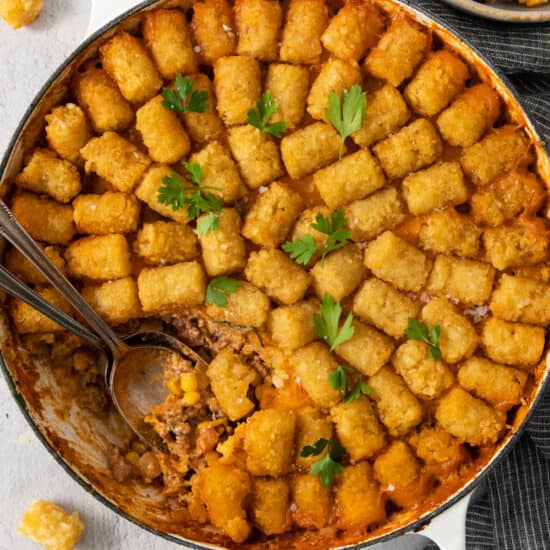 Cowboy Casserole
This cowboy casserole is an easy one-skillet meal that is cheesy, creamy, meaty, and full of delicious flavors.
Ingredients
1

tablespoon

avocado oil

1

lb.

85% ground beef

1

red bell pepper

diced

½

medium yellow onion

diced

2

garlic cloves

peeled and minced

2

tablespoons

tomato paste

1

cup

frozen corn

~5 oz.

4

oz.

fresh spinach

8

oz.

cream cheese

½

cup

1% milk

4

oz.

shredded cheddar cheese

~1 cup

24

oz.

frozen tater tots

~¾ of 32 oz. bag
Instructions
Preheat the oven to 350℉.

Heat the avocado oil in a large cast iron skillet over medium heat. Add the hamburger and brown the meat for 3 minutes.

Add in the red pepper and onion and cook for another 5 minutes. Add the garlic and cook for an additional minute. Add the tomato paste and cook for 1 minute.

Next, add the corn and spinach. When the spinach has wilted down to about half the size, add the cream cheese and milk, stirring until the cream cheese has melted.

Sprinkle the cheddar cheese on the top.

Line the tater tots up on top of the cheese.

Bake for 25 minutes. The tater tots should be golden brown, and the cheese should be bubbly.

Rest for 10 minutes before serving.
Tips & Notes
We used cheddar cheese on this. You can sub any favorite cheese in this.
To prepare this ahead of time, at the end of step 4, transfer from the skillet to a 9×13-inch baking dish. Refrigerate until ready to bake. When ready to serve, continue to step 5 and follow the remaining steps.
Nutrition facts
Calories:
395
kcal
Carbohydrates:
26
g
Protein:
15
g
Fat:
26
g
Fiber:
3
g
Sugar:
3
g