This creamy butternut squash pasta is made with the most delicious and CHEESY baked butternut pasta sauce that is made with roasted butternut squash, tomatoes, and an entire brick of Boursin cheese!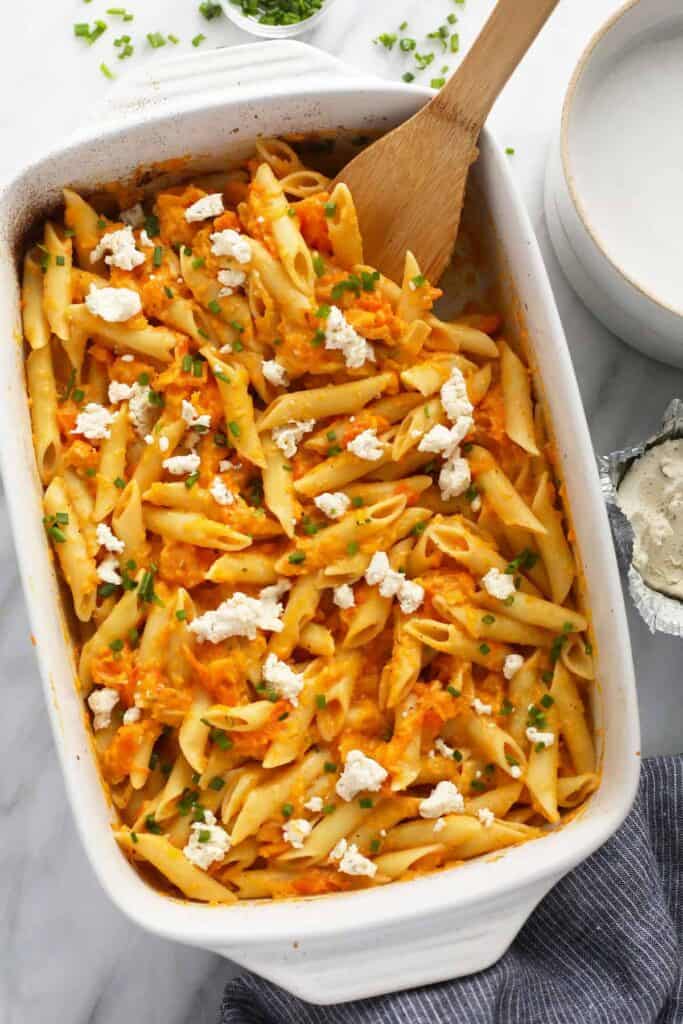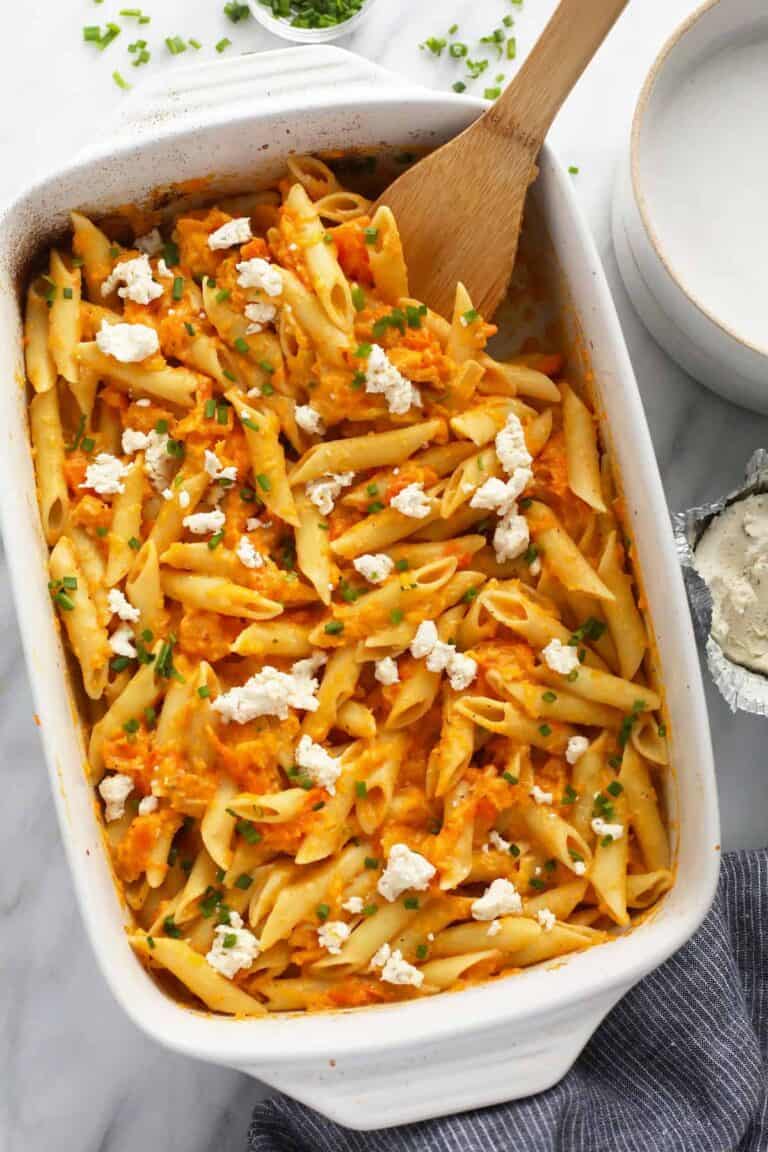 We're back at it again with another baked cheese pasta dish! First it was Baked Feta Pasta, then Baked Goat Cheese Pasta, then Cream Cheese Baked Pasta, and now– Boursin and Butternut Squash Baked Pasta!
Butternut Squash Pasta with Cream Cheese
This roasted butternut squash pasta is seriously so creamy and the best part? It's all made in the oven so it's super hands-off.
The secret ingredient you ask? An entire puck of Boursin Cheese! Boursin is a soft cheese, similar to goat cheese and really makes this sauce extra creamy and flavorful.
all about this pasta
Veggie-packed: made with a pint of cherry tomatoes, a whole head of garlic, and 4 cups of butternut squash, you're going to pack in AT LEAST 2 servings of veggies per serving.
Hands-off: No need to slave over sautéing because this Boursin cheese sauce actually bakes in the oven.
Ready in less than an hour: 60 minutes and dinner is ready!
Gives Baked Feta Pasta a run for its money!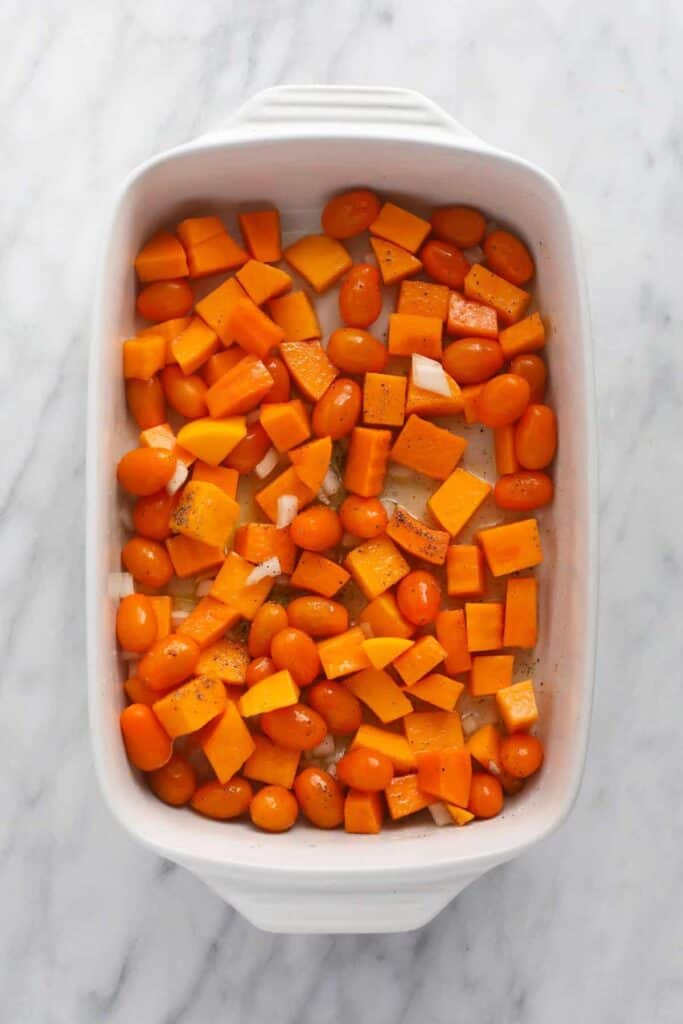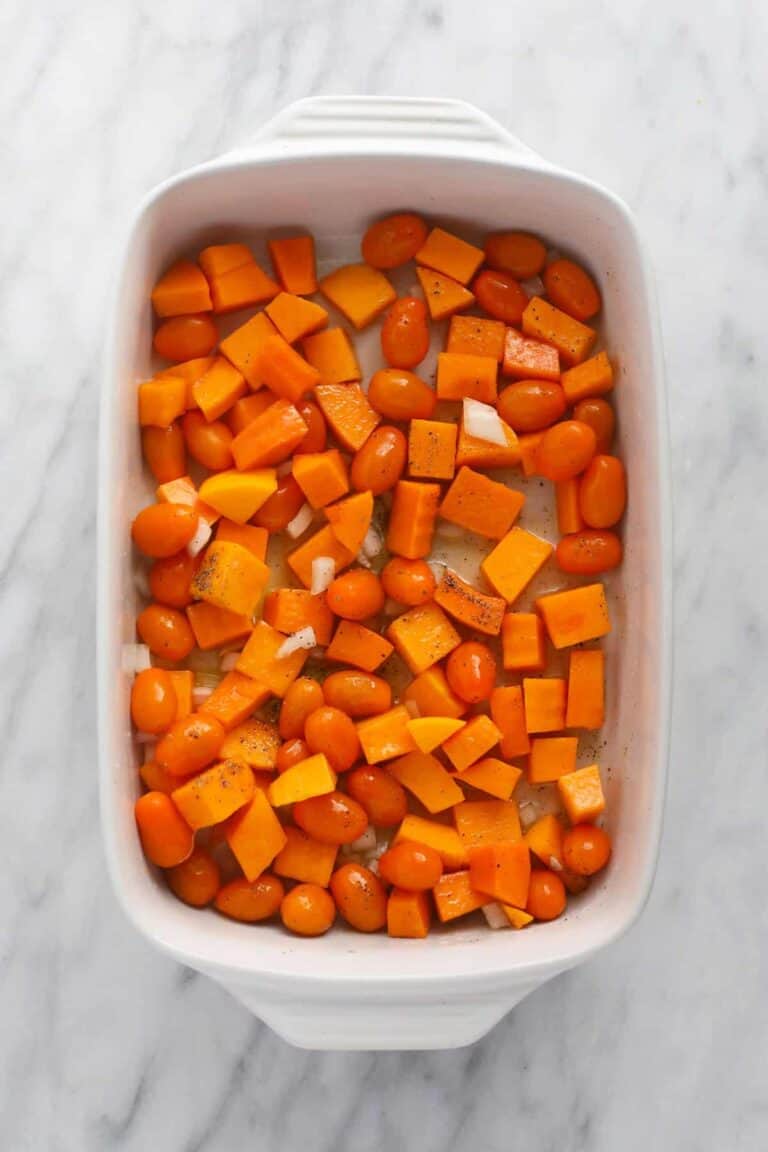 Butternut Squash Pasta Ingredients
10 Ingredients are all you need for this creamy, silky deliciousness! Check it out –
Boursin cheese
cherry tomatoes
butternut squash
white onion
dry white wine
olive oil
whole head of garlic
salt and pepper
starchy pasta water
penne pasta
All About Boursin
One of our favorite cheeses for noshing is Boursin cheese. It's delicious with a cracker and man does it make this butternut squash pasta sauce taste delicious.
It's a soft cheese (similar to goat) so it easily softens in the oven during roasting.
There are many different flavors of Boursin cheese and we used Shallot and Chive. Feel free to use whatever flavor you want.
Swaps: try swapping the Boursin cheese for either goat cheese or a brick of cream cheese. They will both soften the same way.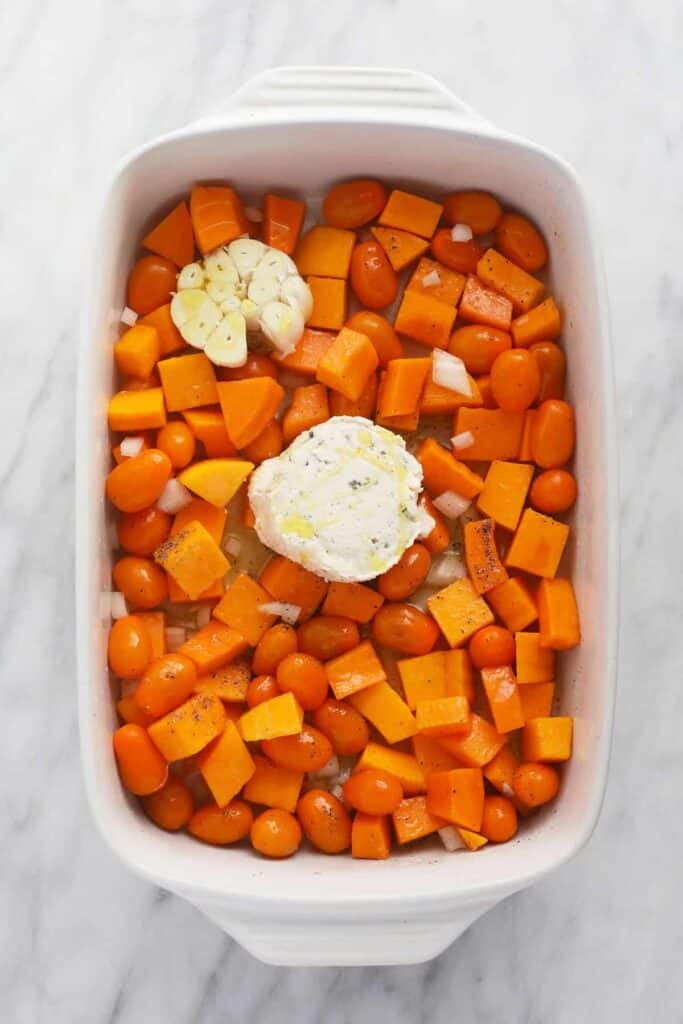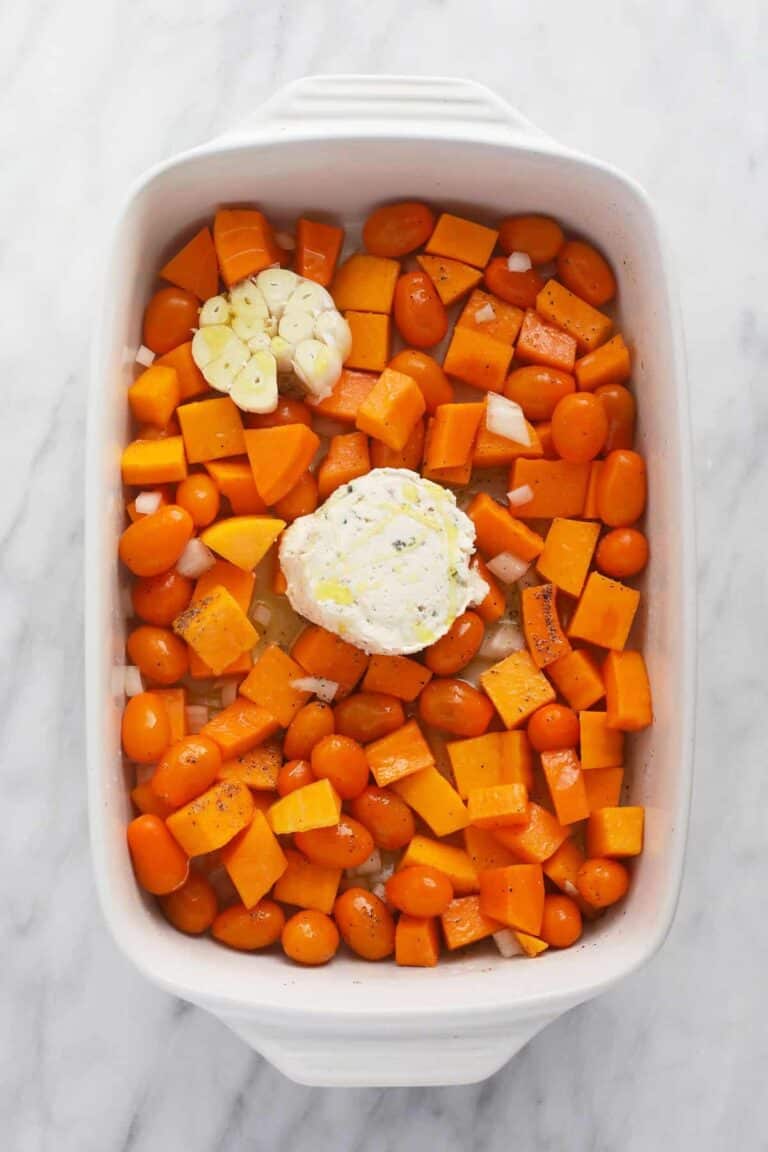 How to Make Butternut Squash Pasta
Create Sauce Base
First, create your sauce base. Add butternut squash, cherry tomatoes, onion, and olive oil to a casserole dish and toss.
These veggies will soften in the oven and will get turned into a delicious creamy sauce at the end.
Add Cheese & Garlic
Add an entire puck of Boursin cheese and a whole head of garlic to the casserole dish. If there is one thing I can tell you about this sauce, it's that the garlic is EPIC, so don't skip it!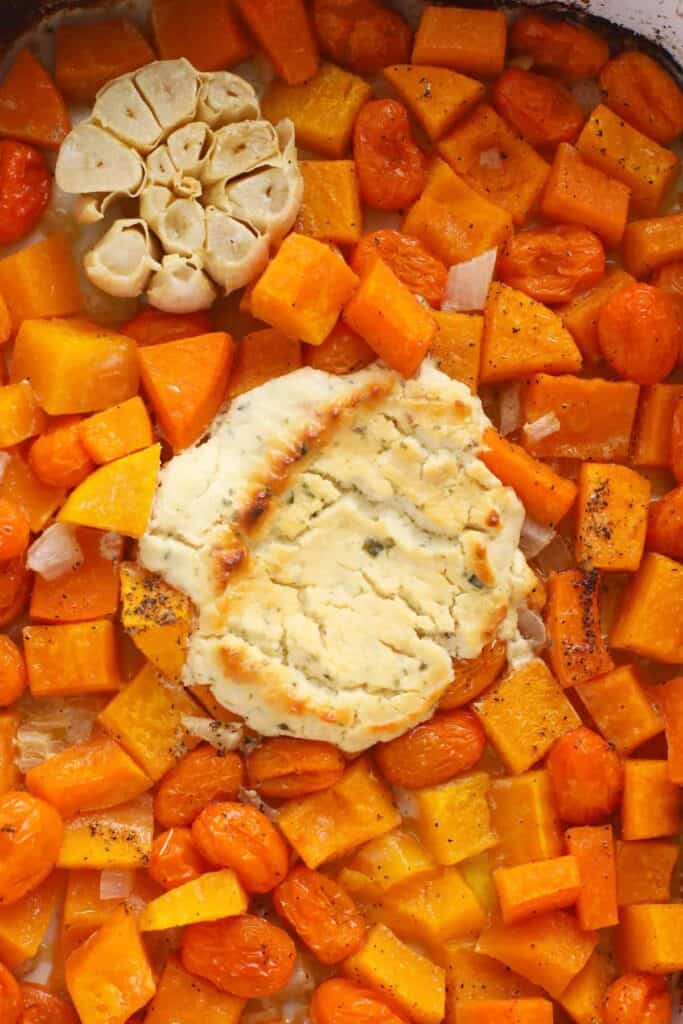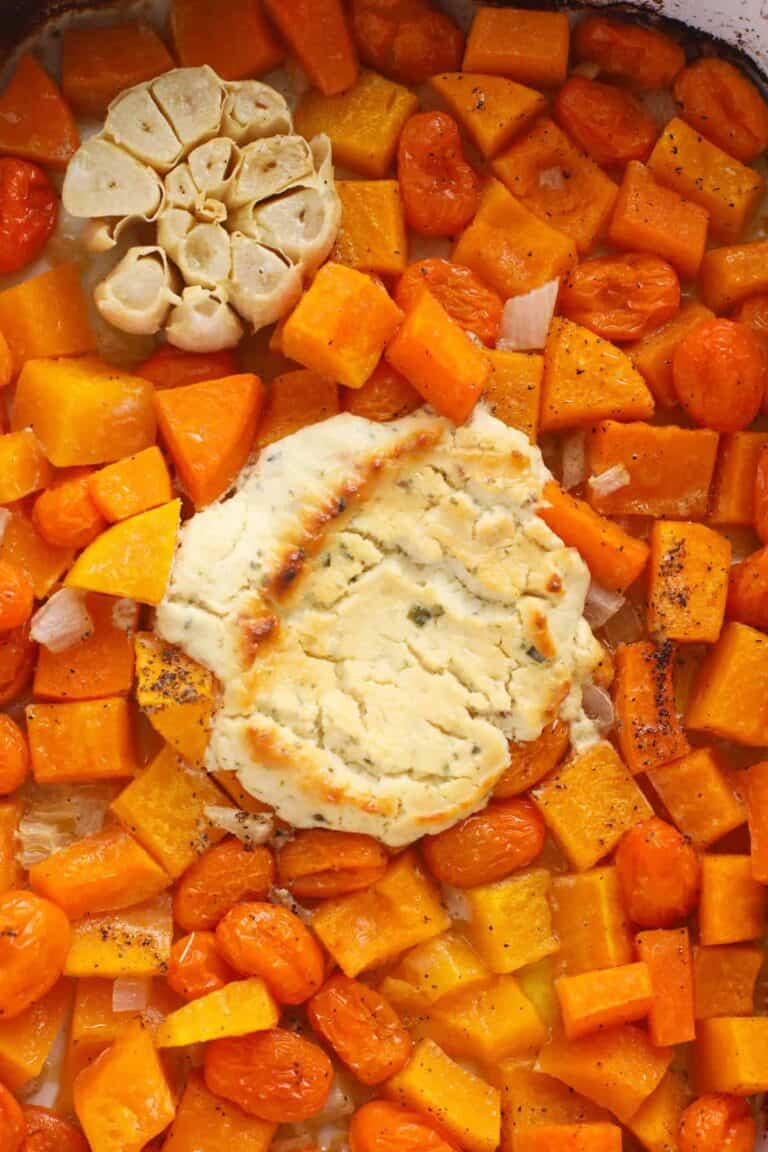 Bake
Bake butternut squash pasta sauce at 400ºF for 20 minutes. Then, flip the head of garlic over ( we do this so it bakes evenly) and continue baking for 20 more minutes.
After a full 40 minutes, the Boursin cheese should be nice and soft. Make sure to pierce the butternut squash with a fork. It should be soft enough to smash. If it's not, continue baking.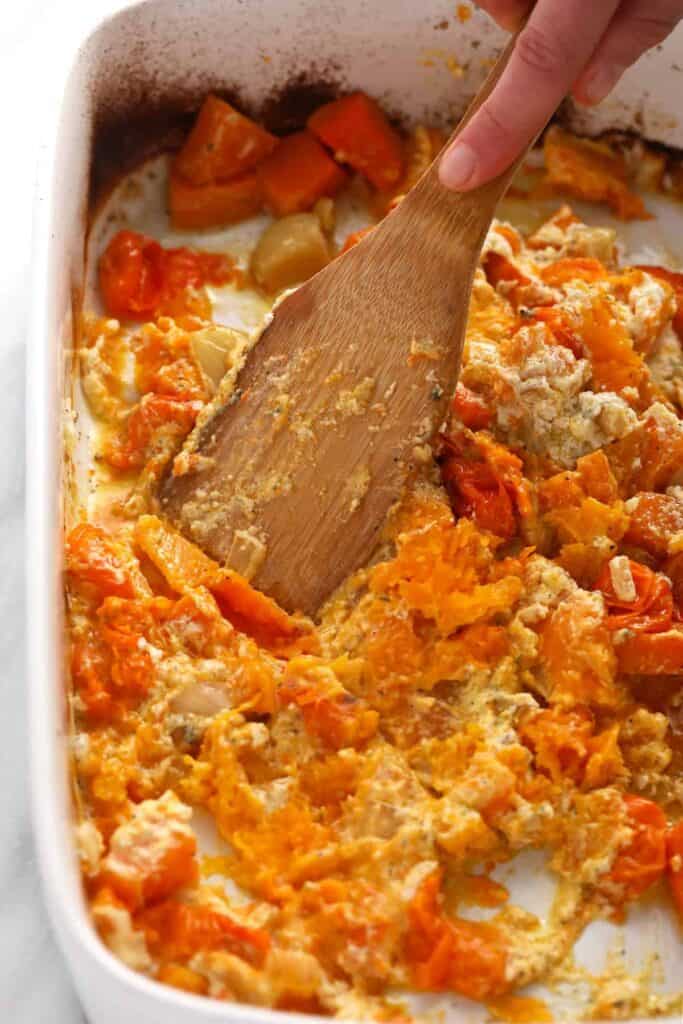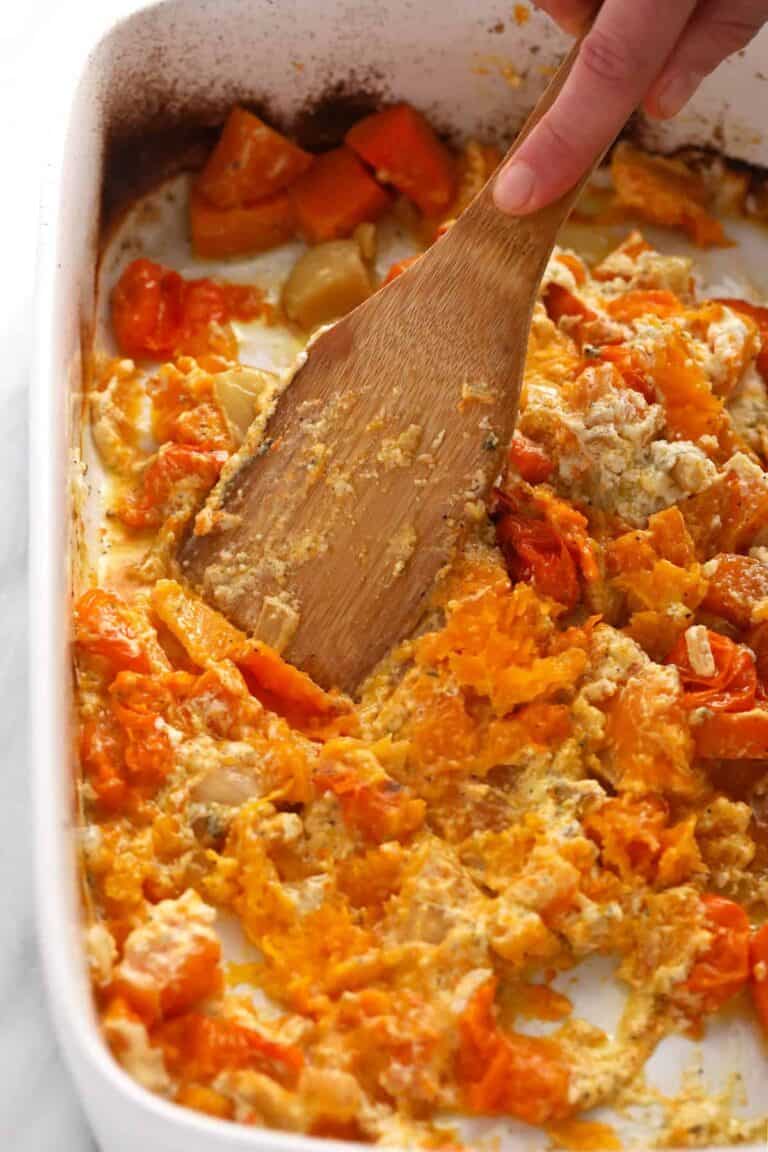 Smash & Mix
Use a fork or mixing spoon to burst the tomatoes and mash the garlic and butternut squash. Then, mix the veggies with the softened Boursin cheese to create your delicious, cheesy butternut squash pasta sauce.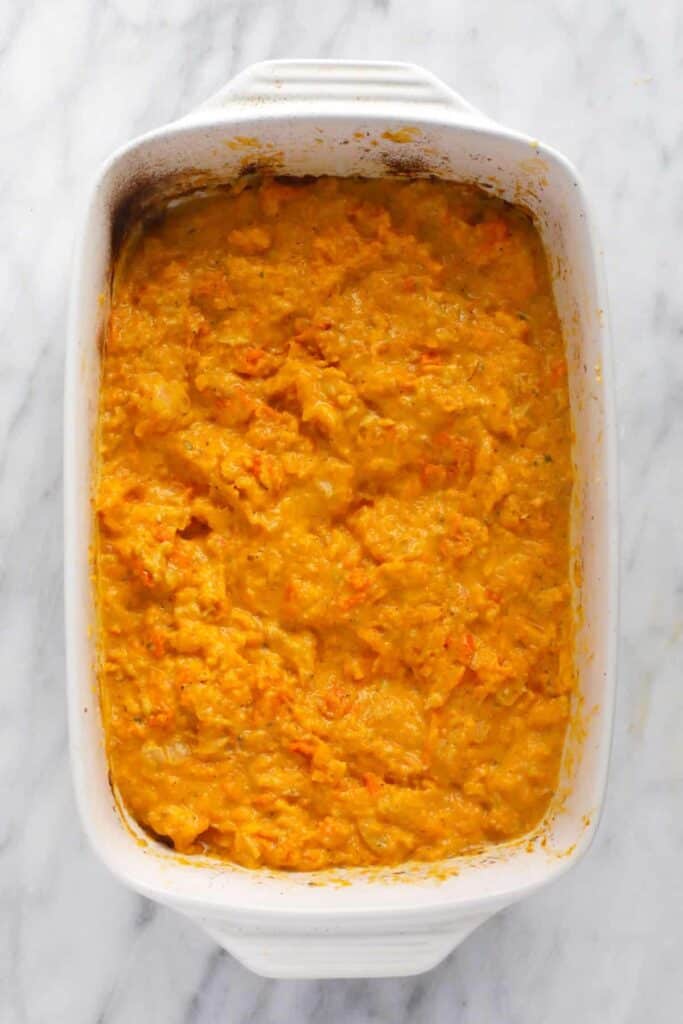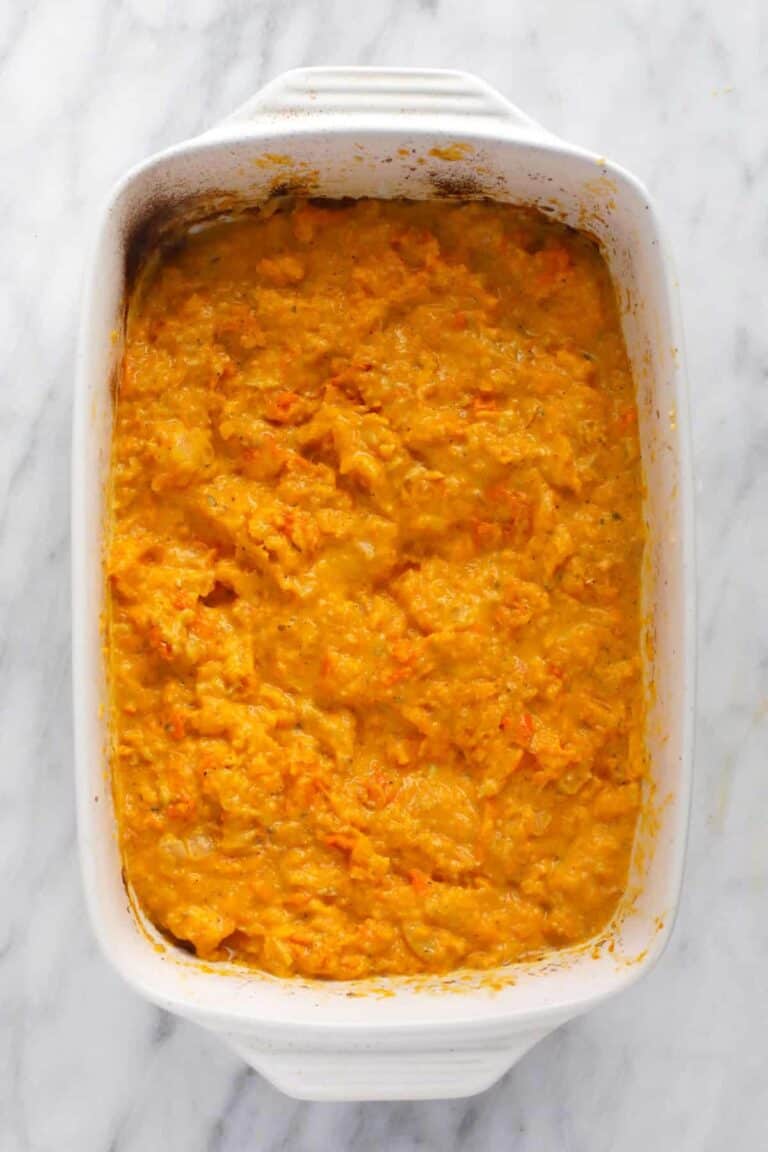 Add PASTA WATER and Pasta & Mix
Add in about 3/4 cup of starchy pasta water and mix everything together. This is going to help your sauce get nice and thick.
Finally, add in cooked penne pasta and toss, making sure everything is coated.
Top and Enjoy
Top pasta with more crumbled Boursin cheese and minced chives and enjoy!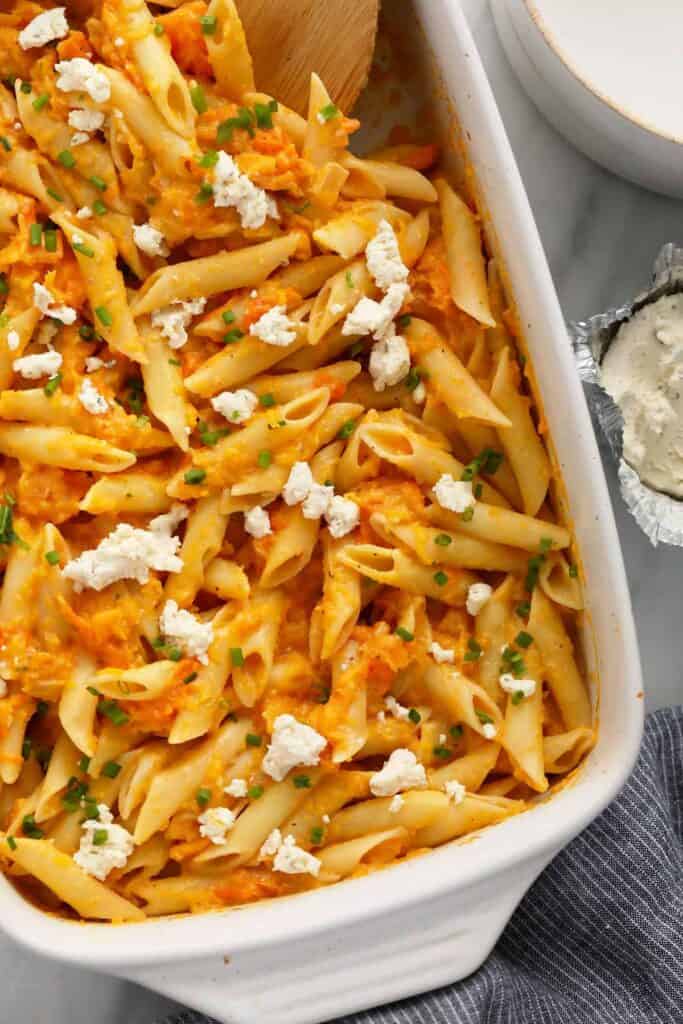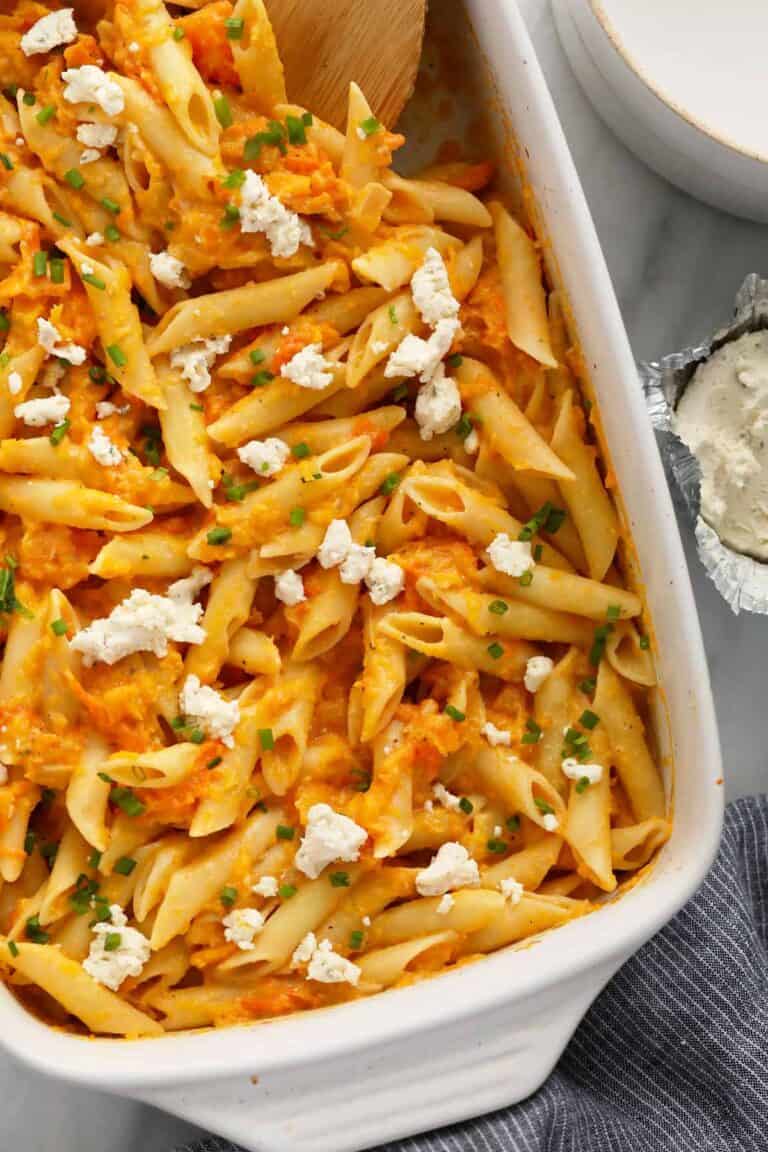 Roasted Butternut Squash Pasta Variations
Switch up the cheese: There are lots of soft cheeses that this recipe would work with. Try either cream cheese or goat cheese.
Use sweet potato: Can't find butternut squash? Sweet potato is a super simple 1:1 substitution.
Add a protein: Feel like you want more protein? Add in some cooked shrimp, pan seared chicken, or even steak!
Add more veggies: Easy veggie adds to this would be steamed spinach or kale and pretty much any roasted veggie such as asparagus, broccoli, or cauliflower.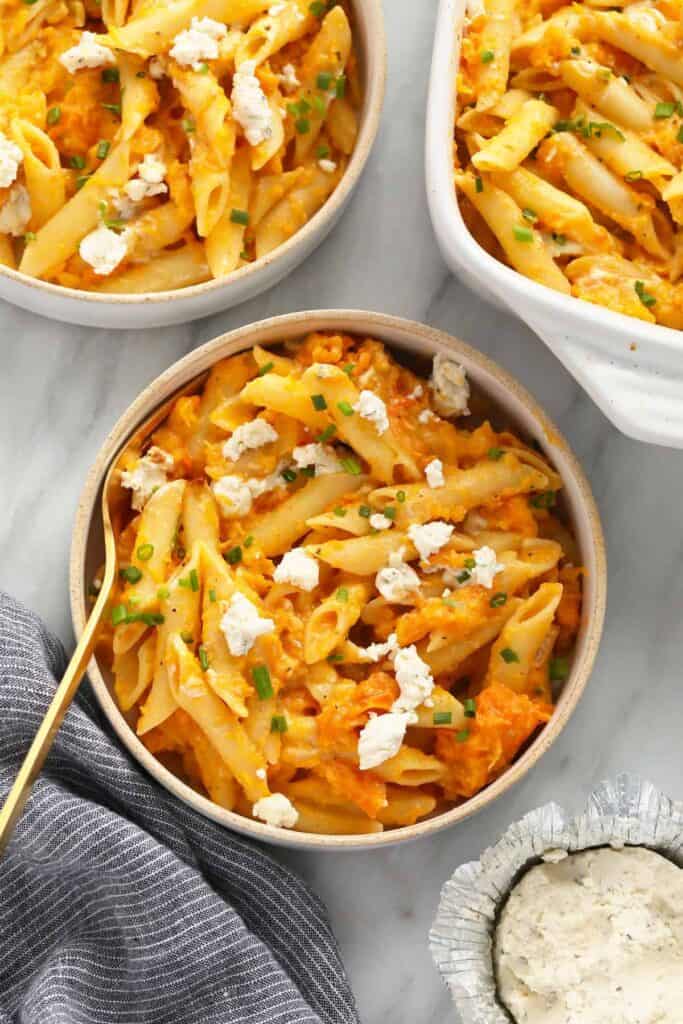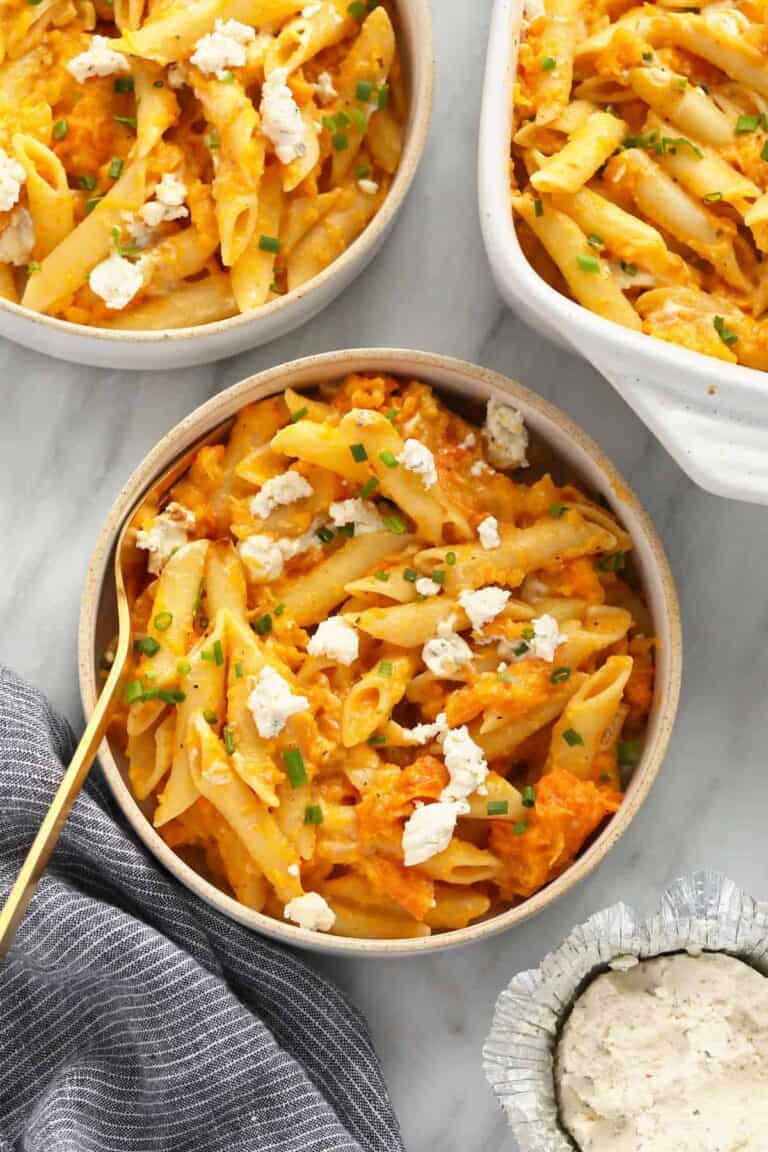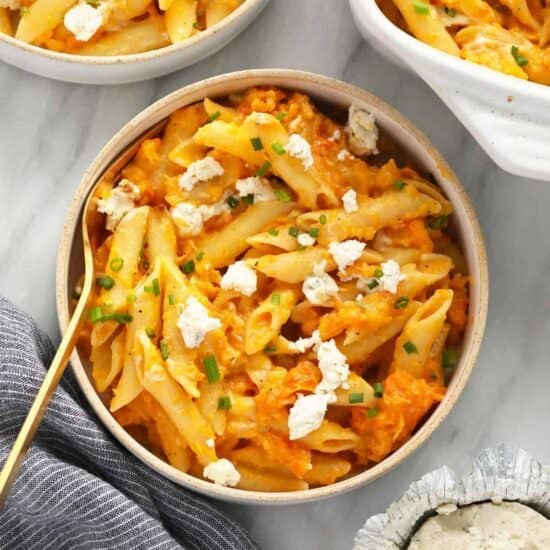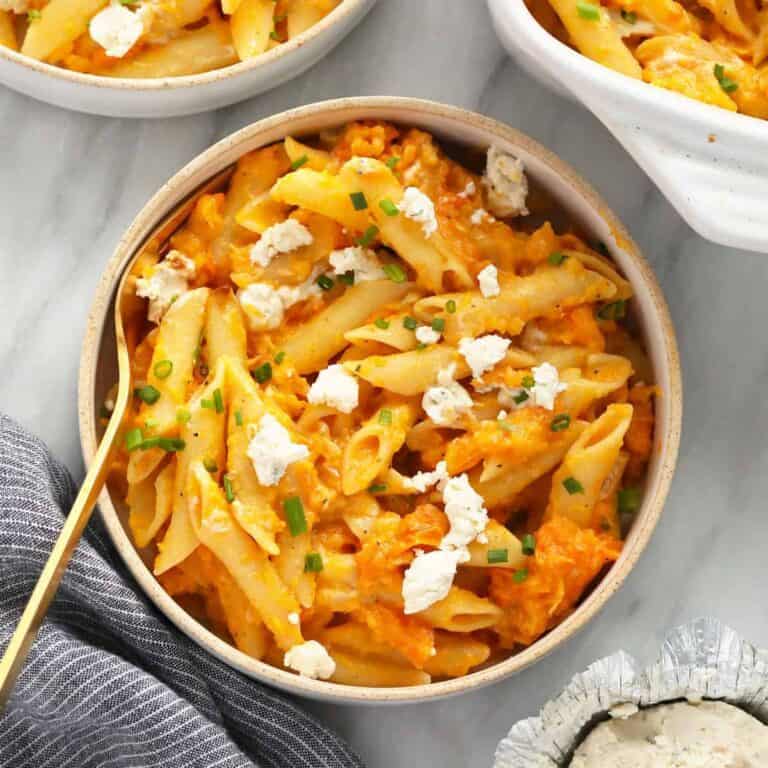 Baked Butternut Squash Pasta with Boursin Cheese
Creamy, delicious baked butternut squash pasta made with an entire puck of Boursin cheese. This baked pasta recipe is seriously so delicious, plus it packs in veggies from butternut squash and cherry tomatoes. 
Ingredients
1

puck

5.2-oz. Boursin cheese, any flavor (we used shallot and chive)

1

pint

cherry tomatoes

16

oz.

cubed butternut squash

cut into 1/2 inch squares (3-4 cups)

1/2

cup

white onion

minced

1/4

cup

dry white wine

1/4

cup

olive oil

1

whole head of garlic

1/2

teaspoon

salt

1/4

teaspoon

ground pepper

3/4

cup

starchy pasta water

8-

oz.

pasta

any kind (we used penne)
Optional Toppings 
1/4

cup

chives

chopped

Boursin cheese crumbles
Instructions
Preheat the oven to 400ºF.

Add cherry tomatoes, butternut squash, and onions to a 9x13-inch casserole dish. Pour white wine and olive oil over all of the vegetables and toss until all of the ingredients are coated. 

Cut the tip or the end of the garlic head off exposing the garlic coves  (leaving the root end intact so all the cloves stay together) and place the head of garlic onto the casserole dish. Sprinkle everything with salt and pepper. Toss. 

Next, place a puck of Boursin into the middle of the casserole dish and then bake the entire dish at 400ºF for 20 minutes. After 20 minutes, flip the head of garlic over and then bake for an additional 20 minutes. 

Meanwhile, bring a large pot of salted water to a boil and add pasta. Cook the pasta until it is cooked to al dente. Before pouring the pasta into a strainer, remove 1 cup of starchy pasta water from the pot and set it aside. Strain pasta and set aside. 

Remove the butternut squash dish from the oven and use a fork or mixing spoon to smash the Boursin, tomatoes, and butternut squash until it forms a creamy sauce.

Add 3/4 cup of pasta water to the casserole dish and mix. Then, add the cooked pasta to the casserole dish and mix until the pasta is coated in sauce. 

Serve butternut squash pasta with freshly minced chives and Boursin cheese crumbles. 
Nutrition facts
Calories:
578
kcal
Carbohydrates:
65
g
Protein:
12
g
Fat:
31
g
Fiber:
5
g
Sugar:
7
g