This cheeseburger dip will be your new go-to appetizer. It is made with all of the best cheeseburger ingredients but you scoop with a chip instead of serve it on a bun. Your family will be obsessed!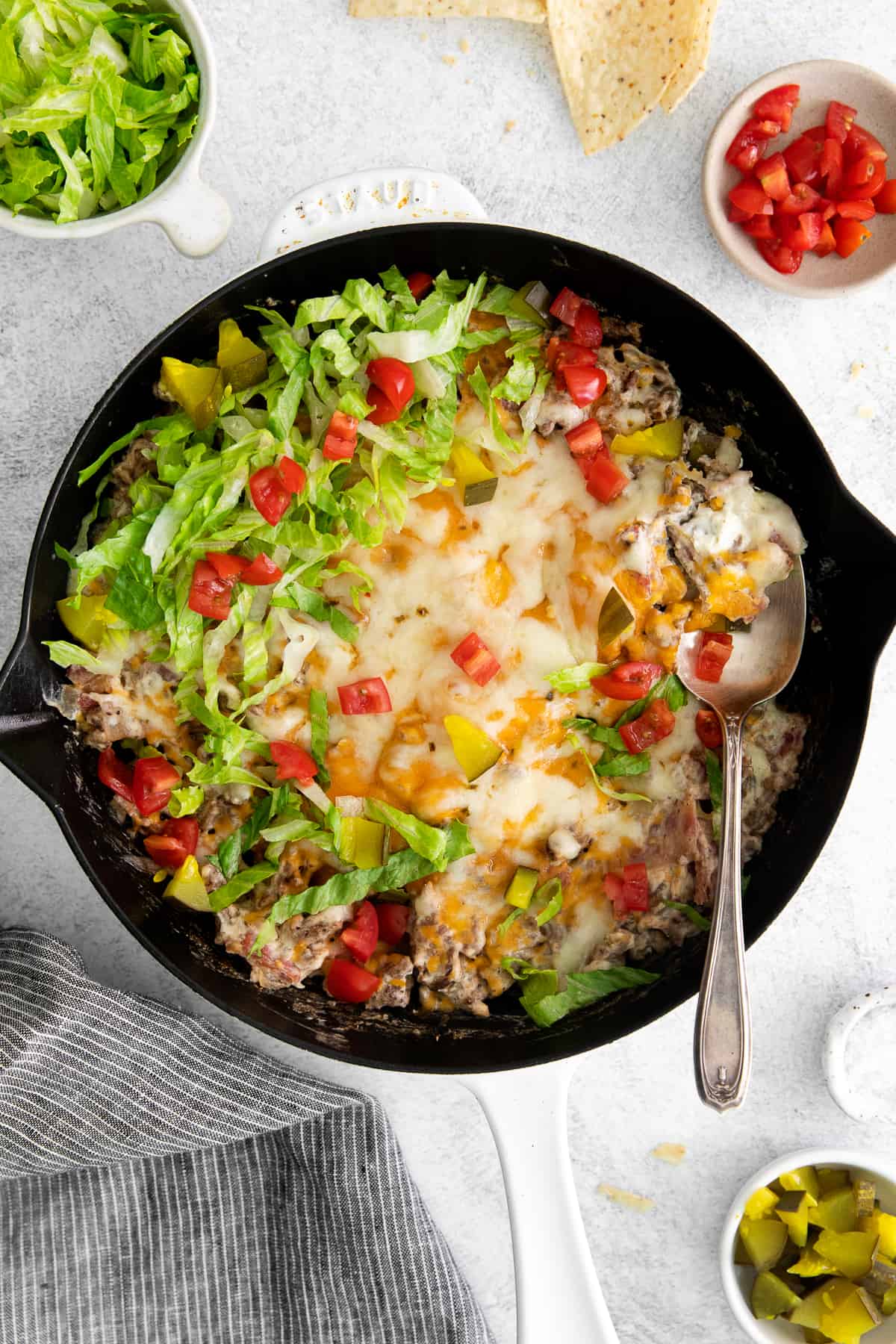 The Best Cheeseburger Dip
This amazing cheeseburger dip is an amazing love child of a cheeseburger and an appetizer. This delicious cheeseburger dip is creamy from creamy cheese, has the amazing taste of a cheeseburger from tasty pickles, and is topped with classic cheeseburger toppings.
Why you'll love it!
There are so many reasons to love this creamy cheeseburger dip.
This cheeseburger dip is easy to throw together in under 30 minutes.
You can serve this as an appetizer for a party or as a fun meal for your family.
It is easy to make this dip your own by adding different burger ingredients.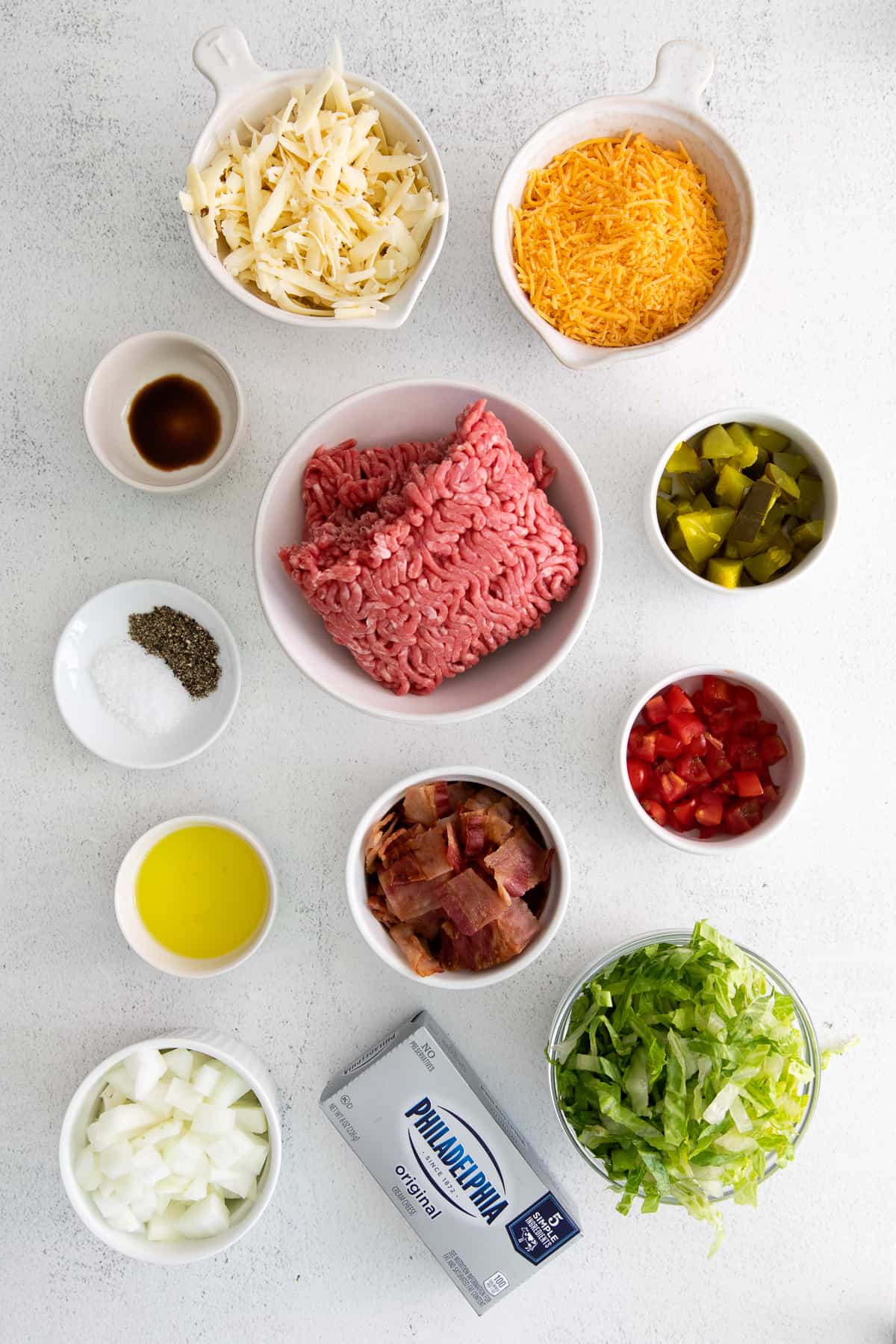 Featured Ingredients
Bacon: who doesn't love bacon on their cheeseburger? we add bacon crumbles to this dip for crunch and salty flavor.
Ground beef: use a fattier ground beef for optimal burger flavor.
Cream cheese: we cream up this cheeseburger dip with cream cheese. It adds creaminess and makes it perfectly scoop-able.
Pickle juice: the pickle juice that is mixed into this dip to take it up a notch in cheeseburger flavor.
Worcestershire sauce: don't skip the Worcestershire sauce. It gives this dip a bite and some flavor.
LOTS OF CHEESE: we use not only cream cheese in this dip, but cheddar cheese and pepper jack cheese, too!
Cheeseburger toppings: once the dip is baked we top the dip with all the best cheeseburger toppings. Tomatoes, pickles, lettuce, and more!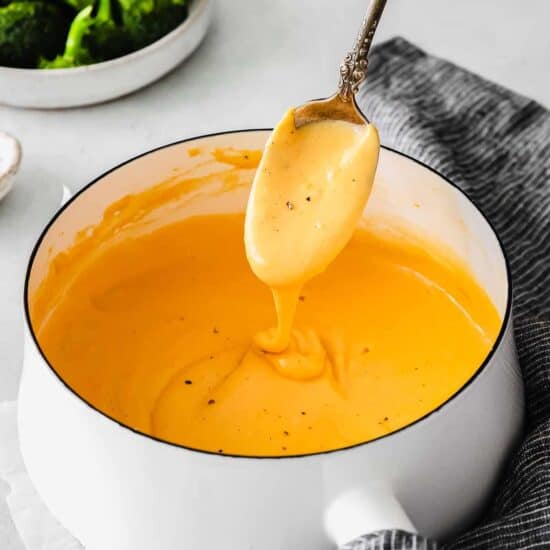 Get More
Cheddar Cheese Recipes
Looking for more recipes with cheddar cheese? Check out our cheesy collection of cheddar cheese recipes.
Get Recipes
How to Make Cheeseburger Dip
Cook the meat. You are going to begin by cooking the bacon until done. Remove the bacon from the skillet and break it up into small pieces and set aside. Add the ground beef and onion to the skillet. Break up the ground beef and cook the beef until it is fully cooked and browned.
Add burger ingredients. Drain the beef juices from the skillet and then add the bacon back into the skillet along with the cream cheese, pickle juice, salt, pepper, and Worcestershire sauce. Stir until the cream cheese is melted. Add 1/2 cup of cheddar cheese and 1/2 cup of pepper jack and mix.
Top with cheese + broil. Top the whole mixture with the remaining shredded cheese and broil the dip for 2-3 minutes until golden brown.
Serve. Top the dip with all of your favorite cheeseburger fixings and serve with chips, crackers, and vegetables.
Top Tips for Cheeseburger Dip
Be sure to drain the oil from the ground beef. If you don't drain the oil from the pan you are going to end up with a very oily dip.
Choose your favorite cheese. We use cheddar cheese and pepper jack cheese but you can use whatever cheese you would like.
Serve immediately. We highly suggest serving this dip immediately when it is prepared. If you must wait to serve the dip, wait to add the cheeseburger dip toppings.
How to soften cream cheese
Looking for a quick method to soften cream cheese? Check out our post – How to Soften Cream Cheese – 4 Ways! Here you'll learn 4 unique (and quick!) methods to soften cream cheese to the perfect amount for baking and cooking.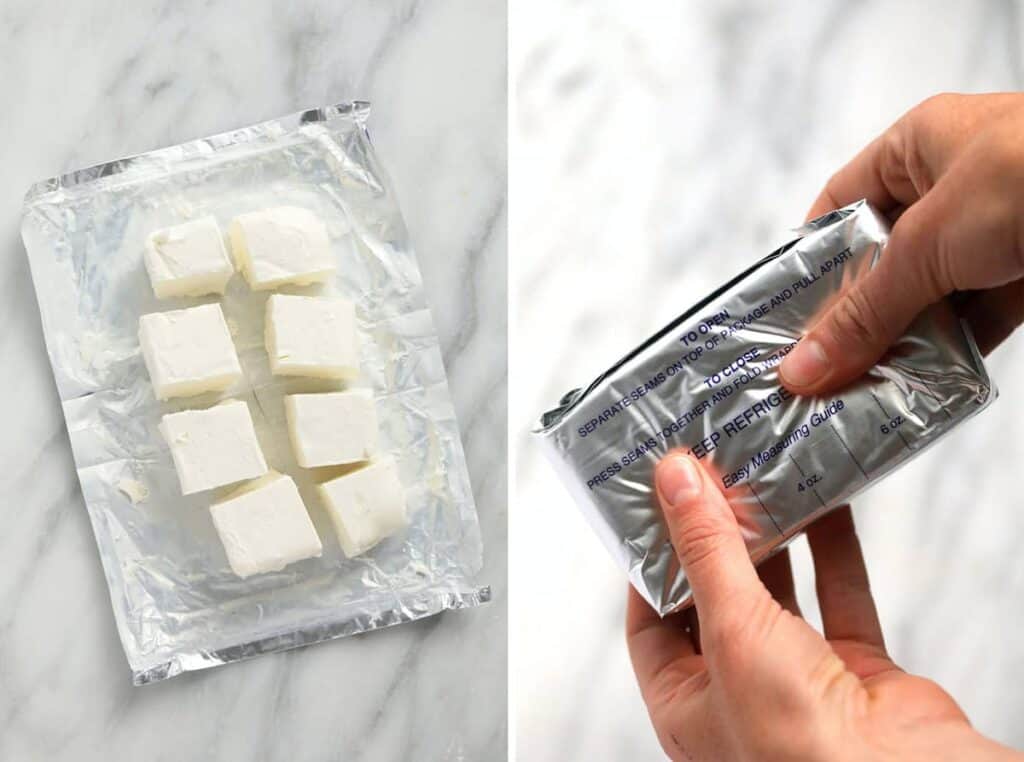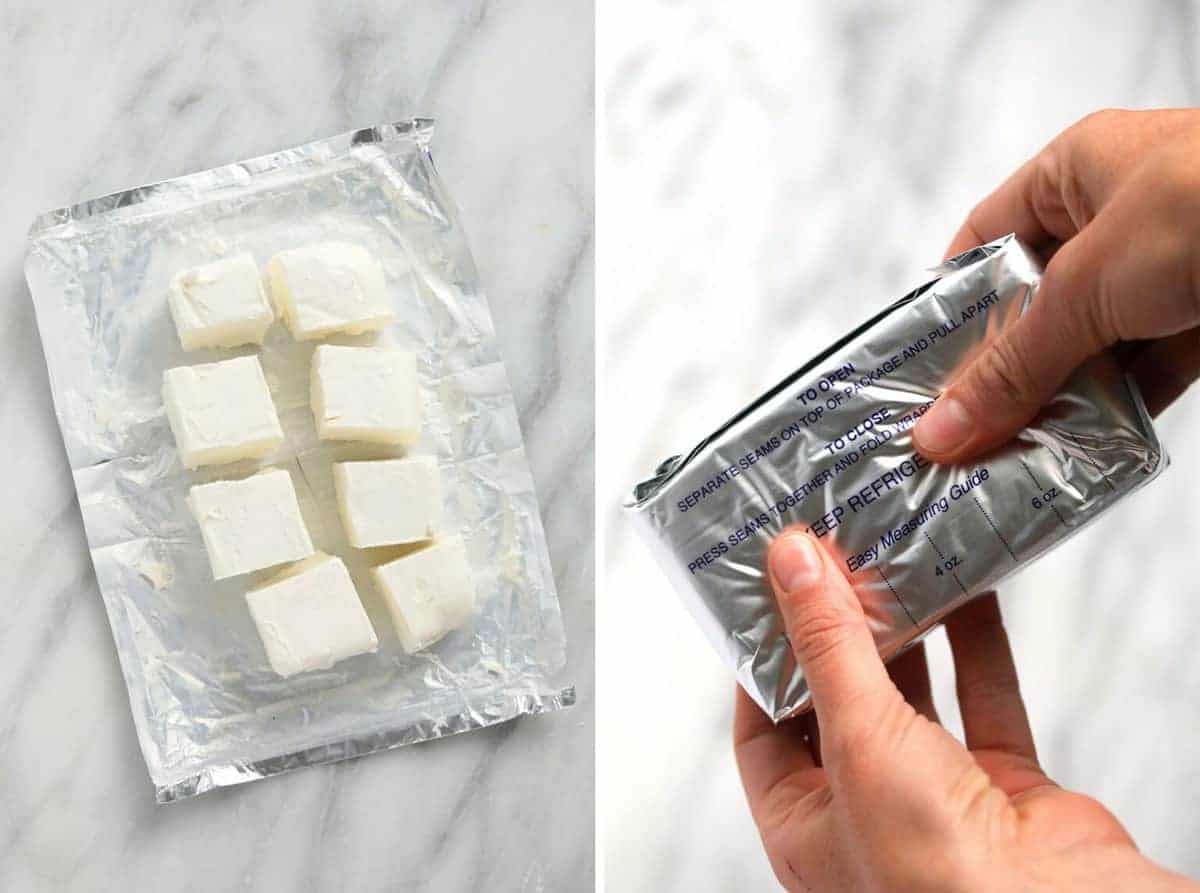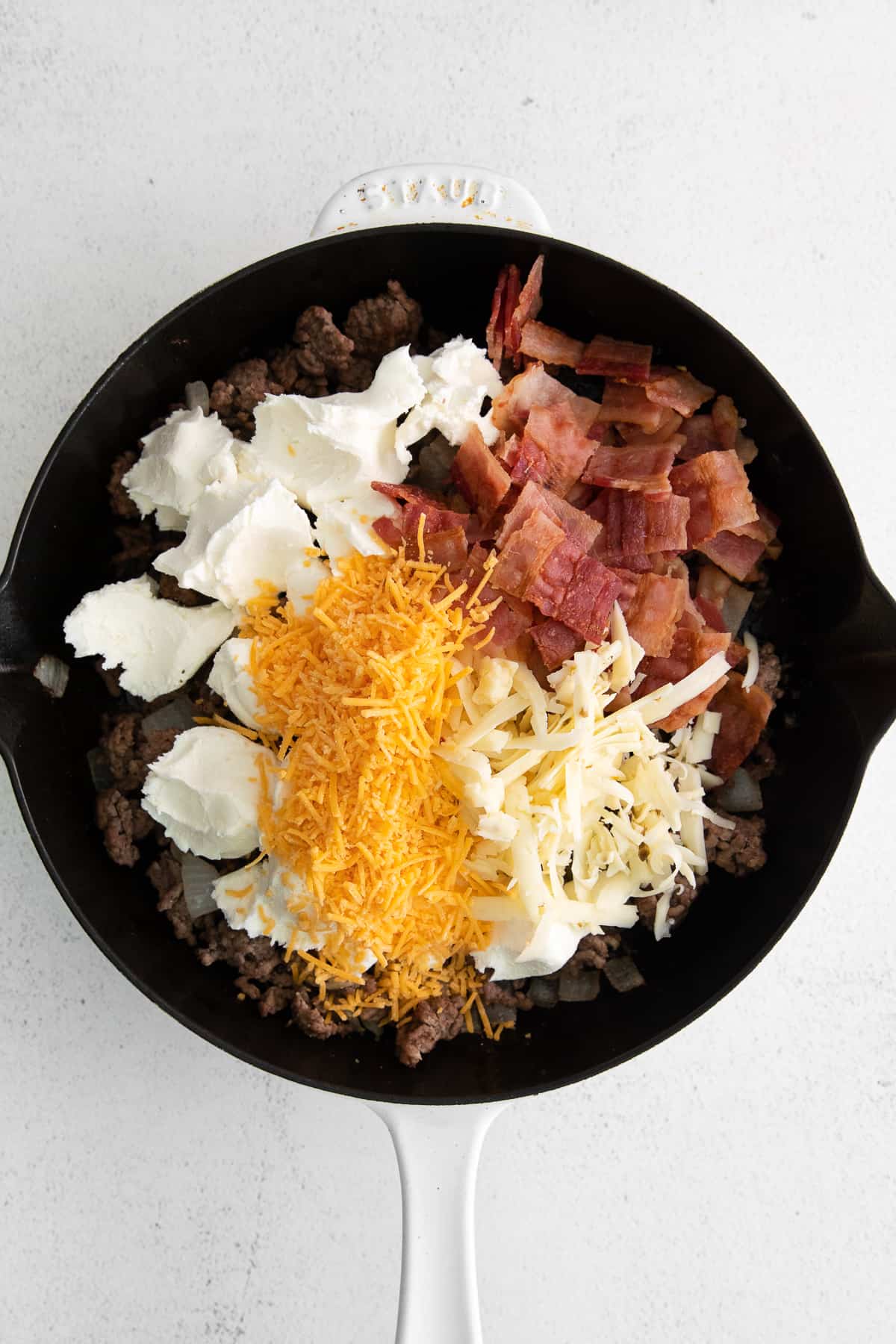 FAQ
What is cheeseburger dip made of?

This cheeseburger dip is made of ground beef, cream cheese, cheddar cheese, pepper jack cheese, pickle juice, and other burger ingredients.
What can I add to cheeseburger dip?

You can add many things to this cheeseburger dip to make it your own.
We highly suggest adding a can of jalapeños or green chilies to this dip to make it spicy.

Can I freeze cheeseburger dip?

We do not suggest freezing this cheeseburger dip.
Storage
Store this cheeseburger dip in an airtight container for up to 3 days without toppings.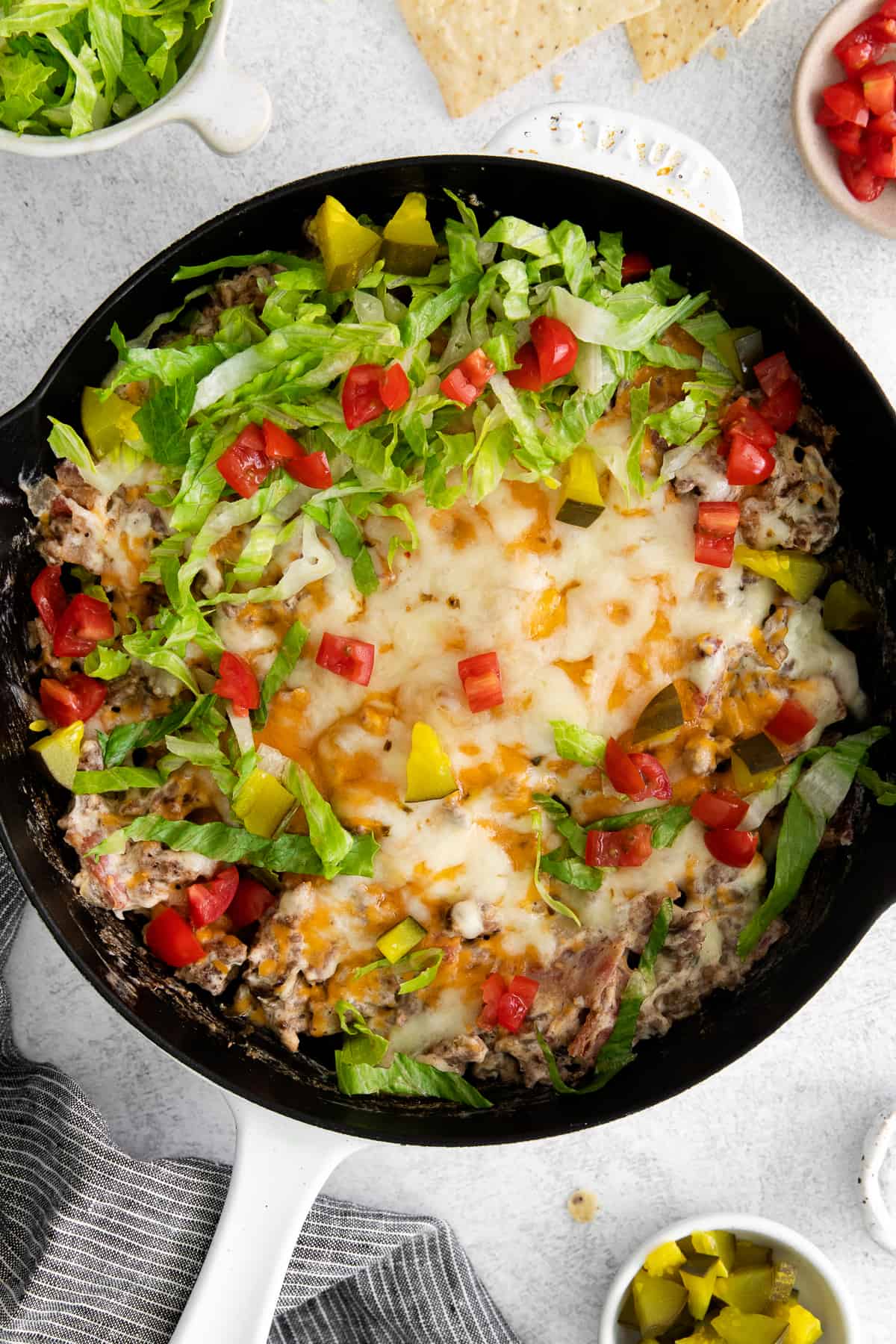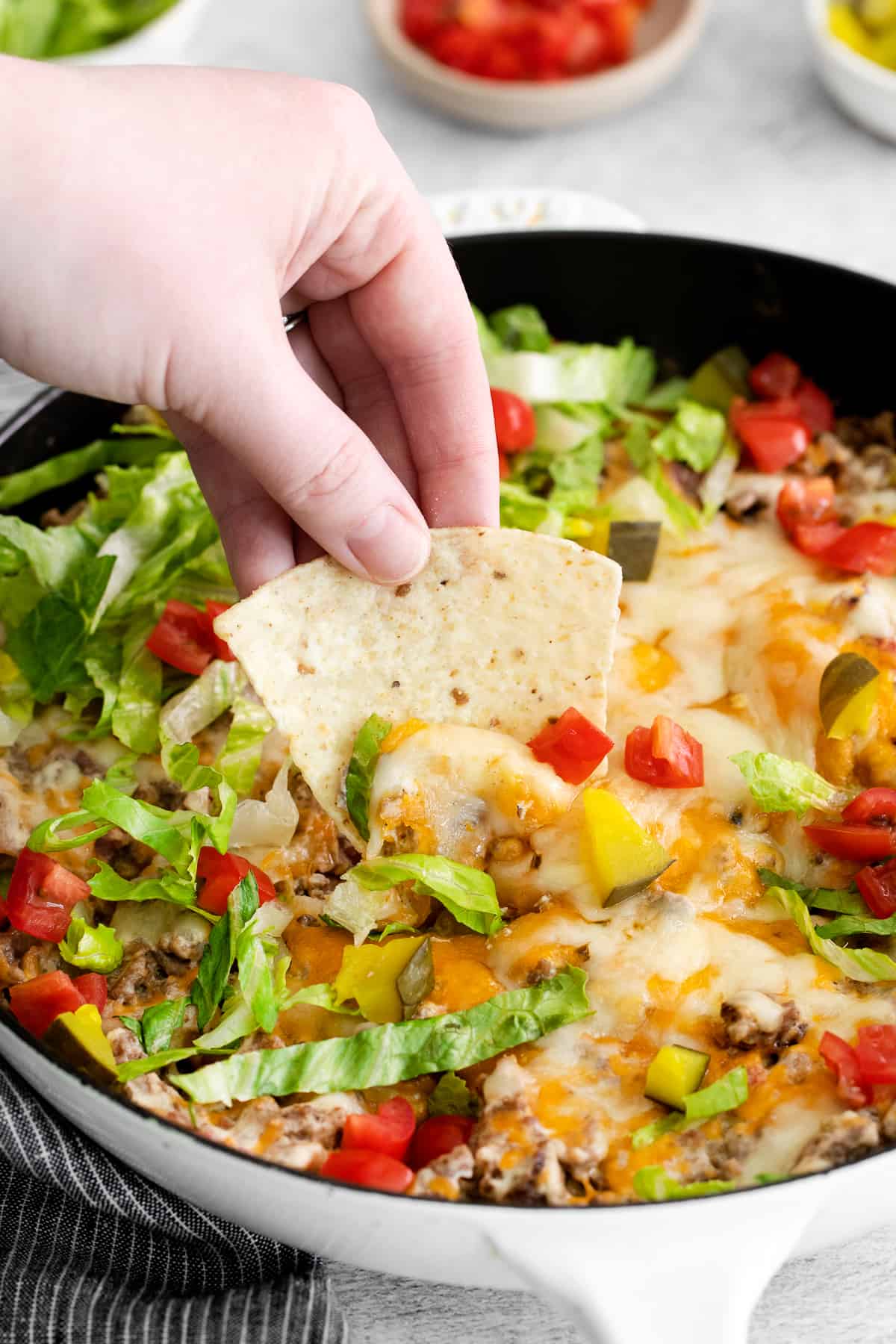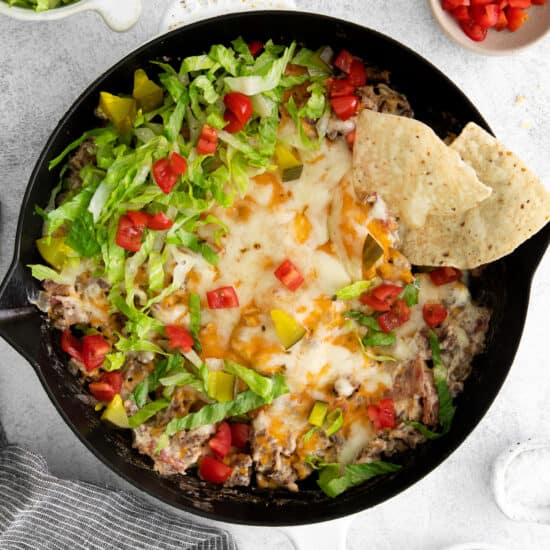 Cheeseburger Dip
Make a big patch of cheeseburger pie for your next party! It has all the cheese burger ingredients that you love in a skillet.
Ingredients
6-8

slices

cooked bacon

crumbled

½

medium yellow onion

diced

1

lb.

85% ground beef

8

oz.

cream cheese

3

tablespoons

pickle juice

1

teaspoon

salt

1

teaspoon

ground pepper

½

teaspoon

worcestershire sauce

1

cup

shredded cheddar cheese

divided

1

cup

shredded pepper jack cheese

divided

1

cup

shredded romaine lettuce

¼

cup

diced tomatoes

¼

cup

diced pickles
Instructions
Heat a medium cast iron skillet over medium/high heat. Add the bacon and cook until crispy. Chop the bacon up into bite sized pieces and set aside.

Add the diced onion and ground beef to the bacon grease and cook until all of the pink is gone from the hamburger and the onions are soft and translucent. When the hamburger is cooked through, drain the mixture and add back to the skillet.

Return the skillet to the burner and turn the heat on to medium/high. Add the chopped bacon, cream cheese, pickle juice, salt, pepper, and worcestershire to the pan stirring until the cream cheese has melted.

Next, mix in ½ cup of the cheddar and ½ cup of the pepper jack.

Sprinkle the remaining cheese on top of the hamburger mixture and place under the broiler for 2-3 minutes or until the cheese is golden and bubbly. Set aside to cool for 5-10 minutes.

When ready to serve, top with the shredded lettuce and diced tomatoes and pickles.
Tips & Notes
Make this recipe ahead and place in the crock pot. Add all of the cheese at step 4 and keep on warm in a crockpot.
Mix and match your favorite burger cheeses.
This pairs well with sturdy tortilla chips or pretzels and bagel chips.
Nutrition facts
Calories:
368
kcal
Carbohydrates:
4
g
Protein:
21
g
Fat:
30
g
Fiber:
0.4
g
Sugar:
2
g