Get dipping, cheese lovers! This chili cheese dip is super creamy and easily made on the stove top with 4 ingredients. Pair with tortilla chips, and enjoy this ultimate appetizer!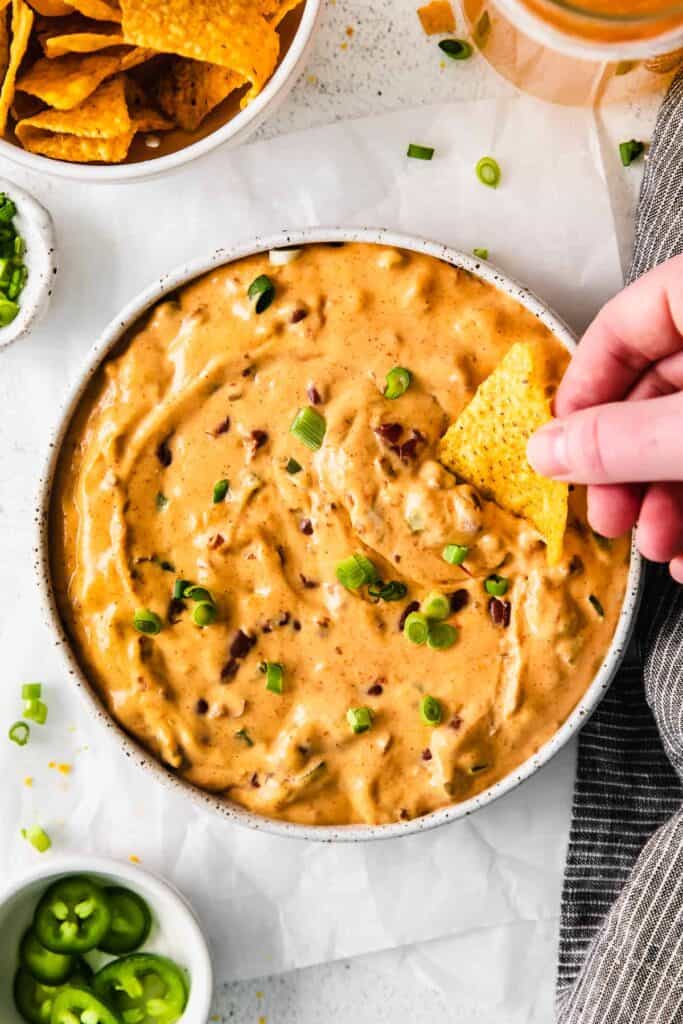 Seriously THE BEST Chili Cheese Dip
We're SERIOUS! This chili cheese dip is super creamy and flavorful, and made with just FOUR ingredients on the stovetop. Whip up a batch in 15 minutes flat 😀
Whether you're making this for the next game day, or just serving as a fun appetizer or side for the fam, this chili cheese dip recipe will not disappoint!
why you'll love it
4 ingredients: all you need for this chili cheese dip is a can of chili, cream cheese, shredded pepper jack cheese, and a fresh jalapeño
One pot: all you need is one pot on the stovetop to make this amazing chili cheese dip
Quick appetizer: this recipe comes together in 15 minutes flat!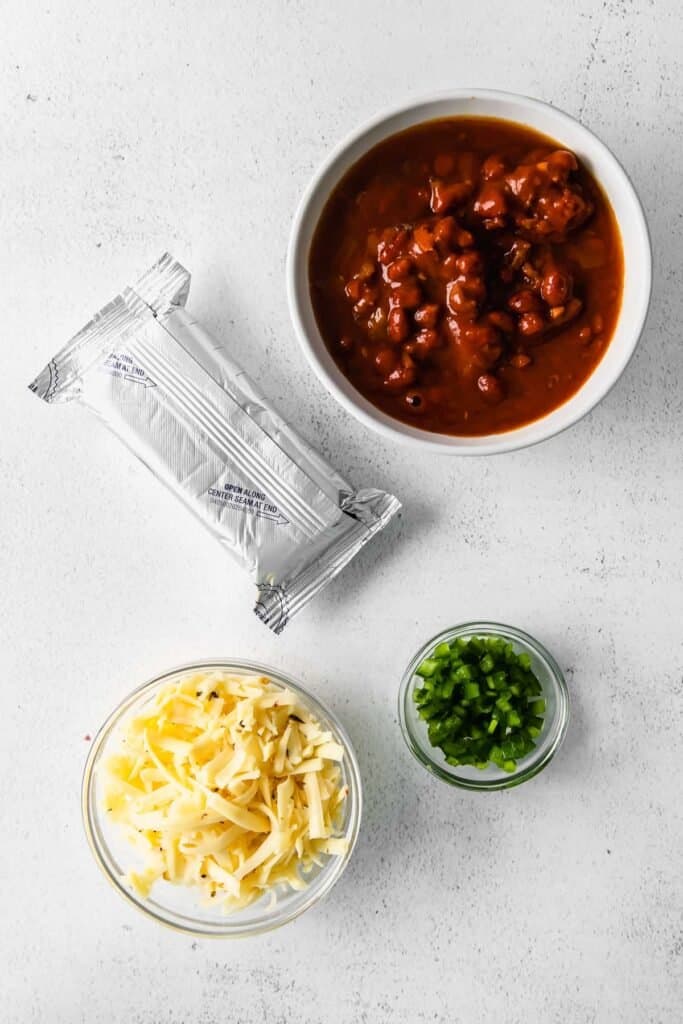 What You Need for Chili Cheese Dip
Cream cheese: cream cheese is an easy-to-melt cheese and important for this recipe.
Pepper jack cheese: pepper jack adds a delicious kick to this chili cheese dip. Freshly shredded cheese will melt more smoothly but pre-shredded cheese will also work!
Jalapeños: jalapeños add spice, but you can either omit these or swap for green chiles, which are more mild.
Can of chili: feel free to use whichever variety you prefer or have on hand! A a no-bean chili or a vegetarian chili are great options. This would also be a great way to use up leftover homemade chili 😀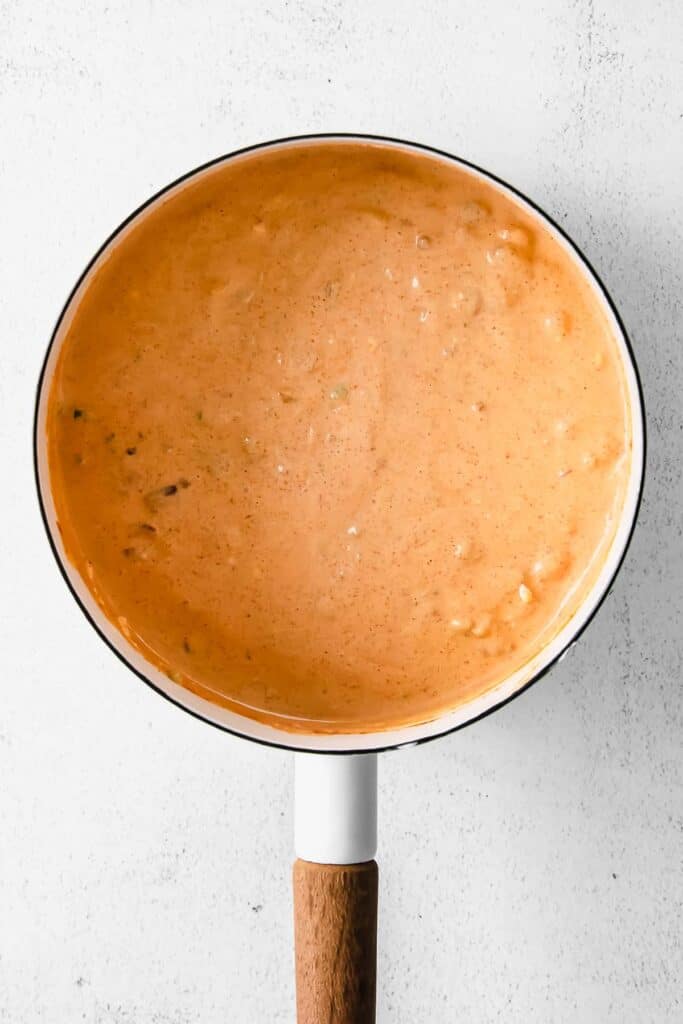 How to Make Chili Cheese Dip
Cook jalapeño: sauté the chopped jalapeños in olive oil or butter.
Add cream cheese and chili: add the cream cheese and chili and stir together until warm and combined.
Add shredded cheese: slowly add the pepper jack cheese and continually mix until melted and creamy.
Serve and top: transfer the dip into a slow cooker and serve on low or serve immediately in a bowl topped with green onion.
Serve in the slow cooker to keep warm!
As chili cheese dip sits, it's going to thicken, which is why we recommend transferring the dip into a slow cooker and serving on warm or low to keep it warm.
Toppings for Chili Cheese Dip
This chili cheese dip is delicious as is, but if you're looking to jazz it up when serving, may we recommend any of the following toppings:
Green onion
Cilantro
Avocado slices
Sliced jalapeños
Sour cream
What to Serve with Chili Cheese Dip
Tortilla Chips
Fritos
Sliced bell peppers
Broccoli or cauliflower florets
Drizzle over tacos, nachos or sloppy joes!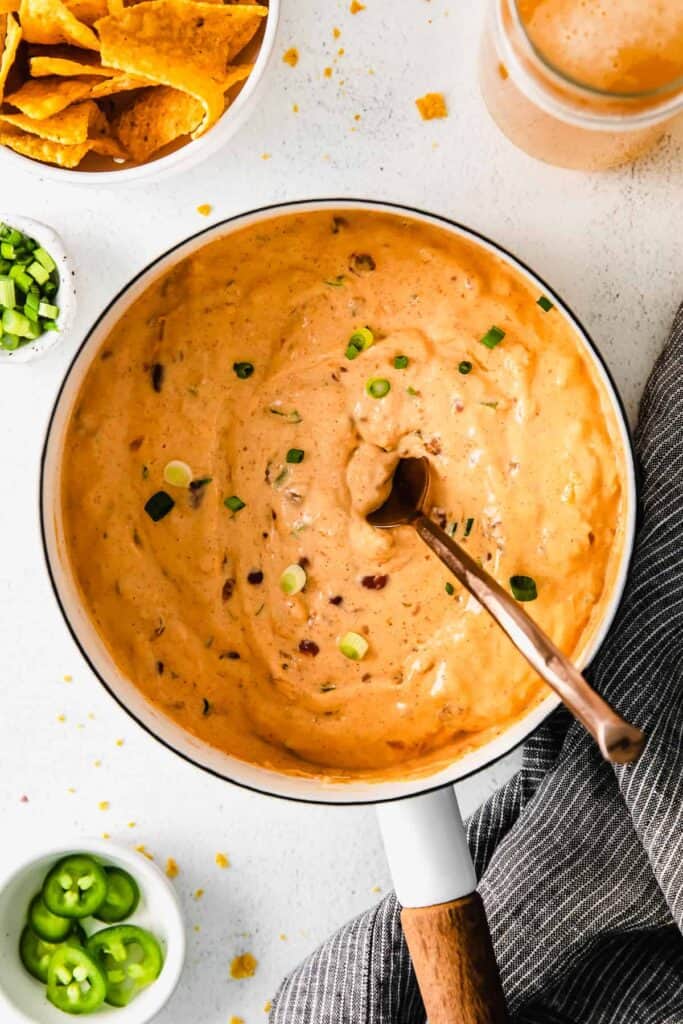 Chili Cheese Dip Tips & Tricks
DON'T MELT CHEESE OVER HIGH HEAT
While it's definitely okay to sauté the jalapeños over higher heat, DO NOT add in the cheese over high heat. Cheese is finicky and drastic temperature changes can cause it to burn or become clumpy.
MAKE SURE YOU STIR DAT CHEESE
We love a good low-maintenance melting recipe, but this cheese dip requires stirring when adding the cream cheese and chili as well as when adding the shredded cheese to the pot. This will result in the most creamy chili cheese dip you ever did see 😀
SPICE TO YOUR LIKING!
Like a little more kick to your chili cheese dip? YOU DO YOU! Feel free to add additional spices that pack a punch like red pepper flakes or your favorite hot sauce or even throw in the jalapeño seeds if you're feeling super spicy.
This chili cheese dip is relatively mild when the recipe is followed exactly 😀
DOUBLE IT!
This recipe can easily be doubled if you're serving a larger group. Just make sure your pot is large enough to accommodate all that cheese!
Reversely, you can cut this recipe in half to serve a smaller group as well. Just make sure you're stirring frequently as the cooking / melting time will likely be less than a full batch!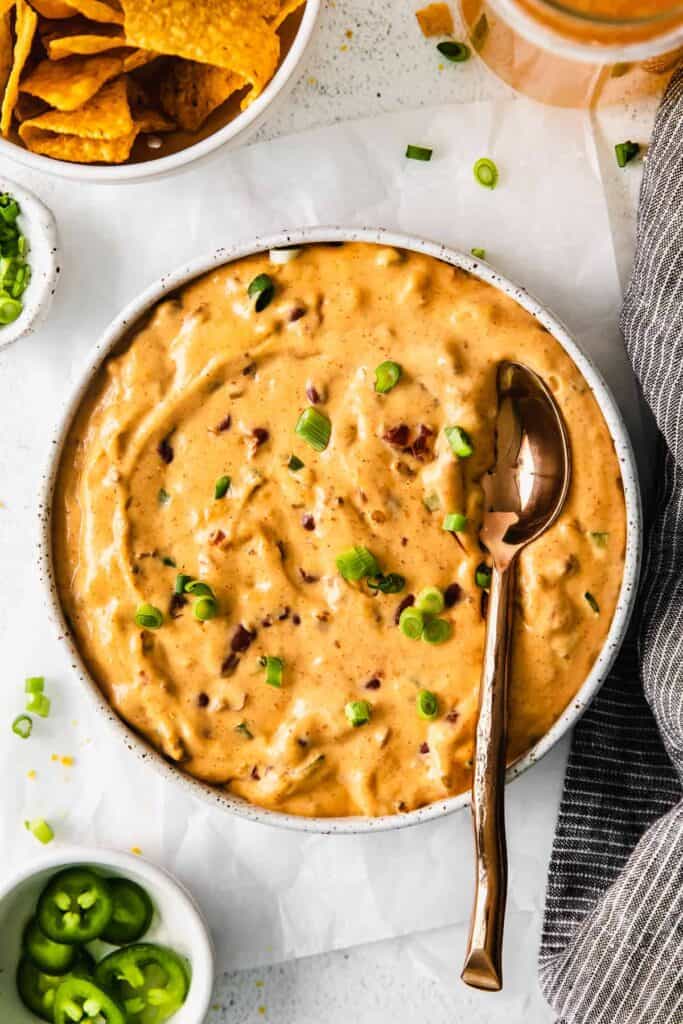 Storage Suggestions
Transfer this chili cheese dip into an airtight container and store in the fridge for up to 3 days.
How to Reheat Chili Cheese Dip
We recommend reheating this chili cheese dip just like you cooked it — on the stovetop.
Transfer it back into a medium saucepan.
Turn the heat to medium/low and stir as the cheese melts.
Add a little bit of milk to thin things out.
Microwave Instructions: if you'd like to reheat in the microwave, transfer the chili cheese dip into a microwave-safe bowl. Add a little milk and microwave on high for 60 seconds. Stir and continue microwaving until warm.
Freezing Cheese Dip: because cheese has a difficult time with drastic temperature changes, we do NOT recommend freezing this chili cheese dip!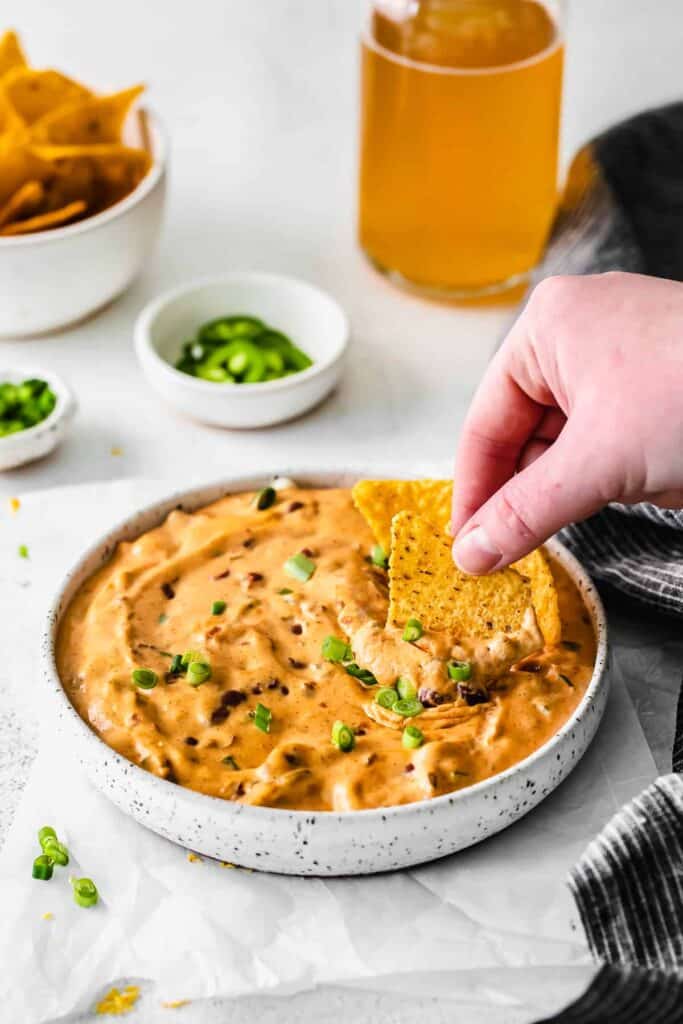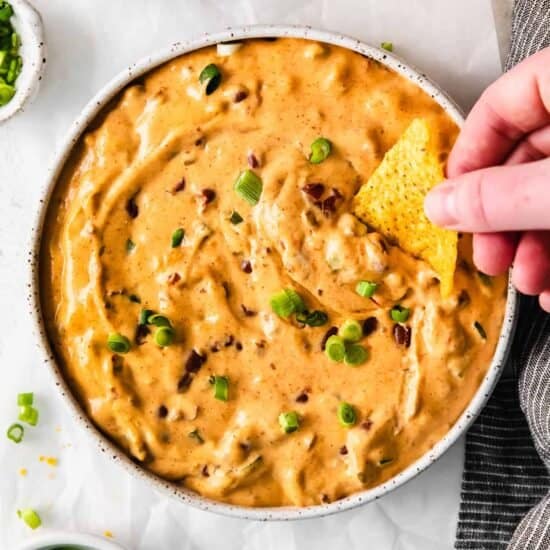 Chili Cheese Dip
This super creamy chili cheese dip recipe comes together on the stove top with just 4 ingredients in 15 minutes. Enjoy!
Ingredients
15

oz.

can chili

or 1.5 cups homemade chili

8

oz.

cream cheese

cubed

1

small jalapeño

seeded and minced

4

oz.

freshly shredded pepper jack cheese

1

teaspoon

olive oil
For Garnish: green onion

parsley, avocado, or sour cream (all optional)
Instructions
Heat a sauce pan over medium heat and add olive oil. When olive oil is fragrant, add jalapeño and sauté for 2-3 minutes. 

Add the chili and cream cheese and reduce heat to medium low. Stir occasionally for 3-5 minutes or until the cream cheese has melted and combined with the chili.

Add the pepper jack cheese and stir to combine. Once the cheese has melted, remove from the heat and garnish with your desired toppings. 

Serve warm and enjoy. This dip can be kept warm in a slow cooker on low heat for up to two hours– just make sure to stir it occasionally as it will form a skin as it sits. 
Nutrition facts
Calories:
275
kcal
Carbohydrates:
11
g
Protein:
14
g
Fat:
20
g
Fiber:
2
g
Sugar:
2
g