Does it get much better than Buffalo Chicken Mac and Cheese? This recipe combines two of our favorite things and we can't wait for you to make it!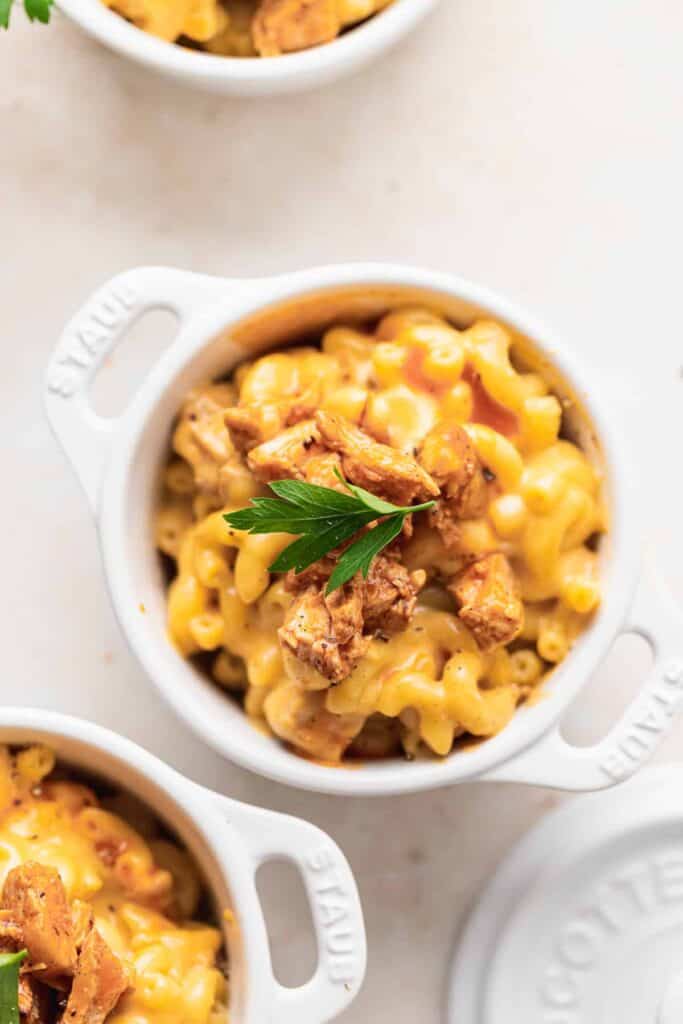 This might be the most delicious dinner you've ever whipped up! Buffalo Chicken Mac and Cheese truly does combine two of the world's most delicious meals: buffalo chicken and mac and cheese.
Our recipe is simple: t's made with simple pan-seared buffalo chicken thighs and a classic macaroni and cheese recipe.
Put the two together and what do you get? Buffalo Chicken Mac and Cheese!
Ingredients for The Buffalo Chicken
If you've never made homemade buffalo chicken, you're in for a treat. Our recipe is super simple and only calls for a few ingredients.
What You Need
Boneless, skinless chicken thighs: we love using chicken thighs over breasts because they're much more flavorful. However, feel free to sub breasts if you wish.
Frank's hot sauce: when making buffalo anything, we love using Frank's hot sauce becasue it adds the perfect heat and it's vinegar-based.
Honey: a little bit of sweet takes away some of the heat from the hot sauce.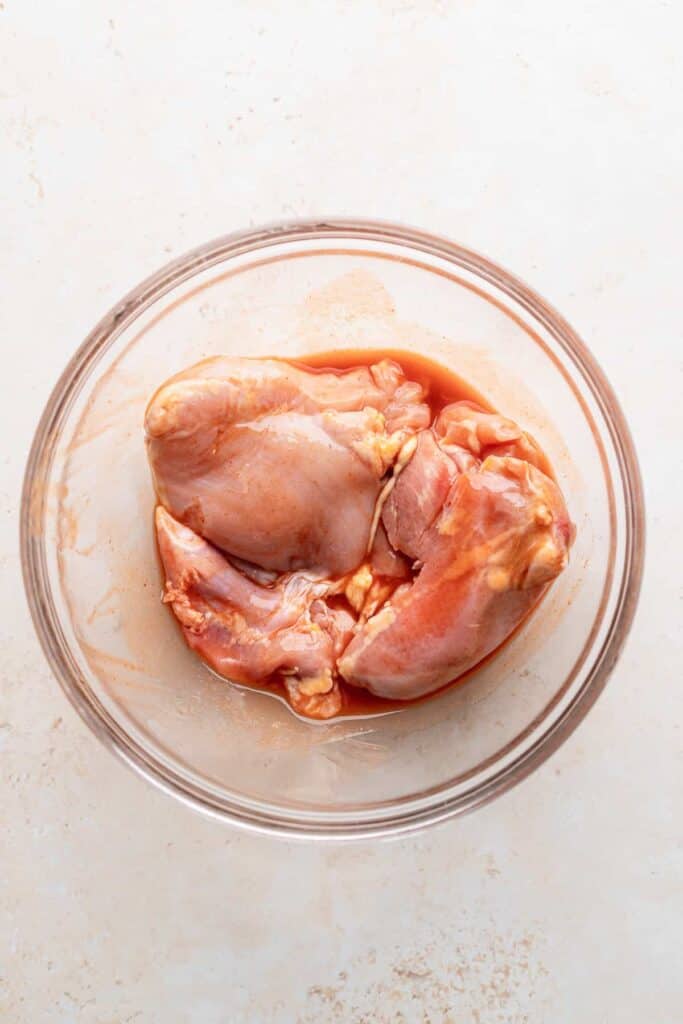 Ingredients for The Mac and Cheese
The mac and cheese part of this recipe is a spin-off of our most popular mac and cheese recipe on Cheese Knees –> basic, cheesy, and so good.
What You Need
Butter: butter is used as the fat in the roux for this mac and cheese sauce.
Flour: flour acts as a thickening agent in the roux.
Milk: milk helps thin out the sauce.
Broth: broth adds flavor and helps thin out the sauce.
Shredded cheddar cheese: we used a shredded yellow cheddar cheese for this buffalo chicken mac and cheese, but any kind of shredded cheddar will work.
Spices: this mac and cheese calls for simple spices: salt, pepper, and garlic powder.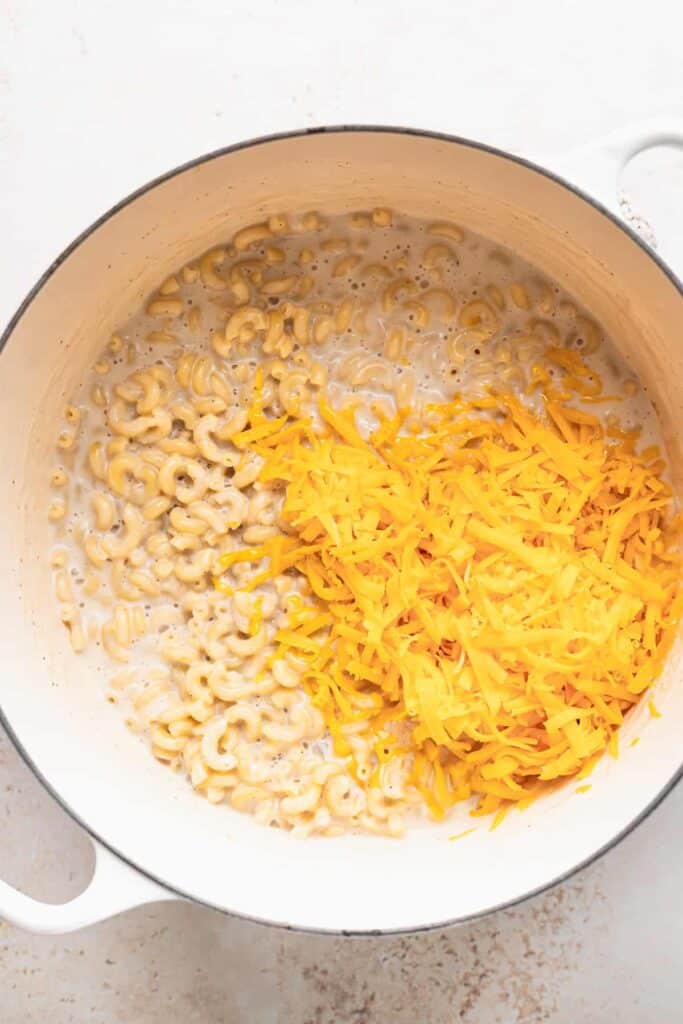 FAQs
What varieties of noodles can I use?

Feel free to use any kind of noodle you wish. We kept things classic with a macaroni noodle for this recipe.
How do I make this sauce cheesier?

Feel free to add 1/2 cup to 1 cup more of cheddar cheese. Or, be sure to use a sharp cheddar cheese to really get that cheesy flavor.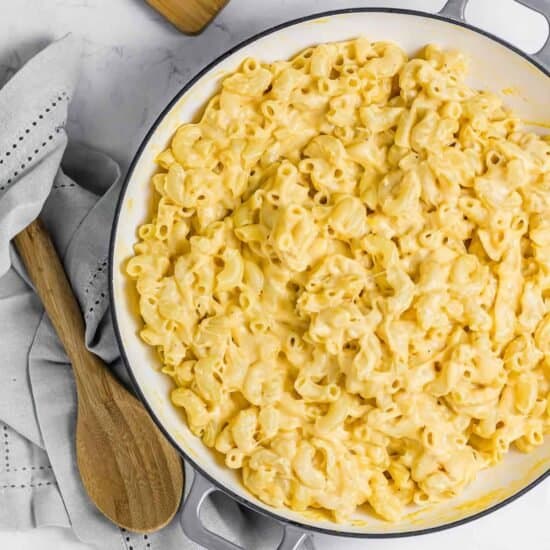 Classic
Mac and Cheese
Say hello to the BEST mac and cheese on the internet! This Classic Mac and Cheese recipe is cheesy, creamy and made completely on the stovetop. Enjoy!
Get Recipe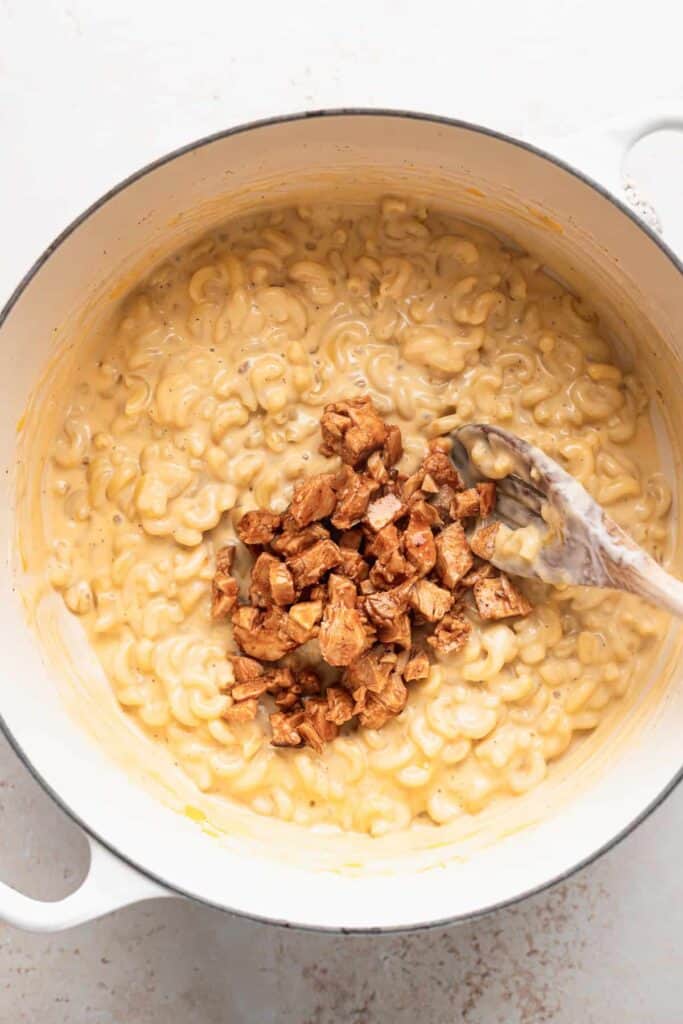 How to Assemble Buffalo Chicken Mac and Cheese
Follow the steps in the recipe card to make the buffalo chicken and the mac and cheese.
Once the chicken is fully cooled and cooled a bit, dice the thighs into bite-sized pieces.
Then, toss them in the remaining hot sauce.
You have two options, you can either serve the buffalo chicken on top of the mac and cheese or mix the two together. Both are delicious!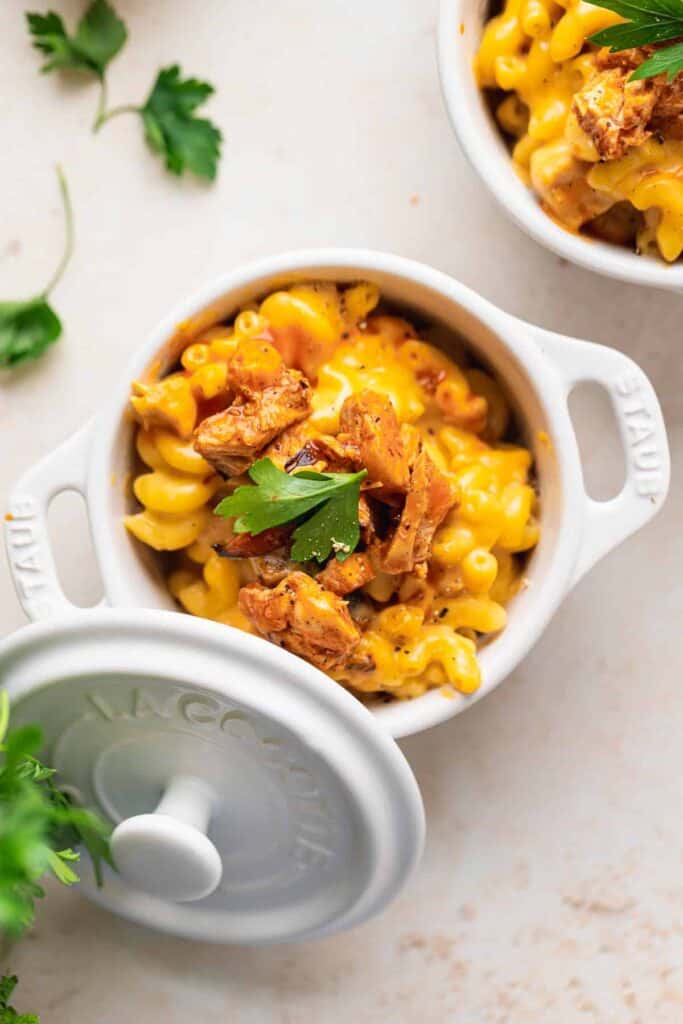 Easy Variations
Make it Spicier
Feeling like you want to add a little spice? You can either add more hot sauce or you can finely dice a jalapeño and saute it with the chicken.
Make it Less Spicy
The Frank's hot sauce a little too much for you? Add 1/4 cup to 1/3 cup Greek yogurt into the mac and cheese and mix. That will help cut the spice.
Storage
Got leftovers? Let your mac and cheese cool completely. Then, transfer it into an airtight container and store in the fridge for up to 3 days.
How to Reheat Buffalo Mac and Cheese
The key to reheating mac and cheese is to add a little moisture (milk works great!) since the noodles continue to absorb moisture even after it's originally cooked, and to reheat low and slow to avoid the cheese breaking down and changing texture.
STOVETOP DIRECTIONS
Add mac and cheese into a medium pot. Then, add in a splash of milk.
Reheat over low/medium heat for about 5 minutes, stirring every so often. Continue to add more milk, as needed.
OVEN DIRECTIONS
If you have time to reheat your buffalo mac and cheese in the oven, that is a great method! Simply add a little milk (start with a tablespoon, and go up from there depending on how much mac you're reheating!), and stir thoroughly before covering an oven-safe dish and placing in the oven at 350°F.
You'll need 10-20 minutes of reheating time, depending on how much mac you're reheating.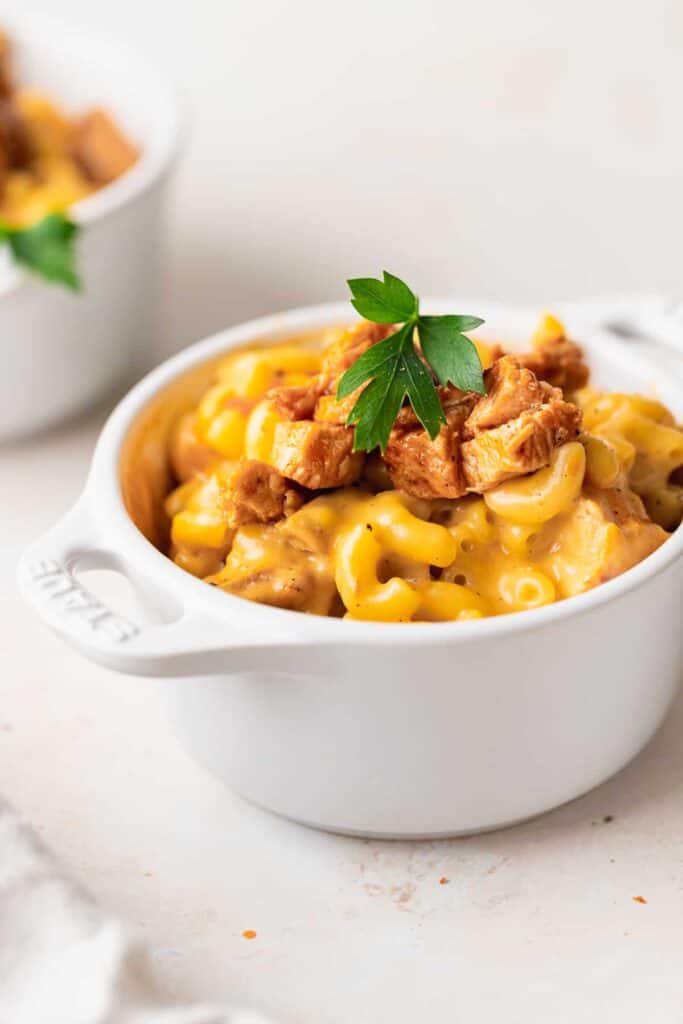 Serving Suggestions
You can serve this buffalo mac and cheese as a main dish or a side dish. Below are some of the dishes we would serve alongside this creamy meal: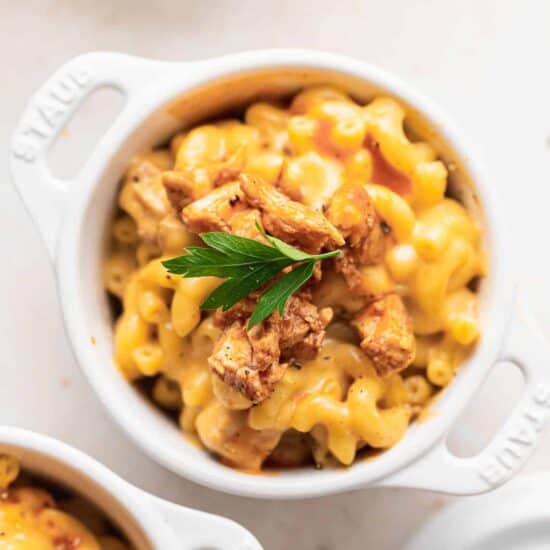 Buffalo Chicken Mac and Cheese
Buffalo Chicken Mac and Cheese is a delicious meal that combines two of your favorite dishes! Serve them tossed together or serve the buffalo chicken on top of your mac and cheese.
Ingredients
1

lb.

boneless skinless chicken thighs

½

cup

Franks hot sauce

separated

1

teaspoon

honey

4

tablespoons

butter

separated

⅓

cup

all-purpose flour

4

cups

2% milk

2

cups

broth

any kind*

1

lb.

macaroni noodles

1/2

teaspoon

garlic powder

1

teaspoon

salt

1/2

teaspoon

ground pepper

separated

3

cups

shredded yellow cheddar cheese

Optional topping: fresh parsley
Instructions
Combine ¼ cup hot sauce and 1 teaspoon honey and whisk until the honey dissolves. 

Pour the mixture over the chicken thighs. Let the chicken thighs marinate for 15-20 minutes. 

Heat a large Dutch oven or pot over medium/high heat. Add 1 tablespoon butter. 

When the butter is bubbling, add the chicken thighs to the pot and cook them for 5-6 minutes on each side depending on the size of the chicken thighs. Remove the chicken from the pot when the internal temperature of the chicken reaches 165ºF. Cover chicken thighs with tin foil and set aside. 

Turn off the heat and remove any burn bits from the pot with a spatula. 

Next, turn the heat to medium and add 3 tablespoons of butter to the pot. 

When the butter is melted, add the flour to the pot and stir the two ingredients together with a whisk until a crumbly paste is formed. 

Slowly pour a little milk into the pot at a time until you've used all 4 cups, whisking constantly as the mixture thickens. When all the milk has been added, whisk for around 1-2 minutes as it continues to thicken.

Add the broth, garlic powder, salt, and ground pepper to the pot and whisk everything together. 

Pour the noodles into the pot and stir. Bring the milk to a boil stirring the noodles every 1-2 minutes so the noodles do not stick to the bottom of the pot. Turn heat to medium/low and let the mixture simmer for 7-8 minutes or until the noodles are cooked to al dente. Be sure to stir the noodles periodically!

While the noodles are cooking, cut the chicken thighs into cubes. 

Add the remaining ¼ cup of the Franks hot sauce to a microwave safe bowl and cook on high in the microwave for 30-40 seconds or until the Franks hot sauce is hot. Pour the cubed chicken into the bowl with the Franks hot sauce and toss until the chicken is coated.

When the noodles are cooked to al dente, slowly add the shredded cheese 1 cup at a time to the pot and stir until all the cheese has melted. 

Finally, fold the cubed buffalo chicken into the macaroni and cheese.

Serve immediately.
Nutrition facts
Calories:
474
kcal
Carbohydrates:
33
g
Protein:
29
g
Fat:
24
g
Fiber:
6
g
Sugar:
7
g