These mac and cheese cups are the perfect individual-sized portion of cheesy goodness. Made with simple ingredients and baked until golden brown, they're sure to be a hit with kids and adults alike.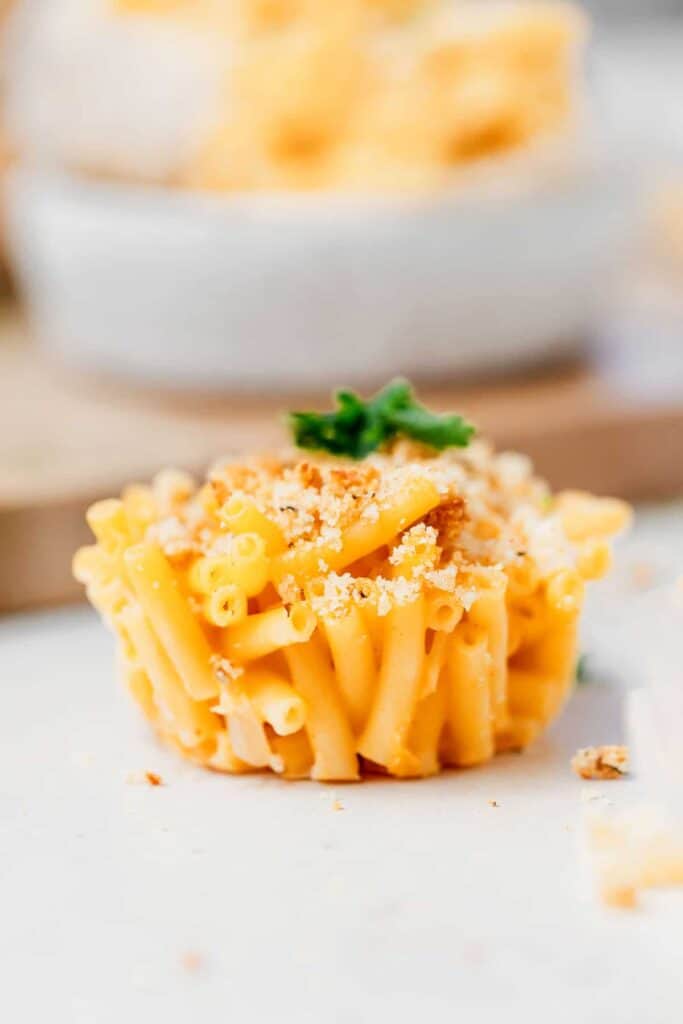 Mac and cheese cups are single-serve baked mac and cheese servings made in a muffin tin. Our recipe is semi-homemade, made with a couple of boxes of mac and cheese.
We love that they can be customized to your liking and that they're kid friendly. Make them for a weeknight dinner or serve them at Thanksgiving.
What You Need for Mac and Cheese Cups
Box mac and cheese – instead of taking the time to make homemade mac and cheese, we're keeping things simple with box mac!
Onion and garlic: add an amazing depth of flavor.
Greek yogurt: we love adding Greek yogurt to mac and cheese becuase it's creamy and tangy. You can try swapping for sour cream.
Pasta water: pasta water helps increase the amount of cheese sauce and also helps thicken the sauce from the starchiness.
Hot sauce: a little heat does the belly good.
Breadcrumbs: we love that breadcrumbs add a bit of crunch to the top like classic baked mac and cheese.
Spices: for this recipe you need garlic powder, thyme, and oregano.
Boxed Mac and Cheese Recommendations
Annie's Mac and Cheese: Annie's is our go-to boxed mac and cheese for this recipe, we used their classic cheddar elbows.
Kraft Macaroni and Cheese: there are so many different variations of Kraft. We prefer regular cheddar and white cheddar and suggest using the normal macaroni noodle shape.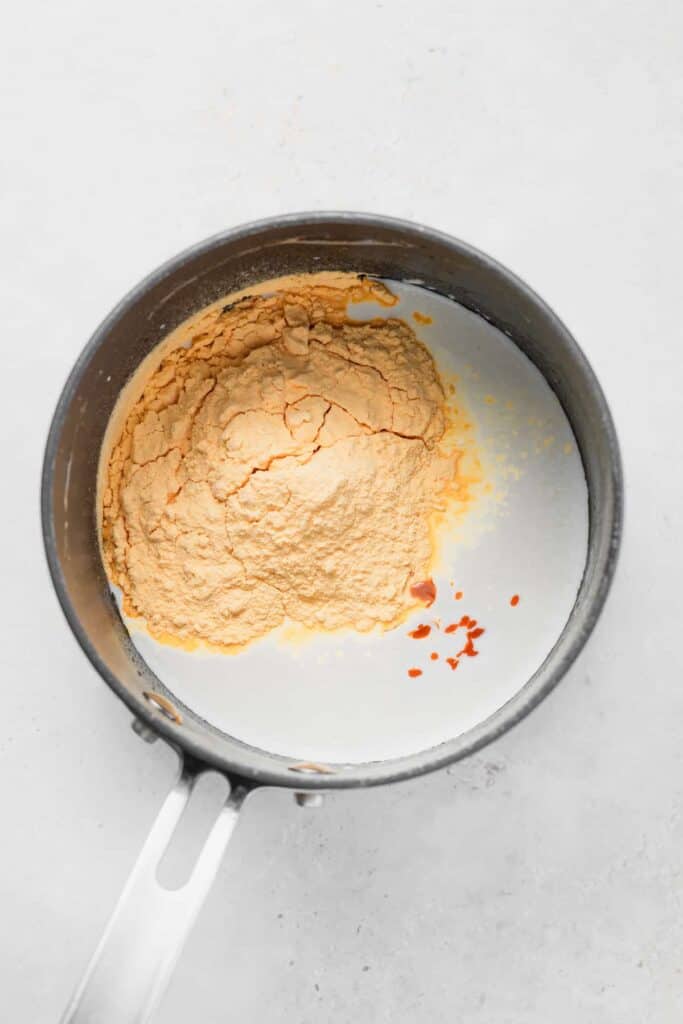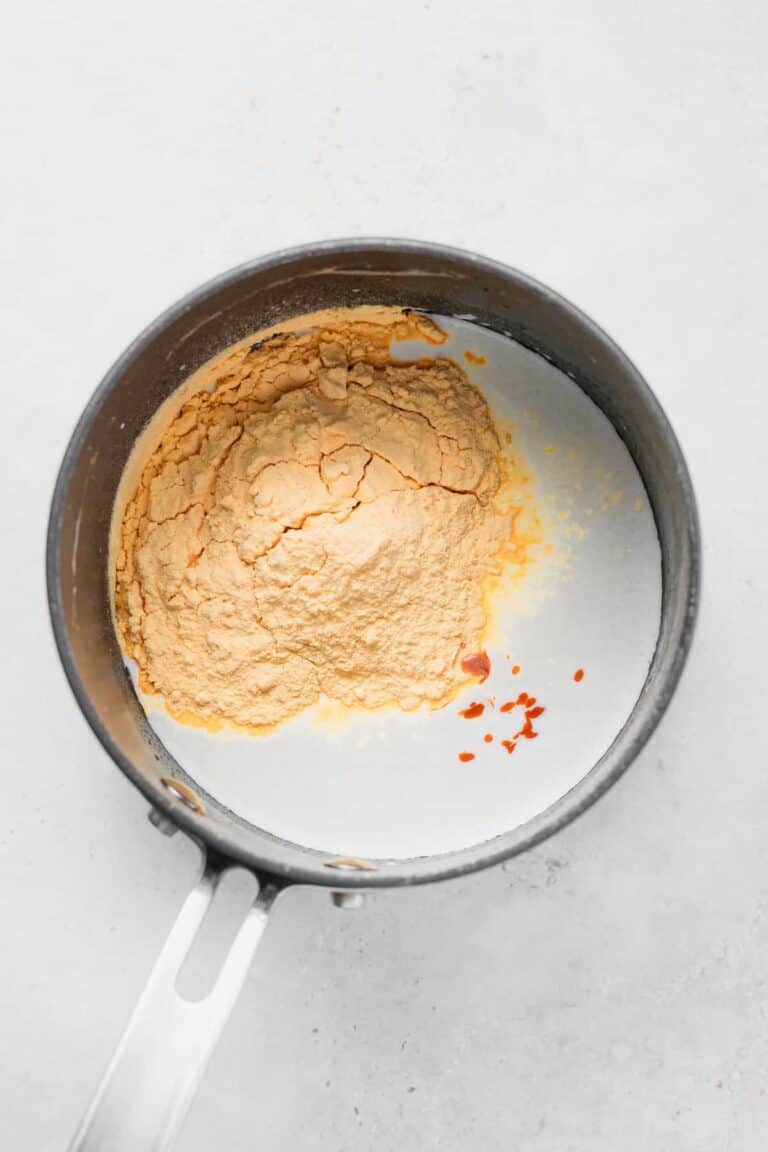 Variations and Substitutions
Use different types of cheese, such as Gruyère, fontina, or Monterey Jack.
Add cooked vegetables, such as broccoli, carrots, or peas.
Add shredded chicken to make mac and chicken cups.
For a spicier mac and cheese, add a dash of cayenne pepper or hot sauce.
To make gluten-free mac and cheese cups, use a gluten-free box of mac and cheese.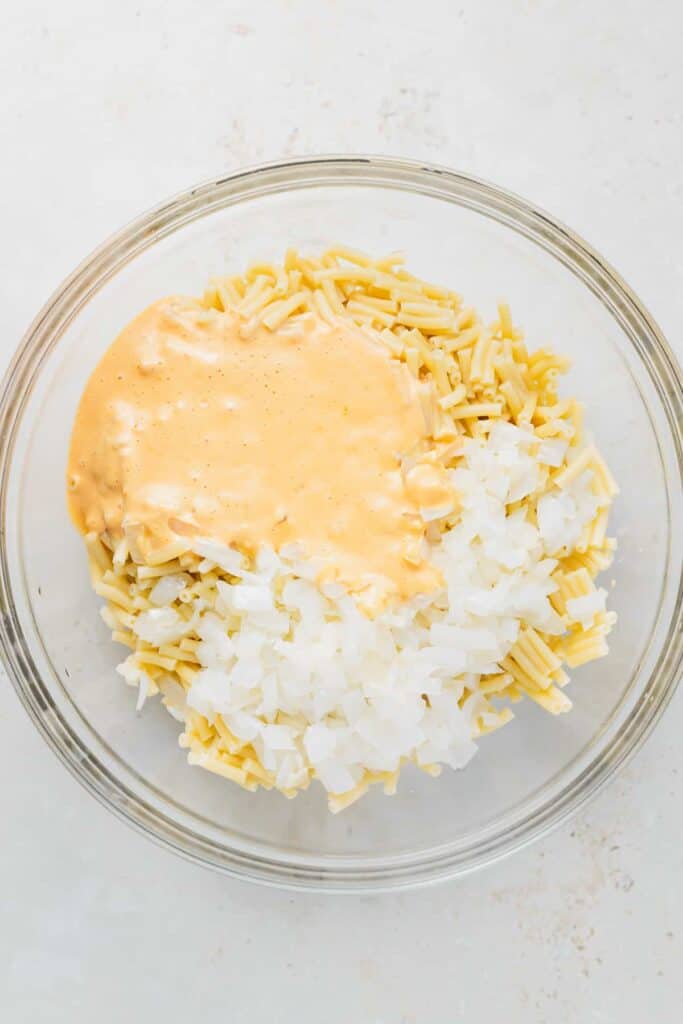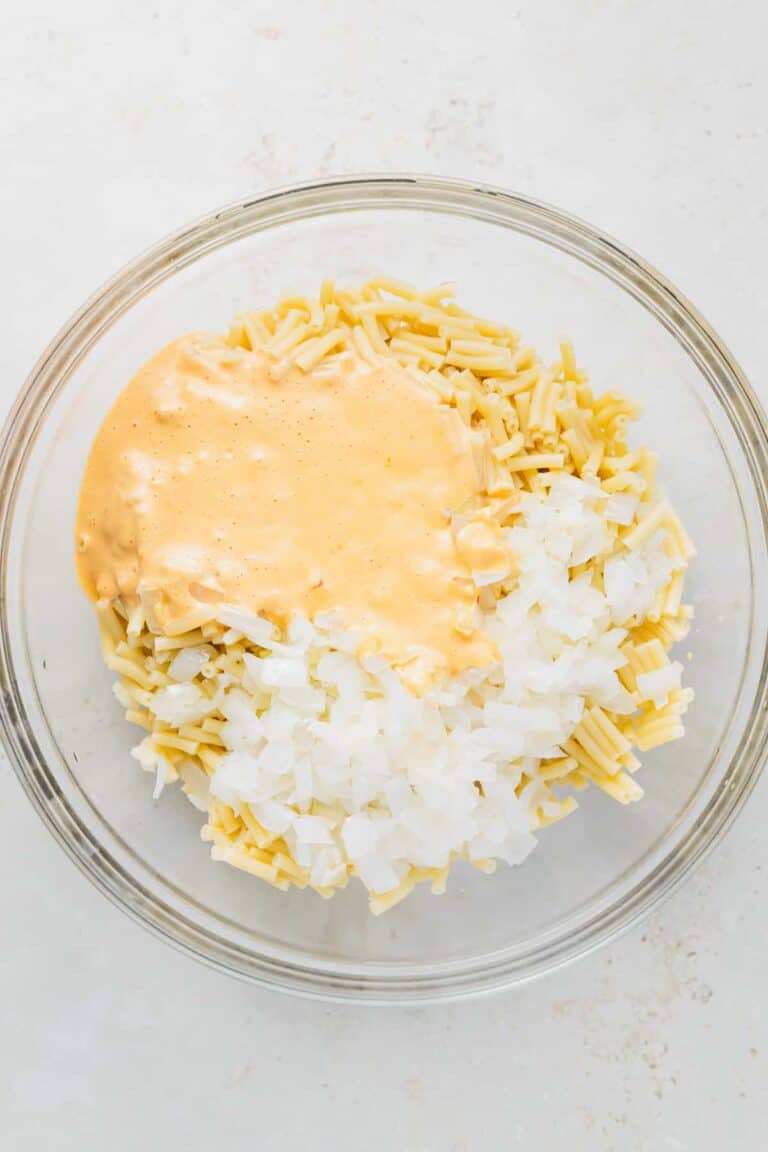 FAQ
Can I make this recipe ahead of time?

Yes, you can assemble the mac and cheese cups and refrigerate them for up to 24 hours before baking.
How do I reheat mac and cheese cups?

To reheat mac and cheese cups, place them in a single layer on a baking sheet and bake at 350 degrees Fahrenheit for 10-15 minutes, or until heated through.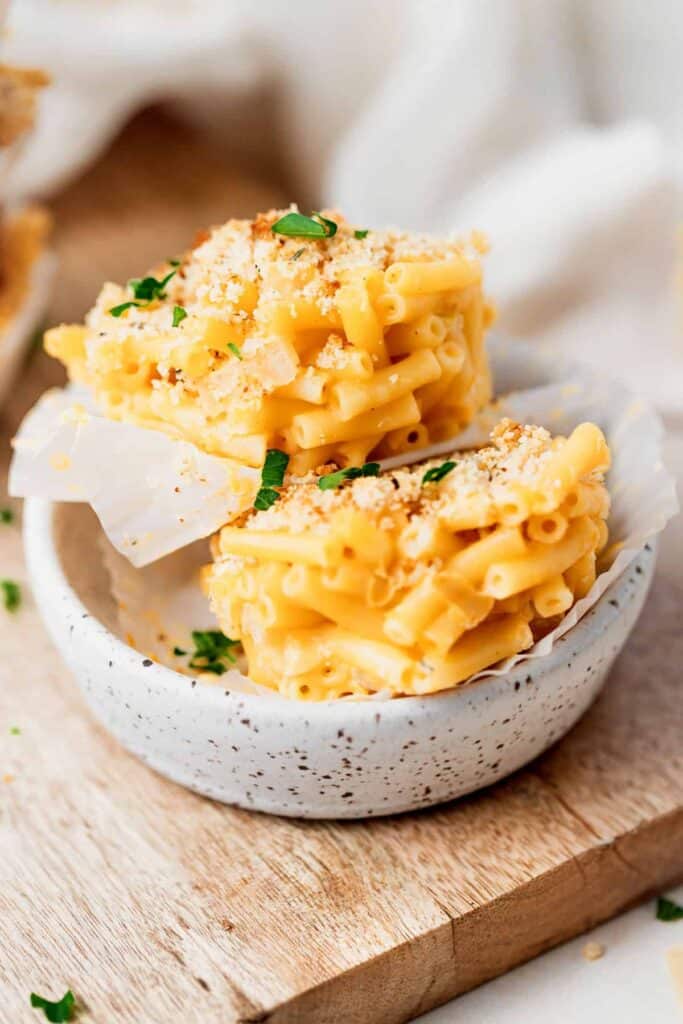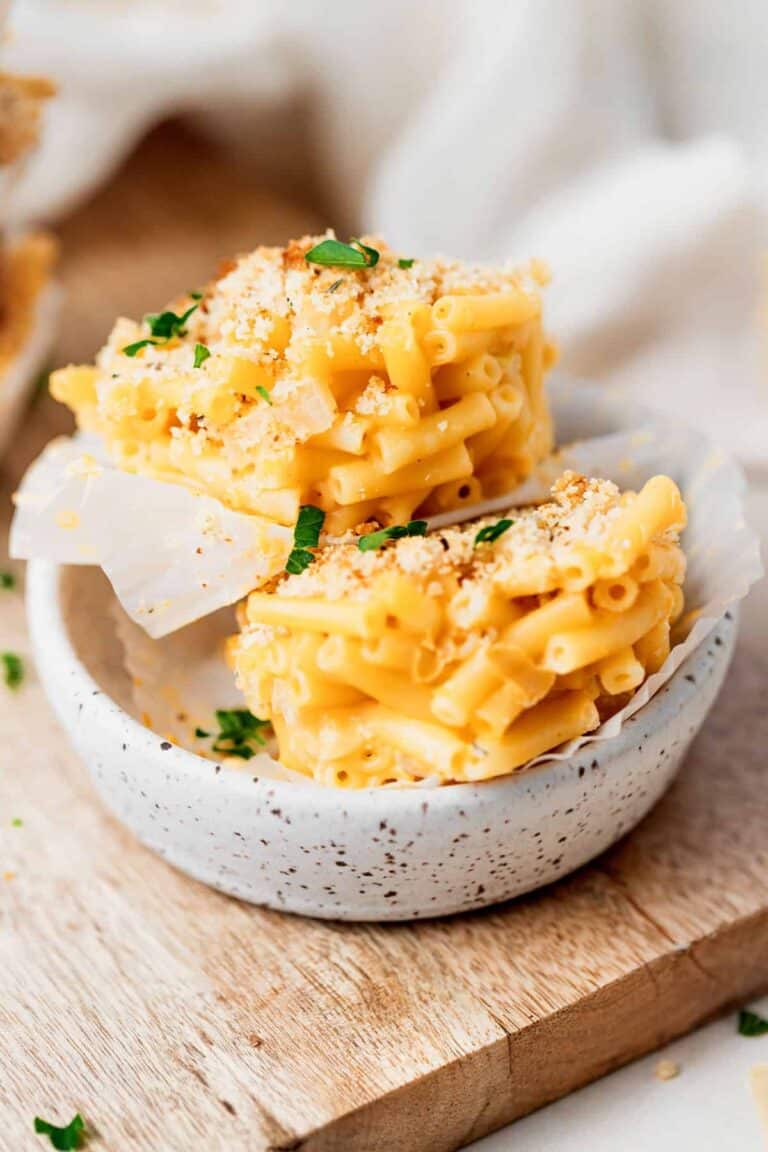 Storage
Transfer leftover mac and cheese cups into an airtight container. Store in the fridge for up to 3-5 days.
Can you freeze mac and cheese cups?
We don't recommend freezing these cups because of the amount of dairy in them!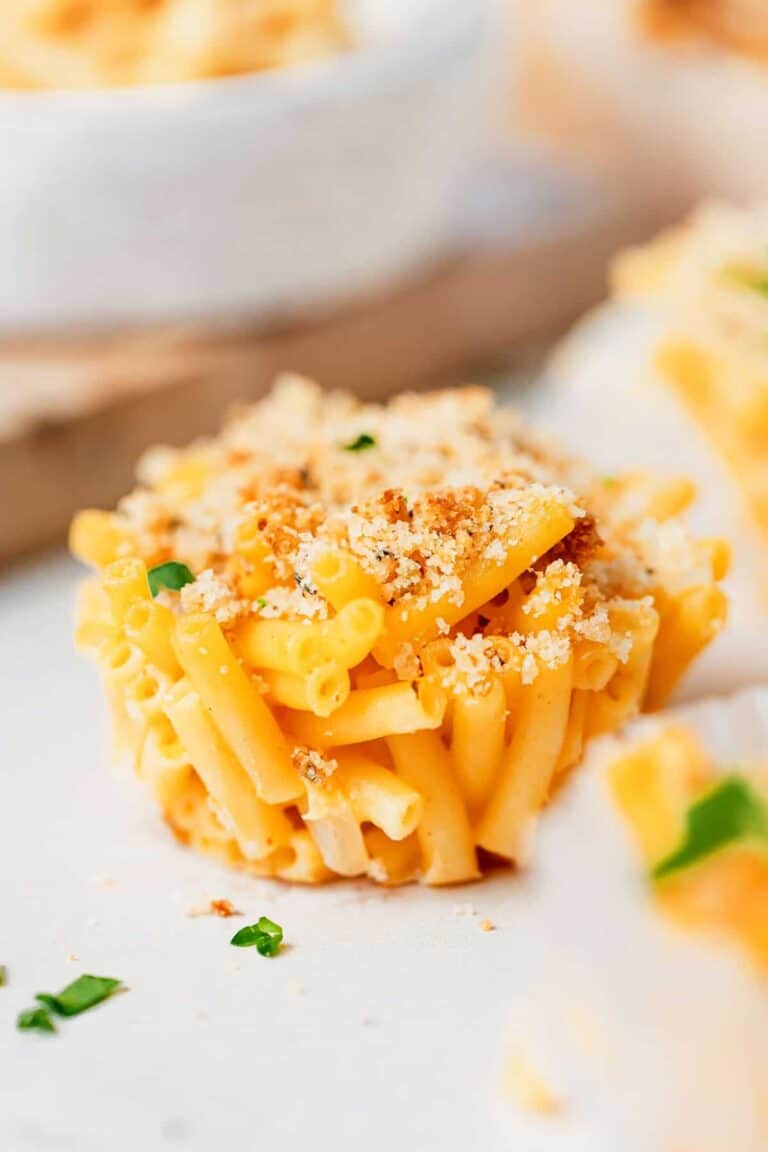 Serving Suggestions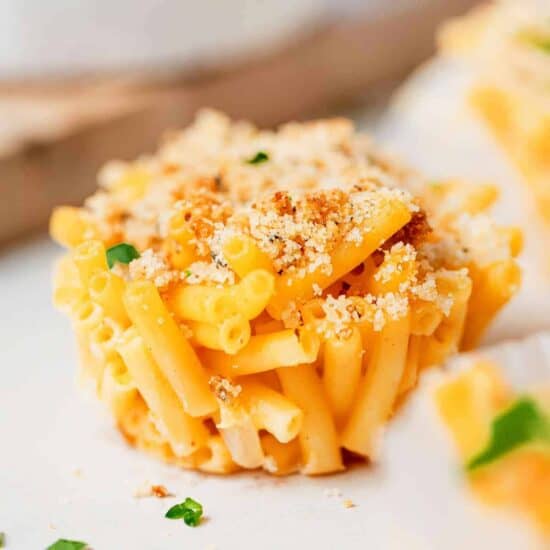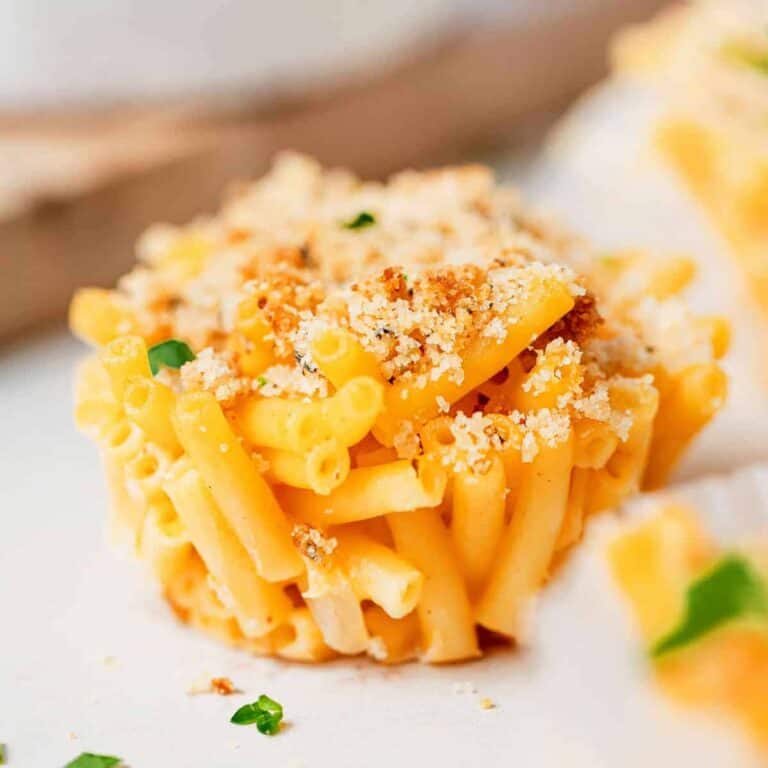 Mac and Cheese Cups Recipe
Our cute baked mac and cheese cups are made with boxed mac and cheese and elevated with garlic, onion, and hot sauce.
Ingredients
2

boxes mac and cheese

any kind (we used Annie's mac and cheese)

½

large white onion

diced

1

tablespoon

minced garlic

6

tablespoons

salted butter

softened + separated

½

cup

2% Plain Greek yogurt

1/3

cup

pasta water

1

teaspoon

franks hot sauce

or any kind

½

cup

plain bread crumbs

1

teaspoon

garlic powder

½

teaspoon

dried thyme

½

teaspoon

dried oregano
Instructions
Begin by preheating the oven to 400ºF and line a muffin tin with muffin liners. Spray the muffin liners with non-stick cooking spray (do not skip spraying the muffin liners!). Set aside.

Prepare the bread crumb topping first so it is ready. Place the bread crumbs, garlic powder, dried thyme, and dried oregano to a bowl and add 2 tablespoons of softened butter. Cut the butter into the breadcrumbs until a crumble is formed. Set aside. 

Bring a large saucepan of salted water to a boil. Add the boxed macaroni noodles to the boiling water and stir. 

While the macaroni is boiling, heat a small skillet over medium/high heat and add 1 tablespoon of butter.

When the butter is melted add the white onion, garlic, and a pinch of salt to the skillet and sauté for 5-6 minutes. Remove from heat and set aside. 

Cook the macaroni noodles until they are a little undercooked. They will continue to cook in the oven. 

Set a ½ cup of pasta water (you take a little extra out just in case) aside and then strain the noodles, rinse them with cold water, and set aside. 

Make the mac and cheese sauce by heating the same saucepan over medium heat. Add two tablespoons of butter. When the butter is melted (not sizzling) add the Greek yogurt and ⅓ cup of the pasta water the pan and whisk the ingredients together until thick and smooth. 

Add the franks sauce and boxed mac and cheese powder to the sauce and whisk together until smooth. You may need to add a bit more pasta water if there are cheese powder chunks that won't dissolve. Add 1 teaspoon of pasta water to the sauce at a time if this happens. 

Finally, add the onion and garlic mixture and macaroni noodles to the sauce and mix until the noodles are coated in the cheese sauce. 

Using a large spoon, fill each muffin cup with mac and cheese. Press the mac and cheese filling down so that the mac and cheese is semi-packed down. 

Sprinkle 1 tablespoon of the breadcrumb topping over the top of each mac and cheese cup.

Place the muffin tin in the oven and bake for 10-15 minutes or until the breadcrumb topping turns golden brown. 

Remove from the oven and let the mac and cheese cups cool for 10-15 minutes. If you take them out before letting them cool they will fall apart. Garnish with fresh parsley and enjoy. 
Tips & Notes
Use Pasta Water: pasta water is a great addition to any kind of sauce because it thickens and increases the amount of sauce. It's a win-win.
Don't Skip the Breadcrumbs: breadcrumbs add a wonderful crunch to this recipe. Don't skip them!
Let them Cool: make sure to let the mac and cheese cups cool for 10-15 minutes so that they can solidify together. If you take them out of the muffin tin too fast, they will fall apart.
Nutrition facts
Calories:
387
kcal
Carbohydrates:
48
g
Protein:
12
g
Fat:
16
g
Fiber:
2
g
Sugar:
6
g