Hot crab dip is cheesy, creamy, and so delicious with tortilla chips. Make this crab dip recipe for game day or any holiday gathering.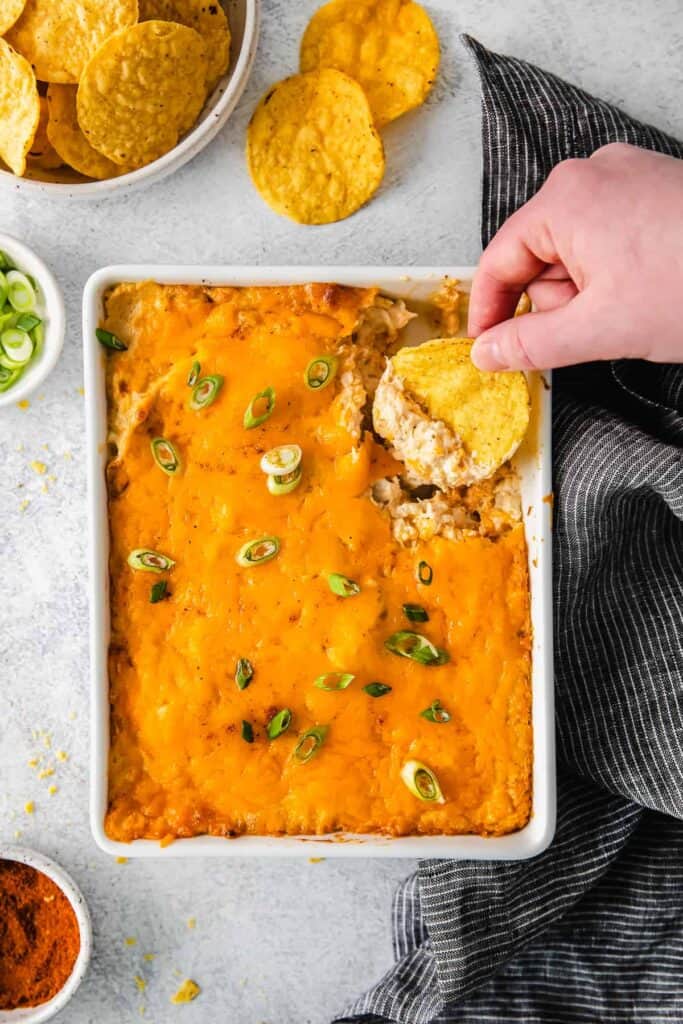 Favorite Hot Crab Dip
You folks love our Cold Crab Dip recipe, so we knew we had to up the anty with a hot crab dip recipe!
Hot crab dip is such a fun dip to share. It's so creamy and luscious and made with crab, mayo, sour cream, garlic, and tons of cheese on top.
In this post, we'll teach you how to make the best crab dip recipe, plus how to make it ahead in case you're looking to do a little party planning for a holiday or game day.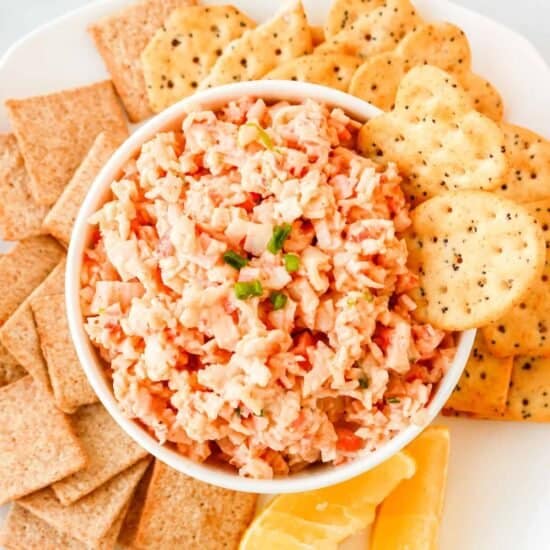 Try it!
Cold Crab Dip
This crab dip is made with only 6 ingredients and is ready to eat in under 15 minutes! It is the perfect appetizer for any event or even just a delicious protein-packed snack to make for the week.
Get Recipe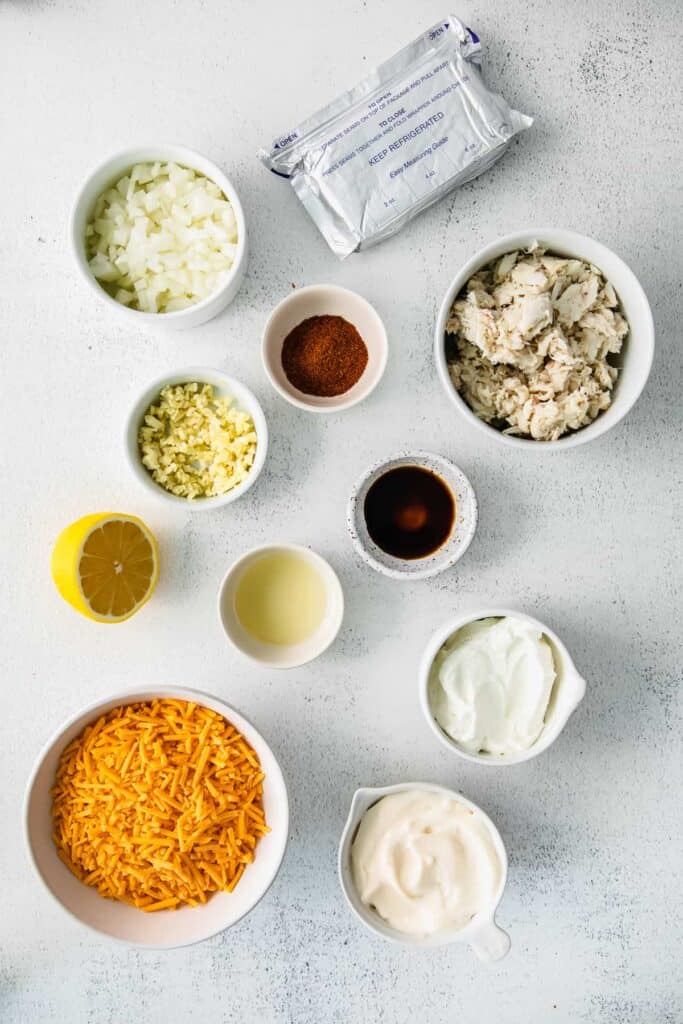 What You Need
Mayo and sour cream: these two products help make this crab dip extra creamy.
Crab: crab is. thestar of the show for this hot crab dip. We're used a pre-packaged crab product called Phillips Lump Crab. It's easy to find and a lot less work than cooking your own crab. See below for more options.
Onion: onion gives this dip a nice savory flavor.
Garlic: the more garlic, the better.
Worcestershire: Worcestershire sauce helps balance out the flavors with a little vinegar.
Cajun seasoning: feel free to use homemade canjun seasoning (like we did) or buy your own. If yo use store-bought, it will likely be much spicier than homeamde.
Shredded cheese: this dip is finished off with shredded cheese. Obviously, we're a cheese site!
What kind of crab can I use for this?
You can use a variety of different crab products for this recipe.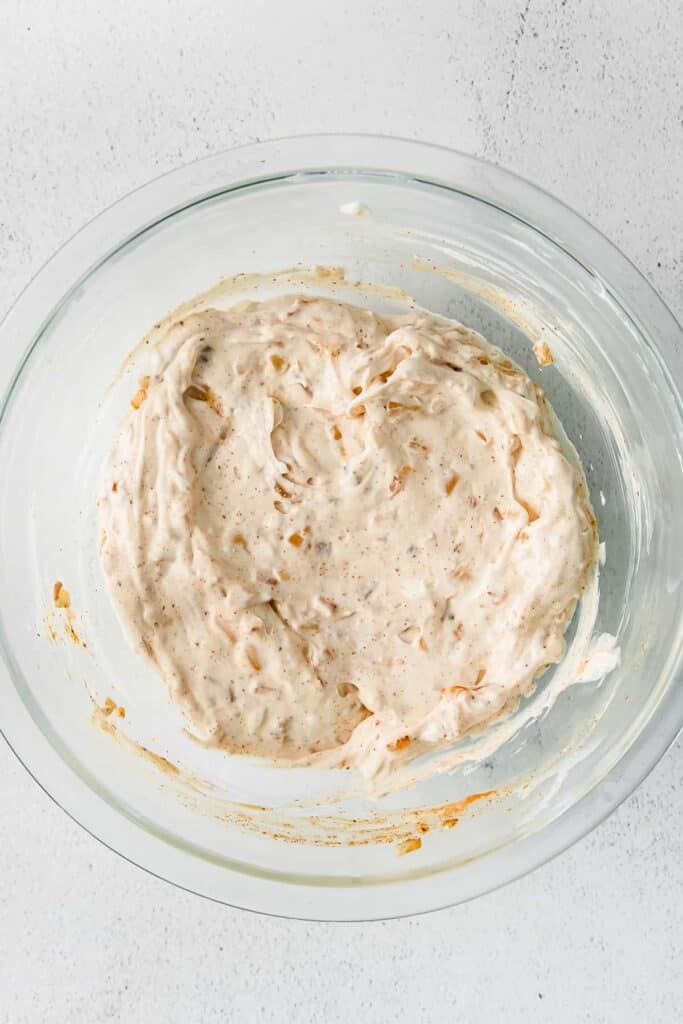 How to Make Hot Crab Dip
Cook onion and garlic: cook onion and garlic in olive oil until translucent.
Mix wet ingredients: add sour cream, cream cheese, to a bowl. Use a hand mixer to mix until smooth.
Add seasonings: add cajun seasoning, lemon juice, and Worcestershire sauce to the wet ingredients and mix to combine.
Combine: add 1 cup of cheddar cheese, the onion and garlic, and the cran meat into the wet ingredients and fold everything together.
Transfer: transfer the crab dip into a greased baking dish and then sprinkle on the remaining shredded cheddar cheese.
Bake: bake at 350ºF for around 30 minutes.
Let cool & serve: let cool for 5 minutes and then top with diced green onion and serve with your favorite cracker or chips.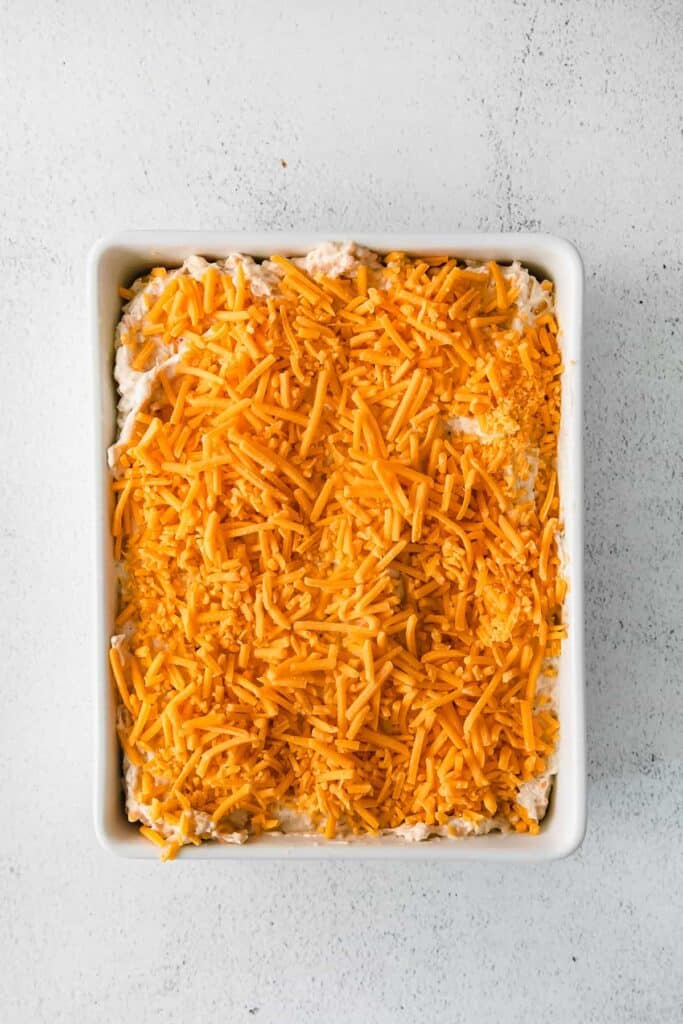 Q&A
What goes good with crab dip?

Crackers, crostini, and Italian bread go great with crap dip.
Is canned crab meat good?

Canned crab meat is better than you'd think. For crab dip, we recmmend
What can I do with a can of crab?

If you have a can of crab meat, you can make crab dip, crab patties, crab burgers, etc.
How do you heat up crab dip?

The easiest way to heat up crab dip is in the oven. We recommend 350ºF for around 30 minutes.
What kind of crackers go with crab dip?

The best kinds of crackers for hot crab dip are Ritz, Carr's water crackers, Rustic Bakery crackers, and Back to Nature sea salt crackers.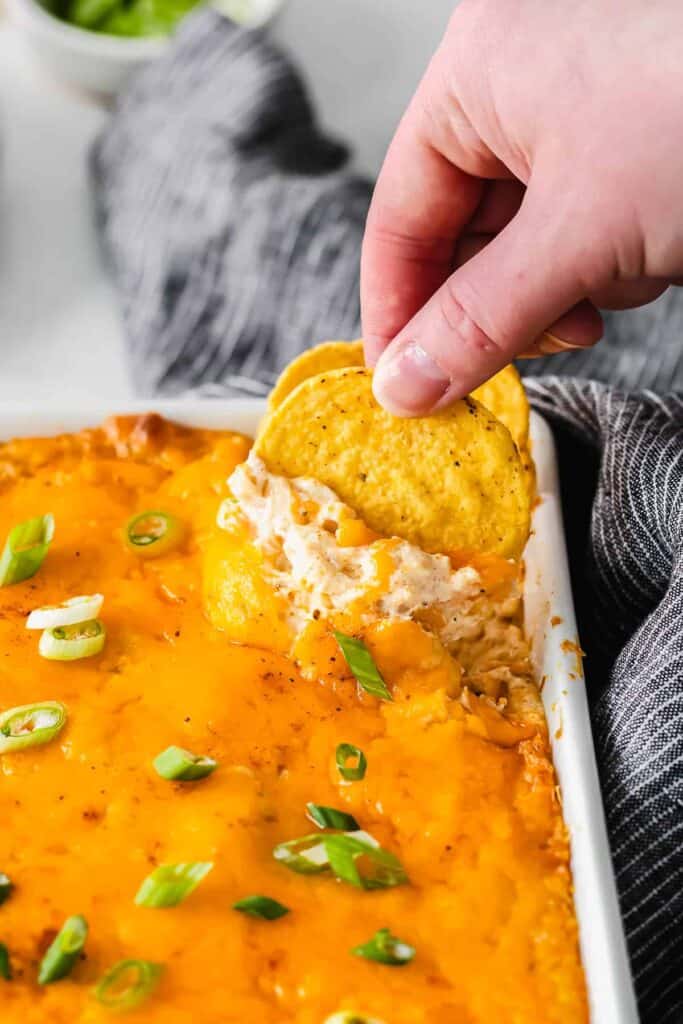 How to Make Ahead
You can easily make this crab dip ahead of time.
Prepare the crab dip as directed in the recipe card.
After sprinkling the shredded cheese on top of the dip, cover with a piece of tin foil and place into the fridge for 12-24 hours.
When you're ready to serve, remove the tin foil and bake at 350ºF for 30-40 minutes. It may need a few extra minutes since yuo're baking straight from the fridge.
Storage
Store cooled crab dip in an airtight container in the fridge for up to 3-5 days.
To reheat: When you're ready to reheat, add a little chicken broth into the dip and stir. Reheat in the oven at 350ºF for 20-25 minutes or until hot.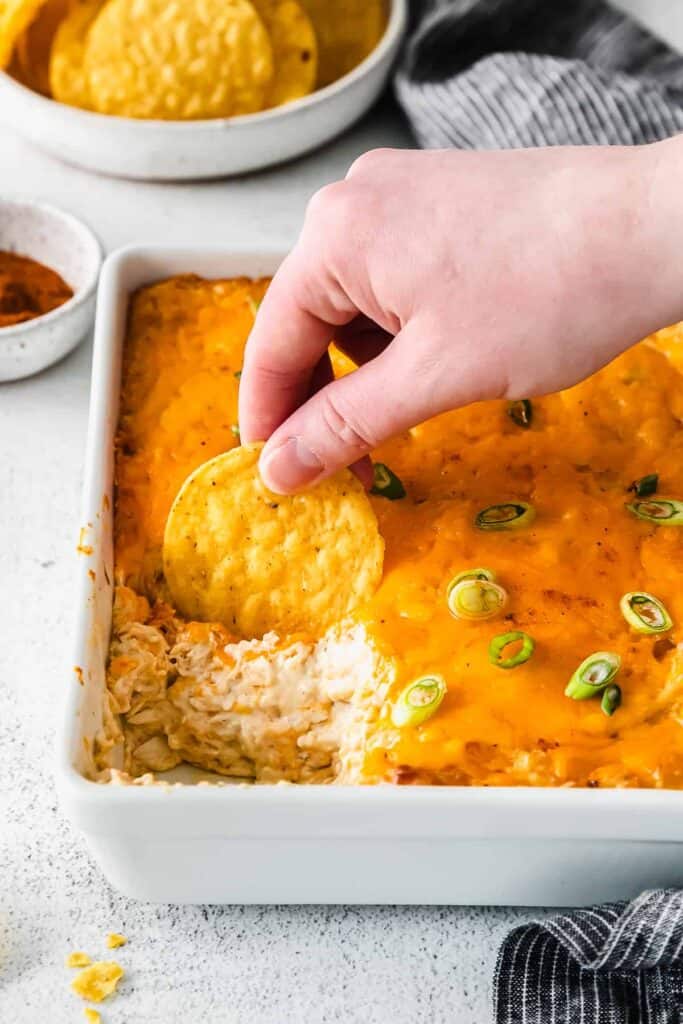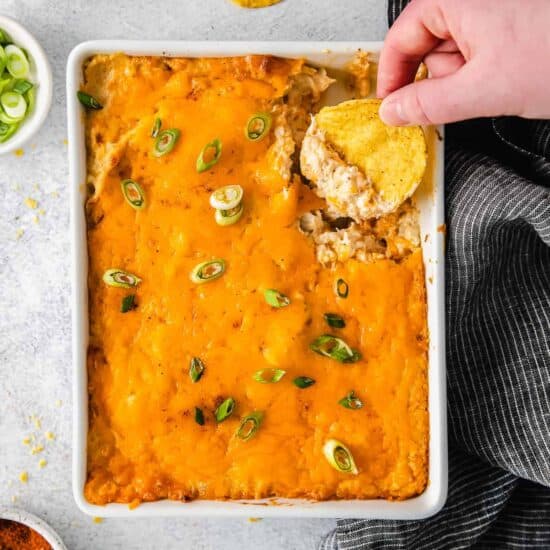 Hot Crab Dip
This is the best crab dip recipe on the internet! It's made with lump crab, sour cream, mayo, Worcestershire sauce, a little lemon, and tons of cheese.
Ingredients
8

oz.

cream cheese

softened

½

cup

mayonnaise

½

cup

sour cream

1

lb.

lump crab meat

drained (we used this crab meat)

1

tablespoon

olive oil

½

large white onion

minced

3

cloves

of garlic

peeled and minced

½

tablespoon

Worcestershire

2

teaspoon

fresh lemon juice

1

teaspoon

- 1 tablespoon cajun seasoning*

2

cups

shredded cheddar cheese

divided

Optional: 3 green onions

for topping
Instructions
Preheat the oven to 350ºF and spray an 8x8-inch or a 9x9-inch casserole dish with nonstick cooking spray. 

Heat a large skillet over medium high heat and olive oil.

Once the oil is fragrant add the minced onion and cook until translucent, 2-3 minutes.

Add the garlic to the sautéed onion and cook for 1 minute. Set aside once cooked. 

In a mixing bowl add softened cream cheese, mayo, and sour cream. Mix with a hand mixer until there are no lumps. 

Add the cajun seasoning, lemon juice, and Worcestershire to the cream cheese mixture and mix until combined. 

Once the mixture is smooth, fold in 1 cup of cheddar cheese, the sautéed onion and garlic, and crab meat being careful not to break up the crab lumps up too much. 

Pour the crab mixture into a casserole dish and top with remaining cheddar cheese. 

Bake for 30 minutes at 350ºF or until the top is golden brown and bubbling. 

Remove from the oven and let sit for 5 minutes before serving with crackers or bread. 
Tips & Notes
Be cognizant of what cajun seasoning you use. Some cajun seasoning can be very spicy. We used Fit Foodie Finds' Cajun seasoning and it was a perfect combination of spicy and sweet. 
Serve with tortilla chips, crackers, or crisp vegetables. Or step it up a notch and take a heaping scoop and load on top of tater tots!
Nutrition facts
Calories:
427
kcal
Carbohydrates:
4
g
Protein:
21
g
Fat:
36
g
Fiber:
0
g
Sugar:
3
g