These English muffin pizzas are ready in under 30 minutes. It is a favorite for kiddos and adults, alike!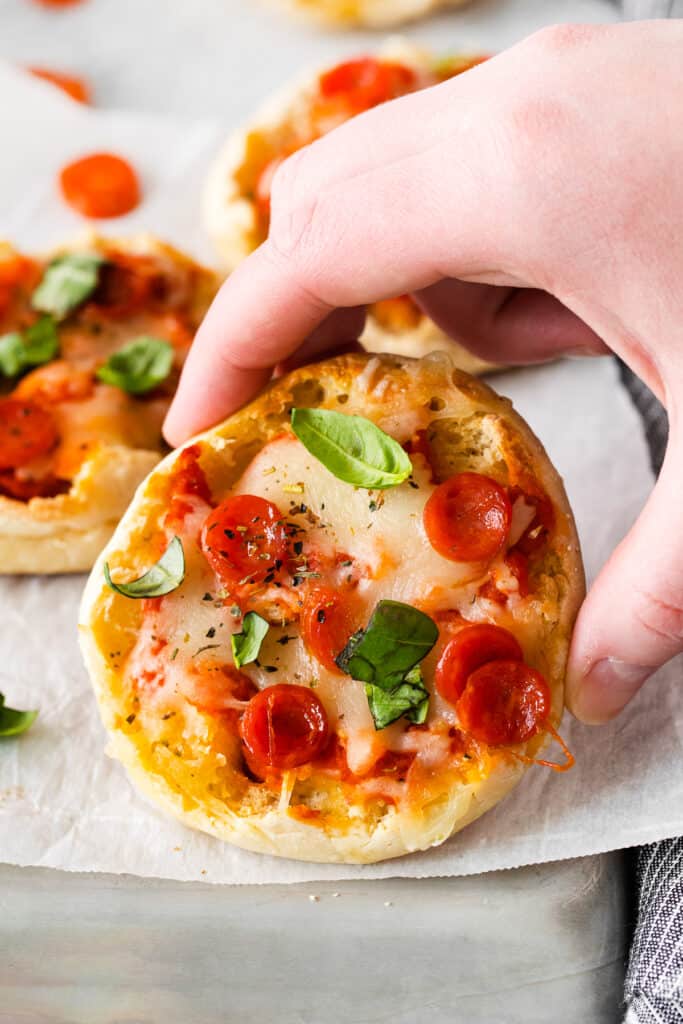 This English muffin pizza recipe is a favorite for the moms on Team Fit Foodie. Broil the English muffins to crisp them up, add the toppings, and melt the cheese for perfect crunchy pizzas.
Pizzas of every kind are popular on The Cheese Knees. Check out our pull-apart pizza bread, pizza bagels, or air fryer pizzas.
What is in English Muffin Pizzas?
This is a simple recipe that you can make your own in so many ways. Our favorite pizza is pepperoni with extra cheese (obviously), but feel free to add some of your favorite za' toppings.
English muffins: we stuck to the original English muffin for these pizzas, but go ahead and use whole wheat or change up what brand you use.
Pizza sauce: Homemade pizza sauce or storebought pizza crust is acceptable here!
Cheese: a salty, Italian blend cheese blend of parmesan, mozzarella, and asiago is a great idea. You can hand grate or use an already shredded blend if you are in a rush.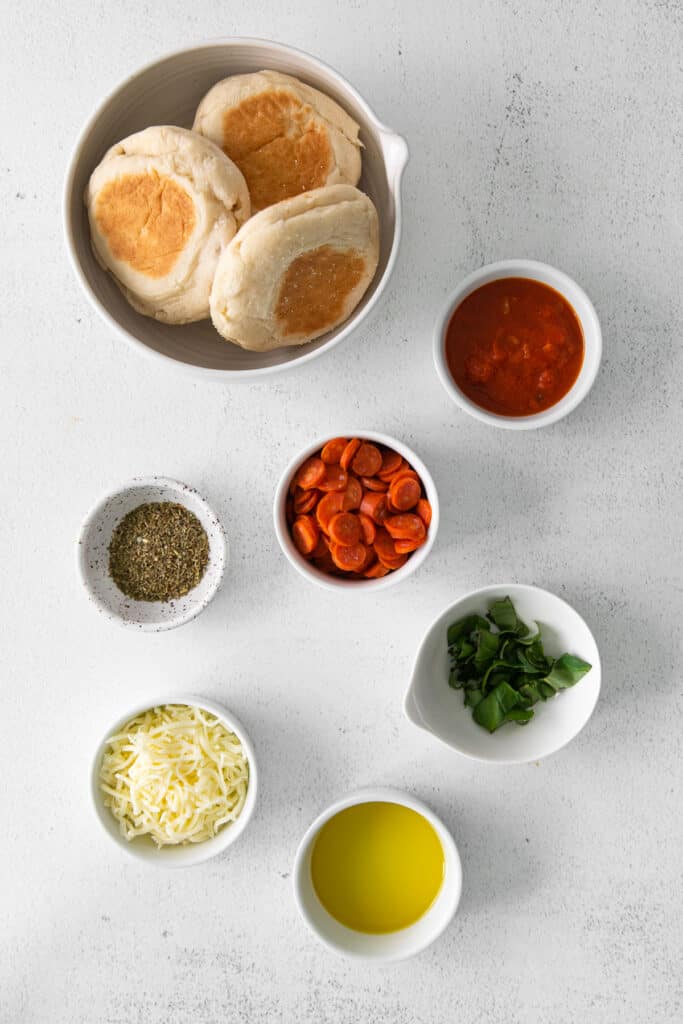 Variations + Substitutions
Great vegetable additions to these pizzas would be diced green peppers, mushrooms, and onions.
If you don't have English muffins, bagels can be used instead.
Make these English muffin pizzas spicy with red pepper flakes or test out a tasty pizza topper spice mix.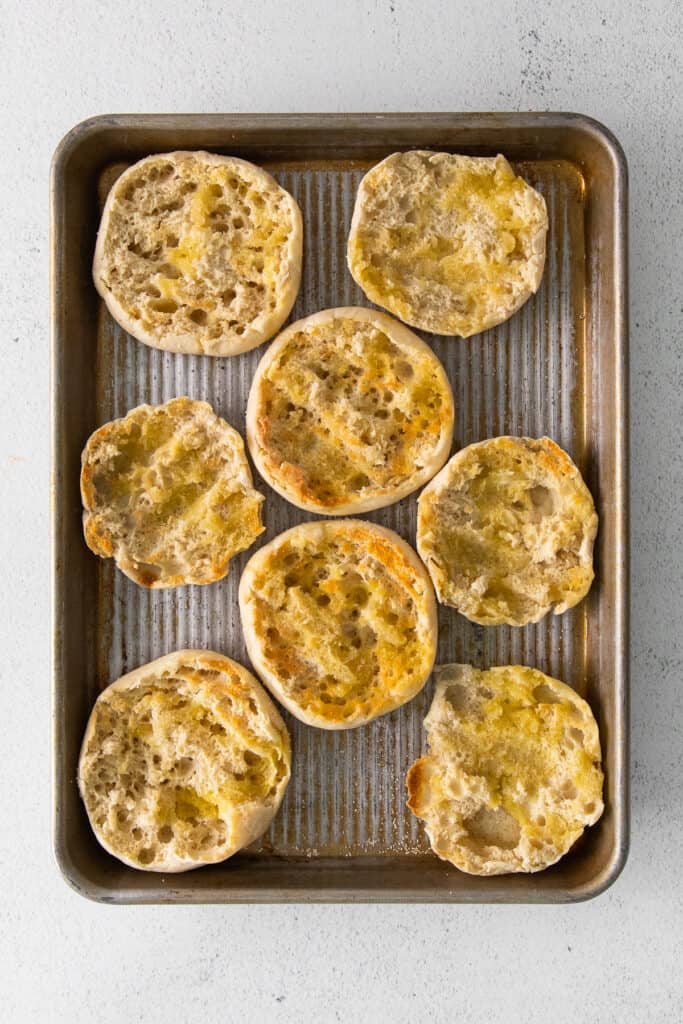 Storage + Freezing Instructions
Storing English muffin pizzas can be done in a few steps:
Cool them down: After baking, allow the English muffin pizzas to cool completely. This will help to prevent them from getting soggy when you store them.
Single-layer storage: Place the cooled English muffin pizzas in a single layer on a baking sheet or plate.
Freezing (optional): If you want to freeze them, first freeze them in a single layer on the baking sheet or plate until they are frozen solid (about 1-2 hours). This will prevent them from sticking together in the freezer.
Packing for storage: Once they're cooled (and optionally frozen), transfer the English muffin pizzas into airtight containers or resealable plastic bags. If you're stacking them, it's best to put a piece of parchment paper in between each pizza to prevent sticking.
Refrigerate or freeze: You can store these in the refrigerator for 3-4 days, or in the freezer for up to 3 months.
Reheat Instructions
To reheat, preheat your oven to 375°F (190°C) and bake for about 10 minutes if refrigerated, or 15-20 minutes if frozen, until the cheese is melted and the pizzas are heated through. You can also reheat them in the microwave, but they will be softer and not as crispy.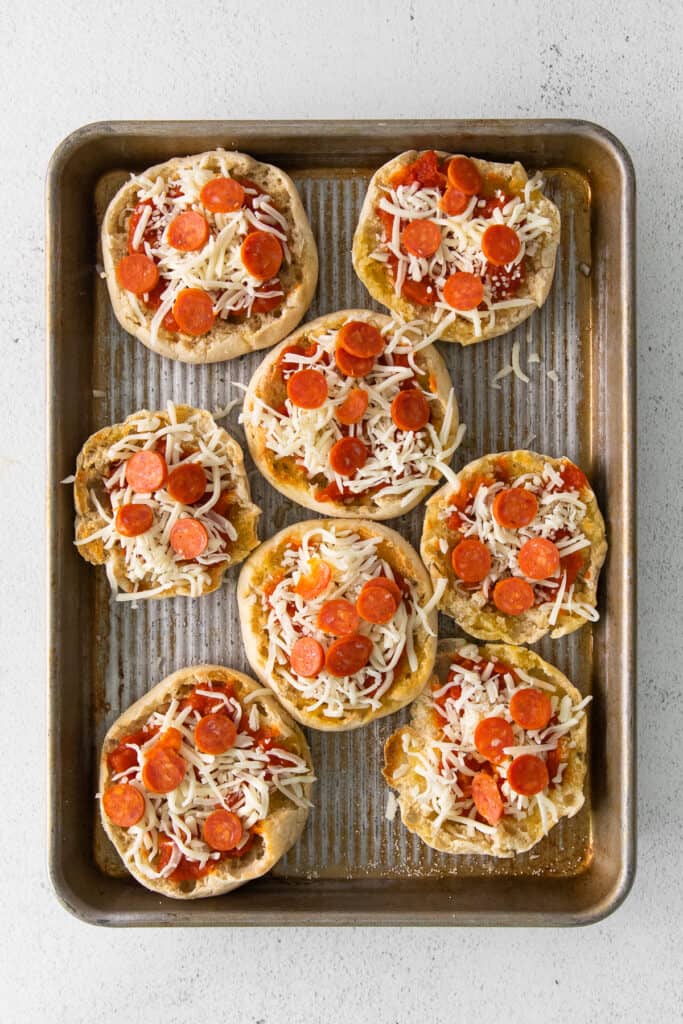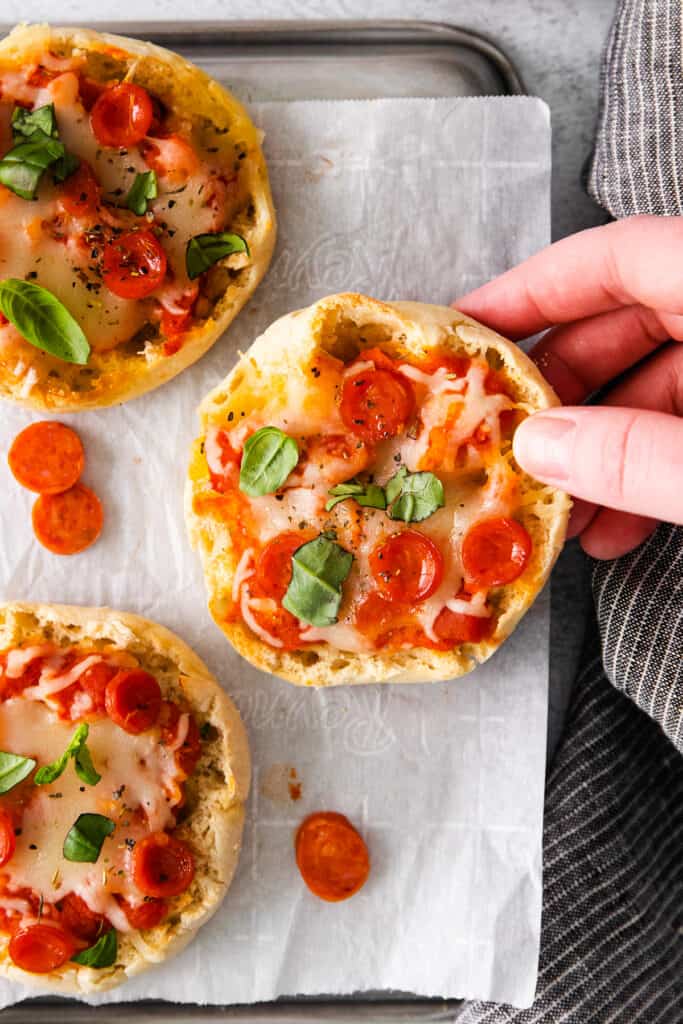 Serving Suggestions
Caprese Salad: a fresh, simple salad featuring ripe tomatoes, mozzarella cheese, and basil, dressed with olive oil and balsamic glaze.
Garlic Parmesan Knots: garlic knots can be a tasty side dish or appetizer with pizza. These are essentially biscuit dough tied into knots, baked, and then coated in garlic, butter, and parmesan cheese.
Pasta Salad: a cold pasta salad with Parmesan dressing and vegetables can be a refreshing and satisfying side dish.
Lemon orzo salad: a light and delicious salad that would delish next to these English muffin pizzas.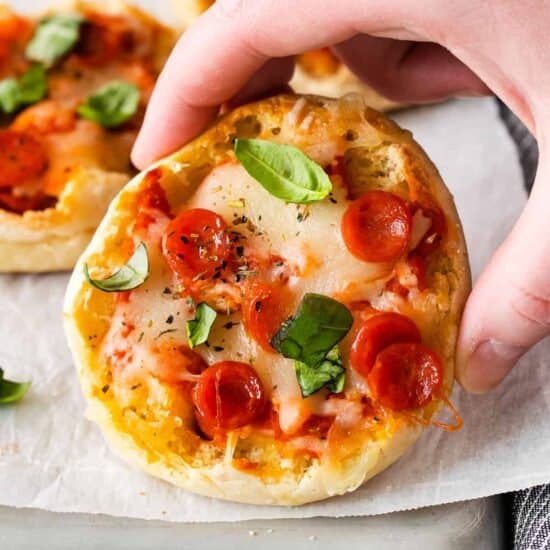 English Muffin Pizzas
English Muffin Pizzas — an easy 30-minute meal that the whole family will love. Top your English muffins with marinara sauce, cheese, and your favorite toppings! 
Ingredients
4

English muffins

sliced in half

1

tablespoon

olive oil

3

tablespoons

marinara sauce

1/3

cup

shredded Italian blend cheese

½

cup

of mini pepperonis

2

teaspoons

dried oregano

4

leaves

fresh basil

roughly chopped
Instructions
Preheat the oven to broil. Place the English muffin halves onto a baking sheet and drizzle them with olive oil. 

Broil the English muffins for 2-5 minutes until the English muffins just begin to brown. The time under the broiler will vary depending on each oven. You do not want to burn the English muffins. 

Remove the English muffins from the oven and spread around 2 teaspoons of marinara sauce onto each English muffin half.  

Sprinkle 1 tablespoon of shredded cheese on top of the sauce and then evenly spread the pepperonis on top of the shredded cheese. Finally, season with around ⅛ teaspoon dried oregano. 

Change the temperature of the oven to 375ºF and place the english muffin pizza back into the oven and bake them for 8-10 minutes or until the cheese is melted and begins to brown. 

Remove the pizzas from the oven and garnish them with fresh basil. 
Tips & Notes
For the Italian blend, feel free to use mozzarella cheese or a mixture of mozzarella, romano, parmesan, and asiago. 
Nutrition facts
Calories:
272
kcal
Carbohydrates:
29
g
Protein:
10
g
Fat:
13
g
Fiber:
1
g
Sugar:
1
g