Take your ordinary mac and cheese to the next level with this crockpot Velveeta mac and cheese recipe! Crockpot macaroni doesn't get cold, so it's perfect for serving a large crowd. It's a classic recipe our whole family enjoys.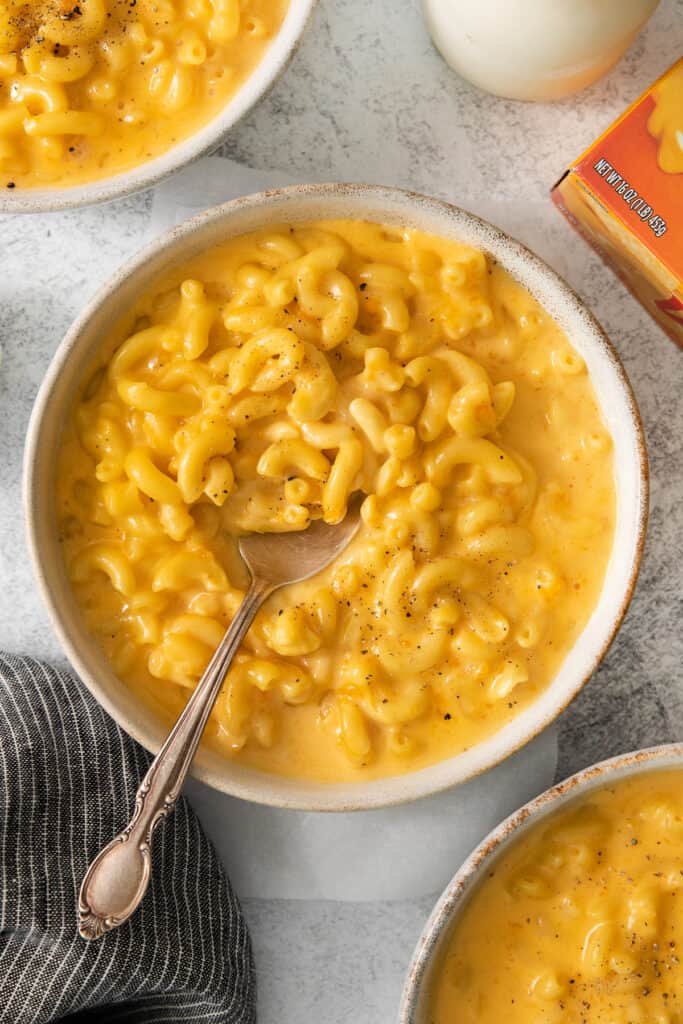 Ever wonder what Velveeta mac and cheese would taste like if it lived up to its fullest potential? Well, wonder no longer because this slow cooker Velveeta mac and cheese is everything you love about this classic comfort food, but BETTER. The result? The cheesiest, creamiest macaroni and cheese that can not only serve a crowd, but doesn't get cold thanks to the crockpot 😀
what makes it so special?
We added the perfect proportion of whole milk, chicken broth, and butter to give it an exceptionally rich and velvety taste — not too watery, not too thick, and the noodles just absorb all that Velveeta cheese like it's nobody's business!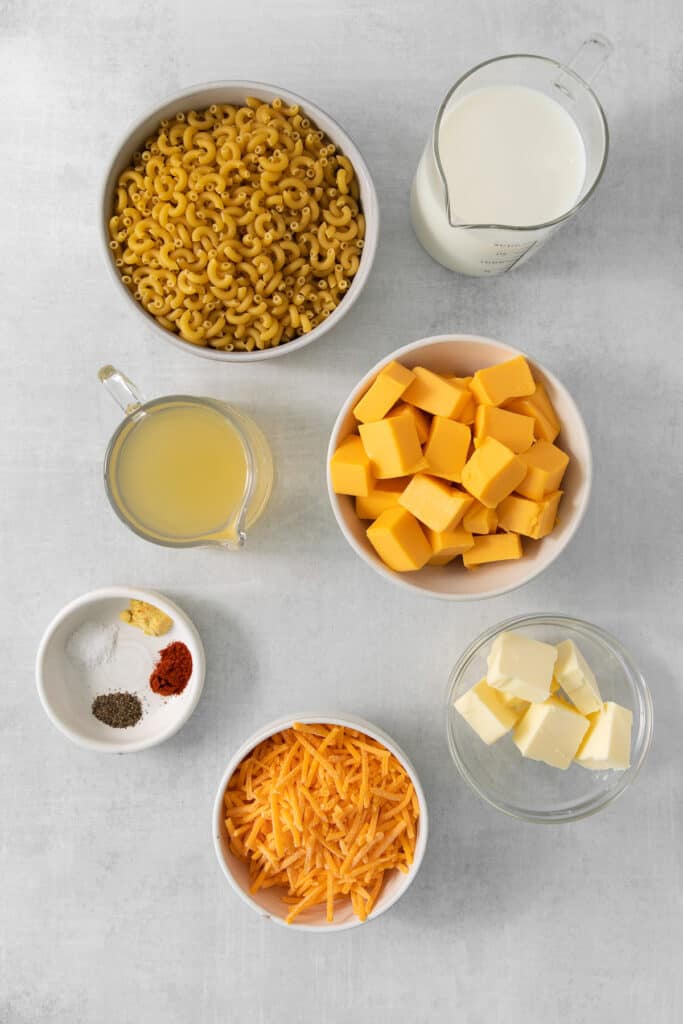 What You Need for Crockpot Velveeta Mac and Cheese
Crockpot: can't make crockpot mac without the slow cooker. We're sharing our favorite below.
Elbow macaroni noodles: we kept it classic and used elbow noodles for this recipe.
Whole milk: whole milk makes this mac and cheese taste rich and creamy.
Chicken broth: provides a flavorful base and keeps the noodles nice and moist.
Spices: a bit of dry mustard and paprika deepen the flavor profile of this dish.
Velveeta cheese: the star of the dish! Velveeta is what gives this mac a cheesy flavor and creamy texture.
Butter: use unsalted butter for this recipe since we're already adding salt.
Shredded sharp cheddar cheese: gives an extra boost of cheese flavor to take this creamy macaroni to the next level!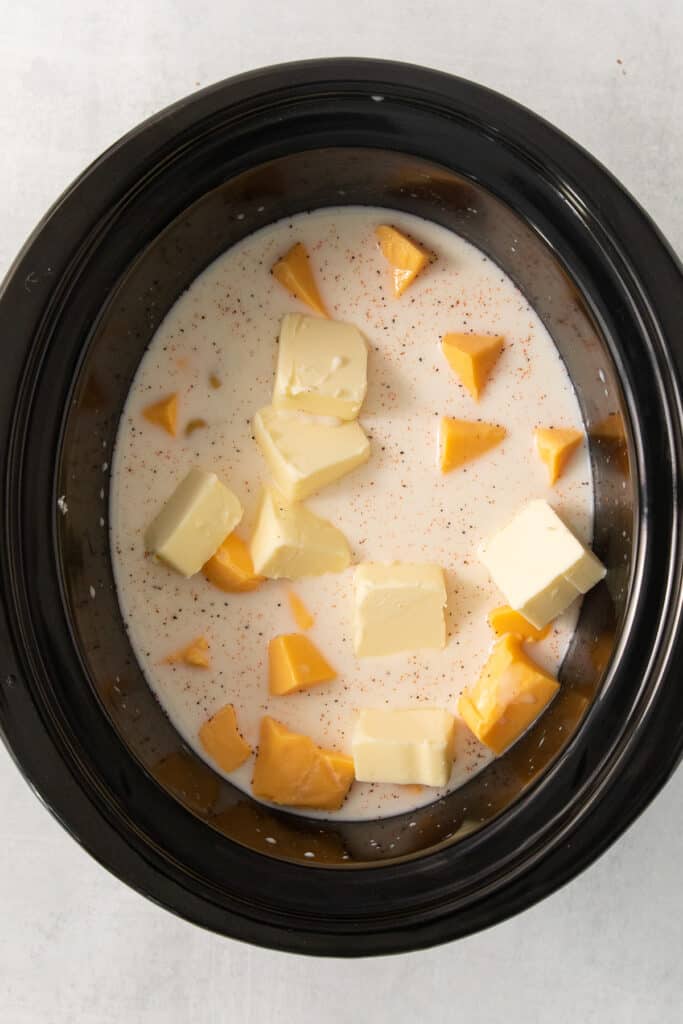 Top Tips for Moist Crockpot Mac and Cheese
There are 4 simple tricks to make sure your mac and cheese stays moist in a crock pot:
Add more cheese! That extra layer of cheese on top creates a protective barrier, preventing the noodles from drying out as it bakes.
Be generous with the sauce. This will ensure your mac and cheese stays moist while cooking in the crock pot.
Reduce the amount of cream or other thickeners you use. Too much can result in dry mac and cheese.
Don't forget to stir your mac regularly while it's cooking in the crock pot. This will help ensure an even distribution of moisture and prevent sticking.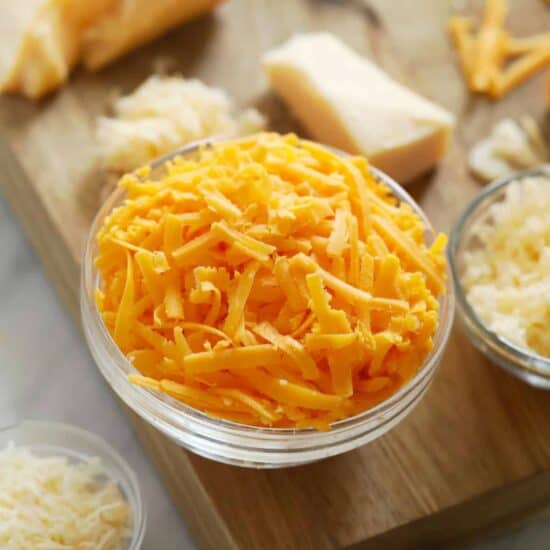 Tutorial
How to Grate Cheese
Whether you have a box grater at home or find yourself in need of grated cheese and no grater, we've got you covered on how to grate cheese without a cheese grater!
Get Recipe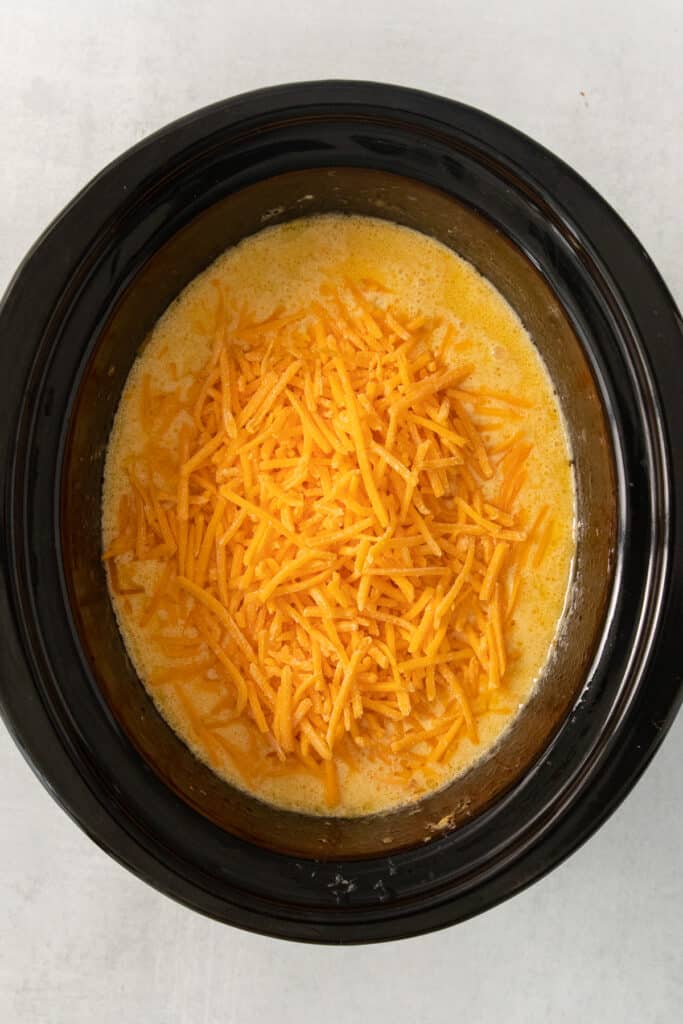 FAQ
How do you keep macaroni and cheese creamy?

The key to creamy mac and cheese is not to overcook your pasta. Aim for one minute less than the package instructions say, and you'll end up with perfectly al dente noodles every time! 

Also, try swapping out some of the milk for cream — it adds an extra richness that you won't want to miss!
Is Velveeta real cheese?

Velveeta cheese is essentially a processed cheese product, so it's not quite real cheese. It is made with milk, whey, and whey protein concentrate but lacks certain characteristics that are found in traditional cheeses such as cheddar. 

That being said, Velveeta cheese still has its own unique flavor and texture that make it an ideal ingredient for many recipes! HERE is more information about Velveeta cheese.
Tasty Variations
Want to give your velveeta mac n cheese some extra flare? Here are some delicious options for you to explore!
Add Protein: Bulk up your crockpot macaroni and cheese with proteins like bacon, cooked chicken, ground beef, or canned tuna.
Add Veggies: Broccoli, mushrooms, peppers, and spinach are all delicious additions to macaroni and cheese. Try adding a cup of cooked veggies to your dish for added nutrition and flavor.
Spice It Up: Don't be afraid to kick up the heat with your mac and cheese! Add a few dashes of your favorite spicy seasoning, hot sauce, or some diced jalapenos for an extra zing.
Cheese Overload: Take your mac and cheese to the next level by adding even more cheese! Try tossing in an extra cup of shredded cheddar, Colby jack, or pepper jack cheese for a cheesy mac and cheese extravaganza.
Garnish It: Top off your dish with some crunchy goodness. Try adding some crumbled crackers, crushed chips, bacon bits, or Italian breadcrumbs to your macaroni and cheese before serving. Mmm.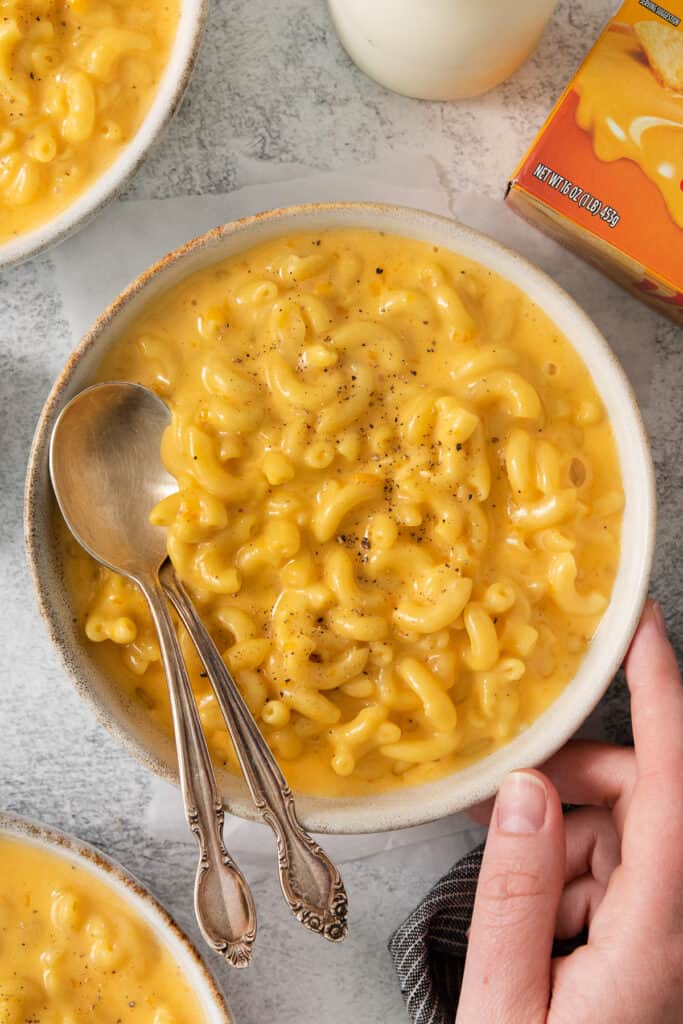 Storage
​Store any leftover crockpot macaroni and cheese in an airtight container in the refrigerator for 3 to 5 days. Make sure the mac and cheese has cooled down to room temperature before transferring it to the fridge to prevent condensation, which can make the mac and cheese soggy.
To Reheat
When you're ready to enjoy your leftovers, it's best reheated on the stove over medium-low heat, adding a splash of milk to help bring back the creamy texture. You can also reheat in the microwave in 30-second increments, stirring in between until heated through.
To Freeze
While mac and cheese can technically be frozen, we don't necessarily recommend it for this recipe. Pasta can become quite mushy when thawed and reheated, and the cheese sauce may separate.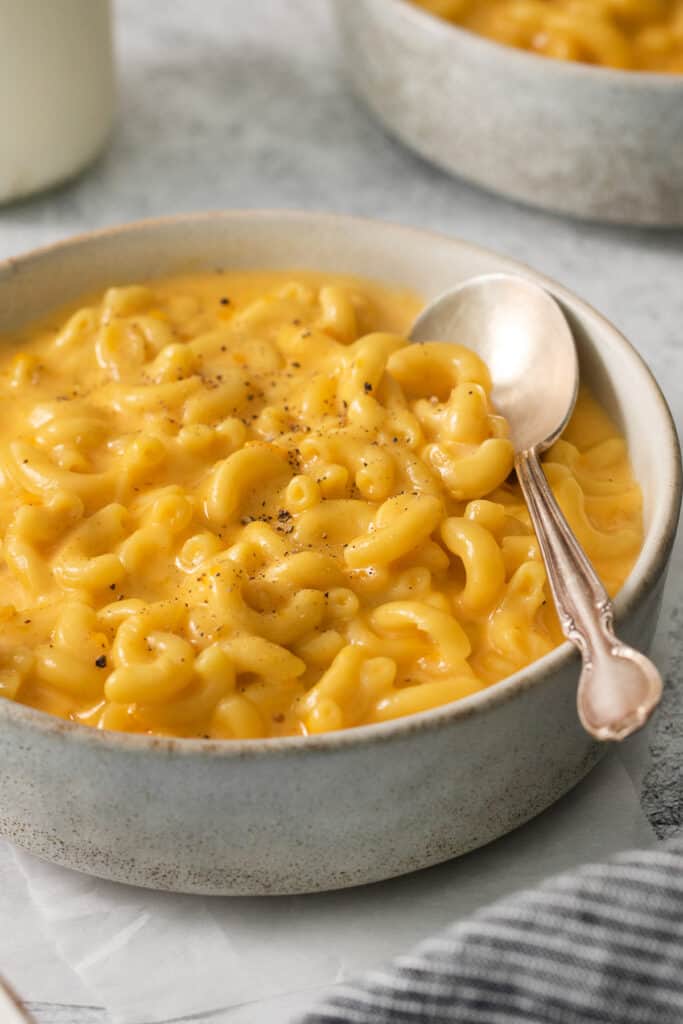 Serving Suggestions
Easy Cheese Bread: The perfect side to serve with your mac and cheese. It's garlicky, cheesy, and the perfect texture to soak up any extra cheese sauce left on your plate!
Ham and Cheese Sliders: The smoky, sweet, and slightly tangy flavors of the ham provide a wonderful contrast to the creamy, comforting mac and cheese. The two together make a hearty and satisfying meal.
Easy Caprese Salad: The mac and cheese is soft and creamy, while the Caprese Salad provides a fresh crunch from the tomatoes and a soft, but distinctive, texture from the mozzarella. This variety keeps each bite interesting.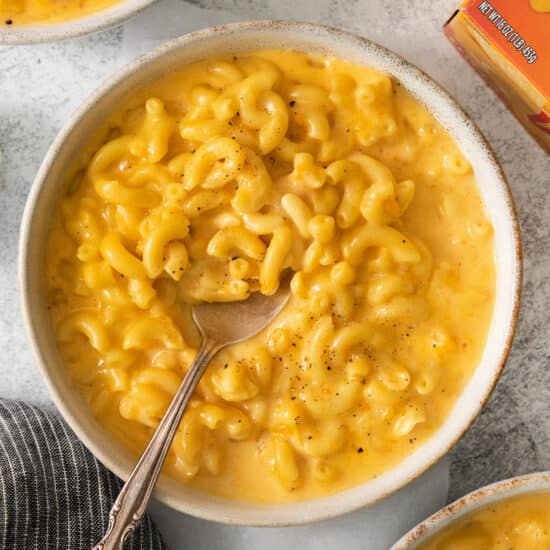 Crockpot Velveeta Mac and Cheese
This Crockpot Velveeta Mac and Cheese is truly the epitome of comfort food made easy. So grab your ingredients, plug in that slow cooker, and get ready to enjoy one of the best mac and cheese recipes you've ever tried!
Ingredients
16

oz.

elbow macaroni noodles

uncooked

2.5

cups

whole milk

½

cup

chicken broth

any kind of broth works

½

teaspoon

salt

or more to taste

1

teaspoon

ground black pepper

½

teaspoon

dry mustard

½

teaspoon

paprika

16

oz.

Velveeta cheese

cubed

½

cup

unsalted butter

cubed

4

oz.

shredded sharp cheddar cheese

~1 cup
Instructions
Place the noodles, milk, broth, salt, pepper, mustard, and paprika into a slow cooker. Stir to combine. There should be enough liquid so the noodles are completely covered.

Place the Velveeta in and toss so that some of the cubes are under the liquid. Top with cubes of butter.

Cook for 1.5 hours on low. After 1.5 hours, stir and place the lid back on. Cook for an additional 30 minutes.

Once the noodles are fully cooked and soft, add the shredded cheddar and stir until melted. Serve immediately.
Tips & Notes
Additional cook time may be needed depending on what slow cooker and noodles are used.
If the noodles are still hard at the 2-hour mark, add another 20 minutes and then check for doneness.
Nutrition facts
Calories:
545
kcal
Carbohydrates:
53
g
Protein:
25
g
Fat:
26
g
Fiber:
2
g
Sugar:
10
g