This creamy shrimp alfredo recipe is delicious and decadent comfort food that can be easily whipped up any night of the week. Juicy shrimp is combined with fettuccini noodles and our easy alfredo sauce is made with grated cheese, garlic, cream, and nutmeg for a flavorful, indulgent dish.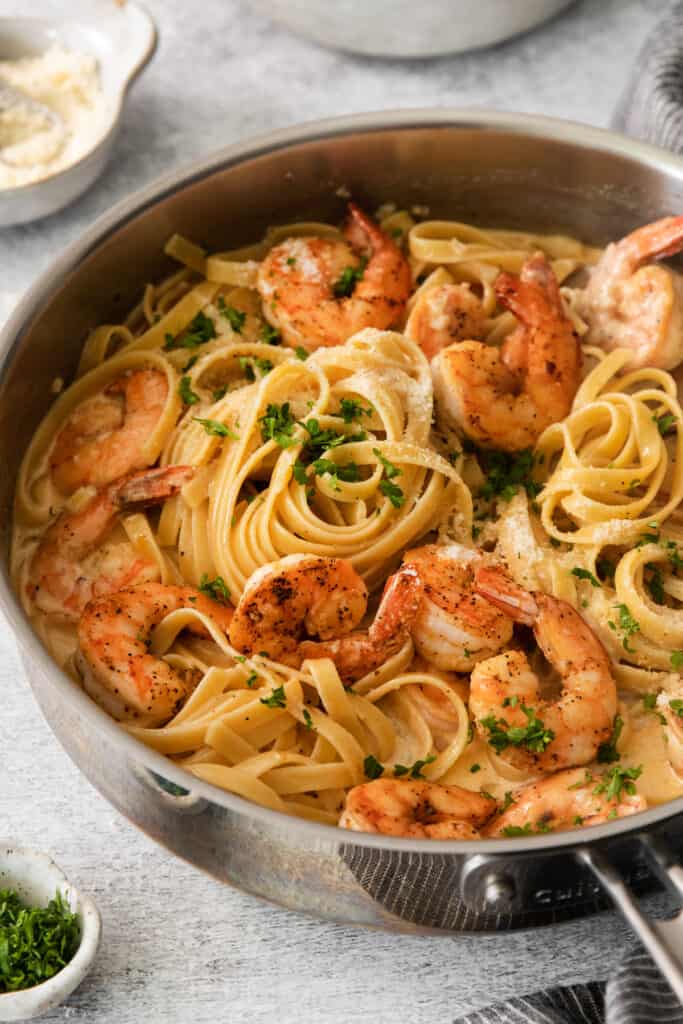 Tender shrimp, creamy homemade alfredo sauce, and perfectly al dente fettuccini? Yes, please! This shrimp alfredo pasta recipe is single-handedly going to knock your socks off.
It's the perfect dinner when you need to make something simple yet satisfying… for those busy weeknights when you're craving some classic comfort but don't want to run to the store or spend hours in the kitchen. It's that trusty, dependable meal that you'll be coming back to again and again — and it's made in one pot.
This 35-minute meal starts with cooking the pasta. Then you'll saute the shrimp and make the scrumptious garlicky cream sauce. Put it all together, and what have you got? Your new favorite pasta that'll send you up to the flavors of heaven.
what sets our shrimp alfredo apart?
Unique Flavor: The addition of paprika and nutmeg introduces a distinct smoky-sweet profile to the traditional Alfredo recipe.
Wine Deglaze: Deglazing the pan with white wine captures all the savory bits from the shrimp, adding complexity and depth to the sauce.
Fresh Shrimp: Using fresh, raw shrimp ensures optimal flavor and texture, with separate seasoning to perfectly complement the creamy Alfredo sauce.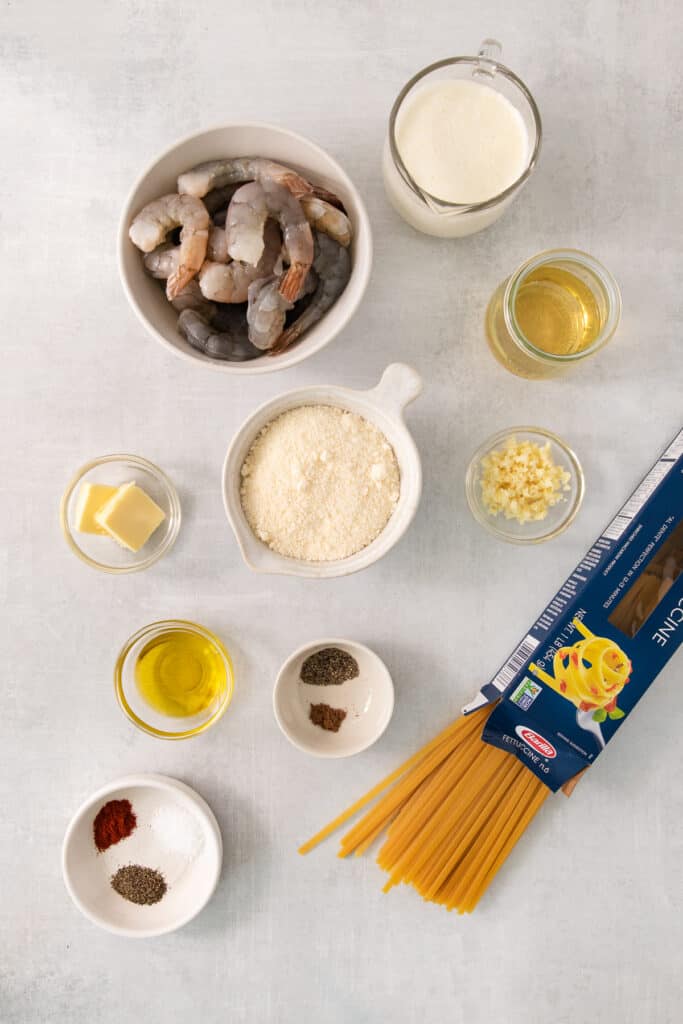 Featured Ingredients
Fettuccine noodles: we kept it classic and used fettuccine pasta, but you're welcome to use your favorite noodle.
Shrimp: for this recipe, be sure to use large or jumbo raw shrimp that are peeled and deveined.
Paprika: ​paprika adds a kick of spice to the shrimp for maximum flavor.
Butter: we used unsalted butter, so we didn't have to use as much salt. If you use salted, be sure to add salt to taste.
Garlic: garlic makes a flavorful base for the pasta sauce.
Dry white wine: we used the wine to deglaze the pan and add depth of flavor. Feel free to use more heavy cream or broth to substitute for the wine.
Heavy whipping cream: this is what makes the Alfredo sauce super creamy and delicious!
Grated parmesan cheese: we recommend using freshly grated parmesan cheese for the best flavor. Shredded or store-bought also works fine.
Nutmeg: nutmeg is great for balancing out all the savory flavors with a little nutty sweetness. You can omit if you aren't a fan.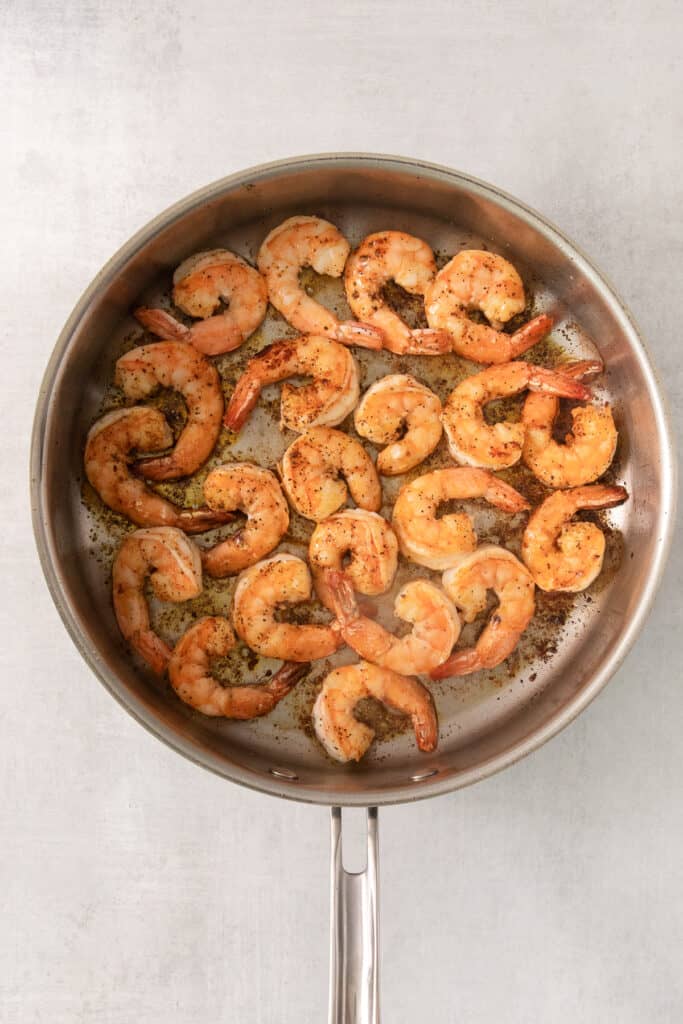 Top Tips for Perfect Shrimp Alfredo
Deglaze the Pan: After sautéing the garlic, be sure to deglaze the pan with white wine. This step is crucial to lift all the tasty, caramelized bits off the pan, enriching your Alfredo sauce with an incredible depth of flavor. Remember to scrape the bottom of the pan gently as the wine simmers.
Properly Season the Shrimp: Don't skimp on seasoning the shrimp with salt, pepper, and paprika before cooking. This not only gives the shrimp a flavorful crust but also infuses the Alfredo sauce with a depth of flavor.
Pasta Sauce Not Thick Enough? Check Out Our Guide!
Sometimes, even the most experienced cooks can end up with a watery pasta sauce. But have no fear — we have three different ways that you'll be able to thicken your sauce and make it nice and creamy!
Our guide: How to Thicken Pasta Sauce (3 Ways), will have your dish looking and tasting great in no time.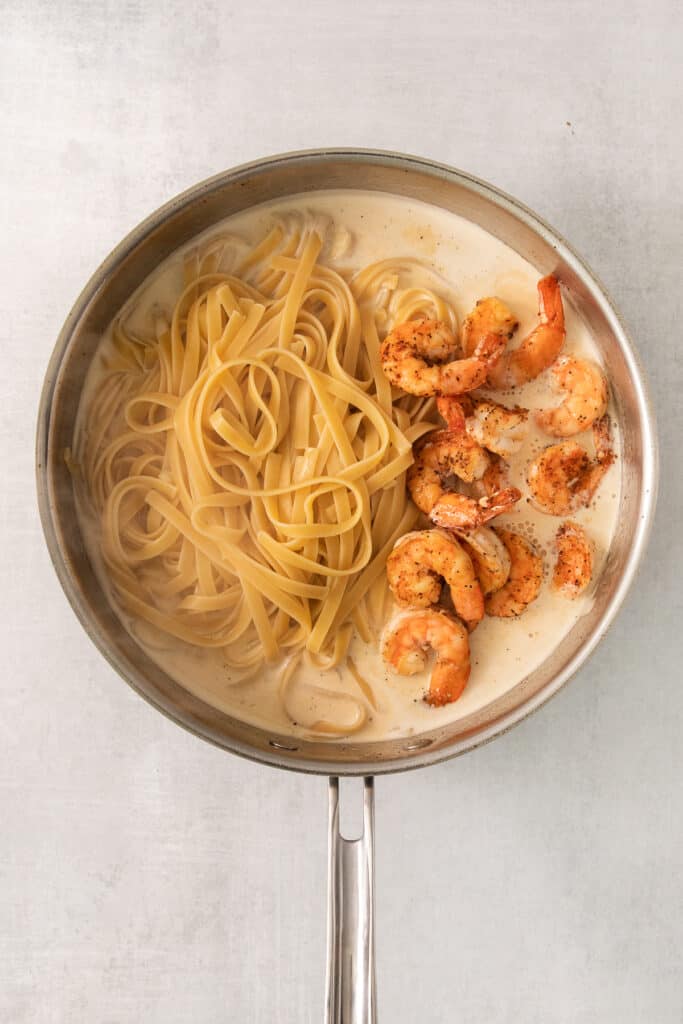 FAQs
How can I add flavor to shrimp alfredo?

You can get creative with this easy shrimp alfredo recipe by adding your favorite spices. Whether you're a fan of garlic powder, red pepper flakes, cayenne pepper, Italian seasoning, dried oregano, dried thyme, or onion powder—you can customize this dish to fit any taste preference! 
Can you reheat shrimp alfredo?

While reheating fish can sometimes be a tricky affair, in this case, you can totally reheat your shrimp Alfredo without any worries. Simply heat it all up over low heat on the stove, adding a bit of milk if necessary to make it creamy again.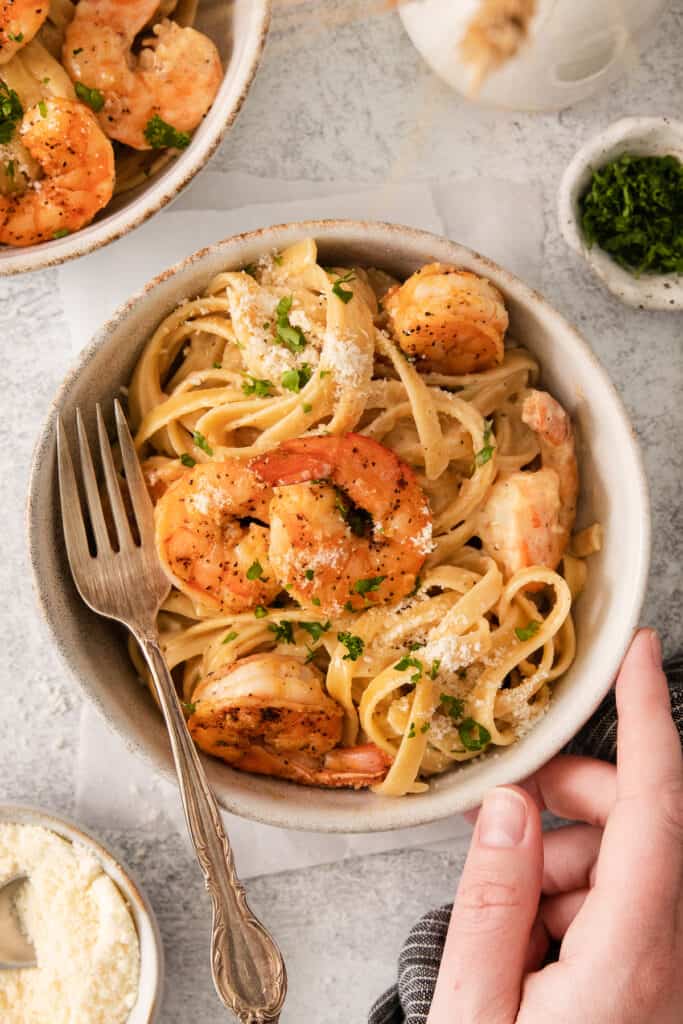 Storage
Allow the pasta to cool, then store your leftover shrimp alfredo in an airtight container in the refrigerator for 3-4 days.
To reheat: gently warm in a saucepan over low heat, adding a splash of milk or cream to loosen up the sauce if needed. You can also microwave it on a lower power setting, stirring periodically to ensure even heating.
Note that seafood dishes are typically best consumed when freshly prepared, as the shrimp may become tough upon reheating.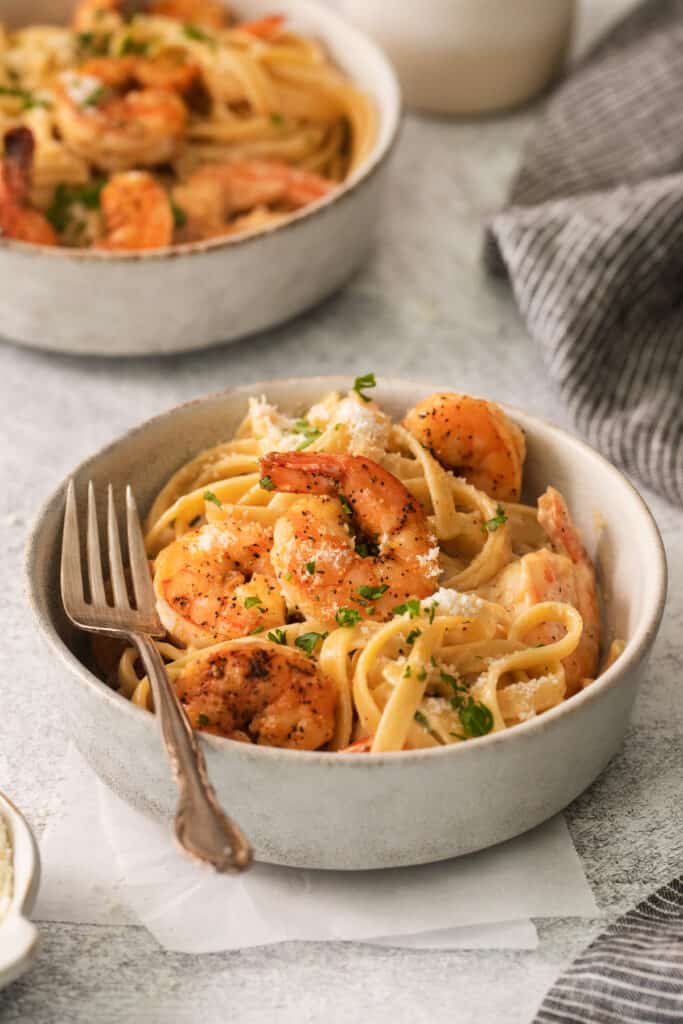 Serving Suggestions
Shrimp alfredo is a great pasta dish that'll pair with practically anything! If you're looking for a side dish to go along with your meal, we highly recommend our Cheesy Garlic Bread or this delicious Roasted Broccoli, Air Fryer Asparagus, or Fresh Zucchini Salad from our sister site, Fit Foodie Finds.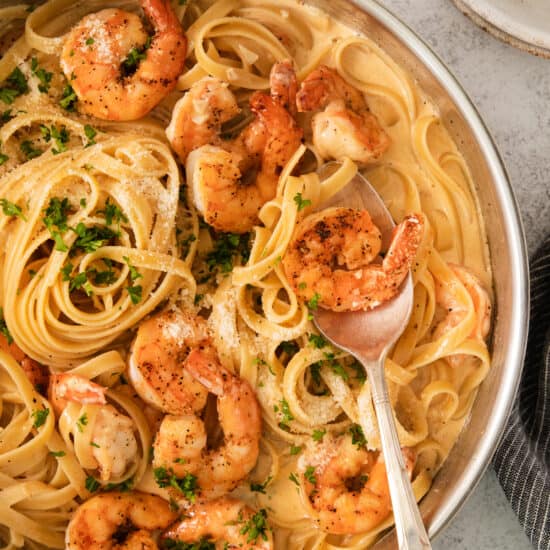 Creamy Shrimp Alfredo
This Creamy Shrimp Alfredo recipe combines seasoned shrimp with creamy Alfredo sauce over fettuccine, creating a flavorful, indulgent meal that's sure to impress.
Ingredients
8

oz.

fettuccine noodles

8

oz.

raw large or jumbo shrimp

peeled and deveined

1

teaspoon

salt

divided

½

teaspoon

ground black pepper

½

teaspoon

paprika

2

tablespoons

unsalted butter

2

tablespoons

olive oil

divided

4

garlic cloves

minced

½

cup

dry white wine

1

cup

heavy whipping cream

1

cup

grated parmesan cheese

1

teaspoon

fresh cracked black pepper

¼

teaspoon

ground nutmeg
Instructions
Bring a large pot of salted water to a boil. Cook the noodles according to the package instructions. Drain and set aside.

Season the shrimp with ½ teaspoon of salt, pepper, and paprika.

In a large nonstick skillet, heat the butter and 1 tablespoon of olive oil over medium heat. When the butter has melted, add the shrimp and cook for 2-3 minutes or until the shrimp are fully cooked. Remove the shrimp and set aside.

Add the remaining olive oil to the pan and place over medium heat. Add the garlic and saute for 1 minute or until the garlic has started to brown. Deglaze the pan by adding wine and scraping across the bottom. Add the whipping cream and bring to a gentle simmer.

Next, add the remaining parmesan cheese, salt, and nutmeg. Stir occasionally to melt the parmesan cheese.

Add the noodles and shrimp to the Alfredo sauce and toss to combine.
Tips & Notes
More heavy cream or broth can be used to substitute for the wine.
Nutrition facts
Calories:
478
kcal
Carbohydrates:
32
g
Protein:
19
g
Fat:
29
g
Fiber:
1
g
Sugar:
2
g