These cream cheese brownies have a chewy brownie bottom and a delicious cheesecake top that will leave you wanting more! They are great for any occasion.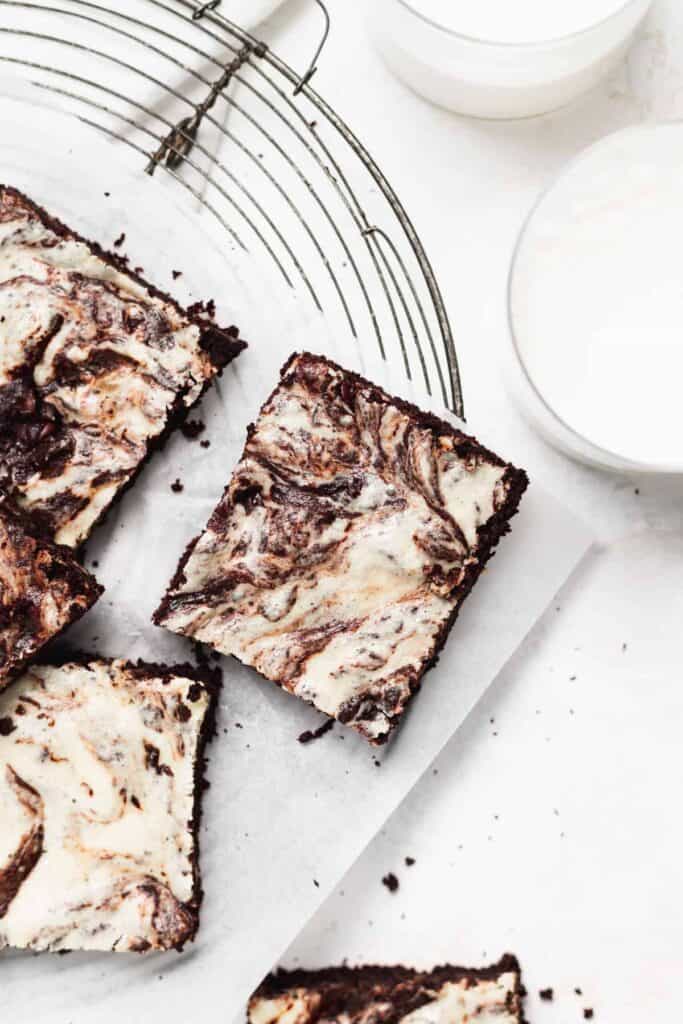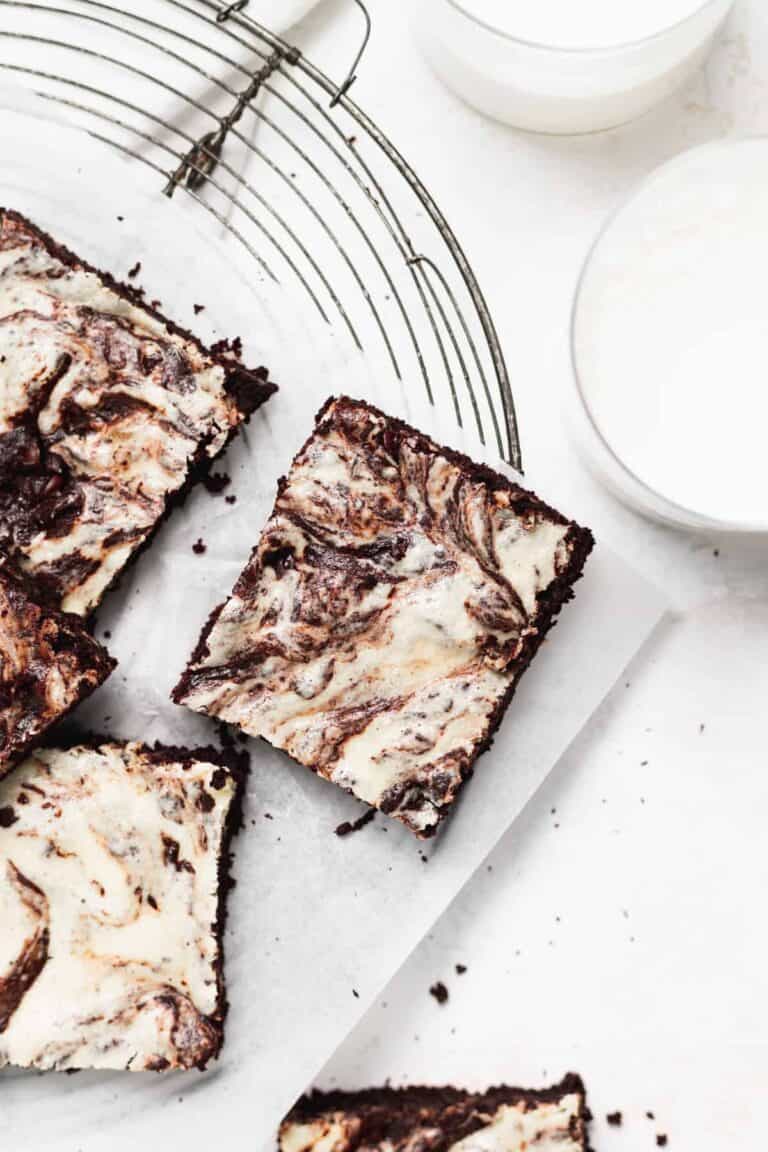 The Gooiest Cream Cheese Brownies
Get ready to have one of the best brownies of your life! Is there anything better than two delicious desserts (cheesecake + brownies) joining forces and creating the best dessert of all time—> cream cheese brownies.
These cream cheese brownies have two layers. The first layer is a delicious chewy brownie that is chewy and chocolatey. The second layer is a cheesecake topping that is swirled just right into the brownie batter creating a gorgeous and tasty combination.
How to soften cream cheese
Looking for a quick method to soften cream cheese? Check out our post – How to Soften Cream Cheese – 4 Ways! Here you'll learn 4 unique (and quick!) methods to soften cream cheese to the perfect amount for baking and cooking.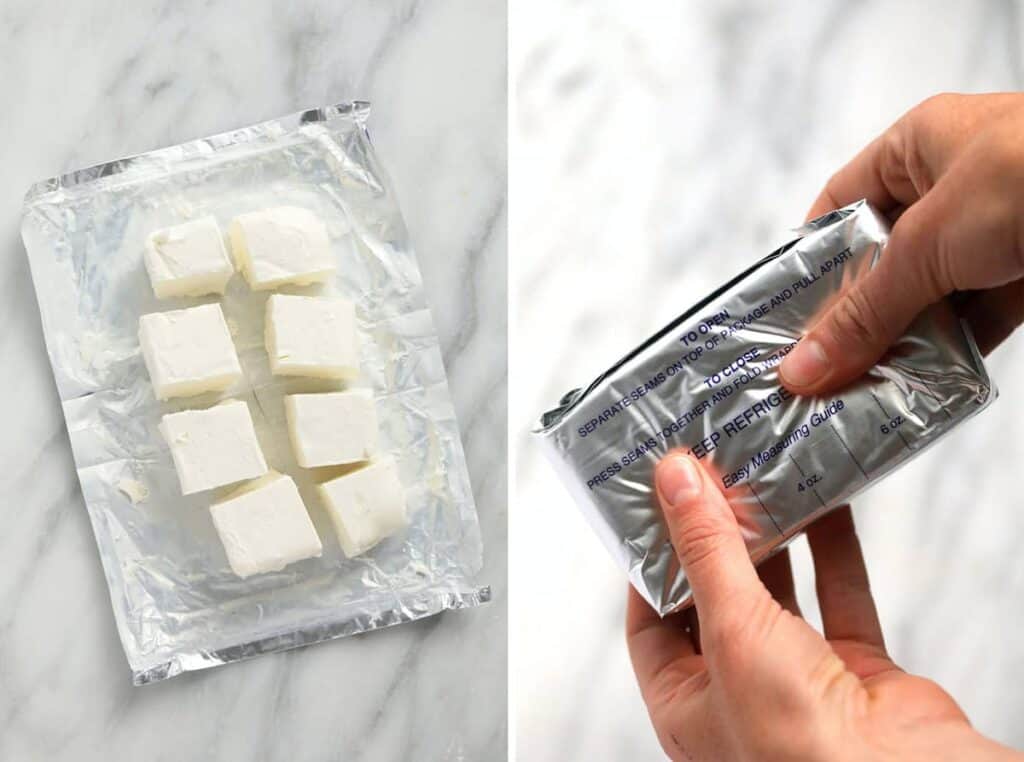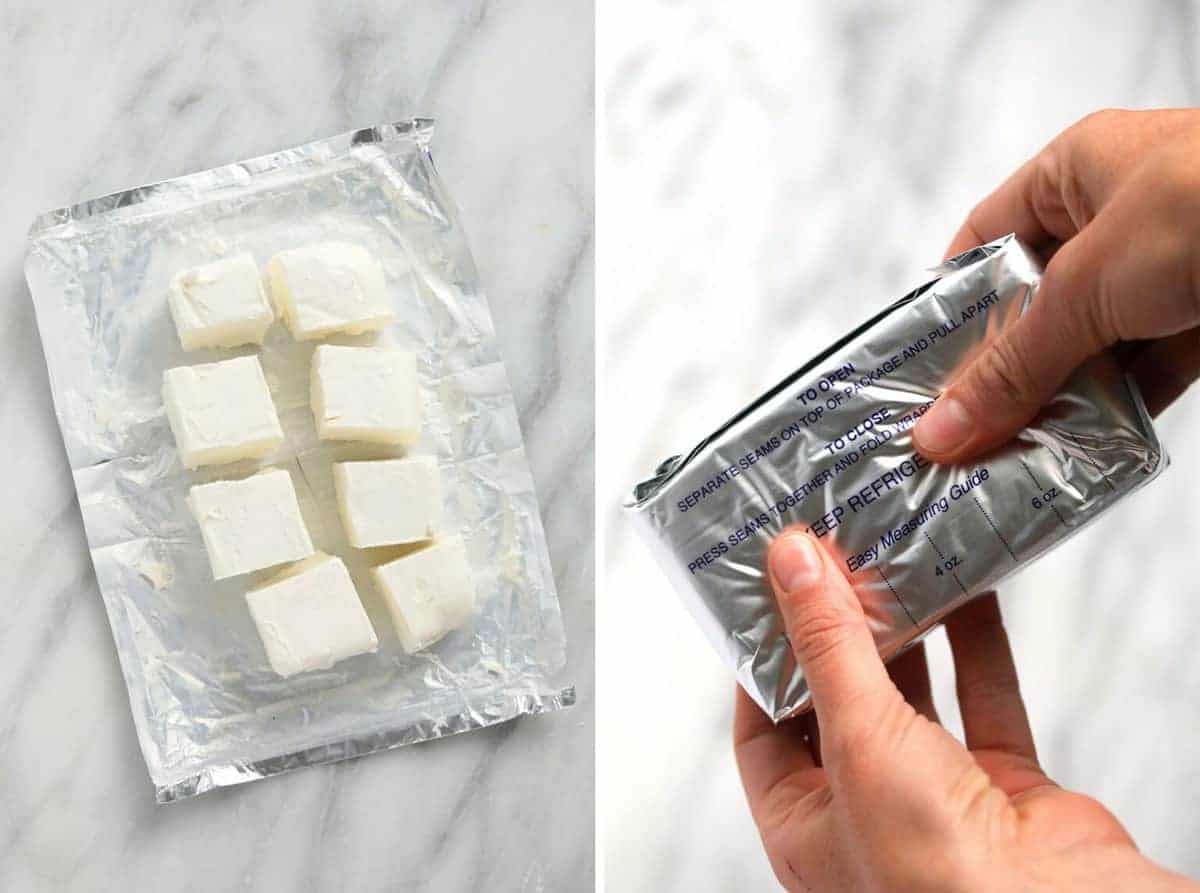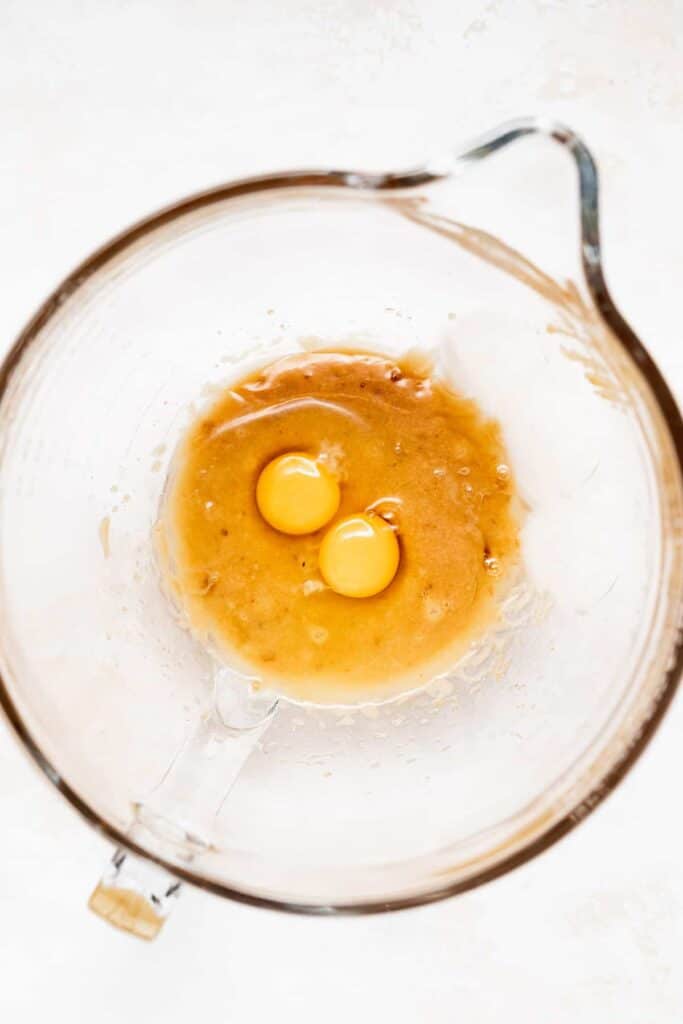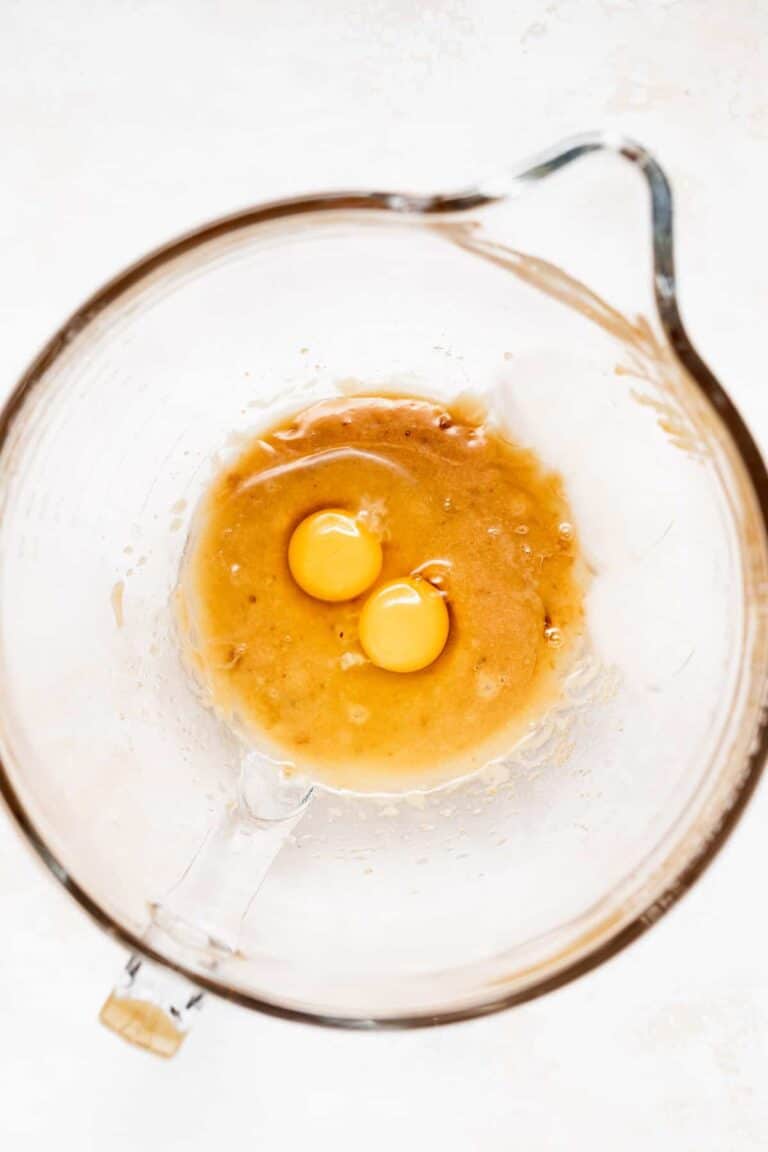 Ingredients you Need
You only need 9 ingredients to whip up a batch of these cream cheese brownies! Here is everything you'll need and some simple substitution options.
Cocoa powder- You can't have brownies without chocolate! We use cocoa powder. Feel free to use any unsweetened cocoa powder or make them a little more decadent and use a dark unsweetened cocoa powder.
Flour– You can use all-purpose flour or white whole wheat flour for these brownies!
Unsalted butter– Unsalted butter when baking!
Light brown sugar– We prefer light brown sugar in these brownies. Don't forget to pack the sugar when you measure it!
Large eggs– There are 2 eggs in the chocolate portion of these brownies and 1 egg in the cheesecake top! Use large eggs, not jumbo or medium.
Semi-sweet chocolate chips– The chocolate chips in this brownie recipe help to make them fudgy and delicious. You melt a portion of the chocolate chips and fold them into the batter. The rest of the chocolate chips stay chips so you get little chocolate chunks in every bite.
Vanilla extract– Don't forget the vanilla in the cream cheese layer!
Cream cheese– You use 8-oz. of cream cheese for the cream cheese top! Make sure it's softened, it will be easier to swirl.
Sugar– White granulated sugar is what you use to sweeten up the cheesecake top of these brownies. You don't need much!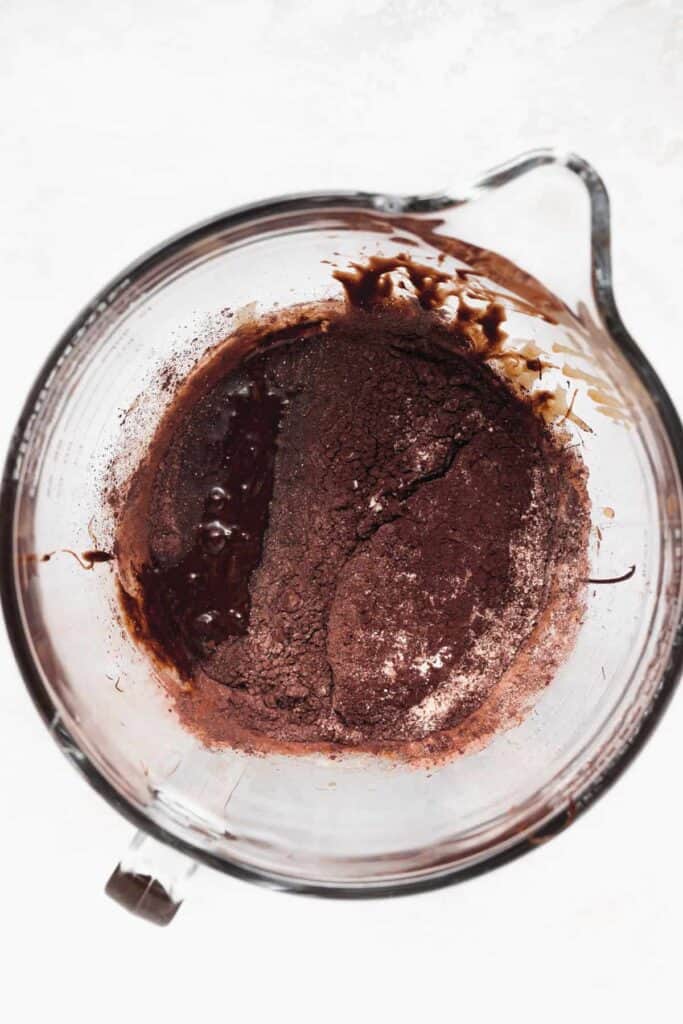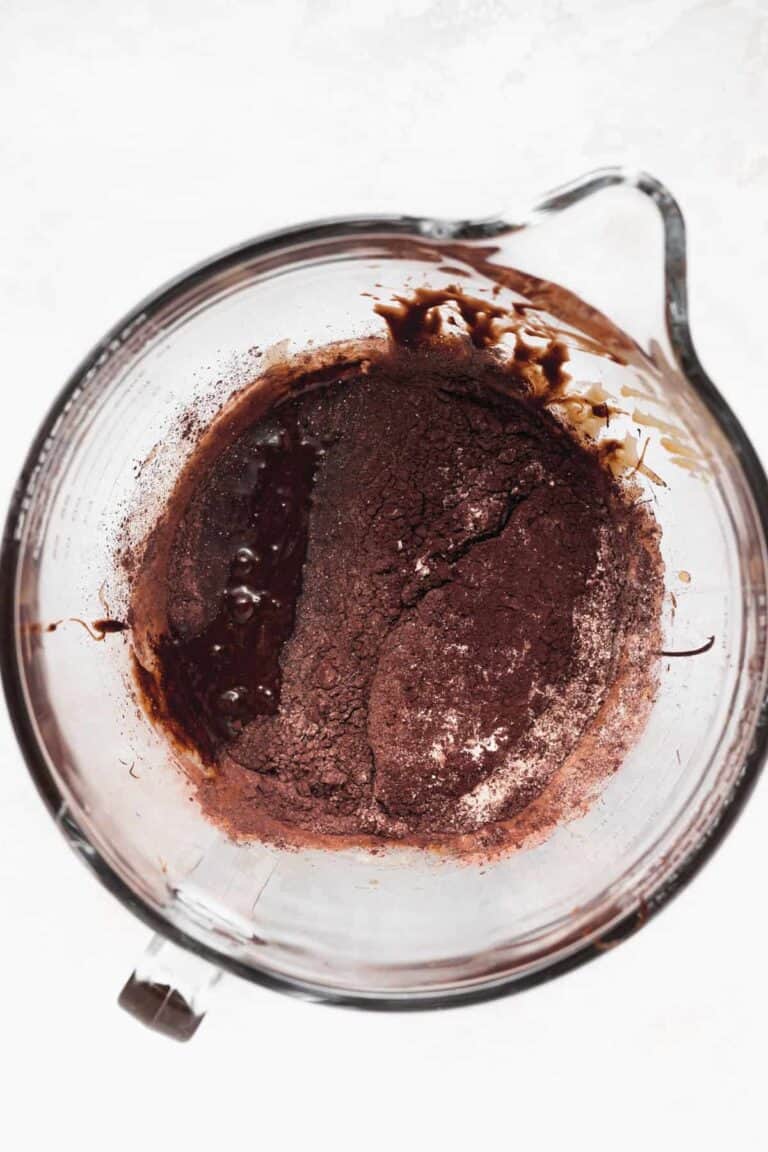 Brownie Layer
These brownies have a delicious chocolate bottom layer that is the epitome of what a brownie should be—> chewy and chocolate.
Here's how you make the brownie layer for these cream cheese brownies.
Whisk the flour and cocoa powder together and set them aside for later.
You cream the butter and brown sugar together first with an electric mixer! You want to cream these two ingredients together until there are no lumps before adding the eggs.
Mix the eggs into the butter and sugar and just until combined! Be sure not to overbeat the eggs. You don't want a dense brownie.
In another bowl, melt 3/4 cup of chocolate chips by heating them in the microwave for 30-second increments. Stir after each 30-second increments until smooth.
Add the melted chocolate to the butter mixture and fold everything together. Add a little of the flour/cocoa mixture to the bowl, mix to combine, and then add the rest and mix on low until combined. Fold in chocolate chips.
Transfer the batter to an 8×8-inch greased pan.
fun mix-ins!
If you want to elevate these brownies to another level try substituting a portion of the chocolate chips with:
butterscotch chips
peanut butter chips
milk chocolate chips
M&M's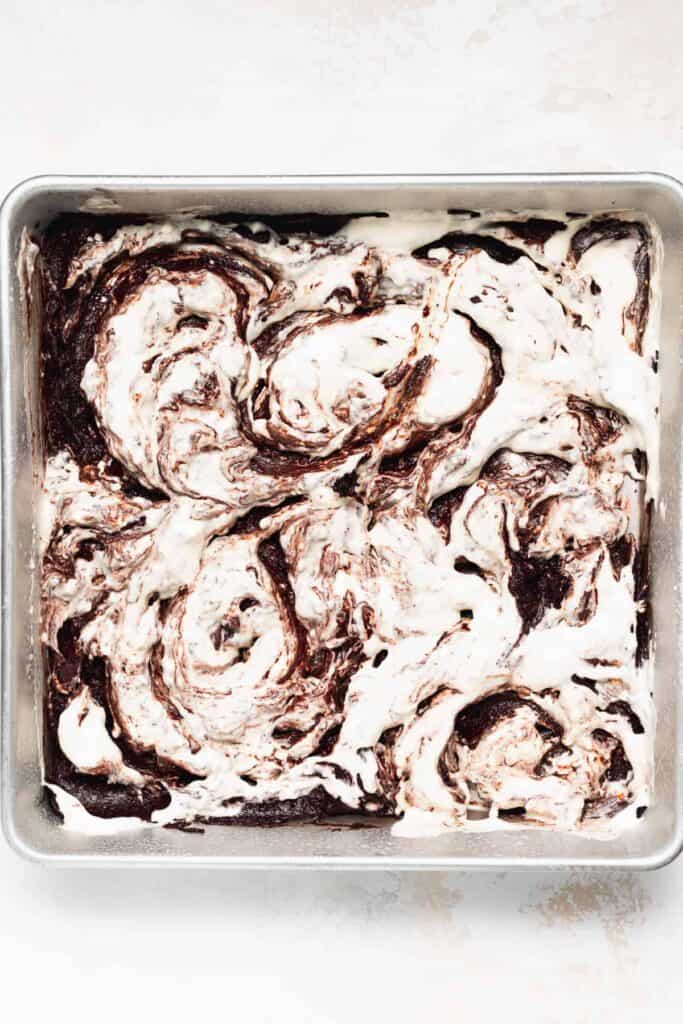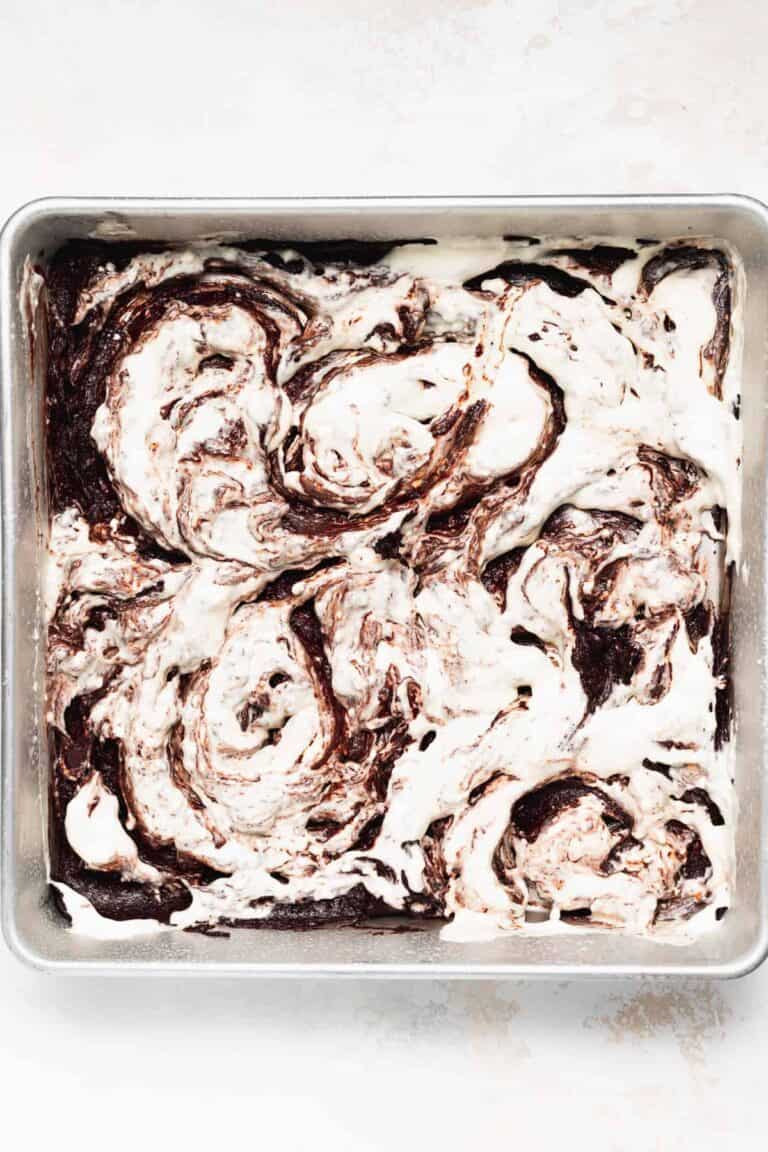 Cream Cheese Layer
The cream cheese layer goes right on top of the brownie layer and gives a delicious cheesecake texture to the tops of these brownies.
Here is how to mix the cream cheese layer.
Be sure your cream cheese is softened before adding it to a large bowl with the sugar and the egg.
Next, beat all the ingredients together until light and fluffy.
Pour the cream cheese mixture over the brownie batter.
Use a toothpick or knife to carefully swirl the cream cheese topping with the brownie bottom.
Bake at 350ºF for 22-25 minutes!
Latest Cream Cheese Desserts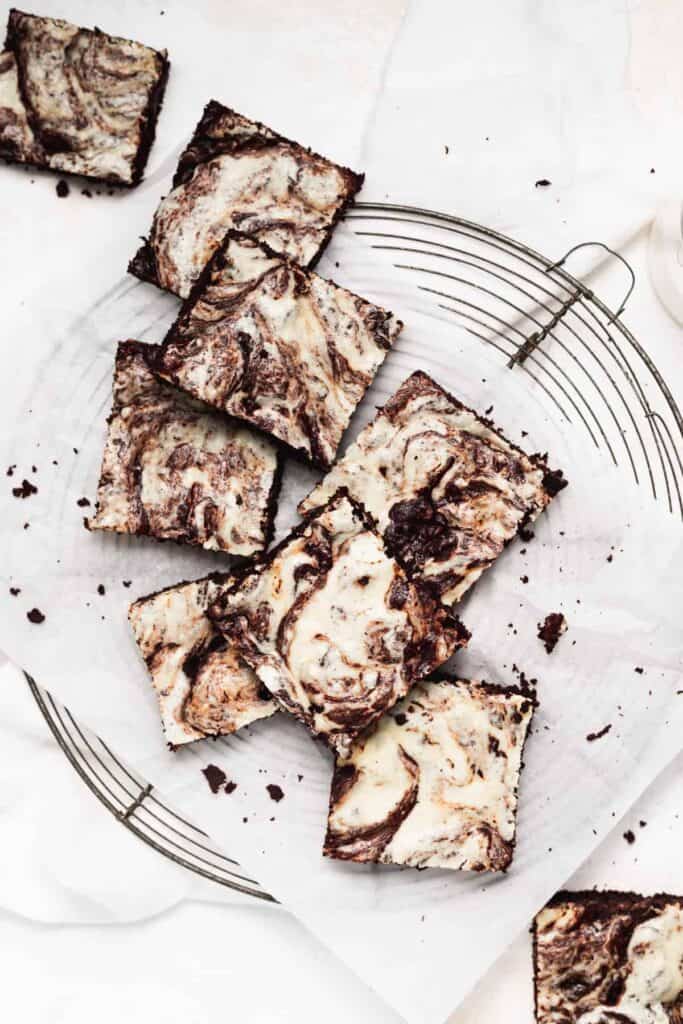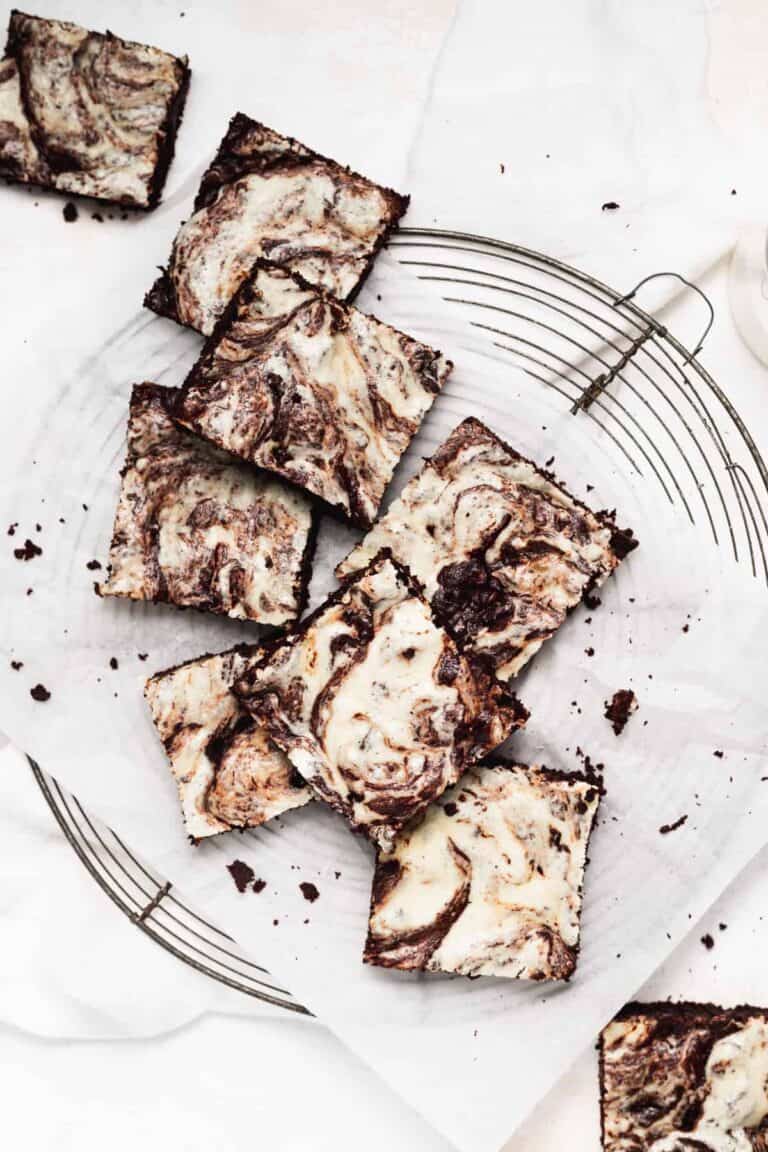 Cream Cheese Brownies Tips + Tricks
Servings Suggestions
These cream cheese brownies are delicious on their own, but you can elevate these brownies with a few different side kicks.
Fresh raspberries or strawberries
Serve them warm with a scoop of vanilla ice cream
Drizzle them with a little caramel sauce or hot fudge
Serve them with a cup of coffee, tea, or milk
How do you cut brownies cleanly?
To cut brownies so they still look neat after you slice them up, wait until they are cooled before cutting into them.
Make your first cut into the brownies and carefully wipe the knife with a paper towel or dish towel before making another cut. Repeat until your brownies are perfect squares.
Storage
After these brownies have cooled completely keep them in a ziploc bag or air tight container and store them in the refrigerator for up to 1 week.
Can you freeze cream cheese brownies?
Yes, you can freeze these cream cheese brownies. Let them cool completely and then store place them in a freezer safe plastic bag. Place them in the freezer for up to 3 months.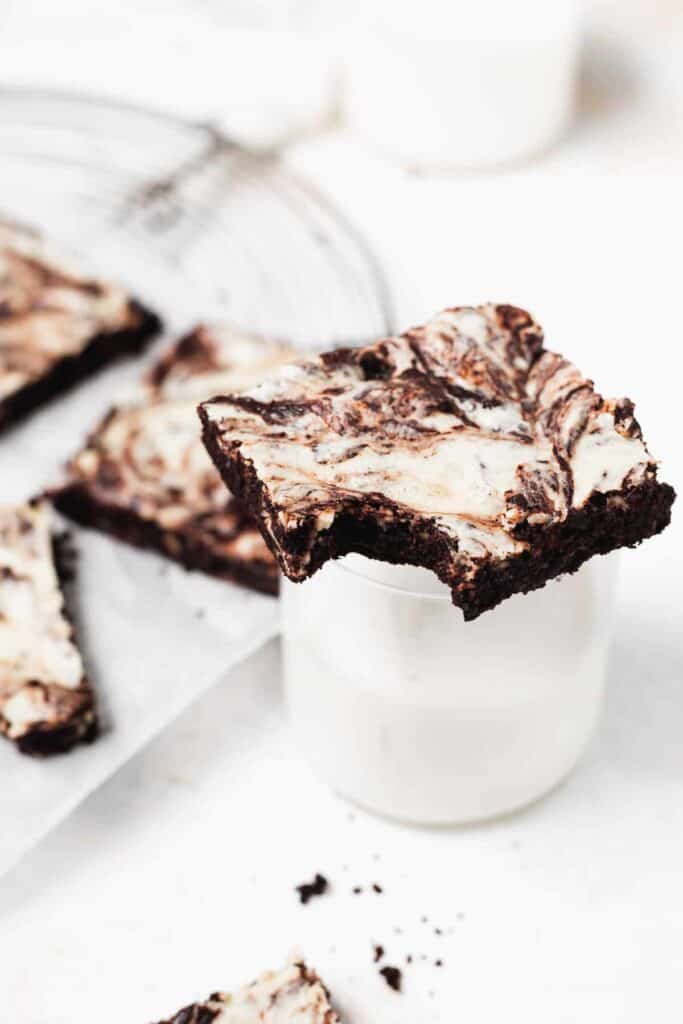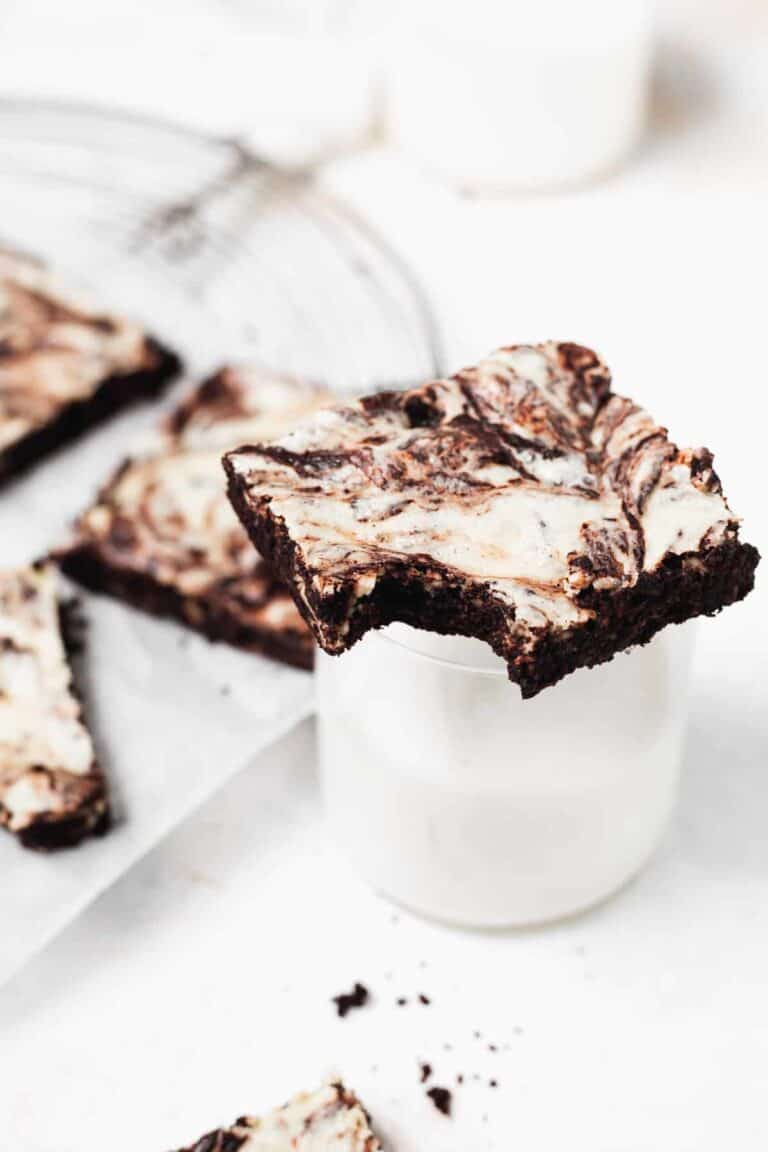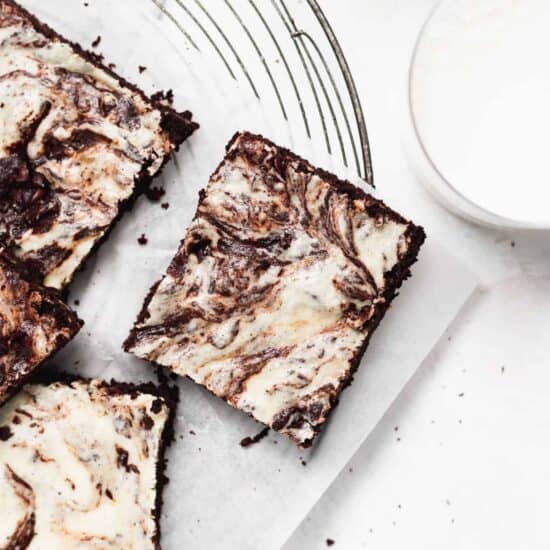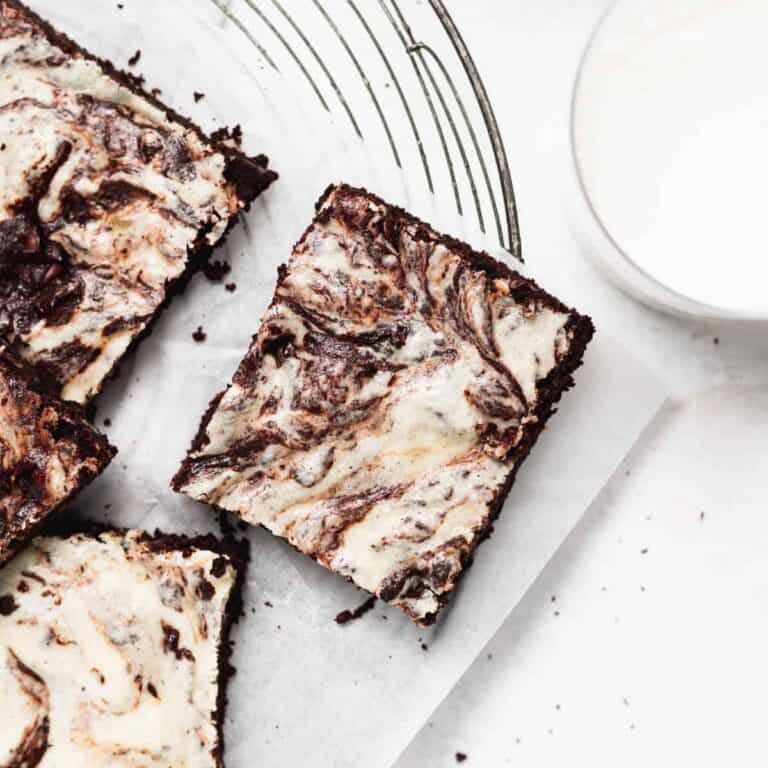 Cream Cheese Brownie Recipe
These delicious cream cheese brownies have a chewy brownie layer and a delicious creamy cream cheese layer. You'll be tempted to eat the whole pan! 
Ingredients
Chocolate Layer
1/2

cup

cocoa powder

1/2

cup

white whole wheat flour

1/2

cup

unsalted butter

melted (or 3/4 cup coconut oil)

3/4

cups

light brown sugar

packed

2

large eggs

1

cup

semi-sweet chocolate chips

separated

2

teaspoons

vanilla extract
Cream Cheese Layer 
8

oz.

cream cheese

softened

3

tablespoons

sugar

1

large egg
Instructions
Preheat the oven to 350º and spray an 8×8-inch aluminum cake* pan with non-stick cooking spray. 

In a medium-sized bowl mix together cocoa powder and white whole wheat flour and set aside.  

Next, add melted butter and brown sugar to a large bowl and use a handheld mixer to mix together on medium/low (using an electric mixer is important).

In a separate small bowl, add 3/4 cup of chocolate chips and melt them in the microwave on high for 15 second intervals, stirring and repeating until the chocolate chips are melted. Set aside. 

Crack the eggs into the bowl with the butter and sugar mixture and mix on low with a mixer until the eggs are combined.

Add melted chocolate chips and vanilla to the butter mixture and mix on low until all the ingredients are mixed together. 

Slowly add the flour and cocoa powder mixture to the bowl with the chocolate mixture and mix on low until combined. 

Finally, fold in the remaining 1/4 cup chocolate chips. 

Transfer the brownie batter into the greased 8×8-inch baking pan and set aside.

Next, prepare the cream cheese layer. Place the softened cream cheese, sugar, and egg into a mixing bowl and mix with an electric mixer until smooth. 

Pour the cream cheese mixture over the brownie batter and swirl the two together with a toothpick or a knife so that the two batters are swirled together, but not mixed together. 

Bake the brownies at 350ºF for 22-25 minutes or until you do the toothpick test and it comes out clean.

Remove from the oven and let the brownies sit for 10-15 minutes before removing them from the pan. 
Tips & Notes
Make sure to use an aluminum cake pan, not a ceramic baking dish.
Nutrition facts
Calories:
441
kcal
Carbohydrates:
44
g
Protein:
5
g
Fat:
28
g
Fiber:
4
g
Sugar:
19
g