This chocolate cream cheese frosting is a smooth and creamy frosting that sets up firm and ends up a little bit fudge-like. It is absolutely delicious on cupcakes or cakes, and other delicious desserts.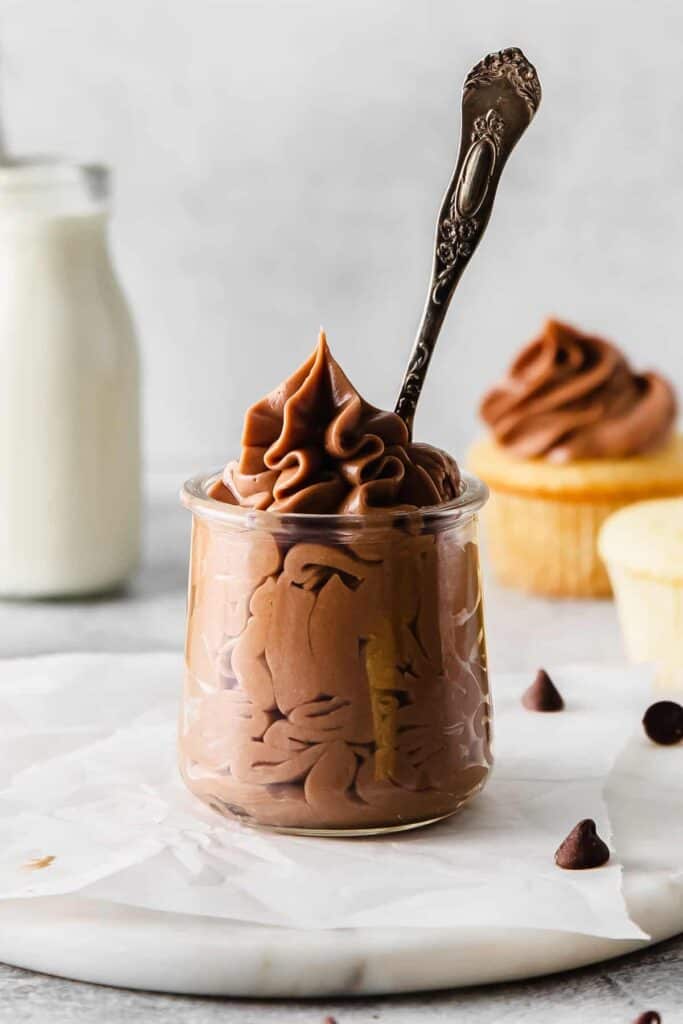 Perfect Chocolate Cream Cheese Frosting
If you have a cake, cupcakes, or brownies to frost don't go any further. This delicious and decadent chocolate cream cheese frosting is absolutely amazing. This frosting tastes like pure heaven.
We use cream cheese, butter, and melted chocolate to create a silky cream cheese frosting that you can use to top any of your favorite deserts.
a few tips + tricks before starting
Be sure you start with softened cream cheese and butter. It makes a huge difference.
This recipe makes enough frosting to frost 12 cupcakes, a 13×9 sheet cake, or an 8" two-layer cake.
This frosting is delicious with a sprinkle of flakey sea salt.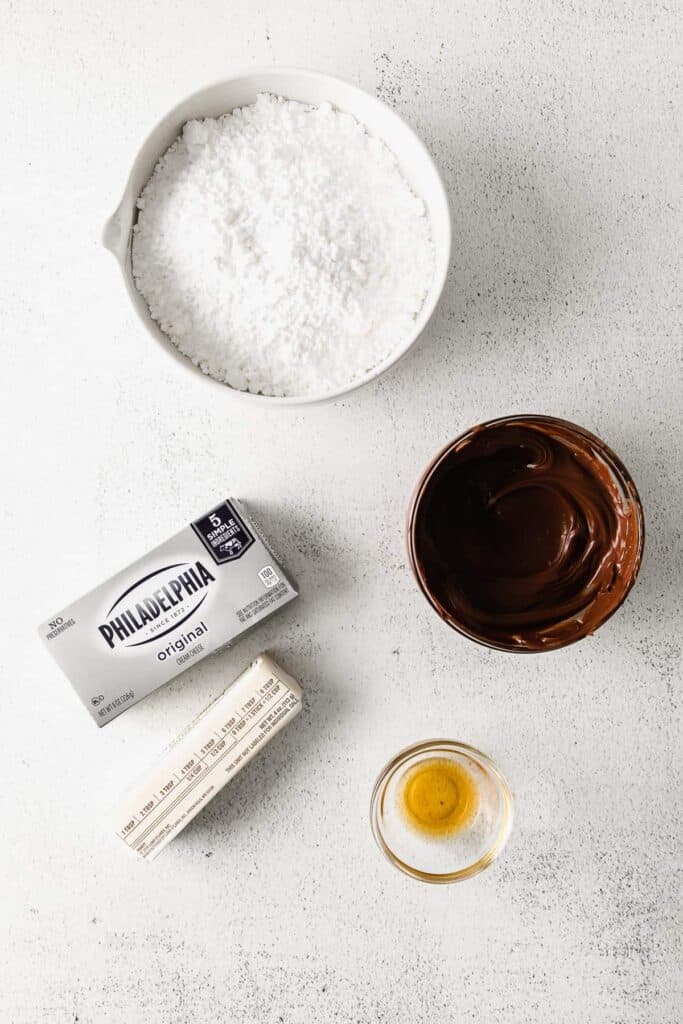 Chocolate Cream Cheese Frosting Ingredients
Full-fat cream cheese- I'm using full fat cream cheese in this recipe– make sure it's fully softened so you don't end up with lumps in your frosting.
Butter- Butter helps give the frosting structure. Make sure your butter is fully softened as well!
Powdered sugar- this ingredient gives the frosting structure– if your powdered sugar has lumps, you can sift it to remove any large pieces.
Semi sweet chocolate- We prefer to use melted chocolate over unsweetened cocoa powder. I'm using semi-sweet chocolate in this recipe but you can use any kind of chocolate you like!
Vanilla extract- Vanilla enhances the flavor of the chocolate in the frosting.
Want to elevate this recipe? Add a pinch of salt to the frosting to bring out all of the best flavors.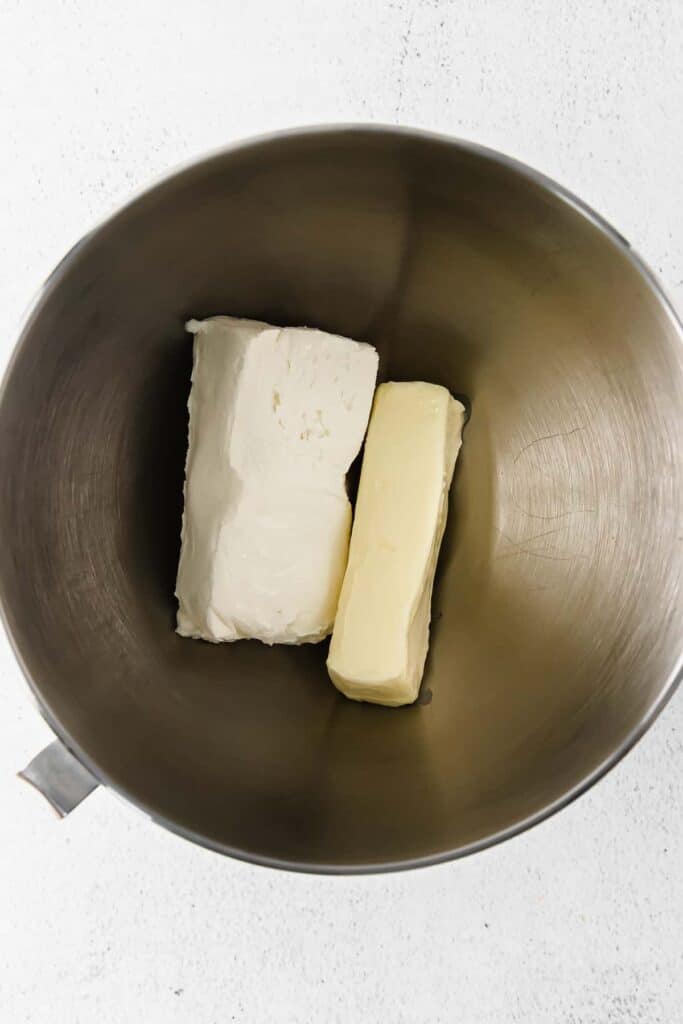 How to Make Cream Cheese Frosting
This chocolate frosting is oh so easy to make! Grab your stand mixer and ingredients, and you're all ready.
GRAB YOUR STAND MIXER
We suggest using a standing electric mixer and a large bowl. Place softened block cream cheese and softened butter into a large stand mixer and beat on high using the whisk attachment until smooth and creamy.
TIME FOR POWDERED SUGAR
Next, slowly add 1 cup of powdered sugar to the bowl at a time and beat on low speed. Slowly add the rest of the powdered sugar and beat on low to combine.
Pro tip: beating on low will avoid a cloud of powdered sugar in your kitchen!
Add the melted Chocolate
Add the melted chocolate and vanilla into the cream cheese mixture and whip until smooth.
WHIP IT ALL TOGETHER
Finally, beat the chocolate cream cheese frosting together for 2-3 minutes on high until the cream cheese frosting can hold its form. The frosting should be a thicker consistency.
FROST TO YOUR HEART'S CONTENT!
You can pipe this frosting, or frost with a knife on to desserts. OR, no one's judging if you want to dip graham crackers or cookies right in the bowl of frosting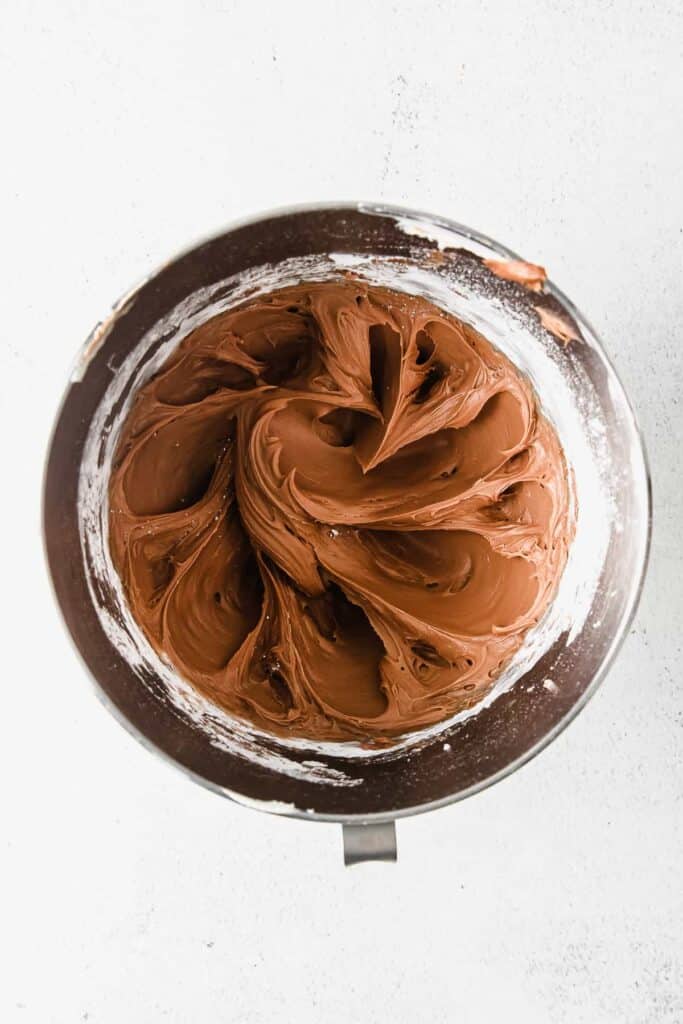 How to Pipe Cream Cheese Frosting
If you're hoping to pipe this frosting, we suggest chilling it in the refrigerator for at least 30 minutes prior to piping to help firm it up a bit.
This will also help it retain its shape on your desserts once its piped. Don't have a piping bag and tip? Fill a Ziploc bag with your frosting, and cut one corner off to your desired piping thickness.
pro tip
Because cream cheese is much more firm when refrigerated, this frosting won't be as stable as a buttercream or other more dense frostings at room temperature.
How to Store Frosting
This chocolate cream cheese frosting will keep in the refrigerator for up to 5 days when stored in an airtight container.
Hoping to freeze frosting? This frosting will keep in an air tight container in the freezer for up to 3 months. Once thawed, make sure to whip in a stand mixer briefly to regain the texture you're looking for.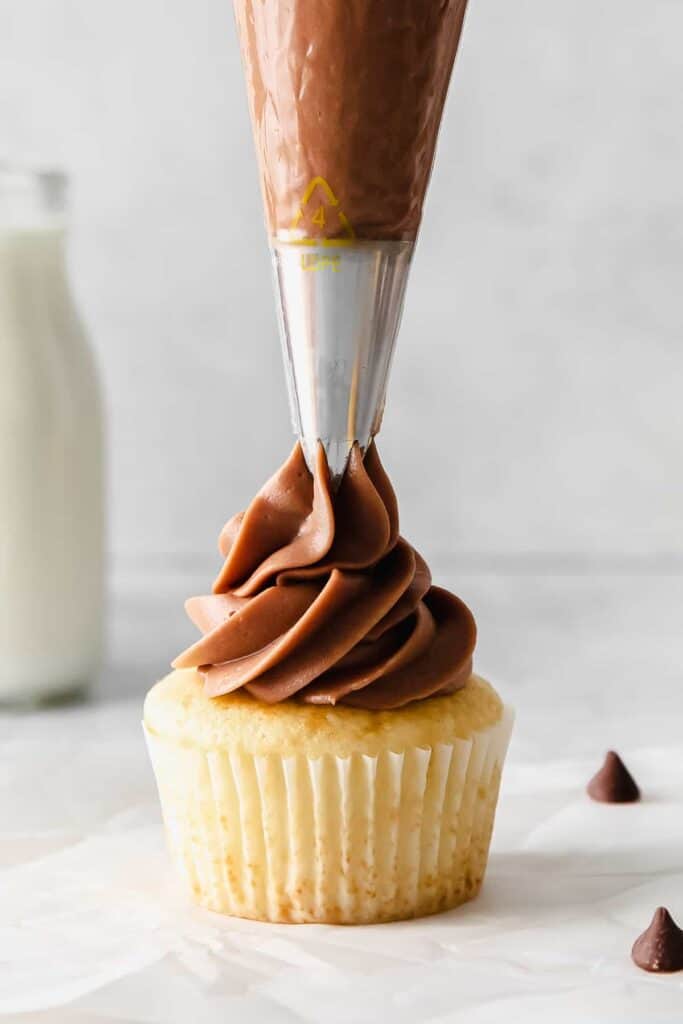 How to Use Chocolate Cream Cheese Frosting
The perfect chocolate cream cheese frosting isn't super sweet, but it packs a little bit of tangy deliciousness and is super creamy!
This frosting is just that, and can be used for anyyyy of the following: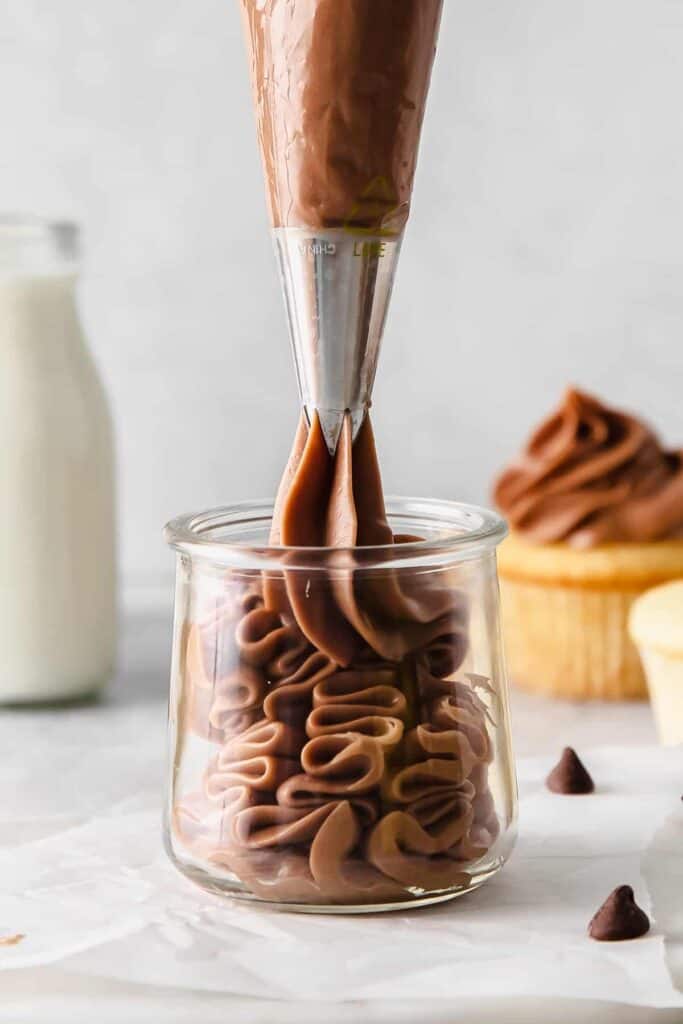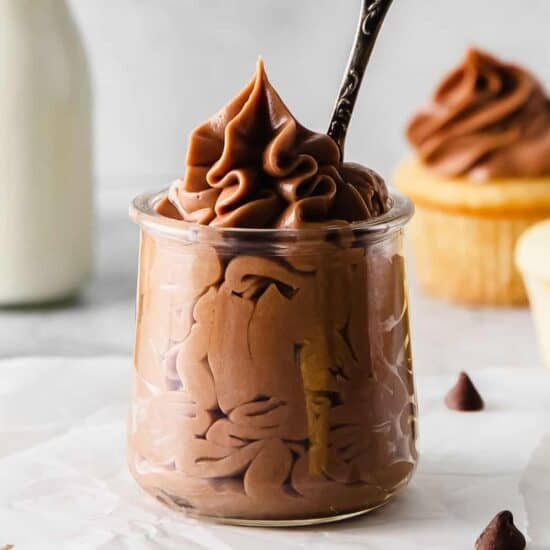 Chocolate Cream Cheese Frosting Recipe
This recipe for chocolate cream cheese frosting can be used on cupcakes, cakes, brownies, or other chocolate baked goods.
Ingredients
8

oz.

cream cheese

softened

1/2

cup

unsalted butter

softened

2.5

cups

powdered sugar

6

ounces

chopped chocolate

melted and cooled

1

teaspoon

pure vanilla extract
Instructions
Add the cream cheese and butter to the bowl of a stand mixer fitted with the paddle attachment. Beat on medium speed until well combined-- about 1 minute. 

With the mixer on low, slowly add the powdered sugar and mix until all of the powdered sugar is incorporated. 

Next, add the melted chocolate and vanilla extract. 

Beat on medium speed until the frosting becomes light and fluffy-- about 2 minutes. Make sure to scrape down the sides of the bowl as needed. 

Transfer the frosting to a piping bag fitted with your choice of tip and use as desired
Tips & Notes
This recipe makes enough frosting to frost 12 cupcakes, a 13x9 sheet cake, or an 8" two-layer cake. 

This frosting is delicious with a sprinkle of flakey sea salt.
Nutrition facts
Calories:
254
kcal
Carbohydrates:
36
g
Protein:
2
g
Fat:
11
g
Fiber:
0
g
Sugar:
35
g