These cheeseburger sliders are made completely in a baking dish and served with cheddar cheese and Hawaiian rolls.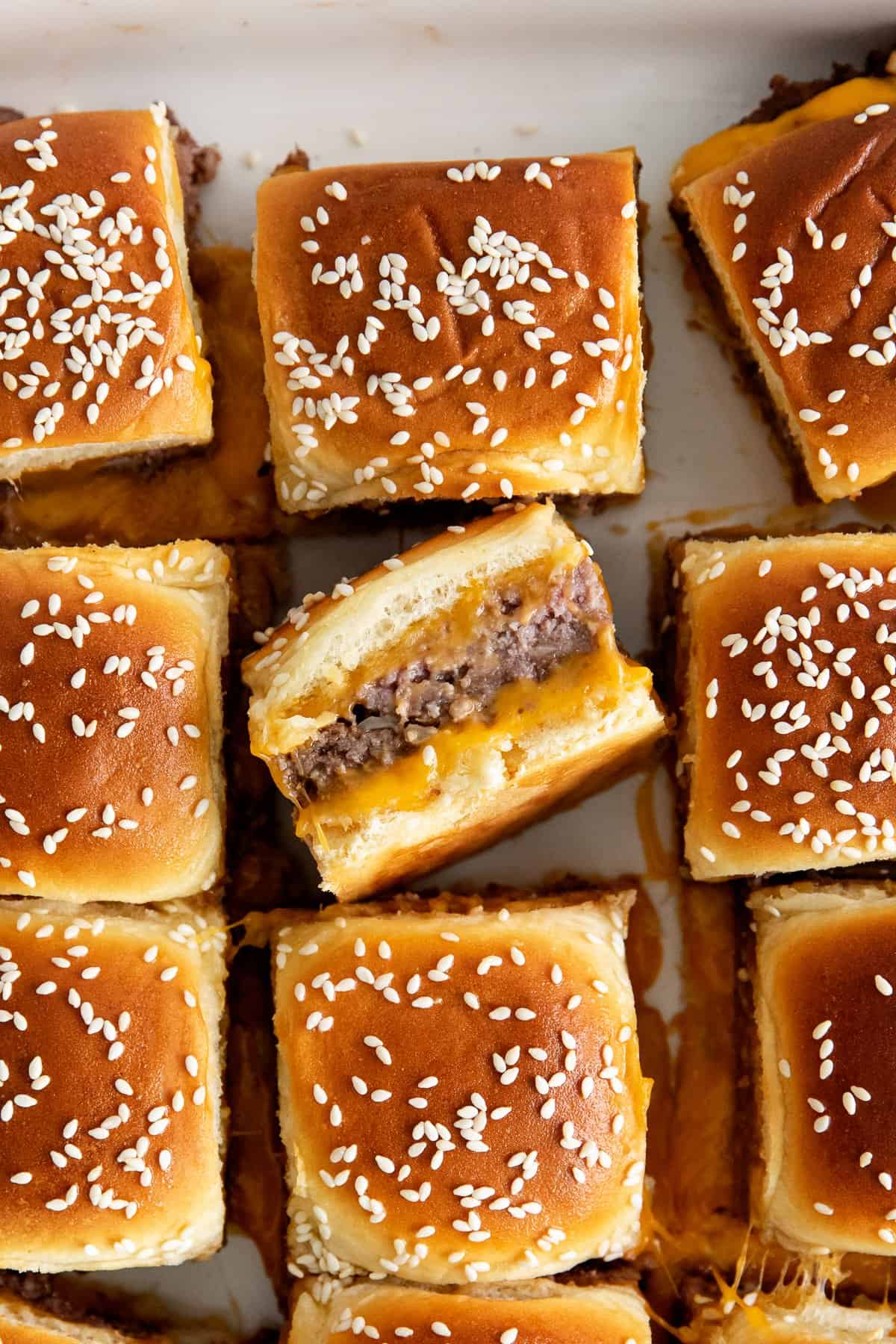 Hawaiian Roll Cheeseburger Sliders
You are going to absolutely love how tasty and easy these cheeseburger sliders recipe is to make.
They're assembled in a casserole dish with one giant hamburger patty and then baked in between Hawwian rolls with cheddar cheese. Does it get much easier than that?
Serve them up on game day or as a quick-and-easy dinner and your family and friends will be so happy!
Why you'll love them!
Easy to make
Serves a crowd
Perfect app or main meal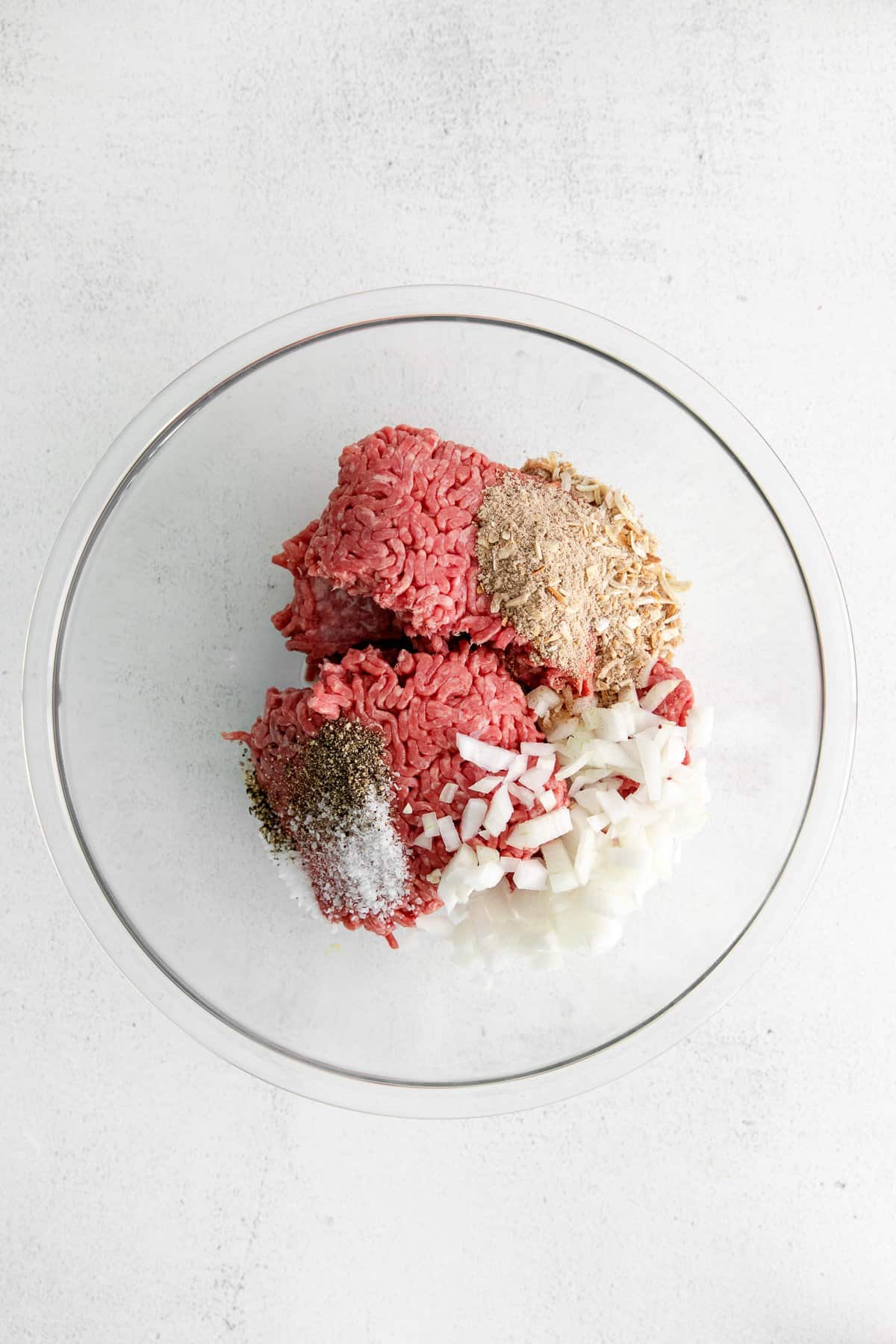 Featured Ingredients
Ground beef: we're keeping things classic with ground beef. If you decide to use another ground meat, be aware that chicken and turkey do not have as much fat and you will likely need to supplement.
Onion: onion adds a burst of flavor to the burger meat.
Onion soup packet: want to add a flavor blast to your burgers without a lot of effort? Cue: onion soup packet!
Milk: milk is used to keep the ground beef from drying out.
Hawaiian rolls: we sweat by Hawaiian rolls. We love how sweet they are and how they compliment this cheeseburger sliders recipe.
Cheddar cheese: we're keeping things classic and serving these sliders with slices of cheddar cheese.
Optional: sesame seeds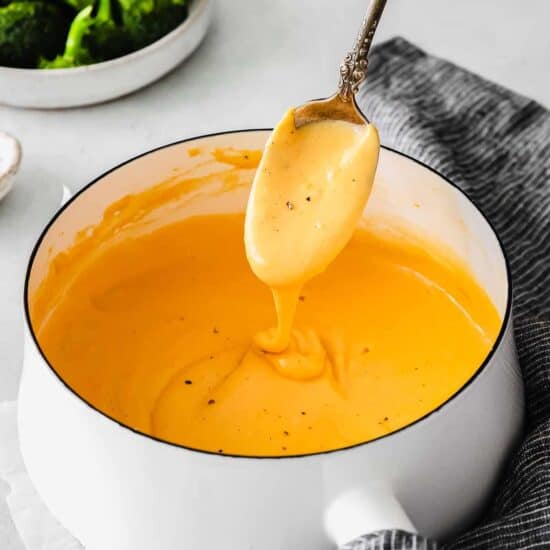 Get More
Cheddar Cheese Recipes
Looking for more recipes with cheddar cheese? Check out our cheesy collection of cheddar cheese recipes.
Get Recipes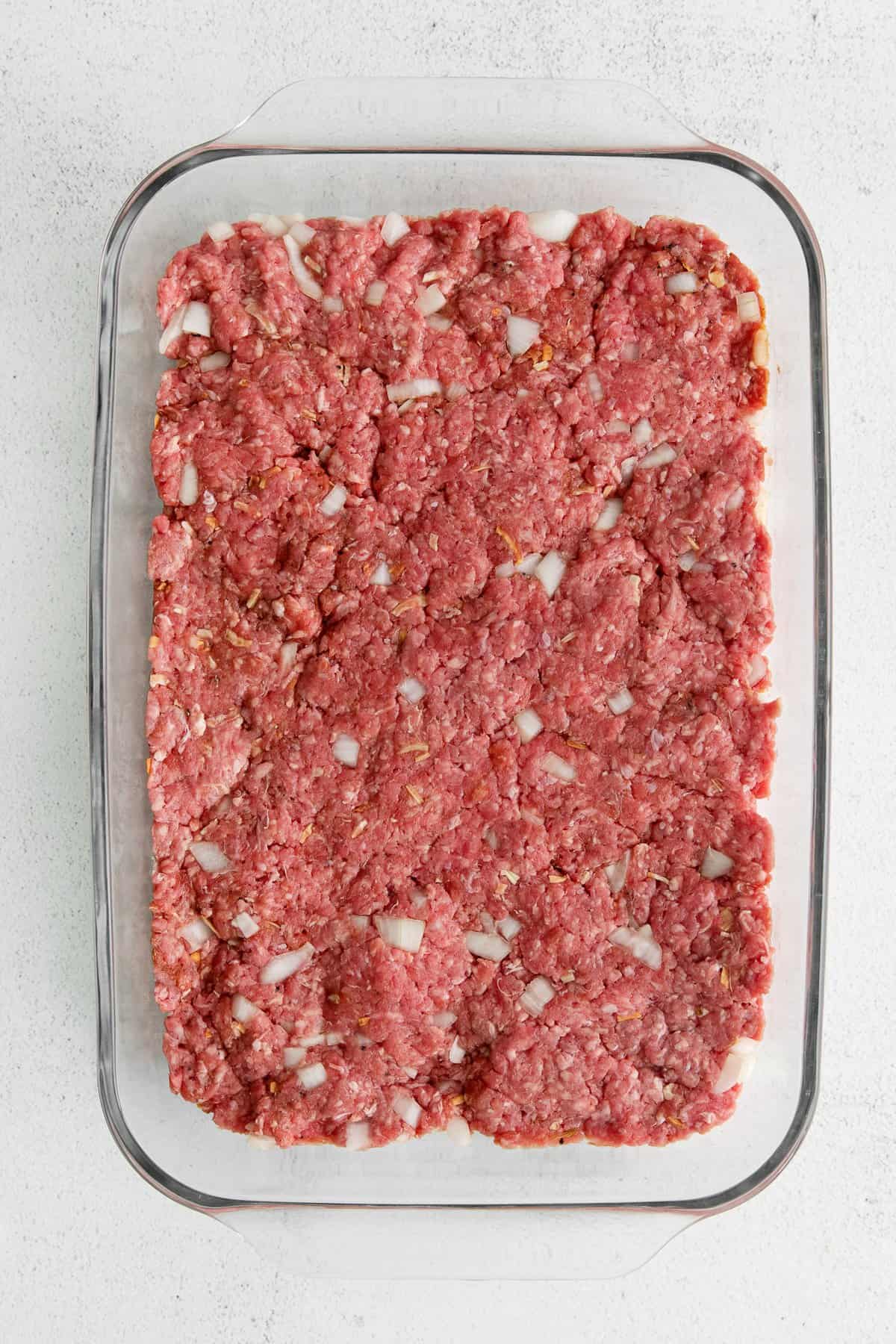 How to Make Cheeseburger Sliders
Make Hamburger Meat
Combine onion, ground beef, salt, pepper, onion soup mix, and milk.
Assemble Patty
Transfer into a 9×13-inch casserole dish and firmly press down with your hands to create your giant patty.
Bake
Bake the hamburger meat at 350ºF for 20 minutes.
Prepare Sliders
Without breaking your Hawaiian buns apart, slice them lengthwise. Place the bottom half into a different, greased baking dish.
Next, cover the whole surface area with cheddar cheese (we used around 5 slices.).
Once the meat is done baking, remove it from the casserole dish and transfer it on top of the cheddar cheese. Use a paper towel to remove any excess oil from the top.
Add another layer of cheese to the top and top that with the tops of the rolls.
Bake again
Bake at 350ºF for another 20 minutes.
Pro tip
After the first bake of the burger meat, it should shrink around 25%. This will make it easy to lift out of the pan and on top of your burger buns.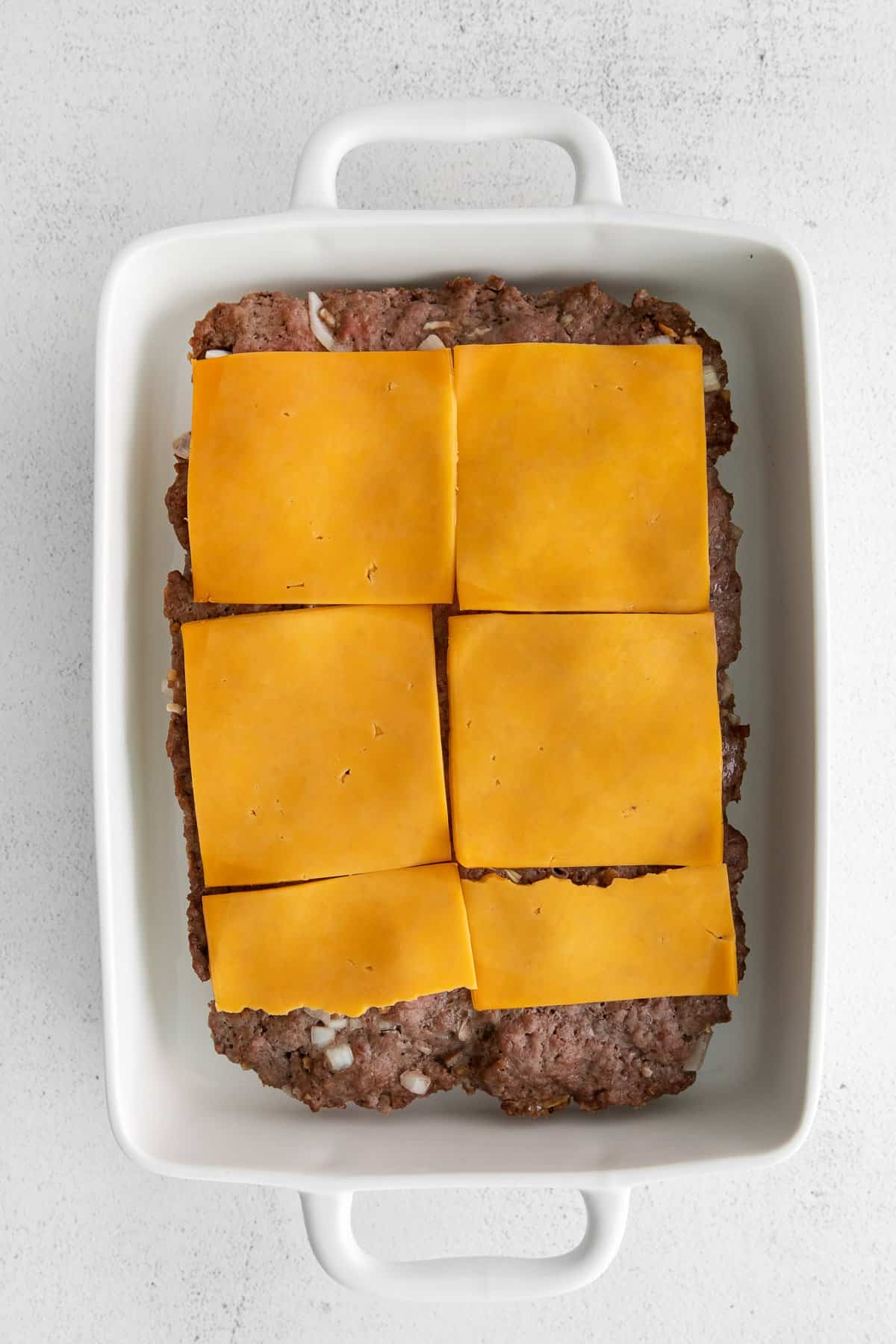 Serving Suggestions
Dips: every burger deserves to be dipped in deliciousness. Here's what we used:
Sides: serve your sliders next to one of our yummy sides!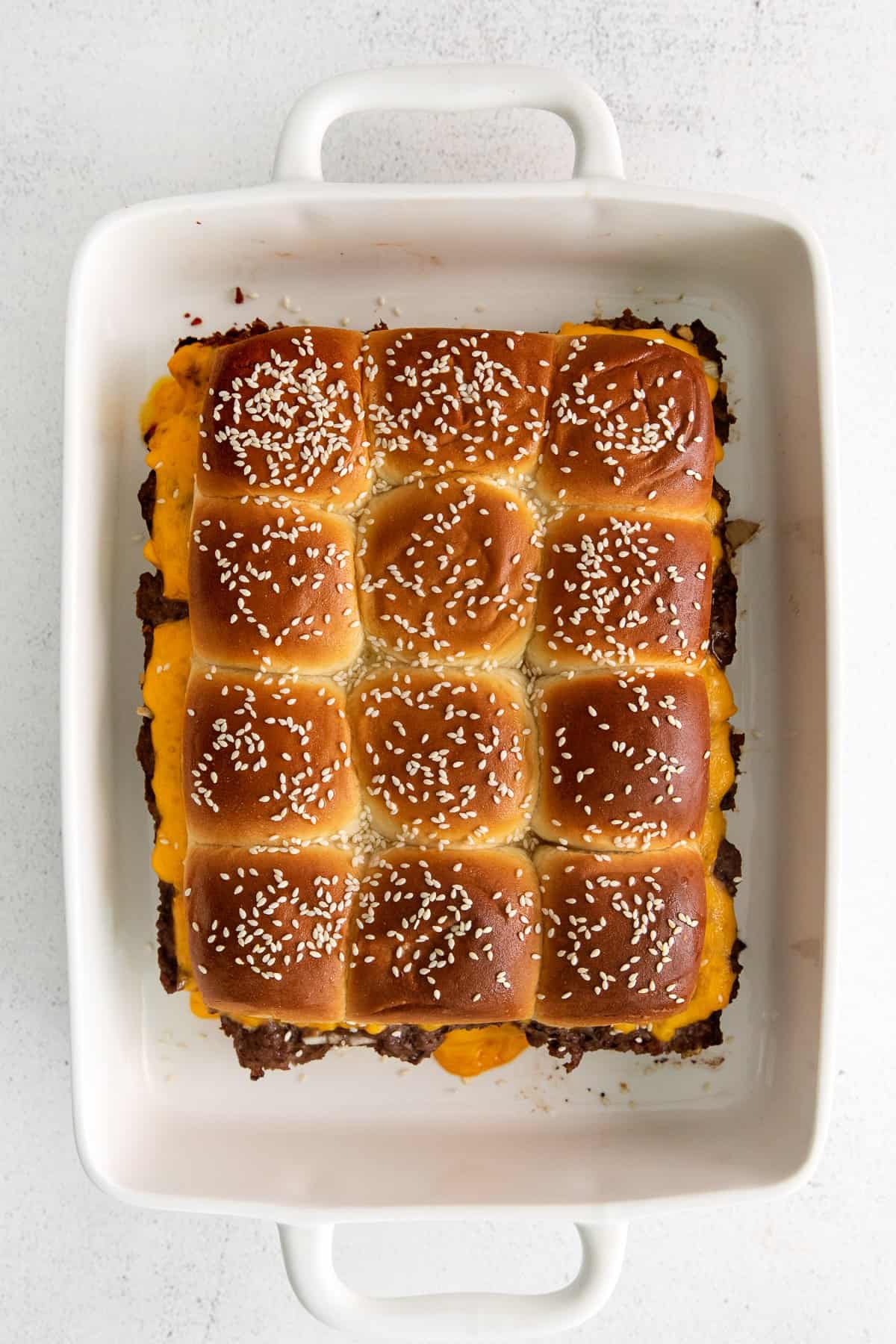 FAQ
How do you keep sliders from getting soggy?
The way to keep sliders from getting soggy is by assembling them in their bun right before serving.
What makes a burger a slider?
A slider is a small burger usually around 2-inches in diameter.
How big should a slider patty be?
Your slider patty should be around the diameter of the slider bun you are using. In this recipe, the Hawaiian Rolls we used were around 2-inches.
Storage
We recommend eating your Hawaiian roll cheeseburger sliders immediately so that they don't get soggy.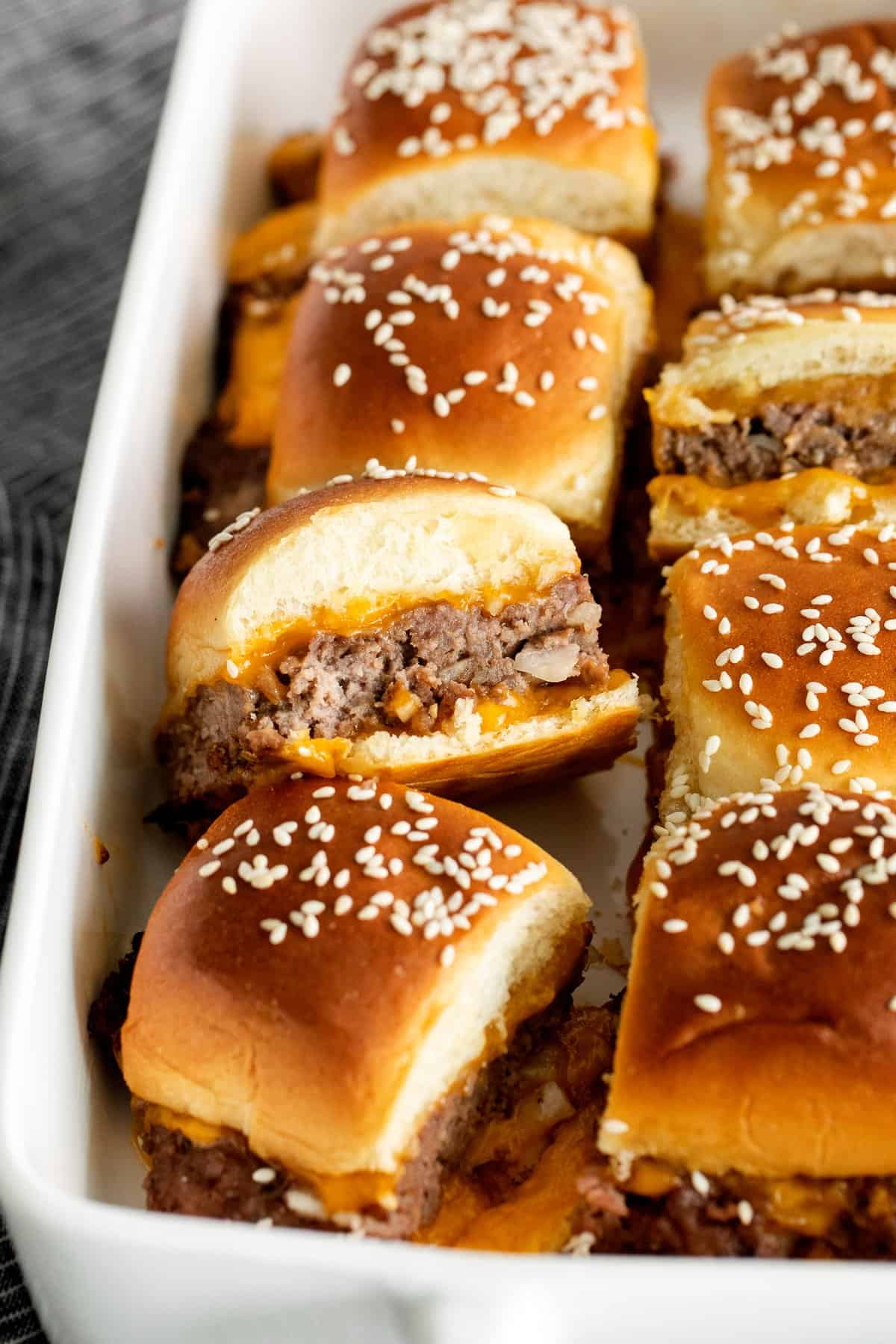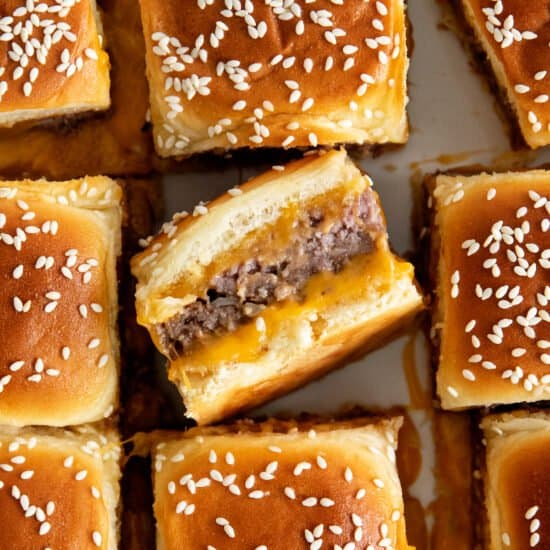 Hawaiian Roll Cheeseburger Sliders
This cheeseburger sliders recipe is simply made in the oven by cooking a giant hamburger and then assembling your cheddar cheese and Hawwian rolls as one and slicing into individual sliders.
Ingredients
¼

yellow onion

diced

2

lbs.

85% ground beef

1

teaspoon

salt

1

teaspoon

ground pepper

2 oz.

packet

onion soup mix

2

tablespoons

milk

8

oz.

sliced cheddar cheese

~10 slices

2

tablespoons

butter

melted

2

teaspoons

sesame seeds
Instructions
Preheat the oven to 350℉.

Place onion, ground beef, salt, pepper, onion soup mix, and milk into a large bowl and mix with your hands until everything is completely combined.

Pour the hamburger mixture into a 9×13-inch casserole dish. Pressing down firmly, push the hamburger down flat so that it touches all sides of the dish.

Place the dish in the oven and bake for 20 minutes.

While the hamburger is baking, prepare another casserole dish by spraying it with cooking spray and set aside.

Without taking the dinner rolls apart, cut them lengthwise, hamburger-style. Place the bottom half of the dinner rolls into the casserole dish.

Next, layer 5 slices of cheddar across the rolls completely covering the whole surface.

When you take it out of the oven it should shrink about 25%, loosing about an inch at each end of the hamburger. Take the hamburger out of the casserole dish and drain or pat off the extra oil and juices that may have settled on the top. Do not turn the oven off yet.

Place the giant hamburger patty on top of the first layer of cheese. Then place the rest of the cheese across the top and place the top of the dinner rolls on top of the cheese.

Brush the melted butter across the top of the rolls and sprinkle with sesame seeds.

Place the sliders back into the oven and bake for 20 more minutes.

Let rest for 5 minutes before cutting and serving.
Nutrition facts
Calories:
355
kcal
Carbohydrates:
20
g
Protein:
22
g
Fat:
20
g
Fiber:
1
g
Sugar:
5
g