Perfectly cooked air fryer garlic parmesan fries come out so flavorful and crunchy!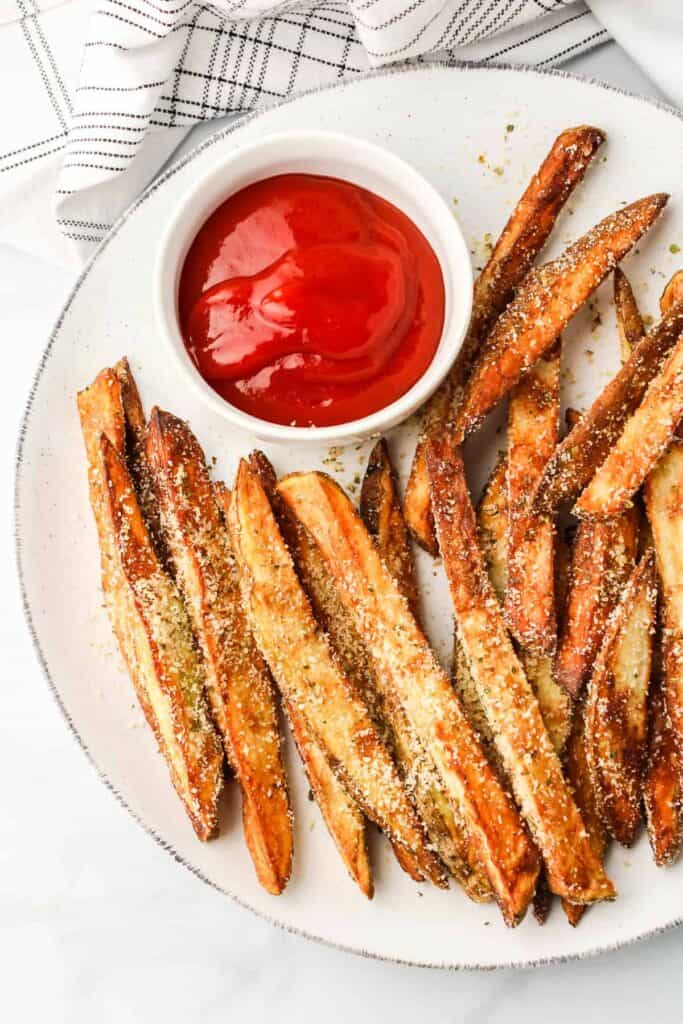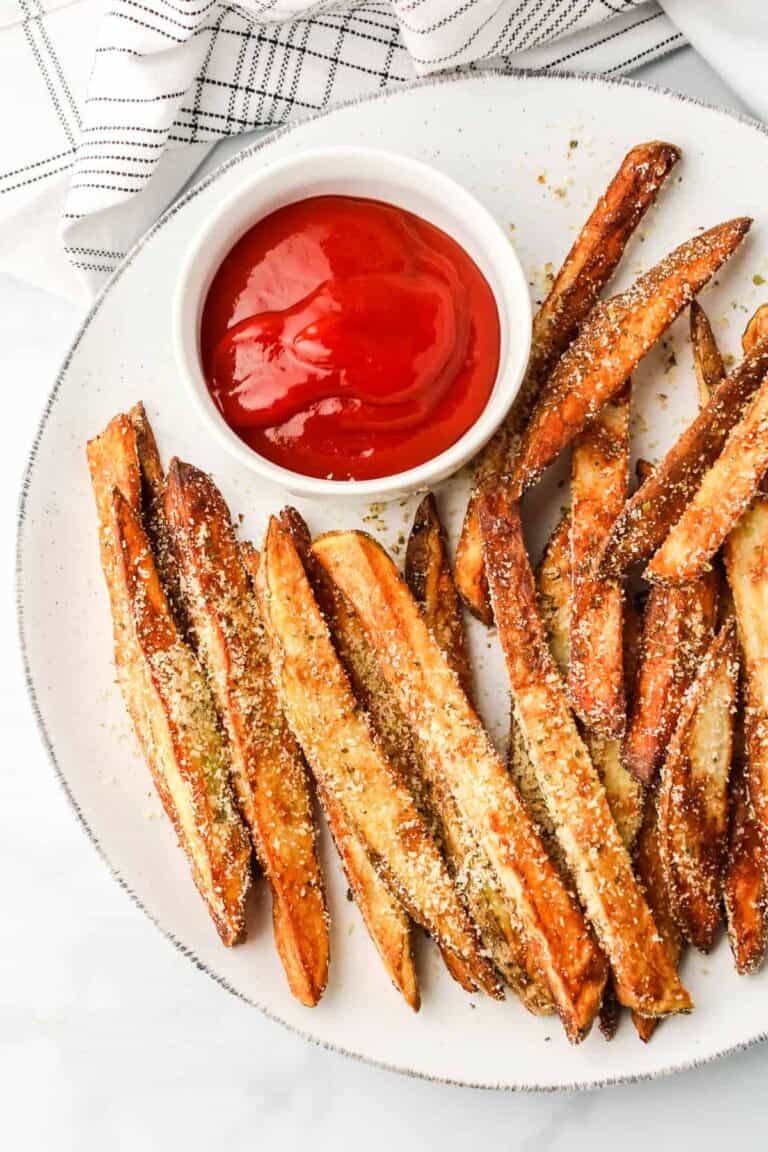 Best Garlic Parmesan Fries
While this recipe is 100% basic. It's 100% delicious. If you've never made fries in the air fryer, these garlic parmesan fries are about to change your life.
Garlic Parmesan Fries are truly one of my favorite side dishes. They go so well next to our Parmesan Chicken Nuggets AND, they're kid-friendly!
Heck, I'd be a-okay eating these as a meal with just ketchup. #sorrynotsorry
These Garlic Parmesan Fries are…
6-Ingredients: you only need 6 simple ingredients to make these glorious air fryer fries!
Kid-friendly: the kids are going to go crazy over these fries.
Gluten-free: all of the ingredients in this recipe are naturally gluten-free.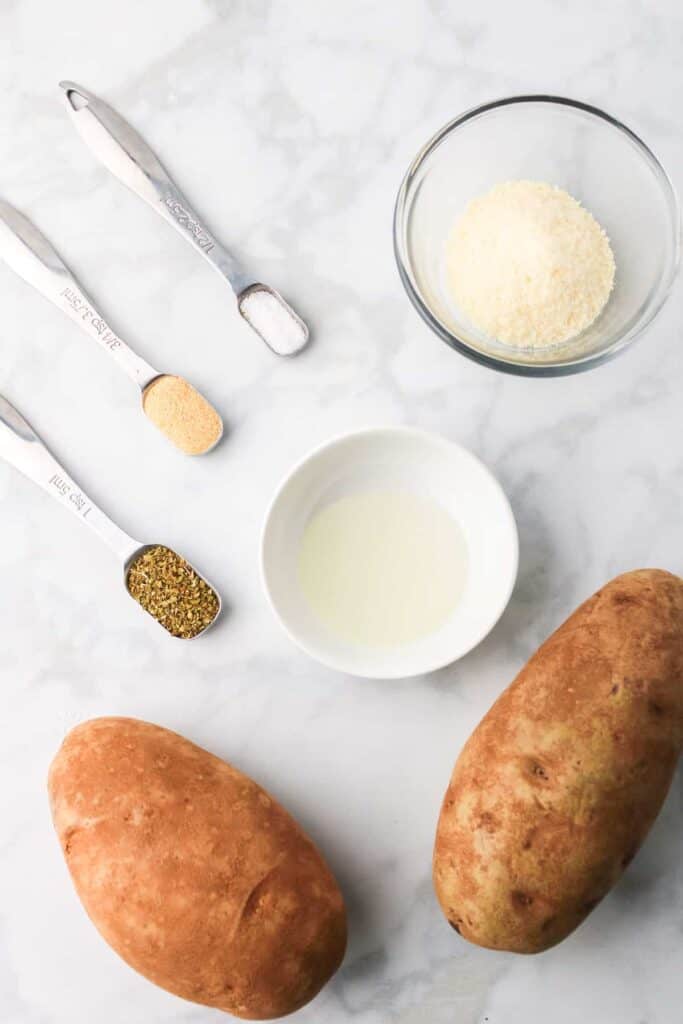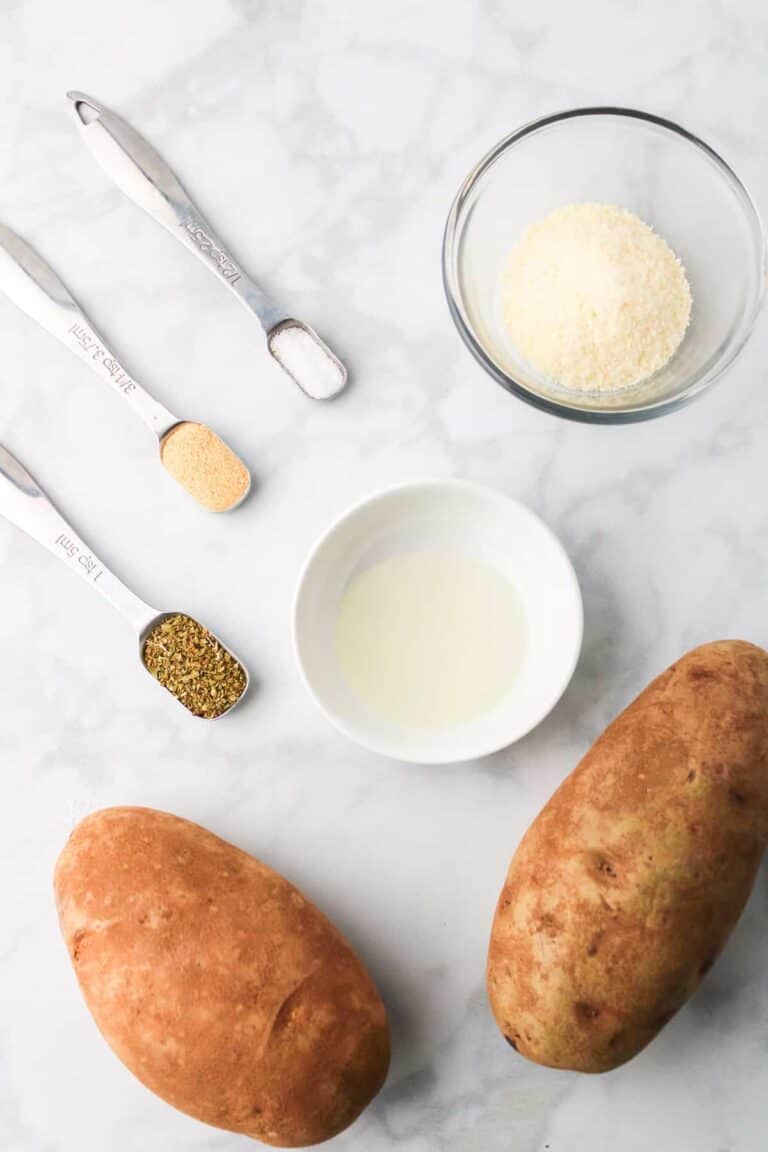 What You Need
Russet Potatoes: russet potatoes are perfect for these garlic parmesan fries, but you can also use Idaho, too.
Vegetable Oil: we used vegetable oil in this recipe because the smoke point is so high. You can also use olive oil if that's what you have!
Salt: fries aren't fries without salt.
Grated Parmesan Cheese: It's important that you buy grated parmesan cheese and not shredded so that it sticks better to the fries.
Spices: a little bit of garlic and oregano go a long way for flavoring. Feel free to make this your own and add whatever spices you wish.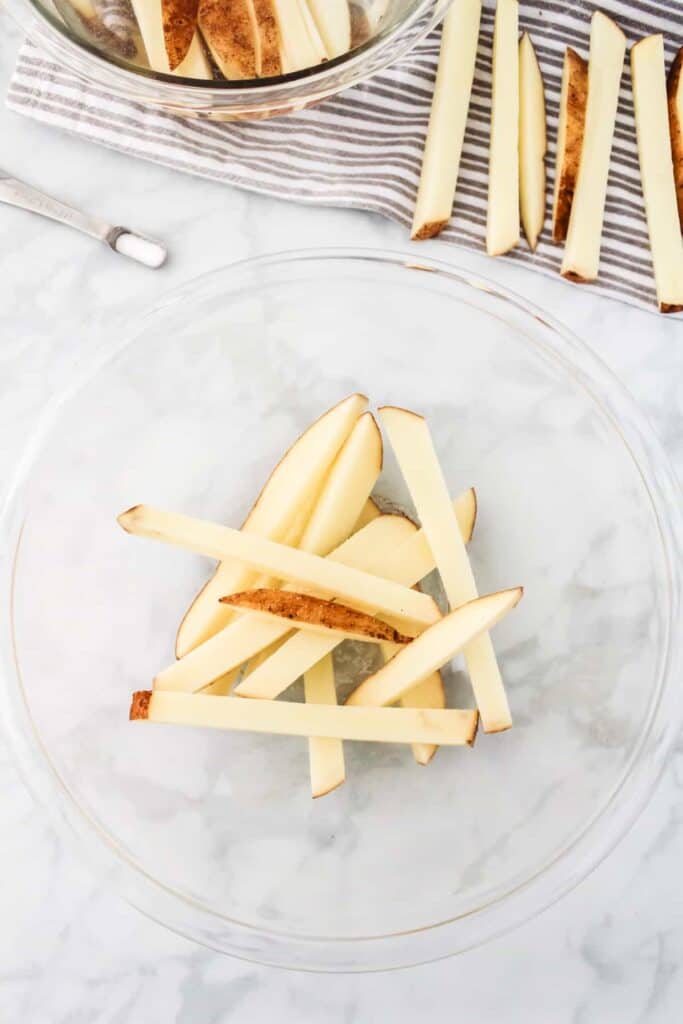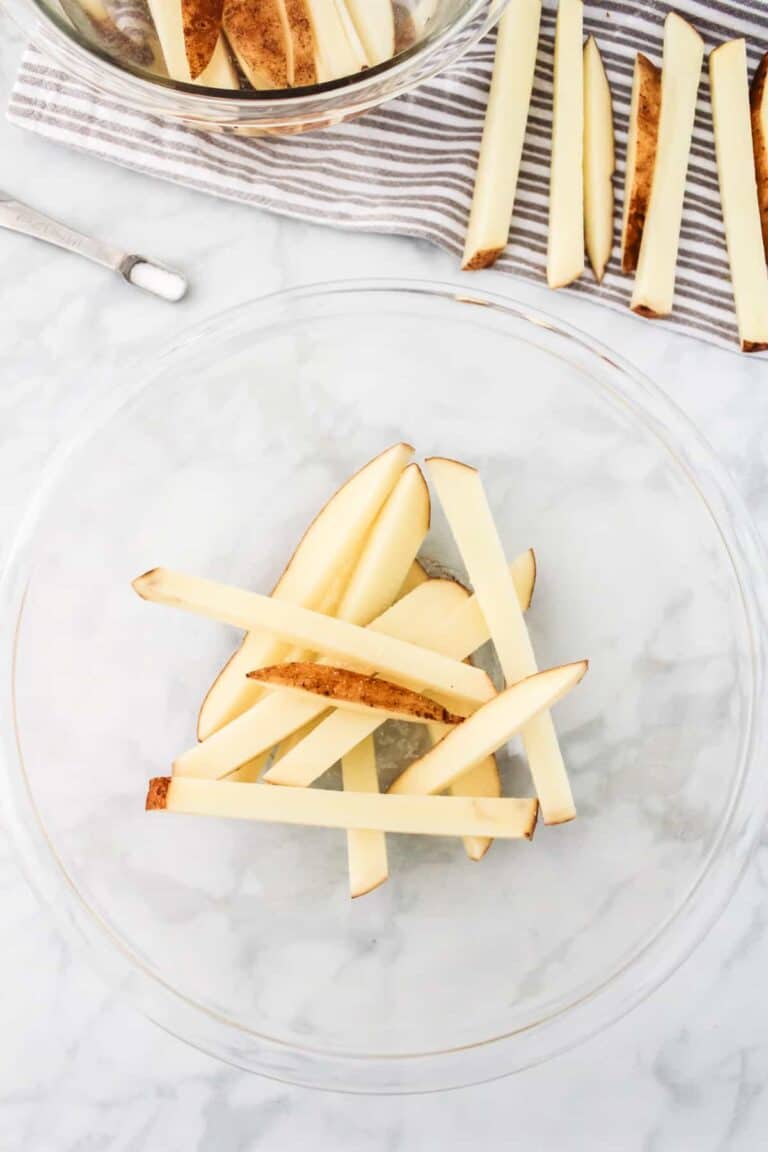 How to Make Garlic Parmesan Fries in Air Fryer
Slice Fries
Prepare potatoes by slicing them into fries. We sliced ours so that they were 1/2-inch thick.
Can I peel my potatoes? Feel free to peel your potatoes. The option is yours. We just prefer skin-on!
Soak Fries
Fill a large bowl with cold water and place the fries into the bowl. Let them soak in the water for about 5 minutes.
Then, remove them from the water and pat them dry with a tea towel.
Oil Fries
Place oil in a large bowl and then toss the fries in the oil, fully coating them. Season with salt.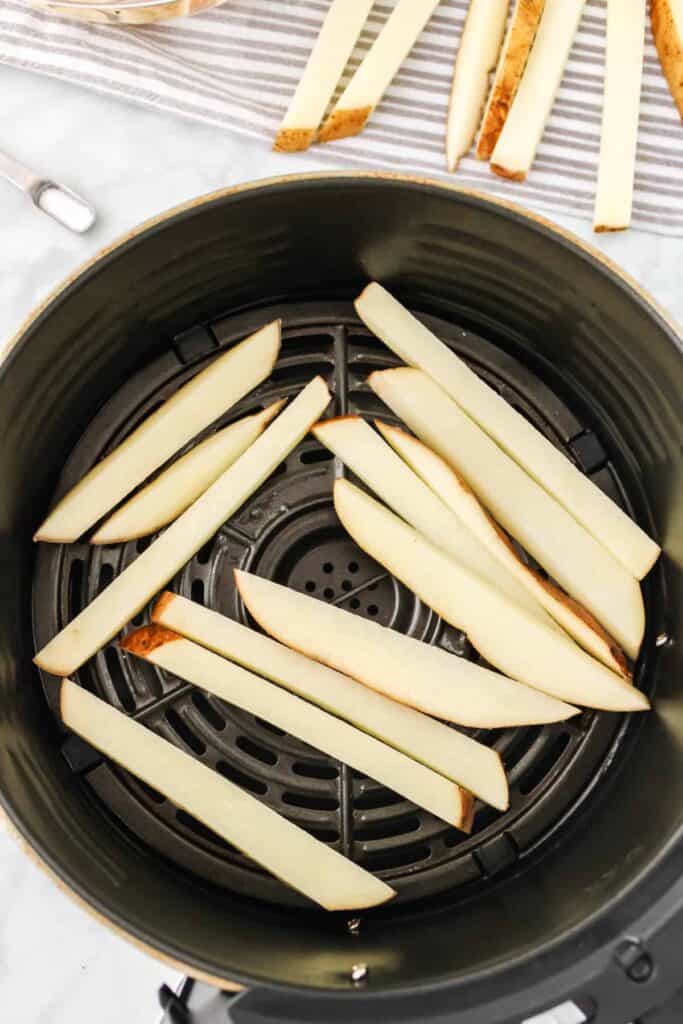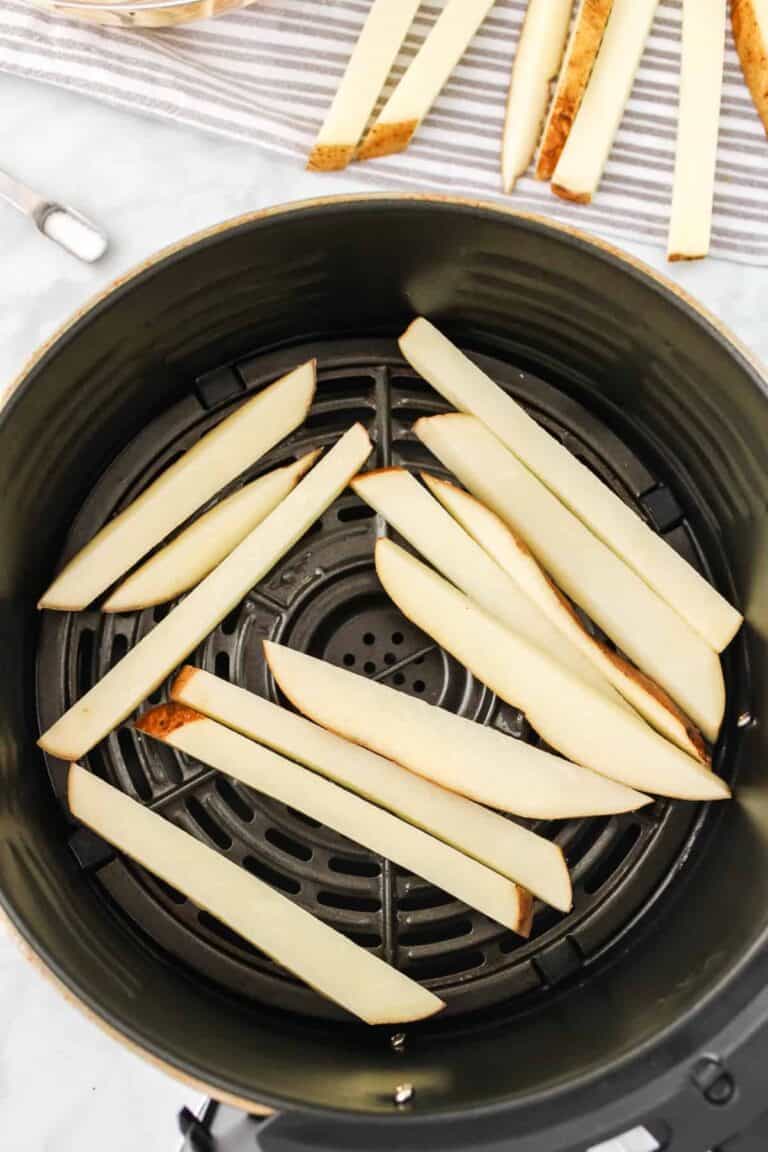 Air Fry
Place about 1/3 of your fries on the bottom of your air fryer, working in batches. Spread your fries out so that they are not touching.
Air fry at 400ºF for 10 minutes. Then, flip the fries over and cook for 6-7 more minutes or until golden brown.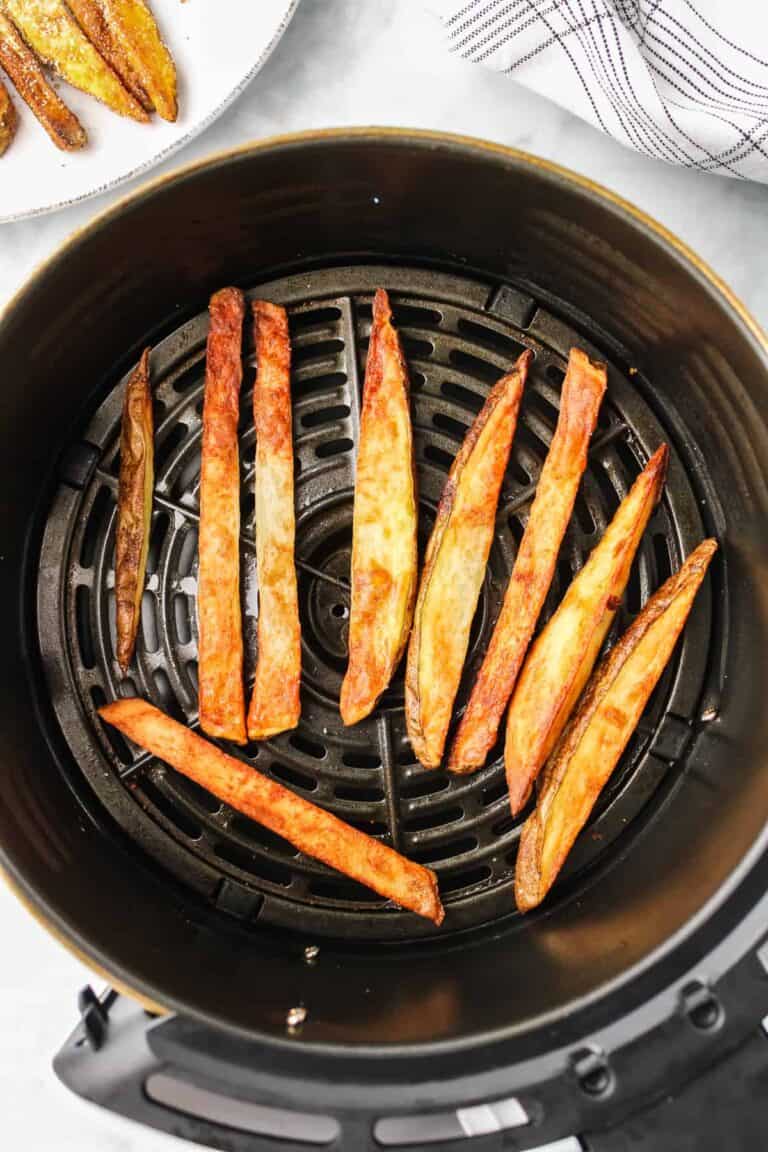 Season Fries
Combine grated parmesan, garlic powder, and oregano in a large bowl. Then, transfer your cooked fries into the bowl and toss to coat.
Make them spicy: add a pinch of cayenne powder or paprika to give your fries some heat.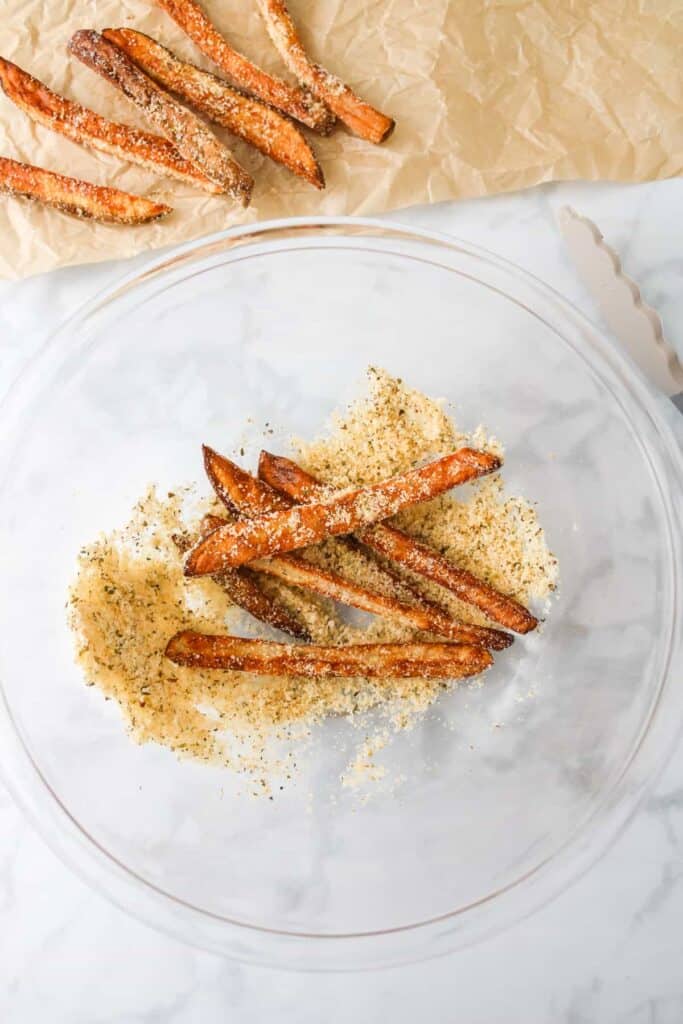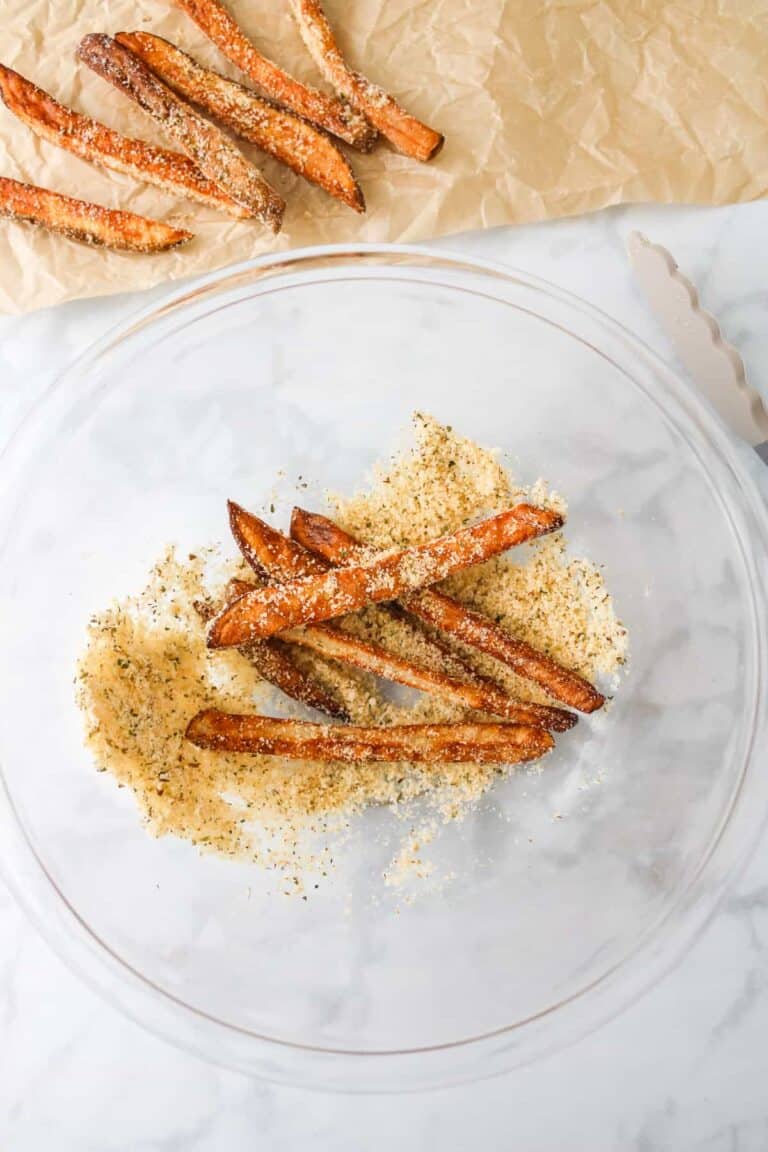 Repeat
Repeat those steps with the remaining fries you have!
Top Tips for Perfect Air Fryer Fries
Soak Fries in Water: by soaking your fries in water before air frying, it helps remove any excess starch. Thus, your fries will cook more evenly and won't stick together.
Cook in Batches: whatever you do, cook your fries in batches. To get the best fry, you want to make sure your fries are not touching.
Season After Air Frying: seasoning after air frying definitely works best. It also prevents all of your seasonings and cheese from getting burnt in the air fryer.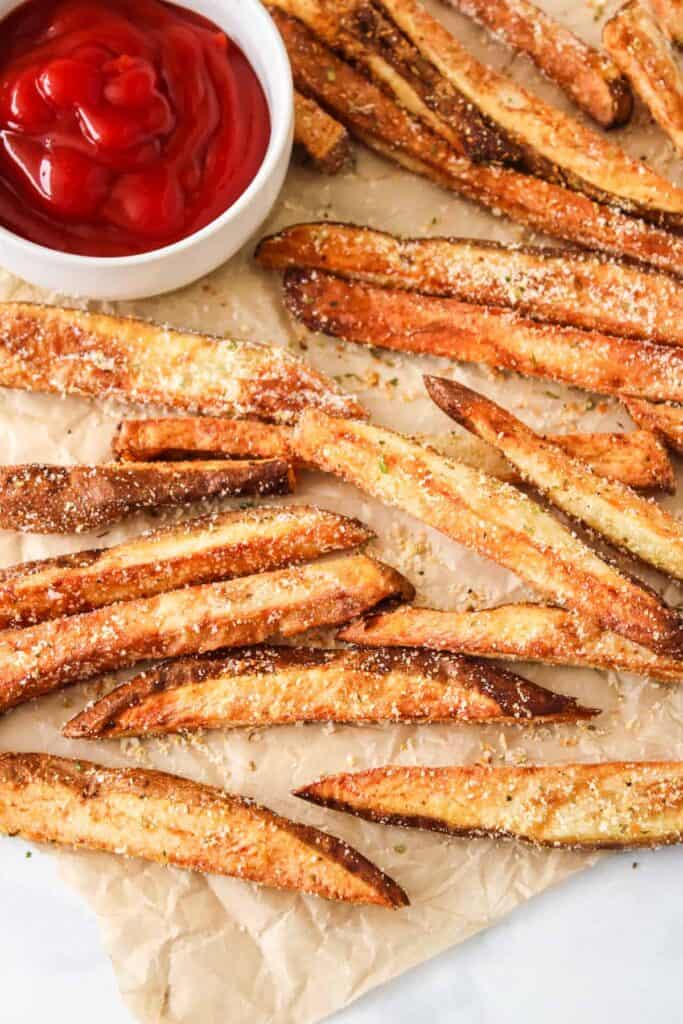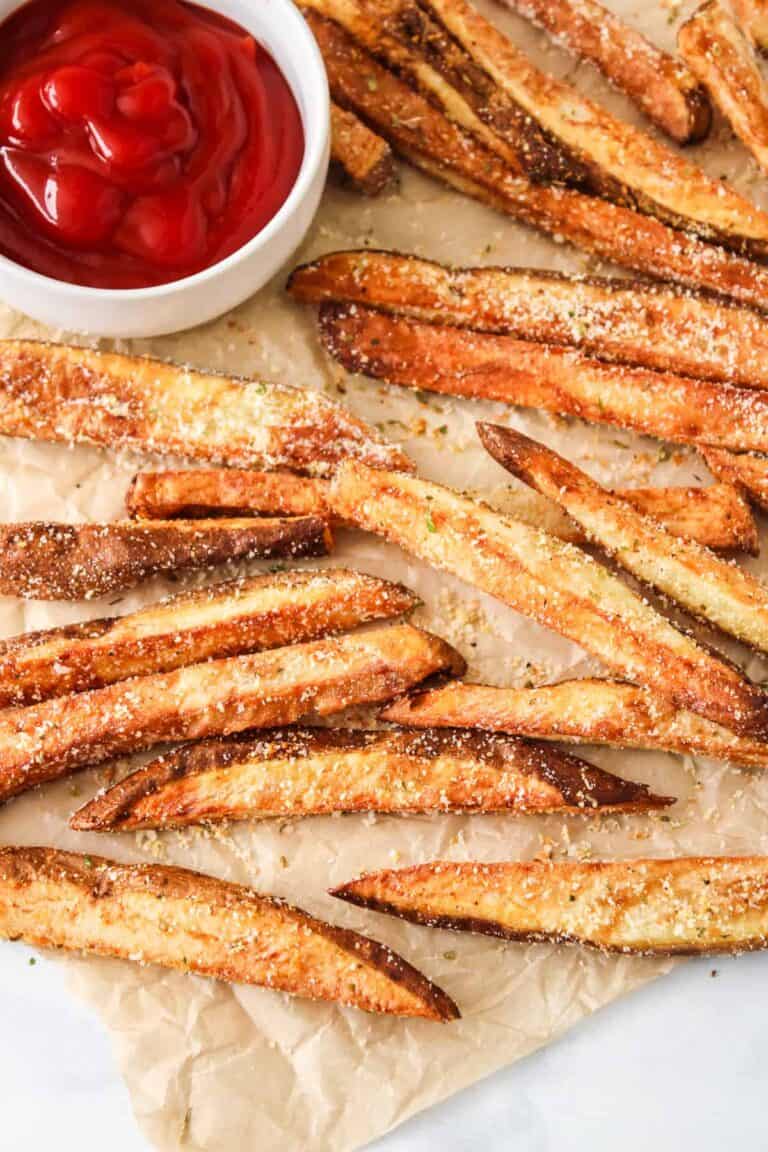 Storage
We recommend serving these fries immediately. However, you can always store in an airtight container in the fridge for up to 3-5 days for later.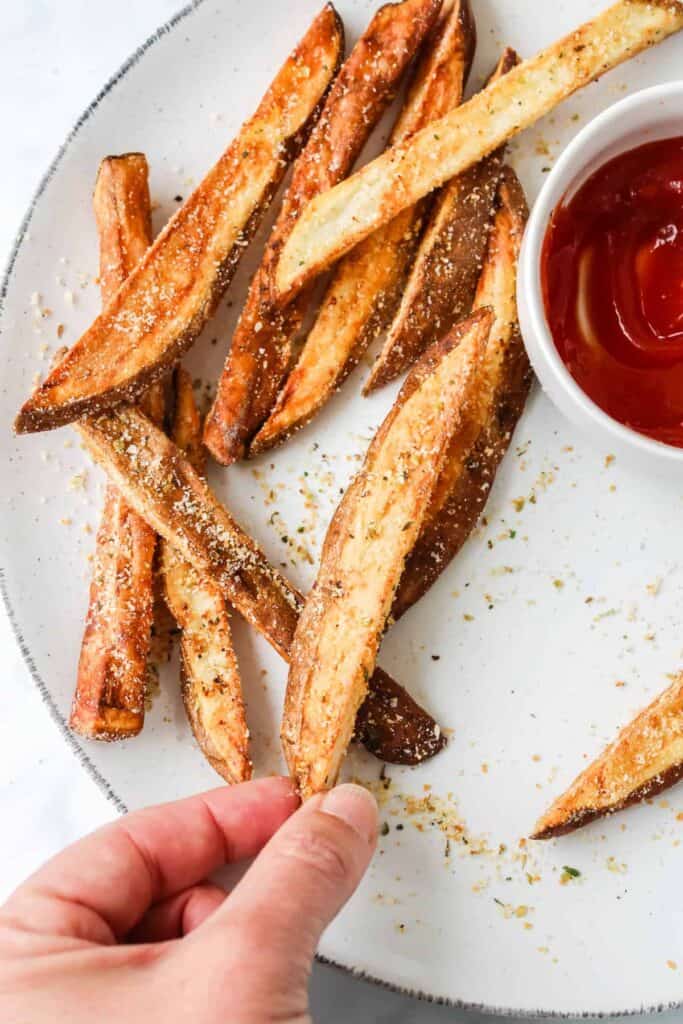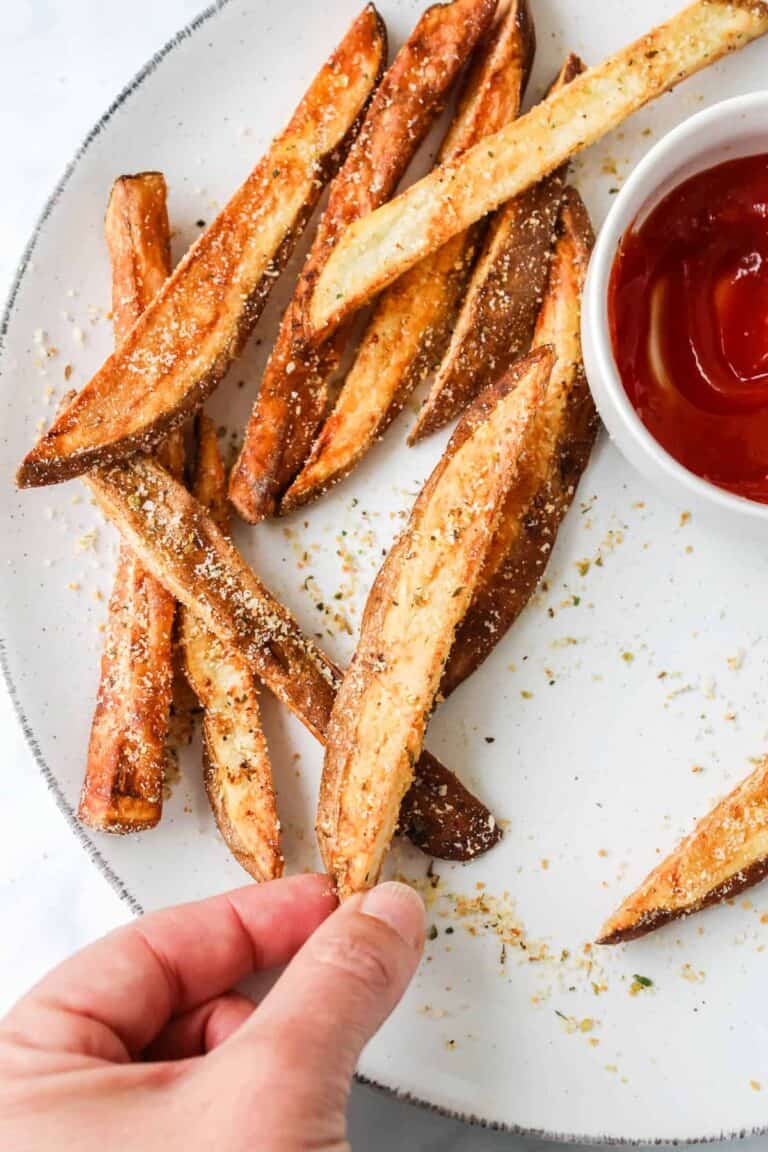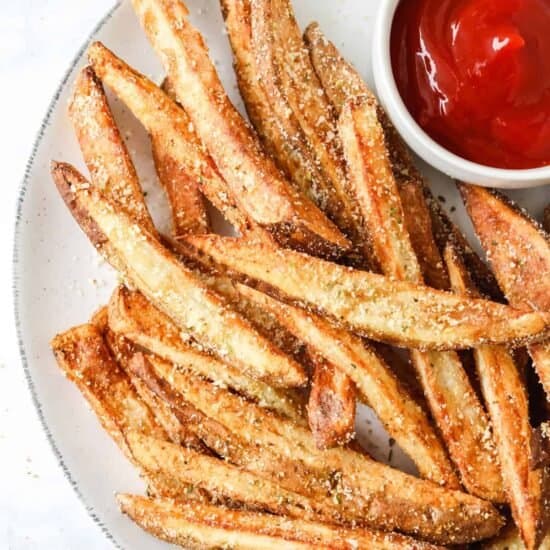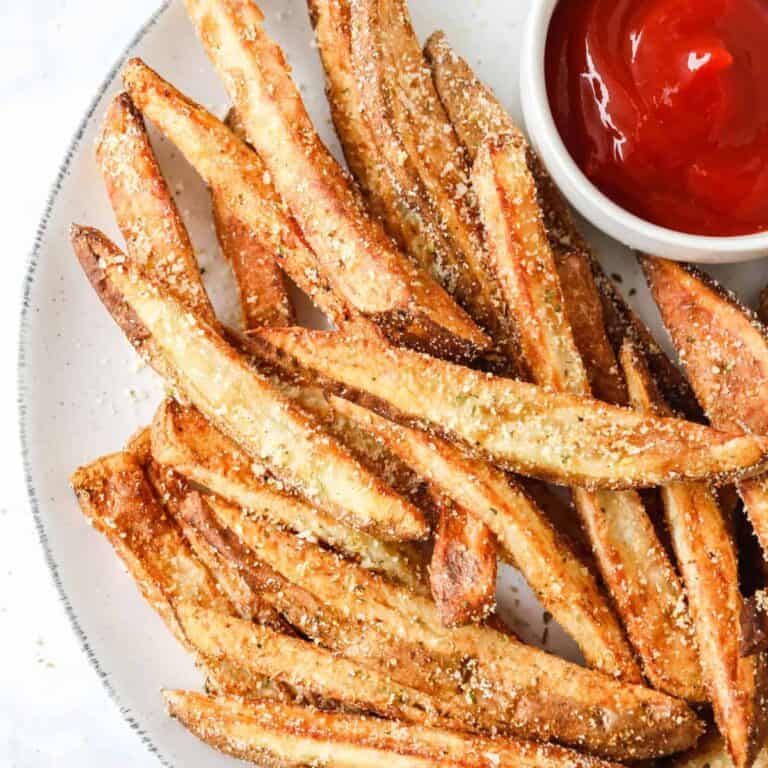 Air Fryer Garlic Parmesan Fries
These Air Fryer Garlic Parmesan Fries are about to change your life. They're seasoned perfectly and only require 6 ingredients!
Ingredients
2

medium-large russet potatoes

1

tablespoon

vegetable oil

½

teaspoon

salt

¼

cup

grated Parmesan cheese

2

teaspoons

garlic powder

1

tablespoon

oregano
Instructions
Preheat the air fryer to 400ºF for around 5 minutes.

Slice potatoes into fries (about ½-inch thick) and place them into a large bowl filled with water. 

In a second bowl, pour in about half the oil. In a third medium-large bowl combine parmesan cheese, garlic powder, and oregano.  Set aside.

Working in batches, remove about ⅓ of fries from water and pat dry with a tea towel or paper towel. Place the fries in the bowl with oil, sprinkle with salt, and toss to coat.  

Then, transfer the fries in a single layer in the fryer basket, so that they are not touching.

Air fry at 400ºF for 10 minutes. Flip fries over and cook another 6-7 minutes.

Remove fries from the fryer and place them into the bowl with parmesan cheese and spices. Toss to coat. Place fries on plate or parchment paper.

Repeat until all fries are cooked and coated.
Tips & Notes
Soaking the fries in water removes the extra starch and helps keep fries from sticking to each other.

It is not necessary to grease the basket since the fries are already coated in oil.
Air fryer used was 4 liters and fries were made in 3 batches.
Fries are best served immediately but can be reheated at a low temperature in the air fryer.
Nutrition facts
Calories:
297
kcal
Carbohydrates:
42
g
Protein:
9
g
Fat:
11
g
Fiber:
6
g
Sugar:
2
g