With just 3 simple ingredients and endless customization options, this is your go-to guide for a perfect, golden-brown cheese quesadilla every time.
Wondering how to make a cheese quesadilla? Add a tortilla to a hot, greased pan and then top it with shredded cheese and another tortilla. Let the bottom tortilla brown and then flip and cook the other side.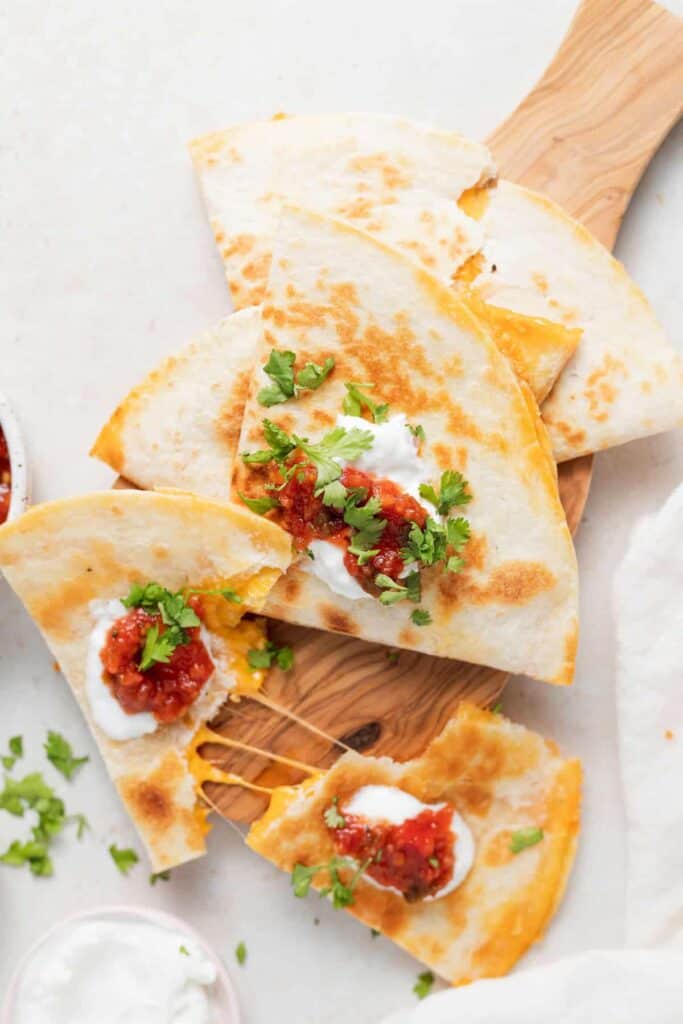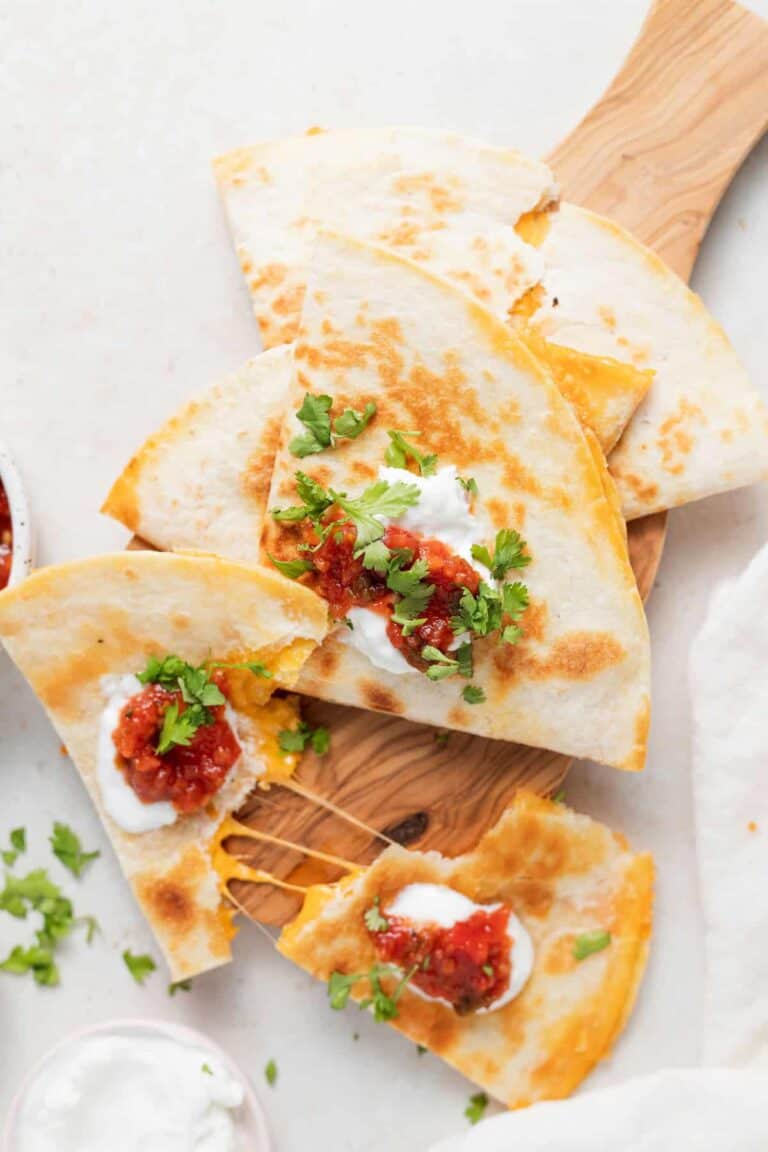 A quesadilla is a Mexican dish that is made with a tortilla filled with cheese and other ingredients that is fried in oil or butter. Today, we're giving you our go-to method for a basic cheese quesadilla!
We love making cheese quesadillas when "there's nothing to eat," and our kids love them too! Our recipe is made with tortillas, shredded cheese, and olive oil and is a great starting point to make this in so many different ways.
PS: our recipe for the cheese quesadilla is definitely Mexican-inspired, but not authentic as we're using shredded cheddar cheese instead of an authentic Mexican cheese.
What You Need for this Cheese Quesadilla Recipe
Tortillas: our favorite kind of tortilla to use for the cheese quesadilla is flour. It's chewy and cooks to golden brown very easily.
Shredded cheese: we love a classic shredded cheddar cheese for this very basic cheese quesadilla recipe.
Olive oil: olive oil is used for frying, but you can also use butter or vegetable oil.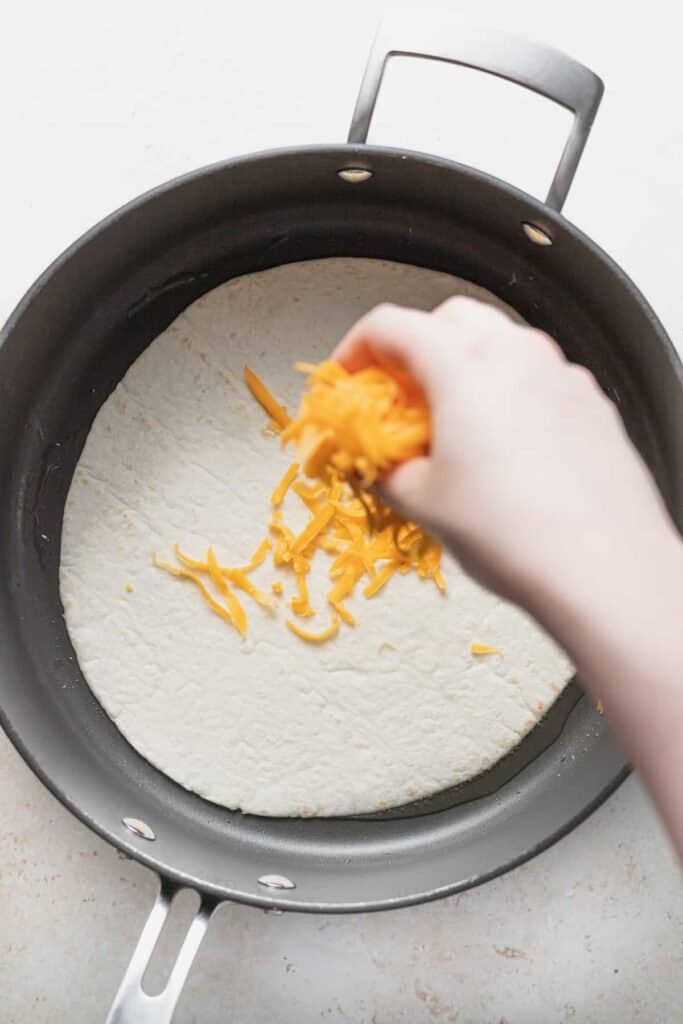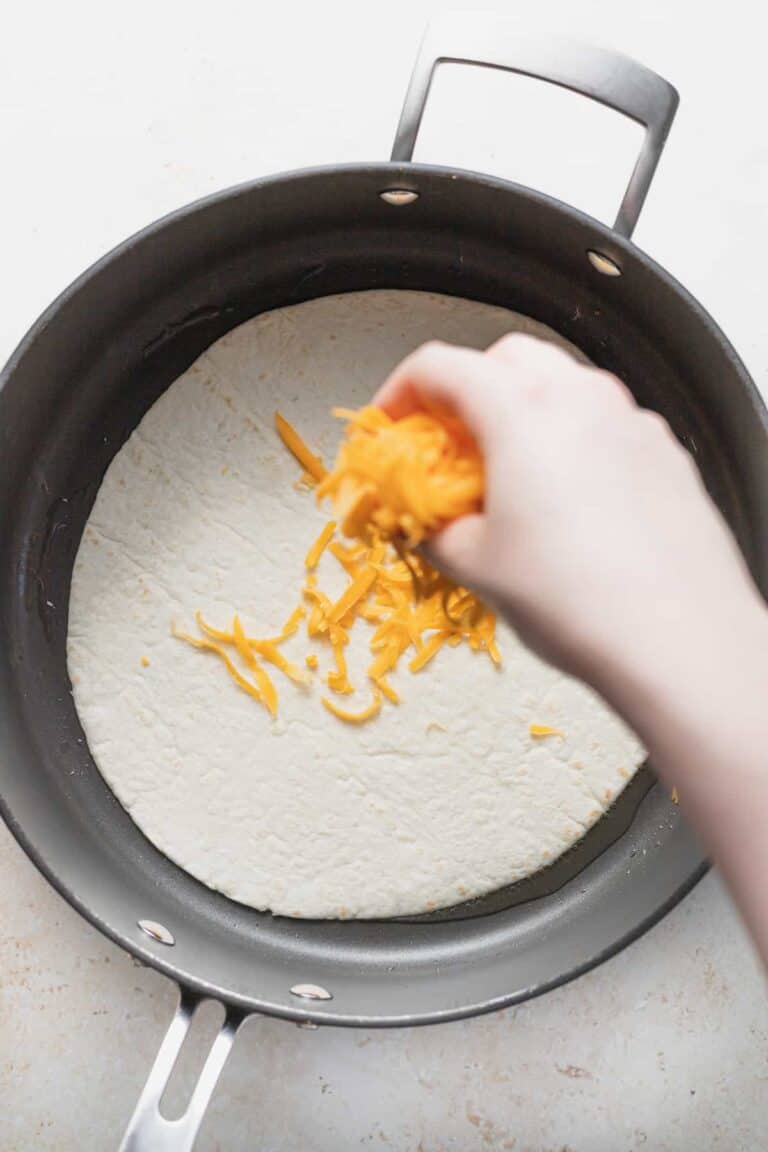 Variations
Use a different cheese: we kept things super simple (and very American) with shredded cheddar cheese. The option is yours to use whatever kind of cheese you wish!
Add a protein: amp up this protein in this recipe and use cooked chicken, black beans, or even shrimp!
Switch up the tortilla: feel free to use any kind of tortilla. We have had the best success with flour tortillas, but you can also try whole wheat or corn.
Best Cheese for Quesadillas
Traditionally, queso de Oaxaca is the type of cheese used in Mexico for quesadillas. It is similar to mozzarella cheese and melts very easily.
In our cheese quesadilla recipe, we're using cheddar cheese. Below you will find some other cheeses that work well for quesadillas.
Top 5 Kinds of Cheese for Quesadillas
Mexican cheddar cheese
Colby Jack cheese
Gouda cheese
Note:
You can buy any of these cheeses pre-shredded or you can buy a block of cheese and shred it yourself.
Check out our post on how to grate cheese!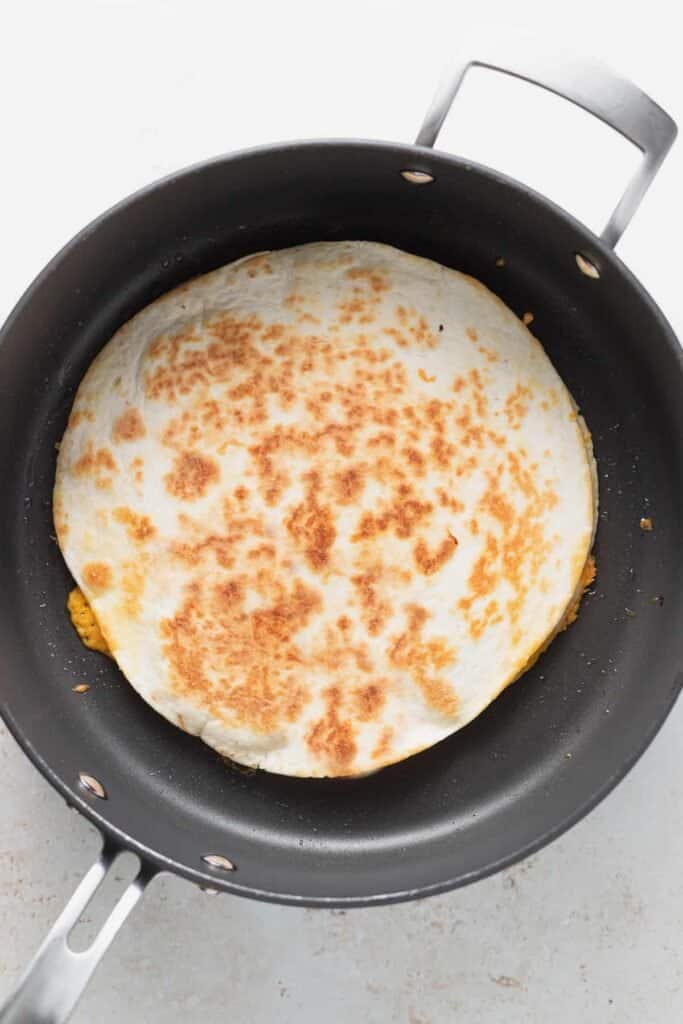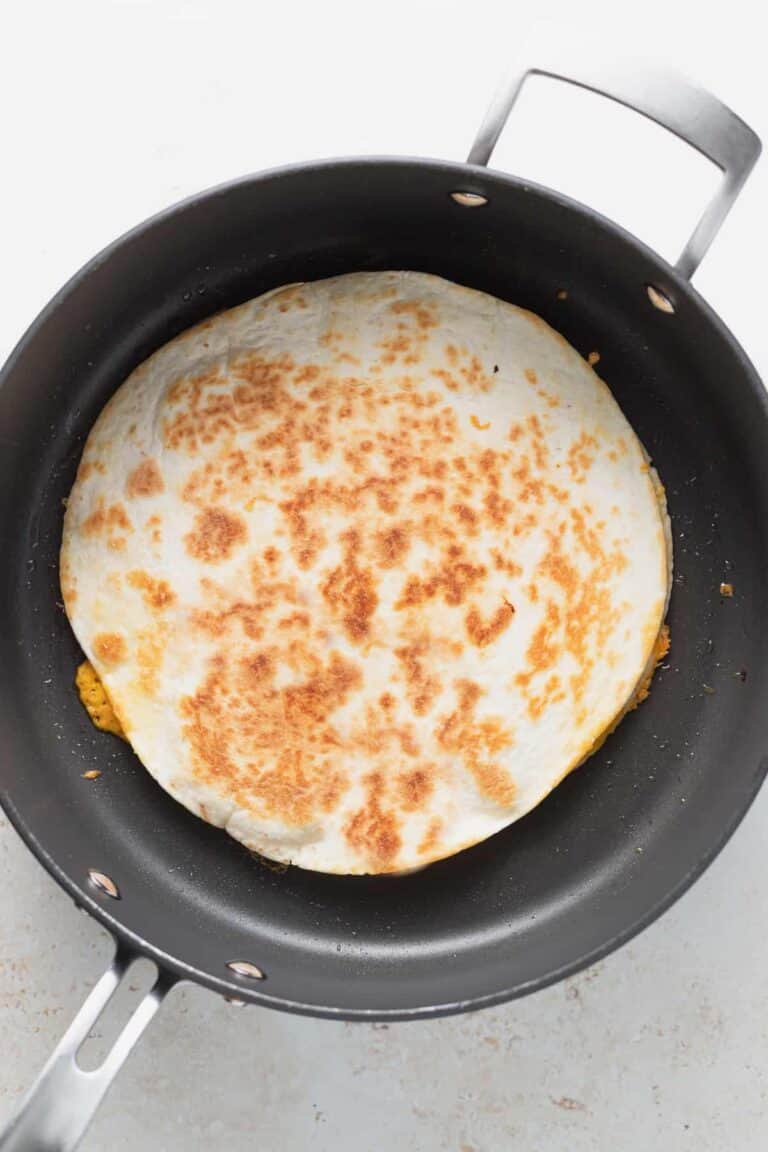 FAQ
What's the best cheese for a quesadilla?

Traditional Mexican quesadillas use queso de Oaxaca, but for this recipe, we're keeping it simple with cheddar.
Can I use another oil for frying?

Absolutely, vegetable oil or butter can easily replace olive oil.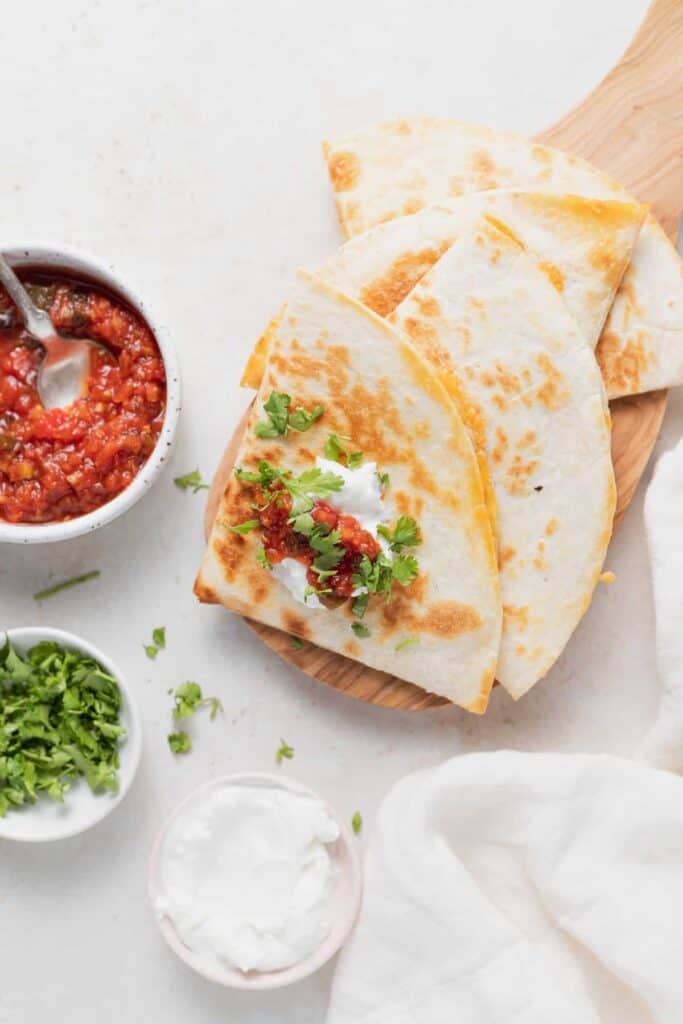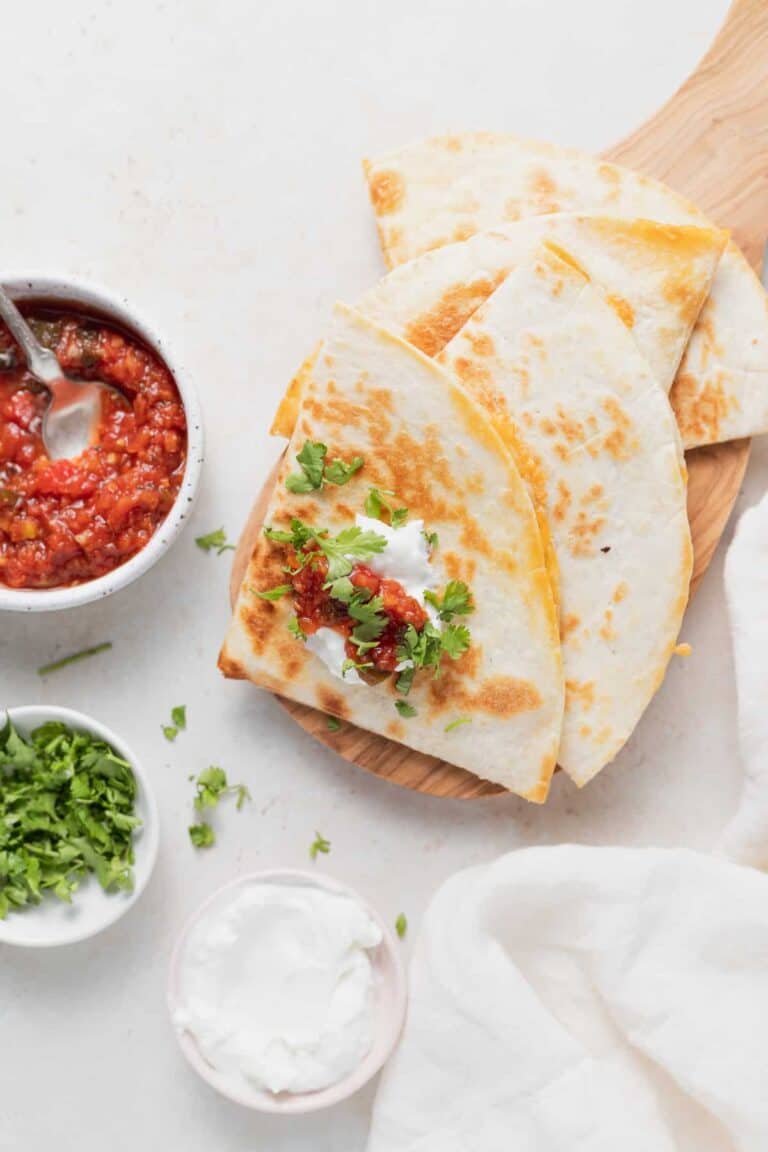 Storage
Let your quesadillas cool completely. Then, transfer them into an airtight container and seal. Store in the fridge for up to 3 days.
To reheat: the easiest way to reheat them is in the microwave. Microwave on high for about 60 seconds.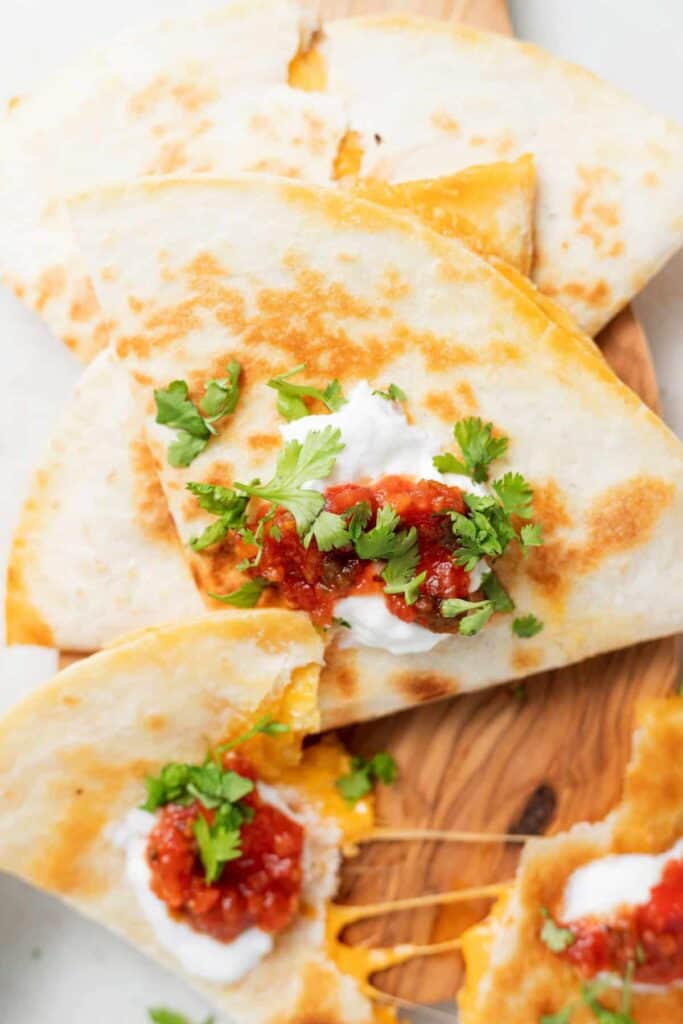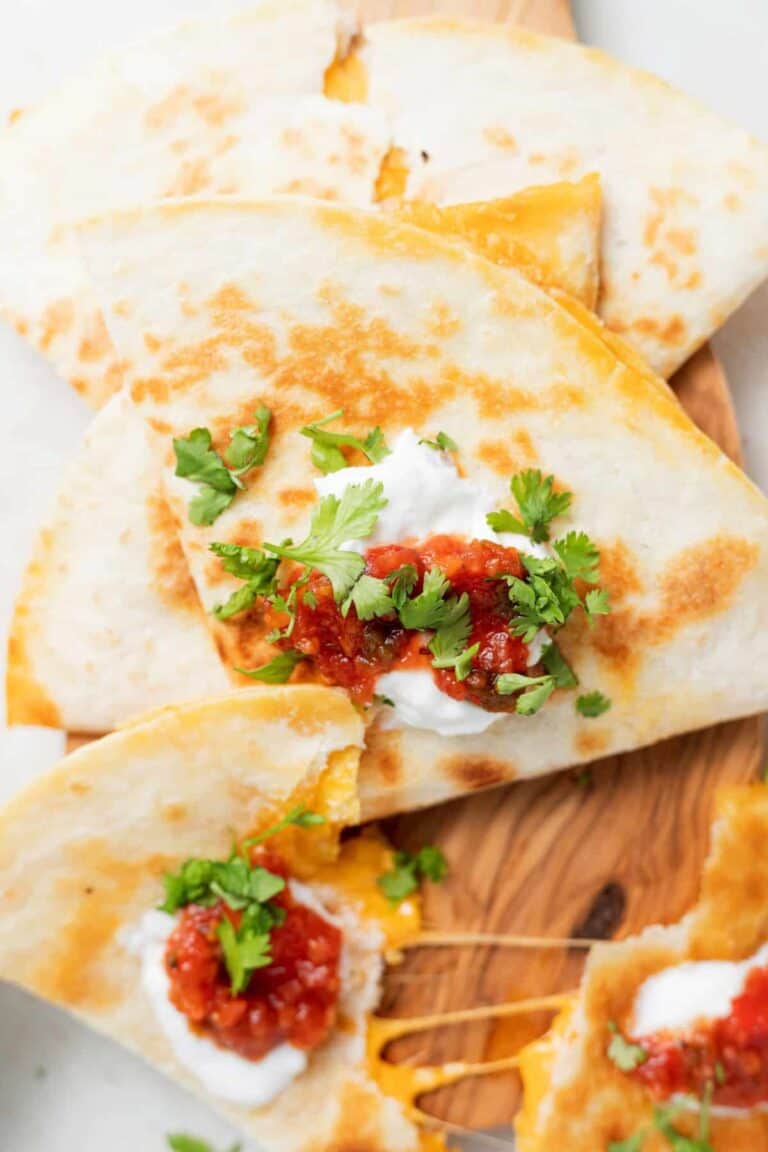 How to Serve Your Cheese Quesadilla
Don't even think about eating your cheese quesadilla without toppings! Here are just a few of our favs:
Sour cream/Greek yogurt
More cheese
Salsa
Fresh cilantro
Guacamole
Pico de gallo
Hot sauce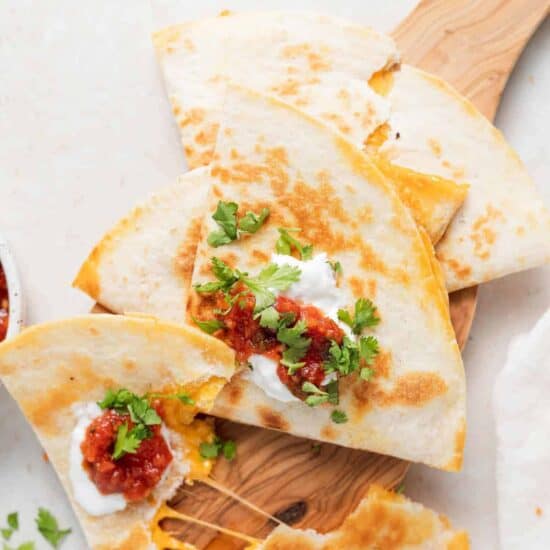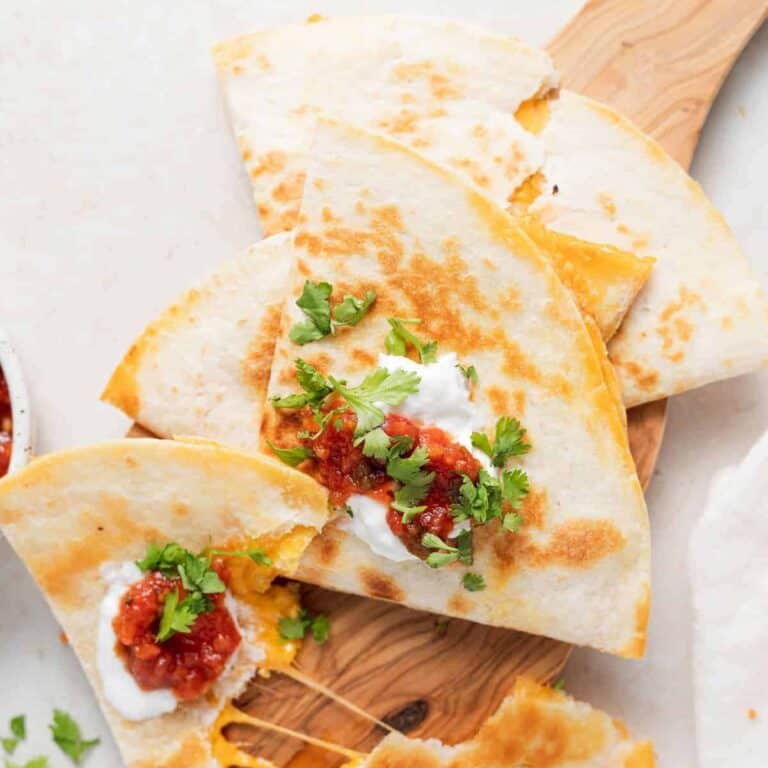 Cheese Quesadilla Recipe
Learn how to make a cheese quesadilla using a tortillas, shredded, cheese, and olive oil!
Ingredients
2

teaspoons

olive oil

2 8-

inch

flour tortillas

¾

cup

finely shredded cheddar cheese
Optional Toppings
2

tablespoons

salsa

any kind

1

tablespoon

Greek yogurt

2

teaspoons

chopped fresh cilantro
Instructions
Heat a large skillet over medium heat. Add olive oil. 

When the olive oil is fragrant add a tortilla to the pan and sprinkle the cheese evenly over the tortilla. Top the shredded cheese with the second tortilla. 

Let the bottom tortilla crisp up until golden brown (3-4 minutes) and then carefully flip the quesadilla over with a spatula. Repeat until the second tortilla becomes crispy and golden brown and remove from heat. 

Cut the quesadilla into fourths and top the quesadilla with your favorite toppings. 
Tips & Notes
Other shredded cheeses that work well for cheese quesadillas include mozzarella, Colby Jack, and Mexican-blend cheddar.
Feel free to add a cooked protein into your quesadilla such as shredded chicken, beans, beef, or pork.
Nutrition information does not include toppings.
Air Fryer Directions: assemble your quesadilla right inside your air fryer. Air fry at 400ºF for 3 minutes and then flip. Air fry for 3 more minutes.
Nutrition facts
Calories:
760
kcal
Carbohydrates:
51
g
Protein:
31
g
Fat:
49
g
Fiber:
2
g
Sugar:
2
g