These buffalo chicken nachos are out of this world! They are made with cream cheese, shredded cheese, delicious buffalo sauce, and quick pickled vegetables! They are the perfect appetizer or easy weeknight dinner!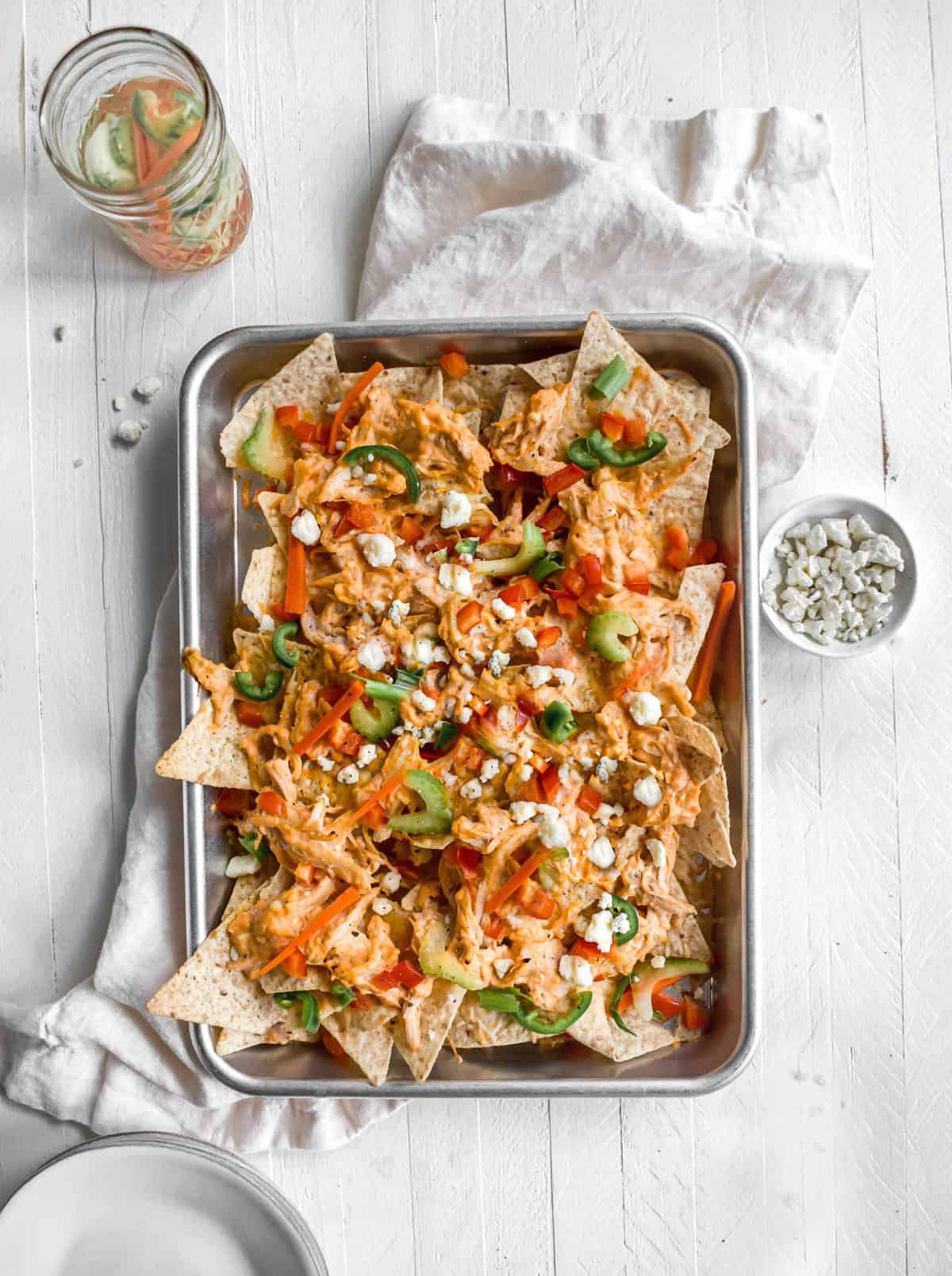 Buffalo Chicken EVERYTHING
What is better than buffalo chicken wings with blue cheese dressing? Buffalo chicken NACHOS! Two of the best appetizers smashed together to make the ultimate game day recipe.
We combined buffalo chicken wings and nachos to make one of the best appetizer recipes, people! If you're like us, you love buffalo sauce (and cheese, duh). You can literally pour buffalo sauce on anything and it will taste good. Tossing buffalo sauce with shrimp, roasted vegetables, or a couple of tablespoons in your favorite chili really elevates the recipe!
Trust us, buffalo sauce is the bomb. Especially in the buffalo chicken for these nachos!
Ingredients You'll Need for the Nachos
This buffalo chicken nacho recipe is the perfect of combination of all of the classic ingredients that go into buffalo chicken plus some ingredients that will blow your mind (AKA cheese). Here is everything you'll need for this recipe!
Chicken breast
Cream Cheese
Shredded Mexican Style Cheese
Blue cheese crumbles
Franks Hot Sauce
White vinegar
Sugar
Carrots
Celery
Jalapeño pepper
Olive oil
Salt + pepper
Greek yogurt
Honey
Red bell pepper
Torilla chips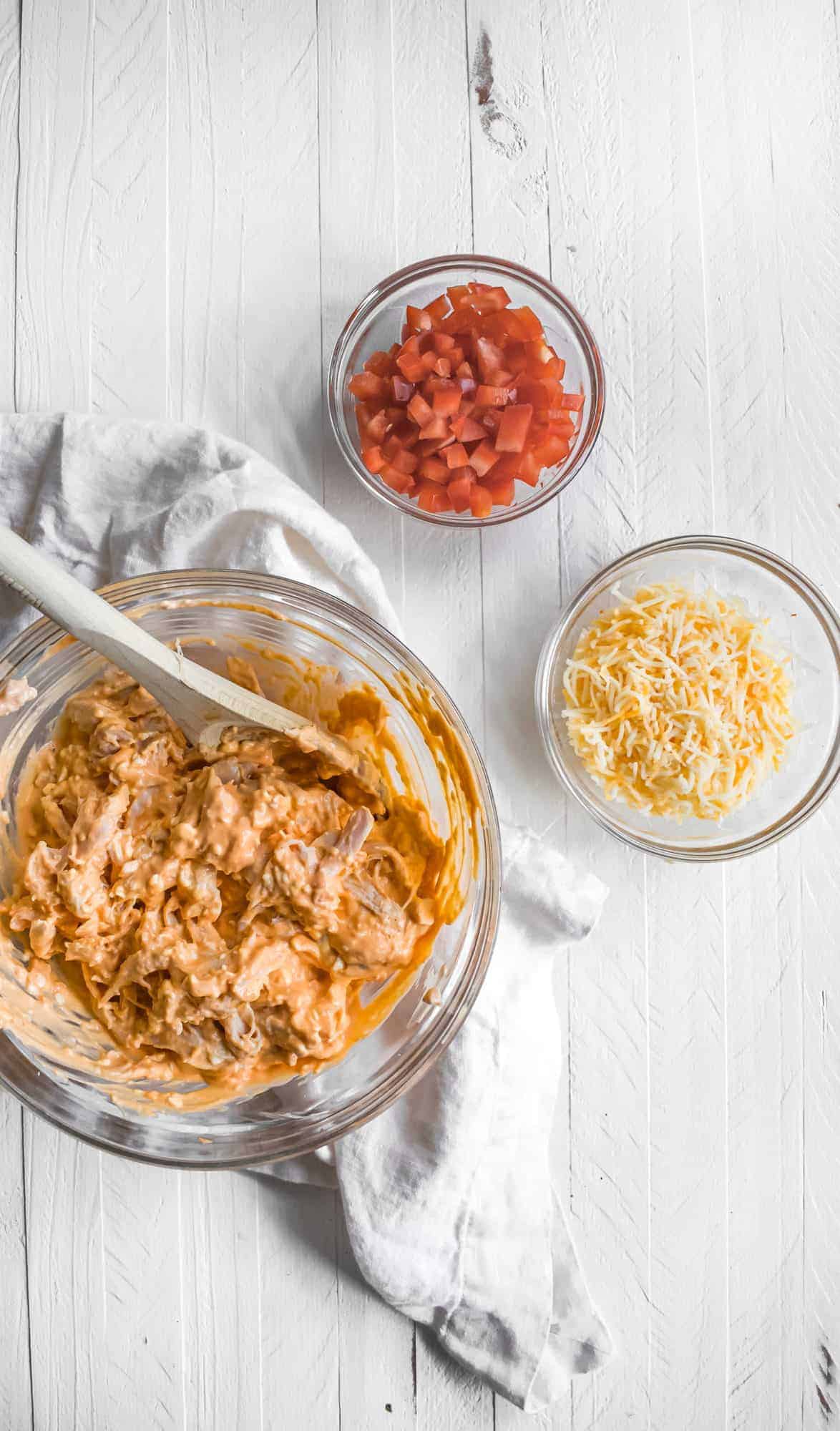 Quick Pickled Carrots + Celery
What is always served with buffalo chicken wings? Carrot and celery sticks, duh! We did a super fun and quick spin on carrots, celery, and buffalo chicken and made quick picked carrots and onions as a topping for the nachos!
Yes, you can add just raw celery and carrot to the top of your nacho, but pickling your carrots and celery adds a delicious and vinegary punch to the nachos. And don't worry, this is a QUICK version of pickling. Here's how you do it!
Before you do anything chop your veggies and mix them with the pickling ingredients (vinegar, sugar, carrots, celery, and jalapeño pepper).
Place them in a mason jar, shake, and place them in the fridge.
They really only need to sit for 20-30 minutes which is the time it takes to prepare the chicken and nacho recipe anyway!
After your nachos are baked all you have to do is add your pickled vegetables to the top of the nachos and you have a delicious combination of hot buffalo chicken, cheese, and pickled veggies!
Questions About Buffalo Chicken Nachos
What kind of cheese do you use on buffalo chicken nachos?
We use THREE different kinds of cheese for this buffalo chicken nacho recipe, however feel free to choose your own adventure. Here are the three kinds of cheeses we use and why!
Cream Cheese: We add cream cheese to the shredded chicken and buffalo chicken to make it creamy and delicious!
Cheddar Mix: Who doesn't love the crispy burnt cheese in nachos? Shredded cheddar is a classic nacho cheese ingredient! We add it to the chips to give it that classic nacho taste and texture!
Blue Cheese: Blue cheese belongs with buffalo sauce! We crumble fresh blue cheese on these nachos after they bake and it rounds out the buffalo chicken perfectly!
Does it matter what kind of chips you use on buffalo chicken nachos?
Use your favorite tortilla chip for this buffalo chicken nacho recipe! We recommend using a sturdy tortilla chip so that the chip doesn't crumble when you add the toppings to the top of the chip!
How do you shred chicken for buffalo chicken nachos?
There are a few different options for shredded chicken for this recipe!
Forks: When you remove the chicken from the oven, use two forks to shred the chicken breasts.
Hand Mixer: Add the chicken breasts to a bowl and use a hand mixer to shred the chicken!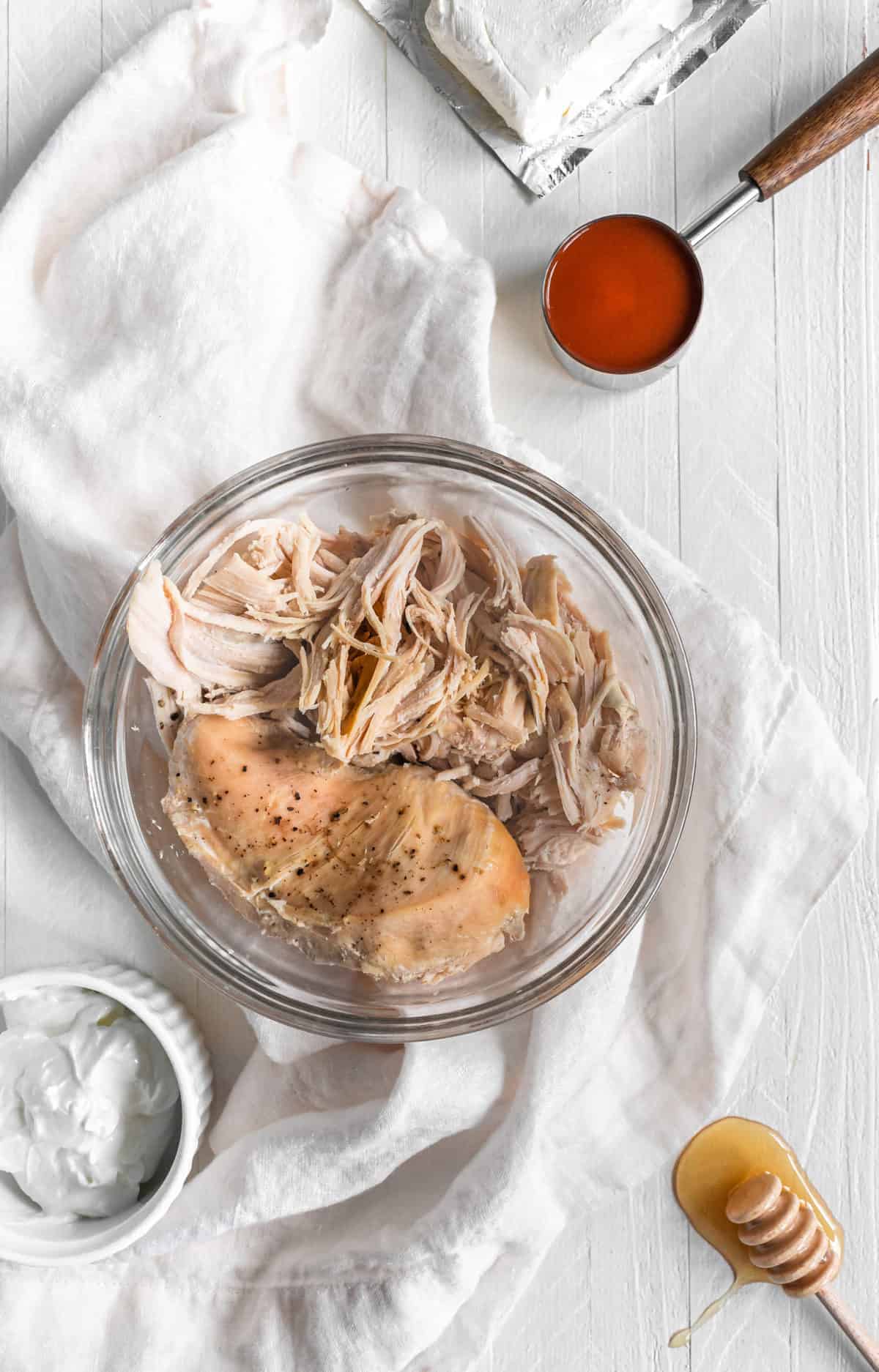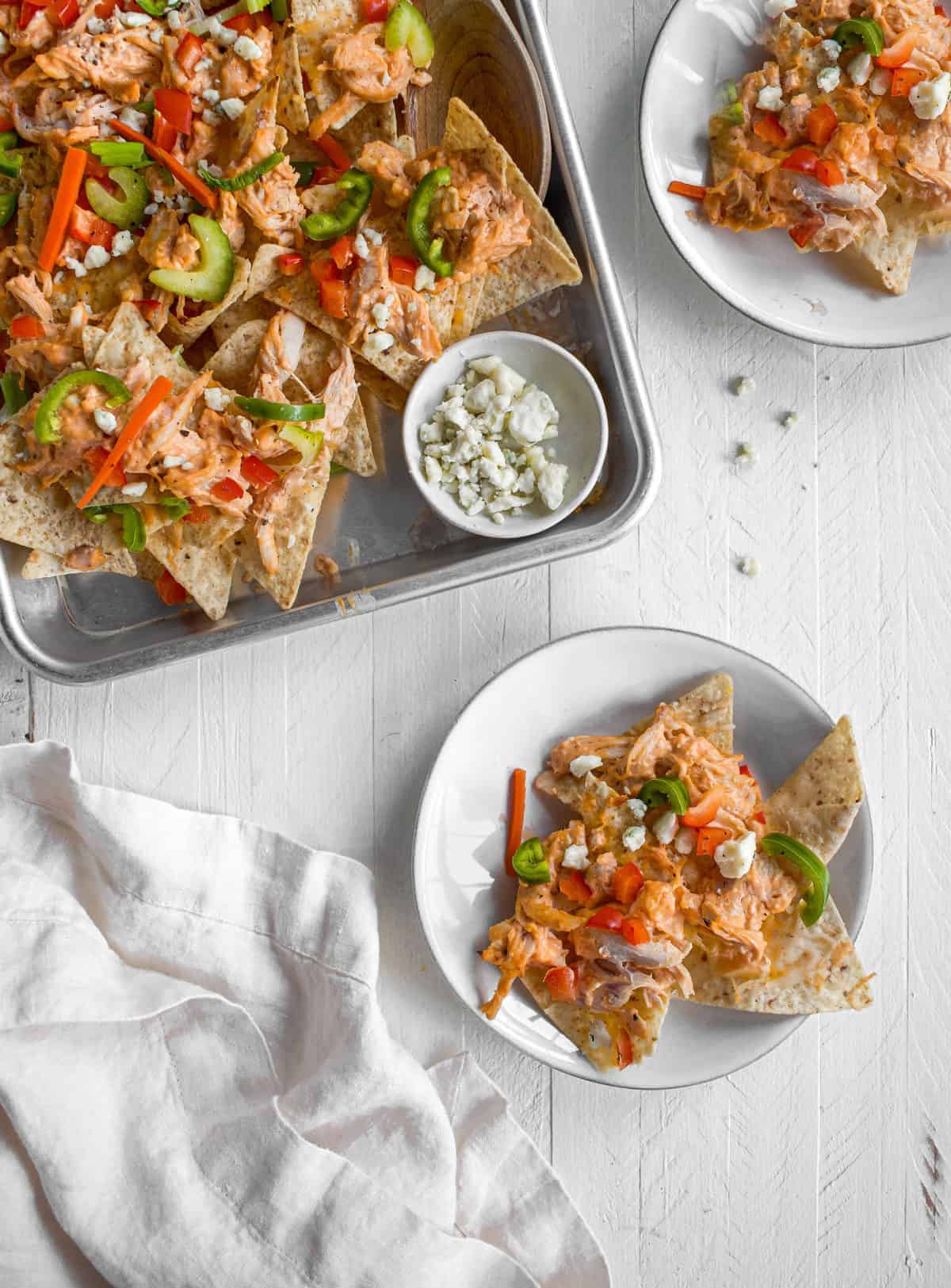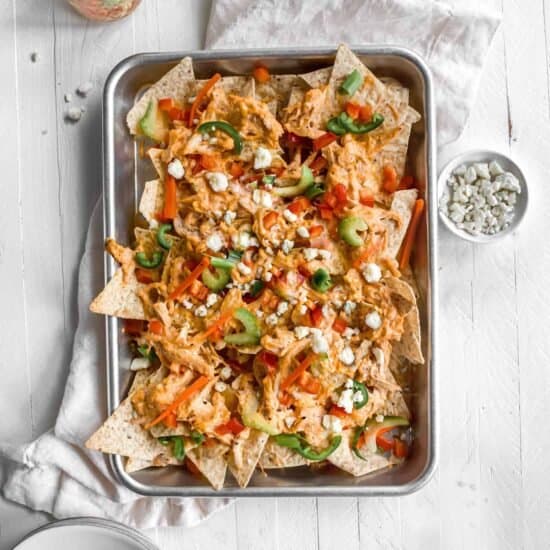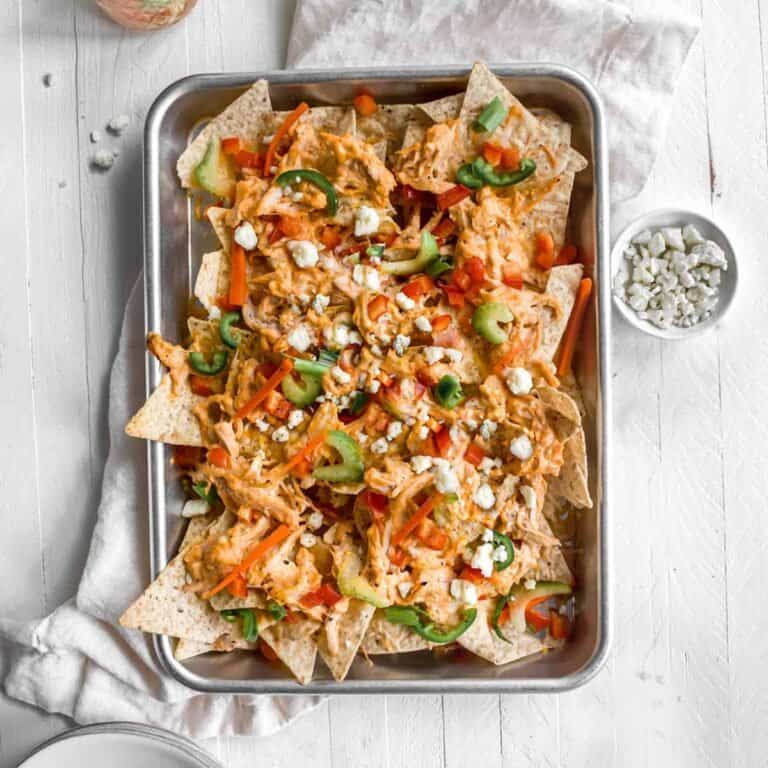 Buffalo Chicken Nachos
These buffalo chicken nachos are out of this world! They are made with cream cheese, shredded cheese, delicious buffalo sauce, and quick pickled vegetables! They are the perfect appetizer or easy weeknight dinner!
Prep:
30 minutes
Cook:
20 minutes
Total:
50 minutes
Fat
23
Carbs
42
Protein
20
Ingredients
Pickled Vegetables
1/2 cup

white distilled vinegar

1/4 cup

water

1/2 tablespoon

granulated sugar

1

large carrot, peeled and cut into thin matchsticks

1

large celery stick, chopped into small half-moons

1

jalapeño, sliced and de-seeded 
Buffalo Chicken Nachos
1

lb. boneless, skinless chicken breast

1 tablespoon

olive oil

1/8 teaspoon

salt

1/8 teaspoon

ground pepper

4 oz

. full-fat cream cheese, softened

½ cup

2% plain Greek yogurt

1/4 cup

Franks hot sauce, or any buffalo sauce

1 tablespoon

honey

1

sweet red bell pepper, diced

1 cup

shredded Mexican cheddar cheese

1

bag of thick tortilla chips

⅓ cup

blue cheese crumbles
Instructions
First prepare the quick pickled vegetables. Place the vinegar, water, and sugar into a mason jar. Cover the jar and shake until the sugar has dissolved.

Place the carrots, celery, and jalepeñpos into the jar, cover, and shake one last time. Place into the refrigerator.

Preheat the oven to 350ºF and spray a baking sheet with nonstick cooking spray. Place chicken breasts onto the baking sheet and drizzle with olive oil and season with salt and pepper.

Bake at 350ºF for 25 minutes, flipping the chicken halfway through.

While the chicken is baking, place the cream cheese, yogurt, hot sauce, and honey into a large bowl. Beat with a hand mixer or a wooden spoon until everything is creamed together. Set aside.

Once the internal temperature of the chicken reaches 165ºF, remove from the oven. Use two forks to shred the chicken apart. Then, add the shredded chicken into the cream cheese mixture and mix until all the chicken is covered in sauce.

Finally, assemble the nachos by placing the chips onto the bottom of a baking sheet. Then, sprinkle on shredded cheddar cheese. Spread the buffalo chicken on top of the cheese and sprinkle the nachos with diced red bell pepper. 

Bake nachos at 350ºF for 10-15 minutes or until the cheese has fully melted.

Remove the nachos from the oven and top with pickled jalapeños, carrots, and celery. 

Finally, sprinkle on blue cheese crumbles and serve! 
Nutrition Facts
Serving Size:
1/6
Calories:
456
Sugar:
6
Fat:
23
Carbohydrates:
42
Fiber:
4
Protein:
20
Category:
Appetizer
Method:
Oven
Cuisine:
American
Keywords: Buffalo Chicken Nachos