Dive into this super easy slow cooker cream cheese chicken recipe; it's like a big comforting hug after a long day, and trust me, your taste buds will thank you! Serve it over mashed potatoes or pasta for the ultimate comfort meal.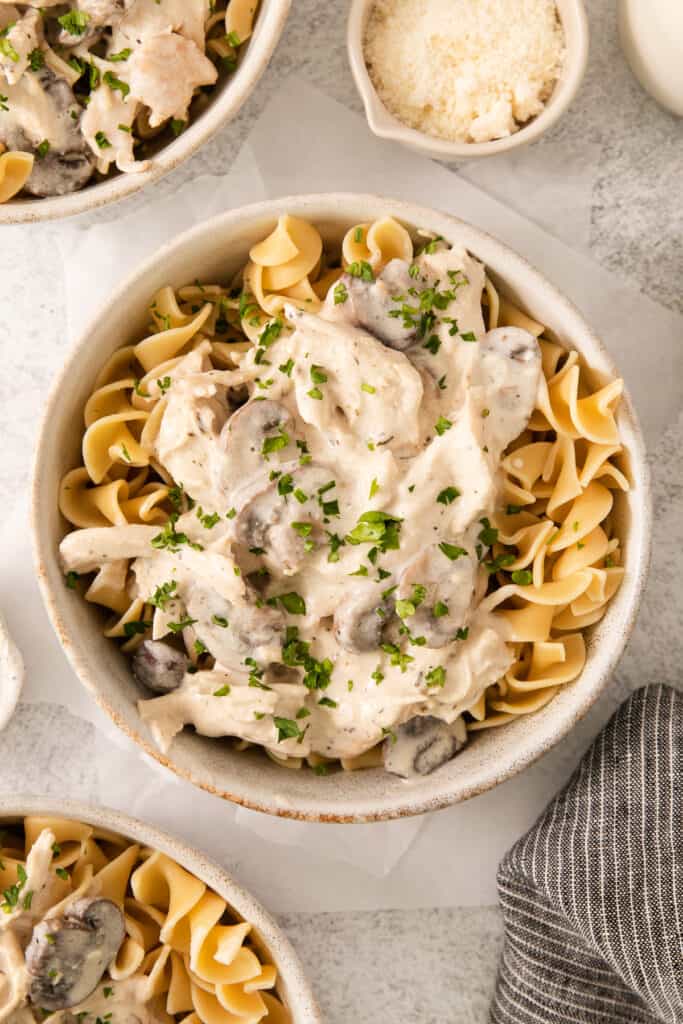 What is in Slow Cooker Cream Cheese Chicken?
Boneless, Skinless Chicken Breast: This is the main protein of the dish, providing a meaty and tender texture that soaks up the flavors from the other ingredients, especially when slow-cooked.
Cream Cheese: It lends a rich and creamy consistency to the dish. Its smooth and tangy notes create a velvety sauce that coats the chicken and mushrooms.
Parmesan Cheese: Adding a depth of flavor, parmesan introduces a sharp and nutty taste, complementing the creaminess of the cream cheese.
Crimini Mushrooms: These mushrooms enhance the dish with their earthy and meaty flavor. When slow-cooked, they release their juices, which blend well with the other ingredients, giving the sauce a fuller body.
Seasoning Blend: The combination of garlic powder, onion powder, thyme, oregano, and black pepper infuses the chicken and sauce with a rich and aromatic flavor profile, elevating the overall taste of the dish.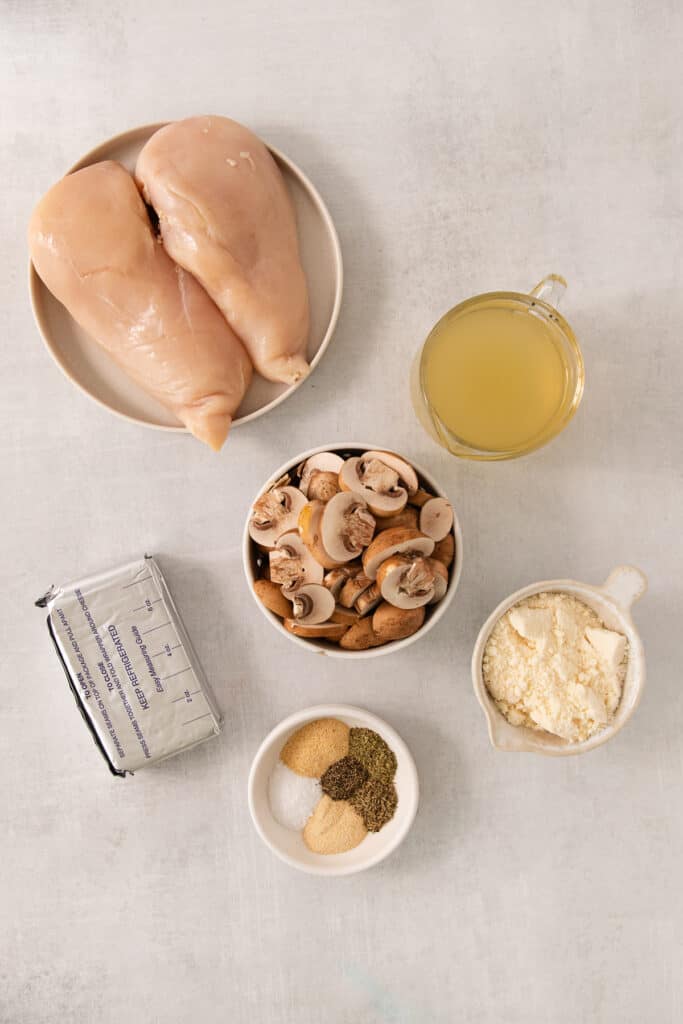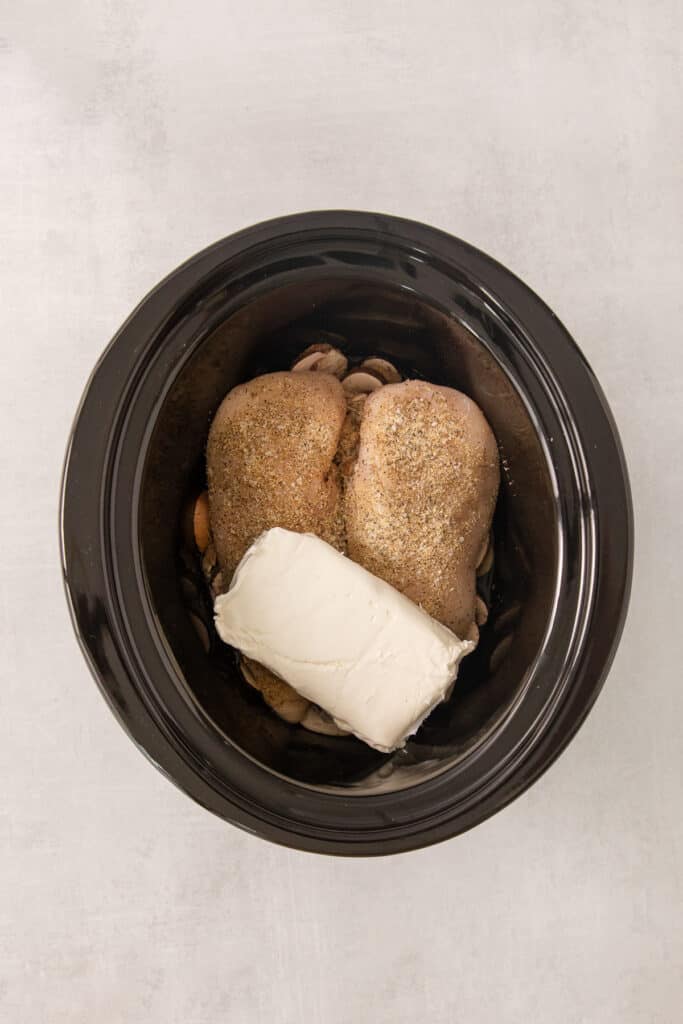 Substitutes & Variations
Protein Variations
Chicken Thighs: If you prefer darker meat, chicken thighs can be juicier and more flavorful than chicken breasts. They also tend to be more forgiving in the slow cooker and less likely to dry out.
Turkey: Use boneless turkey breasts or thighs for a leaner option.
Mushroom Variations
Button or White Mushrooms: A common and neutral-flavored substitute for crimini.
Portobello: These will give a meatier texture and robust flavor.
Shiitake or Oyster Mushrooms: For an earthier and slightly more gourmet twist.
Vegetable Add-ins
Spinach: For a touch of green and added nutrients, toss in some fresh or frozen spinach during the last 30 minutes of cooking.
Bell Peppers: Sliced bell peppers can bring a sweet contrast to the dish. Add them in the last hour of cooking to retain some crunch.
Sun-dried Tomatoes: These can be added for a tangy and slightly sweet dimension to the dish.
Flavor Twists
Italian: Add in some basil, rosemary, and maybe a splash of white wine.
Spicy: Toss in some red pepper flakes or diced jalapeños to kick up the heat.
Herbs: Fresh herbs like dill, parsley, or cilantro can be stirred in at the end for a fresh burst of flavor.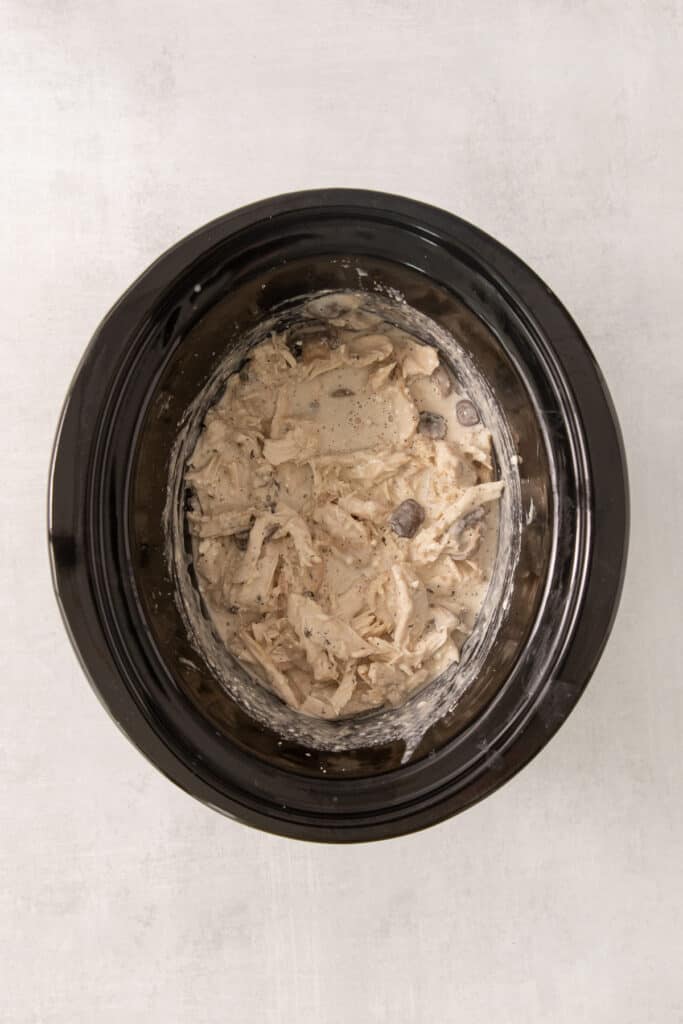 FAQs
Do I have to shred the chicken?

No, shredding is optional. You can serve the chicken breasts whole if you prefer, but shredding allows the chicken to absorb more of the creamy sauce.
Can I use frozen chicken breasts?

Yes, you can use frozen chicken breasts. However, it may increase the cooking time slightly. Just ensure the chicken reaches an internal temperature of 165ºF before serving.
Can I use a different type of cheese?

Definitely! While parmesan provides a sharp and savory taste, feel free to experiment with other cheeses that melt well, like mozzarella, cheddar, or gouda.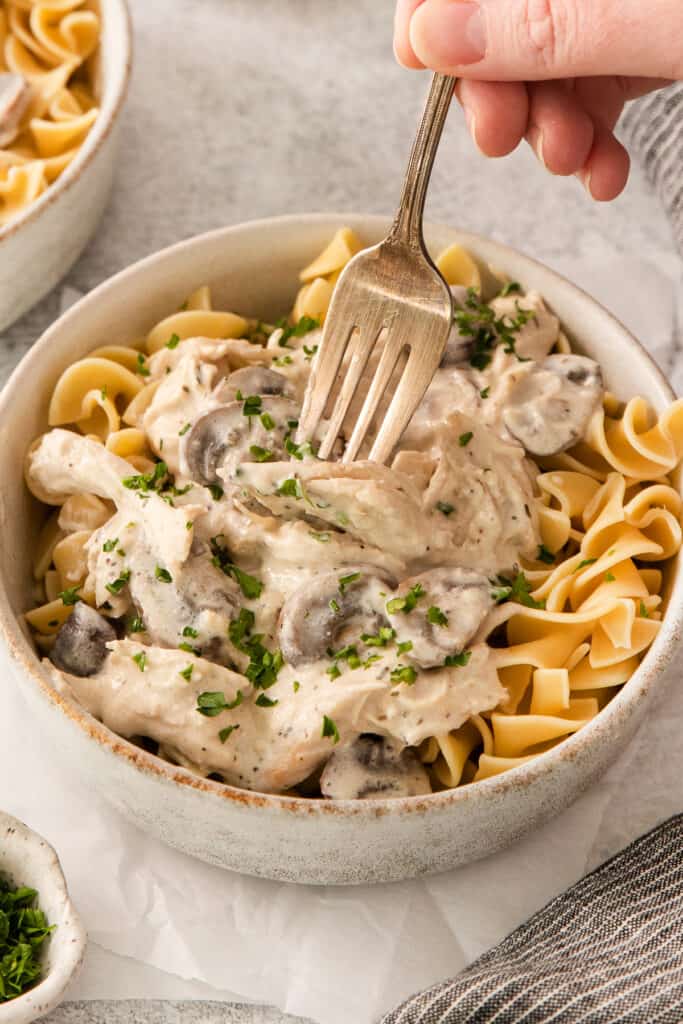 Storage
Leftovers can be stored in an airtight container in the refrigerator for up to 3-4 days. When reheating, do so gently to avoid the sauce from splitting.
Serving Suggestions
This dish is versatile! It pairs well with cream cheese mashed potatoes, rice, pasta, or even roasted vegetables. Serve it alongside our caprese salad and cheesy garlic bread for a complete meal.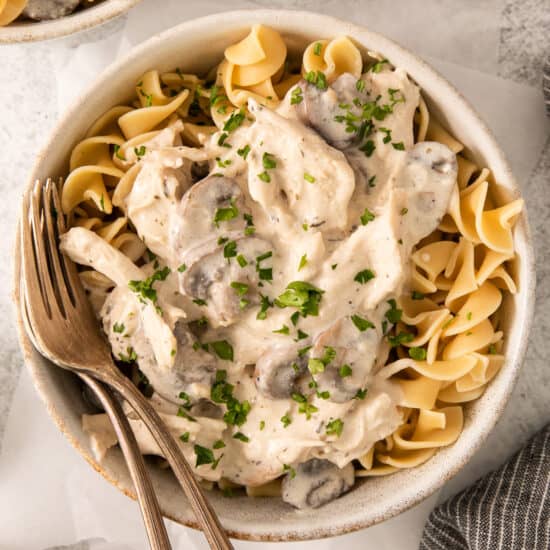 Slow Cooker Cream Cheese Chicken
Indulge in this slow cooker cream cheese chicken dish packed with savory spices, melt-in-your-mouth cream cheese, and fresh crimini mushrooms. Easy prep for a hearty meal!
Ingredients
1.25

lbs.

boneless

skinless chicken breast

1

teaspoon

garlic powder

1

teaspoon

salt

1

teaspoon

onion powder

½

teaspoon

dried thyme

½

teaspoon

dried oregano

½

teaspoon

ground black pepper

8

oz.

crimini mushrooms

sliced

1

cup

chicken broth

8

oz.

cream cheese

1

cup

grated parmesan cheese
Instructions
Combine all of the seasonings in a small bowl. Then, season both sides of the chicken.

Place the mushrooms in the bottom of the slow cooker and top them with the chicken and broth. Place the cream cheese on top of the chicken. Cook on low for 3-4 hours.

When the internal temperature of the chicken reaches 165ºF, remove the chicken from the slow cooker and shred it. Add it back to the slow cooker along with the parmesan cheese and stir to combine.

Serve with mashed potatoes, noodles, or on its own.
Tips & Notes
This recipe took 4 hours, the time may vary by the size of the chicken breasts that are used. We used 2 chicken breasts that weighed about 1.25 lbs.
Nutrition facts
Calories:
259
kcal
Carbohydrates:
5
g
Protein:
23
g
Fat:
16
g
Fiber:
0.3
g
Sugar:
2
g